This post may contain affiliate links. Please read my disclosure policy.
Fresh watermelon and cucumber are tossed with lemon and mint and served over a bed of silky whipped feta.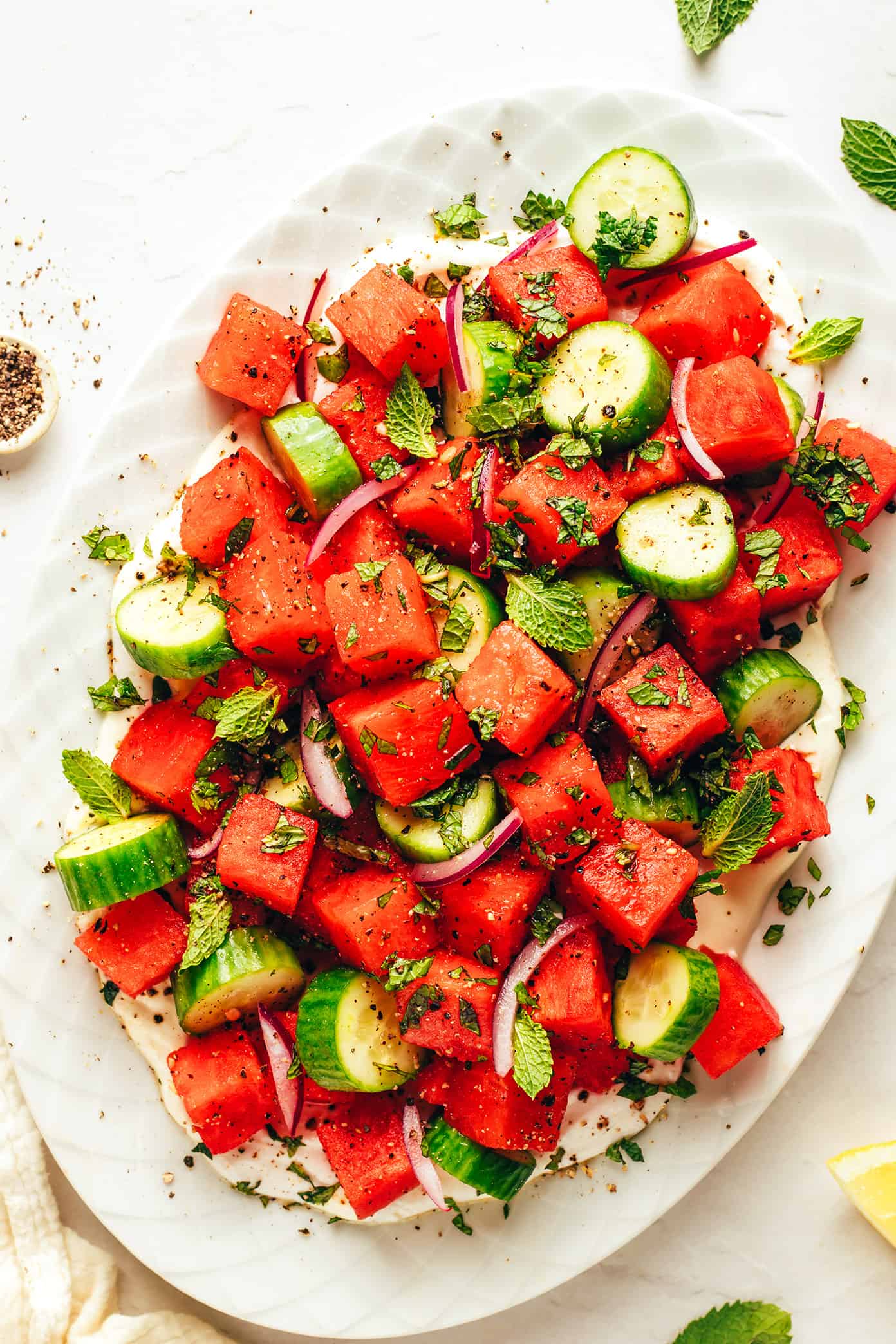 For all of you fellow watermelon feta salad lovers out there…consider this twist on the classic with whipped feta! ♡
I should probably back up by saying that we make some version of a watermelon feta salad here in our family at least once a week in the summertime. It's my husband's favorite summer salad, and while we were living in Barcelona, he would eagerly volunteer to haul a heavy watermelon the kilometer's walk home to our flat, chop it up to toss with mint and feta, and then usually polish off half of the bowl before dinner, lol. Needless to say, we're big fans of watermelon salads here during the summertime, and that classic pairing with feta, mint and cucumbers (I love the extra crunch) is always such a winner.
In an effort to mix things up the past few years, I occasionally started tossing the feta in the food processor with some Greek yogurt to create a bed of silky, creamy, whipped cheese as the base for the salad. And it has turned out to be such a fun way to mix things up, especially for entertaining! Enjoy the salad with a fork or serve it with toothpicks for dipping — whatever you'd like. And if you'd like to add in some arugula, avocado, pistachios or a drizzle of balsamic glaze, the sky's the limit with fun customizations here.
However you make this watermelon feta salad, it's one of those refreshing recipes that never fails to hit the spot. So the next time you see some ripe watermelon, whip up that feta and give it a try!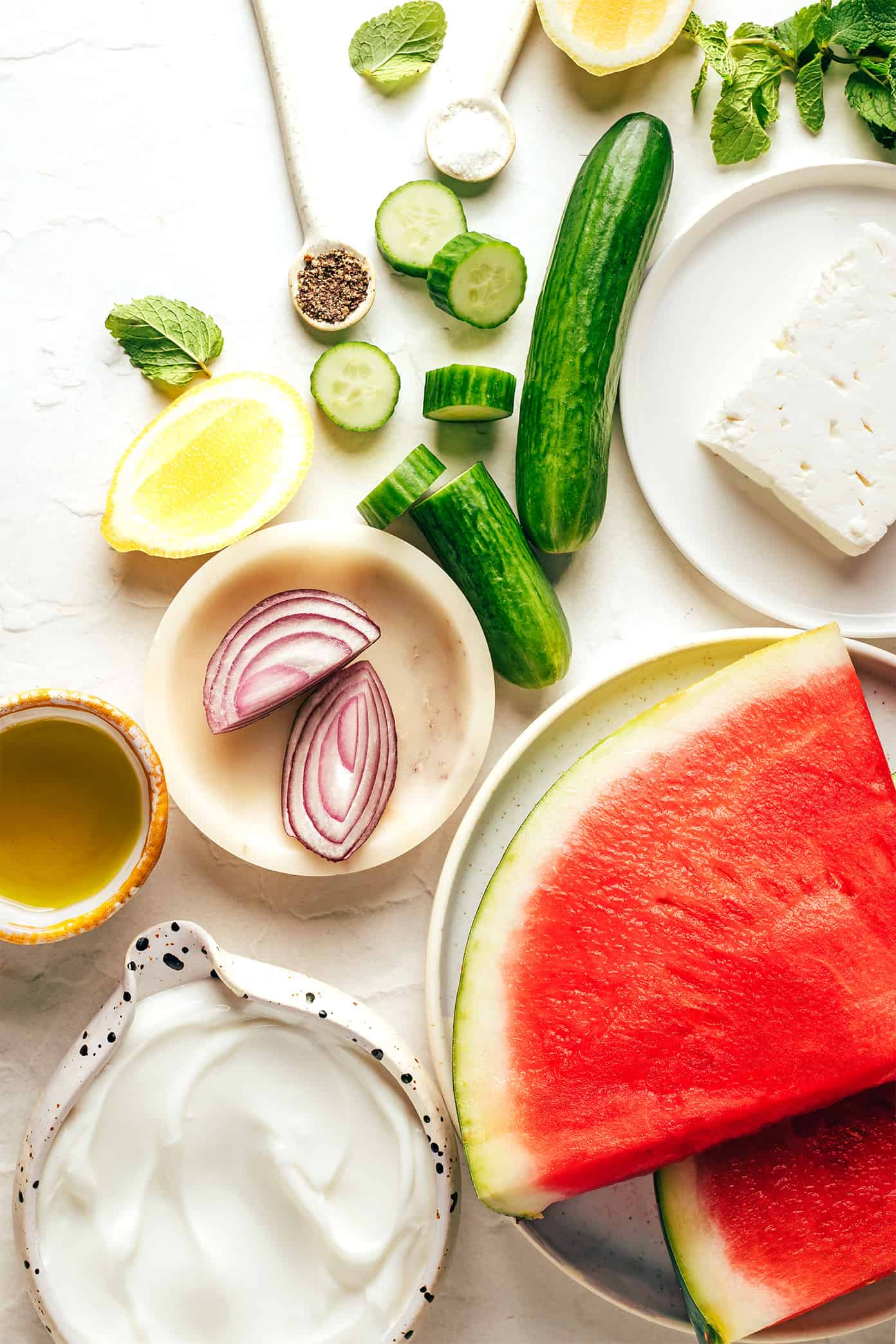 Watermelon Feta Salad Ingredients
Here are a few quick notes about the ingredients you will need to make this watermelon salad recipe:
Seedless watermelon: Fresh and juicy watermelon is the star of the salad, so choose one that's good and ripe! When selecting a fresh watermelon, you want to look for a firm and uniformly-colored exterior, a hollow sound when tapped, and a heavy weight, which indicates juiciness and ripeness.
Cucumbers: Cucumber adds so much freshness and crunch to this salad. We used Persian cucumbers here, but English cucumbers would work well too.
Red onion: I recommend very thinly slicing the red onions with a knife or mandolin, or you can finely dice and sprinkle them on if you'd rather. If you would like to minimize the "bite" that comes with raw onions, simply rinse the onion in cold water briefly before adding it to the salad.
Fresh mint: The more the merrier here when it comes to fresh mint! We love chopping up a generous handful to add to the salad.
Lemon: A squeeze of fresh lemon juice also helps to brighten up the salad and balance all of those sweet flavors.
Whipped feta: Basic whipped feta is easy to make in the food processor or blender using tangy feta cheese, plain Greek yogurt and drizzle of olive oil.
Salt and pepper: And finally, don't forget to season the salad with salt and pepper to bring out the best of all of these flavors!
Recipe Variations
Here are a few additional variations to this watermelon salad that you're welcome to try!
Grill the watermelon: Try grilling the watermelon before adding it to the salad for an extra charred and smoky twist.
Add arugula: Add a handful of fresh baby arugula to the salad, whose peppery flavor plays beautifully with the other ingredients.
Add avocado: Add some sliced or diced avocado to the salad for extra creaminess.
Add basil: Fresh chopped basil is also a delicious addition to (or substitution for) the fresh mint.
Add balsamic glaze: A drizzle of balsamic glaze would add an extra tangy, caramelized, sweet pop of flavor.
Add grains: Sprinkle on some cooked farro or quinoa for a more substantial salad.
Add nuts or seeds: Pistachios, pepitas or pine nuts would be especially delicious here.
More Watermelon Recipes
Looking for more delicious ways to use fresh watermelon this time of year? Here are a few of our favorite watermelon recipes: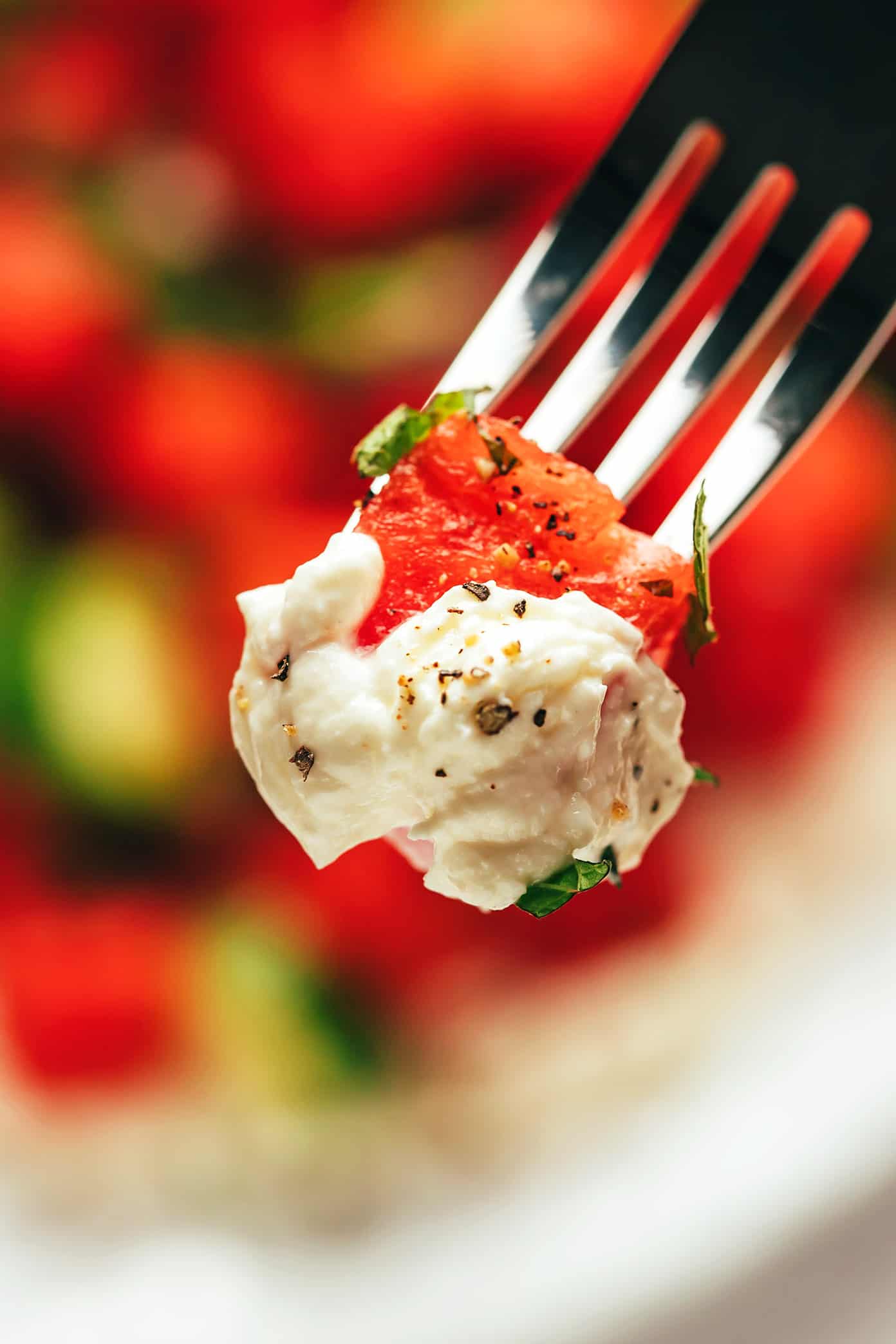 Print
---
Description
Fresh watermelon and cucumber are tossed with lemon and mint and served over a bed of silky whipped feta.
---
Watermelon Salad Ingredients:
5

to

6

cups diced seedless watermelon

3

Persian cucumbers, sliced

quarter of a small red onion, very thinly sliced

juice of

1

lemon (about

2 tablespoons

)

fine sea salt and freshly-ground black pepper

2

to

3

tablespoons finely-chopped fresh mint leaves
Whipped Feta Ingredients:
8 ounces

feta cheese

½ cup

plain Greek yogurt

2 tablespoons

olive oil
---
Whip the feta.

Add the feta, Greek yogurt and olive oil to a food processor. Purée for 2 to 3 minutes, stopping occasionally to scrape down the sides of the bowl as needed, until the feta is silky smooth.

Toss the watermelon salad.

Add the watermelon, cucumber and red onion to a large mixing bowl. Drizzle evenly with the lemon juice, a pinch of salt and pepper, and toss very briefly to combine.

Assemble.

Spread the whipped feta out evenly on a serving plate. Top with the watermelon, cucumber and red onion, and sprinkle evenly with the chopped fresh mint and a few twists of black pepper.

Serve.

Serve immediately and enjoy!
---