This post may contain affiliate links. Please read my disclosure policy.
Zesty cauliflower steaks are served over hummus and sprinkled with a lemony pine nut gremolata.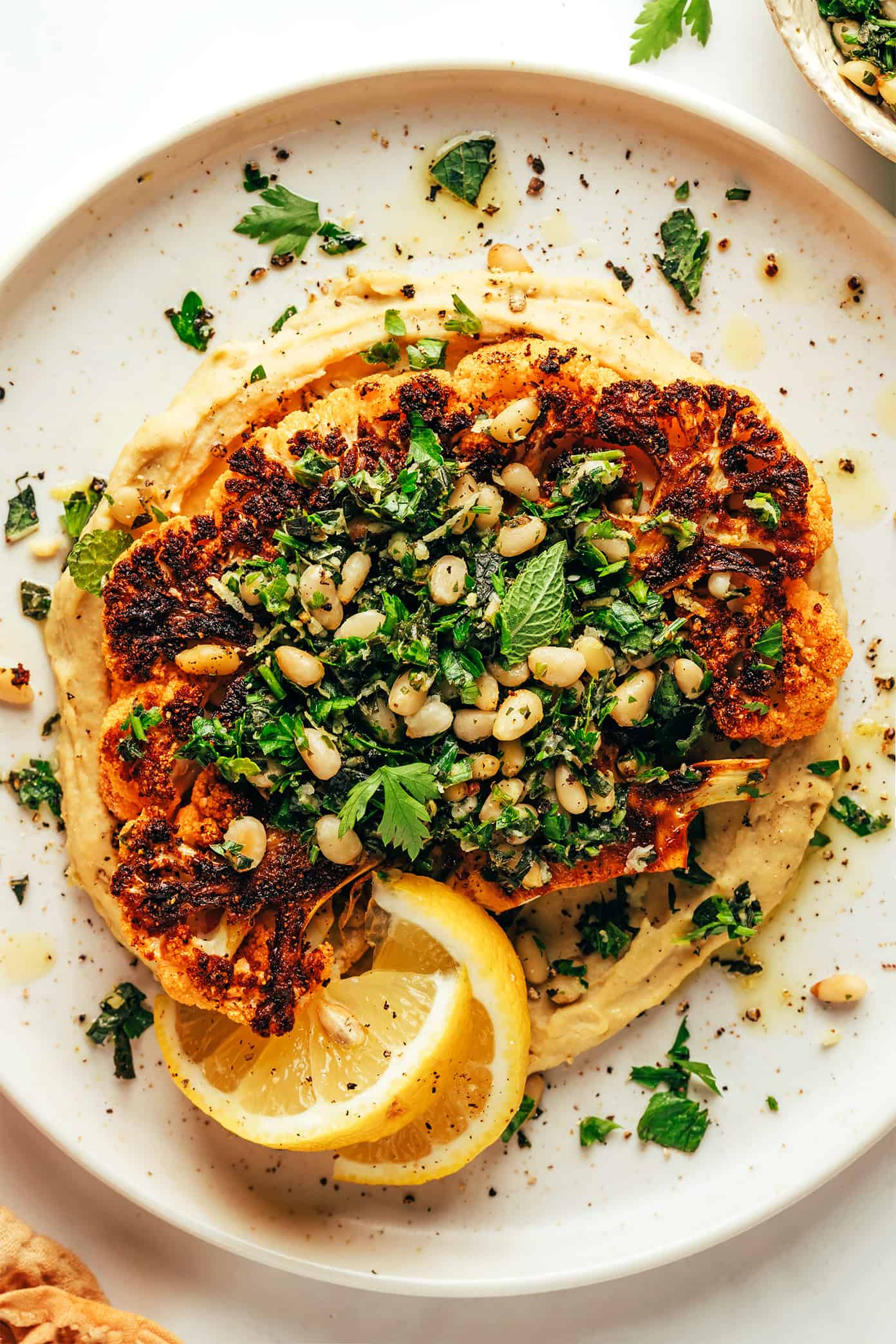 One of those low-effort, high-reward recipes you are going to want to make again and again. ♡
Seriously, we've been completely obsessed with this recipe over the past few months and can't get enough of this gorgeous mix of flavors. The cauliflower steaks are seasoned with an earthy mix of smoked paprika, cumin and black pepper, then briefly pan-seared and baked in until tender. While those are in the oven, we mix up a bright and zippy pine nut gremolata made with lots of fresh mint, parsley, lemon and garlic. The hot cauliflower steaks are then served over a swirl of hummus (homemade or store-bought), sprinkled with the gremolata, and finished with an extra drizzle of olive oil. And just like that…an absolutely delicious vegetarian dinner will be yours to enjoy!
Actually, this recipe happens to be naturally gluten-free and vegan as well, and can easily be prepped ahead of time if you'd like to make a larger batch for entertaining or a small batch for a normal weeknight. We typically serve ours with a simple side salad and a loaf of good crusty bread to mop up any extra hummus. And it always, always hits the spot.
Let's make some cauliflower steaks!
Cauliflower Steak Ingredients
Cauliflower: You'll need one large fresh cauliflower for this recipe, which we will slice into two 1.5-inch-thick slices to cook. (You can save and reuse any remaining florets!) When shopping for a head of fresh cauliflower, look for one with a firm texture, creamy white color (minimal yellowing or browning), with compact florets and crisp green leaves.
Olive oil: We will combine olive oil and spices to brush on the cauliflower steaks before baking, then you're welcome to also drizzle some extra olive oil over the steaks just before serving if you would like.
Spices: A simple mixture of ground cumin, smoked paprika, and black pepper creates the perfect earthy and smoky seasoning for the cauliflower and pairs deliciously with the bright flavors of the gremolata.
Gremolata Ingredients
Pine nuts: Pine nuts create a delicious buttery base for the gremolata. Be sure to give them a quick toast in the oven or a sauté pan first to bring out their best flavor.
Fresh mint and parsley: I used a 50/50 mix of finely-chopped fresh mint and parsley for this gremolata, but feel free to toss in any other fresh herbs (such as chives, cilantro or thyme) that might sound good.
Garlic: You'll need one clove for the gremolata, which I recommend pressing or finely-mincing to avoid large chunks.
Lemon: Finally, we will use both the zest and juice from a fresh lemon, which livens up and brings all of these delicious flavors together!
Hummus Ingredients
I can't resist putting in a word for my favorite hummus recipe, which would be absolutely delicious here if you would like to make a quick batch of homemade hummus. But feel free to use your favorite store-bought hummus if you'd like to save some time.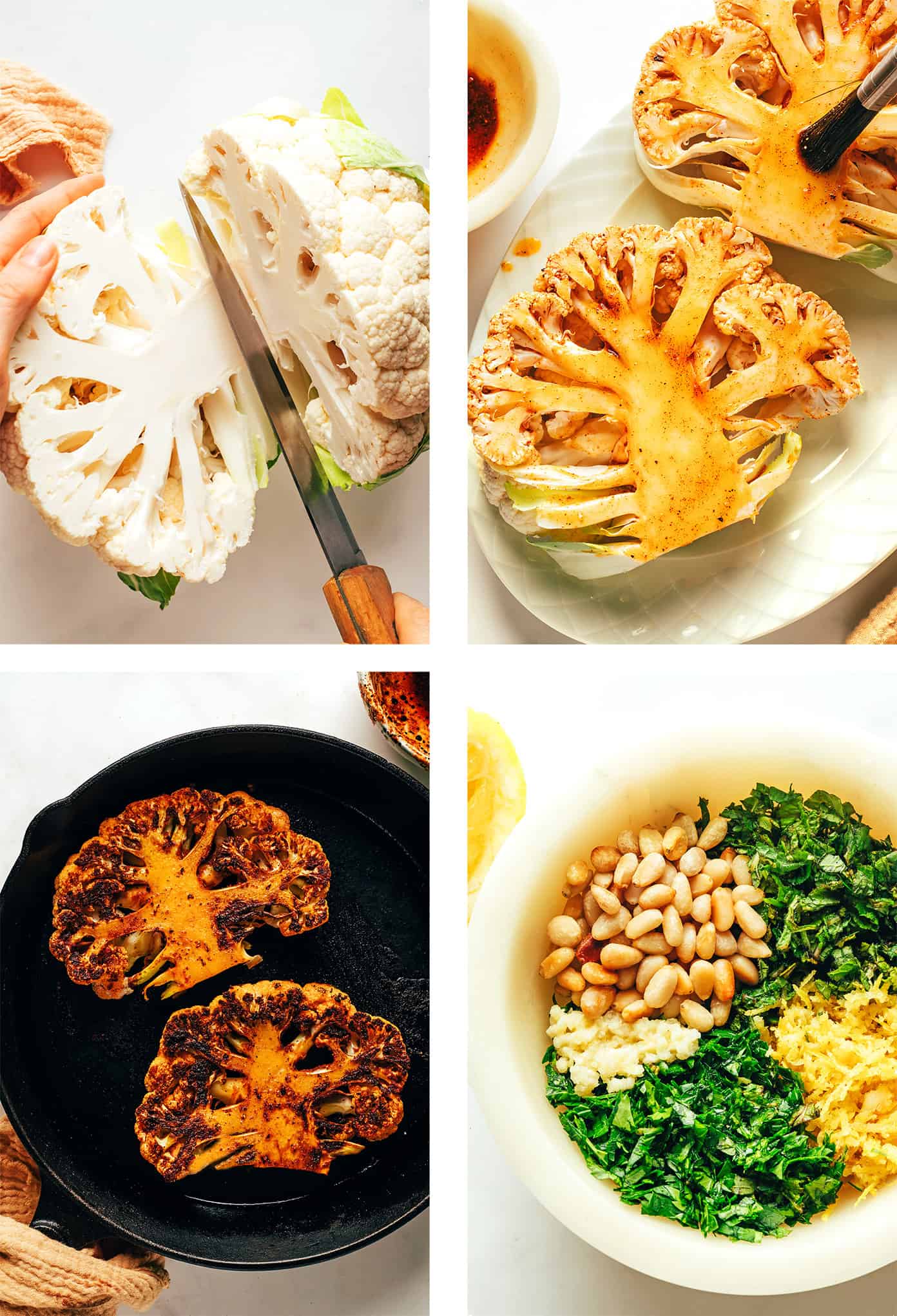 Recipe Variations
Here are a few different variations of this recipe that you're welcome to try too:
Use cauliflower

florets

: If you don't have a full head of cauliflower and only have florets available, no worries at all! Simply toss the florets evenly with the spiced oil and sauté until tender, then serve with the hummus and gremolata.
Use baba ganoush: While eggplants are in season, feel free to swap baba ganoush in place of the hummus if you'd like.
Add greens: Add a handful of arugula, kale or baby spinach if you'd like to include some extra greens. (Or my everyday salad would be delicious on the side.)
Add cheese: Crumbled feta, Gruyere or Parmesan would all play well with this dish if you'd like to add some cheese.
Add fruit: A sprinkling of pomegranate arils, chopped cherries or dried apricots would be delicious here too.
Make a large batch: This recipe is written for 2 servings, but if you make a larger batch, simply sear the cauliflower steaks and transfer them to a large baking sheet. Then bake all of the steaks together until tender.
More Cauliflower Recipes
Looking for more yummy cauliflower recipes to try? Here are a few of our faves!
Print
---
Cauliflower Steaks Ingredients:
1

large cauliflower

2 tablespoons

olive oil, plus extra for drizzling

1/2 teaspoon

ground cumin

1/2 teaspoon

smoked paprika

fine sea salt and freshly-ground black pepper

2/3 cup

(6 ounces) hummus
Gremolata Ingredients:
1/4 cup

pine nuts, toasted

1/4 cup

chopped fresh mint

1/4 cup

chopped fresh parsley

1

small clove garlic, pressed or finely minced

1

lemon
---
Prep the oven.

Heat oven to 350°F.

Cut the cauliflower.

Remove the tough outer leaves from the cauliflower, leaving any soft and tender center leaves intact. Trim the stem to create a flat base, then stand the cauliflower upright on the base and use a large knife to slice the cauliflower vertically in half (leaving the stem intact). Trim the outer rounded edge of each piece to create two 1.5-inch thick cauliflower steaks, and save the remaining florets for another use.*

Prep the cauliflower.

In a small bowl, whisk together the olive oil, cumin, smoked paprika, 1/4 teaspoon salt and a few twists of freshly-ground black pepper. Lay the cauliflower steaks flat on a surface and brush the top sides evenly with half of the oil. 

Cook the cauliflower.

Heat a large cast-iron skillet over medium-high heat. Add the cauliflower steaks, oiled-side-down, and cook for 3-5 minutes or until the steaks are golden brown on the bottom. (You can use a spatula to carefully lift up the steaks to check their progress while they cook.) Brush the remaining oil on the tops of the steaks, then carefully flip them over. Transfer the entire skillet to the oven and bake for 15 minutes or until the stems are fork-tender, then remove from the oven.

Prep the gremolata.

While the steaks are baking, combine the toasted pine nuts, mint, parsley, garlic, the zest of the entire lemon, and 1 tablespoon of the lemon juice in a small bowl. Stir until evenly combined.

Serve.

Use a spoon to spread 1/3 cup of hummus onto each serving plate. Top with the cauliflower steak, half of the gremolata, a drizzle of olive oil, an extra twist of black pepper, and serve with extra lemon wedges if desired. Enjoy!
---