This post may contain affiliate links. Please read my disclosure policy.
This mango lentil salad recipe comes together easily in less than 30 minutes and is bursting with fresh and vibrant ingredients.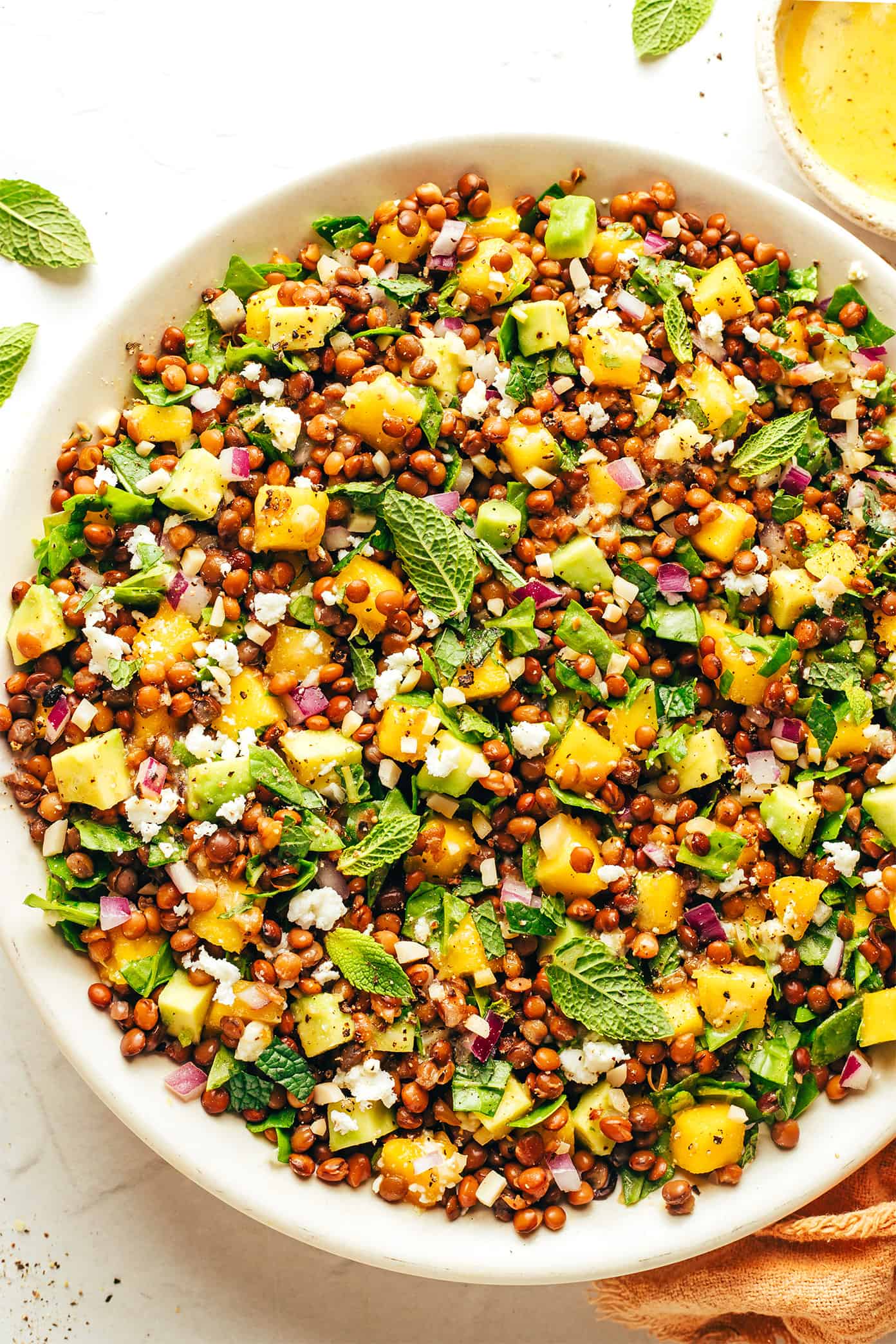 New favorite lentil salad alert! ♡
I've been loving this salad so much lately because it's wonderfully light and fresh and downright bursting with juicy, tropical, summery flavors. Protein-packed lentils form the hearty base (or you can swap in farro or quinoa if you prefer). Then to those we add sweet and juicy mango, creamy avocado, tangy red onion, tons of fresh mint, chopped spinach, crunchy almonds, and a sprinkling of tangy feta if you'd like. Then a quick batch of my lemony everyday salad dressing brings it all together.
It's a simple and wholesome recipe that's easy to make in less than 30 minutes, and also holds up nicely in the fridge if you'd like to prep a big batch for weekday lunches. And while we've mostly just served the salad as a main course here in our house, it would also pair beautifully with any protein of your choice (such as grilled chicken or salmon). Or it would also be a fab contribution to a potluck or picnic this summer.
So grab a fresh mango and let's make a quick batch together. You're going to love it!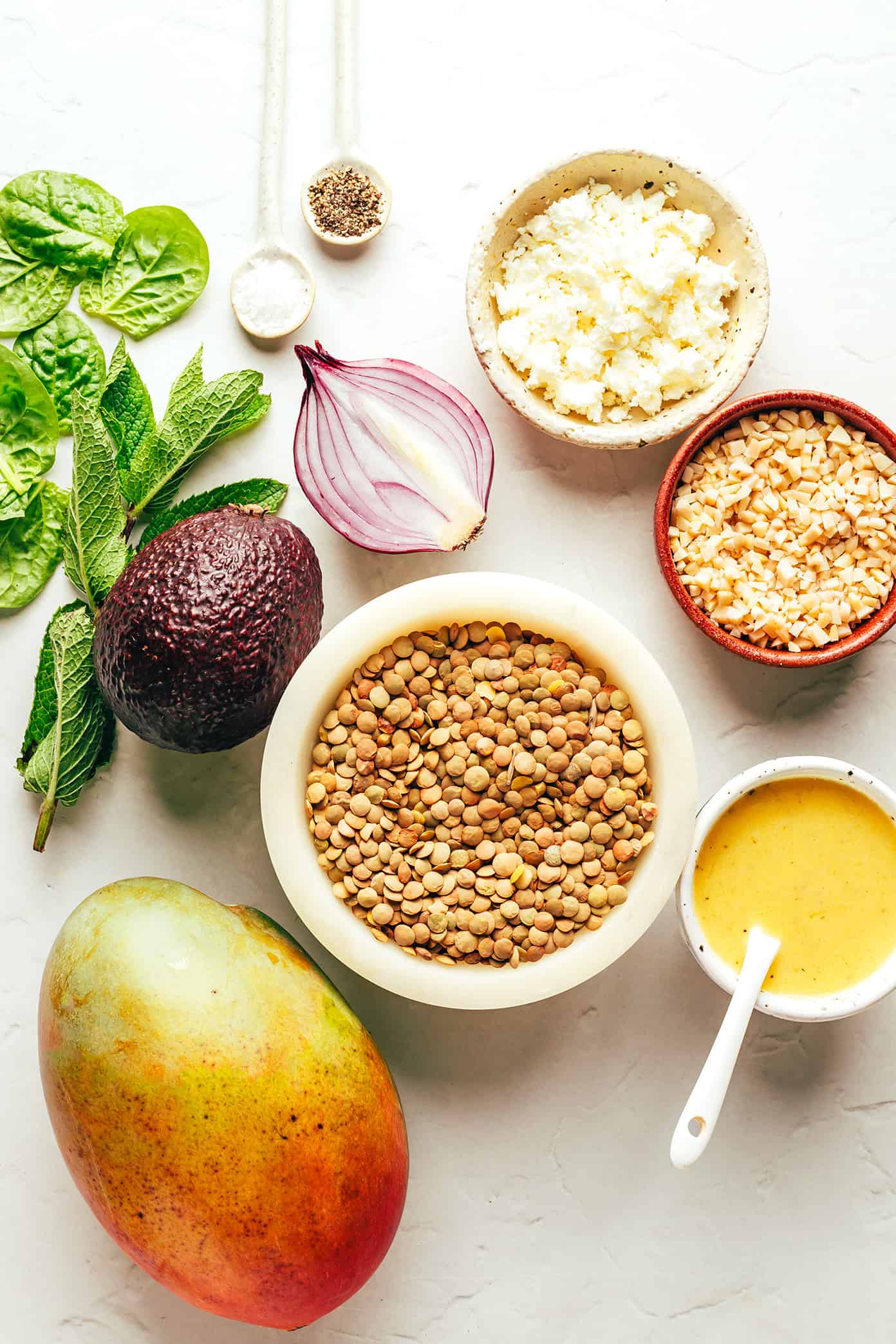 Mango Lentil Salad Ingredients
Here are a few quick notes about the ingredients you will need to make this mango lentil salad recipe:
Lentils: These protein-packed legumes add a hearty and satisfying texture to our mango lentil salad, creating a nutritious and filling base for all the vibrant flavors. I recommend opting for lentils that hold their shape well when cooked, such as French lentils or green lentils.
Avocado: Ripe avocados bring a creamy and buttery richness to this salad while adding a dose of healthy fats.
Mango: Juicy mangoes add a burst of tropical sweetness, creating a refreshing contrast to the earthy lentils and fresh mint.
Red onion: Finely diced red onions lend a zesty bite, providing a subtle hint of sharpness and a vibrant pop of color.
Spinach: I love adding in a handful of roughly-chopped fresh baby spinach or arugula for some extra greens.
Fresh mint: The more the merrier when it comes to mint in this salad! It freshens everything up and pairs beautifully with the mango.
Almonds: Toasted almonds offer a satisfying crunch and nutty depth to the salad. We made one batch with chopped smokehouse almonds, which I highly recommend. But just about any variety of almonds or nuts/seeds that you prefer would play well in this salad.
Feta: I love the extra bit of tangy, salty, creamy kick that crumbled feta cheese adds, but feel free to omit the cheese altogether if you'd like to make this salad vegan.
Everyday salad dressing: My favorite basic dressing, with its simple blend of olive oil, tangy lemon juice, Dijon, garlic, salt and pepper comes together quickly and brings all of these ingredients together perfectly.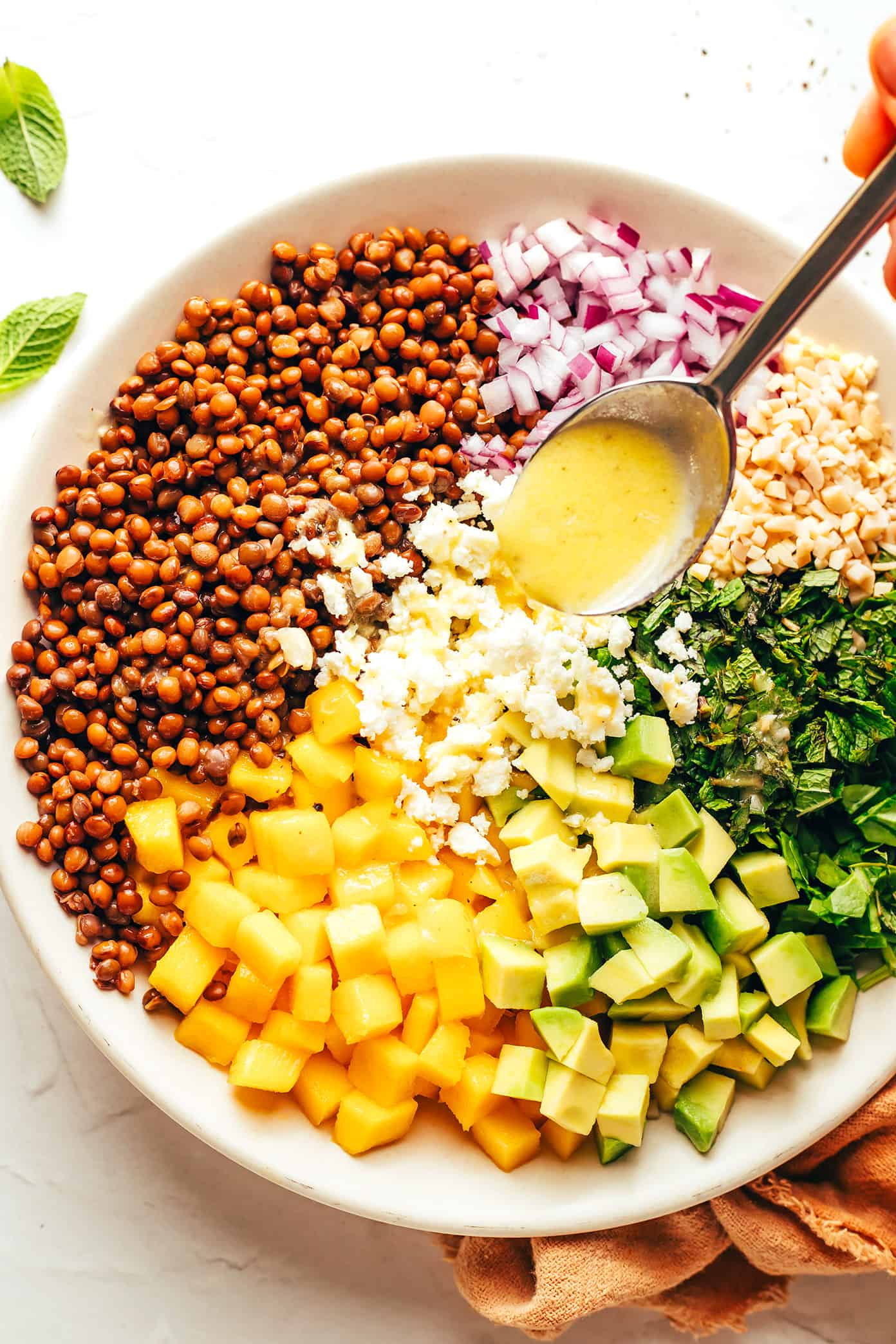 Tips for Making This Lentil Salad
Here are a few quick tips for making this lentil salad:
Don't overcook the lentils. You want to cook the lentils until they are tender but still slightly firm to the bite, since overcooking can lead to a mushy texture. Different varieties of lentils have different cooking times, so feel free to consult this post for how to cook lentils or follow the instructions on the package.
Add avocado just before serving. If you're planning to make and refrigerate this salad in advance (or save some for leftovers), we recommend just adding a few slices of avocado on top versus mixing them into the salad in order to avoid browning.
Be sure to season. Don't forget to give the salad a taste and season with salt and pepper as needed before serving.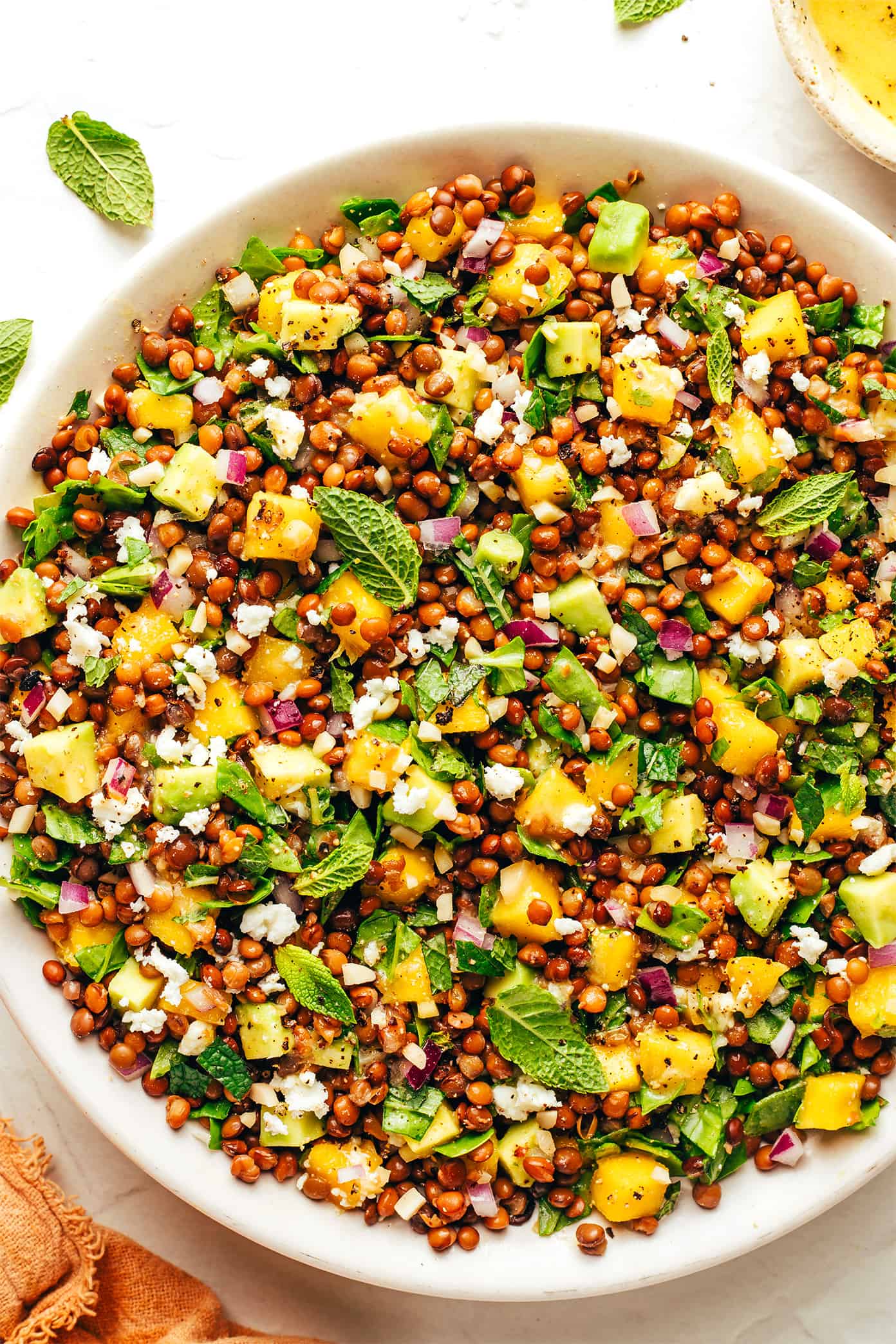 Recipe Variations
Here are a few variations you're welcome to try with this mango lentil salad recipe:
Use different fruit: Use fresh apricot, blueberries, grapes, mandarins, peaches, pineapple, or pomegranate arils in place of the mango.
Use a different cheese (or omit it altogether): Use crumbled goat cheese, pearl mozzarella or burrata in place of the feta cheese, or just skip the cheese altogether.
Use a different grain: Use quinoa or farro in place of the lentils.
Make it vegan: Omit the cheese to make this a vegan lentil salad.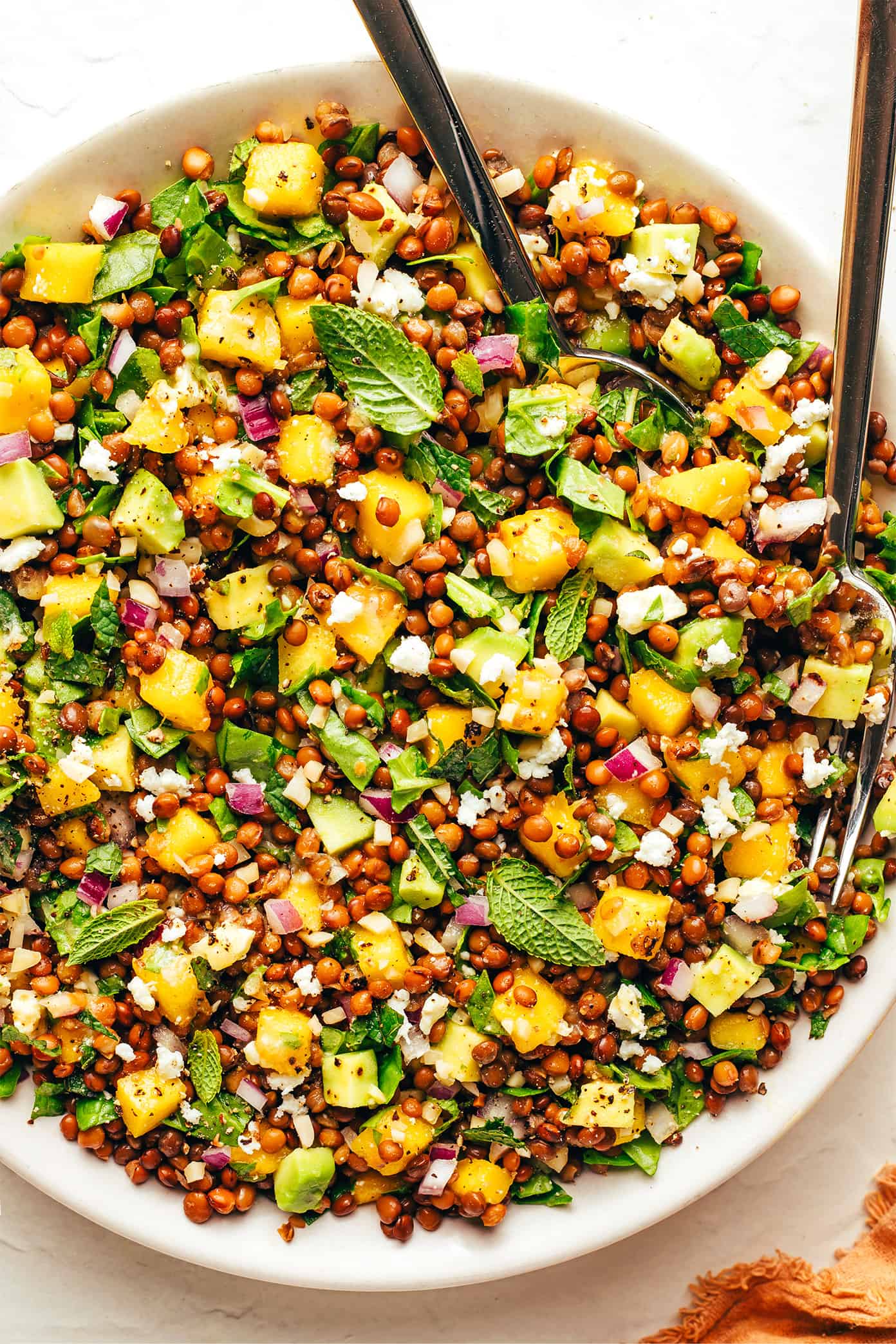 More Lentil Recipes
Looking for more easy lentil recipes to try? Here are a few of our favorites: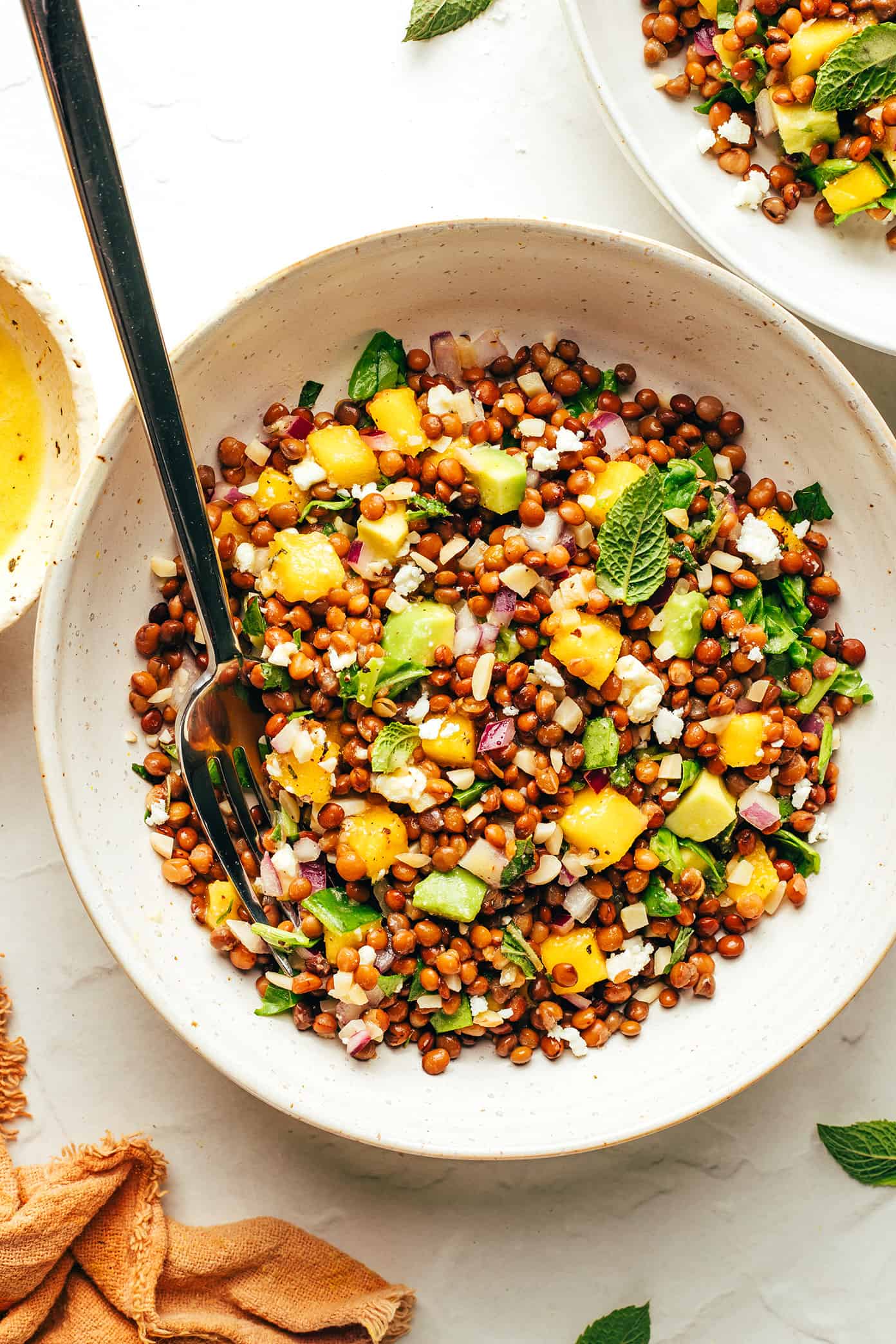 Print
---
1 cup

dried lentils, rinsed and picked over

1

large avocado, diced

1

large mango, diced

half a

medium red onion, finely diced

1 cup

chopped fresh baby spinach

1 cup

chopped fresh mint

2/3 cup

chopped almonds

2/3 cup

crumbled feta cheese

1

batch

everyday salad dressing

fine sea salt and freshly-ground black pepper
---
Cook the lentils.

Cook the lentils in lightly-salted water according to package directions until tender. Pour into a fine-mesh strainer and rinse with cold water until chilled, then drain off any extra water.

Toss.

Combine the lentils, avocado, mango, red onion, baby spinach, mint, almonds and feta in a large mixing bowl and drizzle evenly with the dressing. Toss gently until combined. Taste and season with salt and pepper as needed.

Serve.

Serve immediately and enjoy!
---