This post may contain affiliate links. Please read my disclosure policy.
These spicy garlic chili oil noodles are quick and easy to make and tossed with the yummiest garlic ginger chili oil. Feel free to toss with shrimp or your choice of protein.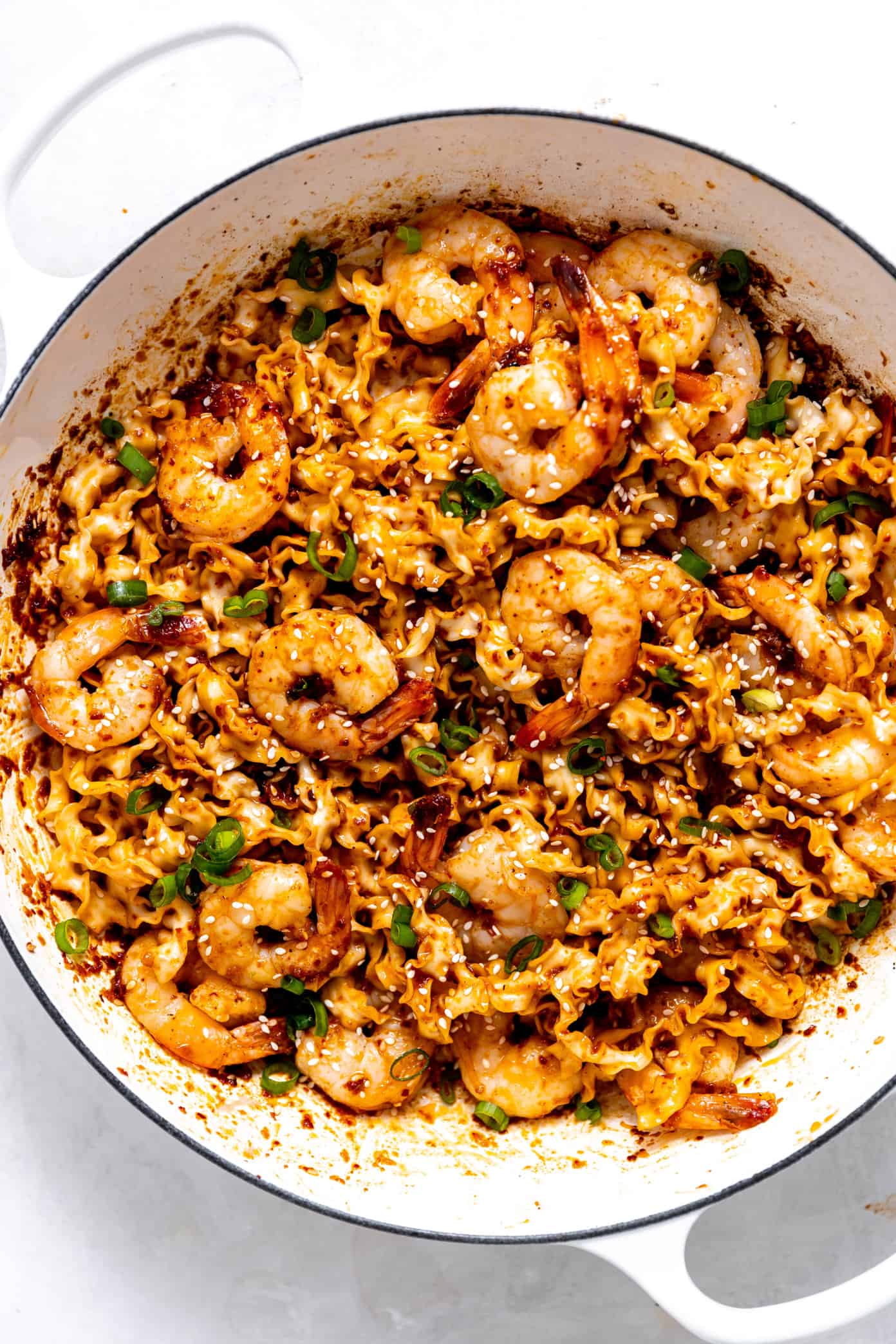 Seriously cannot get enough of these noodles lately. ♡
My TikTok feed has been downright overflowing with Chinese-inspired chili oil noodles these past few years. And after trying out a handful of different recipes and chili oil techniques, I've settled on this recipe as my personal fave.
It's fabulously quick and easy to make with whatever type of noodles you might prefer. And the chili oil sauce that brings it all together is pure sesame, garlicky, gingery, spicy deliciousness. (Like, I could seriously put this chili oil on just about everything, it's just so good.) It's the perfect dish to whip up for a quick dinner with whatever protein or veggies you happen to have on hand. And while these chili noodles are absolutely delicious served nice and hot, I honestly look forward just as much to enjoying any leftover noodles cold for lunch the next day.
If you love spicy noodles, you've definitely got to give this one a try!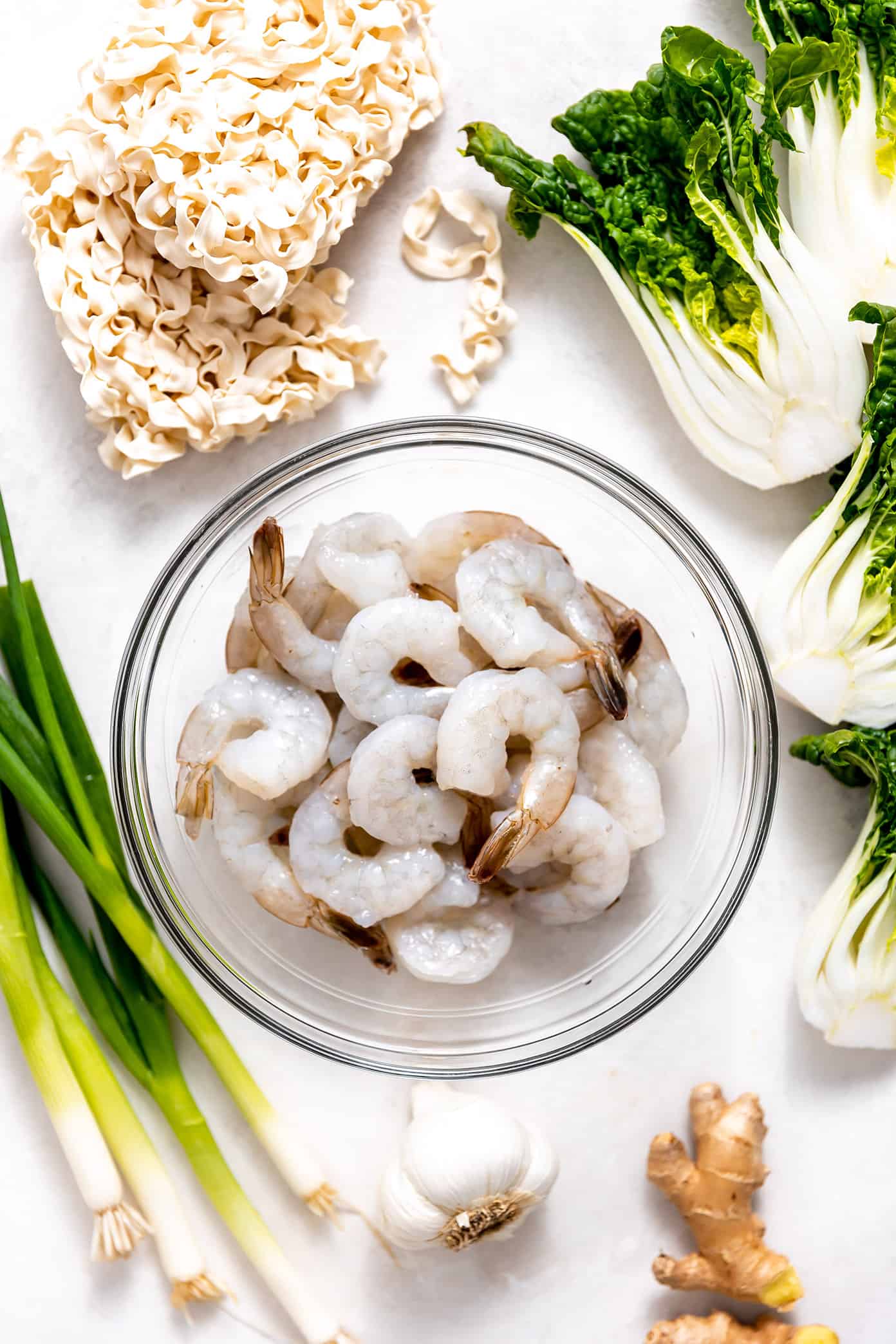 Garlic Chili Oil Noodle Ingredients
Here are a few quick notes about the garlic chili oil noodle ingredients that you will need to make this recipe:
Noodles: I love using these wide knife-cut noodles, whose wavy texture is so much fun in this recipe. But you're welcome to use any other fresh or dried noodles (rice noodles, udon, ramen, etc) that you prefer.
Garlic and ginger: We'll use lots of fresh garlic and ginger in the hot chili oil, which I recommend either grating or finely-mincing.
Scallions: We will sauté the white parts of the scallions with the garlic and ginger, then sprinkle the green parts on the noodles as garnish.
Shrimp: You're welcome to sauté shrimp to go with these noodles or any other protein (meat, seafood or plant-based) that you prefer. Or you can just skip the added protein altogether.
Bok choy: I love serving these noodles with sautéed baby bok choy, but feel free to use whatever veggie(s) you prefer.
Oil: It's best to use a neutral-flavored oil when making chili oil so that it blends in and doesn't compete with all of the other seasonings. I typically reach for avocado oil, but grapeseed, sunflower, vegetable, peanut or a mild-flavored olive oil would also work well.
Soy sauce: I recommend using low-sodium soy sauce for this recipe, which adds a nice hint of umami flavor.
Sesame seeds: Feel free to use either white or black untoasted sesame seeds.
Gochugaru: These vibrant red Korean chili flakes lend the most delicious smoky heat to this dish. They have a milder heat level than crushed red chili flakes. But as always, if you are sensitive to heat, I recommend adding less than the recipe calls for and then you can always add more later if desired.
Chinese black vinegar: Also known as Chinkiang vinegar, Chinese black vinegar has a deep fruity, umami flavor and adds so much to these noodles! I highly recommend picking up a bottle at your local southeast Asian grocery store or online if possible. But if you can't track it down, rice vinegar can work as a substitute, although the flavor will be quite different.
Sugar and salt: Finally, we will season the chili oil with a hint of sugar and salt to balance out all of these delicious flavors.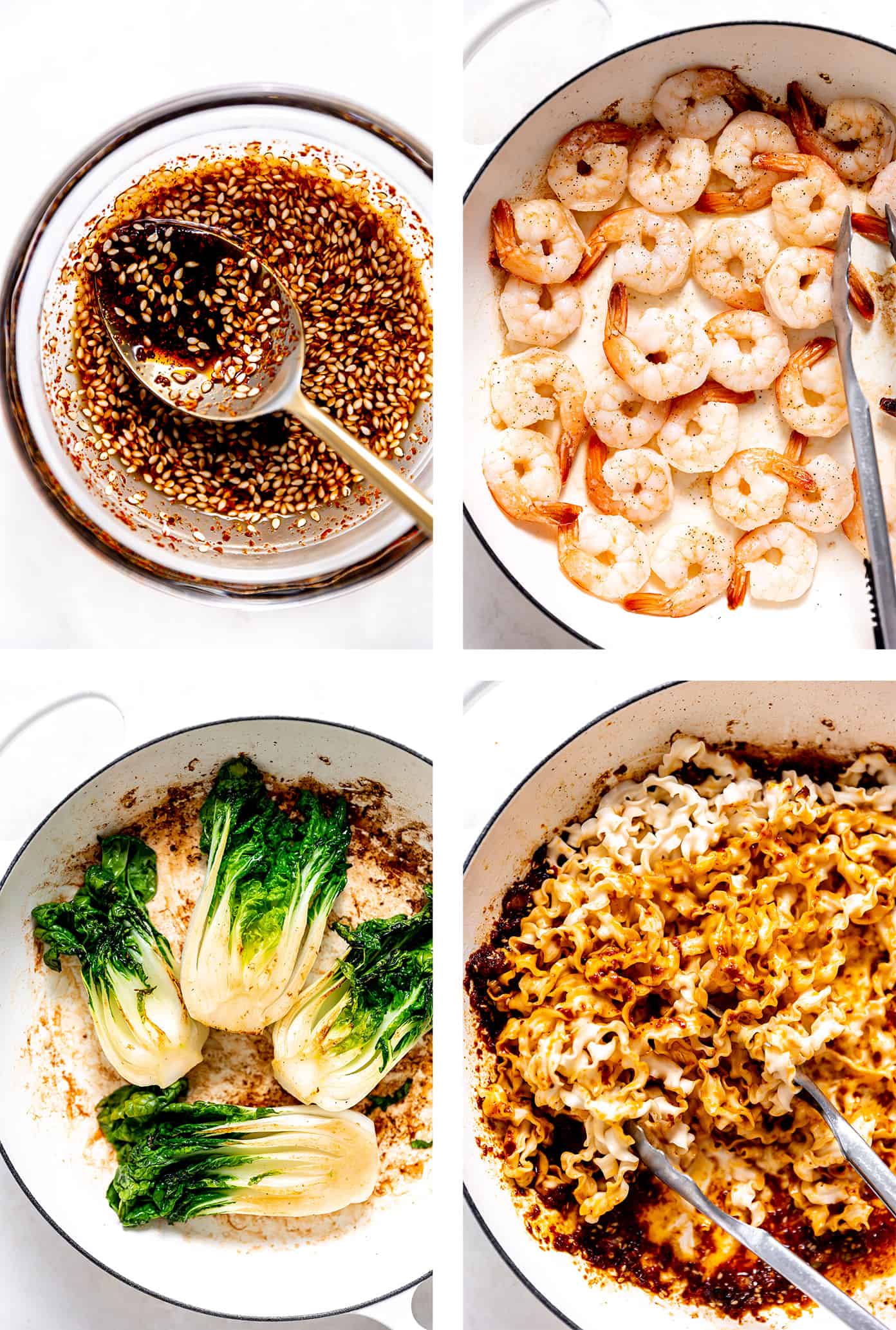 Chili Oil Noodle Tips
Full instructions for how to make chili oil noodles are included in the recipe below, but here are a few additional tips to keep in mind!
Prep the chili oil mix first. This recipe cooks quite quickly once you begin sautéing the shrimp. So in order to ensure that all of your ingredients are nice and hot and ready to go at the same time, I recommend prepping most of the ingredients before you begin cooking.
It's really worth tracking down some gochugaru. If this ingredient isn't already in your pantry, I really recommend tracking it down! It adds such a unique chili flavor to this recipe and can be used as a milder option for hot chili flakes in so many other recipes as well.
Add heat to taste. I would consider this recipe as written to have a medium-high spice level. So if you prefer milder noodles, please start with less gochugaru than is called for.
Be careful when adding the chili oil mix. Adding liquids to hot oil naturally causes oil to bubble up furiously, so please be careful when adding the chili oil mix in during Step 6.
Don't sleep on the leftovers! In my opinion, these noodles are arguably just as delicious served hot and cold. So I highly recommend making a double batch while you're at it so that you can enjoy some cold chili noodles for lunch the next day!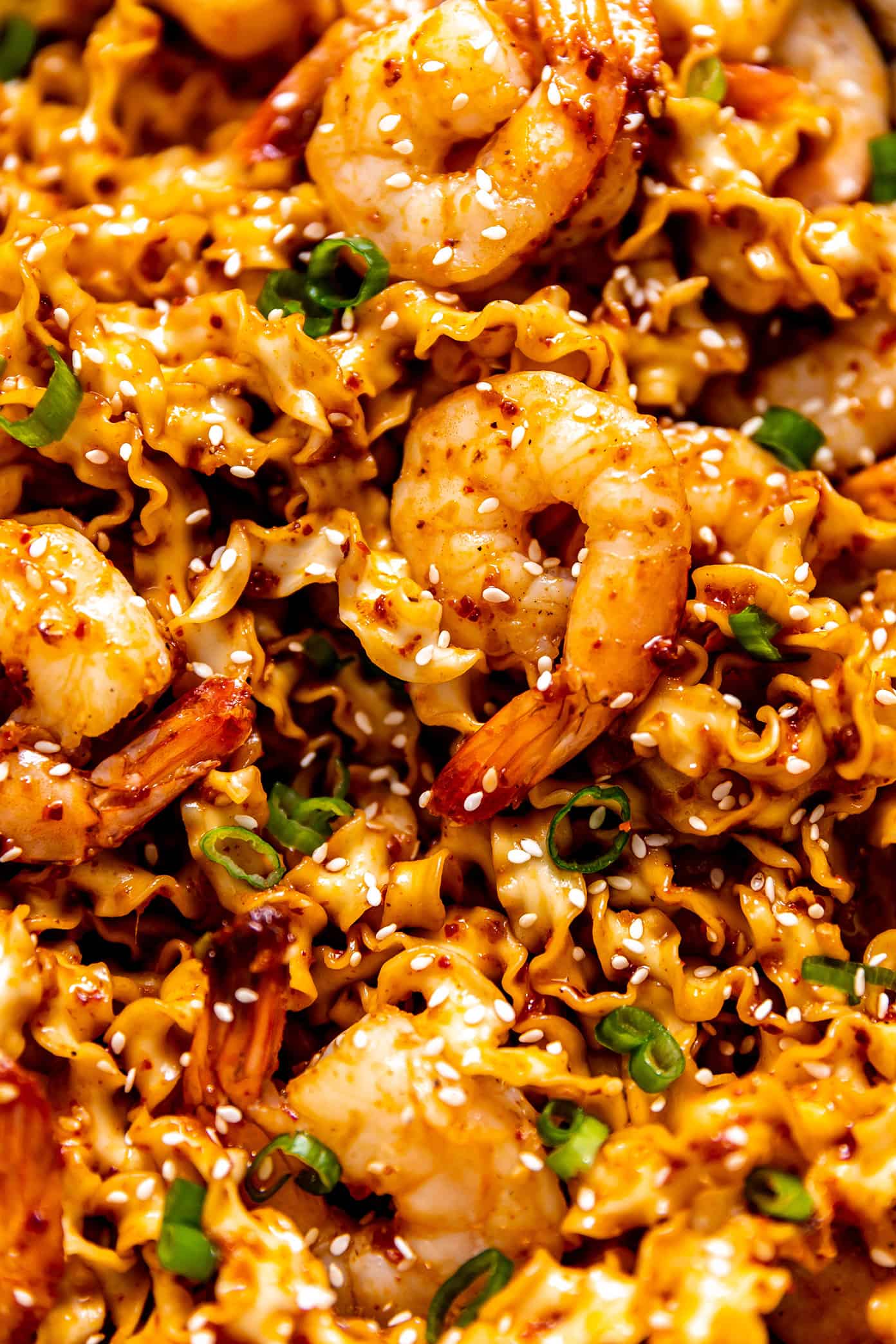 Recipe Variations
Here are a few variations on this chili noodles recipe that you're welcome to try!
Add extra fresh herbs: Toss in a generous sprinkling of chopped fresh cilantro or Thai basil.
Add peanut butter: Whisk a scoop of peanut butter into the stir-fry sauce. Tahini or Chinese sesame paste would be delicious too.
Make it gluten-free: Use gluten-free noodles (such as wide rice noodles) and gluten-free tamari in place of soy sauce.
Make it vegetarian/vegan: Omit the shrimp and use tofu or your favorite plant-based protein.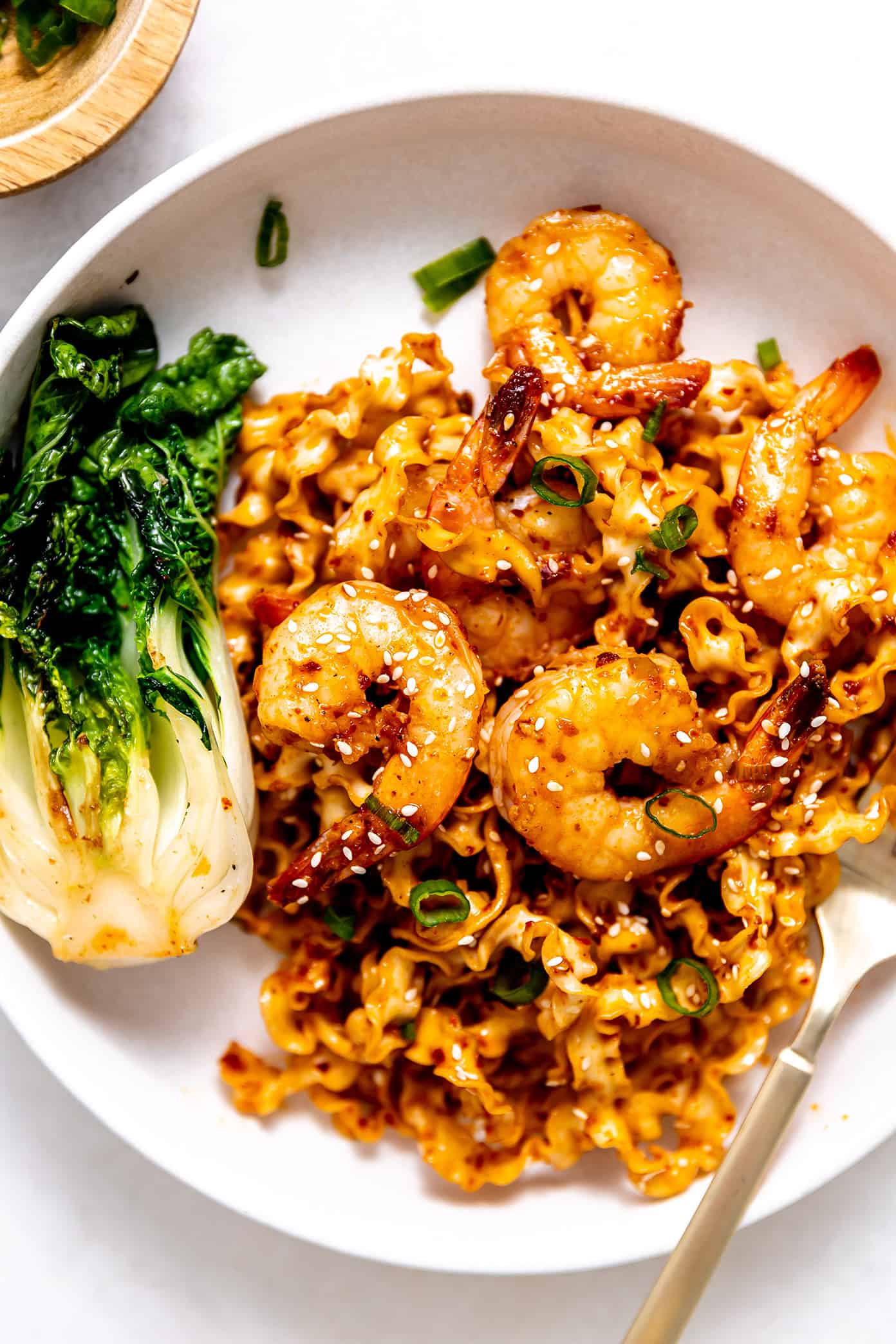 More Noodle Recipes
Looking for more yummy noodle recipe to try? Here are a few of our favorites:
Print
---
Shrimp Noodle Stir-Fry Ingredients:
1

pound jumbo raw shrimp, peeled and deveined
fine sea salt and freshly-ground black pepper

1/3 cup

avocado oil (or any neutral oil), divided

4

baby bok choy, halved vertically

8 ounces

uncooked wide knife-cut noodles (or your choice of noodles)

8

large garlic cloves, minced

2

scallions, thinly sliced (white and green parts separated)

1 tablespoon

minced fresh ginger
Chili Oil Mix Ingredients:
2 tablespoons

low-sodium soy sauce

2 tablespoons

sesame seeds

1

to

2

tablespoons gochugaru (see note below for substitutions)

1 tablespoon

Chinese black vinegar

1 teaspoon

granulated white sugar

1/4 teaspoon

fine sea salt
---
Prep the water. Bring a large pot of water to a boil.
Prep the chili oil mix. Meanwhile, in a small mixing bowl, whisk together all of the chili oil mix ingredients until combined.
Cook the shrimp. Season the shrimp generously with salt and pepper. Heat 1 tablespoon oil to a large non-stick sauté pan over medium-high heat. Add the shrimp in an even layer (you may need to do this in two batches, depending on the size of your pan) and sauté for 1-2 minutes per side until the shrimp are no longer pink and cooked through. Transfer the cooked shrimp to a clean plate and set aside.
Cook the bok choy. Add 1 more tablespoon oil to the pan. Place the bok choy halves cut-side-down in the pan. Cook for 1 minute or until lightly golden on the bottom, then flip and cook for 30 seconds on the other side. Transfer the cooked bok choy to a clean plate and set aside.
Cook the noodles. Add the noodles to the boiling water and cook according to package instructions until al dente.
Cook the garlic chili oil. While the noodles are cooking, add the remaining 1/4 cup oil to the pan. Add the garlic, ginger and the white parts of the scallions and sauté for 1-2 minutes, or until the garlic begins to turn lightly golden. Immediately pour the chili oil mix into the pan (be careful, as it will bubble up intensely) and stir to combine. Remove pan from heat until the noodles are ready.
Combine. Strain the noodles and add them immediately to the pan with the sauce. Add the cooked shrimp and green parts of the scallions and toss everything together until evenly combined.
Serve. Serve immediately with the cooked bok choy and enjoy!
---