This post may contain affiliate links. Please read my disclosure policy.
This homemade tahini sauce recipe is quick and easy to make with 5 ingredients and tastes amazing with everything from falafel to roasted veggies, grilled meats, wraps, salads and more.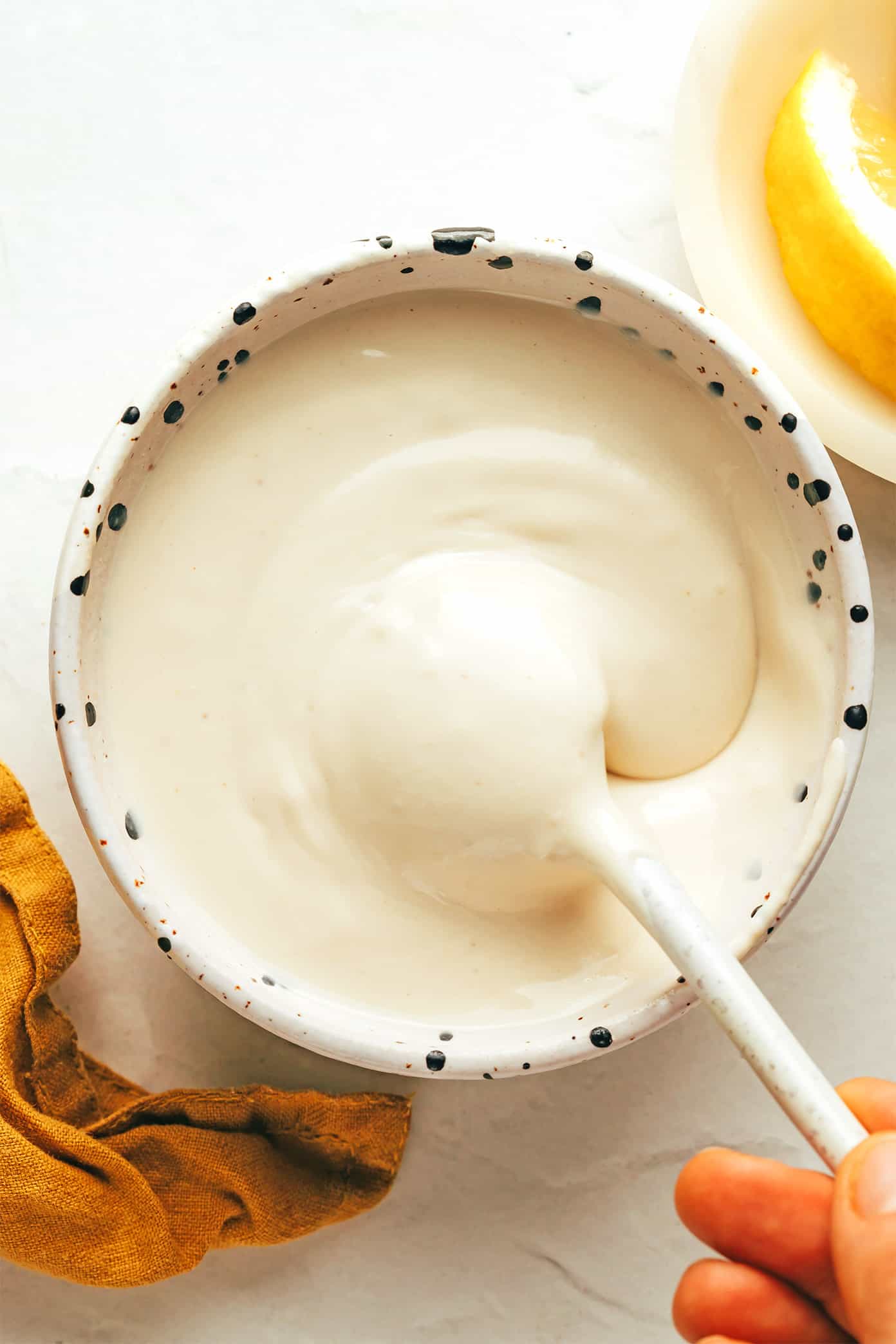 The sauce that makes just about everything better. ♡
Seriously. From grilled veggies to meats, salads to sandwiches, falafel to kebabs and beyond, tahini sauce is one of those magically versatile recipes that can be used in a million different ways. And its classically creamy, nutty, rich flavor never fails to make any dish taste amazing.
All you need are 5 simple ingredients (tahini, lemon, garlic, salt and cumin) and about 10 minutes to whip up a quick batch of this Middle Eastern-inspired sauce. This homemade tahini sauce recipe also happens to naturally be vegan and gluten-free. And while we most often stick to the classic ingredients here in our kitchen, there are countless fun variations that you can try to add some extra herbs, spice, heat, sweetness to customize your own tahini sauce recipe.
So grab some tahini and let's make a quick batch!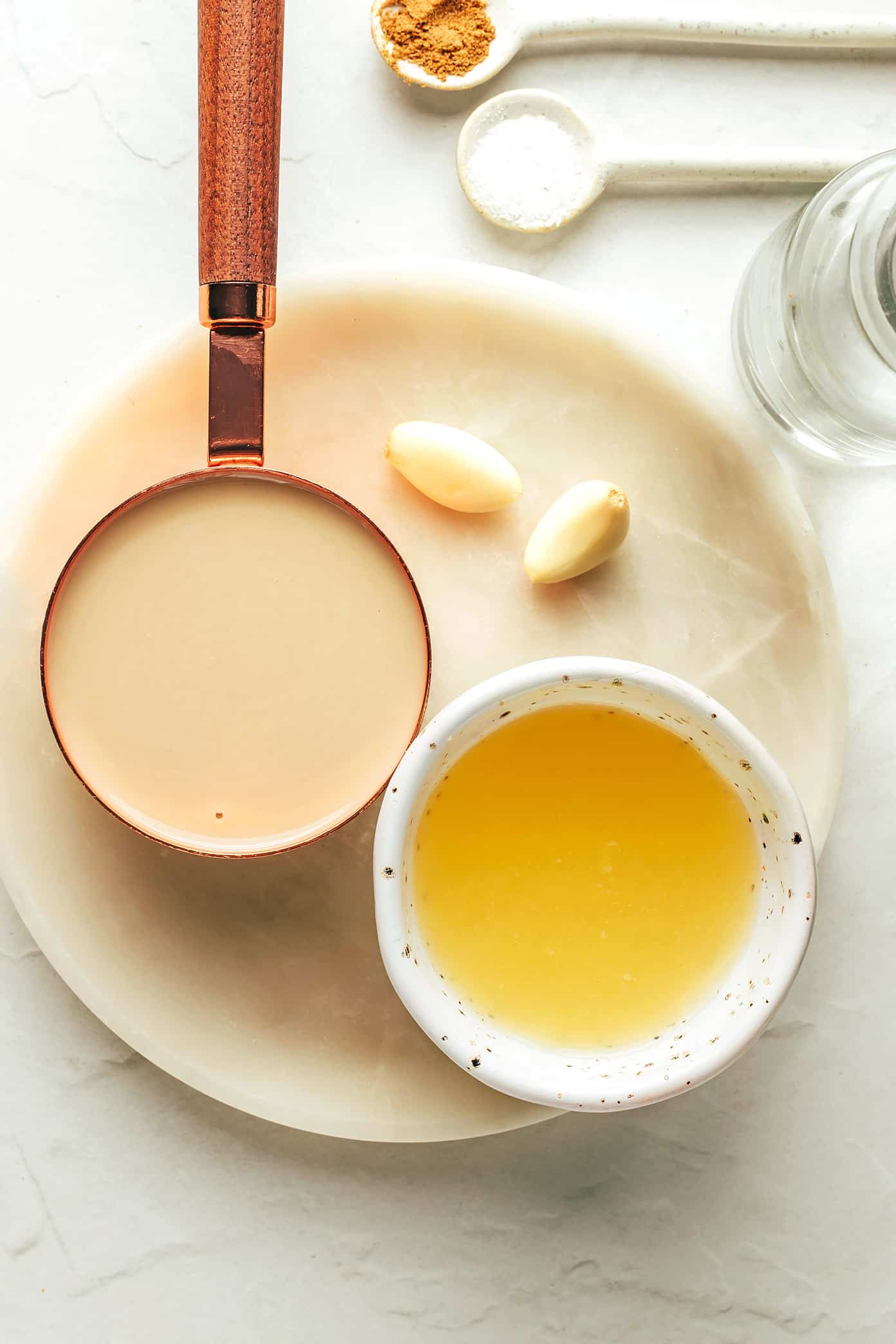 Tahini Sauce Ingredients
Here are a few brief notes about the tahini sauce ingredients you will need to make this recipe:
Tahini: Tahini is of course the star of the show here, with its famously creamy and nutty flavor. I recommend using a good-quality tahini — this is my favorite brand of store-bought tahini, or you can make a quick batch of homemade tahini — and be sure to always give tahini a good stir before adding it to this recipe to ensure that the oils and solids are well-mixed.
Lemon juice: The refreshing tanginess of freshly-squeezed lemon juice perfectly balances the richness of the tahini.
Garlic: I recommend grating or very finely mincing the garlic so that it folds seamlessly into this smooth sauce. For an extra garlicky tahini sauce, you can of course always add in an extra clove or two.
Cumin: I always love adding a hint of ground cumin to any tahini sauces or dressings, as its earthy flavor pairs so well with the tahini.
Cold water: You're welcome to use whatever amount of cold water that you prefer to thin out the sauce and achieve your desired consistency.
Salt: And finally, don't forget to add in a generous pinch of sea salt to bring out the best of these delicious flavors.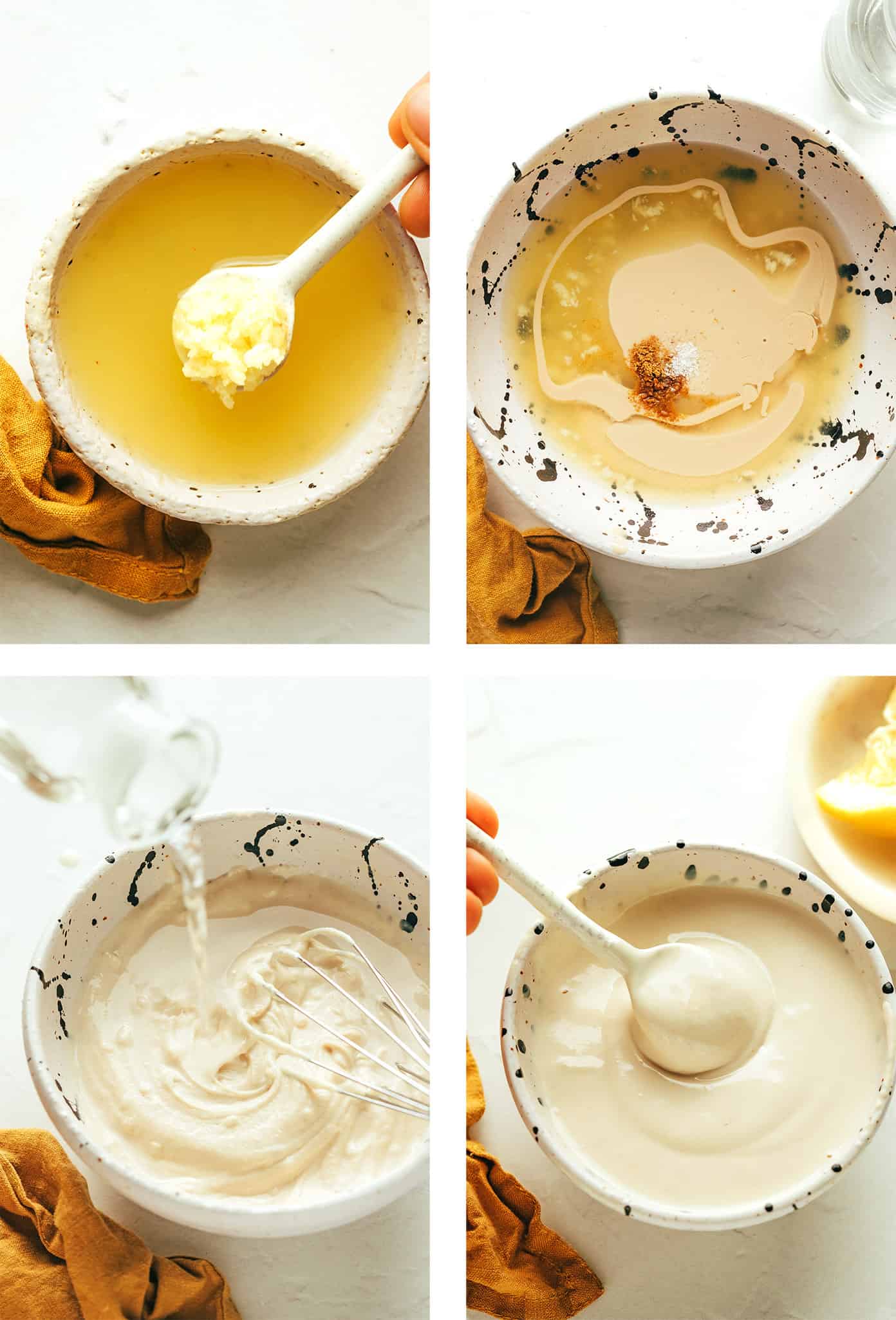 How To Make Tahini Sauce
Full instructions for how to make tahini sauce are included in the recipe box at the bottom of this post. But here are a few extra tahini sauce tip to help make this recipe a success!
Soak the garlic. This inspiration for this step comes from Chef Michael Solomonov's famous recipe for tahini sauce (mentioned in this article), in which he purées an entire head of unpeeled garlic cloves and lemon juice, pauses to let the lemon juice mellow out the flavor of the garlic, then pushes the mixture through a fine-mesh strainer before adding it to tahini sauce. I've used his method a few times and love how the lemon juice really does beautifully tone down the punch of the raw garlic. But to save a few steps, I've found that you can achieve a similar flavor by simply grating (or very-finely mincing) less garlic cloves, soaking the grated garlic in lemon juice for 5-10 minutes, and then adding it directly to the sauce. It makes for a lovely garlicky tahini sauce without allowing the garlic to completely overpower all of the other delicious flavors.
Mix. If you're new to working with tahini, please note that it always seizes up briefly when mixed with other liquids — this is normal! Just keep whisking and it will quickly smooth out and emulsify with the other ingredients.
Thin. Feel free to add anywhere from 1/4 to 1/2 cup of water to this tahini sauce recipe, depending on the consistency needed. If you want a thicker sauce to spread on sandwiches or wraps, you may want to use less. If you want a sauce that's easily drizzle-able on salads or grilled veggies, you may want to use more.
Serve. Once your tahini sauce is mixed, it's ready to serve and enjoy immediately!
How To Store Tahini Sauce
Tahini sauce can be stored in the refrigerator in a sealed container for up to 10 days. The oils and solids in the sauce will naturally separate the longer the sauce sits, so be sure to give the sauce a good stir each time before you use it.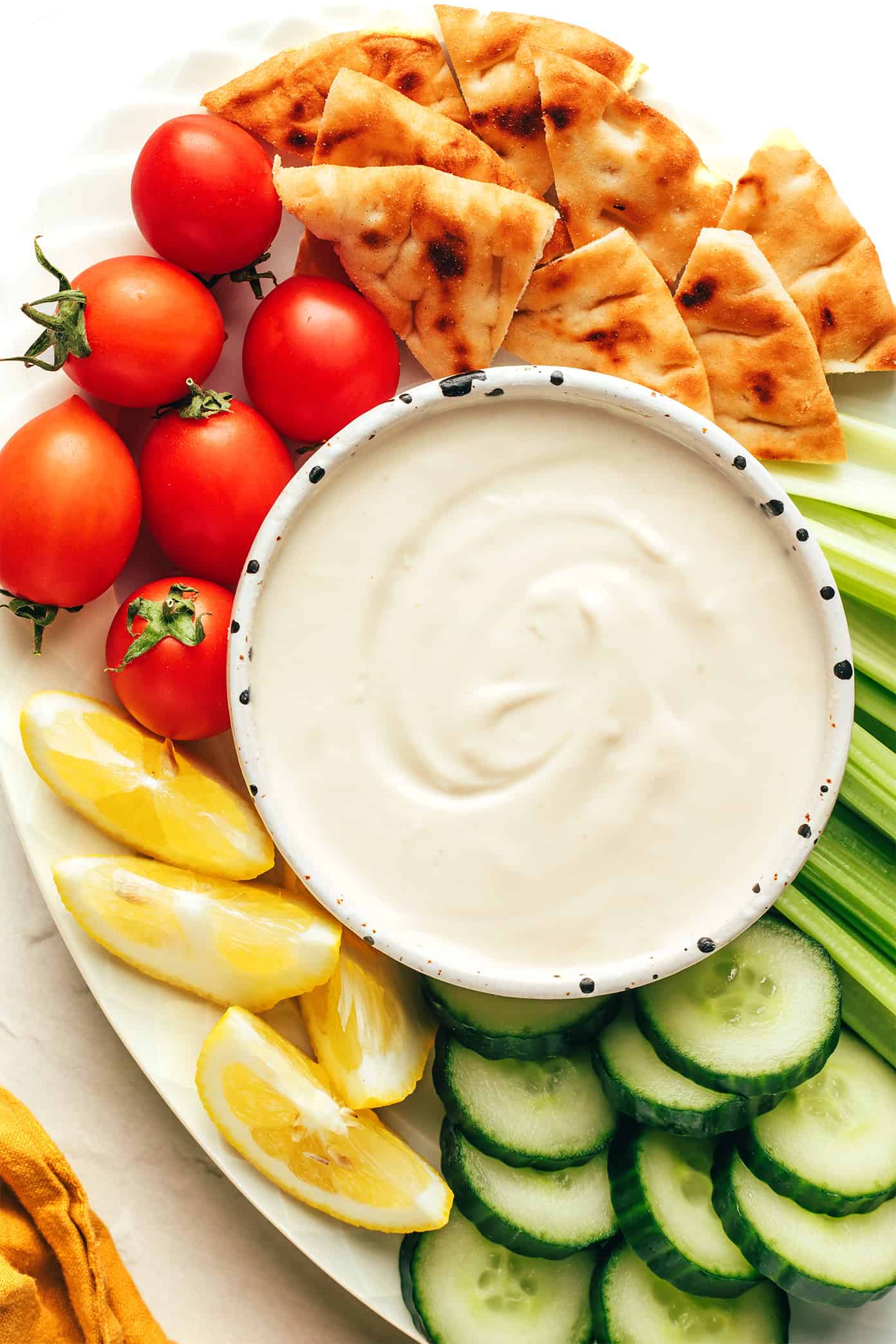 Tahini Sauce Variations
Here are a few variations you are welcome to try with this tahini sauce recipe:
Add extra spices: Add additional spices such as smoked paprika or sumac.
Add fresh herbs: Add finely-chopped fresh herbs such as chives, cilantro, dill, mint, or parsley. Or you can blend the herbs into the sauce (using a traditional or immersion blender) to to make a green tahini sauce.
Add sweetener: Add a hint of maple syrup or honey to lightly sweeten the sauce.
Add heat: Add a pinch of cayenne or Aleppo pepper, or finely-chopped fresh chiles (such as jalapeño or serrano), to amp up the heat.
Add yogurt: Add in a spoonful of plain Greek yogurt to make a creamier yogurt tahini sauce.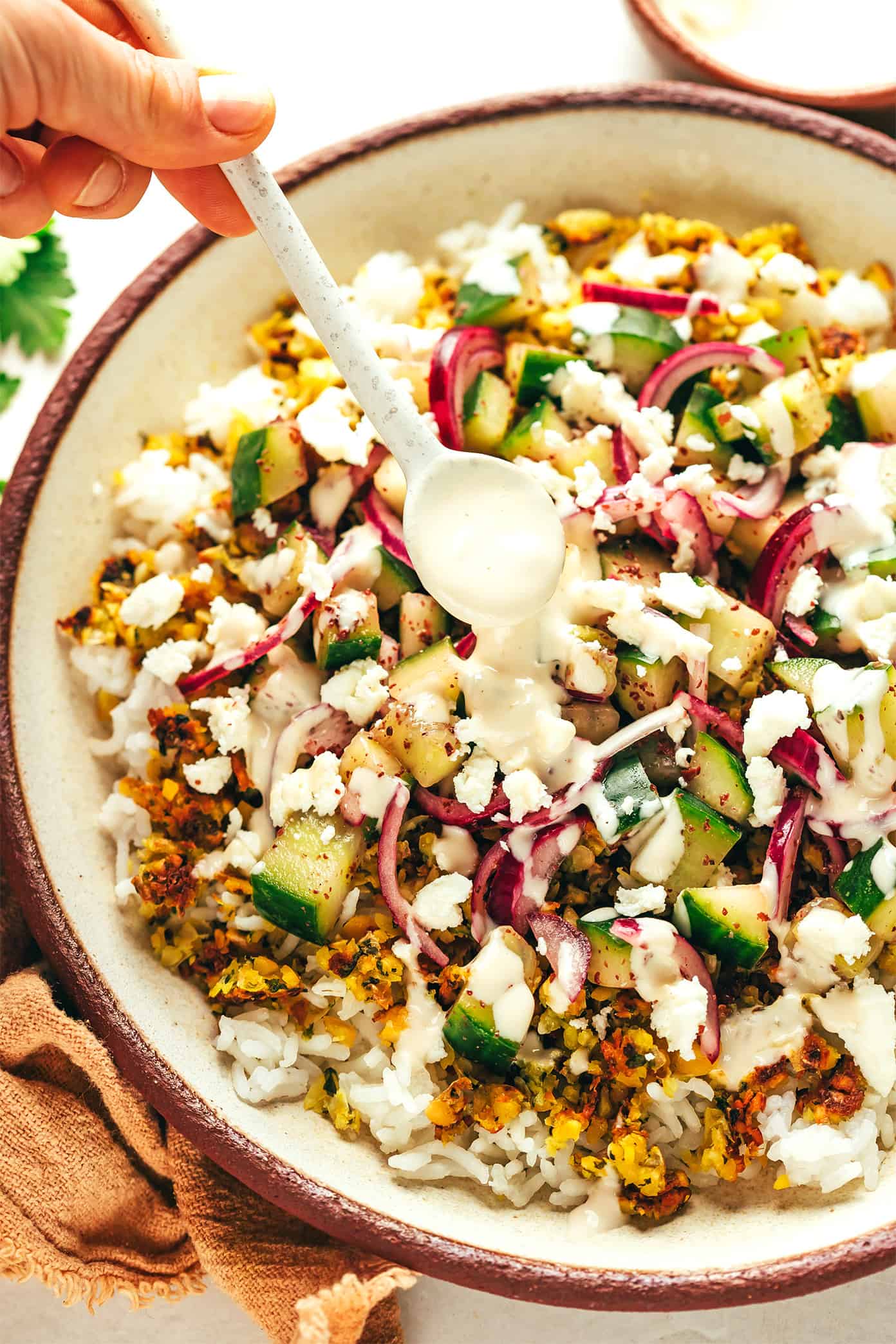 Ways To Use Tahini Sauce
Looking for more delicious ways to use tahini sauce? Here are a few of our favorites:
Dipping sauce: Serve it up as a dipping sauce with your favorite veggie sticks, pita or chips.
Salads: Thin it out with a bit of extra water and lemon juice to make a simple tahini dressing to drizzle on salads.
Sandwiches and wraps: Drizzle tahini sauce onto your favorite sandwiches and wraps.
Roasted veggies: Tahini sauce makes a fantastic topping for roasted or grilled vegetables.
Grilled meat or kebabs: Tahini sauce has long been a popular marinade or topping for grilled meat or kebabs, such as shawarma.
Falafel or falafel bowls: One of my favorite uses for tahini sauce is drizzling it on falafel or falafel bowls (recipe coming soon!).
Print
---
Description
This homemade tahini sauce recipe is quick and easy to make with 5 ingredients and tastes delicious drizzled on everything from falafel to roasted veggies, grilled meats, wraps, salads and more.
---
2

small cloves garlic, finely grated or minced

1/3 cup

lemon juice

1/2 cup

tahini

1/2 teaspoon

fine sea salt

1/4 teaspoon

ground cumin

1/4

to

1/2

cup cold water
---
Soak the garlic.

Combine the garlic and lemon juice in a small bowl and stir to combine. Let the garlic rest for 5 to 10 minutes so that its flavor can mellow.

Mix.

Add the tahini, sea salt, cumin and whisk to combine. While continuing to whisk with one hand, slowly stream ¼ cup water into the mixture and whisk until smooth. (The tahini may seize up briefly, but keep whisking and it will smooth out.)

Thin.

Add extra water if needed to thin the tahini sauce to your desired consistency.

Serve.

Serve immediately, or refrigerate in a sealed container for up to 1 week. Enjoy!
---
---