This post may contain affiliate links. Please read my disclosure policy.
This 5-ingredient brown butter shortbread recipe is easy to make and wonderfully rich and delicious.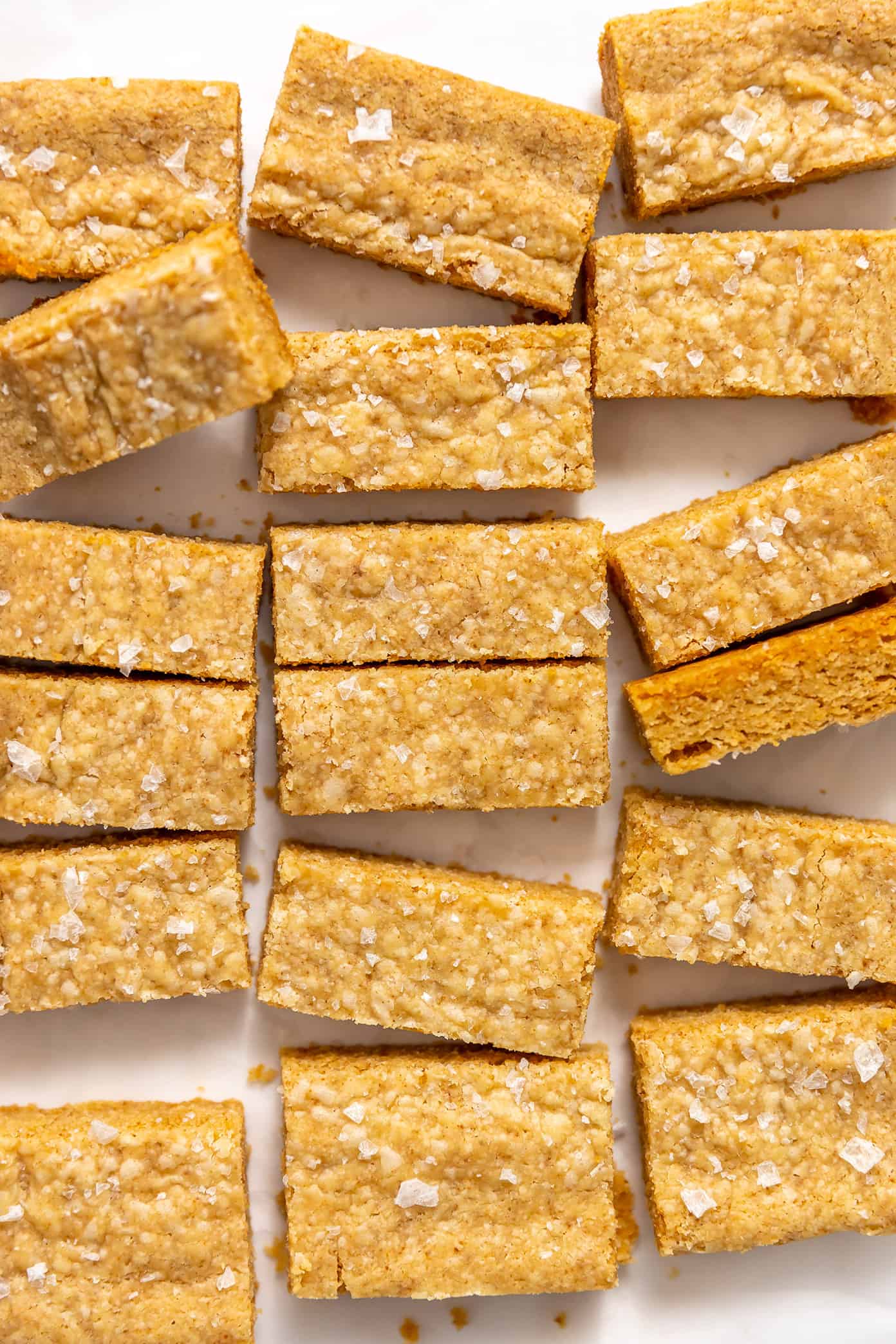 These brown butter shortbread bars are downright swoon-worthy. ♡
Seriously. I've baked up a record amount of shortbread during this season of Ted Lasso, inspired by his famous biscuits that he gives to Rebecca week after week. And after playing around with various takes on classic shortbread recipes, and getting lots of feedback from friends who have been more than happy to taste test, we've finally settled on a winning recipe that I'm certain would be Ted-approved.
Like most classic shortbread recipes, this one features the 4 usual ingredients — butter, flour, sugar and salt. But I've amped things up by browning the butter, which adds an irresistibly nutty, toasty and rich notes to the shortbread. I've also added a hint of vanilla to the batter, which rounds out the flavors and brings everything together nicely. Then I'm absolutely going to insist that you sprinkle a bit of flaky sea salt on top to finish — the salty-sweet combo is works so well here and really makes the brown buttery flavors sing!
Just like Ted, I'm convinced that these shortbread bars (or "biscuits" as they would say in the UK) are best for sharing. So I hope you'll bake up a quick batch to share with those you love and enjoy, enjoy!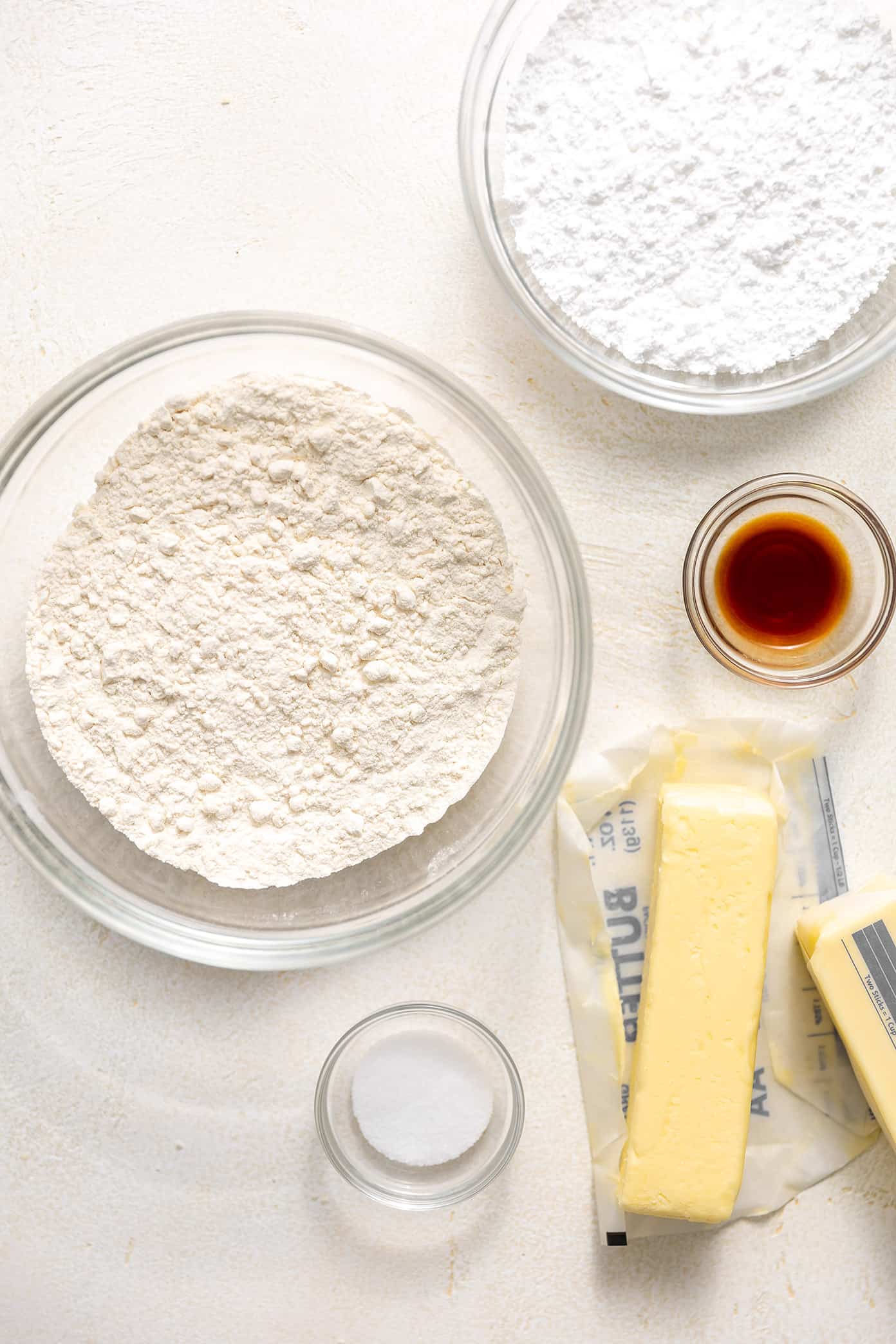 Brown Butter Shortbread Ingredients
Here are a few brief notes about the brown butter shortbread ingredients you will need to make your own "Ted Lasso biscuits":
Unsalted butter: I wrote this recipe using unsalted butter. But if you happen to only have salted butter on hand, no problem, just reduce the amount of fine sea salt in the recipe to 1/4 teaspoon (instead of 3/4 teaspoon). We will brown the butter to add some extra rich and toasty flavor, then add 2 tablespoons of water back to the butter to replace some of the liquid that evaporated during the browning process.
All-purpose flour: We're going with classic all-purpose flour in these bars, which is traditionally used to make shortbread. Also, please note that 1 cup = 142 g flour in my recipes, and always recommend weighing the flour with a kitchen scale if you have one.
Powdered sugar: Likewise, I also recommend weighing the powdered sugar to ensure that you have the proper quantity.
Vanilla extract: A touch of vanilla pairs so beautifully here with the toasty brown butter flavor.
Salt: + flaky sea salt: Finally, we will use fine sea salt in the bars themselves. Then I also highly recommend sprinkling the baked bars with a hint of flaky sea salt to finish. The sweet + salt combination here is downright irresistible.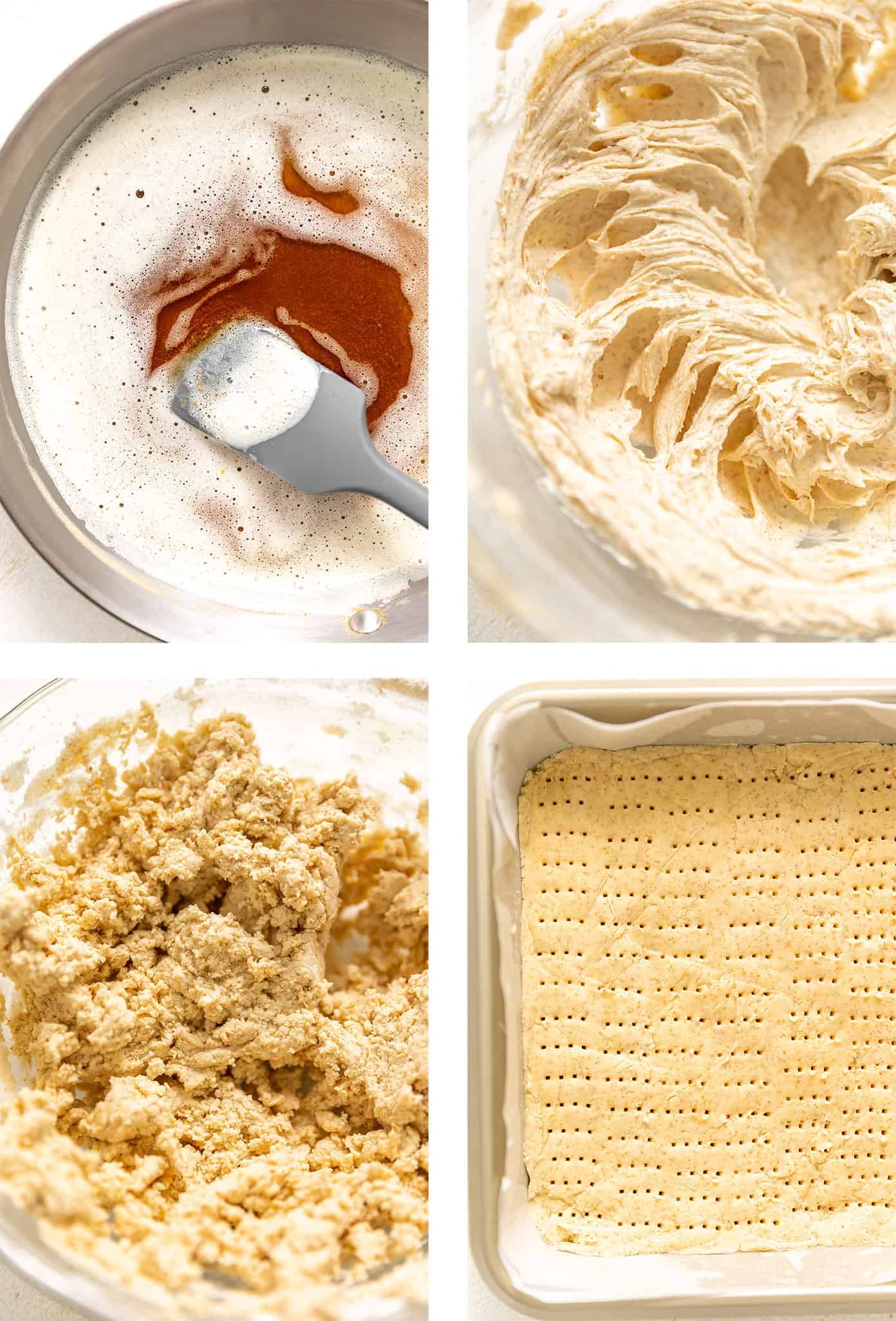 How To Make Shortbread Bars
Detailed instructions are included in the full recipe box below, but here are a few extra tips to help with each step:
Brown the butter. I recommend doing this step a few hours before you plan to bake the shortbread so that the brown butter will have time to chill and harden again. (Chilling the brown butter is optional, but it will give the bars a much better texture once baked.) To chill the butter faster, I recommend placing it in a large shallow bowl or baking dish.
Mix the dough. It's easiest to do this step with either a hand mixer or a stand mixer, since we'll need to cream the brown butter and sugars together. Once you've added in the salt, vanilla and extra water, take care to just briefly mix the batter until combined. We don't want to overmix it.
Press dough into pan. We will press the batter evenly into a parchment-lined baking pan and then use a toothpick (or a fork) to briefly poke holes all over the dough.
Bake. The shortbread will bake for about 50 to 55 minutes or until it's golden brown and lightly firm to the touch. Transfer the pan to a wire rack to cool for 20 minutes, and then carefully lift up the parchment and transfer the large bar to a cutting board. At this point, you can slice the shortbread into your desired size/shape of bars and sprinkle with flaky sea salt.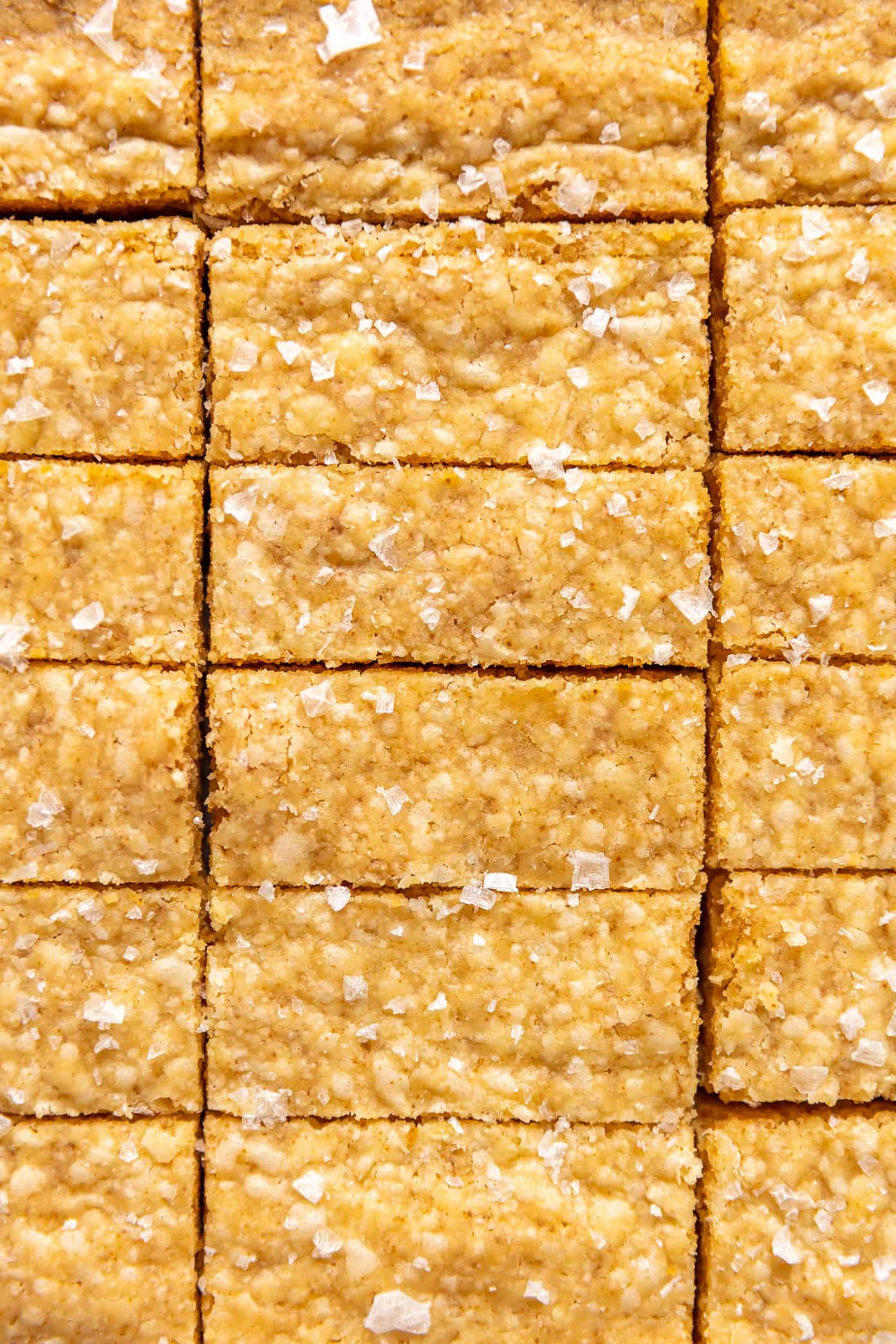 Shortbread FAQs
A few quick shortbread questions:
How do these compare to the actual Ted Lasso biscuits? Well, hopefully much better than the originals, at least according to this famous interview with Hannah Waddingham! It doesn't look like the updated Ted Lasso's biscuits are made with brown butter, but I have a feeling Coach and Rebecca would love them. 😉
What's the difference between shortbread biscuits and cookies? Nada. In the UK, these would be referred to as shortbread "biscuits", while in the States, they are more commonly called shortbread "cookies" or "bars."
Do you need to let the brown butter chill? If you're in a rush, you can go ahead and mix the batter while the brown butter is still hot, but the shortbread will be much more dense and will not rise well. They'll still taste great though.
When is the best time to cut the bars? I experimented with a number of methods of cutting the bars before, during, shortly after, and awhile after baking, and found that I consistently had the best success cutting them about 20 minutes after baking while the bars were still warm. They always sliced very cleanly and evenly!
What if the poked holes close up while baking? No problem — they may close up! We poke the holes initially to help the biscuits rise while baking. But I've found that when using butter, they often close up while baking.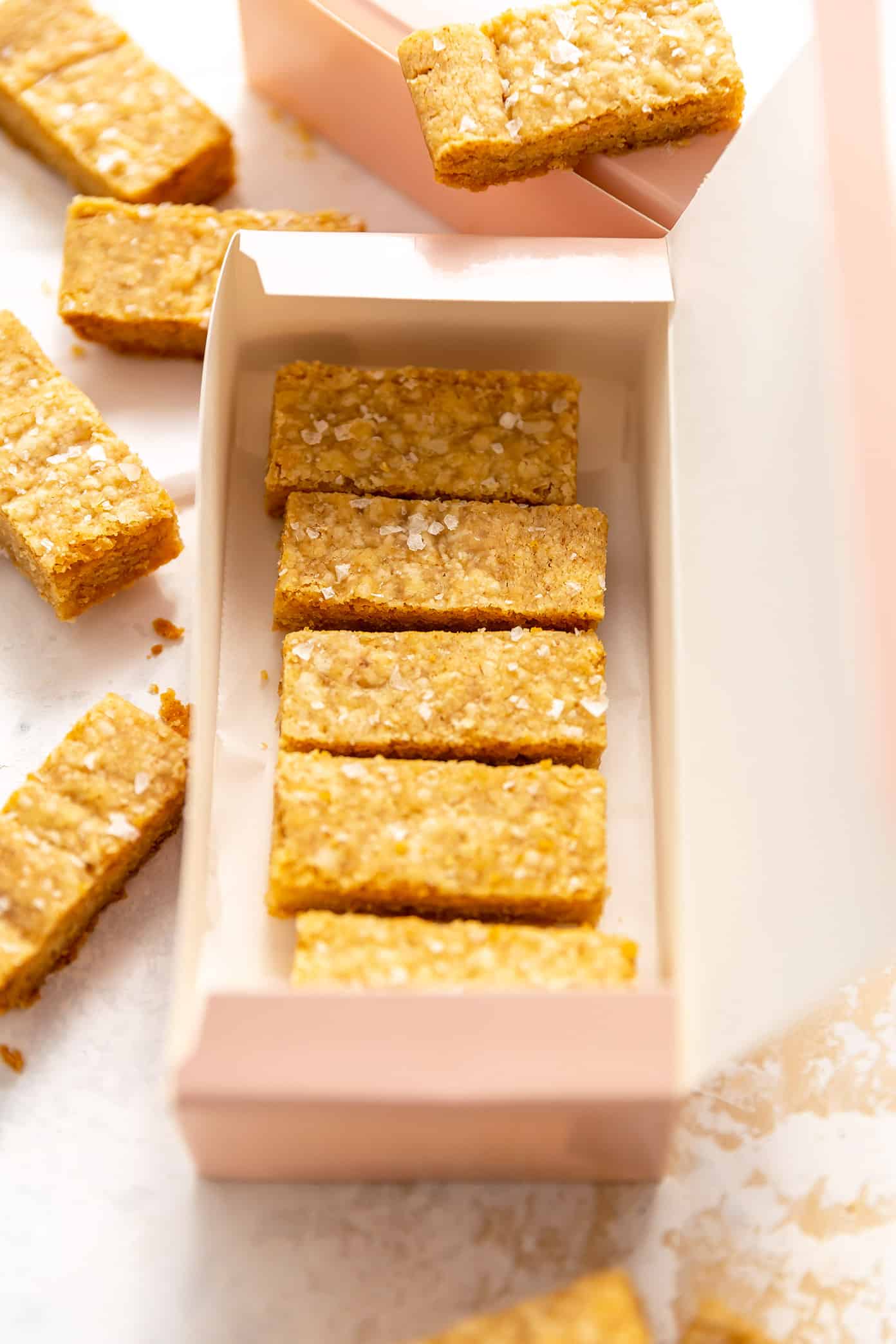 More Buttery Cookie Recipes
Looking for more delicious cookie recipes to try? Here are a few of our favorites: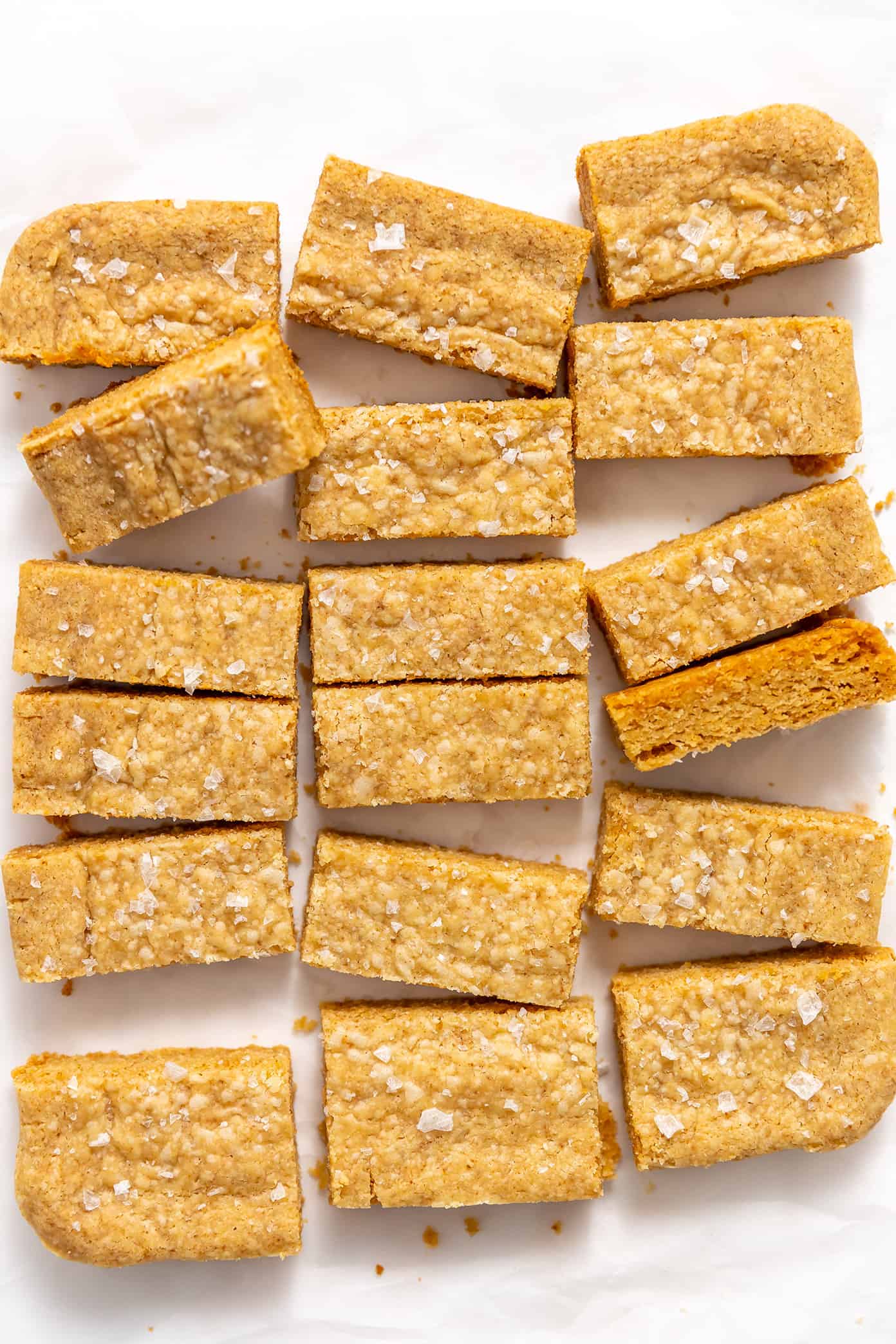 Print
---
Description
This 5-ingredient brown butter shortbread recipe is easy to make and wonderfully rich and delicious.
---
1 cup

(227g) unsalted butter

(plus 2 tablespoons water)

1 cup

(120g) powdered sugar

3/4 teaspoon

fine sea salt

1 1/2 teaspoons

vanilla extract

2 cups

(184g) all-purpose flour

flaky sea salt
---
Brown the butter.

Melt the butter in the large sauté pan over medium-high heat. Continue cooking until the butter begins to foam, stirring frequently to ensure that the butter cooks evenly. Once the butter solids begin to turn golden brown and the butter smells toasty, immediately pour it into a heat-safe bowl.

(Keep a very close eye on the butter while it is browning so that it does not burn, since it can go from golden to burned very quickly.)

Refrigerate the butter for 1 hour or until it solidifies into a soft consistency, similar to mayonnaise.

Prep the oven and baking pan.

Heat oven to 300°F. Line a 8×8-inch baking pan with parchment paper.

Mix the dough.

Transfer the chilled butter to the bowl of a stand mixer and add the powdered sugar. Using the paddle attachment, cream the butter and sugar together on medium-high speed for 2 minutes or until pale and creamy. Add in the salt, vanilla extract, 2 tablespoons of water, and beat briefly until combined. Add the flour and beat until just combined (do not overmix). 

Press dough into pan.

Press the dough as evenly as possible into the prepared baking pan. Use a toothpick or a fork to poke holes all over the dough about 1 inch apart.

Bake.

Bake for 50 to 55 minutes or until golden brown and lightly firm to the touch. Transfer the pan to a wire rack to cool for 20 minutes. Then carefully lift up the parchment and transfer the large bar to a cutting board. Slice into your desired size of bars and sprinkle with flaky sea salt.

Serve.

Serve and enjoy!
---
Notes
Prep time: Please note that the prep time listed does not include the time needed to chill the butter, which generally takes between 1-2 hours.