This post may contain affiliate links. Please read my disclosure policy.
This Chinese-inspired sticky honey lemon chicken recipe is easy to make and tossed with an irresistibly sweet and savory stir-fry sauce.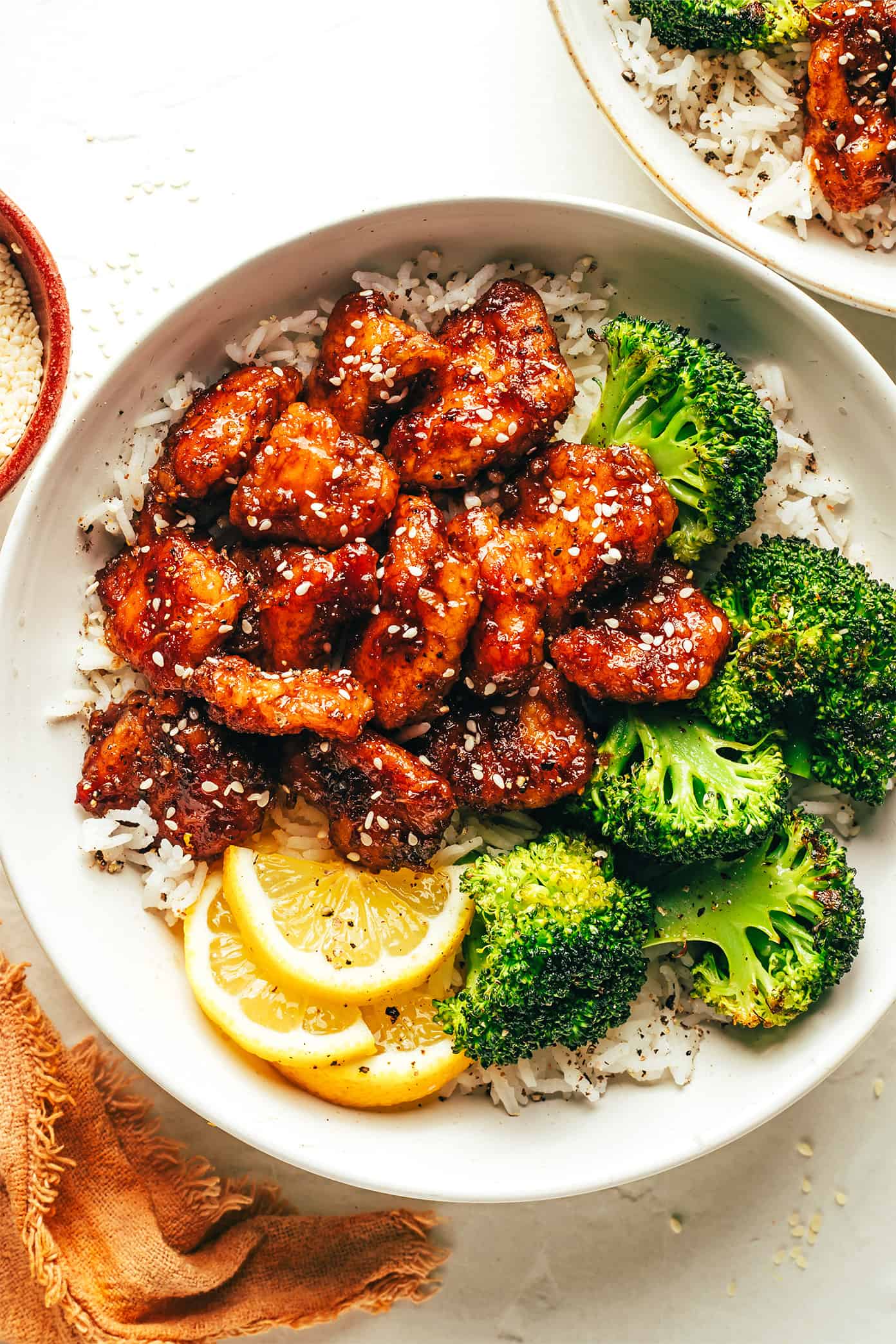 This simple stir fry is calling your name! ♡
It's made with a 5-ingredient honey lemon stir-fry sauce that hits the yummiest balance of sweet, savory, (slightly) spicy and tangy notes. Thanks to a quick cornstarch coating, the chicken cooks up to be nice and crispy with an irresistibly sticky sauce. Feel free to swap soy sauce for tamari if you'd like to make the recipe gluten-free. And if chicken isn't your thing, it would also be just as delightful using shrimp, pork, beef or another protein of your choice.
My toddler and I seriously can't get enough of this recipe and love serving it up over rice or sesame noodles with a side of roasted veggies. And we can vouch that leftovers taste just as great the next day too.
Let's make some chicken stir fry!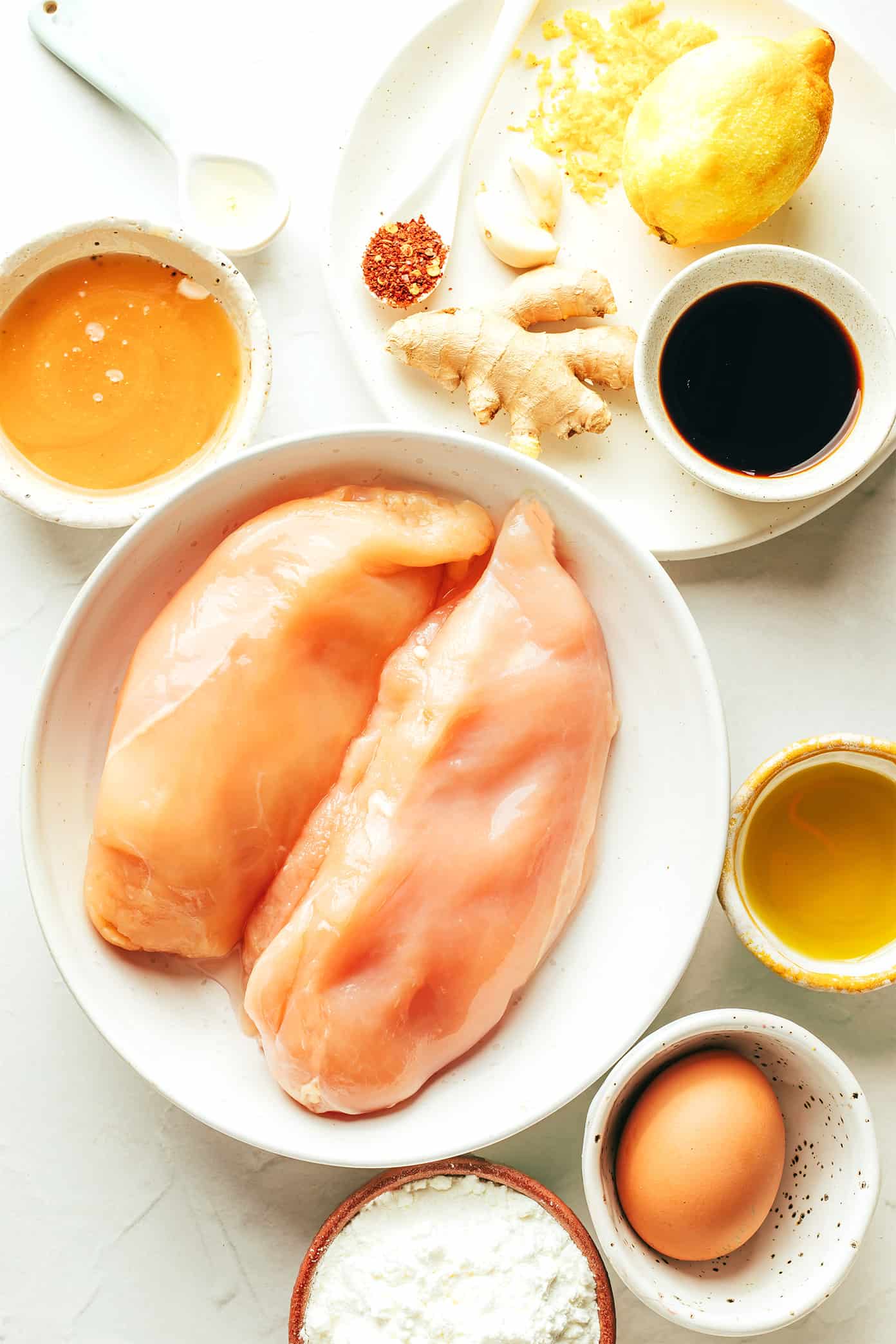 Sticky Honey Lemon Chicken Ingredients
Here are a few quick notes about the honey lemon chicken ingredients you will need to make this recipe:
Chicken: You can use either boneless chicken breasts or thighs for this recipe, which we will cut into bite-sized pieces and coat with egg and cornstarch to stir-fry.
Garlic and ginger: We'll use a generous amount of fresh garlic and ginger to season the chicken stir-fry, which you're welcome to either grate or finely mince.
Egg and cornstarch: This combination will serve as the coating for our chicken, helping it to crisp up beautifully in oil and also help to thicken our sticky sauce.
Honey lemon sauce: We will use a simple 5-ingredient combination of fresh lemon (zested and juiced), honey, low-sodium soy sauce, rice wine vinegar, and crushed red chili flakes. I recommend making the recipe as written, but once you give it a taste, feel free to add any extra of these ingredients to taste if needed.
Garnishes: I recommend lots of thinly-sliced scallions and toasted sesame seeds as a garnish.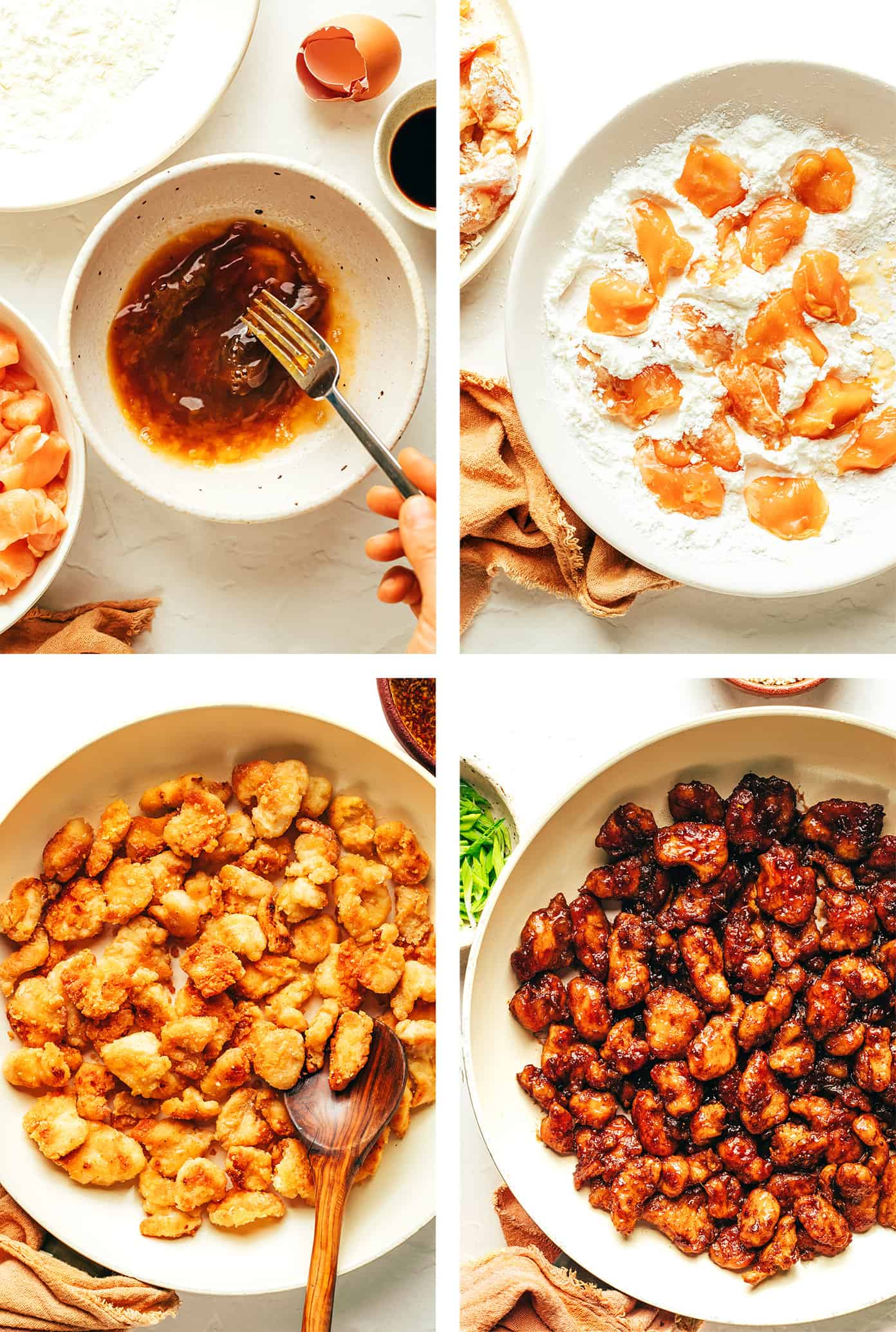 Tips for Making This Stir-Fry
Full instructions for how to make this chicken stir fry are included in the recipe below, but here are a few quick tips to consider too.
Use the wet-hand, dry-hand method for coating chicken. You can totally coat the chicken however you prefer, but if you'd like to avoid your hands getting totally caked in cornstarch, try designating one hand for the wet ingredients (egg + soy sauce) and one for the dry (cornstarch). Once you've thoroughly tossed the chicken with the egg and soy sauce mixture, use the wet hand to sprinkle a few pieces of the chicken over your cornstarch mixture. Then use the dry hand to scoop up and sprinkle the top of the chicken with cornstarch, give it a quick toss, then transfer to a clean plate.
Don't worry if the sauce seems thin. The honey lemon sauce will seem quite thin initially when you add it to the chicken. But do not fear — it will thicken up very quickly once it heats up and is tossed with the chicken.
Multitask veggies and rice. If you would like to serve this chicken with some veggies, I recommend popping them in a hot oven while you prepare the chicken recipe. (Asparagus, broccoli, Brussels sprouts, carrots, green beans, or zucchini could all be great options.) Then I also recommend cooking some rice alongside the chicken on the stovetop or in a rice cooker or Instant Pot.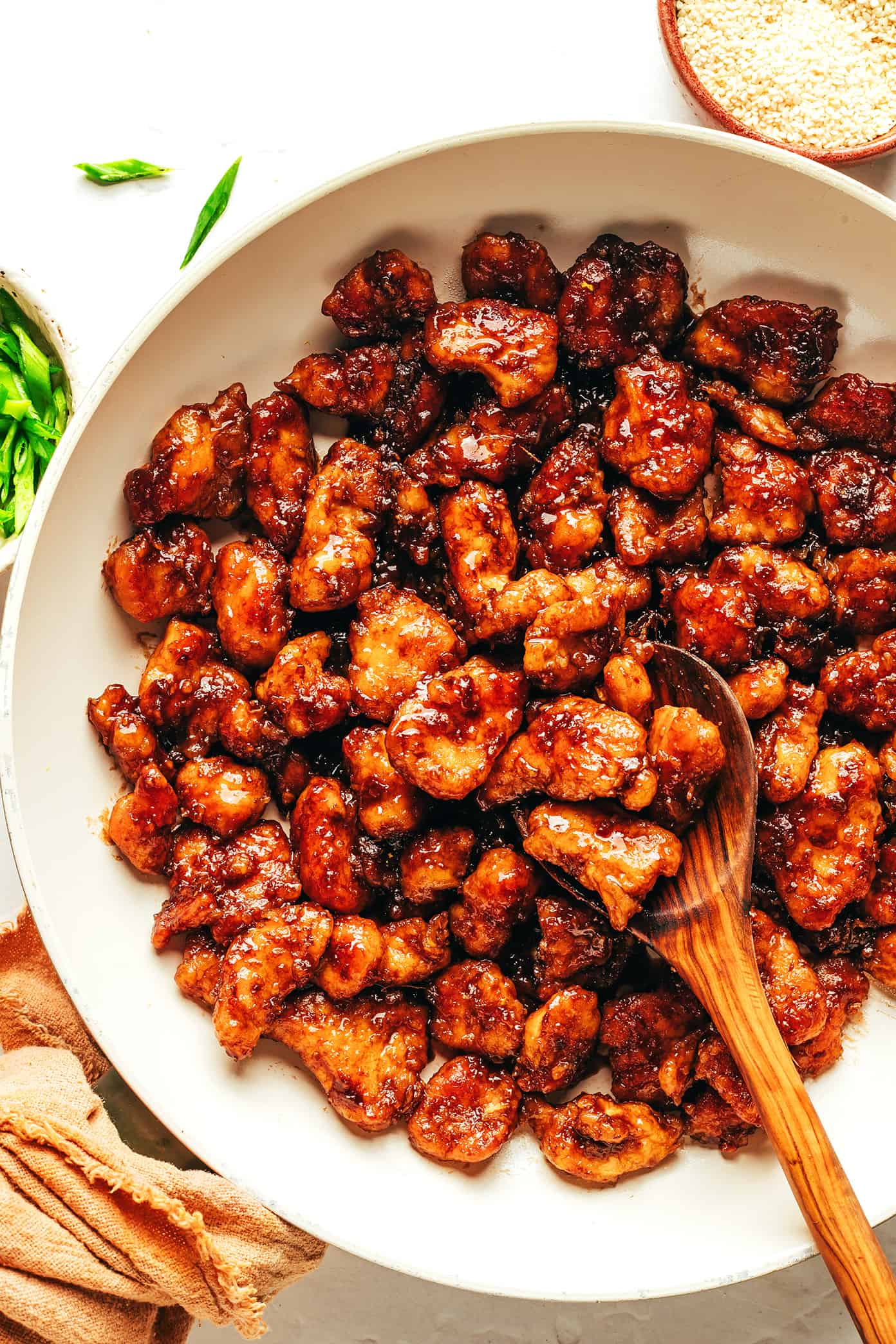 Recipe Variations
Here are a few additional options for ways to customize this recipe:
Make it gluten-free: Use gluten-free tamari in place of soy sauce to make a gluten-free chicken stir fry.
Make it spicier: Add more crushed red pepper flakes to taste and/or drizzle the finished dish with your favorite hot sauce or chili crisp.
Use a different protein: Use shrimp, beef, pork or tofu in place of the chicken. (Note that cooking times will vary depending on the protein you choose.)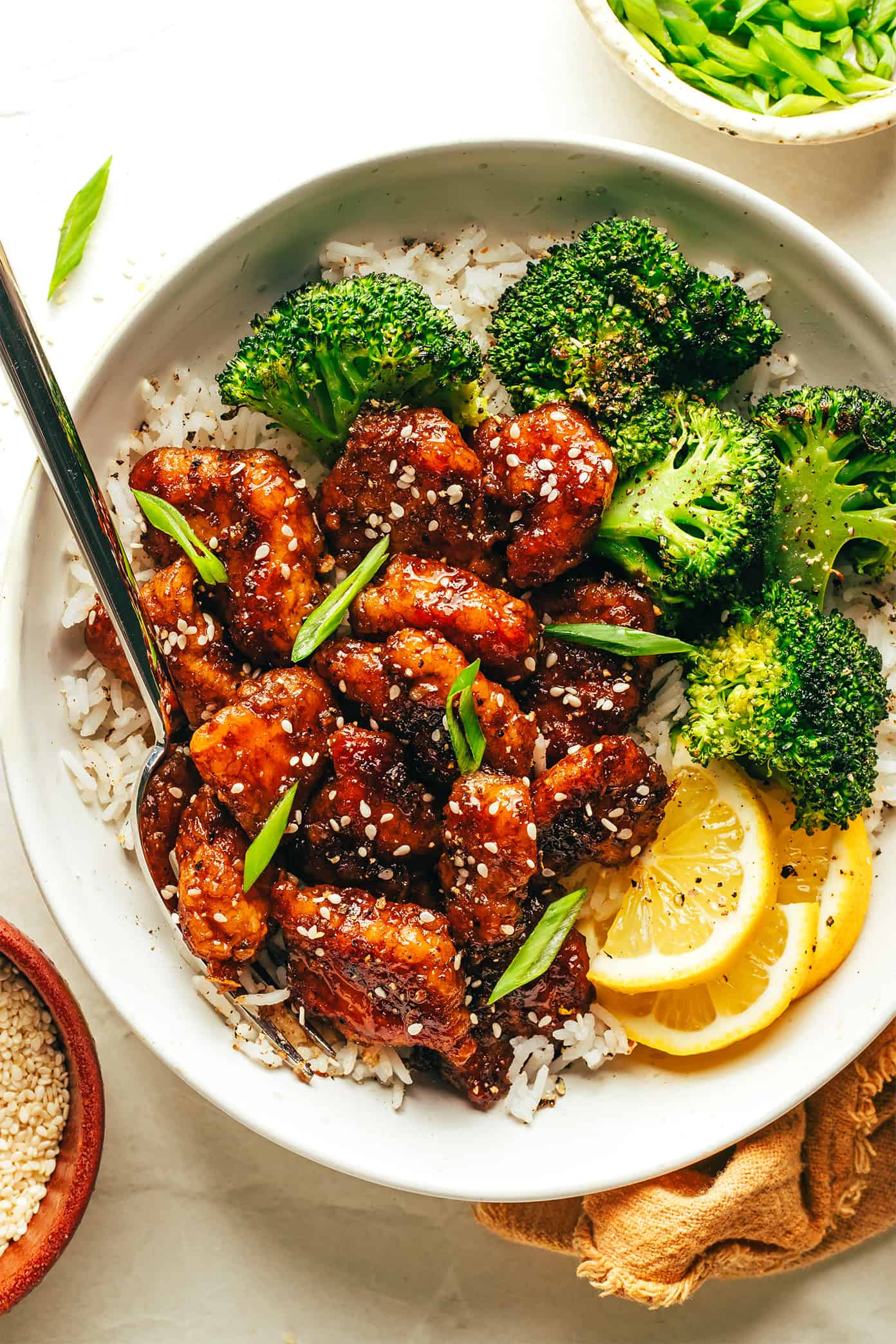 More Easy Chicken Stir Fry Recipes
Looking for more easy chicken stir fry recipes to try? Here are a few of our favorites:
Print
---
Description
This Chinese-inspired sticky honey lemon chicken recipe is easy to make and tossed with an irresistibly sweet and savory stir-fry sauce.
---
Chicken Stir-Fry Ingredients:
1 tablespoon

low-sodium soy sauce

1

egg

1/2 cup

cornstarch

1

pound boneless skinless chicken breasts or thighs, cut into thin bite-sized pieces

3 tablespoons

olive oil, divided

1 tablespoon

grated or minced fresh ginger

2

large garlic cloves, grated or minced

garnishes: thinly-sliced scallions and toasted sesame seeds
Honey Lemon Sauce Ingredients:
1

large lemon, zested and juiced (1/4 cup juice)

2 tablespoons

honey

2 tablespoons

low-sodium soy sauce

1 ½ tablespoons

rice wine vinegar

¼ teaspoon

crushed red chili flakes
---
Mix the lemon sauce.

Whisk all of the sauce ingredients together in a small bowl until combined.

Coat the chicken.

In a medium mixing bowl, whisk together the soy sauce and egg in a small bowl until smooth. Add the chicken and toss thoroughly until coated. Place the cornstarch in a bowl. Then dip the chicken pieces in the cornstarch, working a few pieces at a time and tossing until coated on all sides, until all of the chicken has been coated.

Sauté the chicken.

Heat

2 tablespoons

oil in a large nonstick sauté pan over medium-high heat. Add the chicken – cooking it in two batches if needed to avoid overcrowding the pan – and fry for 3 to 5 minutes until golden and crispy on all sides and cooked through. Transfer the cooked chicken to a clean plate.

Cook the sauce.

Add the remaining 1 tablespoon oil to the pan along with the garlic and ginger. Sauté for 30 to 60 seconds, stirring frequently, until the garlic is lightly golden. Then pour in the lemon sauce and add the chicken. Continue cooking, stirring frequently, until the sauce thickens and turns into a sticky coating for the chicken.

Serve.

Remove from heat and serve immediately, garnished with scallions and toasted sesame seeds.
---