This post may contain affiliate links. Please read my disclosure policy.
This one pot creamy sun-dried tomato pasta recipe is easy to make with the most delicious garlic-basil cream sauce.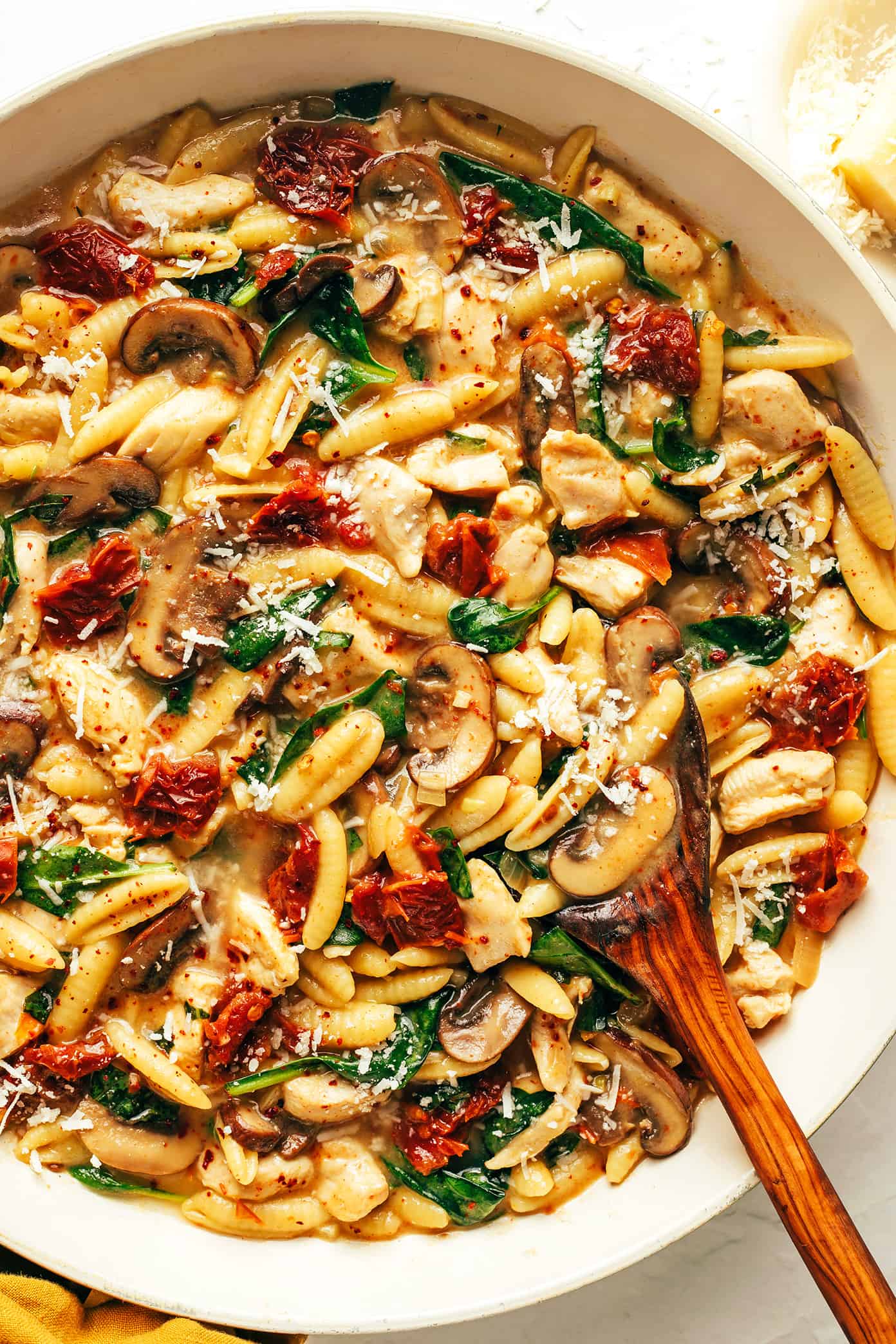 This pasta. ♡
I almost hesitated to share this recipe, because it was one of those clean-out-the-fridge meals that is anything but fancy. But the combination of flavors here ended up being SO rich and cozy and delicious that I have a hunch you'll instantly love it too.
The sun-dried tomatoes are definitely the star of the show here, intensifying the sweet-tart tomato flavor in the pasta, plus we'll use the leftover oil to sauté the veggies for extra flavor. I'm also partial to a good chewy small pasta shape in this recipe, such as the gnoccheti sardi pictured here, which adds such satisfying texture to each bite. I went big on the garlic and basil for the sauce and light on the cream, since it doesn't need much, and a pinch of crushed red pepper flakes adds the perfect hint of heat. Then I definitely recommend adding a generous handful of freshly-grated Parm to each bowl just before serving. So delicious!!
Everything here comes together in one pot in just a little over 30 minutes. So the next time you're craving a cozy bowl of pasta, grab a jar of sun-dried tomatoes and let's make a quick batch of this one together!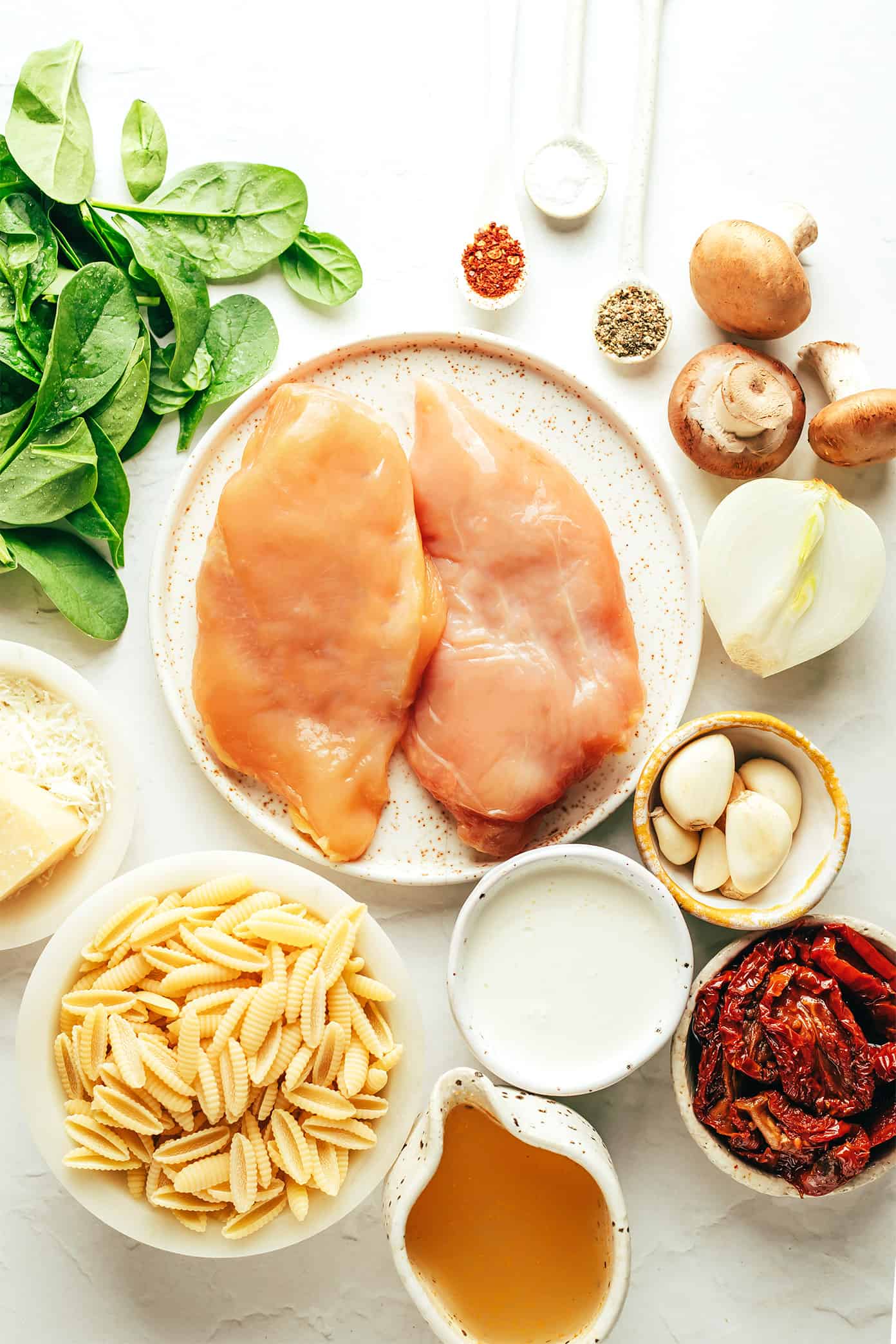 One Pot Pasta Ingredients
Here are a few brief notes about the ingredients you will need to make this one pot pasta recipe:
Pasta: I recommend a small pasta shape for this recipe such as gnoccheti sardi (pictured here), which has a satisfyingly chewy texture. But orzo, orrechiette, lumachine, anelli, tubetti rigate, or any other small pasta shape that you love best will also do. Please see the note in the tips section below about the cooking times for various pastas.
Chicken: I recommend using boneless chicken breasts or thighs, cut into small bite-sized pieces. We'll season the chicken simply with salt and pepper and sauté in oil.
Sun-dried tomatoes: It's essential to purchase the jarred sun-dried tomatoes in olive oil for this recipe, because we will also use the oil to sauté the veggies for extra flavor.
Veggies: I just used a simple mix of onion and baby bella mushrooms for this pasta, but feel free to add in any other saute-friendly veggies that might sound good.
Herbs and seasonings: We'll use lots of fresh garlic and fresh basil, plus a generous pinch of crushed red pepper flakes to add a hint of heat to the dish.
Vegetable broth: I recommend using vegetable or chicken broth to cook the pasta, which will give it some extra depth of flavor versus just using water.
Greens: I love wilting a generous bunch of greens such as baby spinach or kale into this pasta.
Heavy cream: We'll add a splash of cream at the end to bring this cozy pasta together.
Parmesan: I recommend adding a very generous sprinkling of freshly-grated Parm to each bowl before serving!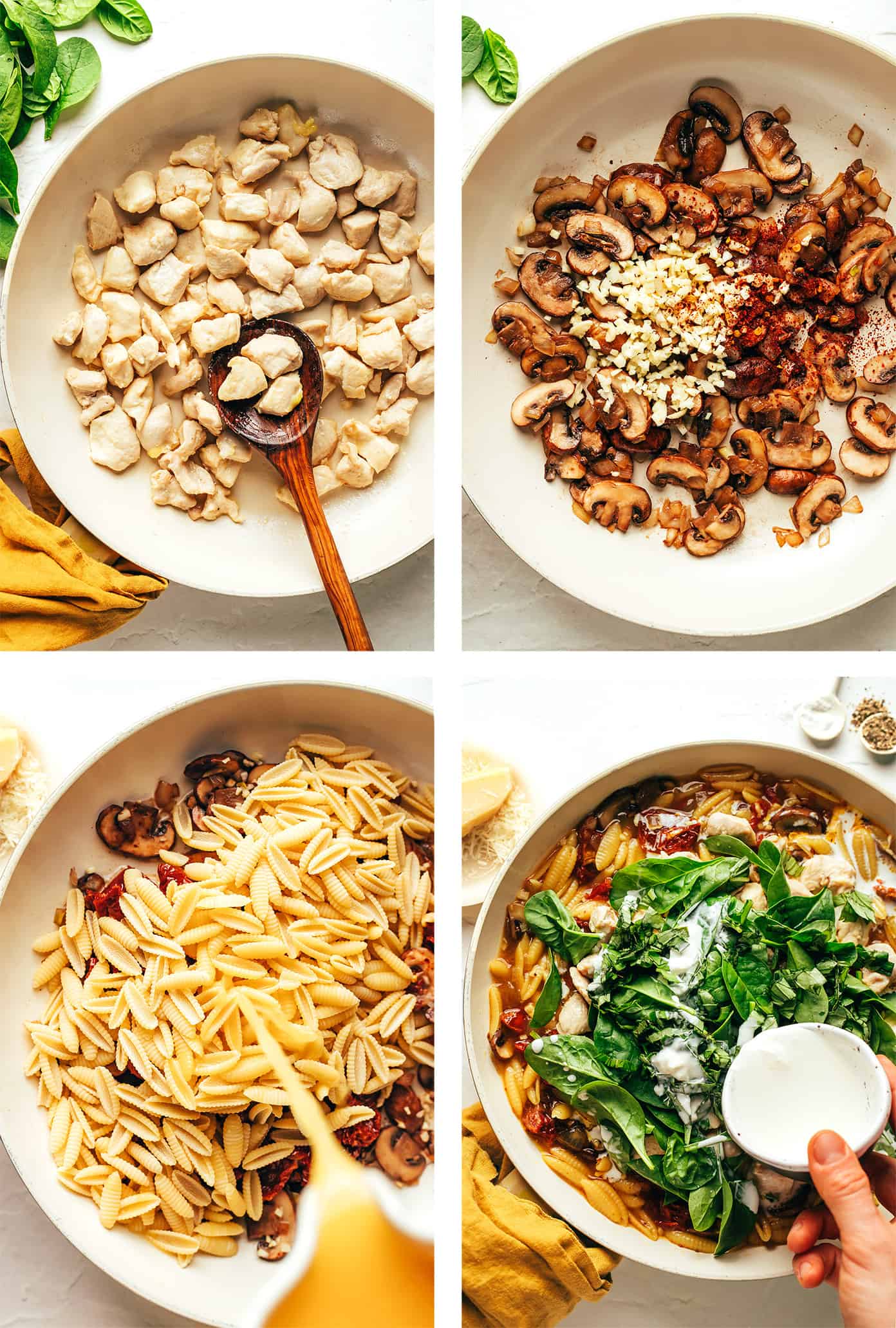 Tips For Making This Pasta
Here are a few tips for making this one pot pasta recipe:
The pasta shape you choose makes difference. One pot pasta recipes can be tricky when it comes to pasta-to-liquid ratios. If you are using a pasta shape that cooks more quickly than what the recipe calls for, for example, it can leave behind excess cooking liquid in the pot, resulting in a soupier sauce. If you are using a pasta shape that takes more time to cook, it can require more cooking liquid in order to fully reach al dente. I wrote this recipe using gnocchetti sardi, which has an 10 to 11-minute cooking time. If the pasta shape that you have on hand requires more or less cooking time, no worries, just increase or decrease the amount of broth used to cook the pasta as needed.
Stir more frequently as the pasta continues to cook. I generally give the pasta a stir every few minutes as it starts cooking. Then once it begins to soak up the broth, it's essential to stir it more often so that it cooks evenly.
Add heat to taste. I actually love adding double the amount of crushed red pepper flakes to really give this recipe a kick, but 1/2 teaspoon is a great amount to just give it a subtle hint of heat.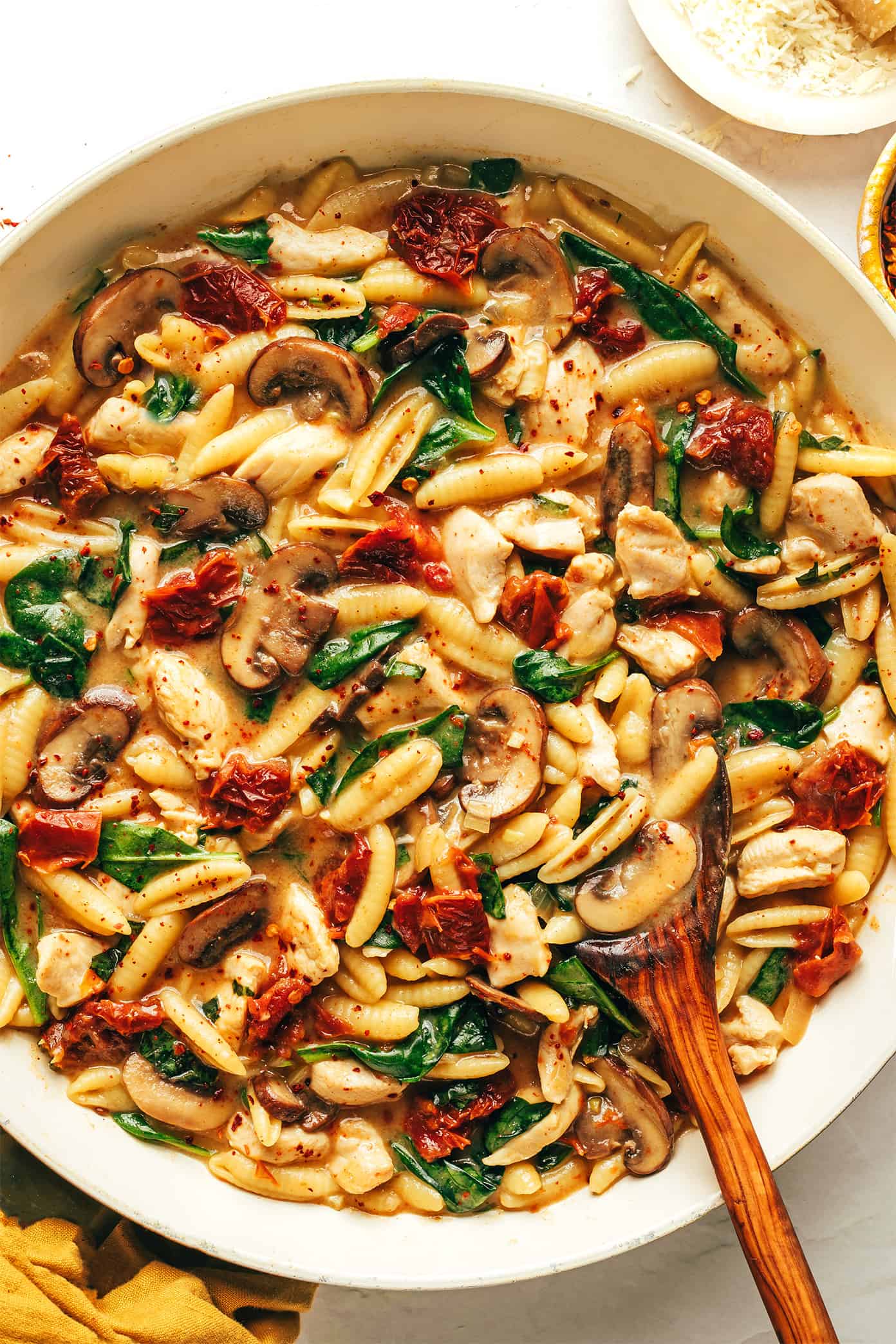 Recipe Variations
Here are a few simple variations on this sun-dried tomato pasta recipe that you're welcome to try:
Make it gluten-free: Use your favorite gluten-free pasta to make this recipe gluten-free.
Add extra veggies: Add different (or extra) veggies to the sauté, such as asparagus, bell pepper, broccolini, eggplant, peas, yellow squash or zucchini.
Add bacon: Cook a few strips of bacon, use the leftover grease to sauté the veggies, then crumble and stir the bacon into the pasta just before serving.
Add pine nuts: Add a sprinkling of toasted pine nuts to each dish before serving.
Add extra herbs: Fresh rosemary, tarragon, thyme or oregano could also be delicious additions along with the fresh basil.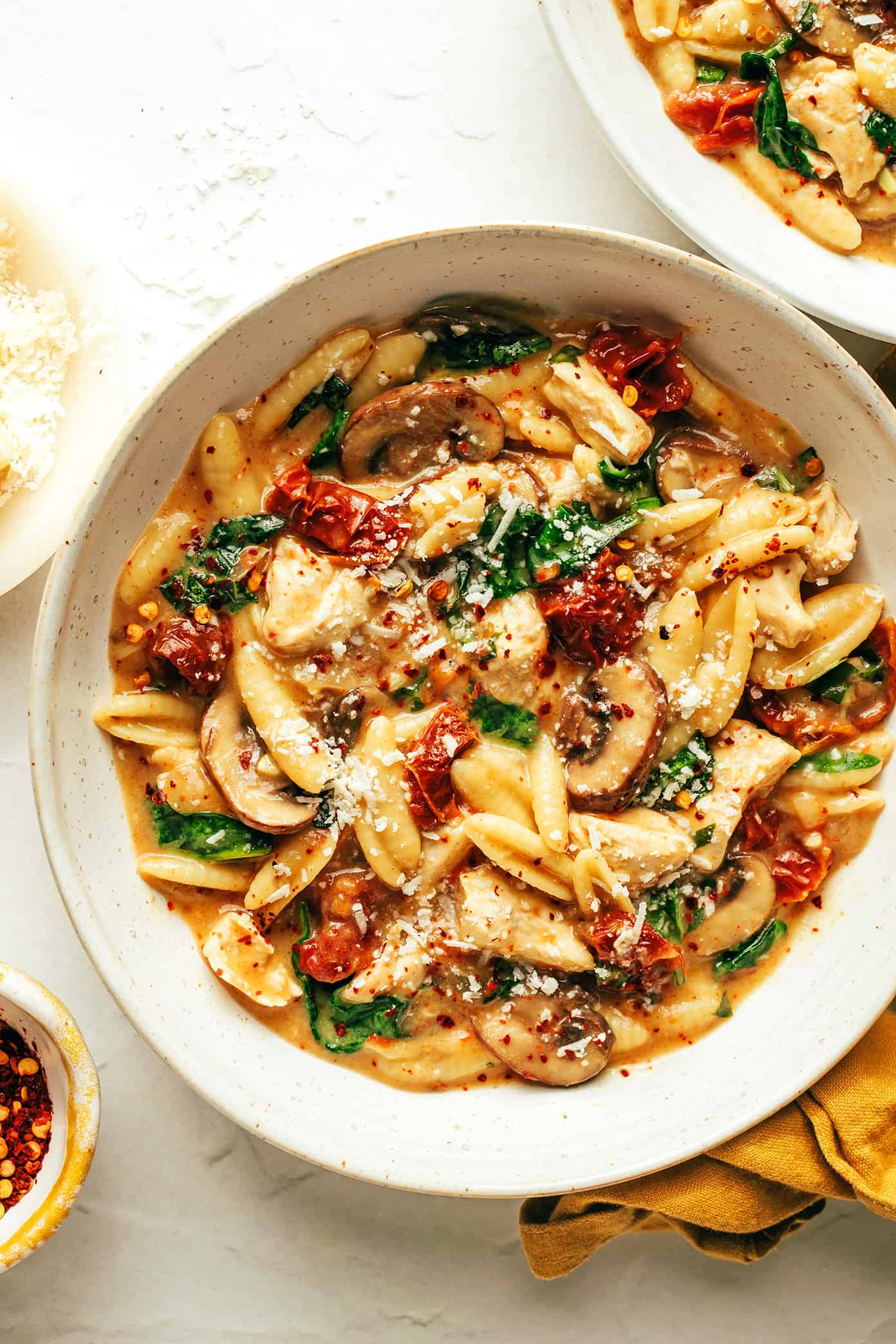 More One-Pot Pasta Recipes
Looking for more one pot pasta recipes to try? Here are a few of our favorites:
Print
---
Description
This one pot creamy sun-dried tomato pasta recipe is easy to make with the most delicious garlic-basil cream sauce.
---
1

pound boneless skinless chicken breasts or thighs, thinly sliced into bite-sized pieces

fine sea salt and freshly-ground black pepper

1

(8-ounce) jar sun-dried tomatoes in oil, roughly chopped

(save the oil!)

1

small white onion, diced

8 ounces

baby bella mushrooms, sliced

6

cloves garlic, pressed or minced

1/2 teaspoon

crushed red pepper flakes

3 1/2

to

4

cups vegetable broth*

8 ounces

small pasta shape

(such as gnocchetti sardi or orzo)

5 ounces

fresh baby spinach

1/2 cup

chopped fresh basil

1/4 cup

heavy cream

freshly-grated Parmesan
---
Cook the chicken.

Season the chicken with salt and pepper. Heat 1 tablespoon of the oil from the sun-dried tomatoes in a large nonstick sauté pan over medium-high heat. Add the chicken and cook, stirring occasionally, until evenly cooked through. Transfer the chicken to a clean plate and set aside.

Sauté the veggies.

Add 1 more tablespoon of the sun-dried tomato oil to the sauté pan. Add the onion and mushrooms and sauté, stirring occasionally, until the mushrooms are browned. Add the garlic and crushed red pepper flakes and sauté for 2 minutes, stirring frequently. 

Simmer.

Add 3 ½ cups of the vegetable broth and pasta and stir to combine. Continue cooking, stirring more frequently as the pasta continues to cook and soak up the broth, until the pasta is 1 minute shy of al dente. If the pasta seems to need more broth to finish cooking, you're welcome to add a ½ cup extra (or more) as needed.

Finish.

Stir in the spinach, basil, heavy cream and cooked chicken until the spinach is wilted and the pasta is al dente.

Serve.

Serve immediately, garnished with lots of fresh Parmesan, and enjoy!
---