This post may contain affiliate links. Please read my disclosure policy.
These lemon thumbprints are made with a melt-in-your-mouth buttery almond cookie and filled with zesty lemon curd.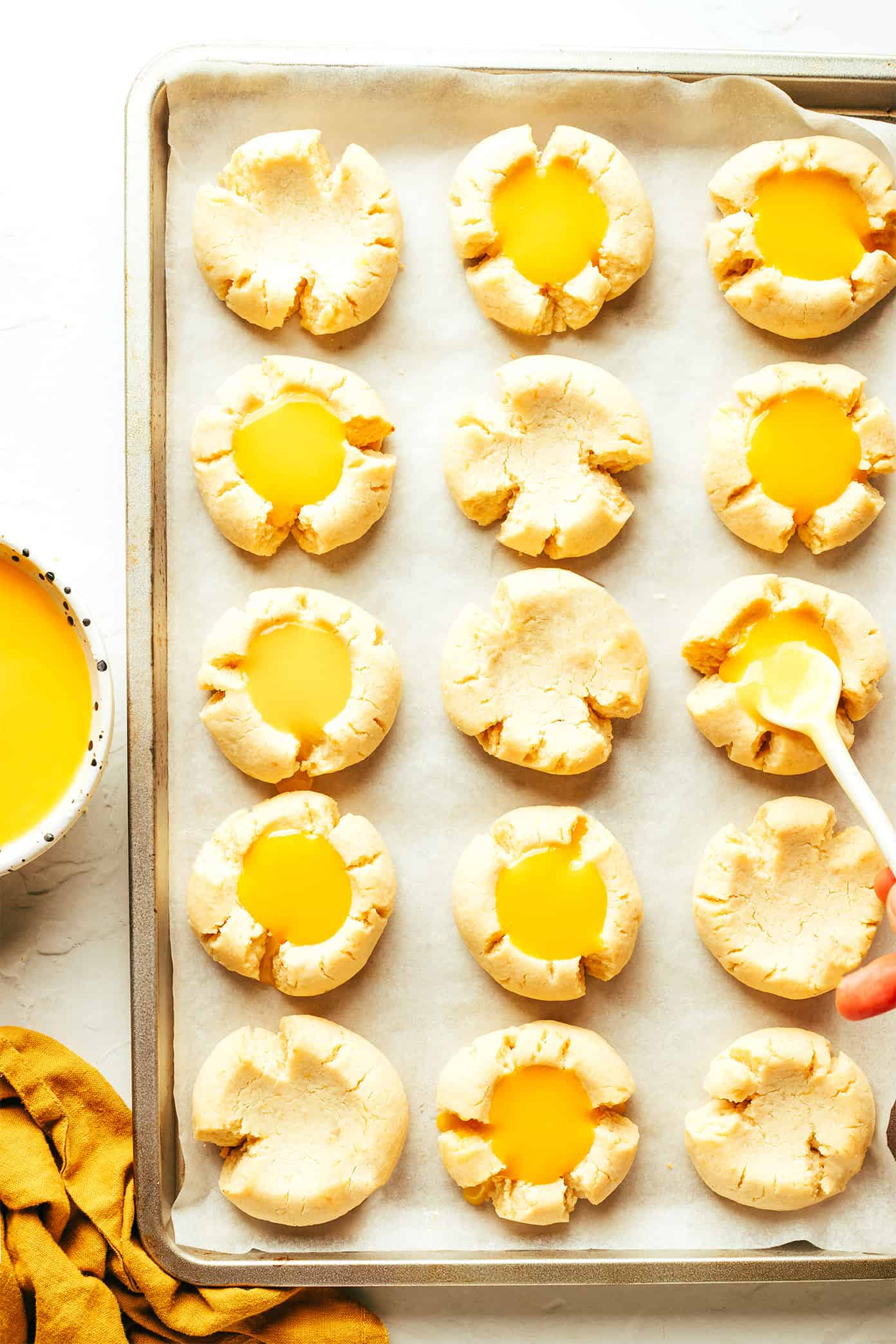 I can't tell you how much I adore these cookies. ♡
They're like little lemony rays of sunshine and just so yummy and perfect for springtime.
I've been tweaking this recipe for the past few months and have finally landed on the balance of flavors that I think you're going to love. The thumbprint cookie base here has a light melt-in-your-mouth texture, it's sweet but not too sweet, and perfectly buttery with hints of almond and vanilla. Each cookie then is filled with generous pools of tart lemon curd — well-worth the extra 15 minutes to make homemade, by the way — which perfectly complements the cookies with a burst of zippy, sweet, lemony flavor in each bite.
They're seriously just the most delightful little cookies, and our friends have raved every time we have serve them. So if you love a good lemony cookie, I hope you'll give them a try!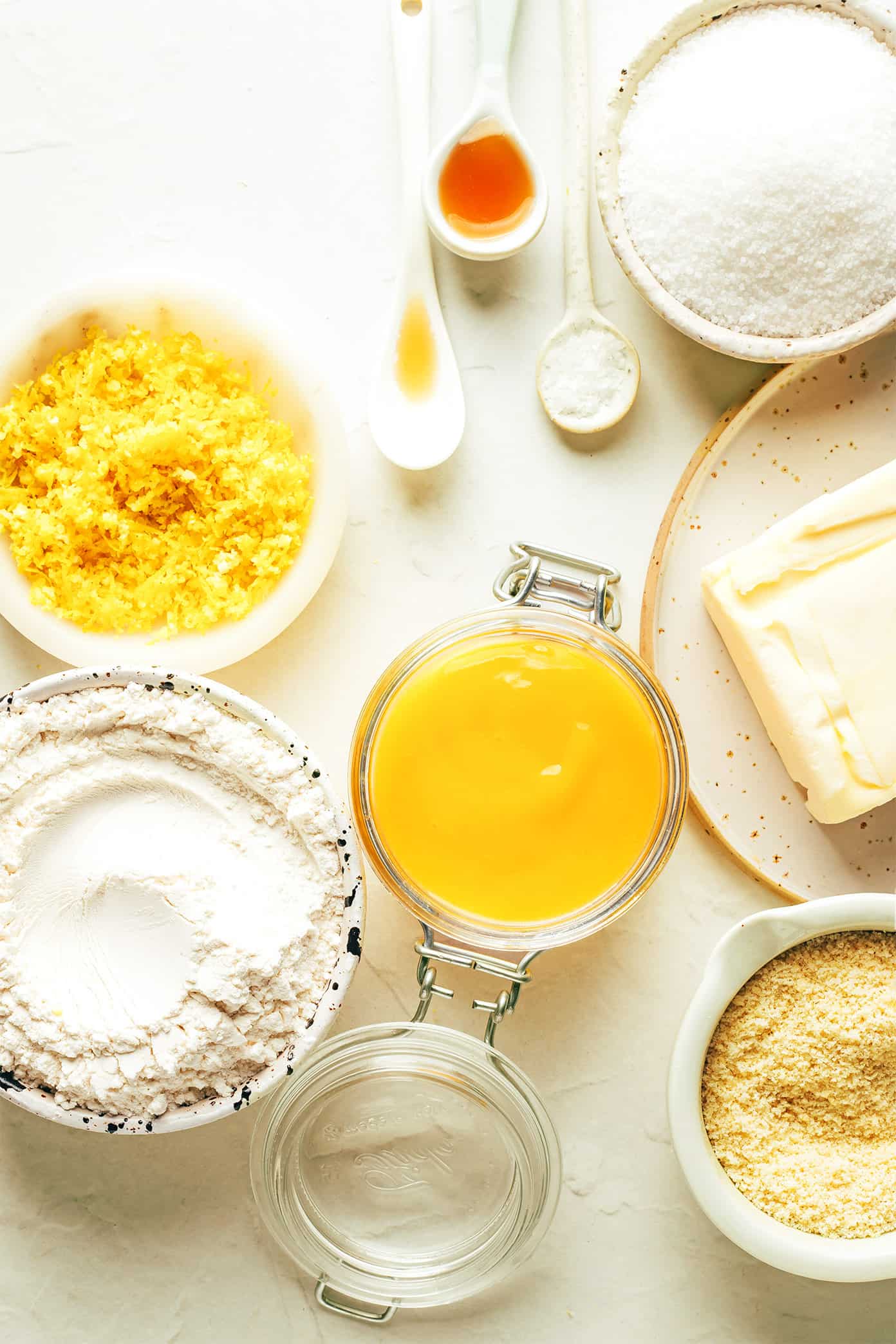 Lemon Thumbprint Cookie Ingredients
Here are a few brief notes about the ingredients you will need to make these lemon thumbprints:
Lemon curd: As mentioned above, I really recommend making a batch of homemade lemon curd for these cookies if you have an extra 15 minutes! It's easy to make with just 5 ingredients and the flavor is perfectly tart, buttery and sweet. That said, if you're in a pinch, store-bought lemon curd will work just fine here too.
All-purpose flour: We've tested these cookies with traditional all-purpose flour and gluten-free all-purpose flour and both work well!
Almond flour: We will also add some almond flour to the cookie dough for texture and extra almond-y flavor.
Salt: Necessary to bring out the best of these delicious flavors. (Feel free to add an additional sprinkle of flaky sea salt to finish, if you like a salty cookie.)
Butter: I wrote the recipe using unsalted butter, but if you only have salted butter on hand, just omit the 1/2 teaspoon of salt included in the recipe.
Sugar: Cane sugar or basic white granulated sugar can be used to sweeten the cookies.
Vanilla and almond extracts: We recommend using a hint of both extracts.
Lemon zest: We will add the zest of one lemon to give the cookie base a hint of lemony flavor.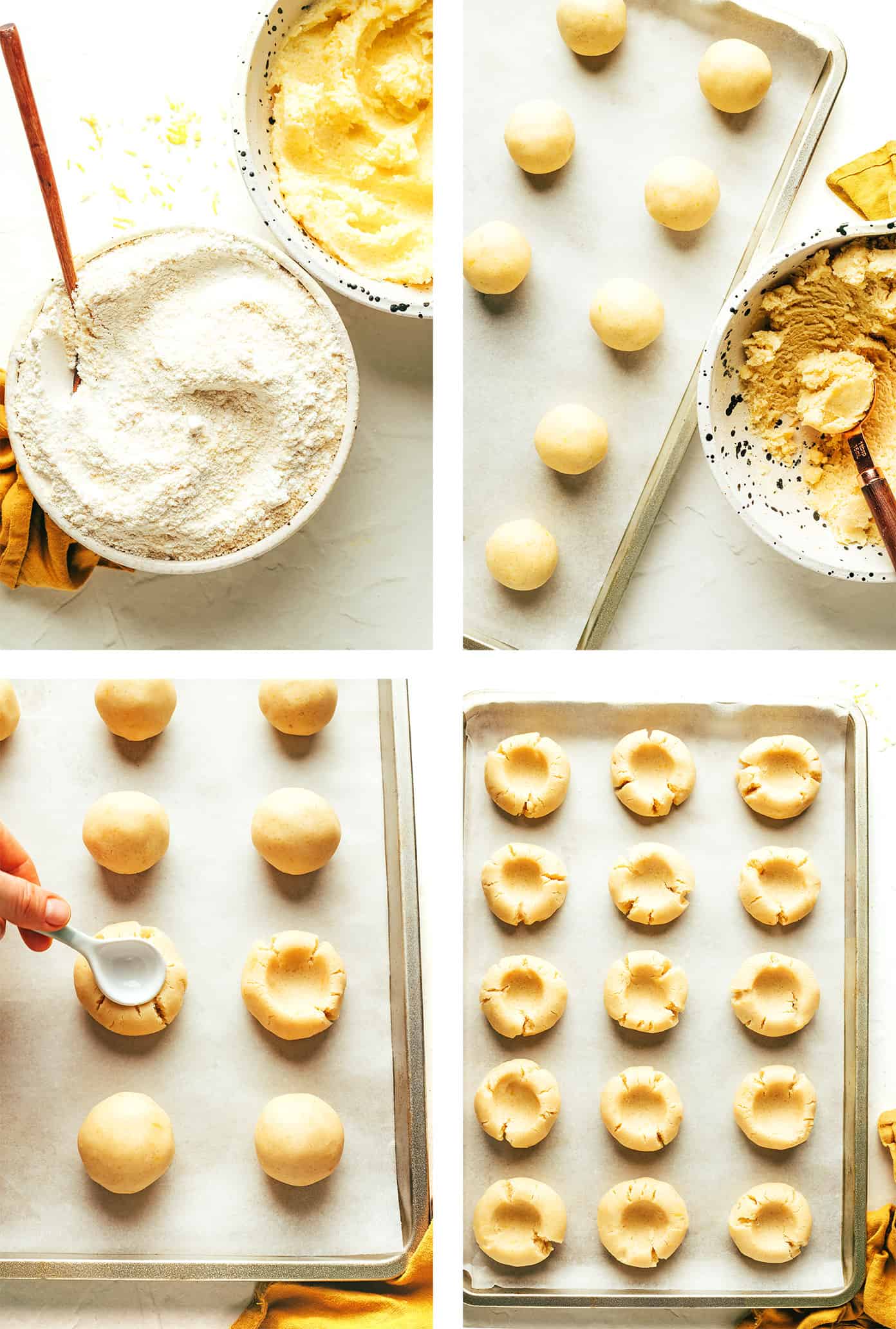 Tips For Making These Thumbprint Cookies
Full instructions are included in the recipe box below, but here are a few additional tips for making these lemon curd thumbprint cookies:
Make the lemon curd first. If you do, in fact, decide to make homemade lemon curd for this recipe, I recommend making it first so that it can have some time to chill in the refrigerator before filling.
Use a rounded teaspoon. Traditional thumbprint cookies are indented with (yes) your thumb, which can totally work. But if you're interested in more uniform, even indents, I find it's easiest to use a round 1-teaspoon measuring spoon.
Don't worry if the dough cracks. As you can see from the photos, this dough does not use eggs and is meant to be a touch on the drier side, so it's totally okay if it cracks a bit as you make the indents.
You're welcome to add the curd

before

or 

after

baking. I personally like the texture of the lemon curd better when it is added after baking. But it's equally delicious added to the thumbprints before baking. If you do choose the latter, be sure not to overfill the cookies to prevent the lemon curd from leaking out while baking.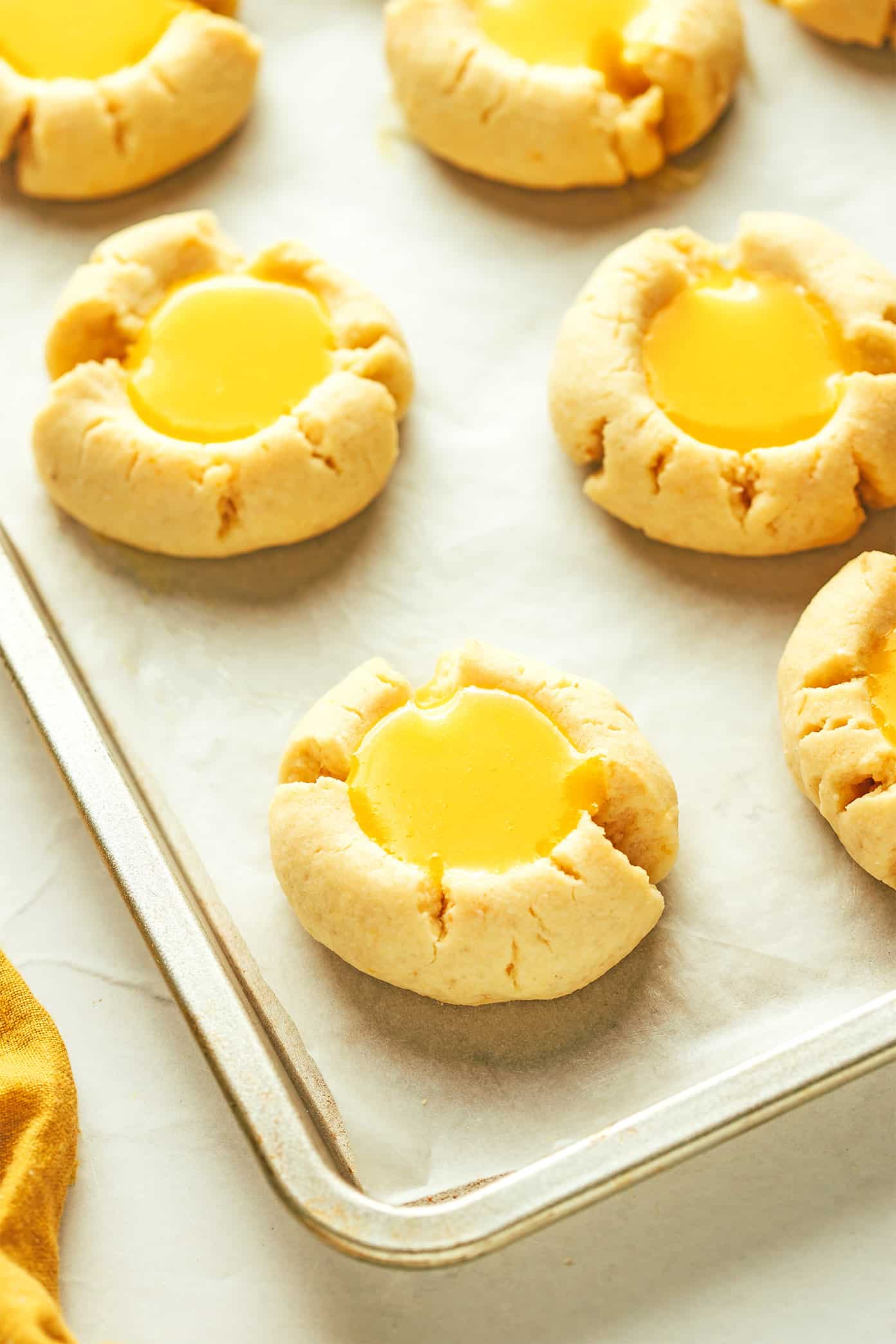 Recipe Variations
Here are a few additional ways that you're welcome to customize this recipe if you would like:
Add flaky salt: Sprinkle on a pinch of flaky sea salt to the cookies after adding the lemon curd.
Use a different type of citrus: Use orange, lime or grapefruit in place of the lemon.
Make it gluten-free: Use a gluten-free 1:1 all-purpose flour blend in place of traditional all-purpose flour.
Make it vegan: Use vegan butter and a vegan lemon curd.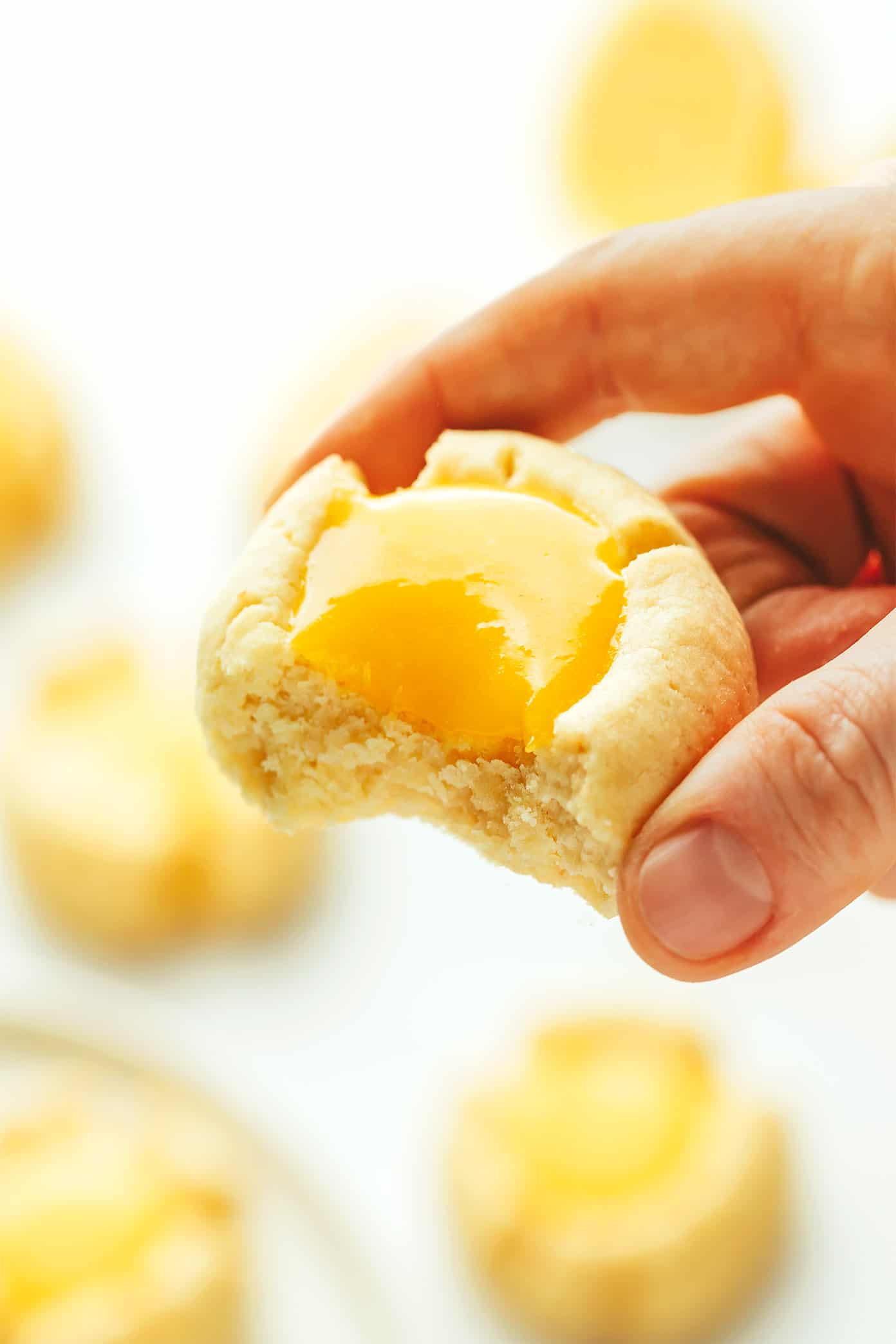 More Lemon Dessert Recipes
Looking for more lemon dessert recipes to enjoy? Here are a few of our favorites: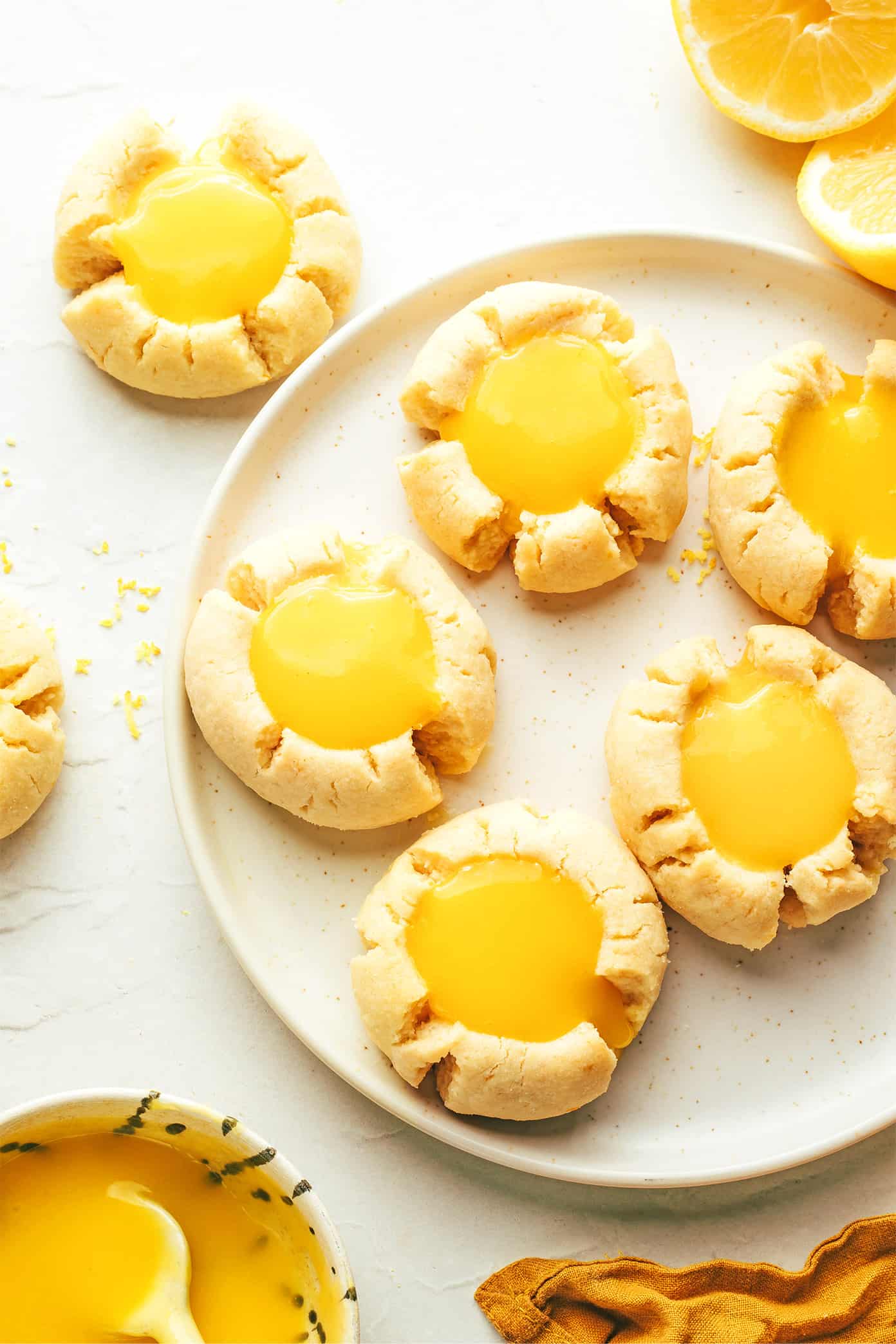 Print
---
2 cups

(284 g) all-purpose flour

1 1/3 cup

(145 g) almond flour

1/2 teaspoon

fine sea salt

1 cup

(227 g) unsalted butter,

room temperature

1/2 cup

(115g ) cane sugar (or white granulated sugar)

2 teaspoons

vanilla extract

1/2 teaspoon

almond extract
zest of

1

lemon

1/2 cup

lemon curd
---
Prep oven and baking sheet.

Heat oven to 350°F. Line a baking sheet with parchment paper.

Mix dry ingredients.

In a small mixing bowl, whisk together the flours and salt until combined.

Mix the dough.

Combine the butter and sugar in the bowl of a stand mixer (or see hand mixer instructions below). Using the paddle attachment, cream together on medium speed for about 1 minute, or until light and fluffy. Add the vanilla extract, almond extract, lemon zest and briefly mix to combine. Add the flour mixture and mix on low speed until just combined, scraping down the sides of the bowl as needed.

Form the dough.

Roll the dough into 1.5-tablespoon balls (about 20 grams each) and place a few inches apart on the prepared cookie sheet. Use a round teaspoon or your thumb or the bottom of a wooden spoon to press an indent into each dough ball.

Bake.

Bake for 14 to 16 minutes or until the cookies are very lightly golden. Transfer the pan to a wire baking rack. Use the same teaspoon/spoon/thumb to re-indent the cookies, then fill with lemon curd.

Serve.

Serve warm and enjoy!
---
---