This post may contain affiliate links. Please read my disclosure policy.
This asparagus almondine recipe is quick and easy to make and pairs well as a versatile side dish with a wide variety of entrees.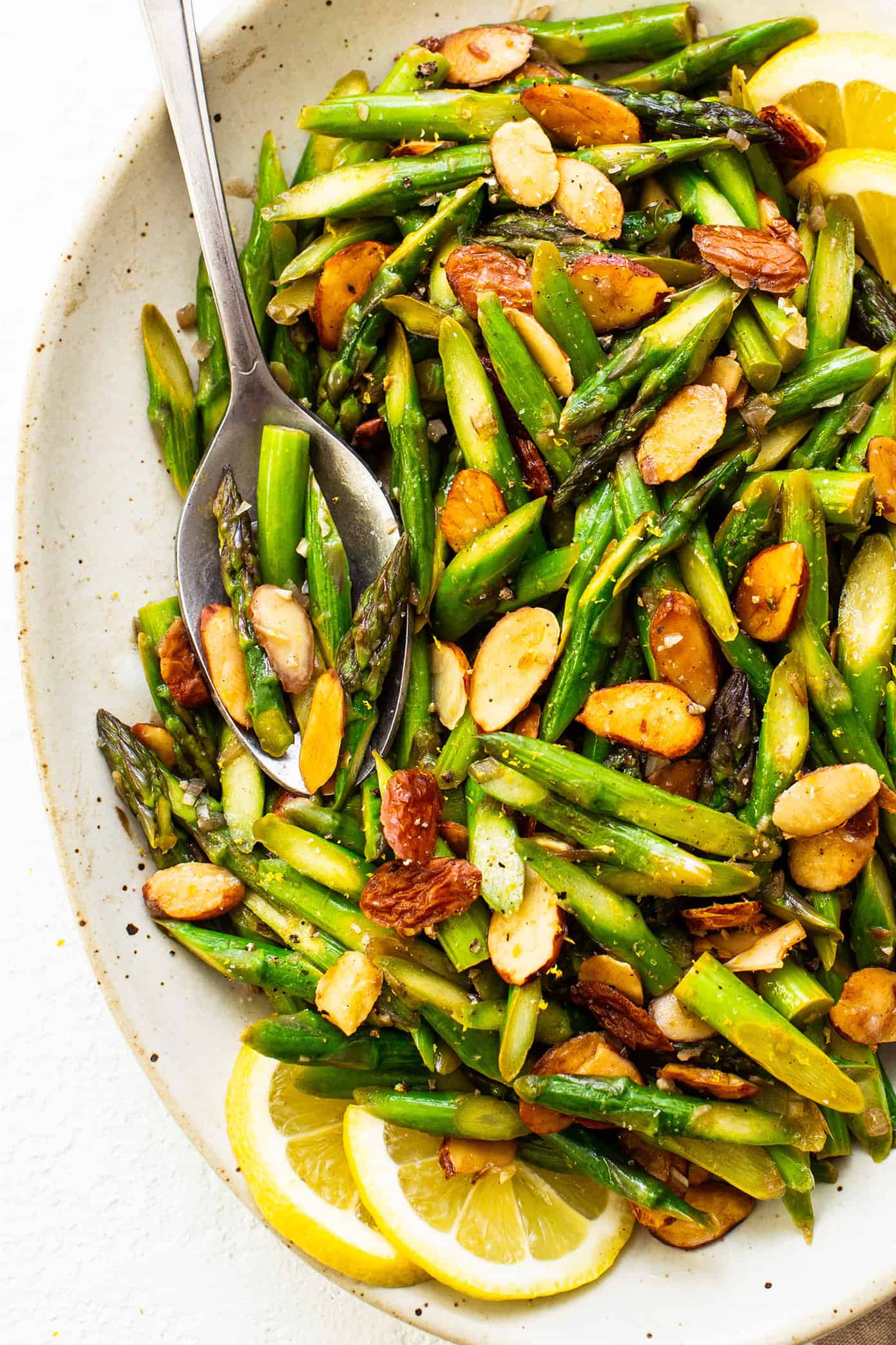 Move over, green beans. Let's make asparagus almondine this spring! ♡
Crisp green asparagus works beautifully in this classic dish, originally known as amandine (which translates to "almond") in French or commonly anglicized to almondine in English. Simply toast up a handful of almonds in butter, sauté fresh asparagus with shallots, garlic, lots of lemon, salt and pepper. Then in less than 15 minutes, this vibrant, delicious pan of asparagus almondine will be ready to serve and enjoy!
It's the perfect easy side dish for the holidays (such as Easter this weekend) or anytime you happen to be craving some asparagus while it's in season. This recipe is also naturally gluten-free and vegetarian. And if you feel like adding in some fresh herbs, a pinch of chili flakes, a drizzle of honey, or a sprinkling of Parmesan, there are endless fun ways that you can customize this recipe too.
Let's make asparagus almondine!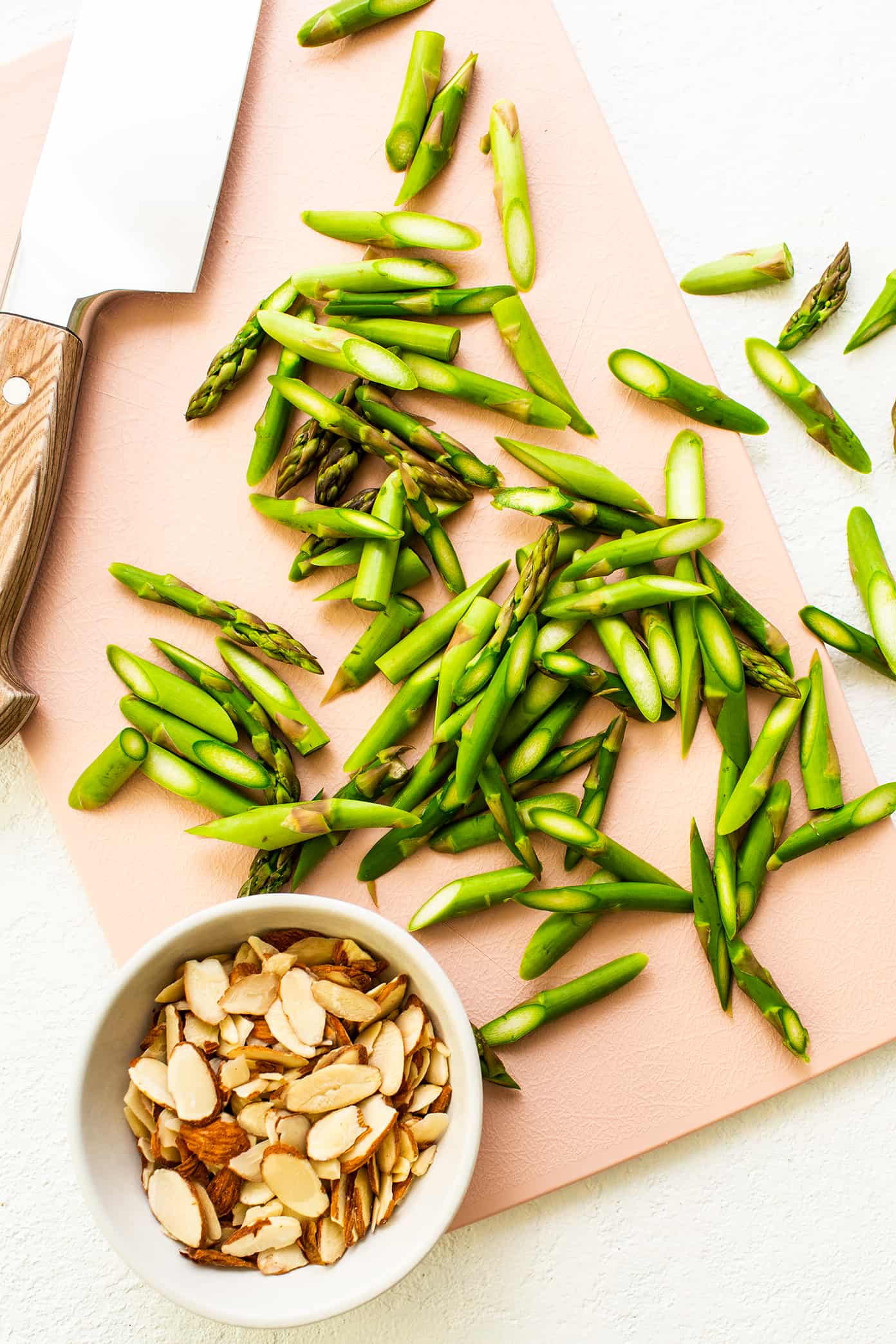 Asparagus Almondine Ingredients
Here are a few notes about the ingredients you will need for this asparagus almondine recipe:
Asparagus: Look for fresh asparagus spears that are firm to the touch (not soft and easy to bend) and vibrant green in color, with tips that are tightly closed. I like slicing the asparagus on a sharp bias into bite-sized pieces for this recipe, but you're welcome to leave the stalks long if you prefer.
Almonds: I love the look and texture of sliced almonds in this dish, but slivered or roughly-chopped almonds would also work well.
Shallot: A shallot (or you could also finely mince a red onion) adds a delicate, sweet flavor to this dish.
Garlic: Feel free to use as much or as little fresh minced garlic as you prefer.
Butter: I really love the flavor that butter traditionally adds to this dish, but you are welcome to use vegan butter (or olive oil) if you are making this recipe vegan or dairy-free.
Lemon: We will add both the zest and juice of one large lemon to the asparagus.
Salt and pepper: And as always, don't forget to generously season with fine sea salt and freshly-ground black pepper as needed.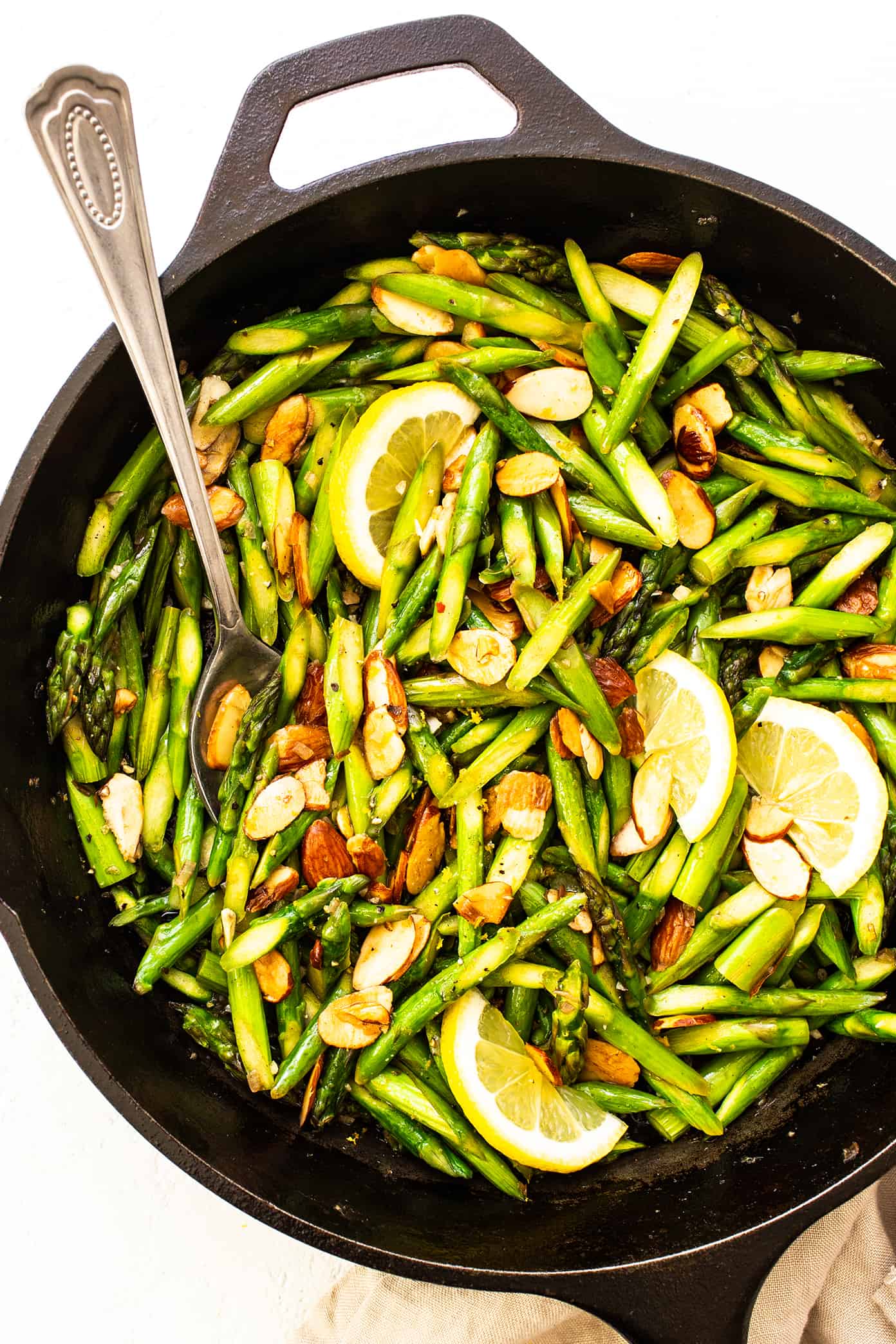 Recipe Variations
Here are a few additional variations that you are welcome to try:
Add fresh herbs: Basil, chives, dill, rosemary, tarragon, or thyme would all be delicious additions to this dish.
Add honey: Add in a drizzle of honey along with the lemon juice if you would like to add a bit of sweetness to the dish.
Add heat: I also love adding a generous pinch of crushed red pepper flakes to give this dish a bit of heat.
Add Parmesan: Add some freshly-grated Parmesan as a garnish or stir it into the dish just before serving.
Use different nuts/seeds: While obviously not traditional amandine, there are many other nuts or seeds that would be delicious in this dish as well such as pine nuts, walnuts, pecans, pistachios or pepitas.
Blanch the asparagus: If you would like a more traditional amandine preparation, you can blanch the asparagus and then add it to the sauté just before serving. I find this method adds unnecessary steps when working with asparagus, but you are of course completely welcome to give it a try.
Make it vegan: Use vegan butter or olive oil in place of traditional butter to make this recipe dairy-free.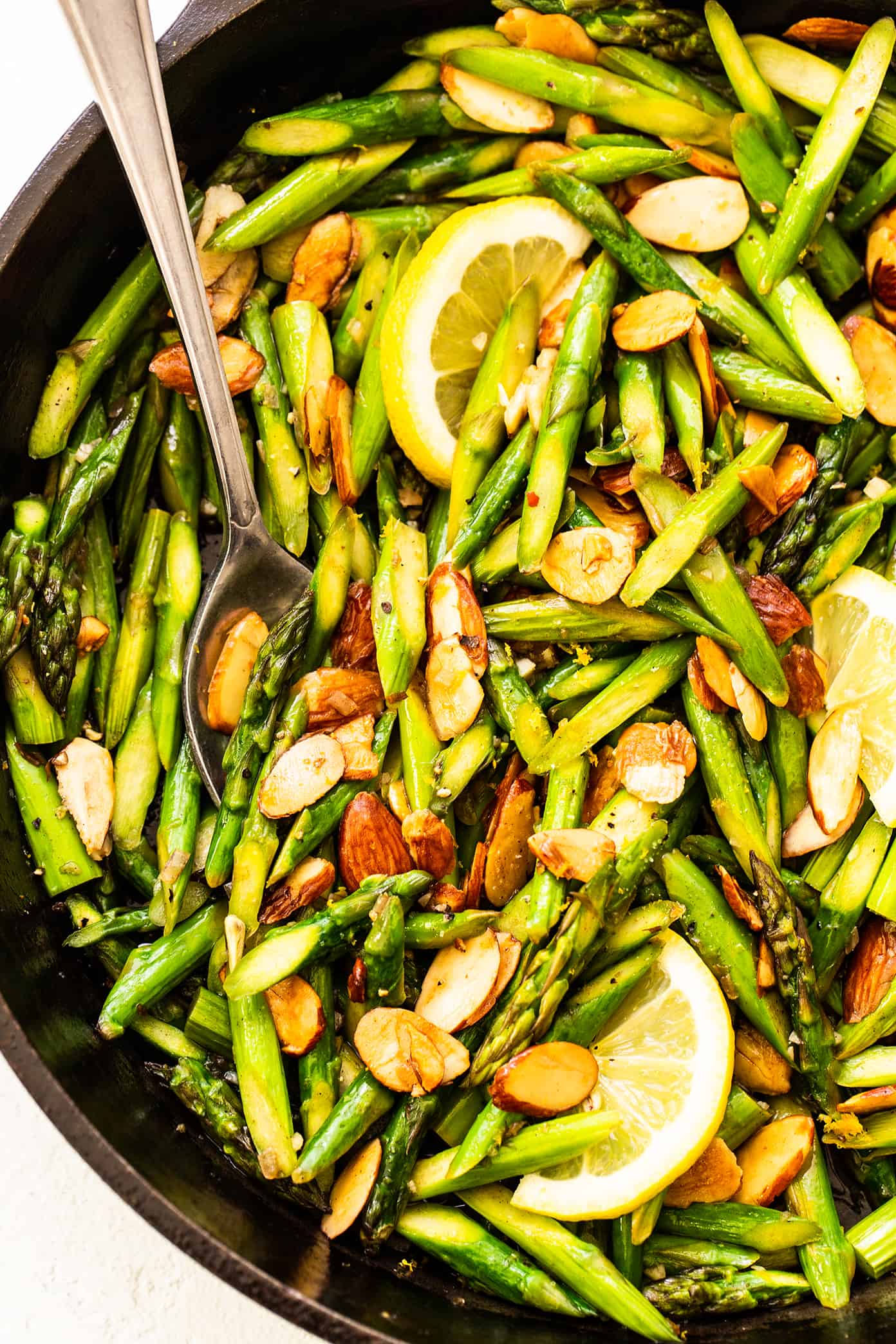 More Asparagus Recipes
Looking for more asparagus recipes to try this season? Here are a few of our faves:
Print
---
3 tablespoons

butter

1/3 cup

sliced almonds

1

large shallot, peeled and very finely chopped

1 1/2

pounds asparagus, trimmed and sliced on a bias into bite-sized pieces

2

large garlic cloves, minced

1

medium lemon, zested and juiced

fine sea salt and freshly-ground black pepper
---
Toast the almonds.

Melt the butter in a large sauté pan over medium heat. Add the almonds and sauté for about 3 to 4 minutes or until lightly golden, stirring and flipping occasionally so that they do not burn. Use a slotted spoon to transfer the almonds to a plate, leaving behind the leftover butter in the pan.

Sauté the asparagus.

Add the shallots to the hot butter and sauté for 1 minute, stirring occasionally. Add the asparagus, garlic, lemon zest and toss to combine. Increase heat to medium-high and sauté for 2-3 minutes, stirring occasionally, until the asparagus reaches your desired level of tenderness. (I prefer mine quite crisp.)

Season.

Add the lemon juice and half of the almonds and toss to combine. Season with salt and pepper to taste.

Serve.

Serve warm, garnished with the remaining almonds and an extra twist of black pepper.
---