This post may contain affiliate links. Please read my disclosure policy.
This sesame ginger roasted cauliflower soup recipe is easy to make simple ingredients and tastes so flavorful and comforting.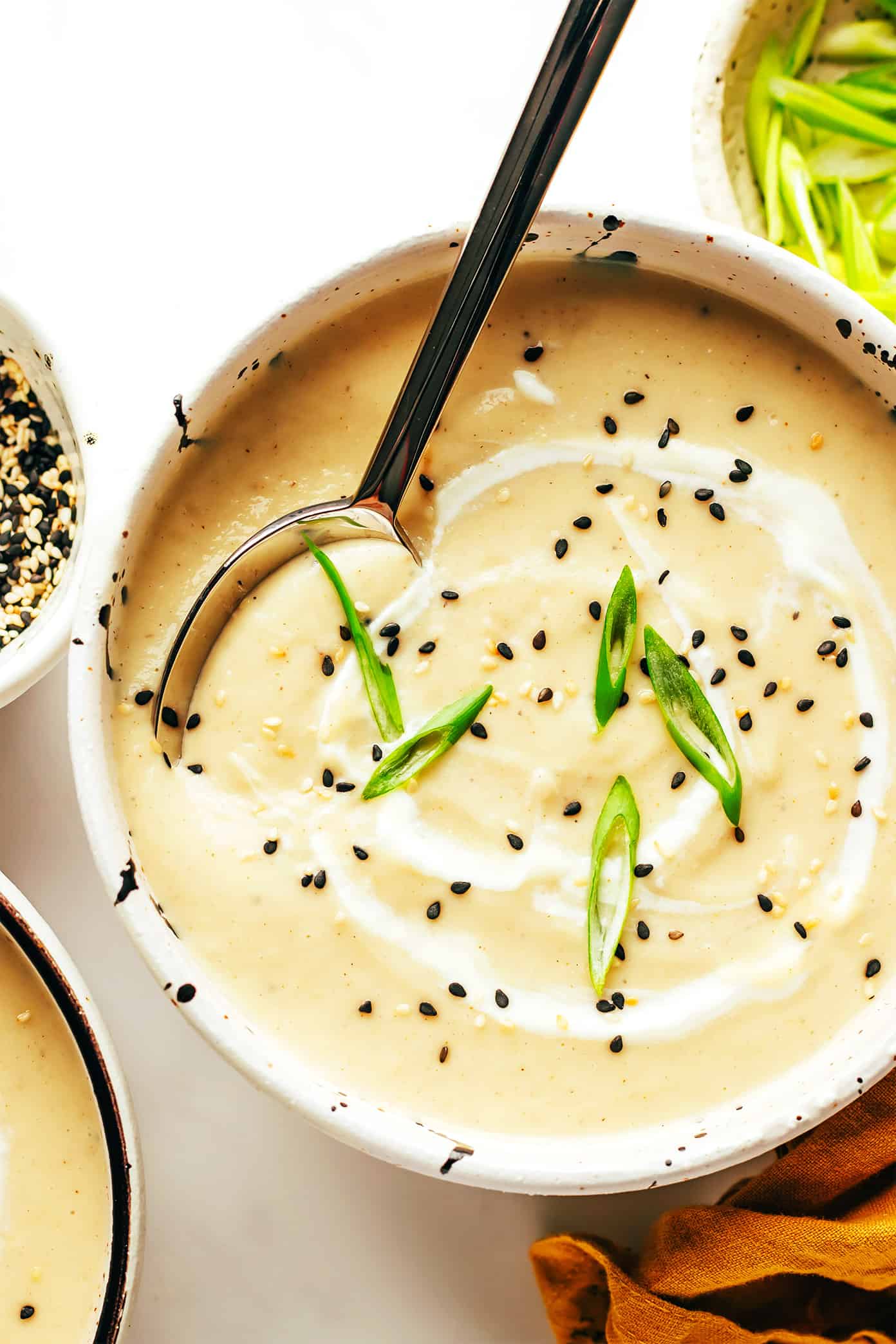 I know that spring is just a few days away, but I couldn't resist sneaking in at least one more soup recipe for the season.
Say hello to this cozy, creamy, cauliflower soup. ♡
I generally tend to go the lemony or Italian-herb route when seasoning roasted cauliflower soup. But recently, I decided to try adding in some fresh ginger and scallions that I happened to have on hand, along with plenty of garlic and a drizzle of toasted sesame oil. And the results far exceeded my expectations. We absolutely loved this soup!
It's made with an entire head of cauliflower, which roasts up to caramelized perfection in the oven and then blends into a wonderfully silky purée. I also added in a hint of coconut milk to make the soup extra creamy, whose flavor paired surprisingly well with the ginger and sesame, but you're welcome to use cream or milk if you prefer. The soup is naturally gluten-free and vegan. And I definitely recommend adding some chopped scallions or chives for a hint of freshness, or some croutons sprinkled on top could be fun too.
Let's make some cauliflower soup!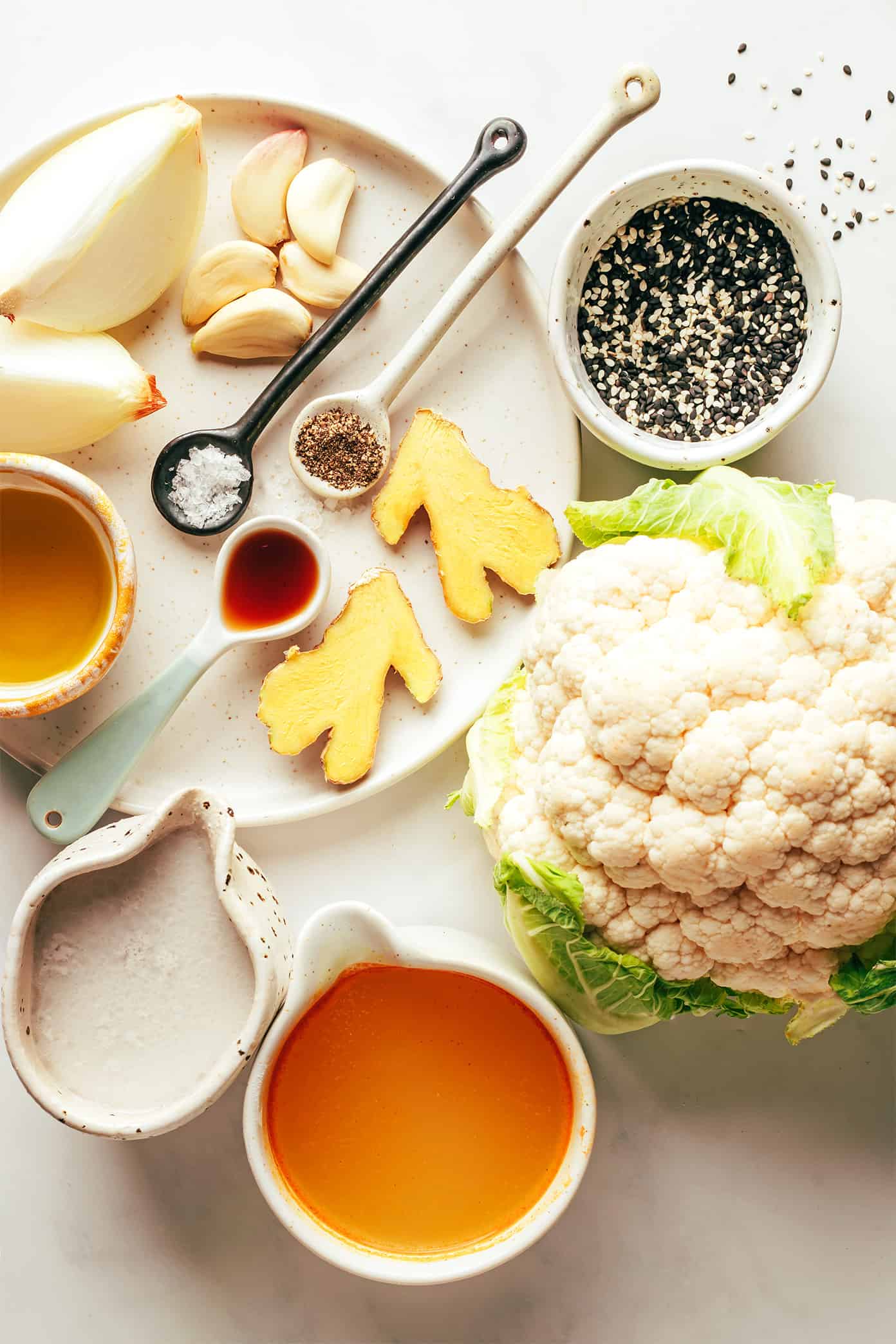 Roasted Cauliflower Soup Ingredients
Here are a few brief notes about the ingredients you will need to make this sesame ginger roasted cauliflower soup recipe:
Cauliflower: I just chopped up a large head of fresh cauliflower for this recipe, but you're welcome to use pre-cut frozen cauliflower florets if you would like to save a step. (You can directly roast frozen cauliflower without thawing it first, but please note that it will need an extra 15-20 minutes to cook.)
Onion and garlic: We'll sauté chopped fresh onion and garlic to serve as our base aromatics for the broth. You're also welcome to roast some extra garlic along with the cauliflower if you would like an extra hint of sweet, caramelized, garlicky flavor.
Ginger: I really recommend mincing or grating some fresh ginger for this soup. But if you're in a pinch, you're welcome to use 1 teaspoon of ground ginger instead.
Vegetable broth: Basic vegetable broth or chicken broth works well as the base for the broth.
Coconut milk: I loved the creamy texture and light flavor of coconut milk in this soup, but you're welcome to sub in heavy cream or another type of milk if you prefer.
Toasted sesame oil: This ingredient is a must and brings all of these delicious flavors together!
Toppings: I recommend adding some sliced green onions or chives and a sprinkling of toasted sesame seeds. Toasted croutons could add some fun texture too!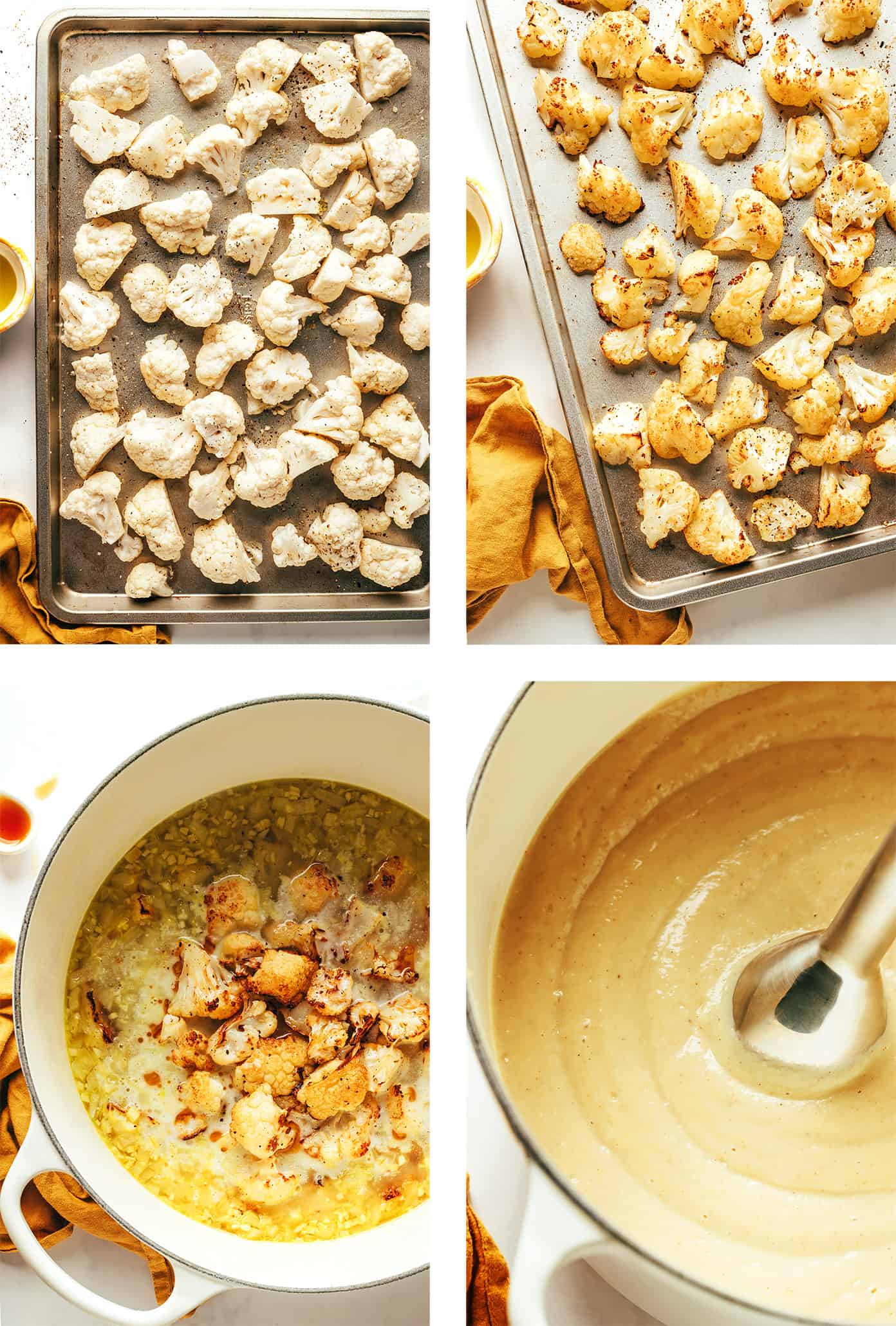 Recipe Variations:
Here are a few additional recipe variations that you are welcome to try:
Use heavy cream: Use heavy cream, half and half, or plain milk (dairy or plant-based) in place of the coconut milk.
Add beans: Add a can of white beans (rinsed and drained) for extra protein and creaminess.
Add some heat: Add some crushed red pepper flakes to the mix to amp up the heat.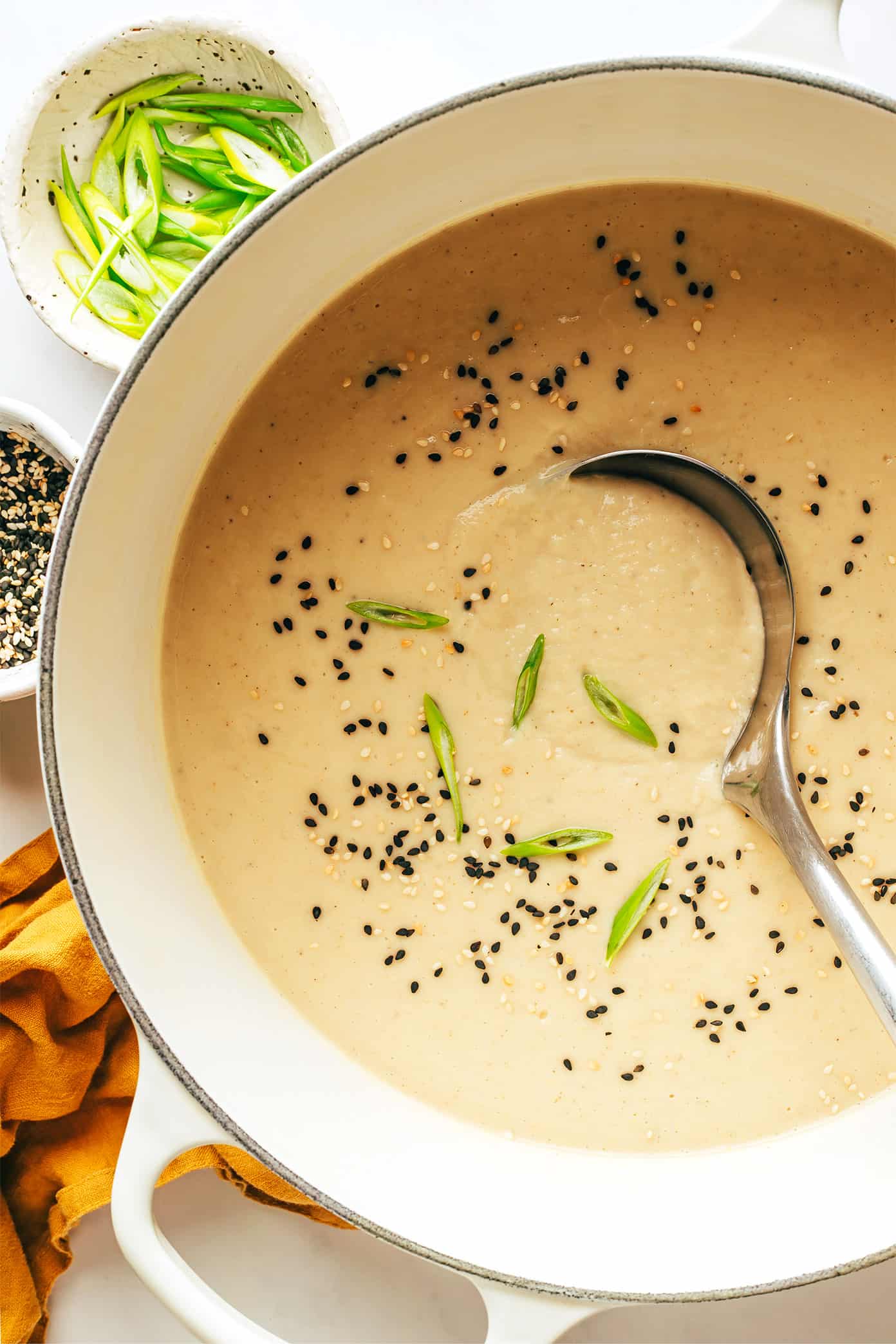 More Roasted Cauliflower Recipes:
Looking for more yummy roasted cauliflower recipes to try? Here are a few of our favorites:

Print
---
1

large cauliflower (2 to 2 1/2 pounds), cut into florets

3 tablespoons

olive oil, divided

fine sea salt and freshly-ground black pepper

1

white or yellow onion, diced

5

cloves garlic, minced

1 tablespoon

minced fresh ginger

4 cups

vegetable or chicken stock

2/3 cup

coconut milk, plus extra for drizzling

1 teaspoon

toasted sesame oil

toppings: sliced green onions, toasted sesame seeds
---
Roast the cauliflower.

Heat to 400°F. Add the cauliflower florets to a large baking sheet and drizzle evenly with

2 tablespoons

of the olive oil. Toss until the florets are more or less evenly coated, then season generously with salt and pepper. Bake for 30 minutes or until the cauliflower is tender and has begun to caramelize and brown around the edges. Remove from the oven.

Sauté.

Meanwhile, heat the remaining 1 tablespoon olive oil in a large stockpot over medium-high heat. Add the onion and sauté for 5 minutes, stirring occasionally. Add the garlic and ginger and sauté for 2 minutes, stirring frequently.

Simmer.

Add the vegetable stock and stir to combine. Continue cooking until the soup reaches a simmer. Then reduce heat to low, cover, and continue cooking at a very low simmer until the cauliflower is ready to go.

Purée.

Once the cauliflower is roasted, add it to the soup along with the coconut milk and toasted sesame oil and stir to combine. Use an immersion blender to puree until smooth. (Or you can use a traditional blender to purée the soup in batches.)

Season.

Taste and season with additional salt and pepper, if needed.

Serve.

Serve warm, garnished with an extra drizzle of coconut milk and your desired toppings.
---