This post may contain affiliate links. Please read my disclosure policy.
This orange salmon salad recipe is tossed with a sweet and savory mix of fresh ingredients and drizzled with an irresistible ginger hot honey vinaigrette.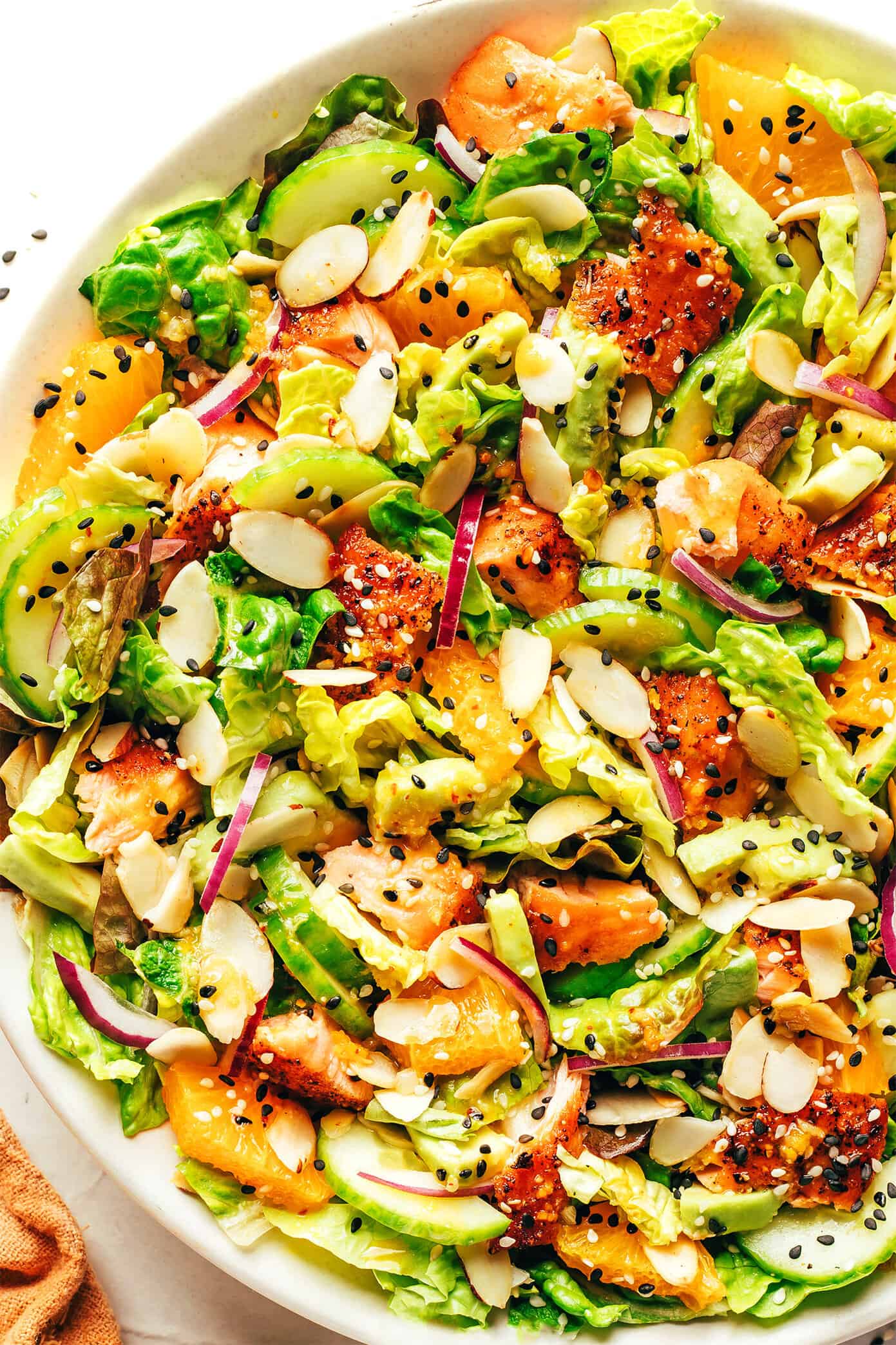 It's that time of year when nothing sounds better than a big green salad loaded up with fresh and flavorful ingredients. And lately, this orange salmon salad has burst onto the scene as a new favorite here in our house. ♡
It's made with the perfect balance of sweet and savory, tangy and creamy, crispy and juicy ingredients I absolutely love in a big entrée salad. The pan-seared salmon is quick and easy to cook while you prep the rest of the salad ingredients. And the gingery hot honey vinaigrette pairs perfectly with the citrus and adds an irresistible touch of heat that will definitely have you going back for more. We can't get enough of this one!
That said, if salmon isn't your thing, this salad would also be delicious made with shrimp, chicken, steak, crispy tofu, or any other protein that you might prefer. We've also loved adding fresh navel oranges or mandarins to the salad lately while they're still in season, but I definitely look forward to trying this salad with some peaches, mango, or pineapple come summertime.
Let's make some salmon salad together, friends!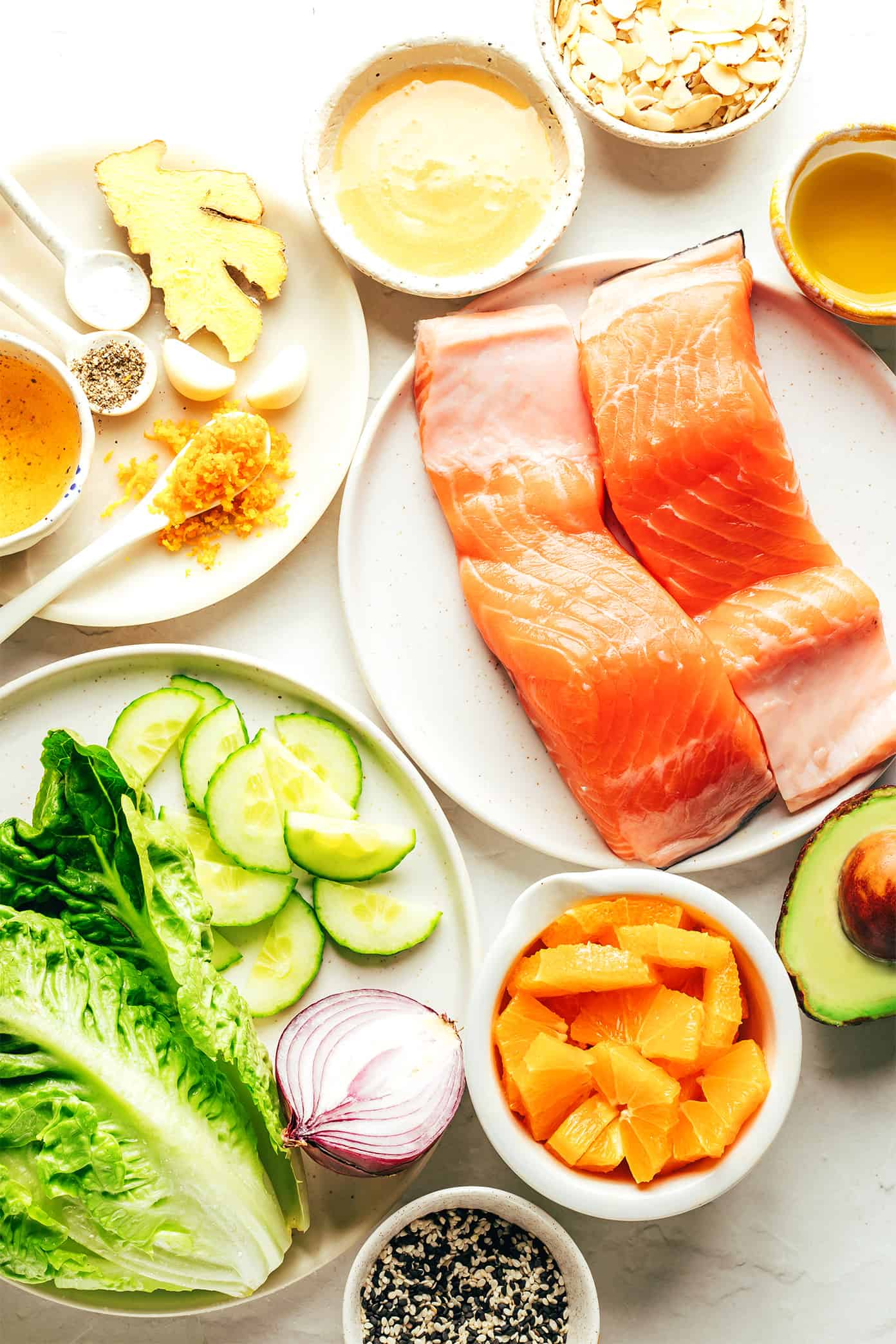 Orange Salmon Salad Ingredients
Here are a few brief notes about the ingredients you will need to make this orange salmon salad recipe:
Salmon: You'll need a pound of salmon for this recipe, whatever variety you prefer, which we will season with salt and pepper and pan-sear in olive oil.
Orange: I sliced some navel oranges for this recipe, but you're welcome to use mandarins, blood oranges or tangerines if you prefer.
Lettuce: I love the crispy crunch that Romaine hearts (or little gems) add to this salad, but feel free to use whatever salad greens you prefer.
Avocado: Sliced or diced avocado adds some delicious creaminess to this salad.
Almonds: We will toast some sliced or slivered almonds to give the salad some crunch.
Cucumber: Diced English cucumber (or Persian cucumbers) add crisp texture and freshness.
Red onion: I recommend very thinly slicing the red onions with a knife of mandoline. Feel free to briefly rinse the sliced onions in cold water if you would like to soften their flavor.
Sesame seeds: I love adding lots of toasted sesame seeds to this salad for extra flavor and crunch.
Ginger hot honey vinaigrette: This flavorful dressing is made with avocado oil (or olive oil), garlic, fresh ginger, crushed red pepper flakes, honey, apple cider vinegar and a hint of orange zest (from the orange used in the salad).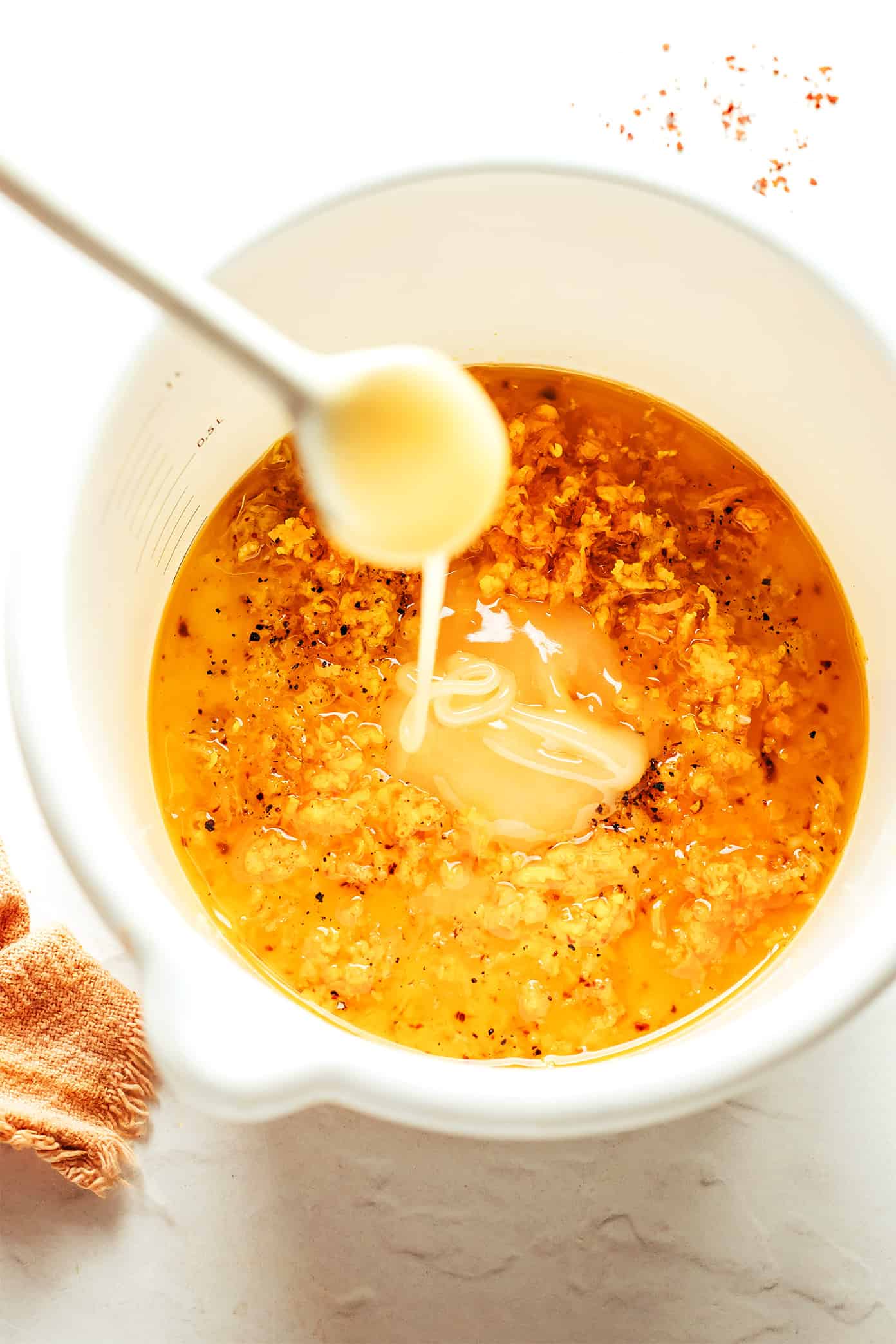 Tips for Making This Salad
Full recipe instructions are included in the recipe below, but here are a few helpful tips to keep in mind when making this salad:
Get a good sear on the salmon. Be sure that the oil is nice and hot by the time you add the salmon to the pan — the salmon should sizzle once it hits the oil! Then let the salmon rest undisturbed while cooking on each side so that it can develop a perfectly-seared, crispy, flavorful crust.
Adjust the heat of the dressing to taste. I would consider the vinaigrette recipe to be fairly mild, as written. If you would like to amp up the heat, just add more crushed red chili flakes, or you can also add a drizzle of hot sauce or chili crisp to the finished salad.
Assemble *just* before serving. In order to avoid wilting the Romaine, it's best to combine all of the salad ingredients and toss with the vinaigrette just before serving.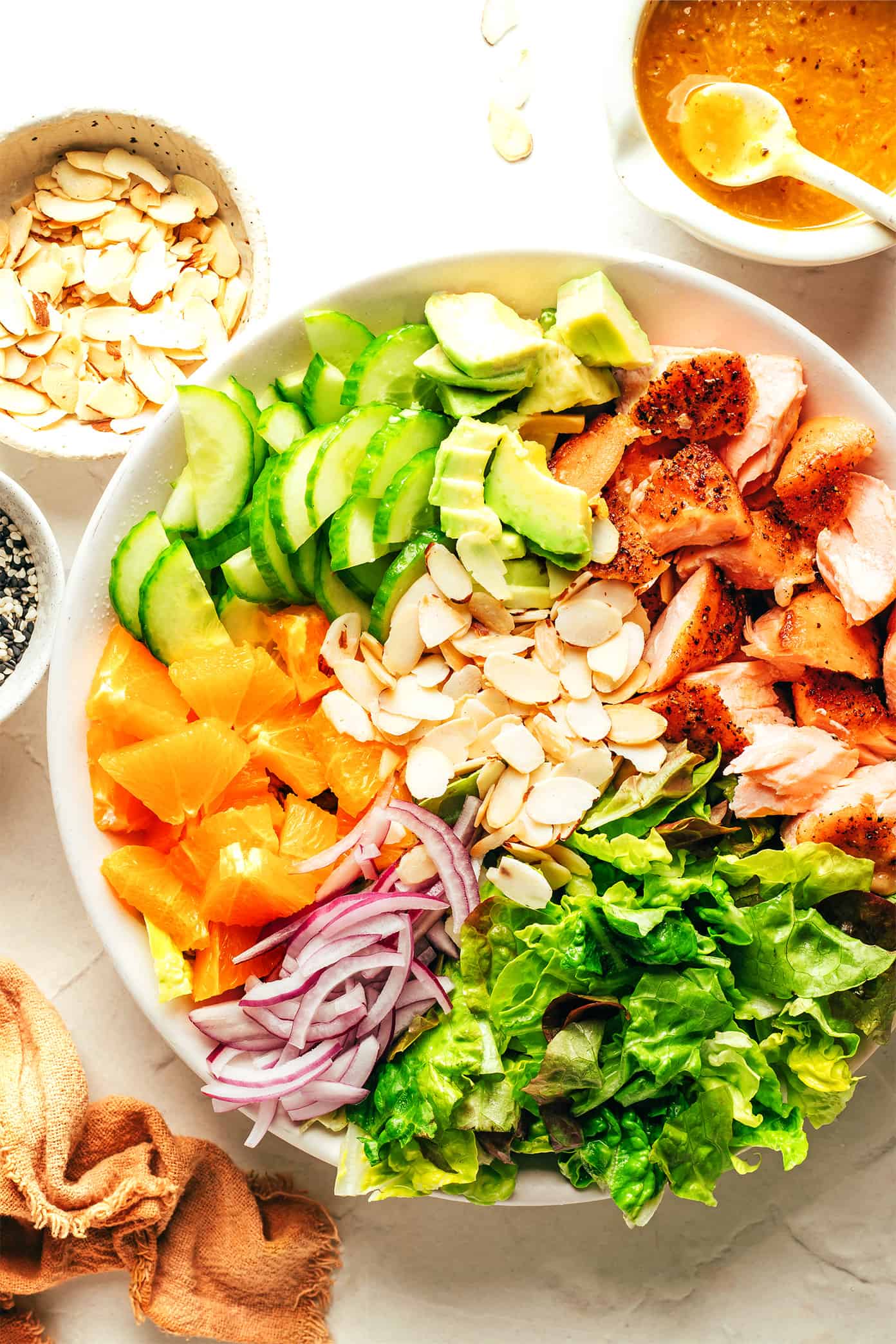 Potential Recipe Variations
Here are a few ways that you're welcome to customize this salmon salad recipe:
Use a different protein: Use cooked shrimp, a different type of fish (i.e. trout, cod, tilapia), chicken, or steak in place of the salmon.
Use a different fruit: Use fresh grapefruit, mango, pineapple, kiwi, or peaches in place of the oranges.
Use different nuts/seeds: Use pecans, walnuts, pistachios, pepitas, or sunflower seeds in place of the almonds.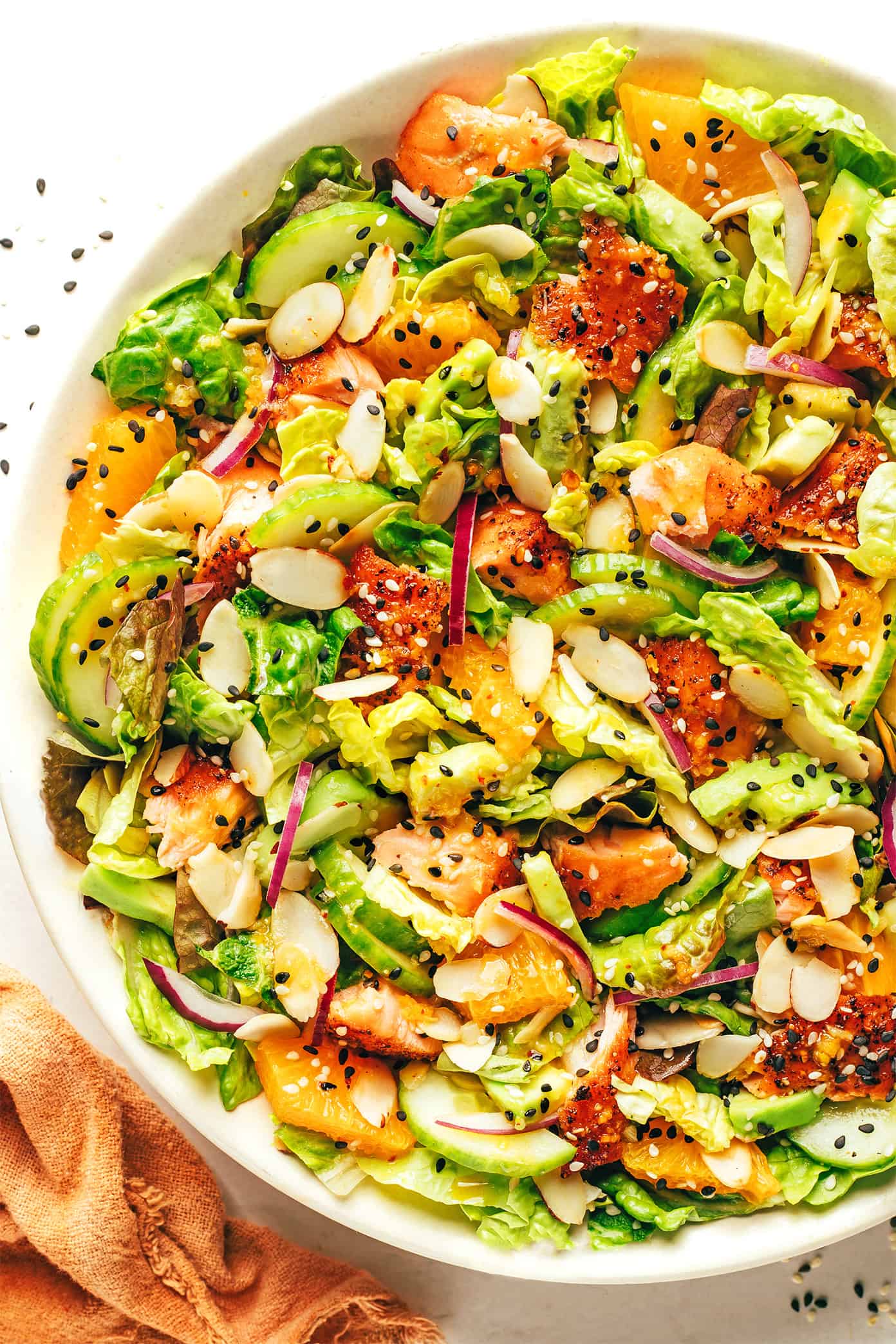 More Salmon Recipes
Looking for more easy salmon recipes to try? Here are a few of our favorites: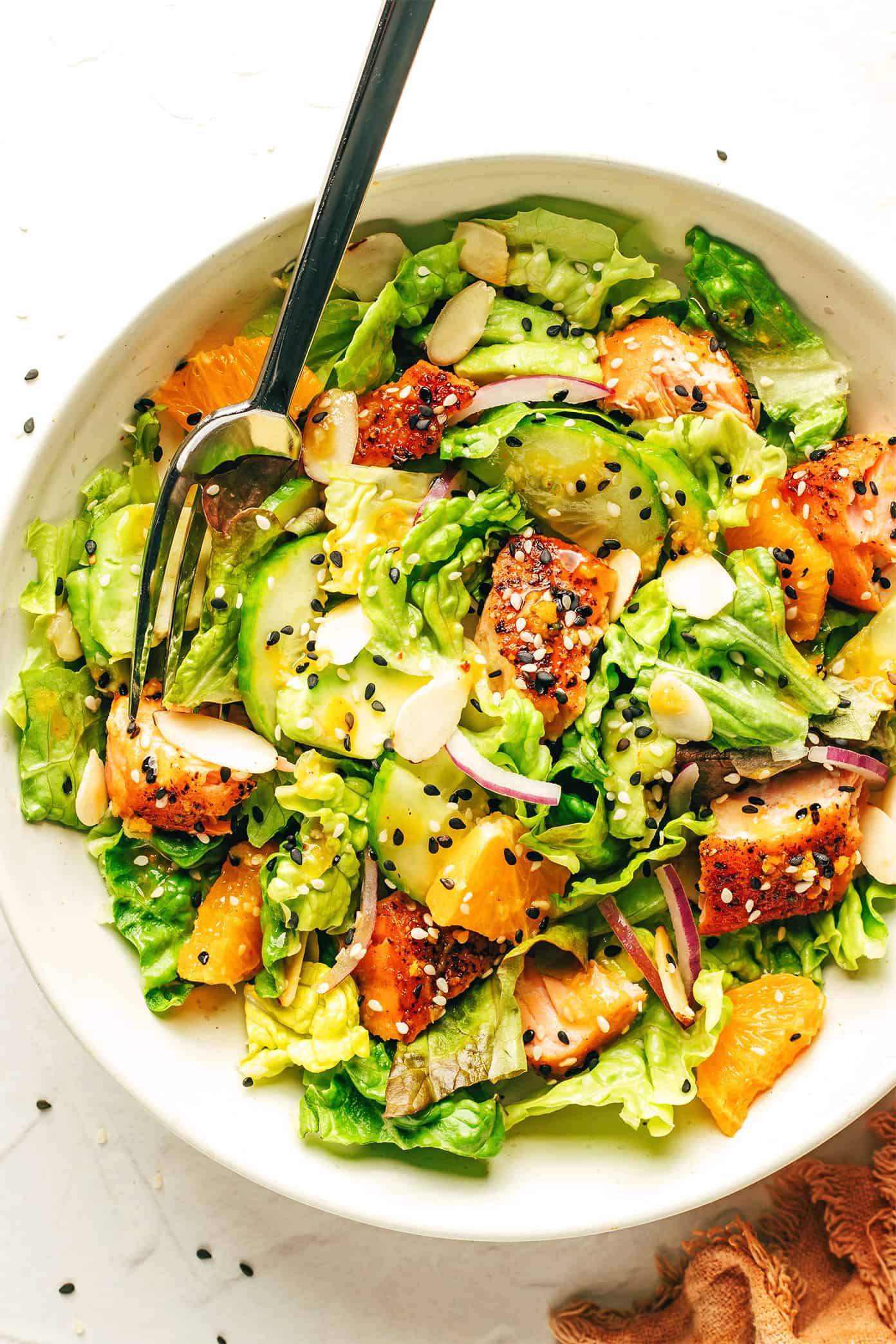 Print
---
Orange Salmon Salad Ingredients:
1/2 cup

sliced or slivered almonds

1 tablespoon

olive oil

1

pound salmon filets

fine sea salt and freshly-ground black pepper

10 ounces

Romaine hearts, chopped

1

large avocado, thinly sliced

1

large navel orange, zested

(for the vinaigrette)

, peeled and thinly sliced

half of an

English cucumber, thinly sliced

half of a

small red onion, thinly sliced

toasted sesame seeds
Ginger Hot Honey Vinaigrette Ingredients:
1/4 cup

olive oil

2

cloves garlic, minced

2 tablespoons

grated fresh ginger

1/2 teaspoon

crushed red pepper flakes

3

to

4

tablespoons honey

2 tablespoons

apple cider vinegar
orange zest (from the orange used in the salad above)
---
Make the vinaigrette.

Heat the olive oil in a small saucepan over medium-high heat. Add the garlic, ginger, crushed red pepper flakes and stir to combine. Cook for 1-2 minutes or until the garlic is fragrant. Reduce heat to low. Add the honey, vinegar, orange zest, a generous pinch of salt and black pepper, and whisk to combine. Continue cooking until the mixture begins to lightly foam, then turn off the heat. Taste and season with additional salt, pepper and/or crushed red pepper flakes if desired.

Toast the almonds.

Heat a large nonstick sauté pan over medium-high heat. Add the almonds and cook, tossing occasionally, until toasted and lightly golden. Transfer the almonds to a separate bowl to save for later.

Cook the salmon.

Season the salmon filets generously with salt and pepper. Return the sauté pan to the heat. Add the oil, then add the salmon filets flesh-side-down. Cook undisturbed for about 3-4 minutes, or until golden. Flip and cook the other side for about 2-4 more minutes, until the salmon reaches your desired level of doneness and flakes easily with a fork. (Cooking time will depend on the thickness of the salmon.) Transfer salmon to a clean plate, flake into bite-sized pieces, and set aside.

Assemble the salad.

Combine the Romaine, avocado, orange, cucumber, red onion, cooked salmon, and half of the toasted almonds in a large bowl. Drizzle evenly with the hot vinaigrette and toss gently to combine. Sprinkle with toasted sesame seeds.

Serve.

Serve warm, garnished with the remaining toasted almonds and extra sesame seeds, and enjoy!
---