This is a complete guide on how to cook a ham. With detailed information on preparation methods, cooking times, ham glaze ideas and tips and tricks for success, you'll be able to turn out a perfect holiday ham year after year!
When the holidays roll around, I always have a ham on the table. Hams are impressive, simple to make, and are popular with both kids and adults alike. Add a few festive side dishes such as sweet potato casserole and bacon green beans, then watch the rave reviews come in.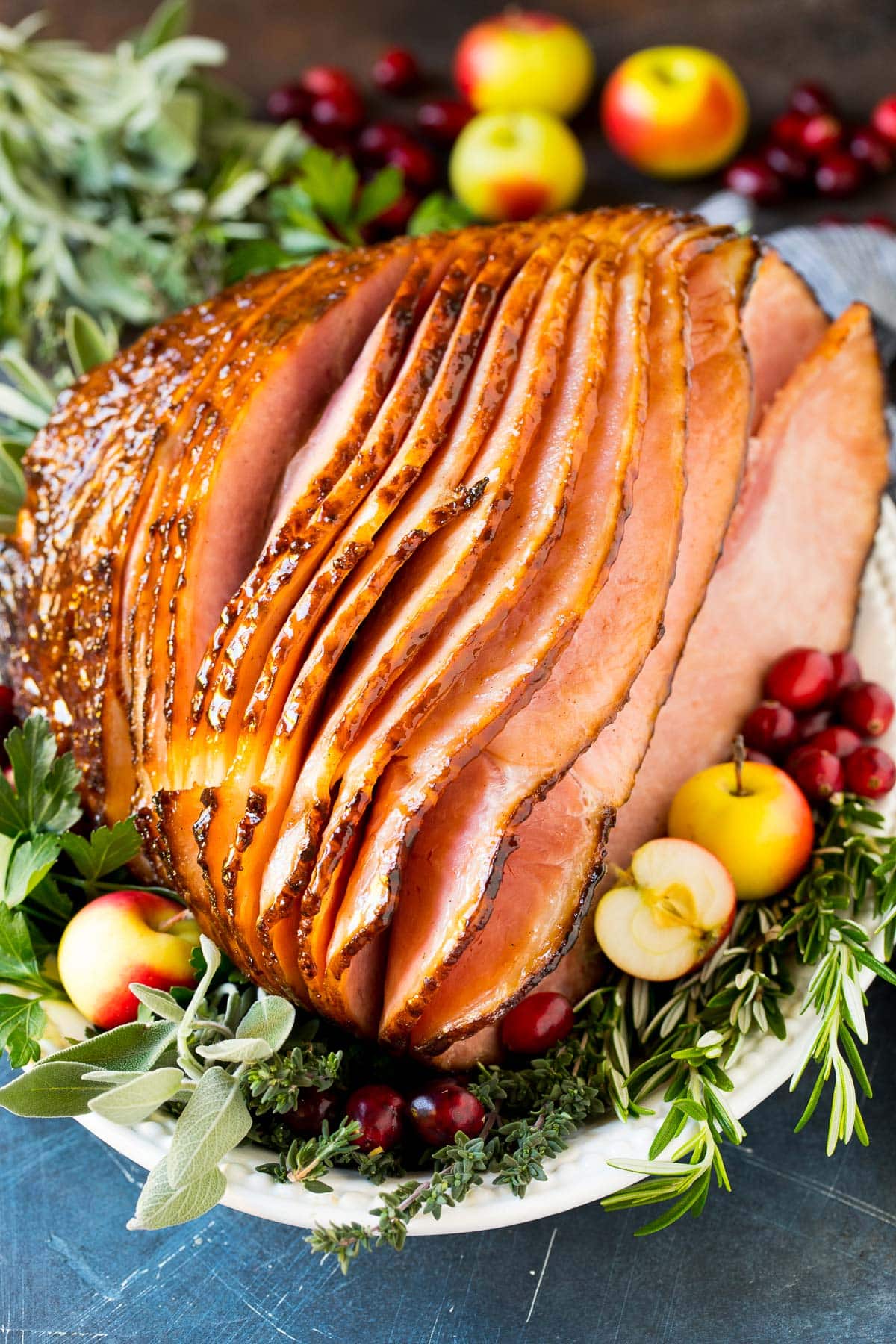 Have you ever cooked a ham before? It can be an intimidating proposition, but it's actually much simpler than you think. This is the ultimate guide on how to cook a ham, with plenty of guidance to ensure foolproof results for your Easter or Christmas celebration.
Holiday Ham Ingredients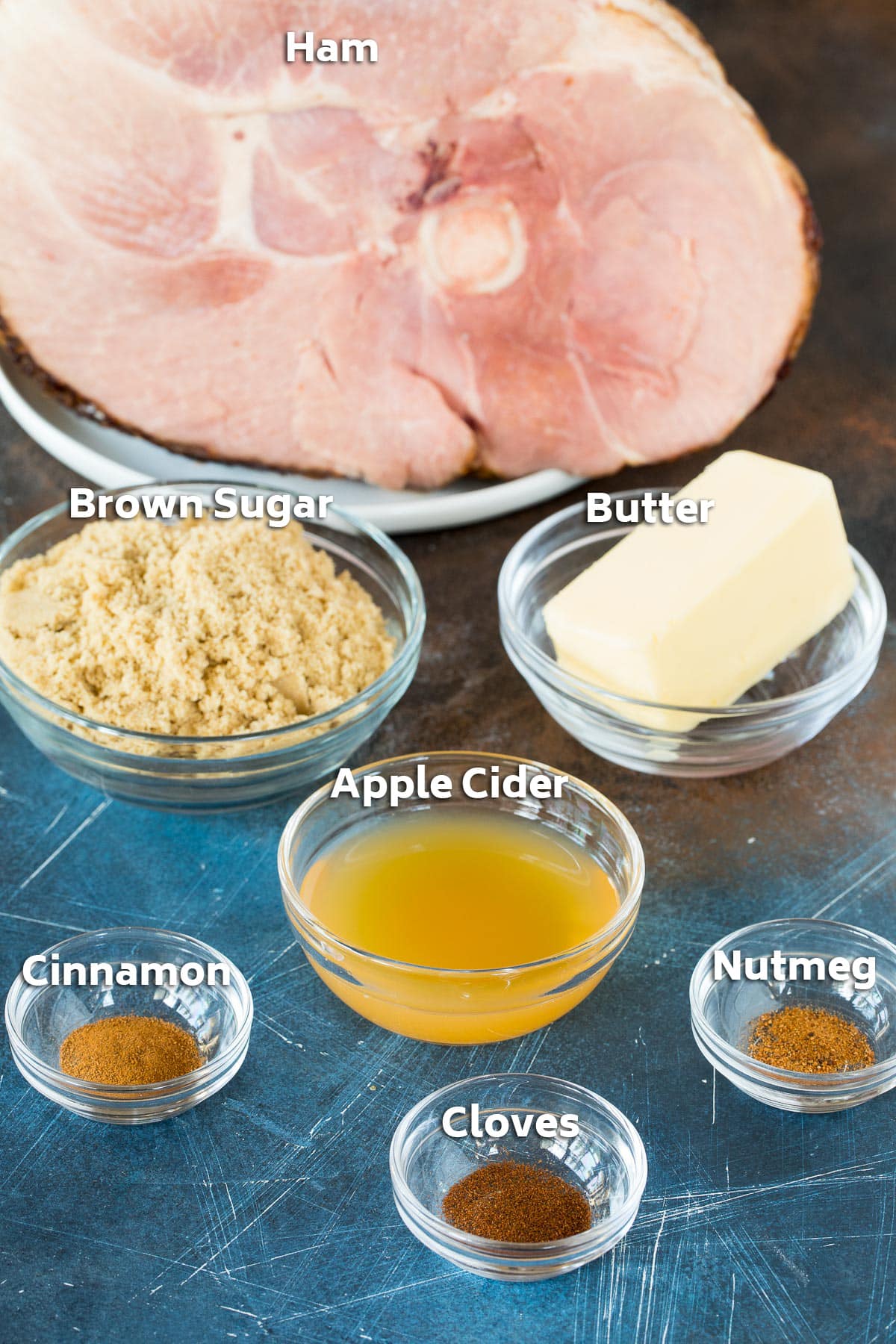 To prepare the ham recipe that I've provided, you'll need a ham, butter, brown sugar, apple cider, cinnamon, nutmeg and cloves.
Types of hams
There are many different varieties of hams. The vast majority of hams that are sold these days are pre-cooked. Some of these hams, such as Black Forest and Virginia ham, are thinly sliced and used for deli meat. The three types you'll most often find for cooking whole are spiral cut hams, boneless hams, and bone-in shank half hams.
Spiral cut hams are the easiest ham to prepare because they're sliced and ready to go. A shank half ham is a bone-in ham that is not yet sliced. You really can use any of these types of ham, but with the shank half ham, you'll need to do a little extra slicing.
How to prepare a ham
The first step to preparing a ham is to remove all the packaging. If there's any extra liquid in the bottom of the package, discard it. If your ham is frozen, you'll need to thaw it before you cook it. Many hams have a small piece of plastic that sits on top of the bone, be sure to discard that.
If you're using a spiral cut ham, you can place your ham in a roasting pan and proceed with your recipe. If you're using a shank half ham, you'll want to use a sharp knife to score a diamond pattern across the top of the ham. You'll also need to score a boneless ham. This creates plenty of crevices for the glaze to soak into the ham as it bakes.
How to cook a ham
The easiest way to cook a ham is to bake it in the oven, or cook it in a crockpot. To bake your ham, you'll want to pour half the glaze over the top, cover it with foil, then bake on the center rack in the oven. At the end of the baking time, uncover the ham and brush the remaining glaze over the top. Bake or broil until the glaze is caramelized, then serve. Be sure to reserve the ham bone to make soup the next day!
To cook a ham in a slow cooker, choose a ham that is small enough to fit into your crockpot. Place the ham cut side down in the crockpot. Pour the glaze over the top.  Cook for 3-4 hours on low heat.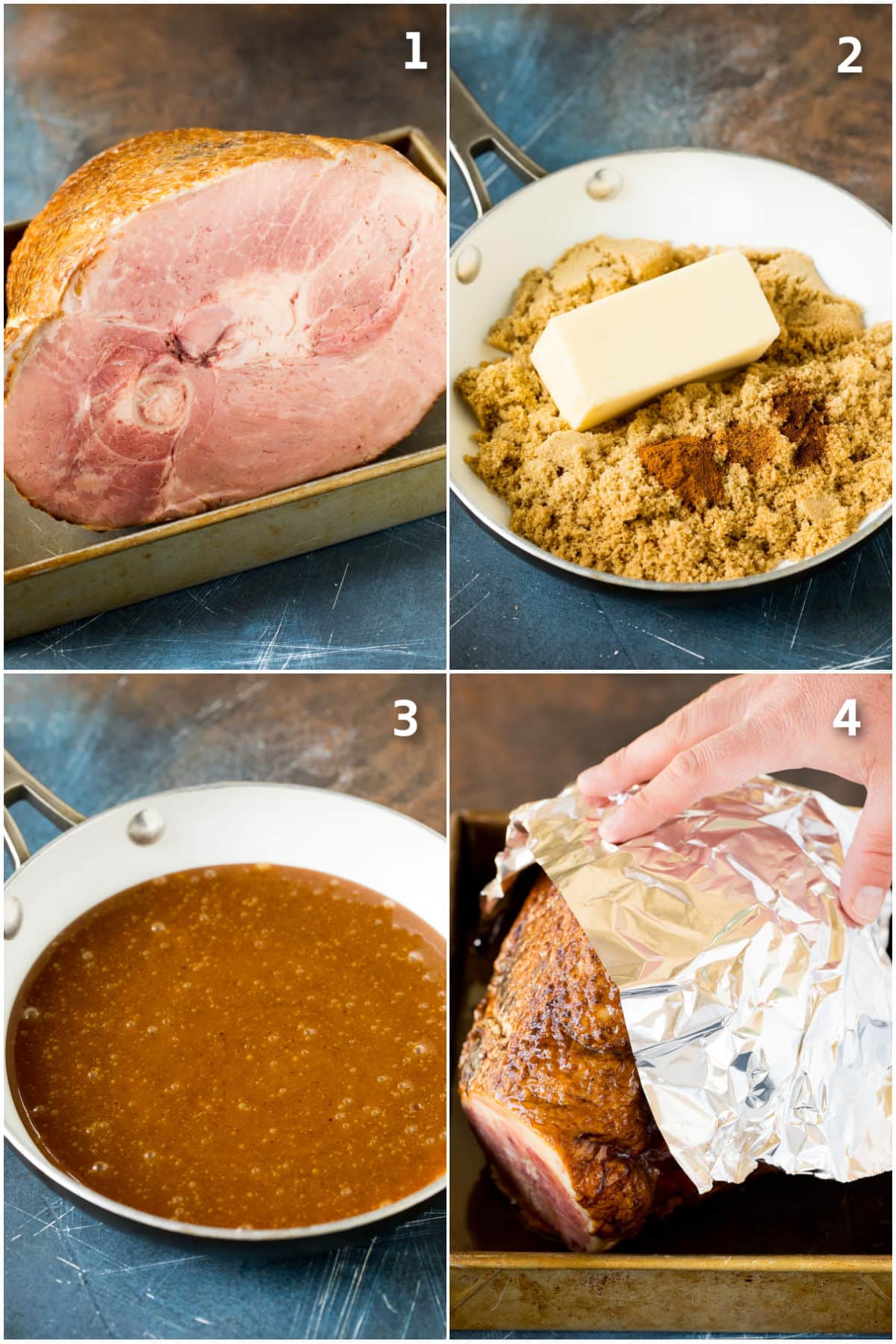 Recipe FAQs
How long does it take to cook a ham?
It takes approximately 15 minutes per pound to bake a ham in the oven at 350 degrees F. Be sure to use a thermometer to confirm that your ham is cooked to the proper temperature and is safe to eat.
How do you know if a ham is done?
A ham is ready to heat when a thermometer inserted into the thickest part of the ham registers 145 degrees F. Your thermometer should not be touching any bone, as this will produce an inaccurate reading.
How much ham per person?
You will want to plan on 3/4 pound of bone-in ham per person, or 1/2 pound of boneless ham per person. This will allow for a generous serving per person, plus allow for some leftovers.
How to reheat ham
The best way to reheat leftover ham is to place it in a covered dish, then bake it at 325 degrees F for 20 minutes or until heated through. You can also reheat individual slices of ham in the microwave, just take care not to overcook it so that it doesn't get tough.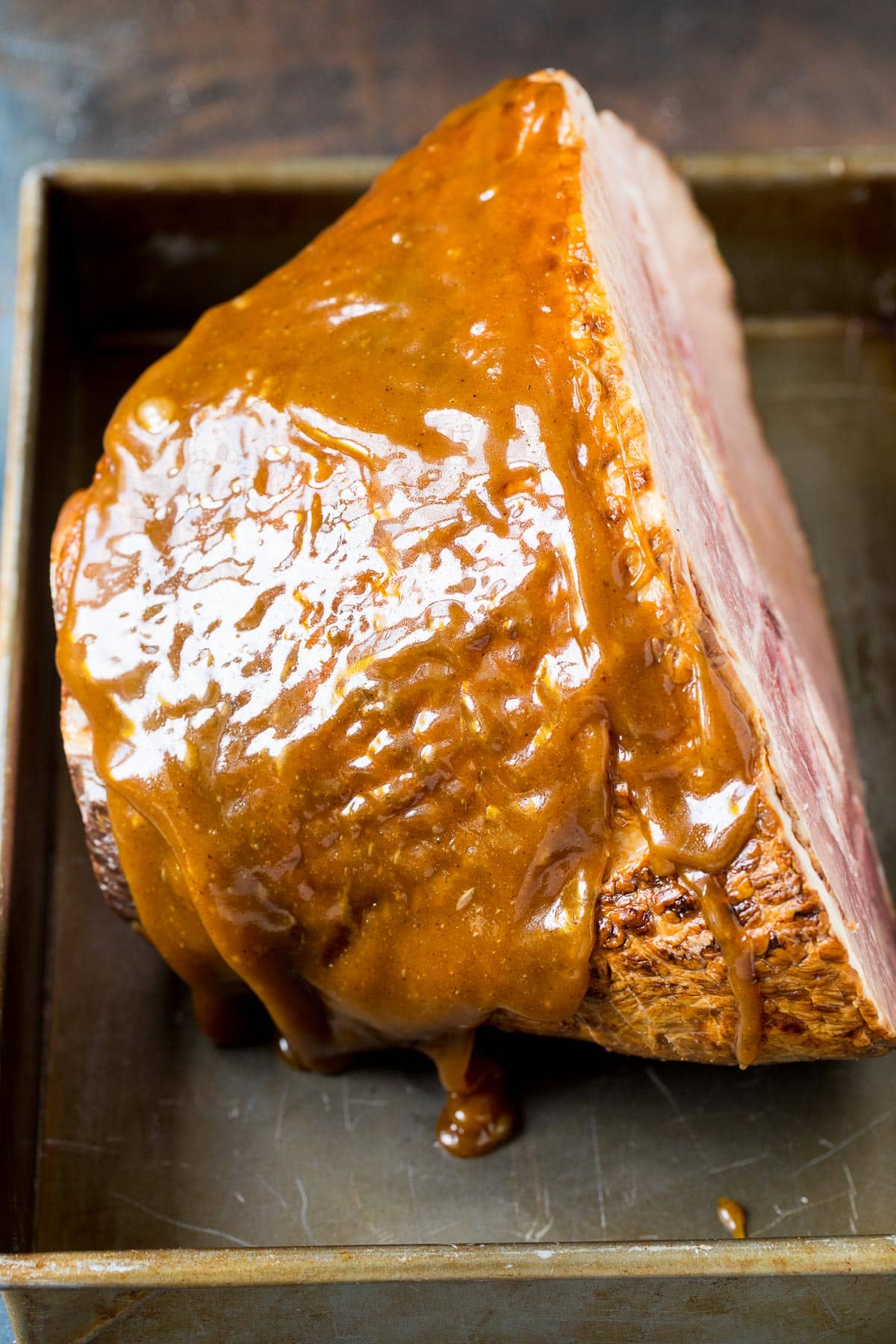 How to cook a ham with a ham glaze
A ham is just a ham, but after you slather it with a flavor packed glaze it becomes a flavorful and festive main course. You can start your ham glaze by melting 1/2 cup of butter with 1 cup brown sugar, then add any of the following flavorings. Simmer the glaze for 5-7 minutes or until thickened, then pour over the ham. Feel free to substitute up to 1/2 cup of honey or maple syrup for half the brown sugar.
Orange: Add 1/2 cup freshly squeezed orange juice, the zest of one orange, 1/2 teaspoon of ground cinnamon and a pinch of ground cloves.
Pineapple: Add 1/2 cup pineapple juice, 1/4 teaspoon ground cinnamon and a pinch of ground cloves. You can also add 1/2 cup drained crushed pineapple for added texture.
Mustard: Use 2 tablespoons of Dijon or grainy mustard and 1/2 teaspoon garlic powder.
Apple: Stir in 1/2 cup apple cider, 1/2 teaspoon ground cinnamon, a pinch of ground cloves and a pinch of ground nutmeg.
How to cook a ham with a Ham rub
If you don't want to coat your ham in a glaze, you can also prepare a ham rub. Mix together 1/2 cup brown sugar, 1 1/2 tablespoons paprika, 1 tablespoon smoked paprika, 2 teaspoons black pepper, 1 teaspoon kosher salt, 2 teaspoons garlic powder, 1 teaspoon onion powder and 1 teaspoon mustard powder. Coat your ham in the rub, then bake as directed.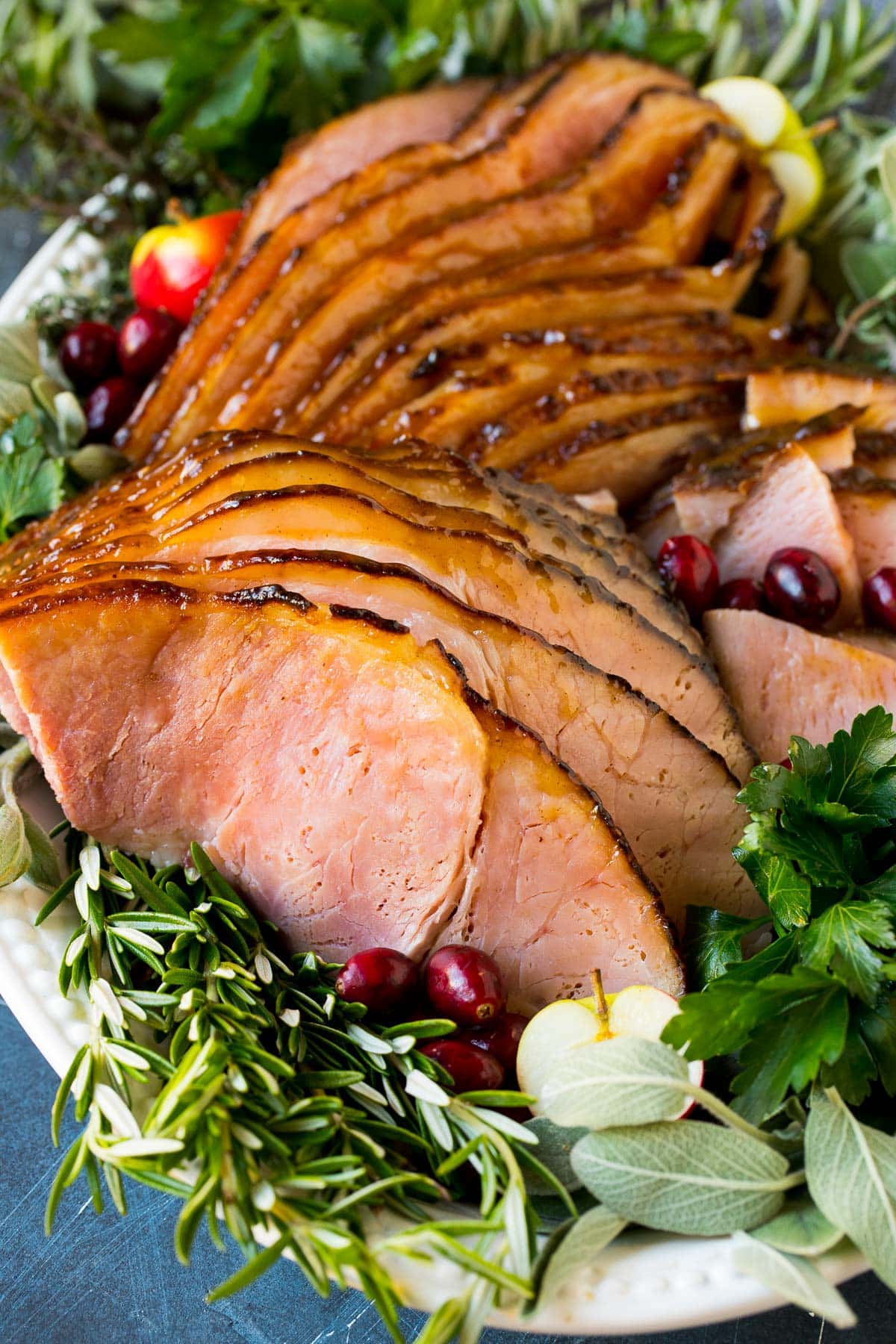 Leftover ham ideas
One of the best parts of making ham is the leftovers! Try making soup, a casserole or some ham sandwiches. Be sure to check out this post for 40 ideas on how to use up your leftover holiday ham.
Now that you know how to cook a ham, you're ready for the holidays! Use the recipe below for the absolute best tender, juicy ham with a succulent glaze.
Ham recipes to try
How to Cook a ham Video
Directions on how to cook a ham in the oven and make a delicious sweet ham glaze.
Preheat the oven to 350 degrees F. Coat a baking pan with cooking spray.

Add the butter, brown sugar, apple cider, cinnamon, nutmeg and cloves to a pot. Place the pot over medium heat.

Bring the pot to a simmer and cook for 5-7 minutes or until glaze is syrupy.

Place the ham in the pan and pour half of the glaze over it. Cover the ham with foil. Reserve the remaining glaze for later user.

Bake the ham for 2 hours. Uncover the ham.

Pour the remaining glaze over the ham. If the glaze has started to harden, you can microwave it for a few seconds to loosen it back up.

Increase the oven temperature to 400 degrees F.

Place the ham, uncovered, in the oven. Bake for another 15-20 minutes or until glaze is caramelized and browned.

Transfer the ham to a serving platter and garnish with fresh herbs and cranberries. Spoon pan drippings over the ham. Slice the ham, then serve.
This recipe works best with a spiral cut ham. If you have a ham that's not pre-cut, you can simply score the top in a diagonal pattern with a sharp knife, then proceed with the recipe as directed.
You can use a larger or smaller ham than the recipe calls for, you'll just need to adjust the cooking time accordingly.
Calories: 488kcal | Carbohydrates: 36g | Protein: 24g | Fat: 26g | Saturated Fat: 14g | Cholesterol: 100mg | Sodium: 855mg | Potassium: 373mg | Sugar: 36g | Vitamin A: 355IU | Calcium: 34mg | Iron: 1.2mg