This asparagus risotto is loaded with asparagus, leeks, and peas brightened up with lemon and fresh herbs made extra creamy with Parmesan and mascarpone cheeses.
Risotto is a special dish. It takes a bit longer to make than your average rice or pasta dish, but the payoff is always worth the wait. Just like my creamy mushroom risotto, this spring version is rich, creamy, and cheesy, and studded with plenty of veggies. It's hearty enough to stand on its own as a main meal, but you could also enjoy it as a first course to classic Italian dishes like chicken marsala or chicken piccata, or as a side dish for this easy pork tenderloin, grilled salmon, or the best roast chicken.
Risotto is a northern Italian rice dish, typically made with arborio rice (a starchy short-grain white rice) that's slowly simmered in broth until thick and creamy. It's said to have originated in Milan, in the 1800s, as a dish called "risotto alla Milanese." While my version is basically vegetarian, I do simmer the arborio in chicken stock for the savory flavor it lends. To make this completely vegetarian, use vegetable stock instead.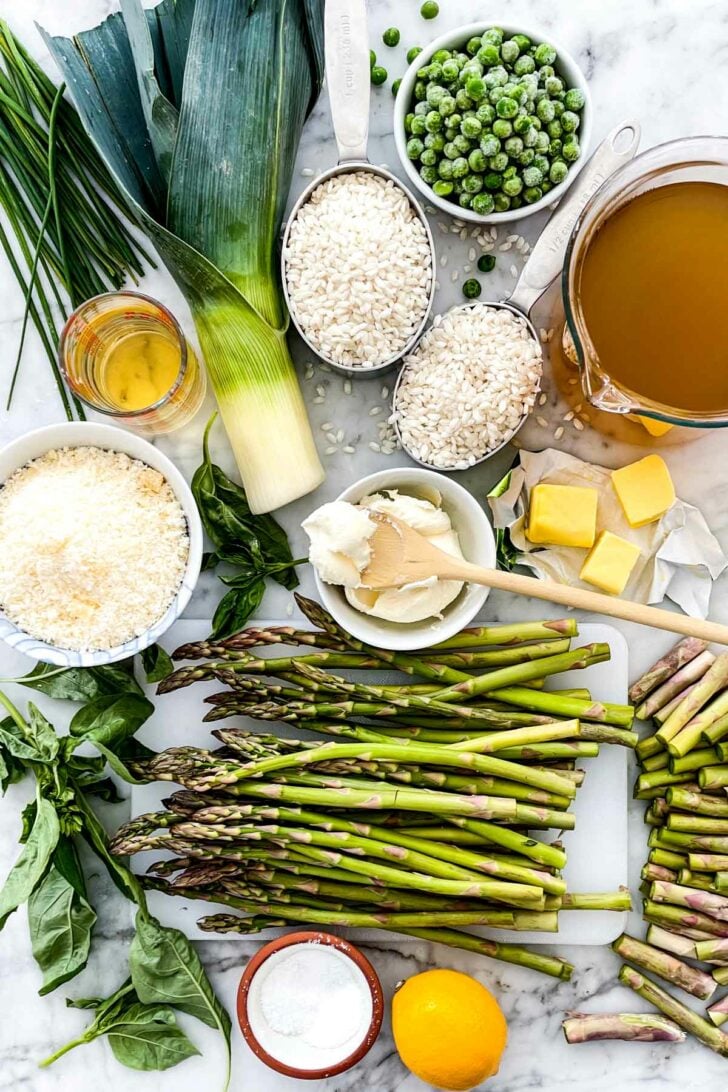 What's in This Asparagus Risotto
This risotto is creamy and satisfying, yet light at the same time. Adding fresh herbs, bright lemon zest, and sweet and tender green veggies make it the perfect light, springy dish. Here's what you'll need:
Butter
Leek (you could also use shallot or yellow onion)
Arborio or Caranoli rice
Chicken stock—Use homemade or a good quality store brand. Feel free to swap it out for vegetable stock if you want this to be vegetarian.
Kosher salt and freshly ground black pepper
Asparagus
Peas (I use frozen but you could use fresh if you can get them)
White wine, such as sauvignon blanc
Butter (for more creaminess)
Parmesan cheese
Mascarpone cheese (optional, but I like the added richness and creaminess it brings)
Lemon zest and juice—brightens everything up
Fresh basil
Fresh chives
How to Make Asparagus Risotto
If you've never made risotto before, don't be intimidated. This recipe is easy and I have some helpful tips below that will give you perfectly cooked, creamy risotto every time.
Heat your chicken stock. Add the chicken stock to a medium saucepan and heat over medium-low. You'll keep the chicken stock warm throughout the cooking process and ladle it into your rice, gradually, and in stages.
Sauté the leek in butter. A big difference between Northern and Southern Italian cooking is Northern dishes are often made with butter versus olive oil. In keeping with the tradition of this Northern-style risotto, I use butter. Sauté the leek for about 5 minutes, or until tender.
Cook the Arborio Rice Before Adding Stock
Toast the rice in the buttery skillet. Add the rice to the skillet and toast in the butter before adding any liquid. This helps heat up the grain to prevent it from breaking later on. It only takes a minute to stir the leek with the rice, coating it in butter until it begins to turn translucent.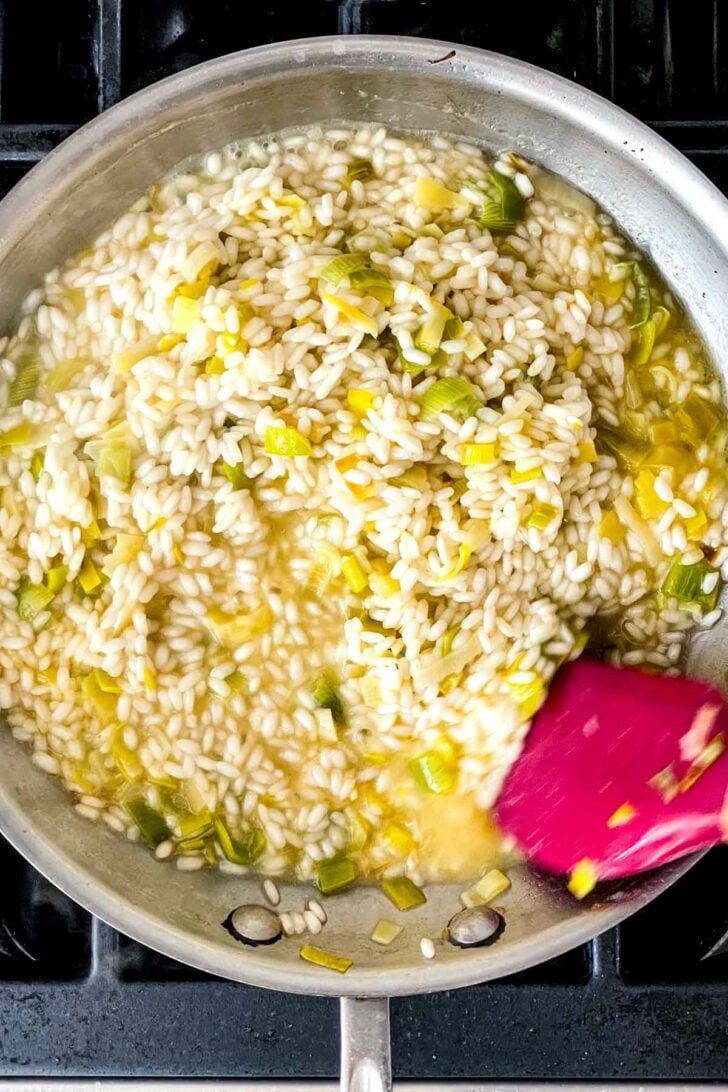 Add Warm Stock Cup by Cup
Begin adding the liquid. Start with the wine—while it's not required, wine contributes to the risotto's balanced flavor. Once it's nearly all absorbed, add your first ladleful of stock. Continue adding stock about 1 cup at a time, stirring and cooking each batch until the rice absorbs the stock before adding more. Slowly adding the stock and stirring until its absorbed is what creates the creamy consistency.
Asparagus and Peas Bring Veggie Power
Add the green veggies. Frozen peas won't take long to cook, so add your asparagus first. I add mine after the rice has been cooking for about 10 minutes, then cook the asparagus for 10 minutes, before adding the peas and cooking for just a few minutes more. By this point, you should have used up all of your stock and the rice should be al dente.
Add Cheese and Zing
Remove the risotto from the heat and add that creamy flavor. Off the heat, stir in the lemon zest and juice, the herbs, Parmesan cheese, mascarpone (another popular northern Italian ingredient), and salt. Taste for seasoning and add more salt or add pepper if you like. To serve, top with more chopped herbs and a bit more lemon zest or a bit more freshly grated Parmesan.
Is Risotto a Pasta or Rice
Risotto is not a variety of rice but rather an Italian rice dish. The rice is typically simmered in chicken stock and wine, as it cooks in stages, absorbs liquid, and purges starch to become thick and creamy.
The Best Rice for Risotto
Short to medium-grain rice varieties work best for risotto (but short is ideal). To ensure freshness, look for rice that has been vacuum-packed in bags for the best flavor.
Arborio rice: An Italian variety of medium-grain rice, arborio rice produces a tender but firm bite and texture, and is widely available at supermarkets or online here.
Carnaroli rice: Also farmed in Italy, Carnaroli rice has a higher starch content that produces a creamier risotto that's harder to mess up and overcook. It can be found at Italian specialty stores or online here.
The Secret to a Good Risotto
Patience, frequent stirring, and a watchful eye are four important components of a good risotto.
Patience and timing are everything. Hurrying the risotto by adding too much liquid or not cooking it in stages can lead to underdone rice. The rice must be cooked gradually to properly absorb all of the liquid it needs. Timing is key so the rice is fully cooked but not mushy. Al dente is the desired texture here.
Simmer and warm your stock. It's important to warm the stock at a low simmer in a separate pot (that you can ladle from) throughout the cooking process. This helps maintain the temperature of the risotto so it cooks evenly.
Stirring the rice —not constantly, but frequently—is important. Regularly moving the grains around in the pan coaxes out their starch, resulting in the creamy risotto you're aiming for. Stir every few minutes or so.
Keep a watchful eye to ensure the liquid never fully absorbs or sticks to the bottom of the pan.
How to Make Risotto Creamy
Once the risotto is al dente, it should be loose and creamy. To make it even creamier, remove it from the heat then stir in the Parmesan and mascarpone cheeses along with the fresh herbs, salt, lemon zest, and lemon juice Remove the rice from the heat before adding the dairy to ensure the dish doesn't become gummy.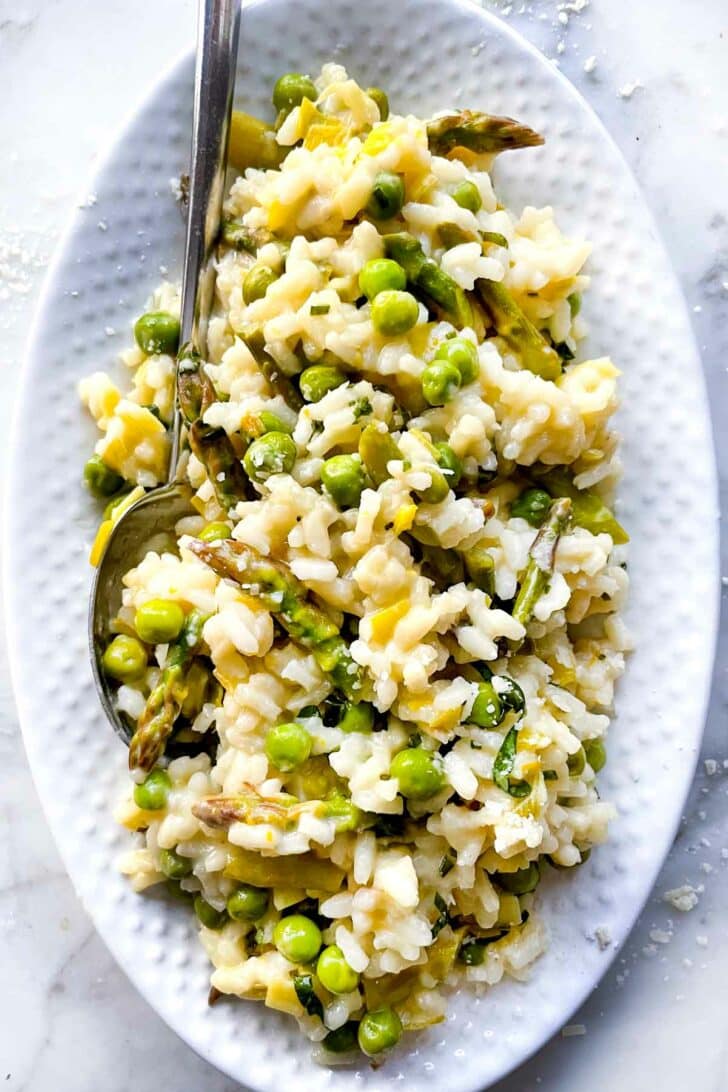 What to Serve with Asparagus Risotto
If you make this recipe, please let me know! Leave a ⭐️⭐️⭐️⭐️⭐️ rating on this recipe below and leave a comment, take a photo and tag me on Instagram with #foodiecrusheats.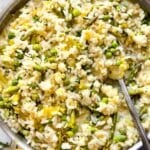 Print
Asparagus Risotto With Leeks and Peas
This asparagus risotto recipe with leeks and peas is bright and wonderfully creamy thanks to lemon, fresh herbs, and both Parmesan and mascarpone cheese. It's simple to make and comes together in about 45 minutes. Enjoy as a main dish or as a side to your favorite meat or fish.
Servings 4 as a main course
Calories 734kcal
Ingredients
6

cups

chicken stock

3

tablespoons

butter

1

leek

, white and green parts only, quartered lengthwise and sliced (about 1 cup)

1 ½

cups

arborio rice

½

cup

dry white wine

, such as sauvignon blanc

1

pound

fresh asparagus

, woody ends trimmed and discarded, and spears cut into ½-inch pieces

1

cup

frozen peas

1

cup

grated Parmesan cheese

¼

cup

mascarpone cheese

2

tablespoons

fresh lemon juice

1 ½

teaspoons

lemon zest

¼

cup

fresh chives

, finely chopped

¼

cup

fresh basil

, chopped

1

teaspoon

kosher salt
Instructions
Add the chicken stock to a medium saucepan and heat over medium-low. You'll keep the chicken stock warm throughout the cooking process and ladle it into your rice, gradually, and in stages.

In a large skillet, melt the butter over medium heat. Add the leek and sauté for about 5 minutes or until tender.

Add the rice to the skillet with the leek. Cook while often stirring until the grains start to become opaque, about 3 minutes. Add the white wine and cook for 2 minutes, stirring until the rice mostly absorbs the liquid. Ladle in 1 cup of the warm chicken stock and stir. Continue cooking while still stirring regularly (every 1-2 minutes) keeping the rice and asparagus mixture at a simmer. When the liquid is mostly absorbed, add more warm chicken stock 1 cup, stirring until absorbed before adding more. Continue the process for another 10 minutes or so.

Add the asparagus and continue cooking, stirring regularly for 10 minutes, ladling the chicken stock in as you go. Add the peas and cook until warmed through. Taste the rice. It should be al dente and loose but not soupy. Be careful not to overcook or it will become mushy.

Remove from heat and stir in the Parmesan, mascarpone, lemon zest, juice, herbs, and salt. The risotto will thicken as it cools. To serve, top with more chopped herbs and a bit more lemon zest or a bit more freshly grated Parmesan.
Notes
• Use vegetable stock to make this a vegetarian dish
• Instead of sweeter mascarpone, try cream cheese for a tangier bite
Nutrition
Calories: 734kcal | Carbohydrates: 89g | Protein: 27g | Fat: 27g | Saturated Fat: 15g | Polyunsaturated Fat: 2g | Monounsaturated Fat: 6g | Trans Fat: 0.3g | Cholesterol: 69mg | Sodium: 1620mg | Potassium: 877mg | Fiber: 7g | Sugar: 11g | Vitamin A: 2380IU | Vitamin C: 27mg | Calcium: 314mg | Iron: 8mg
More Risotto and Rice Recipe Ideas
We send good emails. Subscribe to FoodieCrush and have each post plus exclusive content only for our subscribers delivered straight to your e-mail box.
Follow me on Instagram, Facebook, Pinterest and Twitter for more FoodieCrush inspiration.
As always, thank you for reading and for supporting companies I partner with, which allows me to create more unique content and recipes for you. All opinions are always my own.