This post may contain affiliate links. Please read my disclosure policy.
These mini Oreo cheesecakes are made with a delicious mix of cookies and cream, featuring a whole Oreo as the "crust."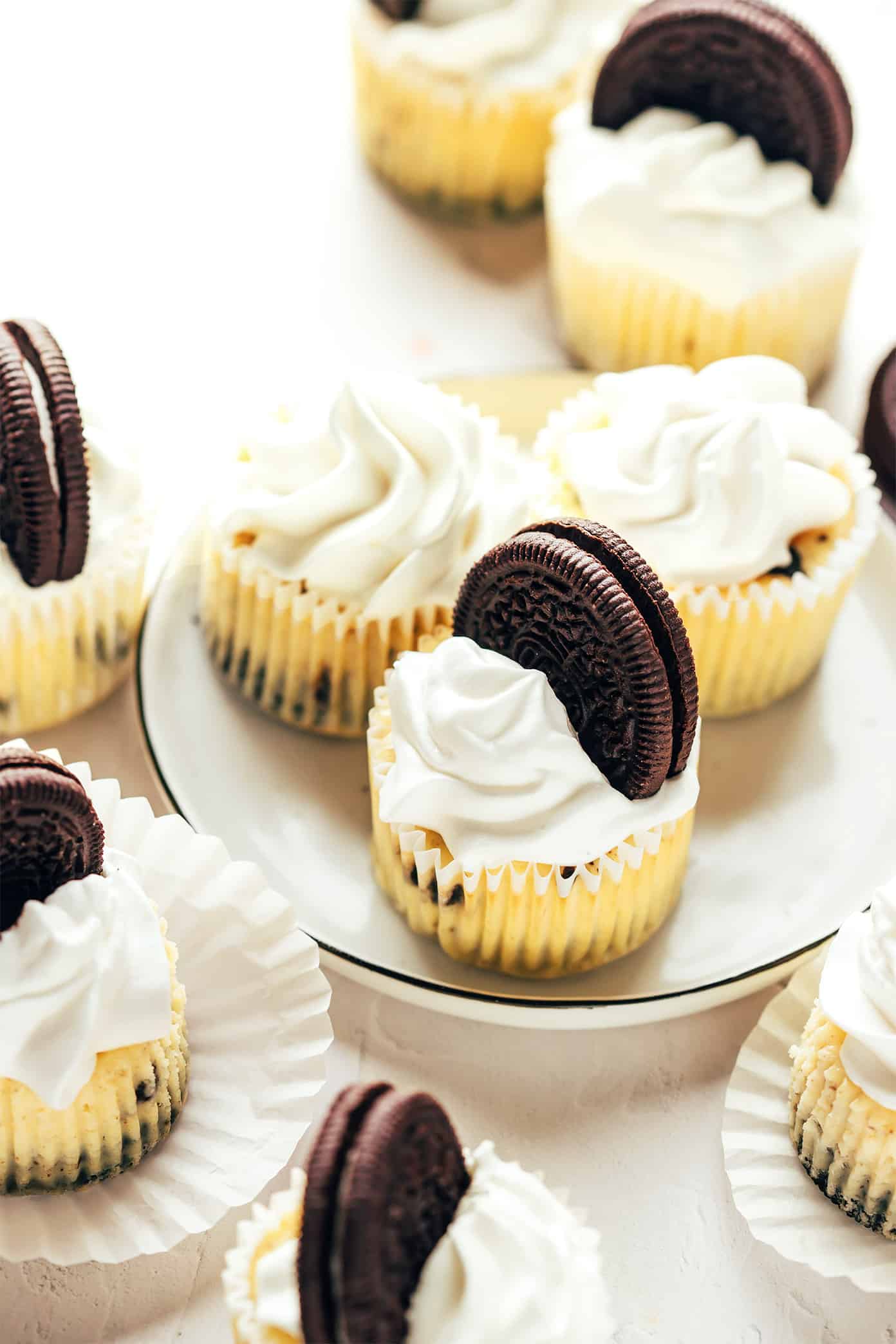 I've been making these mini Oreo cheesecakes for over a decade now whenever I need a quick and easy treat for a gathering. And I'm telling you — especially when it comes to cheesecake recipes — it doesn't get much easier, cuter and tastier than this!
My favorite thing about this mini cheesecake recipe is that there's no need to spend extra time crumbling, mixing, and pressing down a fancy crust. Simply pop an Oreo in the bottom of each baking cup and you're good to go! The vanilla cheesecake batter here is also quick and easy to mix with 5 basic ingredients. Then simply bake for about 15 minutes, chill, top with whipped cream and an extra Oreo for garnish, and enjoy, enjoy.
These mini Oreo cheesecakes are the perfect make-ahead dessert for dinner parties, game days, or anytime you're craving a sweet treat. And while I love making this recipe with classic Oreos, feel free to experiment with whatever Oreo flavors you love best.
Let's make some Oreo cheesecakes!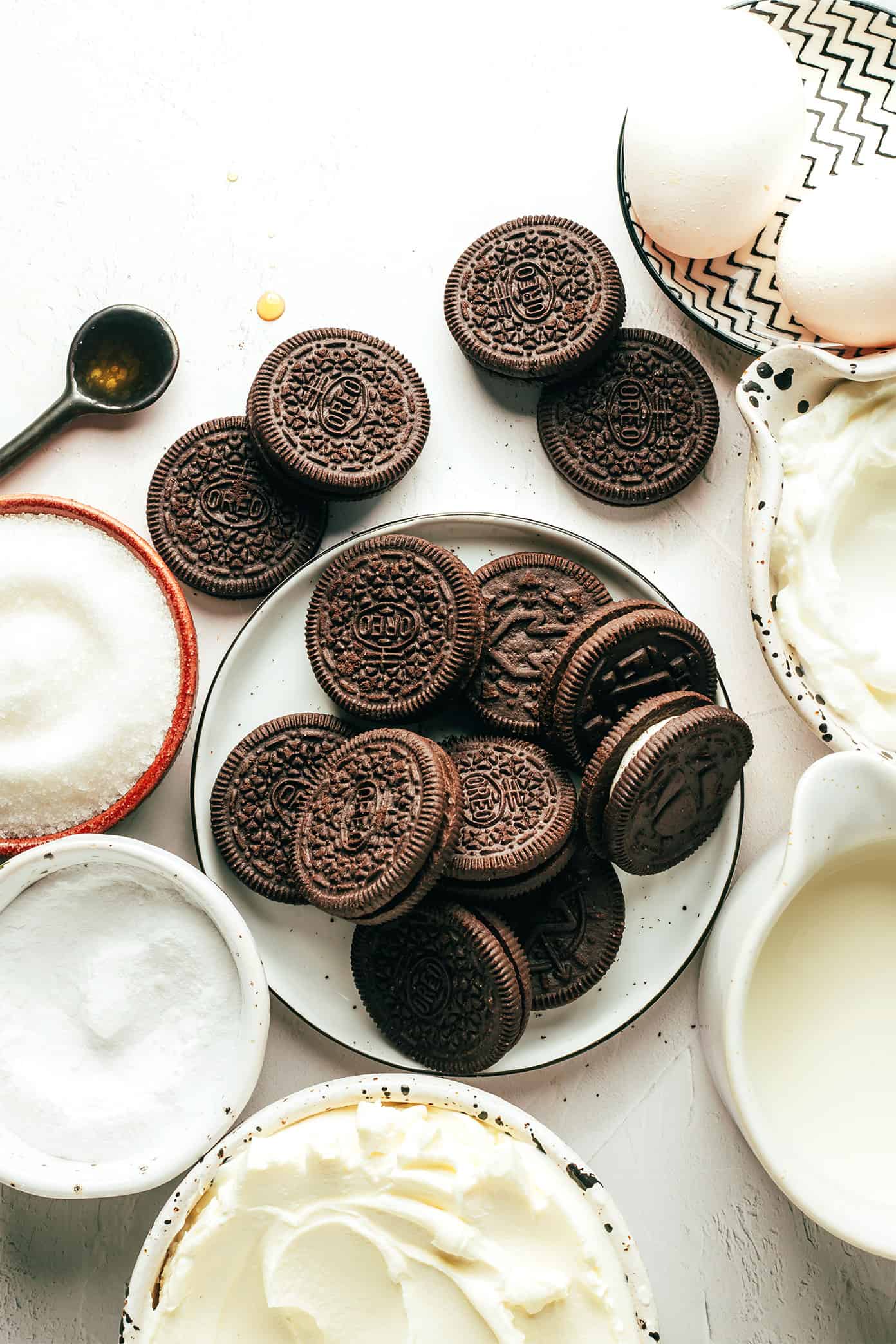 Oreo Cheesecake Ingredients
Here are a few notes about the Oreo cheesecake ingredients that you will need to make this recipe:
Oreo cookies: I always using basic Oreos for a classic cookies and cream cheesecake, but you are more than welcome to experiment with different Oreo flavors/fillings if you would like.
Cream cheese: This recipe works using traditional or low-fat blocks of cream cheese, which needs to be brought to room temperature before mixing and baking.
Sugar: This recipe was created using basic white granulated sugar.
Sour cream (or plain Greek yogurt): I love the subtle tang that sour cream adds to this cheesecake recipe, but you are welcome to sub in plain Greek yogurt if you prefer.
Vanilla extract: A hint of vanilla adds great flavor the cheesecake batter.
Eggs: Eggs help to give the cheesecake a smooth and rich texture and bind all of the ingredients together.
Whipped cream: If you would like to top your mini cheesecakes with whipped cream, simply beat together chilled heavy cream and powdered sugar until stiff peaks form. (Or you are welcome to purchase pre-made whipped cream.)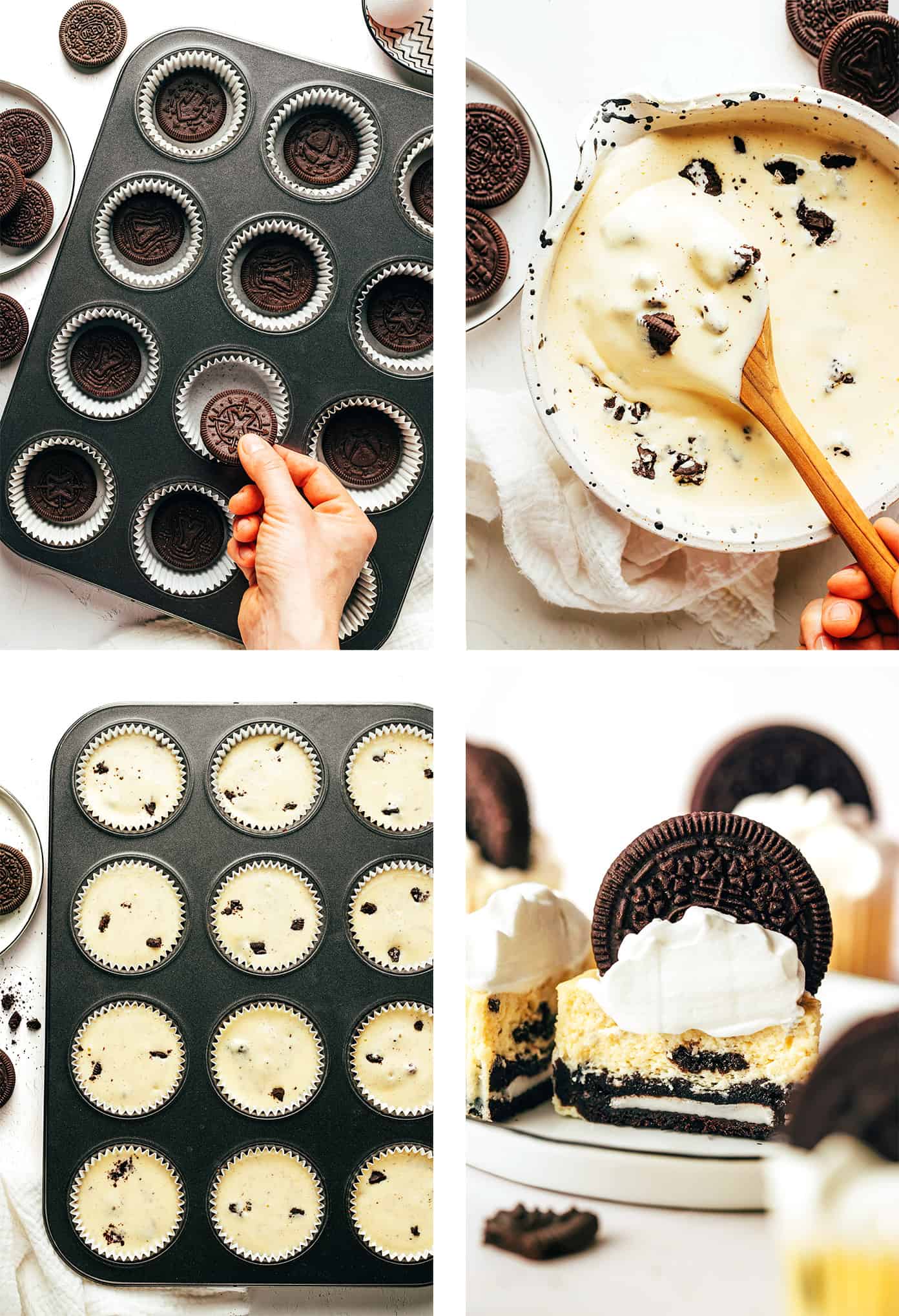 Oreo Cheesecake Tips
Detailed instructions for how to make mini cheesecakes are included in the full recipe below, but here are a few additional tips to keep in mind:
Use room temperature ingredients. It's always best to let any refrigerated cheesecake batter ingredients (i.e. cream cheese, sour cream, eggs) reach room temperature before mixing so that they will bake properly.
Don't over-mix the batter. For this recipe, you just want to beat the batter ingredients together until combined and smooth. We don't want to beat too much extra air into the batter.
Don't rely on the toothpick test. Just a reminder — the usual toothpick "doneness" test does not work with cheesecake. You want to bake mini cheesecakes until the edges are set and the centers only slightly jiggle, about 15-17 minutes. The cheesecakes will continue to firm up as they rest and chill.
Add whipped cream just before serving. Homemade whipped cream can hold for around 24 hours in the refrigerator. But to be on the safe side, I recommend always adding the whipped cream to these cheesecakes just before serving so that the whipped cream does not soften and melt.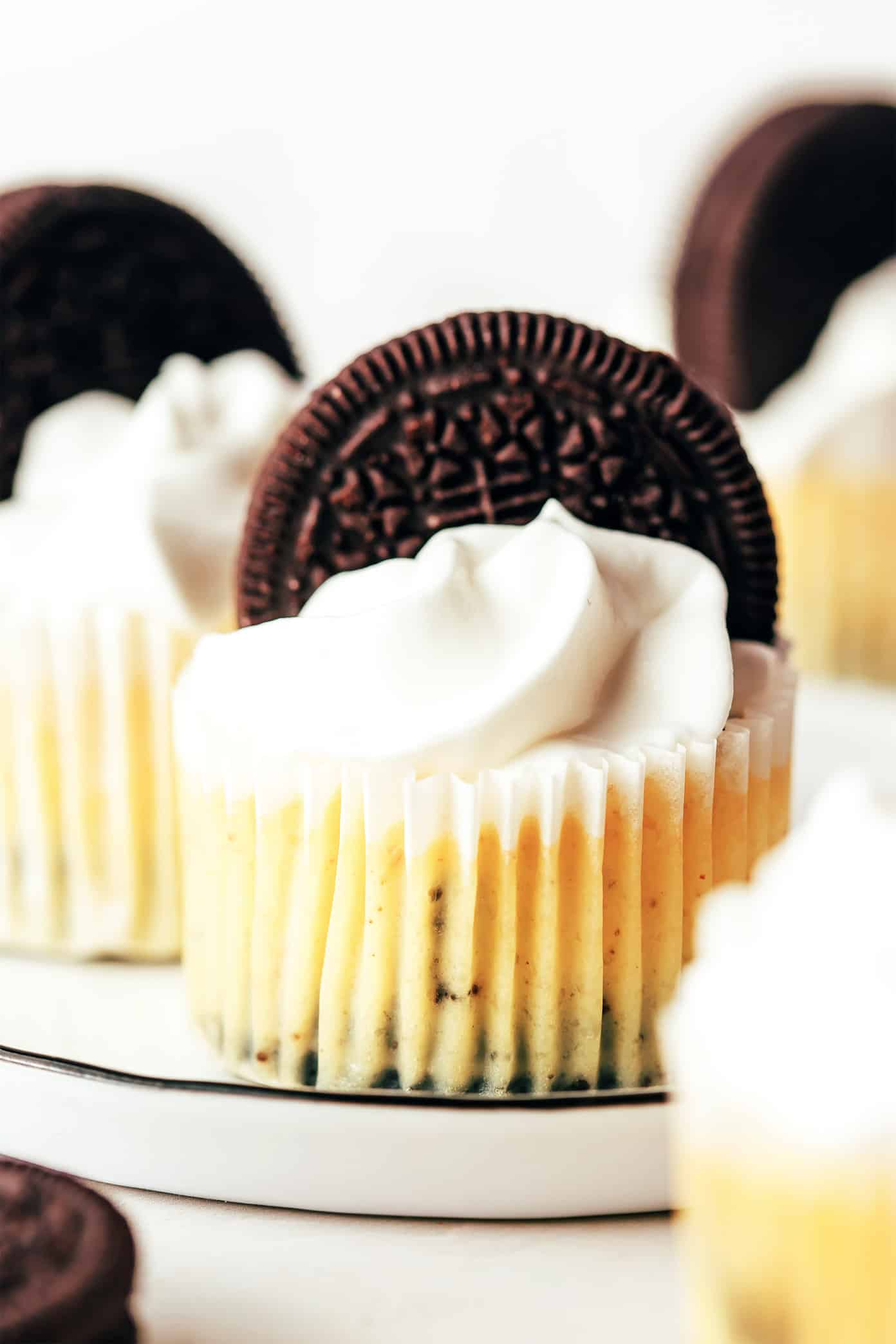 Recipe Variations
Want to customize this Oreo cheesecake recipe? Here are a few other ideas to try:
Use a different flavor of Oreos: Use any other flavor of Oreos (such as Golden Oreos) that you love best. I just recommend that you choose a variety with the classic cookie-to-cream ratio. Cookies with more or less stuffing (such as Double-Stuf Oreos or Oreo Thins) will likely not work quite as well.
Use a different topping: Use a different kind of cookie topping (perhaps crushed instead of whole Oreos), use a different kind of frosting or whipped cream, and/or add any extra chocolate drizzles, nuts, or sprinkles that you might like.
Add cocoa: Add two tablespoons of unsweetened cocoa powder to the batter if you would like a more chocolatey cheesecake.
Add espresso powder: Add 1 teaspoon espresso powder to the batter for a hint of coffee flavor.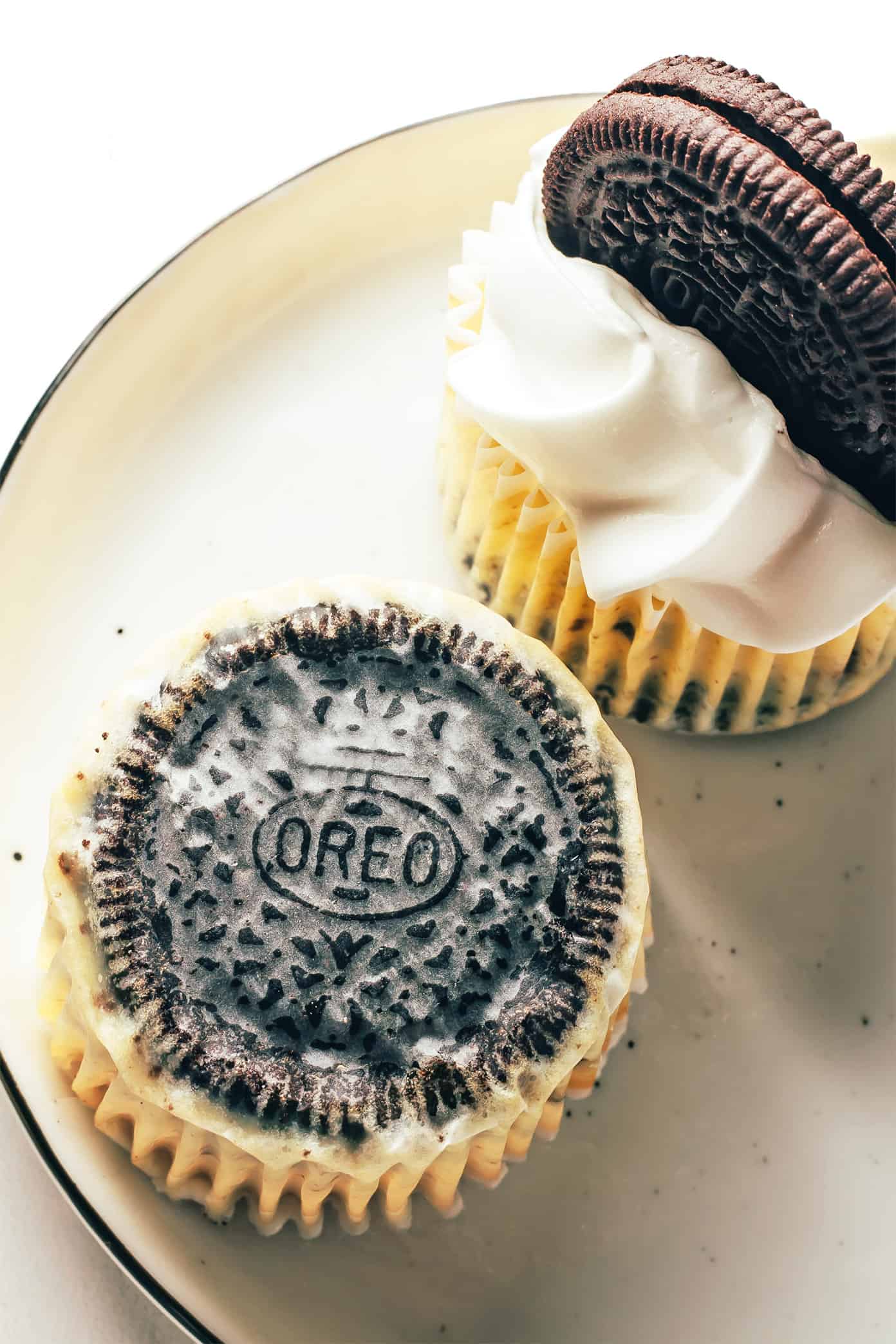 More Cheesecake Recipes
Looking for more great cheesecake recipes to try? Here are a few of our faves:
Print
---
Description
These mini Oreo cheesecakes are made with a delicious mix of cookies and cream, featuring a whole Oreo as the "crust."
---
Oreo Cheesecake Ingredients:
16

Oreo cookies (plus 12 extra for topping, if desired)

12 ounces

cream cheese, room temperature

1/2 cup

granulated white sugar

1/3 cup

sour cream or plain Greek yogurt, room temperature

1 teaspoon

vanilla extract

2

large eggs, room temperature
(Optional) Whipped Cream Ingredients:
1 cup

heavy whipping cream

1 tablespoon

powdered sugar
---
Prep oven and baking cups.

Heat oven to 350°F. Line 12 standard baking cups with paper liners. 

Prep the Oreos.

Place an Oreo cookie on the bottom of each liner. Roughly chop the remaining 4 Oreos and set aside.

Mix the batter.

Add the cream cheese and sugar to a large mixing bowl. Use an electric mixer to beat on medium speed until combined and smooth. Add in the sour cream, vanilla, eggs and beat just until smooth and evenly combined. (Avoid over-mixing.) Add the chopped Oreos and fold in by hand until combined.

Bake.

Divide the batter evenly among the 12 Oreo-lined baking cups. (I find it is easiest to add the batter with a scoop.) Bake until the edges are set and the centers only slightly jiggle, about 15 to 17 minutes. 

Chill.

Transfer the pan to a wire rack and let the cheesecakes cool for 30 minutes. Cover lightly with foil and refrigerate for 3 to 4 hours, or until completely chilled.

Make the whipped cream (optional).

Combine the heavy cream and powdered sugar in a chilled mixing bowl. Use an electric mixer to beat on medium-high speed until stiff peaks form.

Frost the cheesecakes.

Using a piping tip or a knife, frost the cheesecakes with the whipped cream, then add an extra Oreo for decoration if you'd like.

Serve.

Serve immediately and enjoy!
---
Notes
Recipe updated in 2022 to make a smaller batch (12 instead of 24 cupcakes).