This post may contain affiliate links. Please read my disclosure policy.
This lemon brown butter pasta is tossed with roasted artichokes and fennel and sprinkled with the most delicious garlic toasted breadcrumbs.
Seriously one of my favorite pasta recipes I've made in recent memory. ♡
I know it has a long title, but this recipe actually requires less than 5 minutes of chopping (just fennel, artichoke hearts and some garlic) and is mainly more about cooking and layering ingredients together. The three essential components we're working with include:
roasted fennel and artichokes: a bulb of fennel and a jar of artichoke hearts are sliced and roasted until perfectly golden and caramelized
lemony brown butter sauce: meanwhile, brown butter combines with lemon and Parmesan to create a bright, silky, and downright irresistible sauce in which everything will be tossed
garlicky breadcrumbs: then we'll sprinkle each serving with fresh basil and crispy, crunchy, garlicky breadcrumbs, which you absolutely must not skip here — they are magic
It's another one of those pasta recipes that's elegant enough for a dinner party yet easy enough for a regular weeknight. And I just can't say enough good things about how wonderfully all of these flavors pair together. My husband and I absolutely love this recipe served vegetarian, as written. But please feel free to add in an extra protein if you'd like (shrimp, salmon, chicken, or Italian sausage would all be lovely) or swap in your favorite GF pasta and breadcrumbs if prefer to make this recipe gluten-free.
Let's make some pasta together!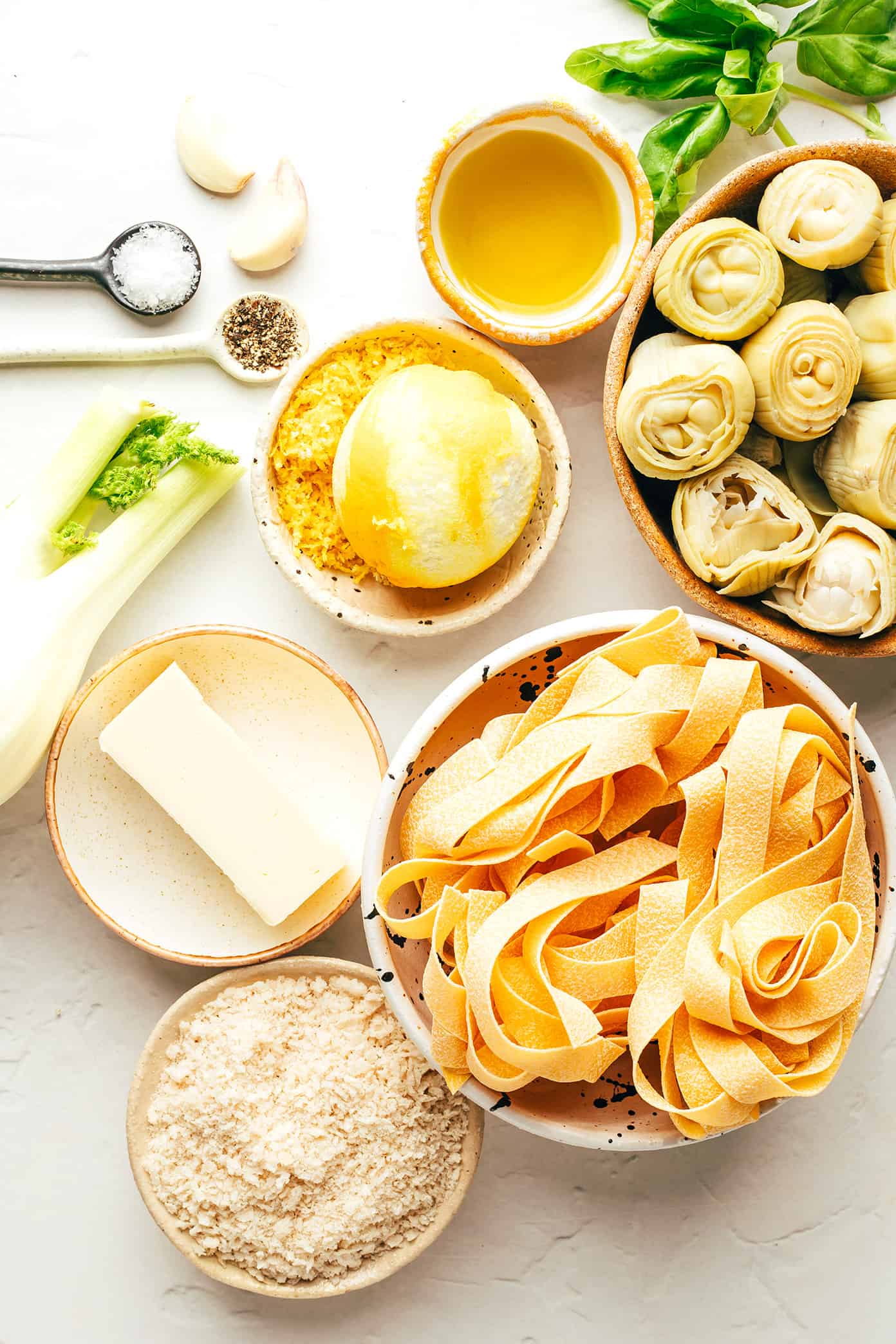 Lemon Butter Pasta Ingredients
Here are a few notes about the ingredients you will need to make this lemon butter pasta recipe:
Pasta: I used a thick pappardelle pasta for this recipe, but any pasta shape that you love best will work here. Feel free to also use gluten-free or whole wheat pasta, if you prefer.
Fennel: We will slice and roast an entire bulb of fennel to toss with the pasta. You're also welcome to save and chop the fronds for garnish, if you would like.
Artichoke hearts: To keep things easy, we will just use jarred artichoke hearts! Simply drain, halve and roast them along with the fennel until their edges are slightly golden and caramelized.
Butter: I recommend using salted butter (or you can add a pinch of salt to unsalted butter), which we will lightly brown and toss with lemon and Parmesan to create our brown butter sauce.
Lemon: We will use both the zest and juice (about 3-4 tablespoons) of one large lemon to make our sauce perfectly lemony.
Parmesan: I recommend freshly-grating a block of Parmesan cheese by hand so that it will melt well into the brown butter sauce. Then be sure to sprinkle extra on top just before serving!
Basil: Feel free to either julienne or roughly-chop the fresh basil leaves, which add a lovely fresh touch to this pasta as a garnish.
Garlicky breadcrumbs: Also very easy to make with butter, garlic, Panko breadcrumbs, salt and pepper.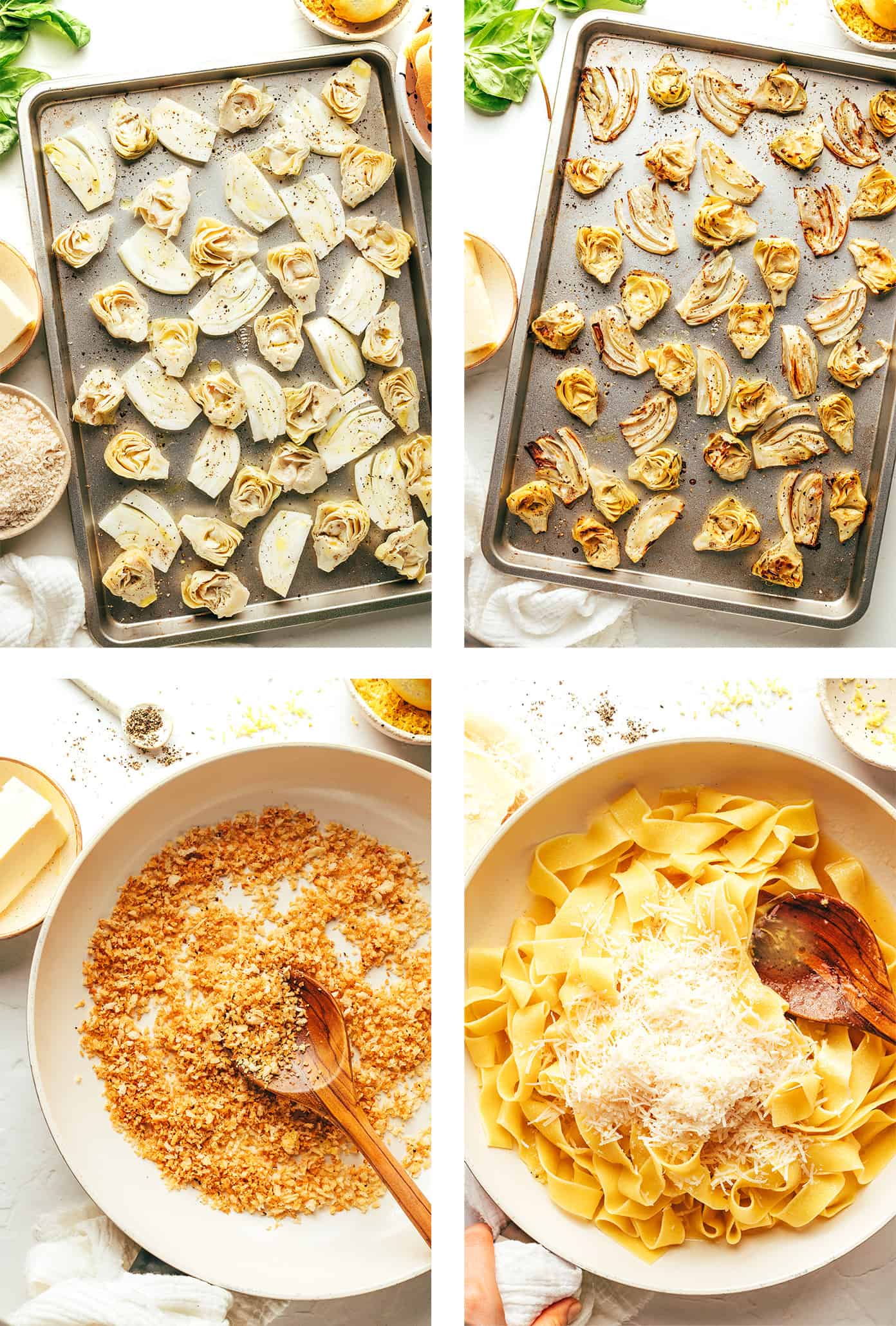 Tips for Making This Pasta
Full instructions for how to make this pasta are included in the recipe below, but here are a few extra tips to keep in mind:
Don't overcook the pasta: The pasta is meant to finish cooking in the lemon butter sauce, so it's essential that you transfer it to the sauce when it's just 1 minute or so shy of al dente. I find it's easiest to quickly transfer the pasta directly into the sauce using a spider strainer or tongs (depending on your pasta shape), but you could also quickly pour the pasta into a strainer and then transfer it to the sauce.
Keep a close eye on the brown butter: Butter solids can go from brown to burnt quickly, so always keep a close eye on the butter as it is browning on the stove.
Fully toast the breadcrumbs: I like to let the breadcrumbs toast until they're a deep golden brown, for extra flavor and crispiness. Just keep stirring and monitoring their color until they reach your desired level of doneness.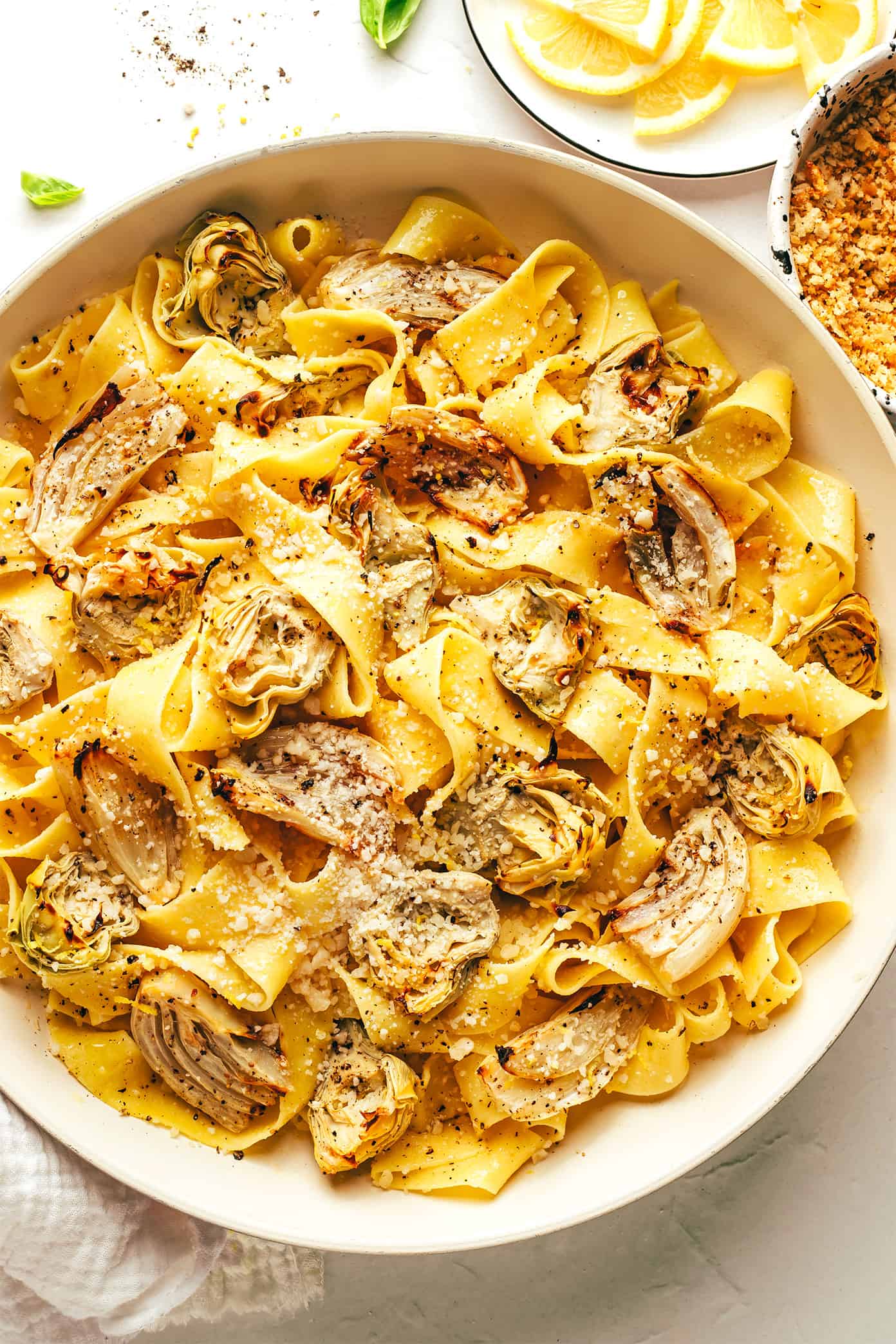 Potential Recipe Variations
Here are a few additional variations that you are welcome to try with this recipe:
Add a protein: Shrimp, salmon, scallops, chicken, Italian sausage or bacon would all be great options if you would like to add a protein.
Add cream: Add 1/4 to 1/2 cup of cream to the lemon brown butter sauce if you would like to make it creamier.
Use different herbs: Finely chopped fresh rosemary, tarragon, thyme, parsley, oregano or chives would all be delicious mixed into the garlic breadcrumbs too, if you would like to add in some additional fresh herbs.
Make it gluten-free: Use your favorite gluten-free pasta and gluten-free Panko breadcrumbs (or any style of breadcrumbs) to make this pasta gluten-free.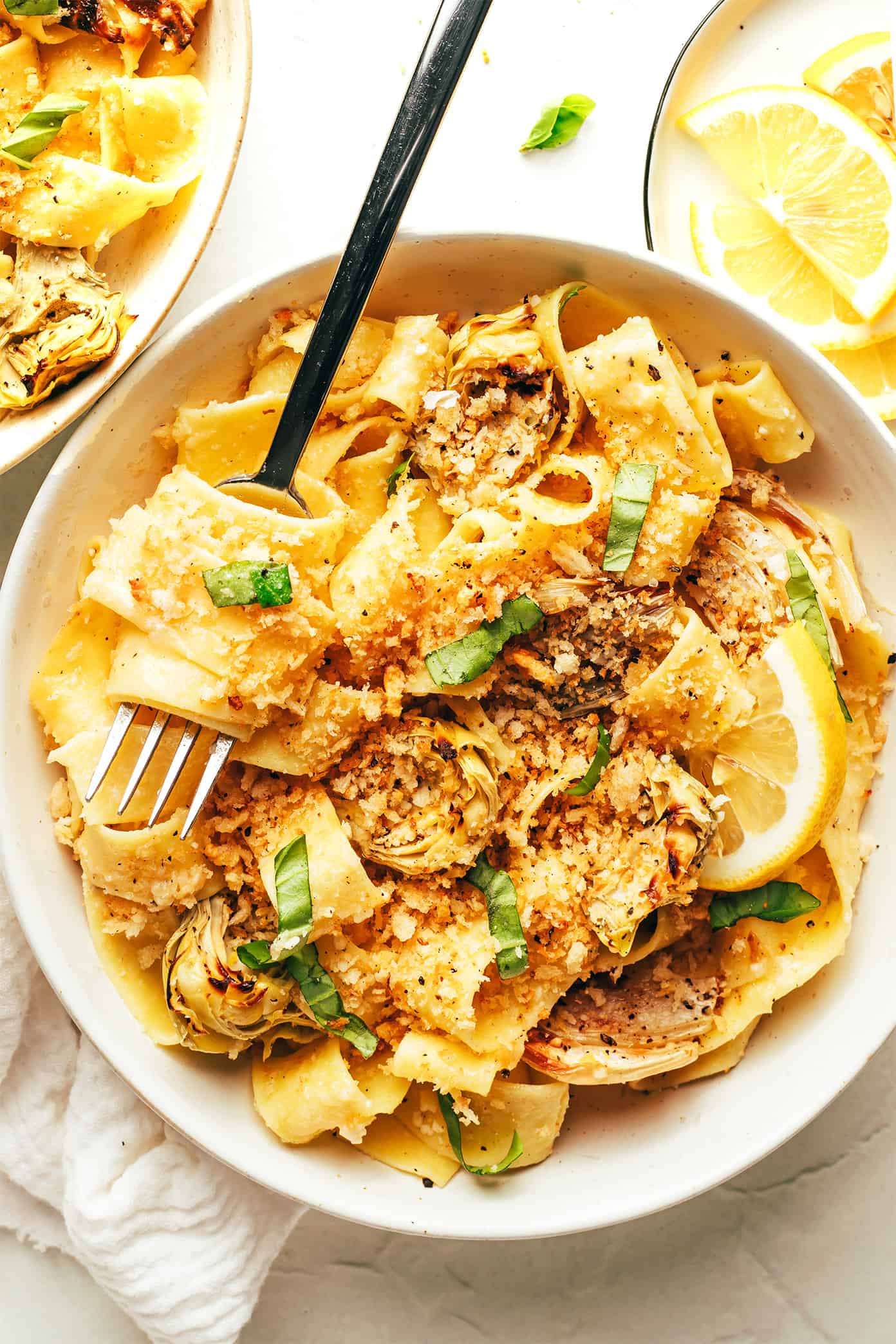 More Vegetarian Pasta Recipes
Looking for more vegetarian pasta recipes to try? Here are a few of our all-time favorites:
Print
---
Description
This lemon brown butter pasta is tossed with roasted artichokes and fennel and sprinkled with the most delicious garlic toasted breadcrumbs.
---
Pasta Ingredients:
1

large fennel bulb

2

(14-ounce) cans artichoke hearts, drained and halved

1 tablespoon

olive oil

fine sea salt and freshly-ground black pepper

4 tablespoons

butter

1

large lemon, zest and juice (about

3

–

4

tablespoons juice)

1 ounce

freshly-grated Parmesan cheese

1

pound uncooked pappardelle

(or your preferred pasta shape)

chopped fresh basil leaves, for garnish
Garlicky Breadcrumb Ingredients:
1 tablespoon

butter

2

large garlic cloves, pressed or minced

1/2 cup

Panko breadcrumbs

½ teaspoon

each

: fine sea salt and freshly-ground black pepper
---
Prep the oven and pasta water.

Heat the oven to 425°F. Bring a large stockpot of generously-salted water to a boil.

Slice the fennel.

Trim off the stalks and flat root base. (You're welcome to save the fronds for garnish if you would like.) Halve the fennel, then cut into 1/2-inch wedges.

Roast.

Add the fennel slices and artichoke hearts to the baking sheet. Drizzle with oil, then gently toss to coat. Season generously with salt and pepper. Bake for 20 minutes. Then turn on the broiler and broil for another 2-4 minutes, keeping a close eye on the fennel and artichokes, until their edges are lightly browned and caramelized. Transfer the baking sheet to a wire rack.

Cook the garlicky breadcrumbs.

While the veggies are roasting, melt 1 tablespoon butter in a large sauté pan over medium heat. Add the garlic and sauté for 1 minute, stirring occasionally. Add the breadcrumbs, salt, pepper and stir to combine. Continue sautéing, stirring occasionally, until the Panko reaches a toasted golden brown color. Transfer the breadcrumb mixture to a clean bowl and set aside. Carefully use a paper towel to briefly wipe off any crumbs remaining in the sauté pan, then return the pan to the stove.

Cook the pasta.

Add the pasta to the boiling water and cook until 1 minute shy of al dente.

Brown the butter.

While the pasta is cooking, melt the remaining 4 tablespoons of butter in the large sauté pan over medium-high heat. Continue cooking until the butter begins to foam, stirring frequently to ensure that the butter cooks evenly. Add a few twists of black pepper and continue cooking the butter, stirring frequently, until it starts to turn golden brown and smells toasty. (Keep a very close eye on the butter so that it does not burn, since it can go from golden to burned very quickly.) 

Finish the brown butter sauce.

Using a

heat-safe measuring cup

, scoop out 1 cup of the starchy pasta water from the stockpot and pour it into the brown butter mixture. (Be careful and pour slowly because it will bubble up furiously.) Let the mixture simmer and reduce for 1 minute, stirring occasionally. Add in the lemon zest and lemon juice and whisk until combined.

Toss the pasta.

Once the pasta is 1 minute shy of al dente, use a

spider strainer

or tongs to quickly transfer it directly to the brown butter sauce. Add the Parmesan and toss everything together for 1-2 minutes until the pasta is al dente and the sauce is thick and glossy and coats the pasta evenly. (If the sauce seems too dry, just add in an extra 1/4 cup at a time of the remaining starchy pasta water as needed.) Add in the roasted fennel and artichokes and briefly toss to combine. Taste and season with extra salt or black pepper if needed.

Serve.

Serve immediately, garnished with the garlicky breadcrumbs and fresh basil. Enjoy!
---