This post may contain affiliate links. Please read my disclosure policy.
This simple golden milk latte recipe is made with cozy warming spices, your choice of milk, and can be served either hot or iced.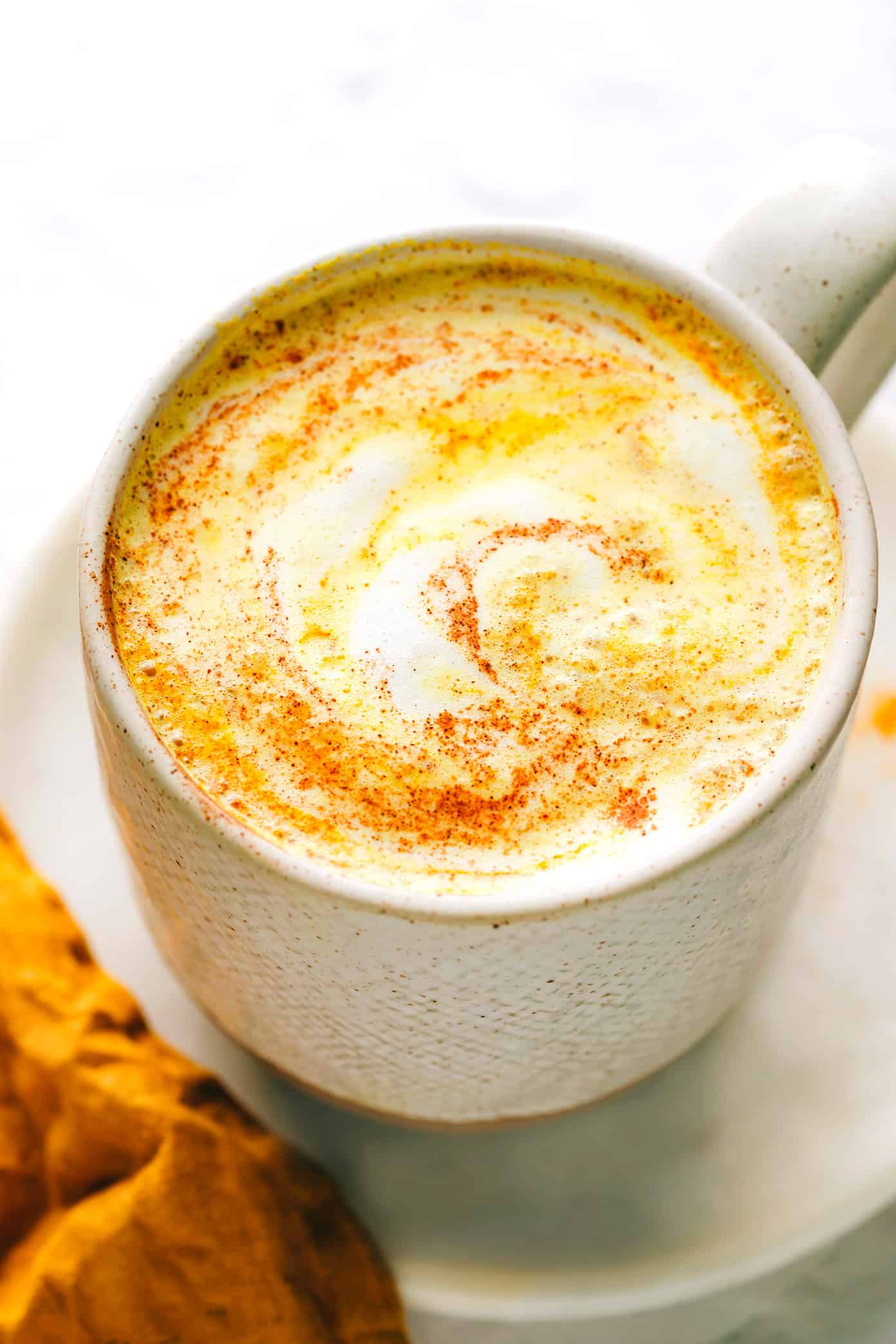 Whether you're craving a cozy mug of warm golden milk on a chilly day, or looking to cool off with a refreshing glass of iced golden milk, my favorite golden milk recipe always hits the spot. ♡
It's quick and easy to make with a simple blend of warming spices that you likely already have in your pantry, including nutrient-dense turmeric, which gives the drink is famously bright and beautiful golden color. And when making homemade golden milk, you of course have the option to completely customize the spice blend, type of milk, and amount of sweetener to your liking. If you enjoy golden milk on the regular like we do in our home, I've also included instructions below for how to pre-mix a large batch of golden milk powder (basically all of the spices, salt and pepper) ahead of time, so that you can just add a quick spoonful to steamed milk whenever the craving hits. And while we normally only keep ground turmeric stocked in our kitchen, I've included an option as well for how to make golden milk with fresh turmeric if you happen to have some on hand.
I've been in the habit of making myself a warm mug of golden milk each evening after dinner this winter, and have to say that I find myself looking forward to that soothing, delicious blend of warming spices so much. It's just such a delicious drink, in addition to its impressive list of healing benefits (see below), and never fails to deliver on those cozy hygge vibes.
So whether you're craving hot golden milk or a chilled glass of iced golden milk, bookmark this recipe below and give it a try!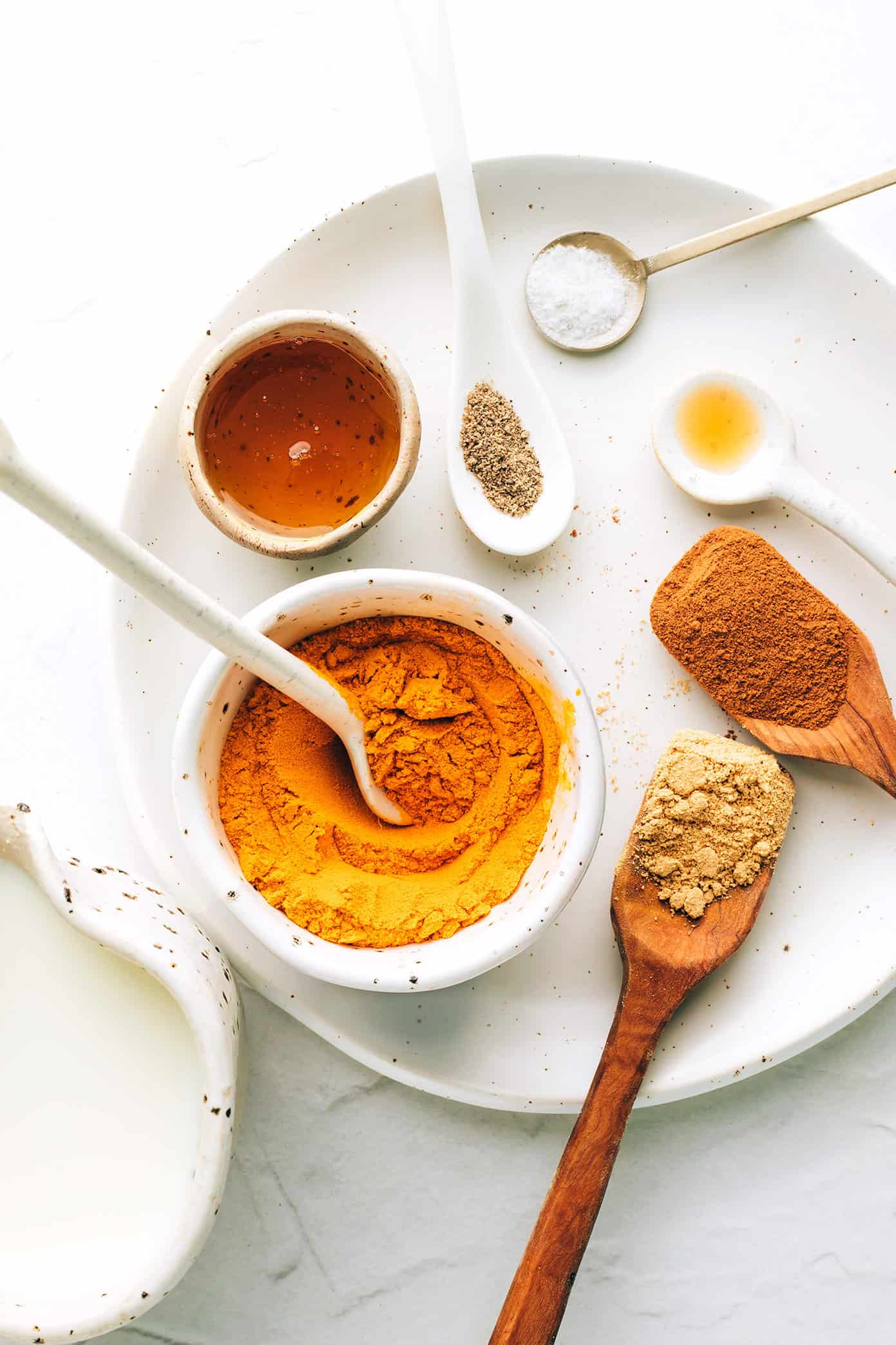 Golden Milk Ingredients
Before we get to the full recipe below, here are a few notes about the golden milk ingredients that you will need:
Milk: I typically use plain oat milk (or a 50/50 blend of oat milk and water) to make a golden milk latte, but any variety of dairy or plant-based plain milk will do.
Sweetener: You're welcome to add in a drizzle of maple syrup, honey, sugar or your preferred sweetener to sweeten this drink.
Warming spices: I love using a simple mix of ground turmeric, ground cinnamon, ground ginger, black pepper (essential to help the body better absorb the nutrients in turmeric) and fine sea salt for my golden milk powder base. But of course, please feel free to customize your own blend and add in any other warming spices that you love too, such as cardamom, nutmeg, allspice or cloves.
Vanilla extract: A splash of vanilla is optional but really brings out the best of these warming spices.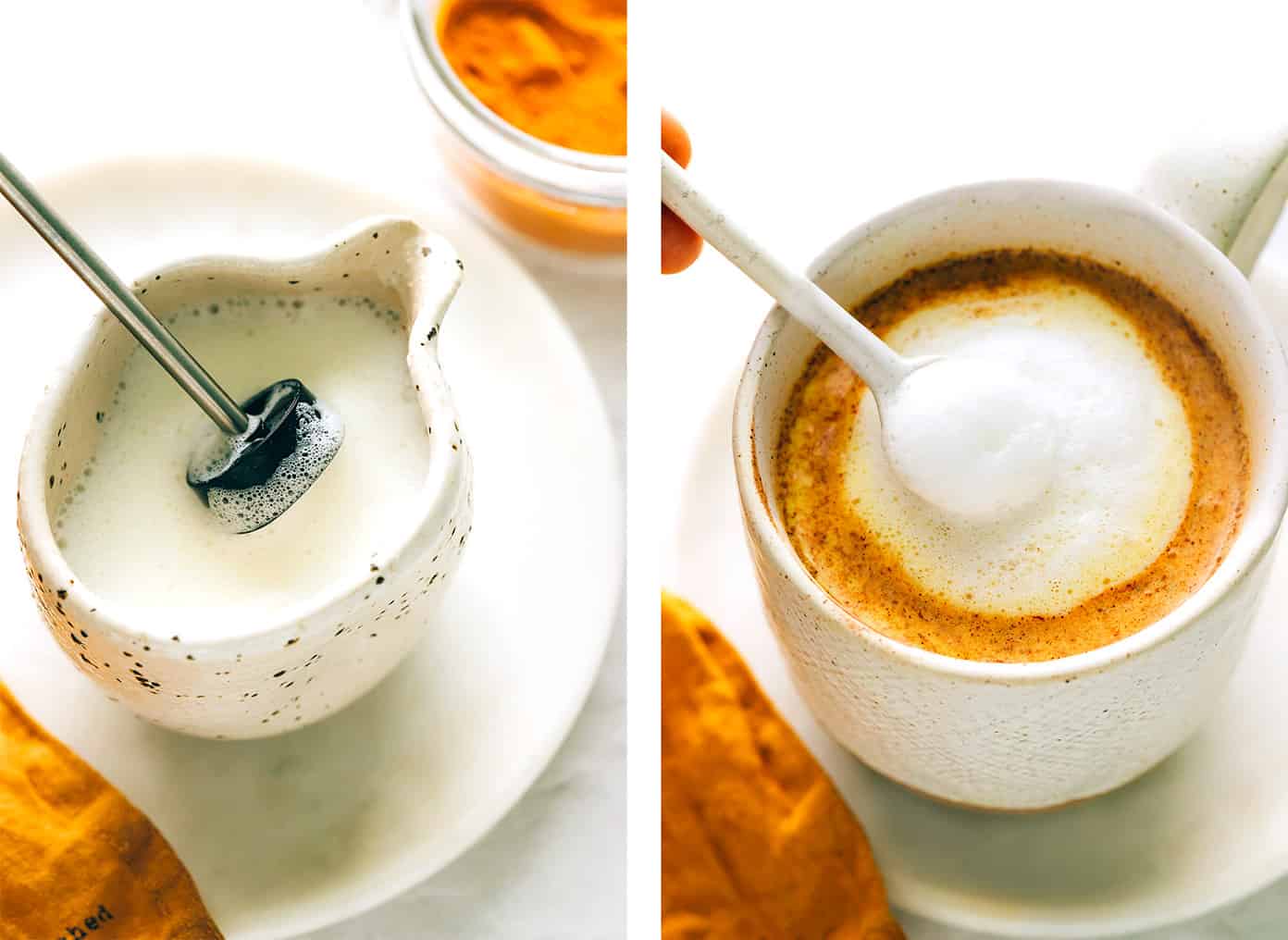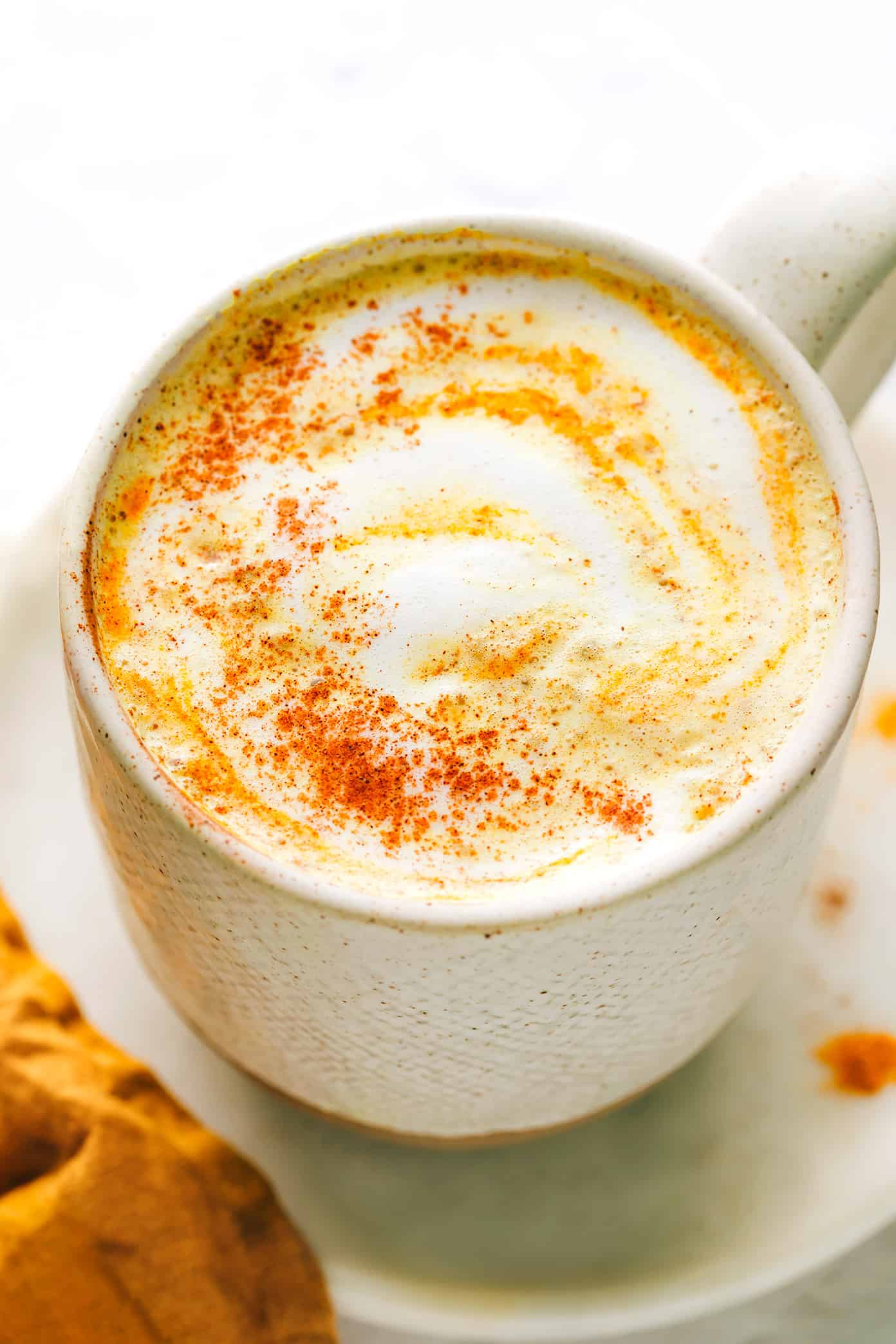 How To Make Golden Milk
Detailed directions for how to make golden milk — either hot or iced — are included in the full golden milk recipe instructions below. But here is a quick summary!
Dissolve the spices. Whether you're making hot or iced golden milk, it's essential to first dissolve the spices and salt in hot milk. So heat the milk — the full amount for hot golden milk, or a small amount for iced golden milk — until it nearly reaches a simmer. (You do not want the milk to boil.) Then stir in the spices, salt, vanilla extract, and any additional sweetener until dissolved.
Add cold milk (if serving iced). At this point, pour the hot golden milk base over a full glass of ice and stir with cold milk until combined if you are making iced golden milk.
Taste. Give the hot or iced golden milk a taste and see if you need to stir in any additional sweetener.
Serve. Then serve and enjoy!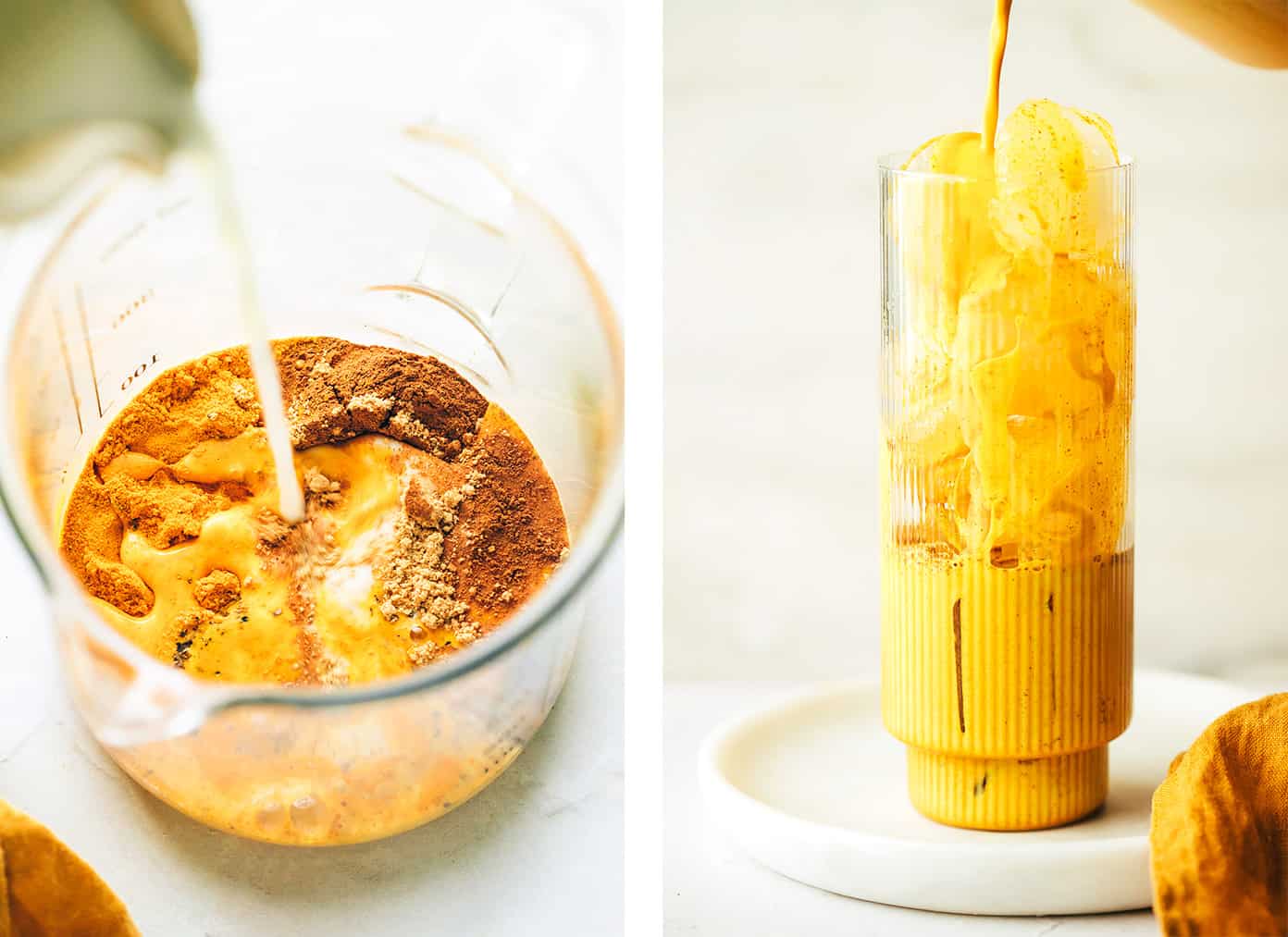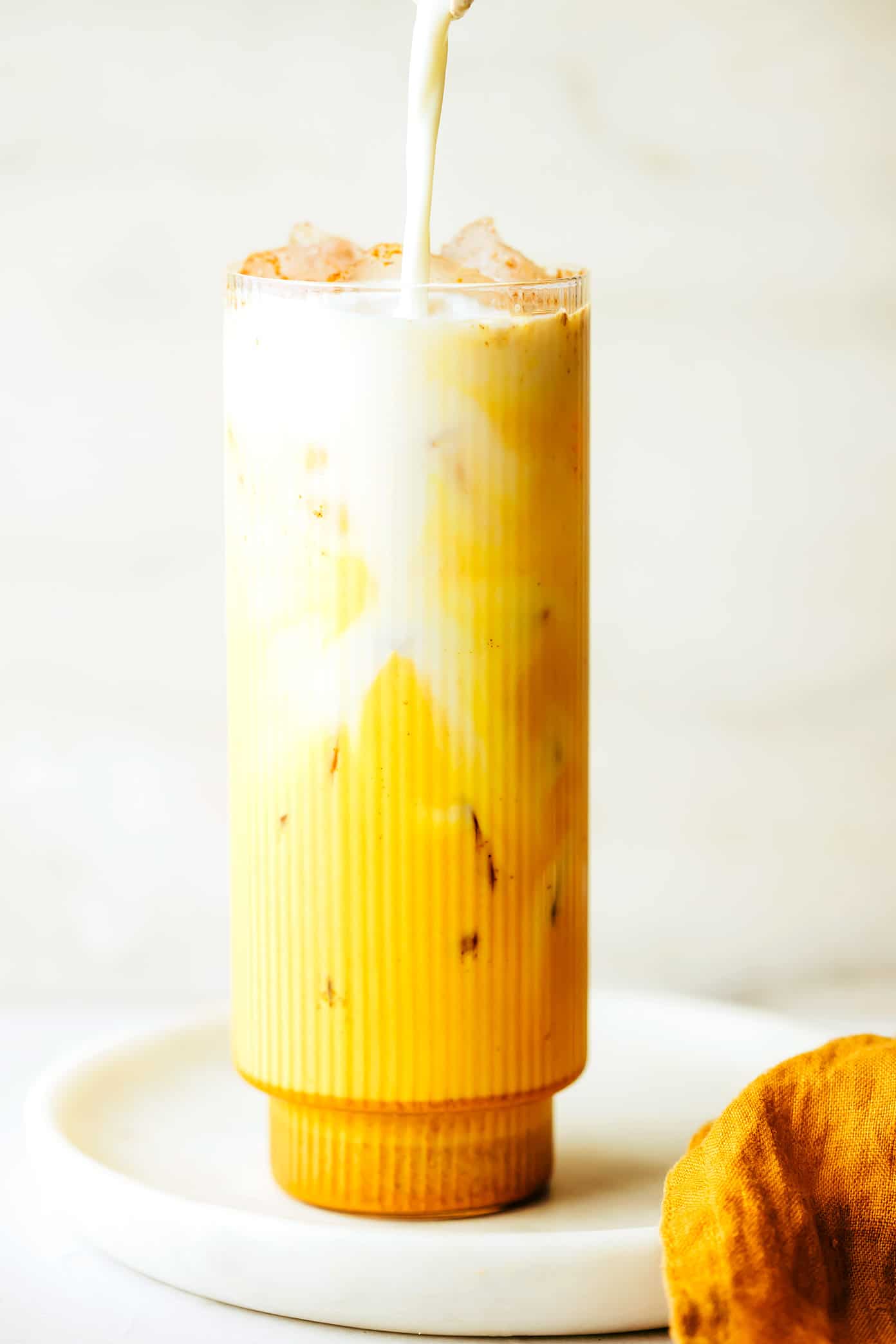 Golden Milk Recipe Variations
Here are a few golden milk latte recipe variations that you're welcome to try:
Add oil or ghee: Add 1/2 to 1 teaspoon oil (such as coconut oil) or ghee to this drink, which may help the body to better absorb the nutrients in turmeric.
Add tea: Steep your favorite tea (such as black tea, rooibos, etc) in the milk along with the golden milk powder.
Add a kick: Add in a pinch of cayenne or amp up the black pepper to give this drink more of a spicy kick.
Use fresh turmeric: Use approximately 2 inches of sliced fresh turmeric root in place of the ground turmeric. Steep the sliced turmeric in the steamed milk mixture for 5 minutes, then strain out and discard the turmeric root.
Use only water: While omitting milk will definitely made the drink less creamy, golden milk is still delicious when made with water instead of milk.
Golden Milk Benefits
Looking for even more reasons to love this cozy drink? Here are a few of the potential health benefits of golden milk to consider (source):
It's loaded with antioxidants. Turmeric, especially, contains strong antioxidants that can help lower the risk for infections and disease.
May help reduce inflammation and joint pain. Ginger, cinnamon and turmeric have potent anti-inflammatory properties, which may help to reduce joint pain from osteoarthritis and rheumatoid arthritis.
May improve memory and brain function, mood, and protect against heart disease. Turmeric may increase levels of brain-derived neurotrophic factor, which promotes the growth of brain cells and reduce symptoms of depression.
May lower blood sugar levels. Ginger and cinnamon, specifically, may help to reduce blood sugar levels.
May aid in digestion. Ginger and turmeric have calming properties that can help with indigestion.
Golden Milk FAQ
What is golden milk? Also commonly known as turmeric milk or a turmeric latte, golden milk is a drink typically made with turmeric, various other warming spices, and your choice of milk. It can be served hot or iced, made with dairy- or non-dairy milk, and tastes so cozy and delicious.
Where is golden milk from? Golden milk is a centuries-old traditional Ayurvedic drink that originated in India, known in Hindi as haldi doodh. Here is a great article that details more of the important history and cultural origins of this drink that is now so beloved around the world.
Is golden milk good for you? Golden milk is widely praised for its many nutritional benefits, in addition to its delicious flavor. See note above for more details and resources to learn about potential golden milk benefits.
Is golden milk vegan? Yes, this golden milk recipe is naturally vegan when made with plant-based milk. It is also naturally gluten-free.
Will golden milk help you sleep? I love enjoying a calming mug of golden milk just before bedtime, especially since the warming spices included, specifically turmeric, are believed to promote healthy sleep. If you are sensitive to sugar, however, I recommend omitting any sweetener just before bed.
Will golden milk stain my teeth? Frequent consumption of turmeric can stain teeth, so it's good practice to always brush your teeth after drinking golden milk.
Why do you need to use black pepper in golden milk? Curcumin, the active ingredient in turmeric, is unfortunately not easily absorbed by the body on its own. But piperine, the bioactive compound in black pepper, may help to aid with the absorption of curcumin. This is why most recipes that include turmeric also call for black pepper. (source)
Can I make a large batch of golden milk powder? Definitely! We love keeping a batch of pre-mixed golden milk powder (shown in the photo above) in our pantry. It will last for up to a year if made with fresh spices and stored in a sealed container. Simply mix together the following (enough for roughly 12 batches), then add 1 scant tablespoon per 2 cups of milk along with 1 teaspoon vanilla extract as directed in the recipe below.
1/3 cup ground turmeric
2 tablespoons ground cinnamon
2 tablespoons ground ginger
3/4 teaspoon black pepper
3/4 teaspoon fine sea salt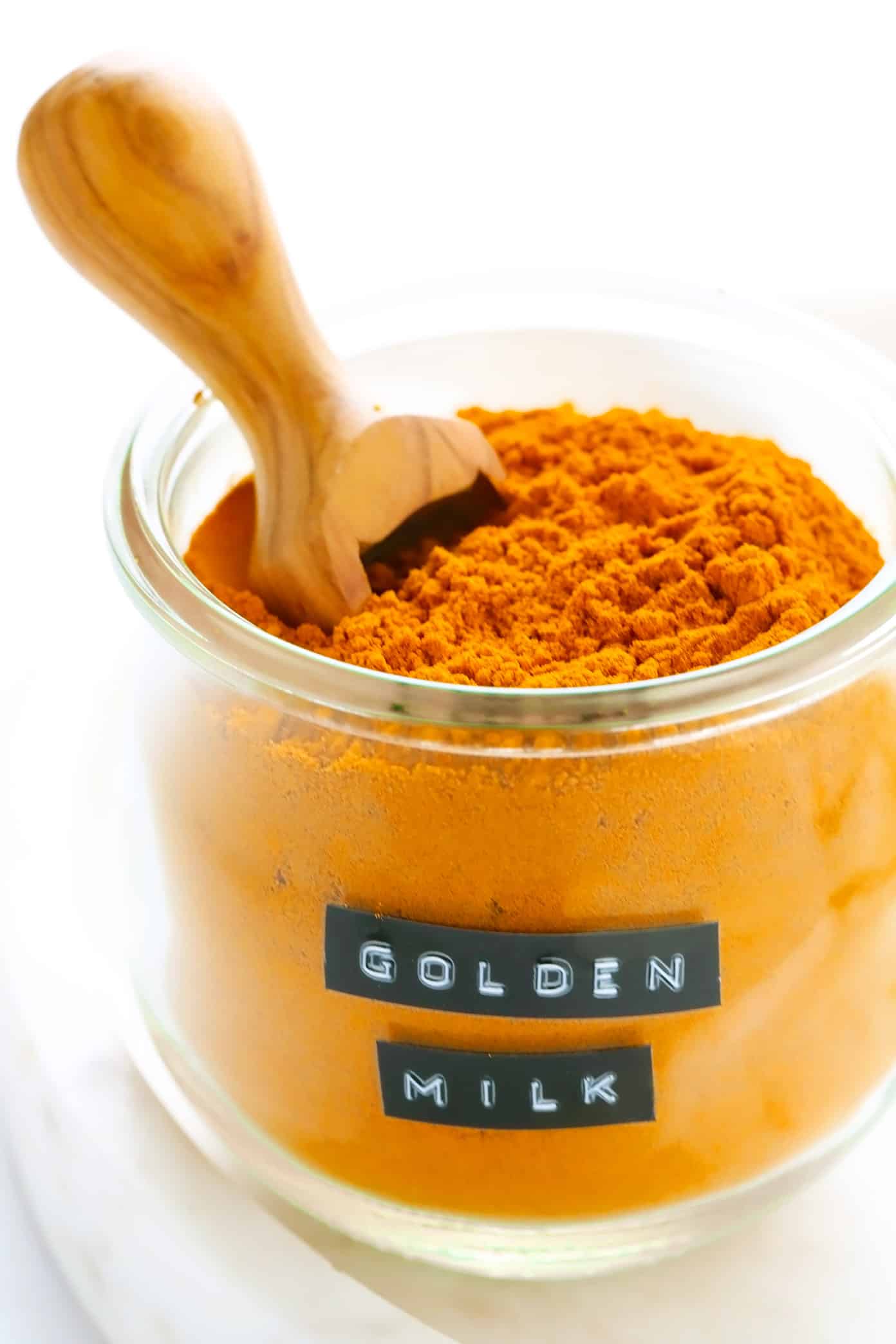 More Favorite Latte Recipes
Looking for more homemade latte recipes to try? Here are a few of our faves:
Print
---
Description
Learn how to make homemade golden milk with this simple recipe. It's quick and easy to make, full of good-for-you warming spices, and delicious served hot or iced.
---
2 cups

plain milk

(I used oat milk)

1

to

3

teaspoons

maple syrup

or

honey

, to sweeten (optional)

1 teaspoon

vanilla extract 

1 1/2 teaspoons

ground turmeric

1/2 teaspoon

ground cinnamon

1/2 teaspoon

ground ginger

pinch of black pepper and fine sea salt
---
To Make A Hot Latte:
Steam the milk. Steam the milk until warm and frothy using a frother. Or heat the milk in a saucepan over medium heat until nearly simmering, and whisk briefly until frothy.
Mix until combined. Add sweetener (if using), vanilla extract, turmeric, cinnamon, ginger, black pepper and salt to a heatproof mug. Pour the steamed milk (minus the foam) into the mug and stir until combined. Add the foam on top and give it a brief stir.
Add extra sweetener if needed. Give the latte a taste and add extra sweetener, if needed.
Serve warm. Serve immediately and enjoy!
To Make An Iced Latte:
Dissolve the spices. Heat 1/2 cup of the milk (or alternately you can just use hot water) until nearly simmering. In a heatproof glass or measuring cup, whisk together the hot milk, sweetener, vanilla extract (optional), turmeric, cinnamon, ginger, black pepper and salt until combined.
Mix until combined. Fill a large glass with ice. Pour in the warm milk mixture. Then pour in the remaining cold milk, and stir briefly with a straw until combined.
Add extra sweetener if needed. Give the iced latte a taste and add extra sweetener, if needed.
Serve cold. Serve immediately and enjoy!
---
Notes
Large-batch dry golden milk mix: To make a large batch (12 servings) of the dry golden milk mix, combine 1/3 cup ground turmeric, 2 tablespoons ground cinnamon, 2 tablespoons ground ginger, 3/4 teaspoon black pepper and 3/4 teaspoon fine sea salt in a jar. Stir or cover and shake until combined, and store in a sealed container for up to 1 year. To use the dry golden milk mix, add 1 scant tablespoon to the recipe above with milk and vanilla extract as directed.