This post may contain affiliate links. Please read my disclosure policy.
This citrus olive oil cake recipe is easy to make in one bowl, naturally gluten-free, and made with the loveliest hints of fresh orange and lemon.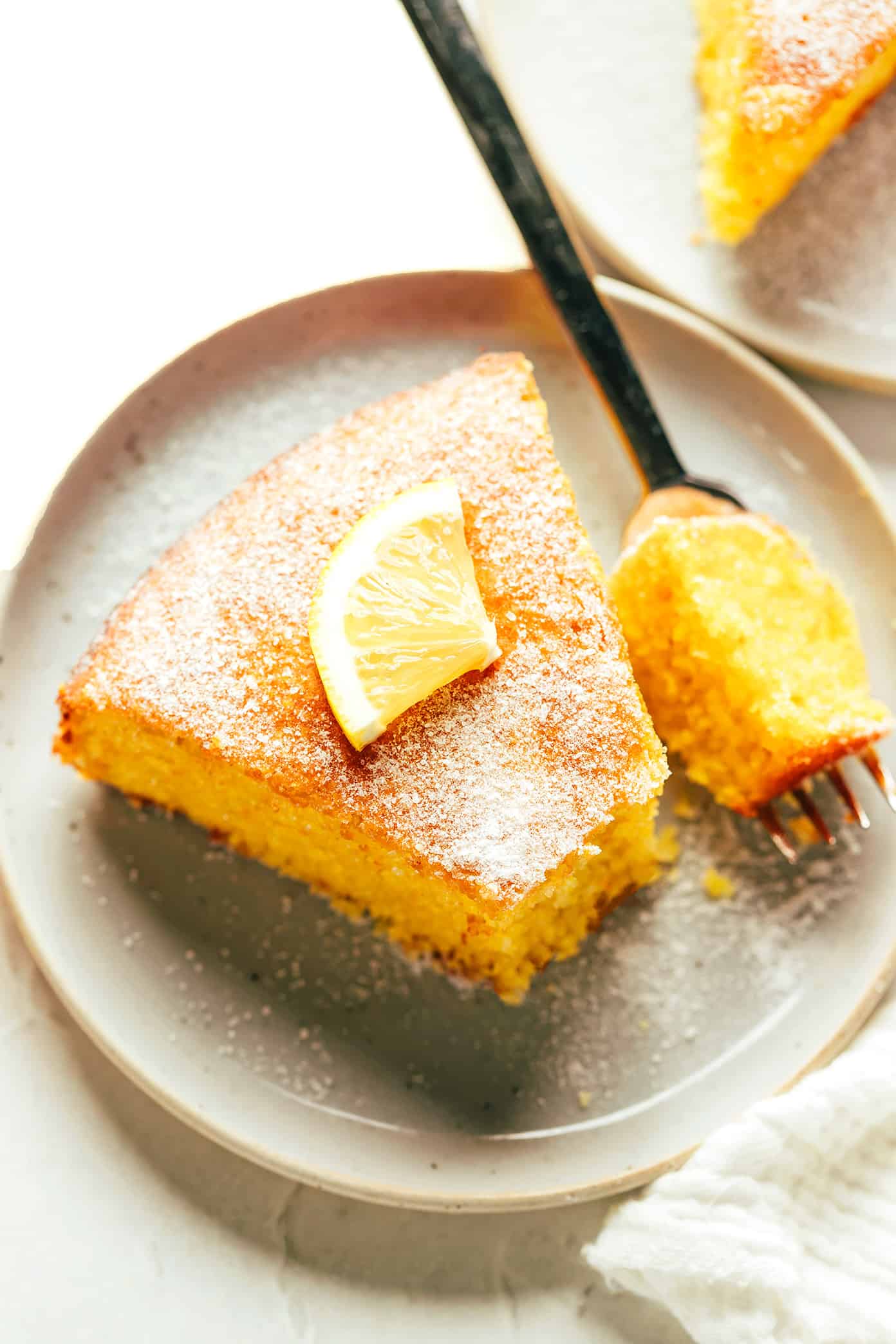 A few months ago when we were spending the weekend with friends on the Costa Brava, I sampled an orange olive oil cornmeal cake at the local farmers market that was love at first bite. ♡
To be honest, I'd never had a cake quite like this one before. The local baker explained that it was a gluten-free cake made with cornmeal and almond flour, which accounted for its beautiful golden color and light almond flavor and surprisingly hearty texture (kind of similar to a light cornbread). It was incredibly moist and very lightly sweetened. And best of all, it was brightened up with a generous amount of fresh citrus, which made it taste so light and refreshing and sunshine-y. I honestly couldn't stop thinking about this cake for weeks afterwards and wished I'd had the chance to ask the baker more about the recipe. But after a bit of experimenting, I'm happy to say that I've come up with my own version that our entire family now adores.
I'm happy to report that this recipe is incredibly easy to make with just 1 bowl and about 15 minutes of prep time. And while I love using both a fresh lemon and orange in the cake (both zested and juiced), you're welcome to swap in a grapefruit, mandarin, Meyer lemon, or whatever other citrus you might prefer. Please note that this cake is intentionally designed to be sweet-but-not-too-sweet, making it perfect for dessert, snacking, or even a lovely breakfast to go with your coffee. But if you feel like adding an extra hint of sweetness, a side of fresh fruit (or fruit compote), a dollop of whipped cream, a scoop of ice cream, or light glaze drizzled on top would all be absolutely delicious here too.
This citrus cake is definitely one of those recipes that has a way of growing and growing on you. So I hope you all love it as much as I do!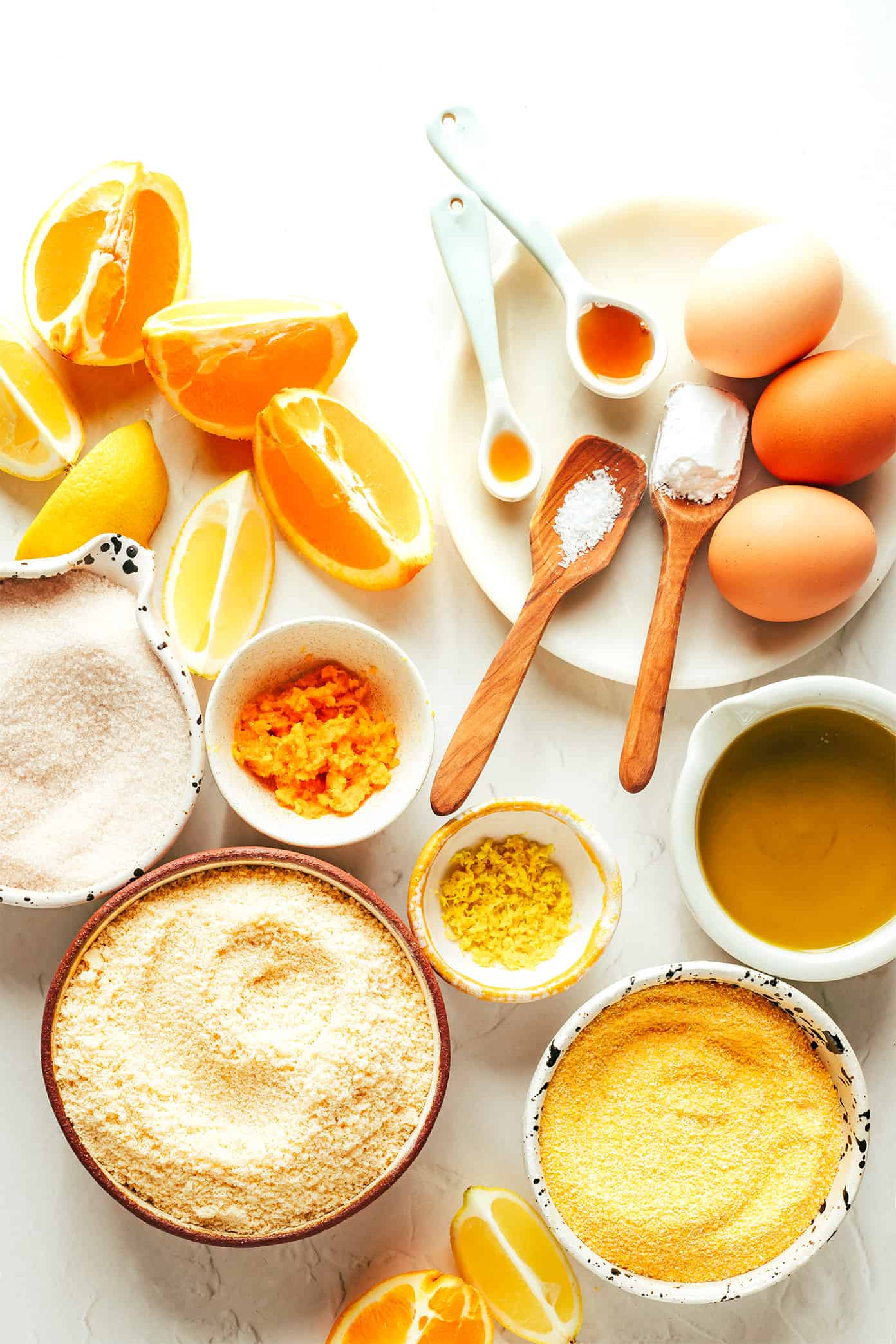 Citrus Olive Oil Cake Ingredients
Here are a few brief notes about the ingredients you will need to make this citrus olive oil cake recipe:
Lemon and orange: We will use the zest of both a fresh lemon and orange in this recipe, as well as 2 tablespoons of each of their juices. (I used this citrus juicer and highly recommend it.)
Extra-virgin olive oil: I recommend a mildly-flavored EVOO for this recipe. No need to splurge on something really pricey, but I also don't recommend using one that's ultra cheap, as its flavor will certainly shine through. Any mid-range olive oil whose flavor you love will be great.
Almond flour: We will use almond flour as the base flour for this cake, or you are welcome to sub in almond meal if you prefer.
Cornmeal: I recommend either a fine- or medium-ground cornmeal, which adds lovely texture to this cake. Coarsely-ground cornmeal or polenta will likely be a bit too gritty.
Almond and vanilla extract: We will use a mix of both extracts to complement and bring out the best of the citrus flavors.
Sugar: We love making this cake using natural cane sugar, but you are welcome to use basic white granulated sugar if you prefer. I also like to lightly dust the top with powdered sugar just before serving.
Baking powder: This will serve as the leavening agent for the cake.
Fine sea salt: This is the salt I always use in my kitchen. Please note that you will need to halve the amount if you only have iodized (table) salt on hand.
Eggs: We will use three eggs to help bind the ingredients together.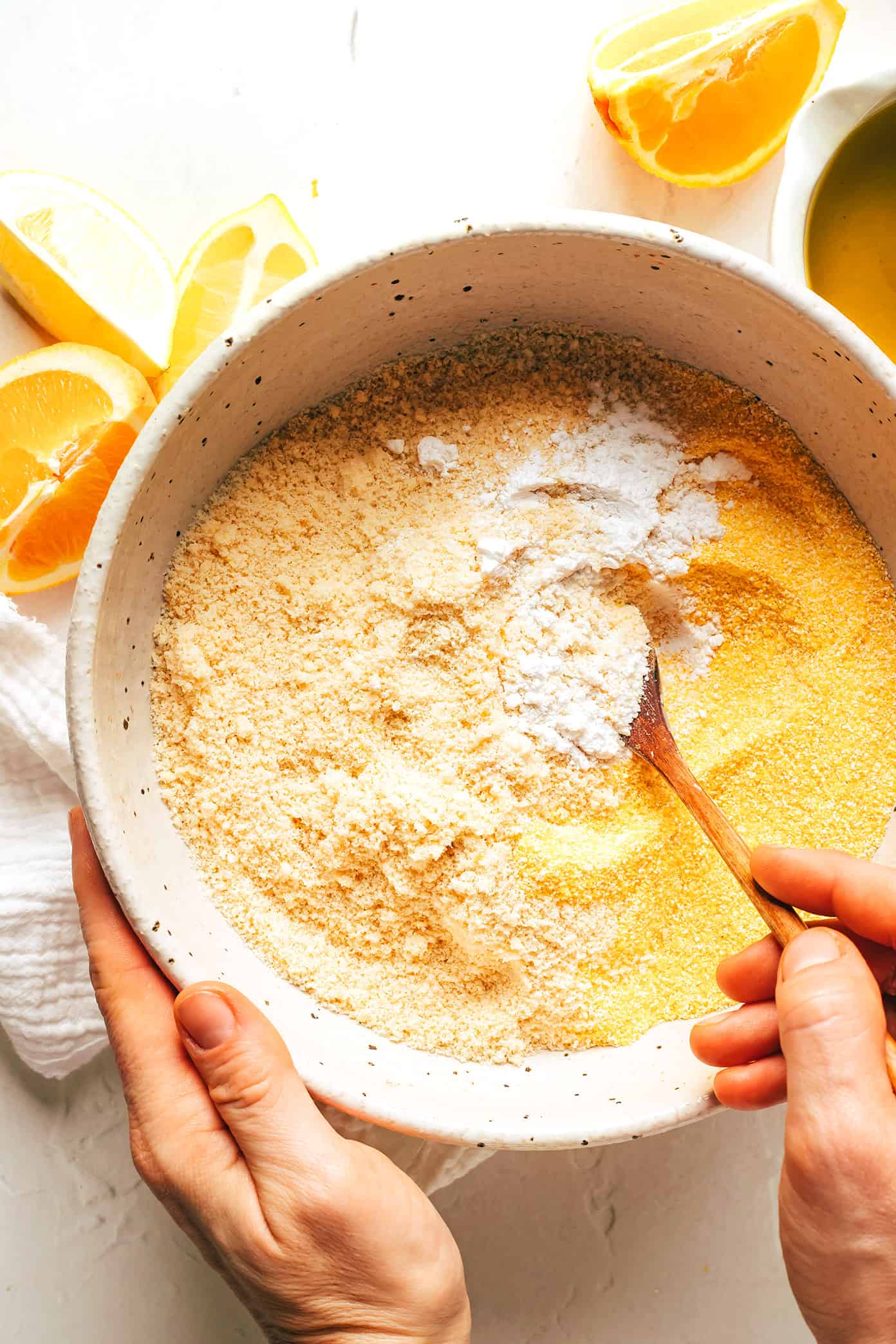 How To Make Olive Oil Cake
You can find the detailed olive oil cake recipe in the recipe card below, but here are a few additional tips that maybe helpful too:
Adjust the baking time as needed for your pan: I've written this recipe for a 9-inch springform pan, but it can also work in an 8- or 10-inch pan. Just adjust the baking time accordingly so that a toothpick comes out clean when inserted in the middle of the cake.
Line the bottom of the pan with parchment: In order to do this easily, place the pan on a sheet of parchment and trace around the outside of the pan. Then cut a circle about 1/2-inch smaller than the one you traced and place it in the bottom of the pan.
Don't skip the zest: The citrus zest adds sooo much flavor to this cake, so don't skip adding it! If you do not happen to own a zester, you can use the fine holes on a box grater.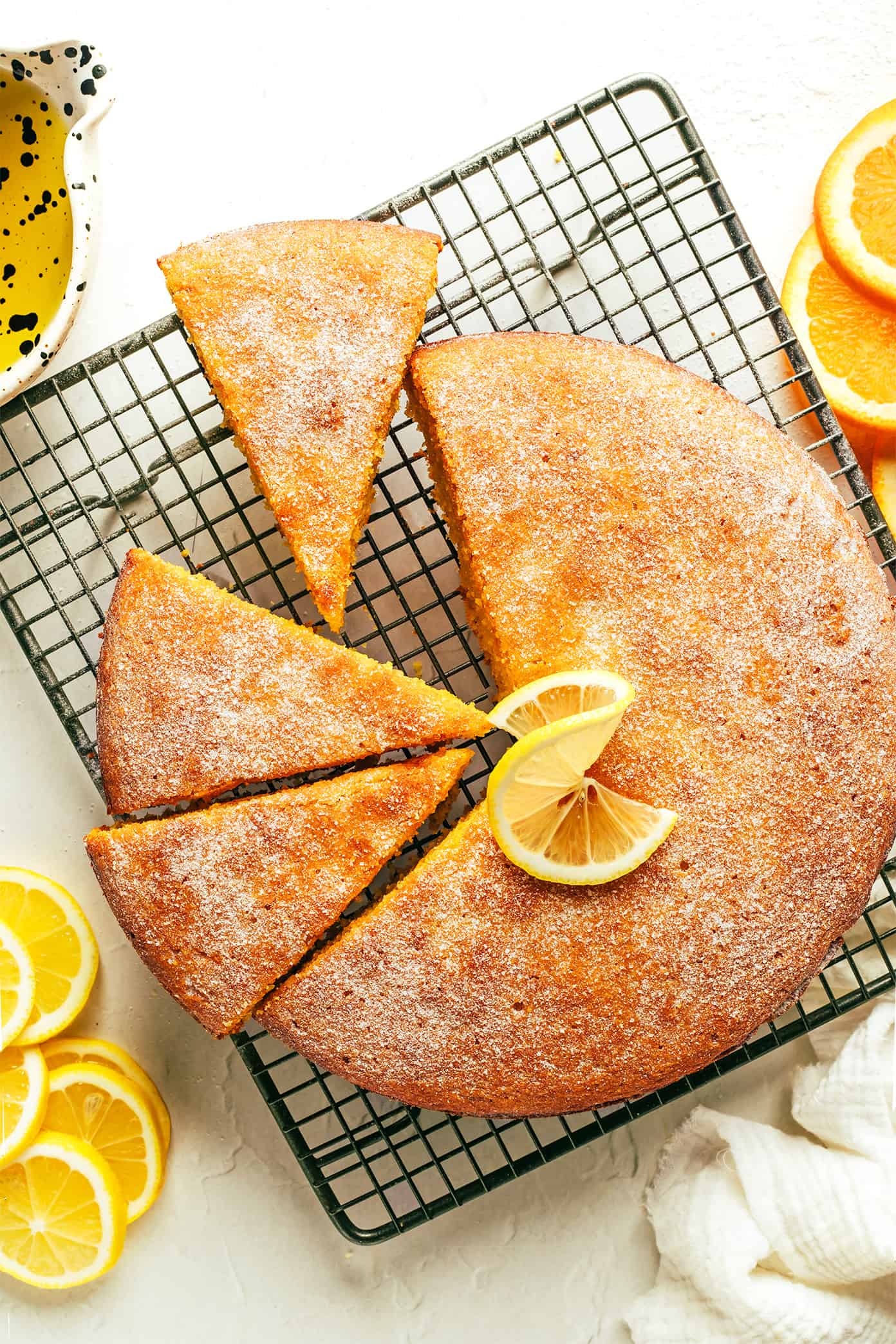 Optional Toppings
Here are a few additional variations on this citrus olive oil cake recipe that you're welcome to try:
Glaze: Whisk together 1 tablespoon lemon or orange juice and 1/2 cup powdered sugar until combined. Drizzle the glaze or spread it with a knife over the cake until evenly covered.
Fruit topping: Serve the cake topped with whatever fresh fruit or fruit compote you love best. (I find a blueberry compote pairs beautifully here with the citrus.)
Whipped cream: Serve the cake with a dollop of whipped cream, or pipe it on top of the cake to decorate.
Ice cream: Definitely can't go wrong serving this cake with a side of good vanilla ice cream. 🙂

More Citrus Dessert Recipes
Looking for more citrusy dessert recipes to try? Here are a few of our favorites: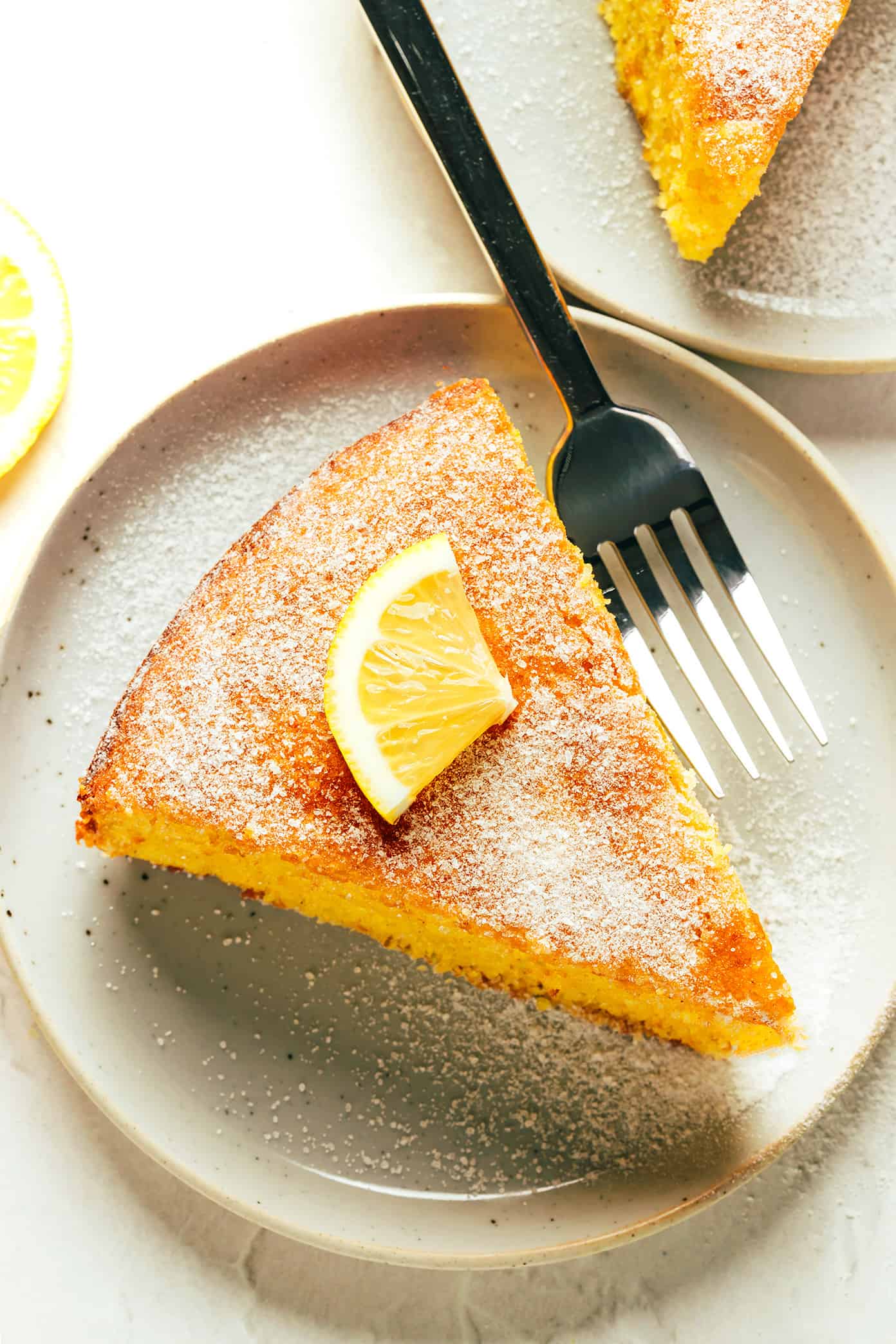 Print
---
Description
This citrus olive oil cake recipe is easy to prep in one bowl, it's naturally gluten-free, and made with lots of fresh orange and lemon.
---
---
Prep oven and springform. Heat oven to 350°F (180°C). Line the bottom of a 9-inch springform pan with parchment and lightly grease the sides with cooking spray.
Mix the dry ingredients. In a large mixing bowl, whisk together the almond flour, sugar, cornmeal, baking powder and sea salt until combined.
Add the wet ingredients.

Add the eggs, olive oil, vanilla extract, almond extract, lemon zest, lemon juice, orange zest and orange juice. Stir until evenly combined.

Bake.

Pour the batter into the springform pan. Bake for 35 to 40 minutes, or until a toothpick inserted in the center of the cake comes out clean. Transfer the cake to a wire rack and cool for at least 15 minutes, leaving the cake in its pan.

Serve. Run a knife gently around the edges of the cake to loosen any places it may be sticking to the pan, then remove the sides of the pan. Use a fine-mesh strainer to dust the top of the cake with powdered sugar, if desired. Slice the cake, serve, and enjoy!
---
---