This post may contain affiliate links. Please read my disclosure policy.
This simple tuna salad is tossed with avocado, cucumber, feta, red onions, herbs and a zippy lemon-sumac dressing and served over brown rice. Easy to make in about 30 minutes and always SO delicious.
Seriously my dream lunch (or dinner!) salad, right here. ♡
This Mediterranean-inspired tuna salad comes together super-easily in the time it takes to cook a batch of brown rice, and always somehow tastes like so much more than the sum of its parts. It's made with a simple mix of canned tuna, creamy avocado, crunchy cucumber, crisp red onions, a sprinkling of feta and herbs (I'm partial to fresh dill here, but you've got options). Then everything is tossed in a zippy lemon-sumac-cumin dressing and served over brown rice. And whether you then serve the salad up warm — or pack it away in the fridge for lunch the next day — every bite promises to be so flavorful and satisfying.
I love this recipe because it's one of those salads that's hearty without feeling too heavy. It's naturally gluten-free and can also be dairy-free, if you nix the cheese. It's easy to meal prep in advance. And of course, it's also endlessly customizable in whatever ways you need. Feel free, for example, to swap in another fish or protein if tuna isn't your thing (although I have to say it is delicious here). And while we love serving this salad over chewy brown rice here in our home, you could easily swap in another type of rice, quinoa, farro, orzo, or any other base that may sound good.
Let's make some tuna avocado salad bowls!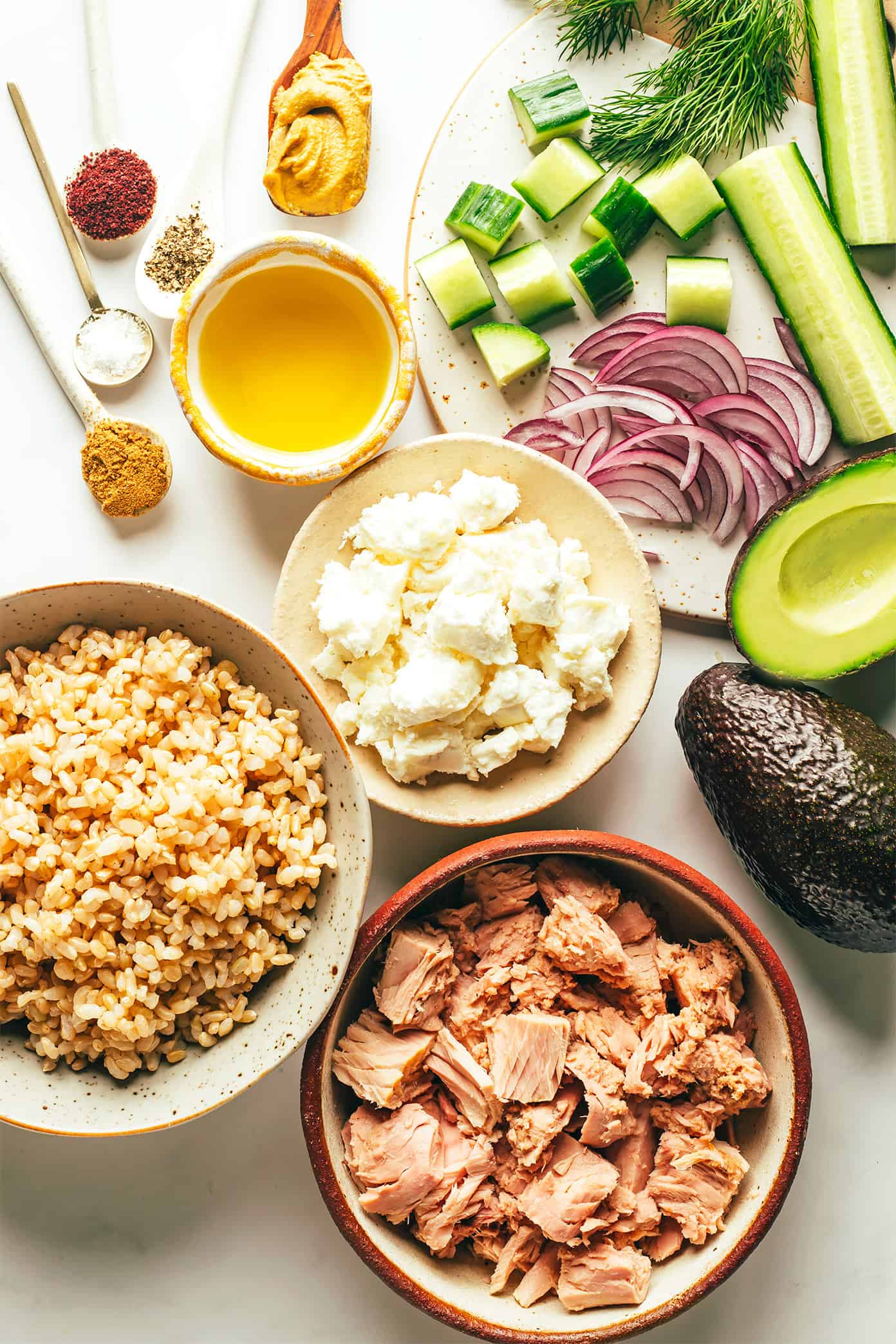 Tuna Salad Ingredients
Before we get to the full recipe below, here are a few brief notes about the ingredients you will need to make this tuna salad recipe:
Tuna: I recommend a good-quality brand of oil-packed canned tuna for this salad. (Water-packed canned tuna will also do, but it will be less flavorful.) If possible, please consider looking for a more sustainable brand of tuna too.
Feta cheese: Tangy crumbled feta is mixed into the tuna salad, but I also recommend adding a bit extra as a garnish just before serving.
Avocado: Ripe avocado adds such lovely creaminess and texture to this salad.
Cucumber: Diced cucumber (I recommend either English or Persian cucumbers) adds freshness and crunch.
Red onion: Very thinly sliced (or diced) red onions add a hint of sharp, sweet flavor. Feel free to briefly rinse the sliced onions in cold water if you would like to mellow out their flavor.
Chopped dill: I love adding a handful of chopped fresh dill to this salad. But if dill isn't your thing, fresh parsley, cilantro or chives would be delicious alternatives too.
Brown rice: I love cooking up a batch of brown rice to serve as the base for this salad, either on the stovetop (I recommend this method from Cookie + Kate) or in the Instant Pot. See note below about other rices or grains that you're welcome to use instead of brown rice if you prefer.
Lemon-Sumac Dressing: Finally, we will toss this salad in a zippy dressing made with olive oil, lemon juice, Dijon, ground cumin, ground sumac, fine sea salt and freshly-ground black pepper. If you don't have ground sumac in your pantry, this recipe will still be delicious without it. But I highly recommend picking some up because it adds such delightful lemony, floral flavor.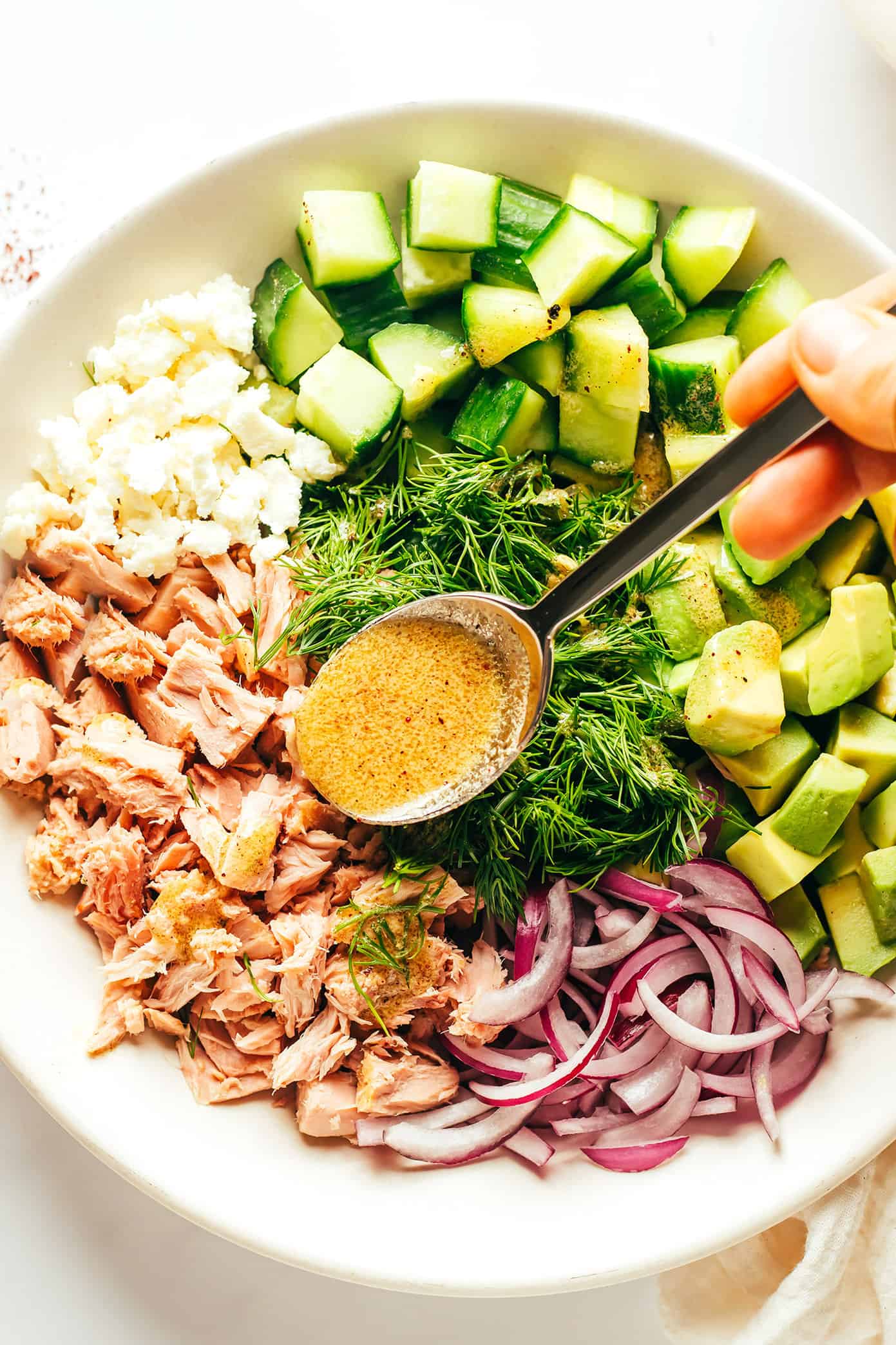 Recipe Variations
There are so many delicious ways that you're welcome to customize this tuna salad recipe! For example, feel free to…
Use a different protein: Salmon, trout, mackerel, shrimp, or chicken would all be great alternatives to tuna in this salad.
Use a different rice/grain/pasta: Any other variety of rice (various kinds of white rice or wild rice) would work well too, or you're welcome to use quinoa, farro, orzo, or another base that you prefer.
Add greens: We also enjoy adding in some fresh arugula, spinach, or kale if we happen to have some on hand.
Add nuts/seeds: A sprinkling of toasted pine nuts, almonds, walnuts, pepitas, sunflower seeds or other favorite nuts/seeds would be lovely.
Add sun-dried tomatoes: If you happen to have a jar of sun-dried tomatoes sitting in your pantry, they would be a delicious addition to this salad.
Add olives or capers: Olives or capers could add some delicious briny flavor.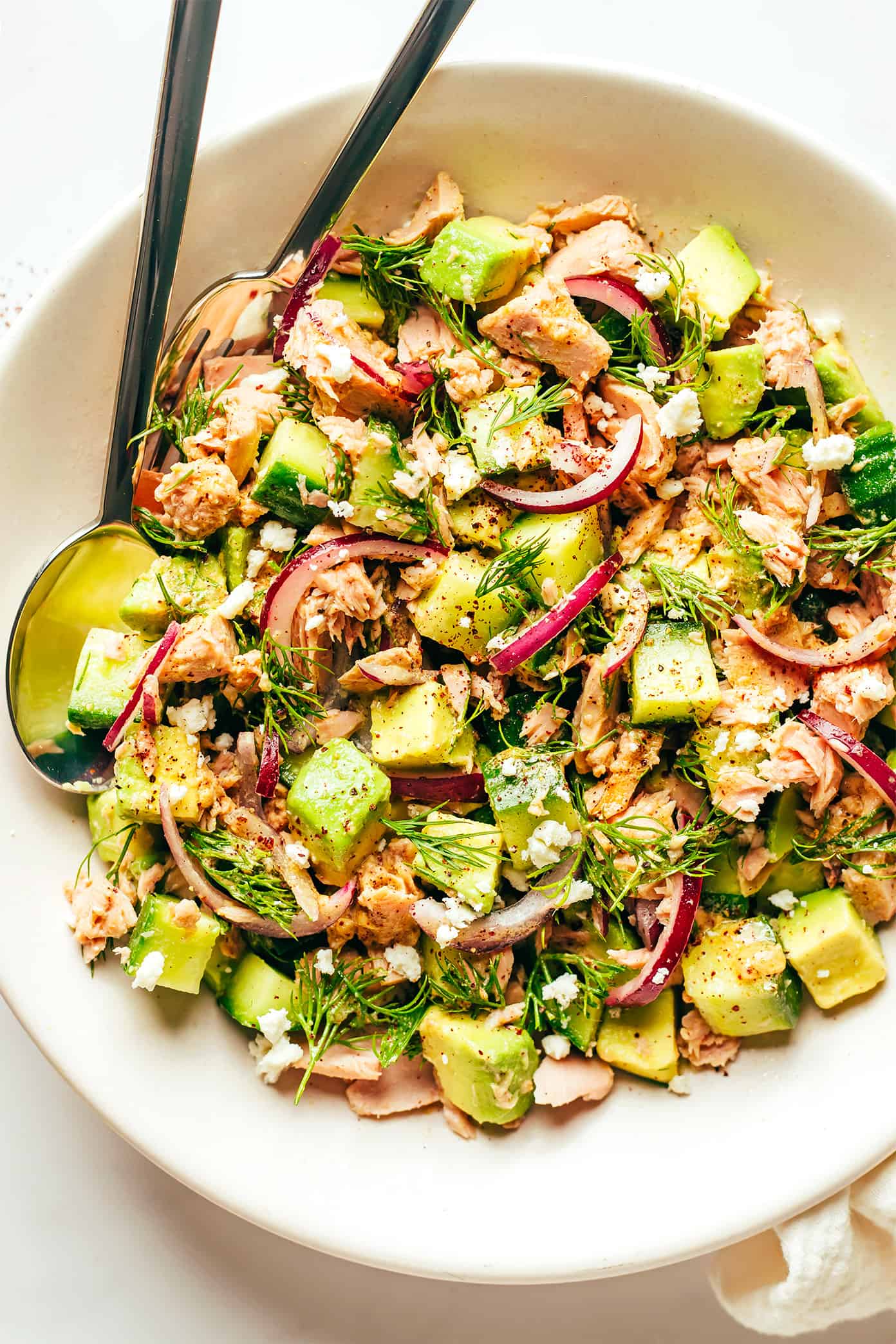 More Simple Salad Bowls
Looking for more simple salad recipes to try? Here are a few of our favorites: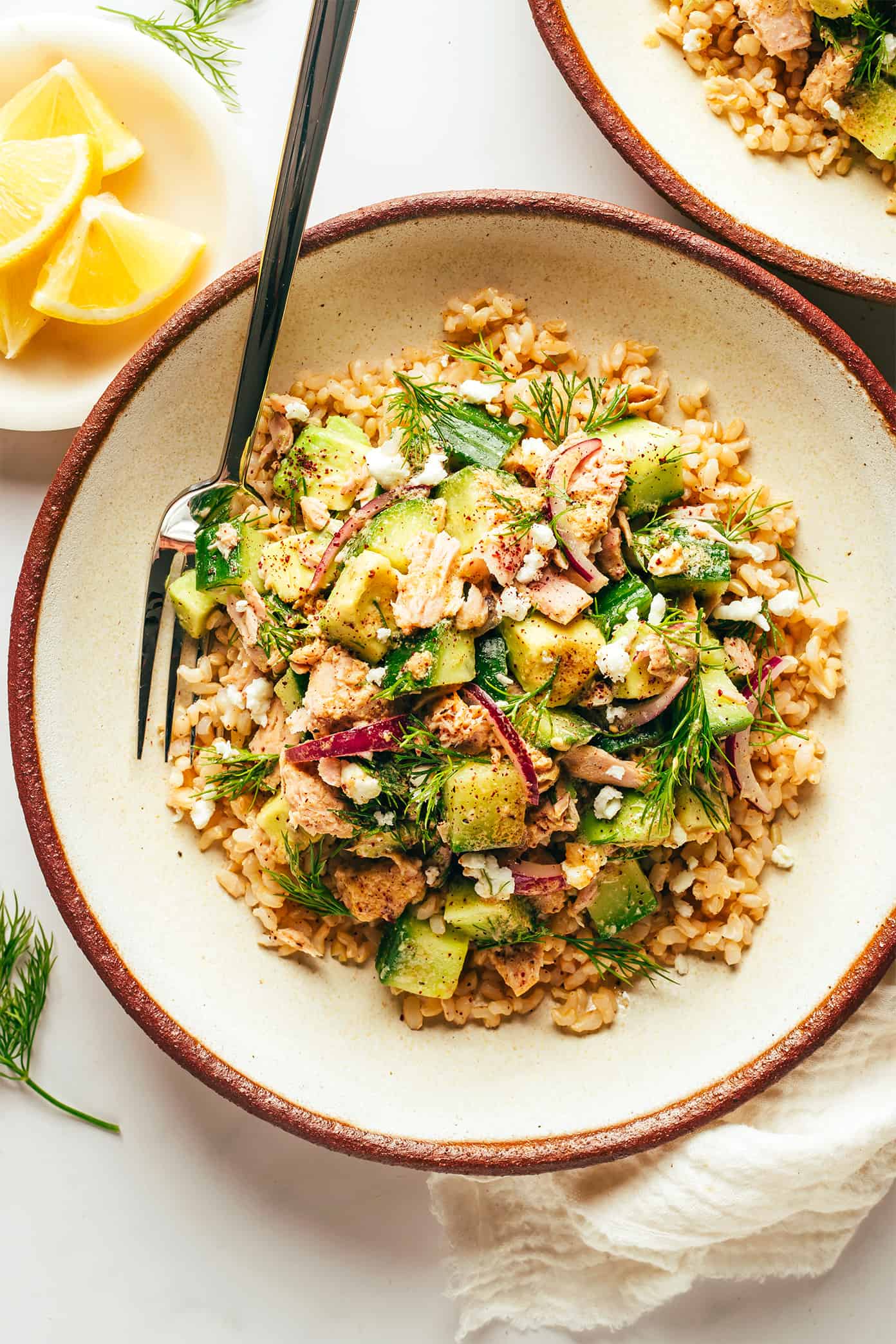 Print
---
Description
This simple tuna salad is tossed with avocado, cucumber, feta, red onions, herbs and a zippy lemon-sumac dressing and served over rice. See notes above for potential ingredient add-ins or substitutes.
---
Tuna Avocado Rice Bowl Ingredients
1 1/2 cups

uncooked

brown rice

3 ounces

feta cheese, crumbled

2

(5-ounce) cans tuna packed in oil, drained

2

medium avocados, diced

half of an

English cucumber, diced

half of a

small red onion, very thinly sliced

1/4 cup

chopped fresh dill, loosely packed
Sumac Dressing Ingredients
2 tablespoons

olive oil

2 tablespoons

lemon juice

1 teaspoon

Dijon mustard

1/2 teaspoon

each

: fine sea salt, freshly-ground black pepper, ground cumin, ground sumac
---
Cook the brown rice. Cook the brown rice however you prefer, either on the stovetop, in the Instant Pot or in a rice cooker (per appliance instructions).
Make the dressing.

Whisk all ingredients together in a bowl (or shake together in a sealed jar) until emulsified.

Make the tuna salad.

Add the feta, drained tuna, avocado, cucumber, red onion and dill to a large mixing bowl. Drizzle evenly with the dressing, then toss gently until evenly combined.

Serve.

Serve immediately over brown rice, garnished with extra feta, dill, ground sumac and black pepper if desired.
---