This post may contain affiliate links. Please read my disclosure policy.
This one pot broccoli mac and cheese recipe is easy to customize with your favorite veggies or proteins and always perfectly creamy and cheesy!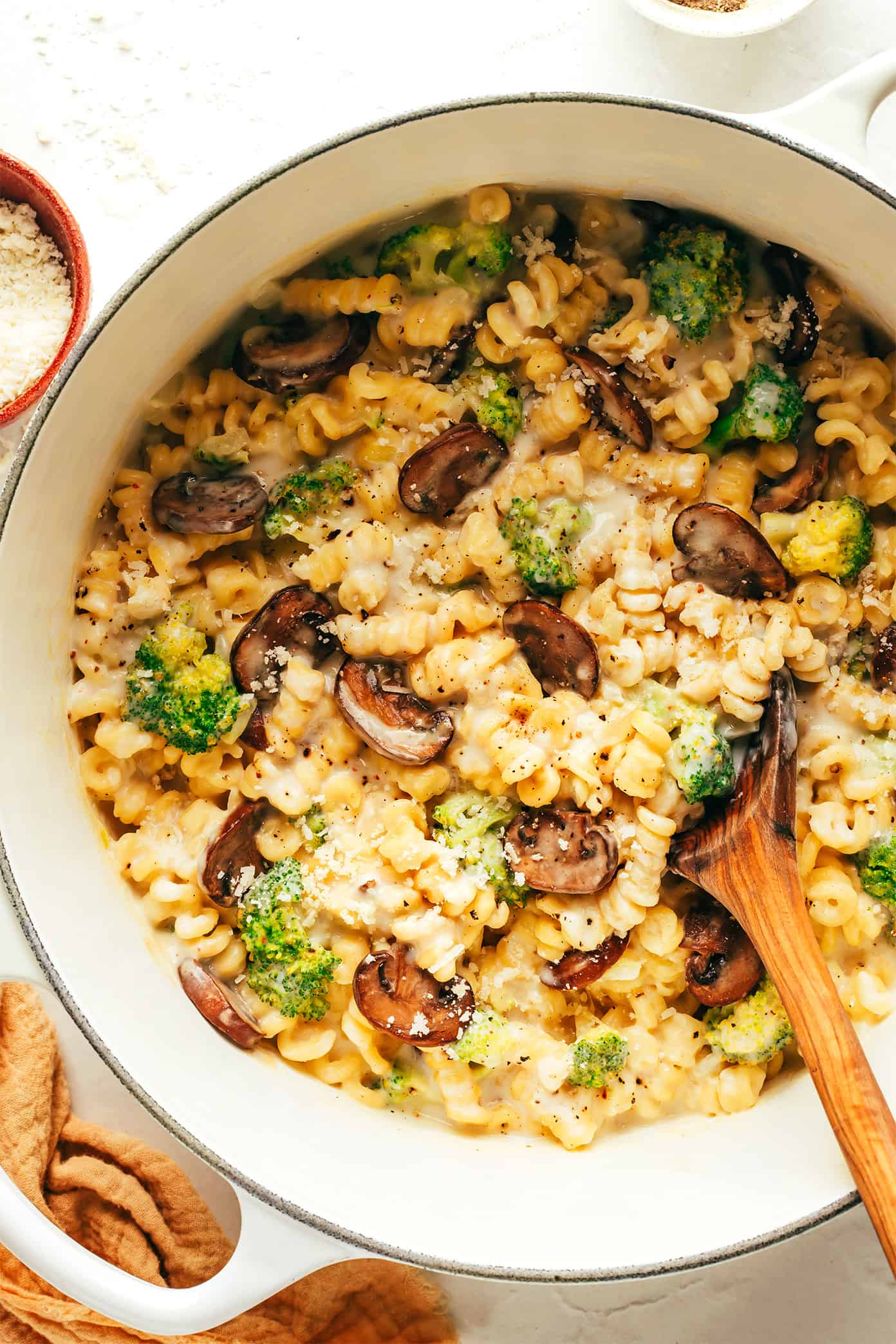 One-pot comfort food for the win. ♡
We're clearly big mac and cheese fans here in our house. And on busy nights when we want to save the step of cooking an extra side of veggies, this one-pot broccoli mac and cheese recipe has become a life-saver!
We especially love this recipe because it's mercifully light on prep time (especially if you grab a bag of pre-cut broccoli florets) and can easily be made gluten-free by using your favorite GF pasta. And while we really love adding mushrooms to this broccoli mac and cheese, you're welcome to sub in any other pasta-friendly veggies or greens that you might love best. Feel free, too, to add in any extra proteins that you might like, such as chicken, sausage, bacon or shrimp. But I have to say that the vegetarian version of this broccoli mac and cheese is incredibly hearty, cozy, cheesy and satisfying all on its own.
If you're new to cooking one-pot pastas, please be sure to read some of the cooking tips included below to help troubleshoot any issues that might arise with the cheese sauce. But otherwise, grab that cheese grater and let's cook up a delicious pot of mac!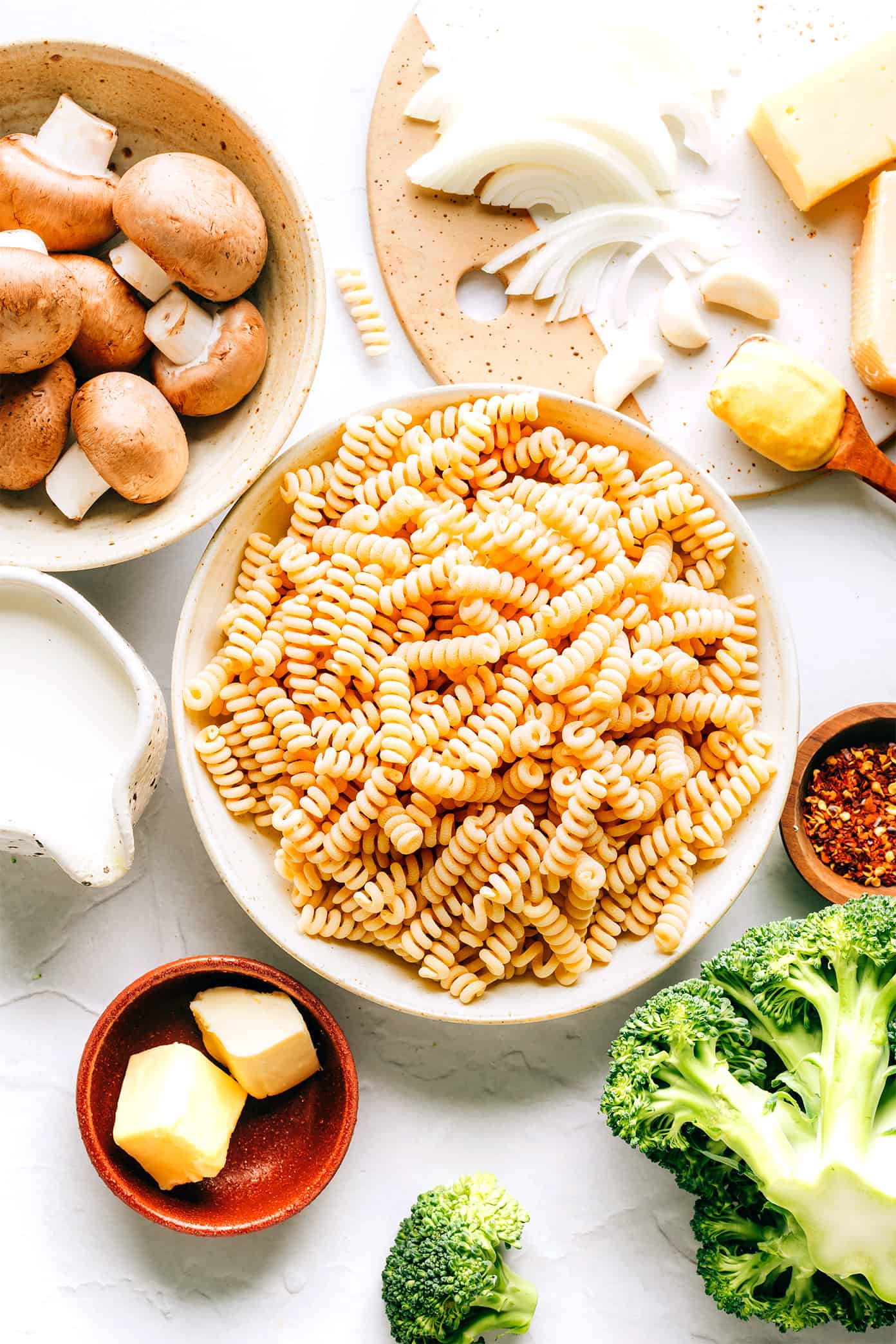 One Pot Broccoli Mac and Cheese Ingredients
Here are a few notes about the broccoli mac and cheese ingredients that you will need to make this recipe:
Pasta: I used fusilli bucati corti in the batch shown here, a shape I love in mac and cheese because of its satisfyingly chewy texture. But any pasta shape with a roughly 7-8 minute cooking time (see note below) will work well in this recipe.
Cheeses: For one-pot mac and cheese, I prefer a blend of good-quality sharp cheddar cheese and Parmesan. As always when making mac and cheese, be sure to purchase blocks of cheese and grate them by hand (or with the help of grating attachment on a food processor) so that the cheeses will melt smoothly into the pasta.
Broccoli: If you would like to save time, I highly recommend picking up a 12-ounce bag of pre-cut fresh broccoli florets. But you're of course welcome to cut your own florets too.
Mushrooms: I recommend baby bella mushrooms for this recipe, browned in butter, which are absolutely delicious.
Onion and garlic: These will serve as the base aromatics for the recipe.
Half and half: I find that using half and half achieves just the right amount of creaminess for this mac and cheese. That said, if you prefer a creamier mac, you're welcome to use heavy cream. Or for a lighter mac, you can use whole milk.
Seasonings: I generally prefer to keep the seasonings simple for this recipe — a hit of Dijon, crushed red pepper flakes, fine sea salt and freshly-ground black pepper — so that the flavor of the cheese can really be front and center. But see the note below for other fun seasonings that you're welcome to add in too.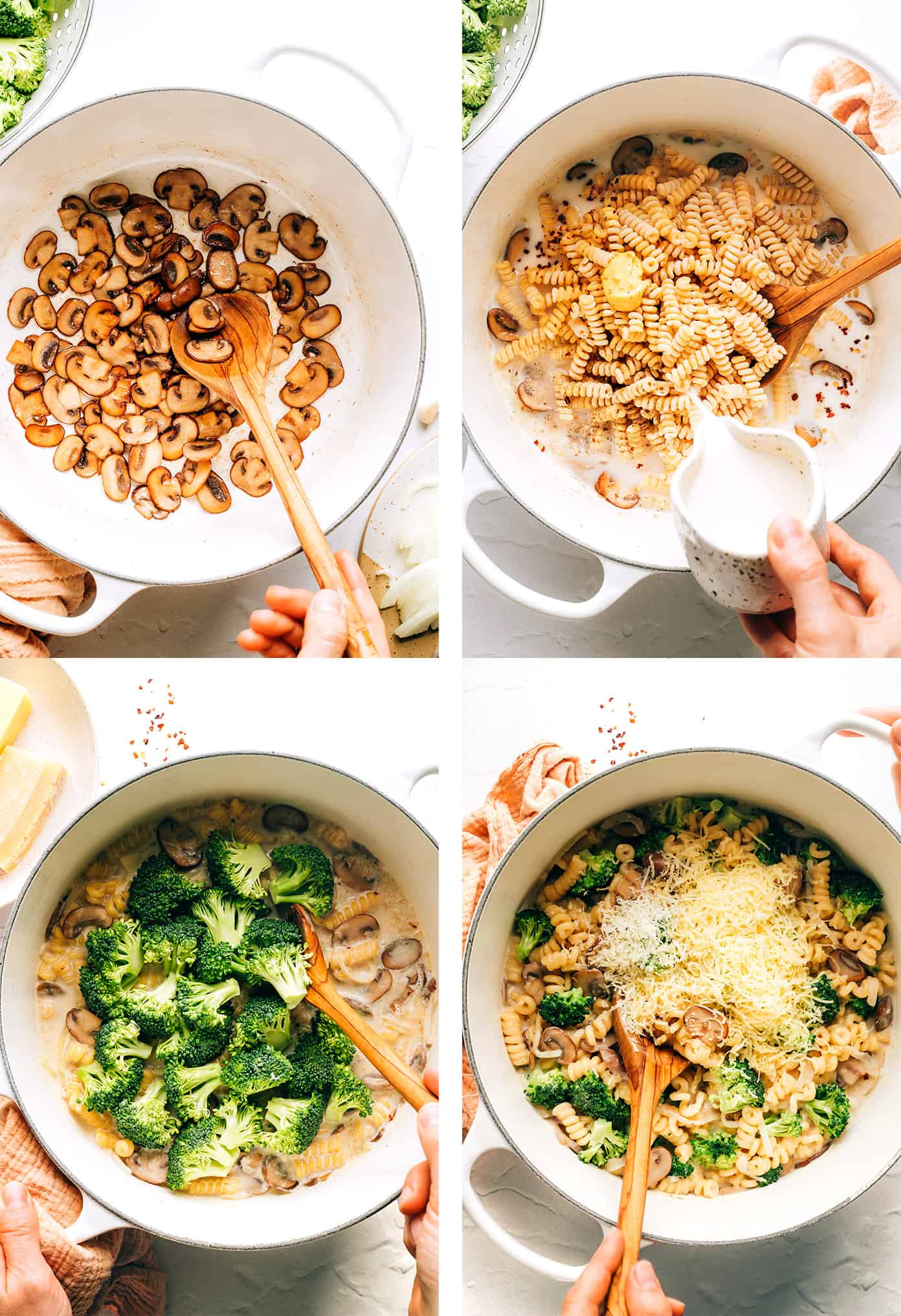 Mac and Cheese Tips
Here are a few more important tips to help make this mac and cheese recipe a success:
The pasta shape you choose can make a big difference. One pot mac and cheese recipes can be tricky when it comes to pasta-to-liquid ratios. If you are using a pasta shape that cooks more quickly than what the recipe calls for, for example, it can leave behind extra cooking liquid in the pot, resulting in a soupy cheese sauce. If you are using a pasta shape that takes extra time to cook, it can require more cooking liquid in order to fully reach al dente. As mentioned above, I wrote this recipe using a pasta shape that lists a 7- to 8ish-minute cooking time. But if the pasta shape that you have on hand requires more or less cooking time, no worries, just add or subtract pasta cooking water as needed. (You should only have about 1/2 cup of starchy pasta water remaining in the pot — discarding any extra — before mixing in the cheese.)
Always shred the cheese by hand. Store-bought shredded cheeses are coated with an anti-clumping mixture that prevents them from melting well into a smooth sauce. So anytime you're making mac and cheese, I recommend purchasing blocks of cheese and shredding them by hand.
Let the mushrooms brown. In order for the mushrooms to properly brown, be sure to let them cook undisturbed in the butter before flipping and stirring.
Don't forget to season! Cheese brands can vary pretty dramatically in terms of their saltiness, so don't forget to give the pasta one final taste test after mixing in the cheese and season it with a final round of salt and pepper if needed.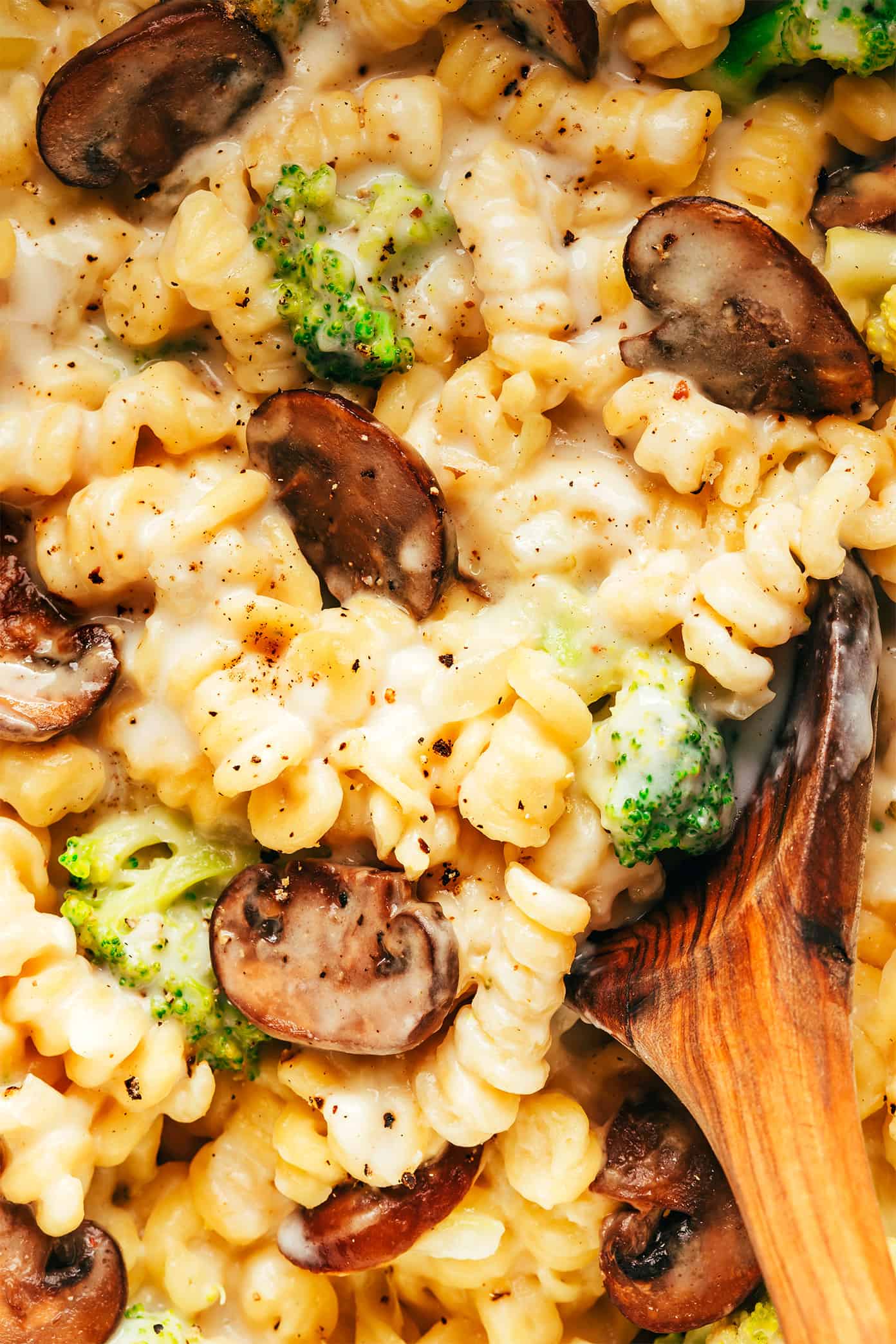 Recipe Variations
As I mentioned above, it's very easy to customize this recipe with your favorite ingredients! For example, you are welcome to:
Use other veggies: Swap any other pasta-friendly veggies that you love in place of the broccoli or mushrooms. For example, asparagus, bell peppers, Brussels sprouts, carrots, squash or zucchini could all be good options. Just take care with the adjustments needed for different kinds of veggies so that they can be properly cooked.
Use a different cheese: Use a different cheese in place of the cheddar, such as Gruyere, Fontina, Havarti, or Monterrey Jack. I really recommend sticking with the Parmesan.
Add a protein: Add in a cooked protein after adding the cheese, such as Italian sausage, bacon, chicken or shrimp.
Add greens: Add in a few handfuls of baby spinach or chopped kale (tough ribs discarded) along with the cheese.
Add extra herbs or seasonings: Add your favorite fresh herbs (such as basil, rosemary, thyme) or dried seasonings (for a different spin, I love adding some Cajun seasoning to this mac and cheese).
Make it gluten-free: Easy – just use your favorite gluten-free pasta!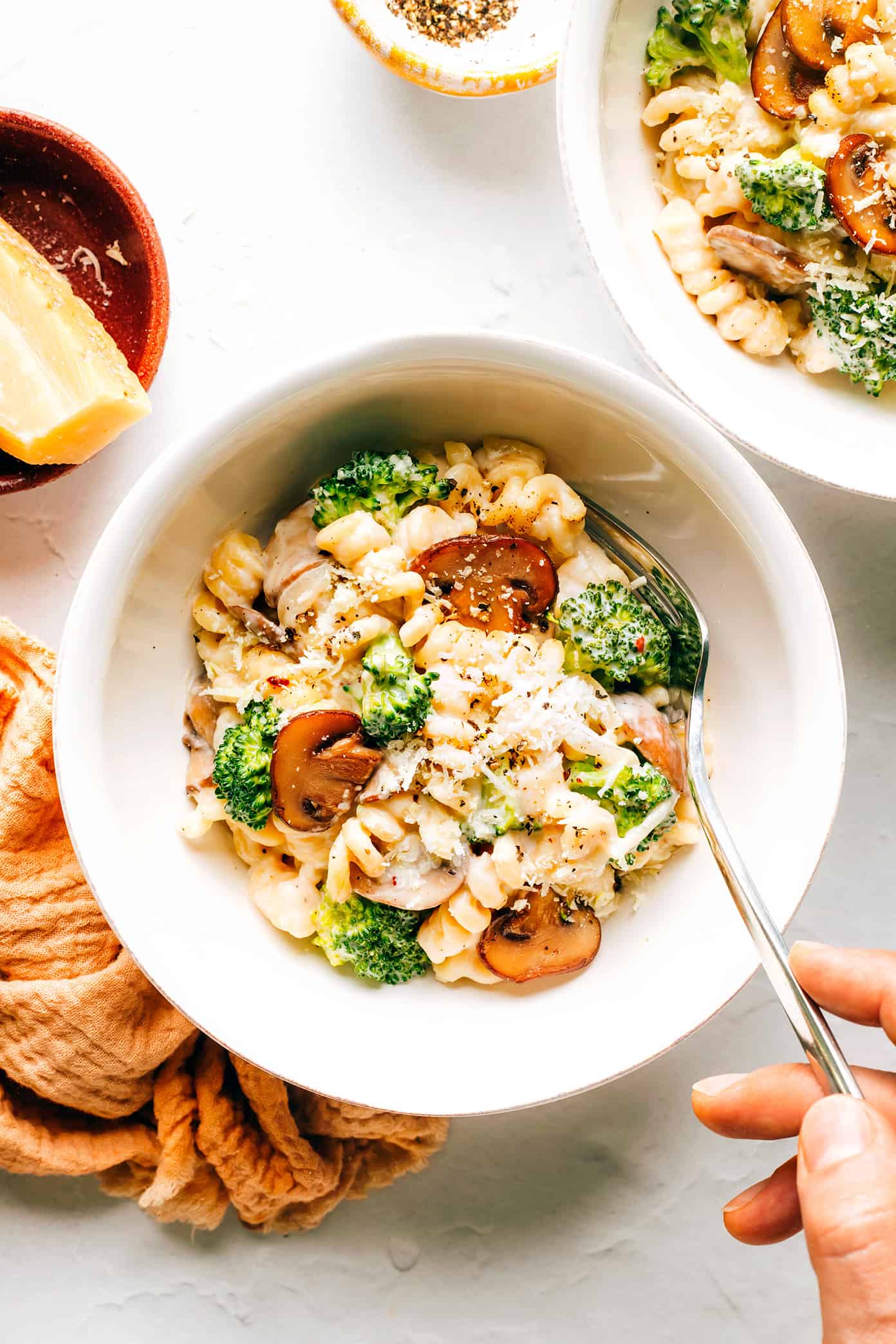 More Mac and Cheese Recipes
Looking for more cozy mac and cheese recipes to try? Here are a few of our favorites:
Print
---
2 tablespoons

butter

8 ounces

baby bella mushrooms, thinly sliced

1

small white onion, thinly sliced

3

cloves garlic, minced

1

pound uncooked pasta

4 cups

water

1 1/2 cups

half and half

1 teaspoon

Dijon mustard

1/8 teaspoon

crushed red pepper flakes

fine sea salt and freshly-ground black pepper

12 ounces

broccoli florets, cut into bite-sized pieces (about

1

large head of broccoli)

2 cups

(8 ounces) freshly-shredded sharp cheddar cheese

1/2 cup

(1 ounce) freshly-grated Parmesan cheese
---
Sauté veggies.

Heat butter in a large stockpot over medium-high heat. Add mushrooms and sauté, stirring occasionally, for 5-7 minutes or until most of their liquid has evaporated and the mushrooms are browned. Add onion and sauté for 3 minutes, stirring occasionally. Add garlic and sauté for 2 minutes, stirring occasionally.

Cook the pasta.

Add pasta, water, half and half, Dijon, crushed red pepper flakes, a generous pinch of salt and pepper and stir to combine. Bring the pasta to a boil, stirring occasionally to break up the pasta. Once the pasta reaches a boil, stir in the broccoli. Reduce heat to medium to maintain a low boil and continue cooking the pasta uncovered until it is just al dente.

Remove excess liquid (if needed).

Check to see how much liquid remains in the pot. If it seems that there is more than ½ cup or so, dip a heatproof measuring cup in to remove and save the excess liquid, and set it to the side.

Add cheese.

Stir in the cheeses until melted and combined. If the pasta seems too dry, stir some of the reserved liquid back in as needed.

Season.

Taste and season with additional salt and pepper as needed.

Serve.

Serve warm and enjoy!
---