This post may contain affiliate links. Please read my disclosure policy.
This delicious vegetarian chili recipe is easy to make, full of rich flavor, and loaded up with lots of extra veggies.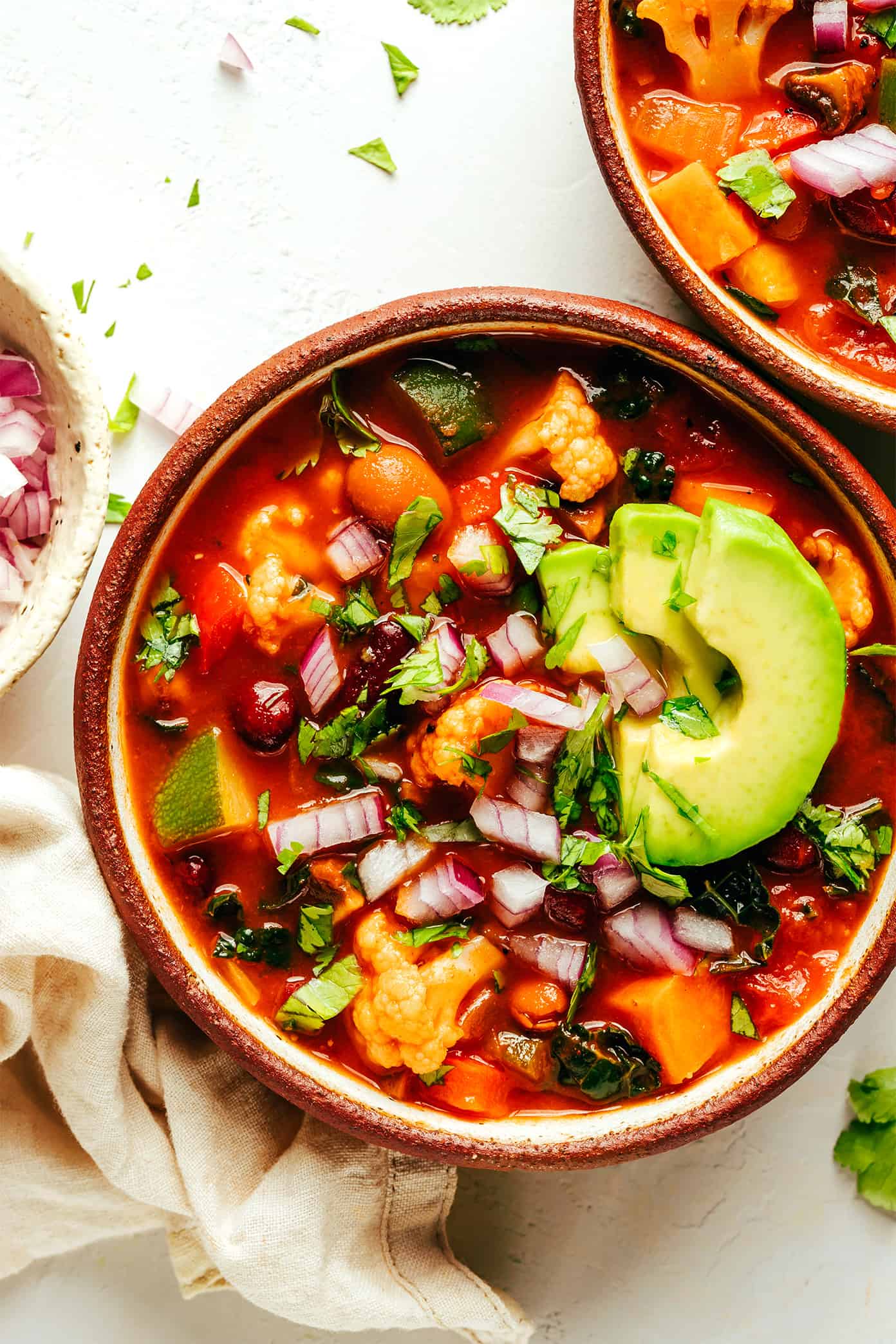 Chili night usually doubles as use-up-any-leftover-veggies night in our house because…why not?! ♡
The bold flavors in a classic tomato chili broth are perfect for welcoming in (and, let's be real, hiding!) a wide range of vegetables. So this is the perfect occasion to clean out the crisper drawer or empty out those random bags of frozen veggies hiding in your freezer and put them to delicious use. This recipe is super-flexible and easy to customize with whatever veggies, greens and beans you happen to have on hand. And if you happen to have a picky kid at the table, you can also easily purée some (or all) of them too. Extra veggies for the win!
This recipe also happens to be naturally gluten-free and vegan. And as always, please feel totally free to play around with the seasonings and adjust them to taste. You're also welcome to add in some plant-based ground "meat", if you enjoy that texture in your chili. And don't be shy with adding on your favorite toppings — the more, the merrier!
Let's make some vegetarian chili together!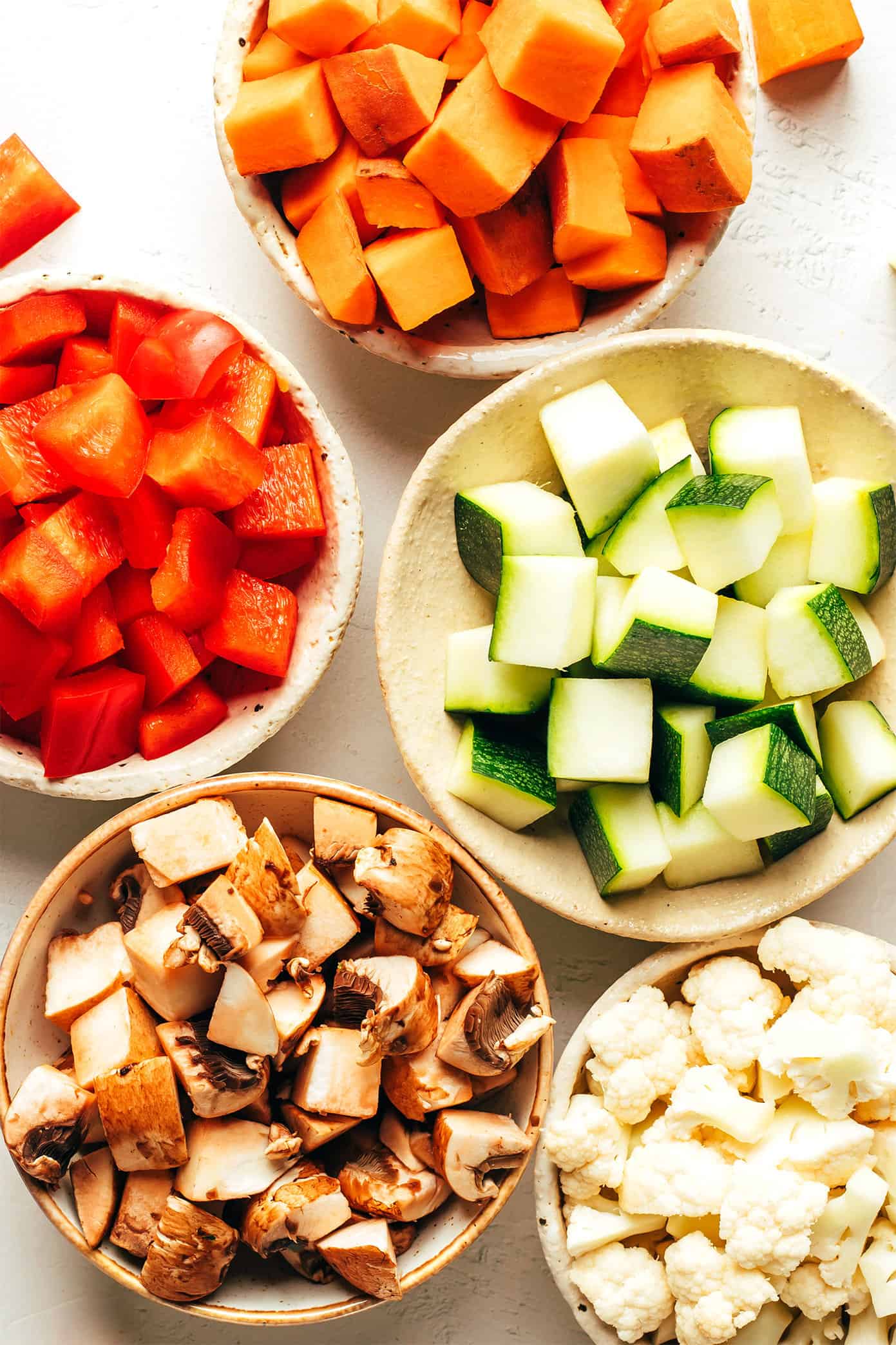 Vegetarian Chili Ingredients
Before we get to the full vegetarian chili recipe below, here are a few brief notes about the ingredients that you will need:
Onion, garlic and jalapeño: These will serve as the base aromatics for our veggie chili. As always, feel free to add more or less fresh jalapeño to taste depending on your heat level preference. (Removing seeds from a jalapeño will also significantly reduce its heat.)
Diced vegetables: I recommend adding in around 8 cups, more or less, of any soup-friendly fresh or frozen diced veggies that you happen to love. For this batch, I used baby bella mushrooms, cauliflower, red bell pepper, sweet potato, and zucchini. Other chili-friendly veggies I'd recommend could include butternut squash, cabbage, carrots, corn, eggplant, green beans, leeks, yellow squash, or Yukon gold potatoes.
Greens: Kale, spinach, or collard greens are great options here. I recommend finely chopping the greens for this soup so that they blend in nicely.
Vegetable stock: Veggie stock (or you could sub in chicken or beef stock) will serve as the base liquid for our chili.
Beans: The type of beans in this chili are completely up to you! I used a mix of pinto and red kidney beans in the batch pictured here, but black beans, white beans, or chickpeas would work well too.
Diced tomatoes: I recommend using fire-roasted diced tomatoes for an extra layer of smokey flavor if they are available in your grocery store. If not, regular diced tomatoes will be just fine too.
Seasonings: We'll use a flavorful mix of chili powder, ground cumin, smoked paprika, fine sea salt, freshly-ground black pepper, plus a chipotle in adobo sauce (and a teaspoon of the adobo sauce) to season the chili.
Toppings: As always with chili, the more toppings — the merrier! Some of my favorite toppings include

chopped fresh cilantro, chopped red or green onions, crumbled tortilla chips, lime wedges, shredded cheese, sliced avocado, and/or sour cream.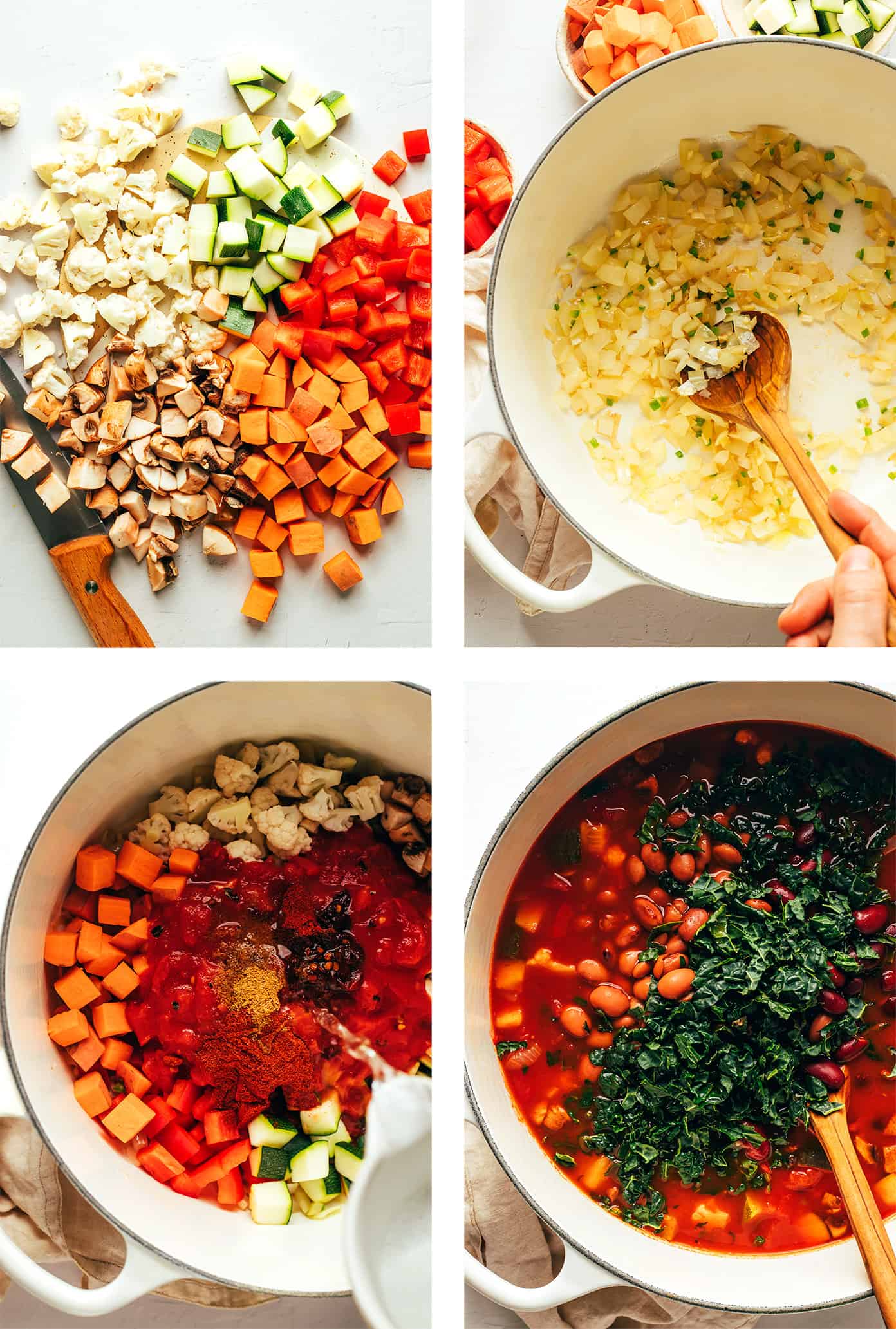 How To Make Vegetarian Chili
Full instructions are included in the recipe below. But here are a few additional tips to make a winning chili recipe!
Season to taste. Everyone definitely has their own preferences when it comes to chili toppings, so please feel free to adjust any of the seasonings in the recipe to taste.
Adjust heat levels to taste. Likewise, if you prefer your chili to be more spicy, feel free to add more jalapeño or other sources of heat (such as other fresh chiles, cayenne, hot sauce, etc). If you prefer your chili to be more mild, you're welcome to omit the jalapeño and add however much or little chipotle and adobo you prefer, to taste.
Don't skimp on the toppings. I firmly believe that chili is meant to be piled with as many toppings as possible, so don't be shy! They can add so much in terms of fun flavors and textures.
Add a hint of citrus. I find that a squeeze of lime juice really brings out the best of those savory flavors, so we always serve chili with a side of lime wedges.
Enjoy the leftovers. Chili tastes even better the next day after all of those flavors have had time to meld and harmonize. So look forward to those leftovers!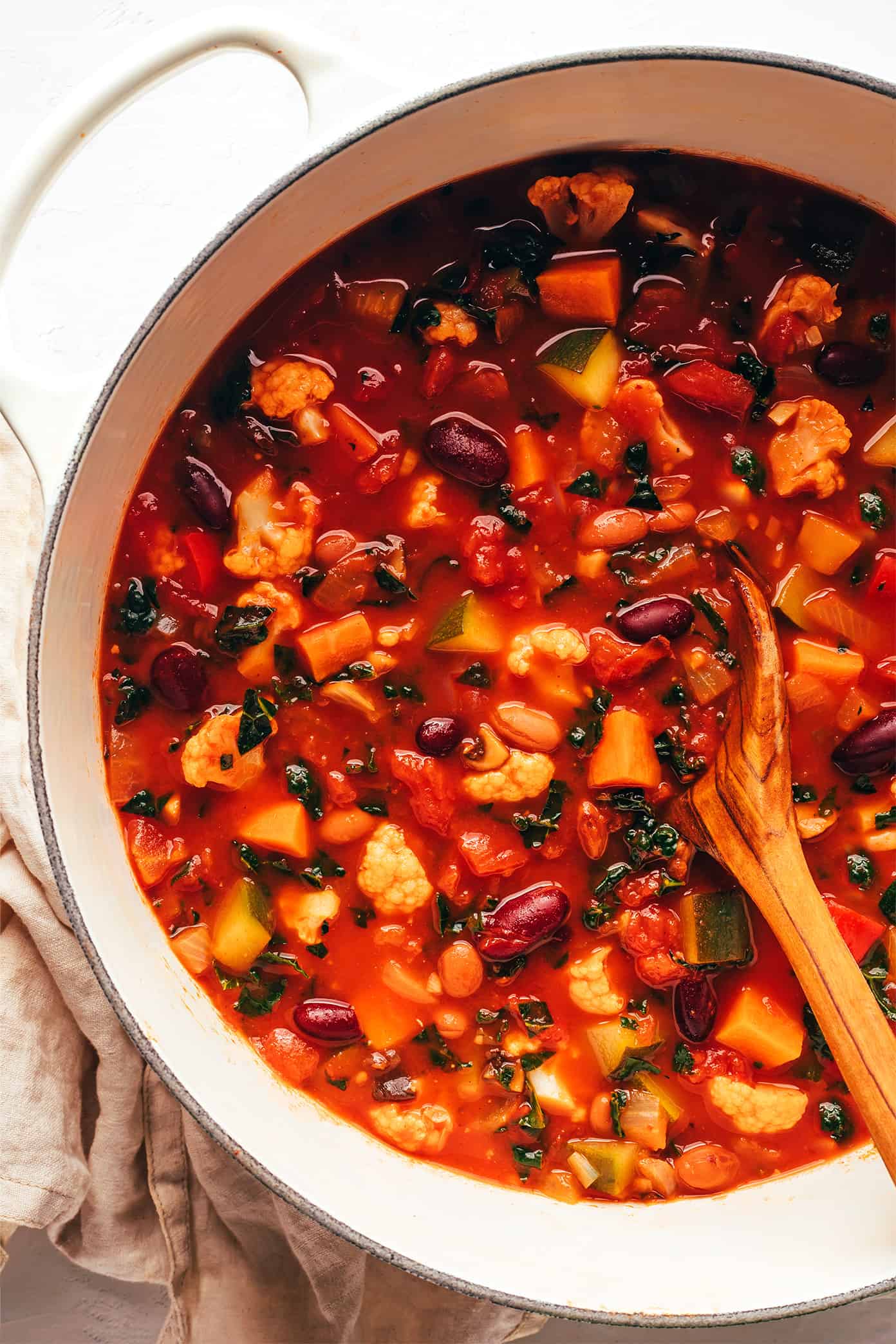 Veggie Chili Variations
Here are a few other variations that you're welcome to try with this chili recipe:
Add a protein: Add your favorite plant-based "meat" to the chili by sautéing it with the onion, etc. Or (if you're not making this chili vegetarian) you're welcome to use ground beef, turkey, chicken, or chorizo, etc.
Add beer: Swap in a bottle of your favorite beer for part of the veggie stock (so you would then only need 2.5 cups of veggie stock) to add another layer of flavor to the broth.
Add quinoa: For extra protein, add 1/2 cup of rinsed uncooked quinoa to the broth and let it simmer until cooked. You'll need to add in 1 additional cup of broth and adjust the seasonings as needed too.
Add cocoa powder: I also love adding a few teaspoons of cocoa powder to chili broth, which helps round out the seasonings without making the broth taste like chocolate.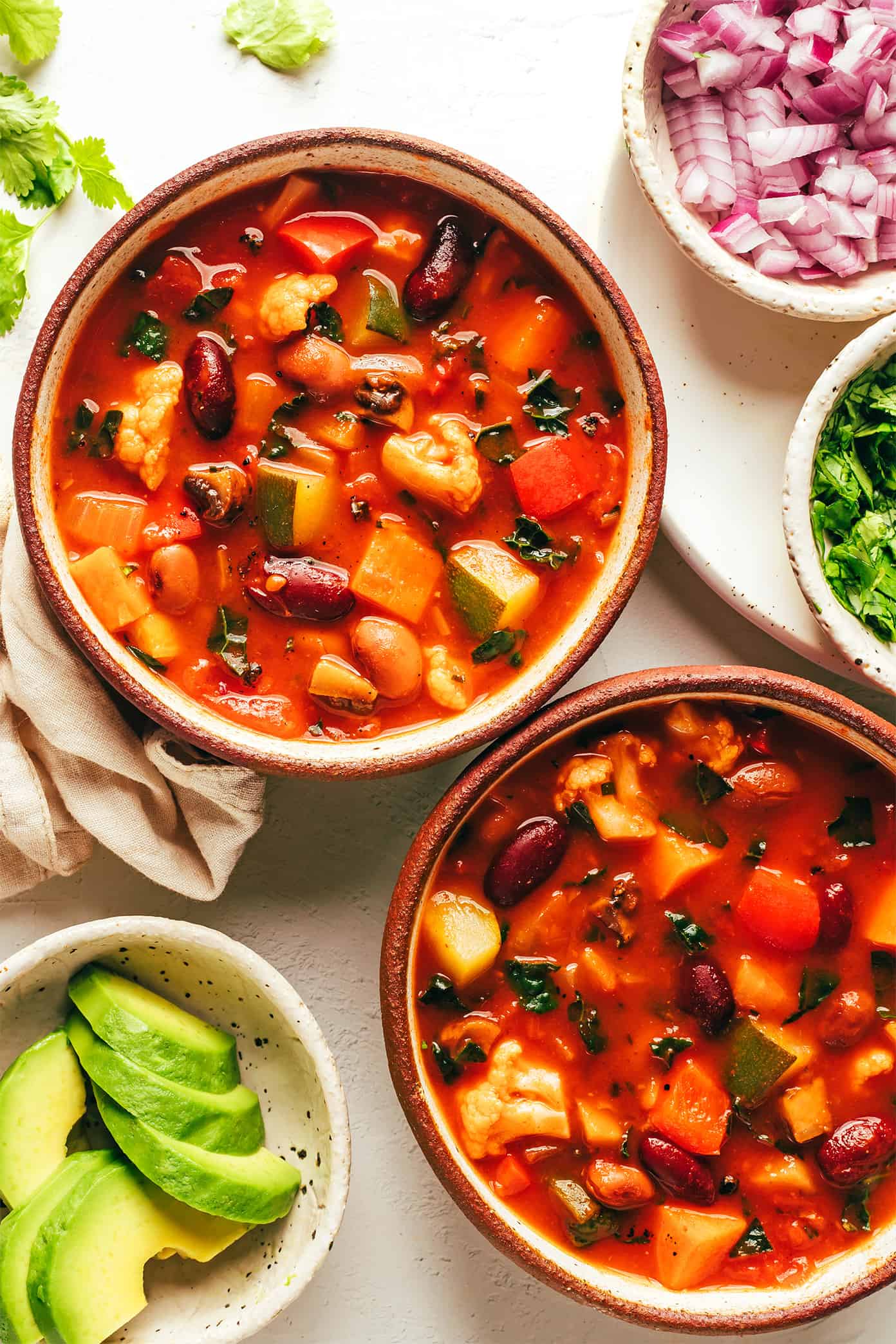 More Vegetarian Soup Recipes
Looking for more easy vegetarian soup recipes to try? Here are a few of our feel-good faves:
Print
---
Description
This delicious vegetarian chili recipe is easy to make, full of rich flavor, and loaded up with your choice of veggies.
---
1 tablespoon

olive oil

1

white onion, diced

1

small jalapeño, cored and finely diced

4

cloves garlic, minced

4 cups

vegetable stock

8 cups

diced vegetables

(I used 1 red bell pepper, 1 small sweet potato, 1 small zucchini, half of a small cauliflower and 4 ounces baby bella mushrooms)

2

(15-ounce) cans fire-roasted diced tomatoes

1

chipotle in adobo sauce, finely chopped

(plus 1 teaspoon adobo sauce)

1 tablespoon

chili powder

1 teaspoon

ground cumin

1 teaspoon

smoked paprika

2

(15-ounce) cans beans, rinsed and drained

(I used half pinto, half red kidney beans)

2 cups

finely-chopped kale, loosely packed

fine sea salt and freshly-ground black pepper

topping ideas: chopped fresh cilantro, chopped red onions, crumbled tortilla chips, lime wedges, shredded cheese, sliced avocado, and/or sour cream
---
Saute.

Heat oil in a large stockpot over medium-high heat. Add the onion and jalapeño and sauté, stirring occasionally, for 5 minutes. Add the garlic and sauté for 1-2 minutes, stirring occasionally, until fragrant.

Simmer.

Add vegetable stock, diced vegetables, tomatoes, chipotle and adobo sauce, chili powder, cumin, paprika and stir to combine. Continue cooking until the soup reaches a simmer. Reduce heat to medium-low to maintain a low simmer, cover, and cook for 15-20 minutes or until all of the veggies are cooked.

Add beans and kale.

Stir in the beans and kale until evenly combined. Taste the soup and season with salt and pepper as needed.

Serve.

Serve warm, garnished with lots and lots of your favorite toppings.
---