This post may contain affiliate links. Please read my disclosure policy.
This coconut rice recipe is easy to make in about 30 minutes and perfectly fluffy with a lightly-sweet coconut flavor.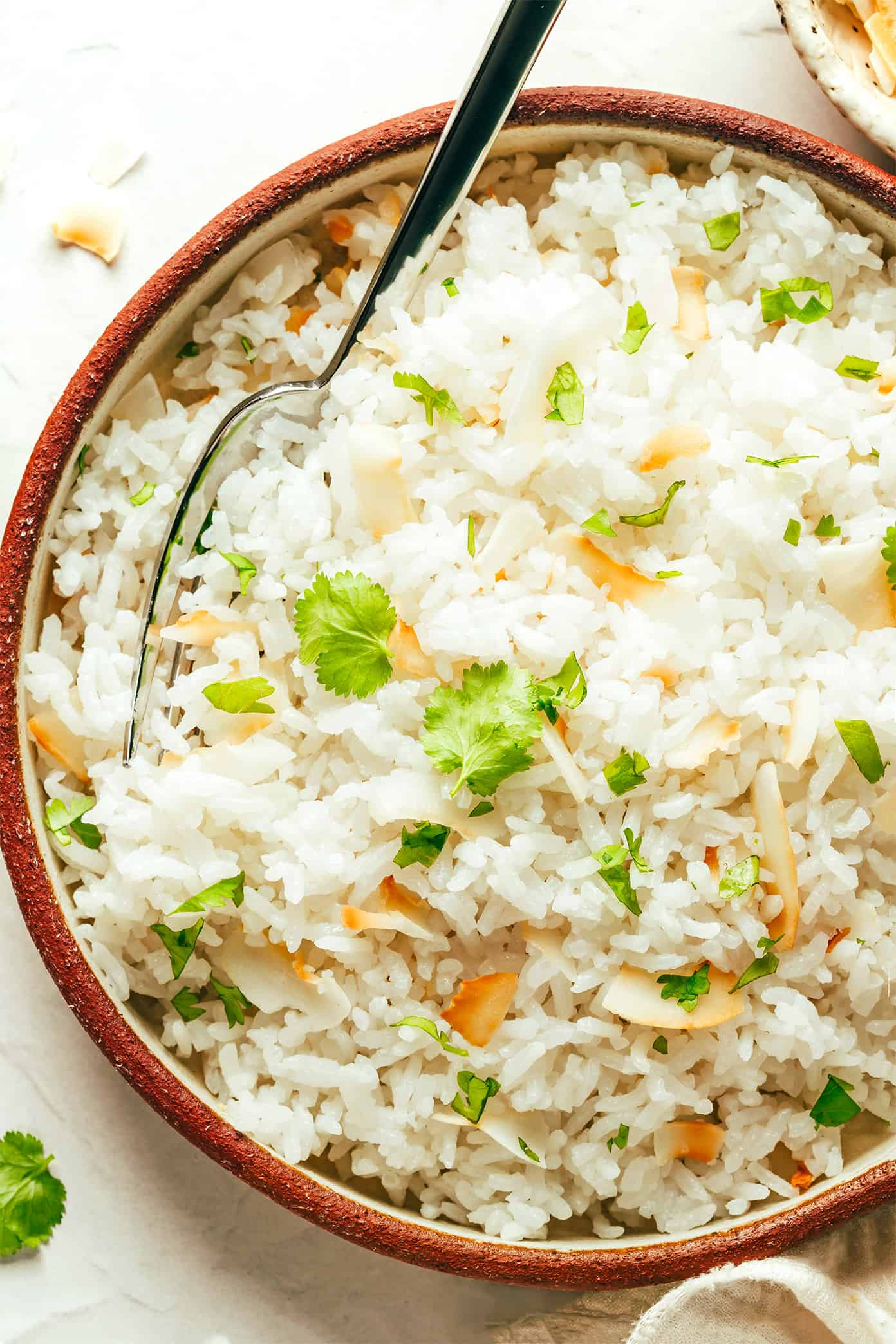 One of those recipes that every sweet-and-savory-loving cook should have tucked away in their back pocket — the most delicious coconut rice! ♡
Coconut rice has long been a staple in many tropical culinary traditions around the world, from Southeast Asia to India, South America, Central America, East Africa, the Caribbean and beyond. It features a lightly-sweet creamy coconut flavor that pairs brilliantly with all sorts of savory dishes. It's naturally gluten-free and vegan. And it's practically just as easy to make as a batch of plain rice and comes together quickly in about 30 minutes — win-win!
Here in our home, we love serving coconut rice with everything from savory stir-fries to curries, grilled proteins, roasted vegetables, beans, stews, kabobs and more. Depending on the meal, I often love adding in a squeeze of lime juice or some chopped cilantro to brighten up the flavor too. And if you're looking to add some extra texture, a sprinkling of toasted coconut flakes (or shredded coconut) is always a fabulous idea too.
Let's make some coconut rice together!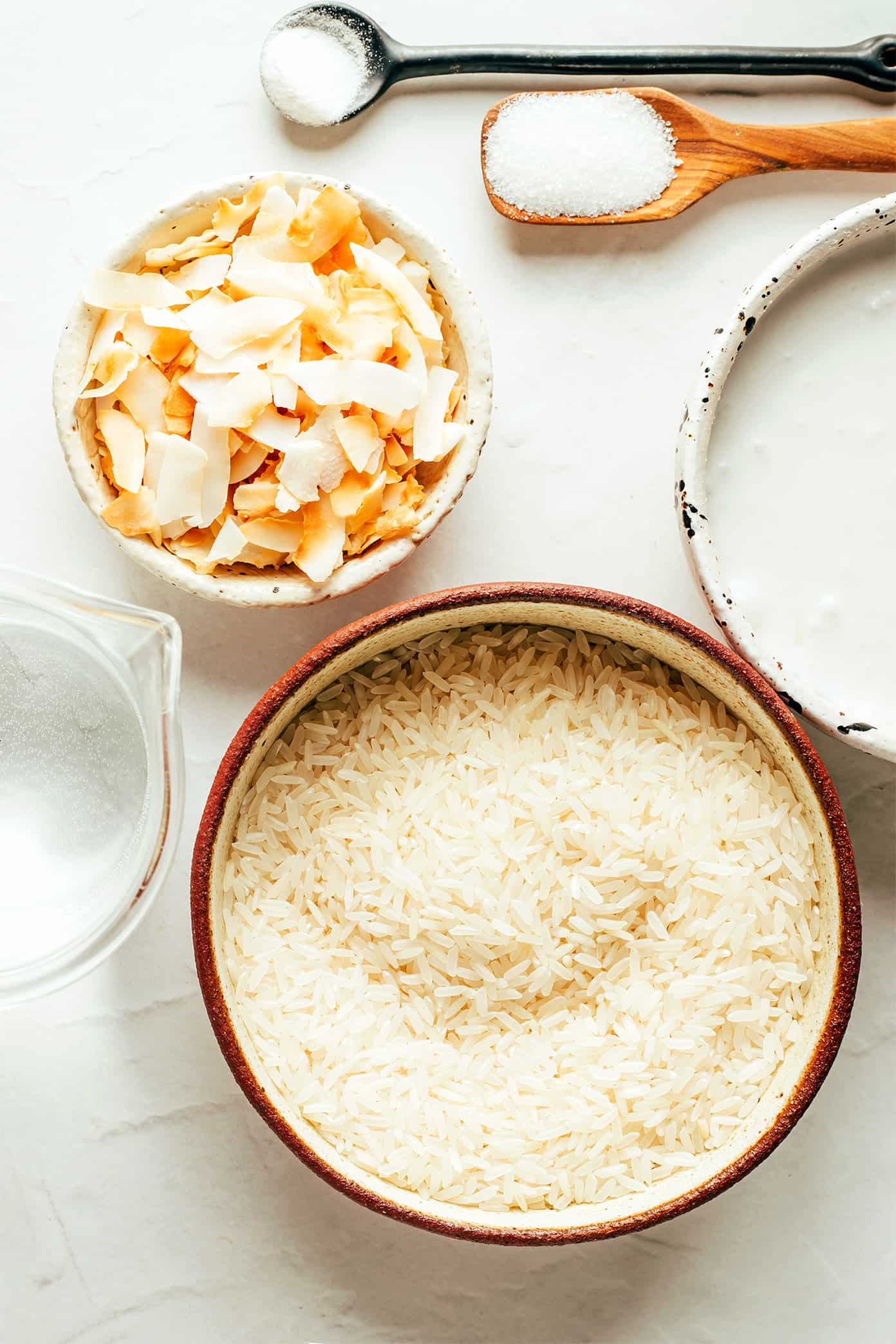 Coconut Rice Ingredients
Here are the basic coconut rice ingredients that you will need to make this recipe:
Rice: I typically use jasmine rice when making coconut rice, but any long-grain white rice will work.
Coconut milk: I really recommend using full-fat coconut milk to make this rice perfectly coconut-y and creamy. You're welcome to opt instead for light coconut milk, if you prefer, but please note that it will contribute significantly less coconut flavor.
Sugar: Most restaurant versions of coconut rice include a hint of extra sugar, which lightly sweetens the rice and really helps to bring out the flavor of the coconut. So feel free to add a teaspoon or two of granulated white sugar (or coconut sugar) if you'd like, or you can just skip the added sugar altogether.
Salt: A hint of fine sea salt is essential to bring out the best of these flavors.
Extra add-ins: See notes below about some fun extra ingredients that you're welcome to add in too. (I'm partial to stirring in a handful of toasted coconut flakes, a hint of cilantro, and a squeeze of lime!)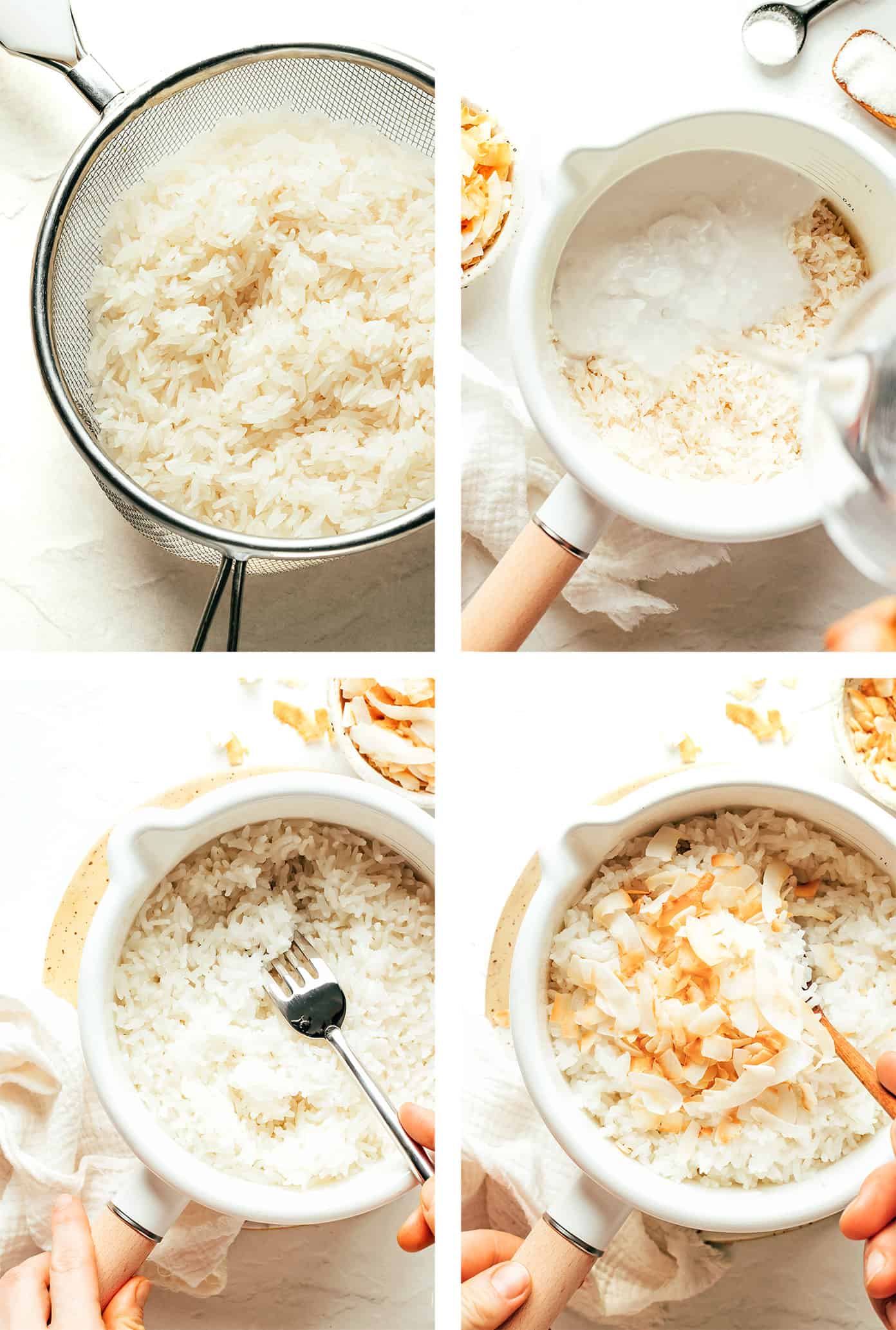 How To Make Coconut Rice
Detailed instructions for how to make coconut rice are included in the recipe below, but the basic method is simple:
Rinse. Definitely do not skip this step when making coconut rice! It's essential to rinse the extra starches off of the rice before cooking in order to prevent it from becoming gluey or mushy.
Cook. Simply stir together the rice, coconut milk, water, salt and sugar (if using) in a saucepan and bring to a boil. Cover with a tightly-fitting lid, reduce heat to low, and cook undisturbed — don't lift up the lid to peek! — for 15 minutes. Remove the pan, still covered, from the heat and allow the rice to steam for a final 10 minutes.
Serve. Uncover the pan. Fluff the rice with a fork, serve and enjoy!
How To Store Coconut Rice
Let the cooked coconut rice cool to room temperature, then transfer it to an airtight container or storage bag and refrigerate for up 3-4 days. To reheat in the microwave, place the rice in a microwave-safe dish and heat in short intervals until the rice is warmed through. To reheat on the stove, add the rice to a non-stick sauté pan and heat over medium heat, stirring occasionally and adding in a tablespoon or so of extra water if needed, until the rice is warmed through.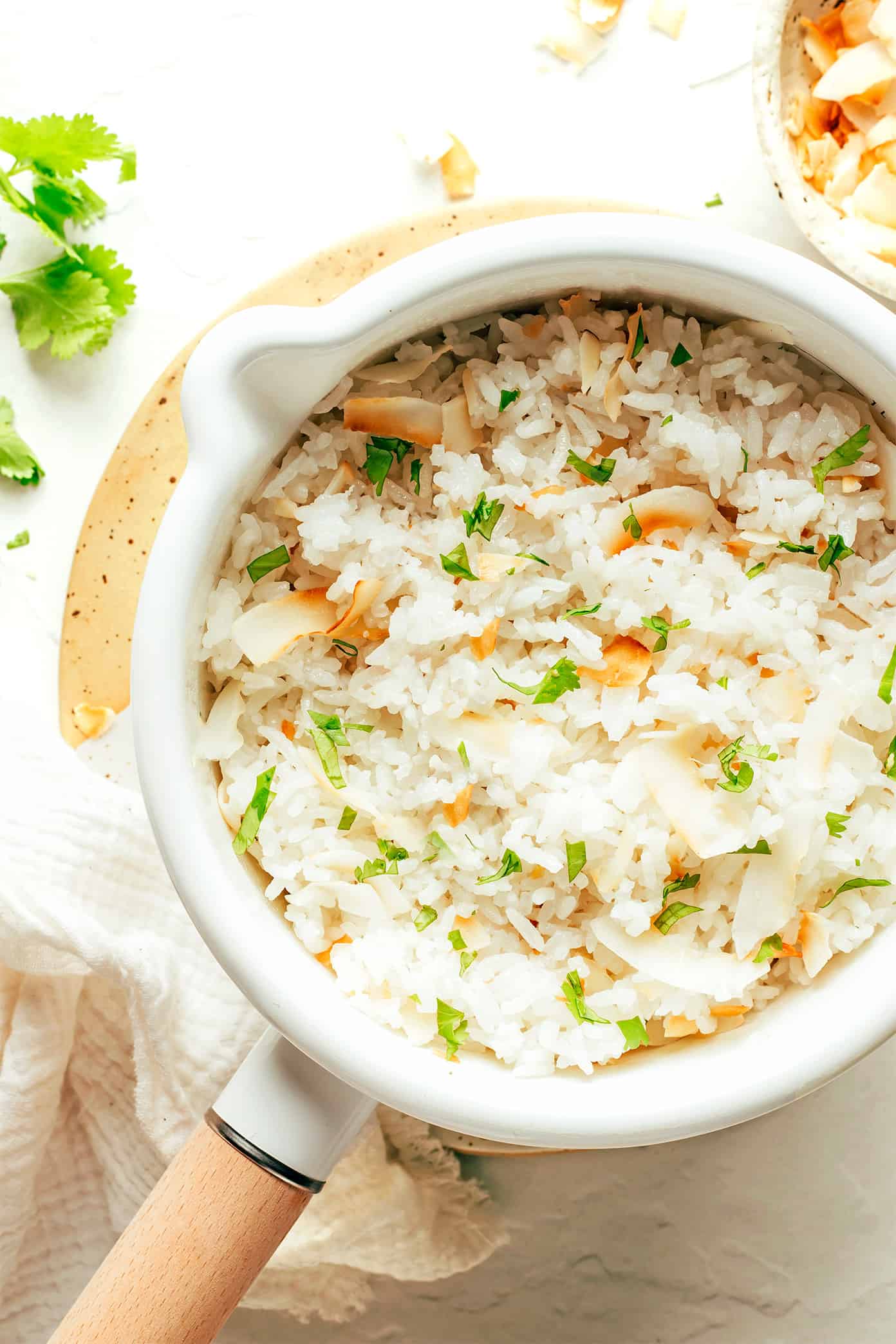 Recipe Variations
Here are a few more variations to this coconut rice recipe that you're welcome to try!
Add toasted coconut flakes: Stir in some toasted coconut flakes (or toasted shredded coconut works too) once the rice has finished cooking, or sprinkle them on top as a garnish.
Add fresh herbs: Stir in some finely-chopped fresh cilantro, Thai basil, or chives once the rice has finished cooking.
Add lime: Stir in a tablespoon or two of freshly-squeezed lime juice once the rice has finished cooking.
Add ginger: Stir up to 1 tablespoon grated ginger along with the rice in Step 2.
Add heat: Stir your favorite kind of hot sauce or chili oil in with the rice once it has finished cooking.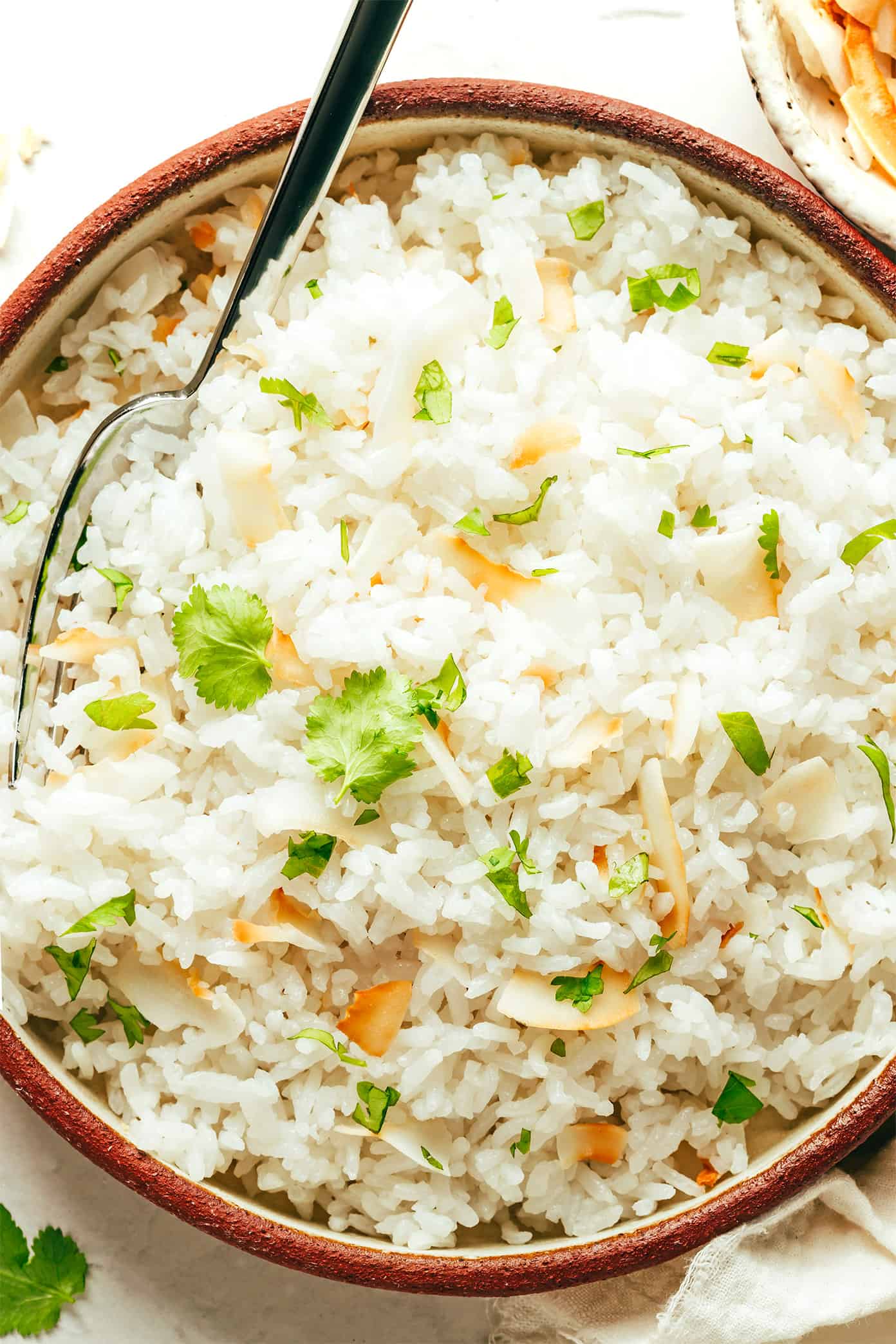 What To Serve With Coconut Rice
I'm definitely partial to pairing coconut rice with with savory or spicy dishes, to balance out the sweetness, but there are countless ways that you can serve coconut rice! Here are a few of my favorite pairings:
Print
---
2 cups

jasmine or long-grain rice

1

(14-ounce) can coconut milk

1 cup

water

1/2 teaspoon

fine sea salt

1

to

2

teaspoons white granulated sugar

(optional*)
---
Rinse the rice. Thoroughly r

inse the rice in a fine mesh strainer until the water runs clear.

Cook.

Add the rice, coconut milk, water, sea salt and sugar (if using) to a large saucepan and stir to combine. Cook over medium-high heat until the rice reaches a boil. Give the rice a quick stir, turn the heat to low, cover with a lid, and cook undisturbed for 15 minutes. Turn off the heat, and let the rice rest undisturbed for 10 minutes. Uncover and fluff the rice with a fork.

Serve.

 

Serve immediately and enjoy!
---
Notes
Sugar: Adding extra sugar is completely optional here, but I recommend adding a teaspoon or two if you prefer a slightly sweet coconut rice. Basic white granulated sugar will work, or coconut sugar or honey would be lovely too.