Quick Summary
These classic No Bake Cookies are jam-packed with chocolate, peanut butter, and oatmeal, and are surprisingly easy to make. You don't even have to turn on the oven! They are a family favorite!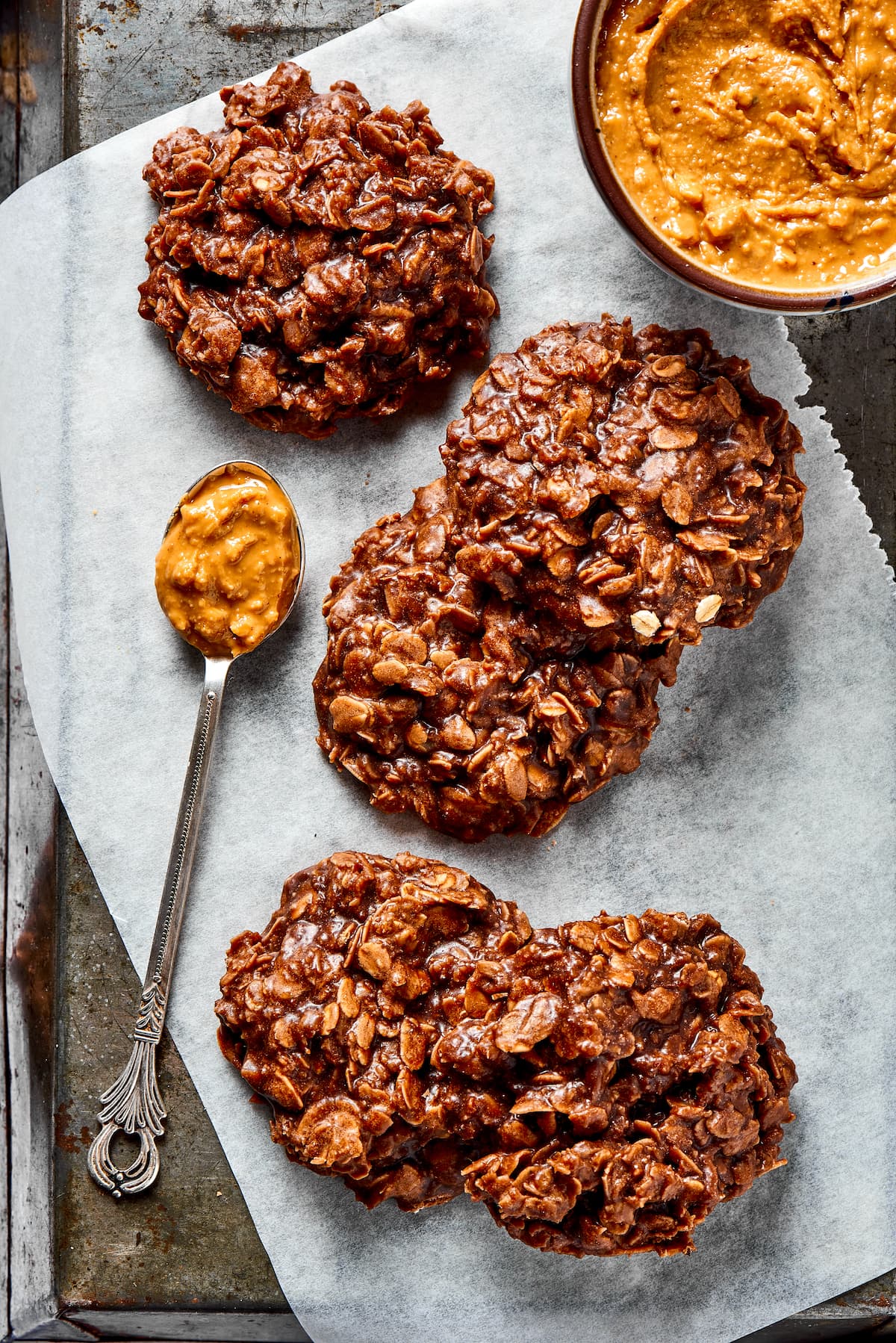 I love cookies. Who doesn't? They are fun to make and eat, but sometimes I just need a super EASY cookie recipe. That is when I turn to my favorite No Bake Cookie recipe!
They have all the benefits of traditional cookies, but they're quicker and easier … which means you can satisfy your cookie craving that much faster! 
These aren't raw cookies, as the dough gets cooked on the stovetop. That helps create a richer flavor, and a more authentic cookie texture, while still being a lot more convenient than using the oven.
The cookies are made with peanut butter, cocoa powder, vanilla, and oats, this no bake dessert recipe is full of all your favorite cookie flavors. You can't go wrong with peanut butter and chocolate! Seriously, the BEST combo!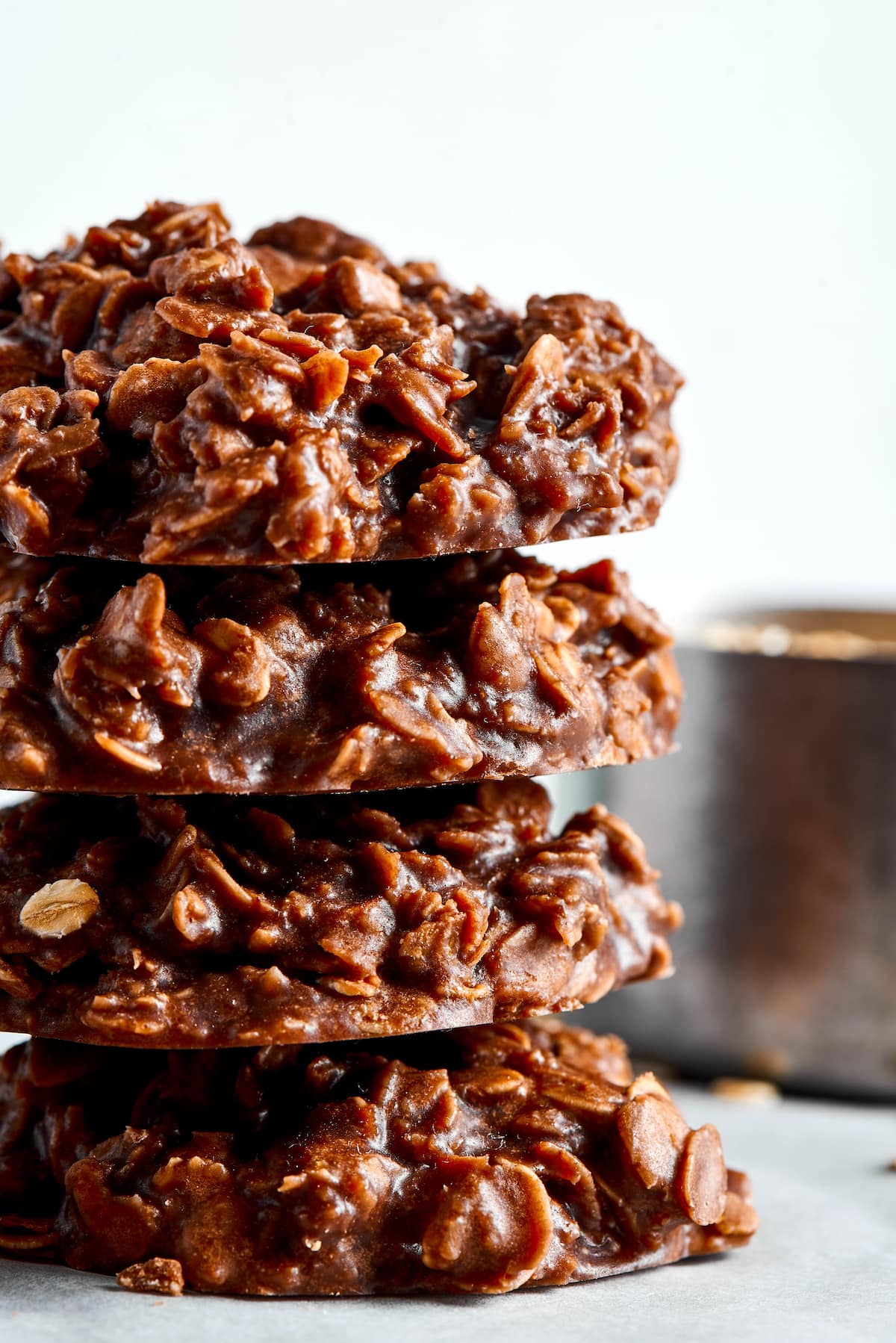 Ingredients
I also love this cookie recipe because the ingredients are simple. You probably have the ingredients in your pantry and fridge right now.
Check out the recipe card at the bottom of the article to see the specific quantities for each ingredient.
Unsalted butter– I like to use unsalted butter so I can control the amount of salt in the recipe.
Granulated sugar 
Milk – You can use dairy-free milk if you prefer, just make sure that it's unsweetened and unflavored.
Cocoa powder – Make sure that this is unsweetened. 
Creamy peanut butter– I prefer creamy peanut butter, but crunchy will work too if you want a little crunch to your cookie.
Vanilla extract – Be sure to only use 100% pure vanilla extract. 
Kosher salt
Quick oats
Can You Use Old Fashioned Oats?
This recipe calls for quick oats, which barely take any time to cook. And because they're smaller than traditional oats, they help hold the cookies together. If you substitute them with old fashioned oats, you'll have raw oats in your no bake cookies, and that's an unpleasant flavor and texture. However, you can pulse old fashioned oats in a food processor for a few seconds, and end up with something similar to quick oats. 
How to Make No Bake Cookies
This recipe is a lot of fun to make, and it comes together very quickly. Here's how to make the cookies.
Prep. Line two baking sheets with silicone mats or parchment paper.
Heat the mixture. Put the milk, butter, sugar, and cocoa powder in a saucepan on medium heat. Stir occasionally, and bring the mixture to a boil. Once it reaches a rolling boil, cook for 1 minute, then remove from the heat. 
Finish the dough. Stir in the peanut butter, vanilla extract, and salt, and mix until the cookie dough is smooth. Then stir in the oats. 
Make the cookies. Drop spoonfuls of cookie dough onto the prepared baking sheets. Let the cookies sit at room temperature until they firm up, which should take 20-30 minutes.
Tips for Success
Here are some ways to make sure that your no bake cookies are perfect.
Set a timer. The minute of boiling the cookie dough is vital. To ensure that your cookies are a good texture, set a timer so that you boil the mixture for exactly 1 minute. If you boil it much longer than that, the cookies will be dry and crumbly. If you boil it for less than that, they'll be wet and won't set up correctly. 
Scoop the dough immediately. Once you've finished making the dough, it will begin to set up. Because of that, you have limited time to make the cookies. Make sure you have everything in place before you start cooking, so that you can scoop the cookies onto the prepared baking sheets as soon as the dough is finished.
Use a scoop. If you have a cookie scoop, use it when scooping the cookies. That way your cookies will be nice circles, and they'll all be a consistent size.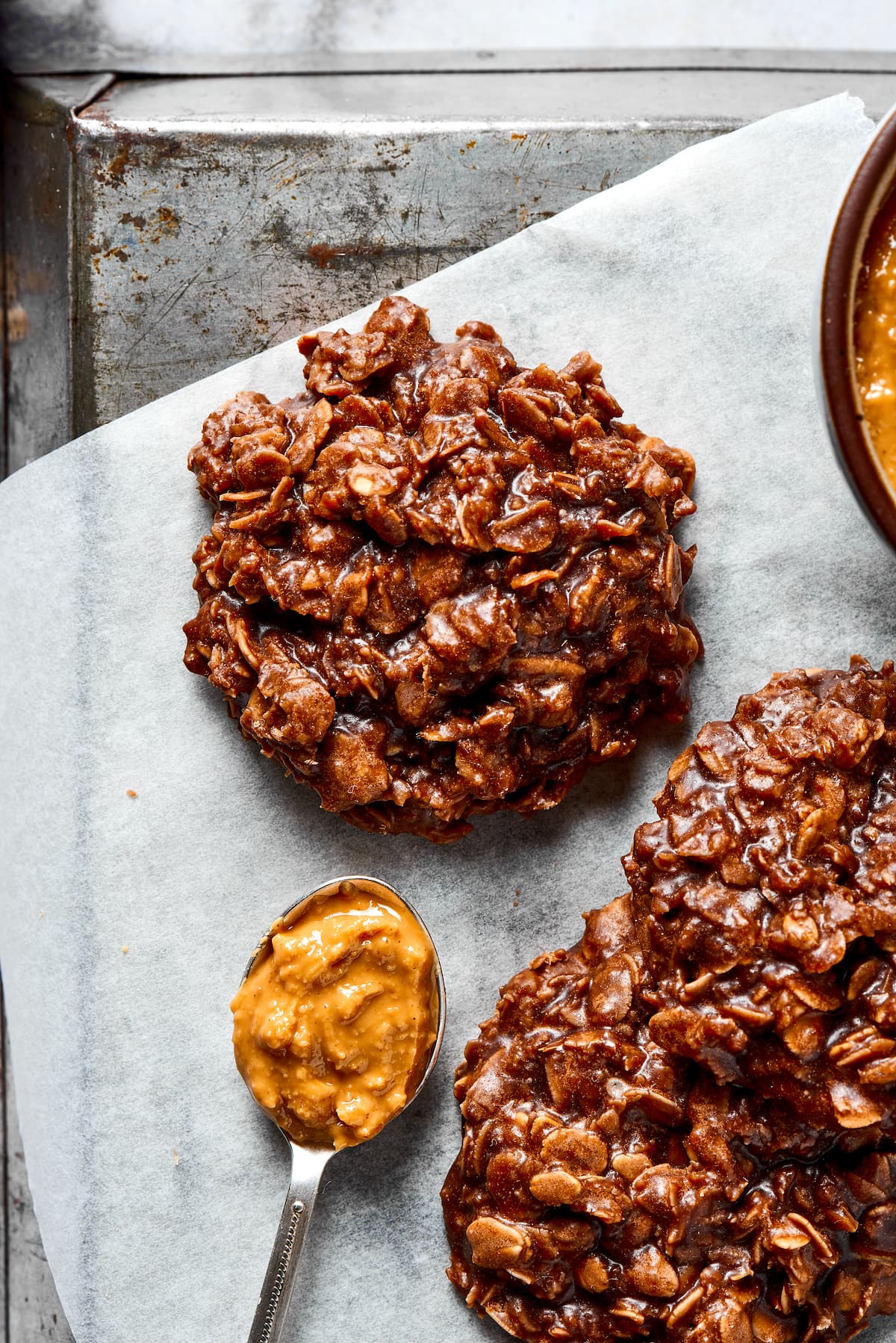 Variations
Here are a few changes and additions that you can make to these no bake cookies if you want to try something new. 
Use chunky butter. This recipe calls for creamy peanut butter, which makes for a smooth cookie. However, if you like some different textures in your cookies, chunky peanut butter is a good way to add some crunch. 
Try a different nut butter. Peanut butter is a pretty traditional cookie flavor, but you can also use other nut butters in this recipe. Swap out the peanut butter in favor of almond butter or cashew butter and you'll have a very different – but equally tasty – no bake cookie. 
Add dried fruit. These cookies aren't lacking for flavor, but you can dial it up a notch by adding some dried fruit when you add the oats. I think these cookies taste amazing with dried cherries. 
Sea Salt– sprinkle the cookies with a little flaky sea salt!
How to Store No Bake Cookies
These cookies will last for 3 days at room temperature, or for 7 days in the fridge. Just make sure that you store them in an airtight container or bag, and don't leave them in direct sunlight. 
Can This Recipe Be Frozen?
You can absolutely freeze these cookies. Store them in an airtight container in the freezer for up to 6 months. For best results, individually wrap them in plastic wrap to prevent freezer burn. Thaw in the fridge or at room temperature.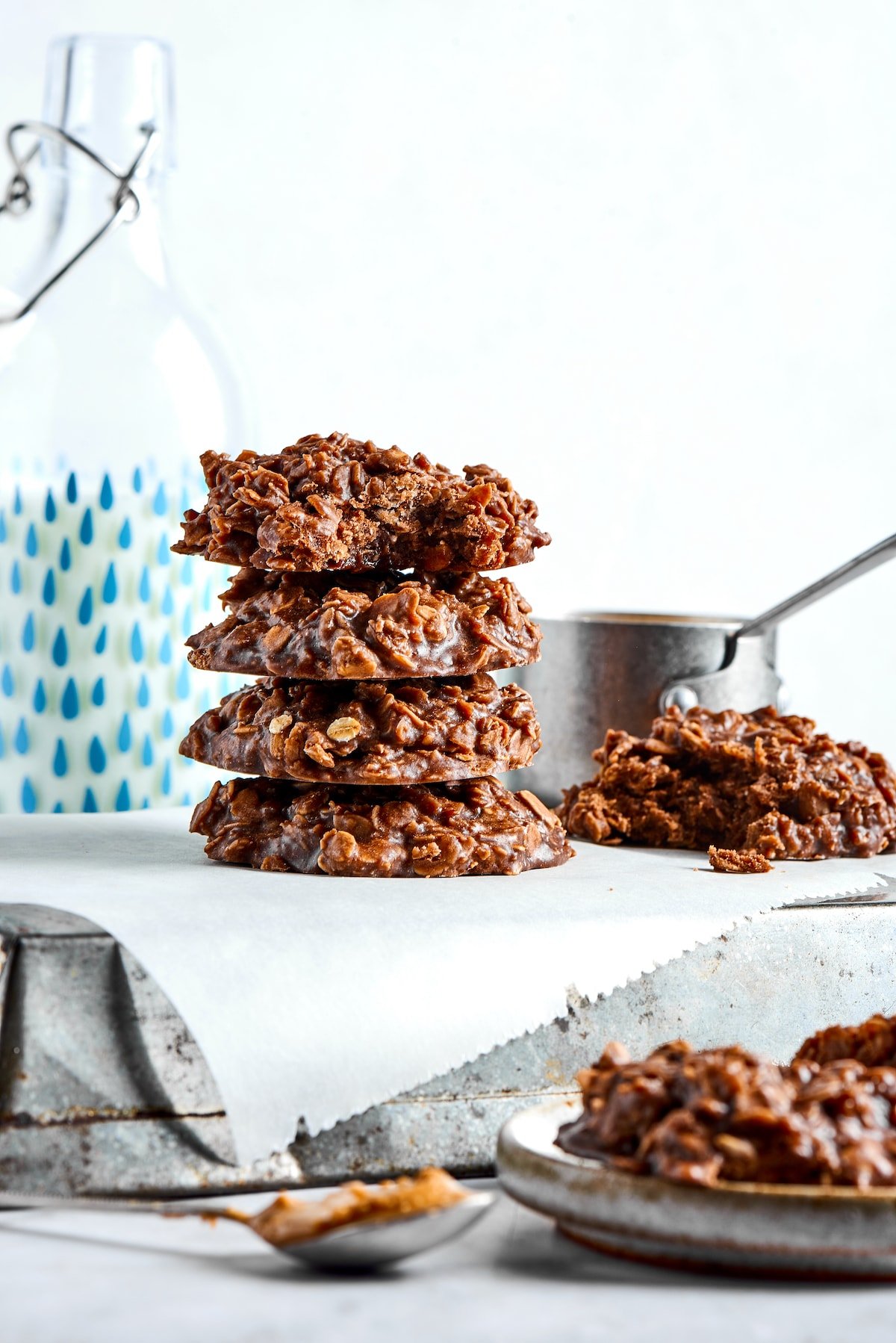 More Cookie Recipes
If you enjoyed eating these chewy no bake cookies, then check out some of my other favorite cookie recipes to try. 
Find all of my cookie recipes HERE! There are LOTS to choose from!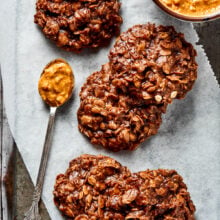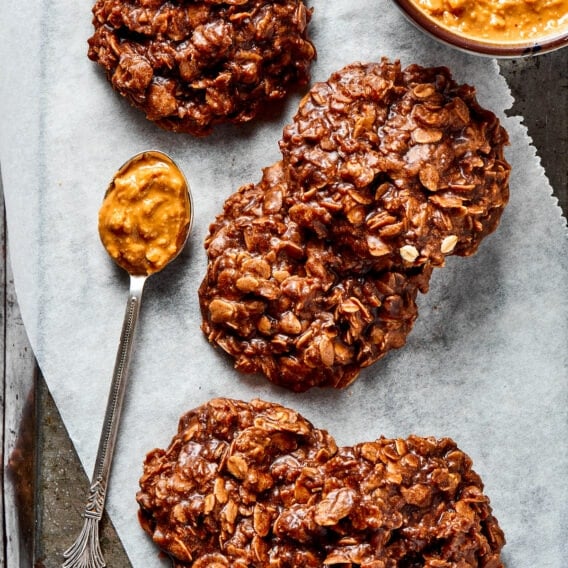 Cookies
No Bake Cookies
These classic No Bake Cookies are jam-packed with chocolate, peanut butter, and oatmeal, and are surprisingly easy to make. You don't even have to turn on the oven! They are a family favorite!
1/2

cup

unsalted butter,

cut into tablespoon pieces

2

cups

granulated sugar

1/2

cup

milk

1/4

cup

unsweetened cocoa powder

1/2

cup

creamy peanut butter

2

teaspoons

pure vanilla extract

1/2

teaspoon

kosher salt

3

cups

quick oats
Line two large baking sheets with parchment paper or silicone baking mats. Set aside.

Place the butter, granulated sugar, milk, and cocoa powder in a medium saucepan. Over medium heat, bring to a boil, stirring occasionally. Once the mixture is at a rolling boil, boiling around the edges and in the middle, boil for one minute.

Remove the pan from the heat and stir in the peanut butter, vanilla, and salt. Stir until peanut butter is melted and smooth. Stir in the oats.

Drop spoonfuls of the mixture (about 2 tablespoons per cookie) onto the prepared baking sheets, and let sit at room temperature until cooled and hardened, about 20 to 30 minutes.
Store the cookies in an airtight container for up to 3 to 4 days on the counter or in the fridge.
Serving: 24g, Calories: 173kcal, Carbohydrates: 25g, Protein: 3g, Fat: 8g, Saturated Fat: 3g, Polyunsaturated Fat: 1g, Monounsaturated Fat: 3g, Trans Fat: 0.2g, Cholesterol: 11mg, Sodium: 75mg, Potassium: 89mg, Fiber: 2g, Sugar: 18g, Vitamin A: 126IU, Calcium: 16mg, Iron: 1mg
Have you tried this recipe?
Leave a comment below and share a photo on Instagram. Tag @twopeasandpod and hashtag it with #twopeasandtheirpod