This post may contain affiliate links. Please read my disclosure policy.
This no-bake chocolate pots de crème recipe comes together with just 20 minutes of active prep time and features a silky-smooth chocolate custard topped with amaretto whipped cream. No baking required!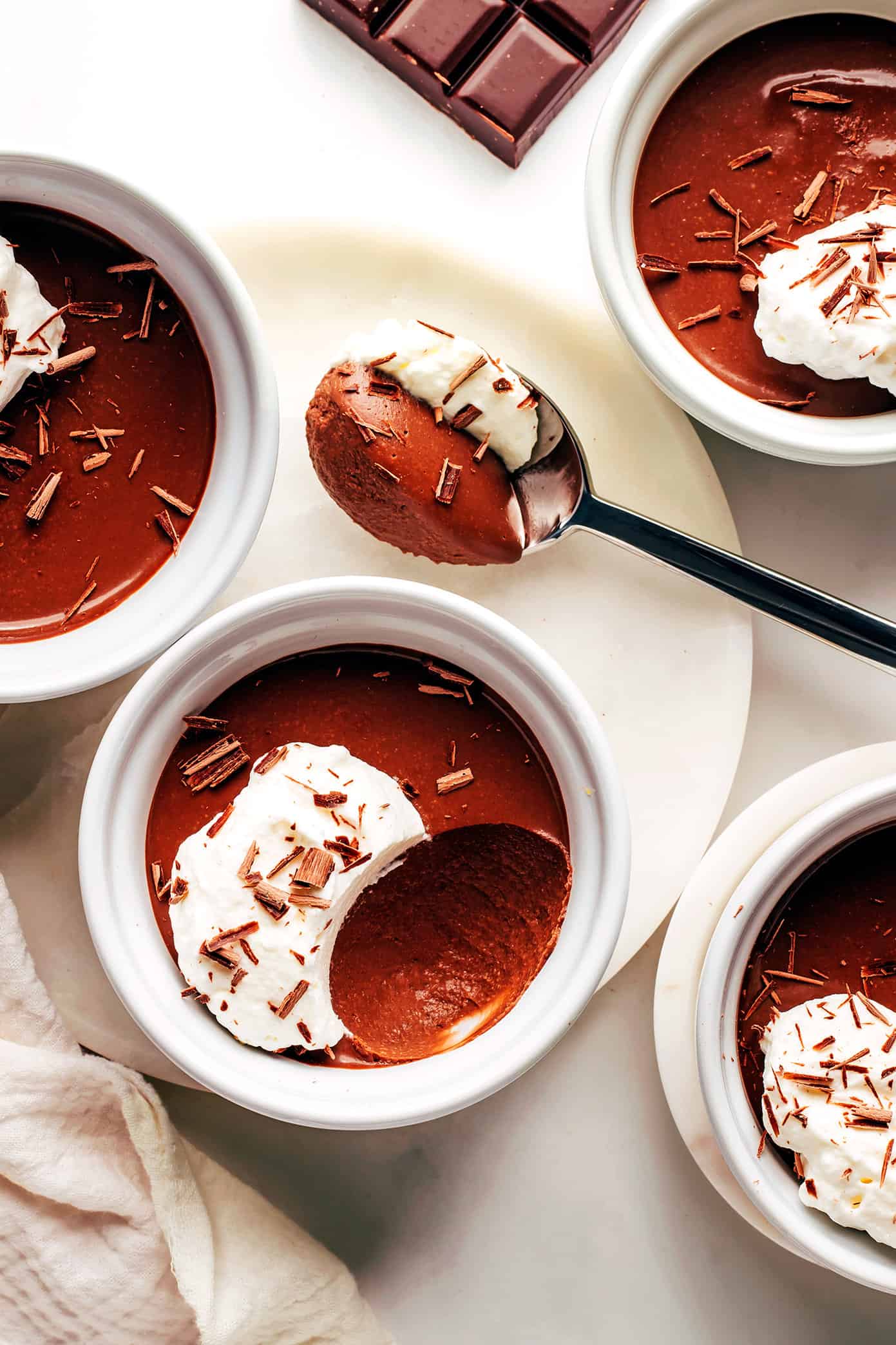 So lovely, so decadent, and so (surprisingly!) simple. ♡
This no-bake chocolate pots de crème recipe has become one of my favorite make-ahead desserts lately for easy entertaining. They're incredibly quick and easy to prep with just 7 basic ingredients. And thanks to a simple stovetop technique, there's no baking required with this shortcut version of the classic French dessert — just pour the chocolate custard into some cute ramekins, refrigerate until chilled, and serve. Et voilà!
I love topping our chocolate pots de creme with a quick batch of homemade whipped cream, which you're welcome to spike with a splash of amaretto or bourbon if you'd like. And of course, feel free to add some chocolate shavings, berries, or a sprinkling of nuts as a garnish too. However you serve these luxurious little pots de crème, I'm certain your friends and family are going to absolutely adore them.
So grab your favorite bar of chocolat and let's make a quick batch!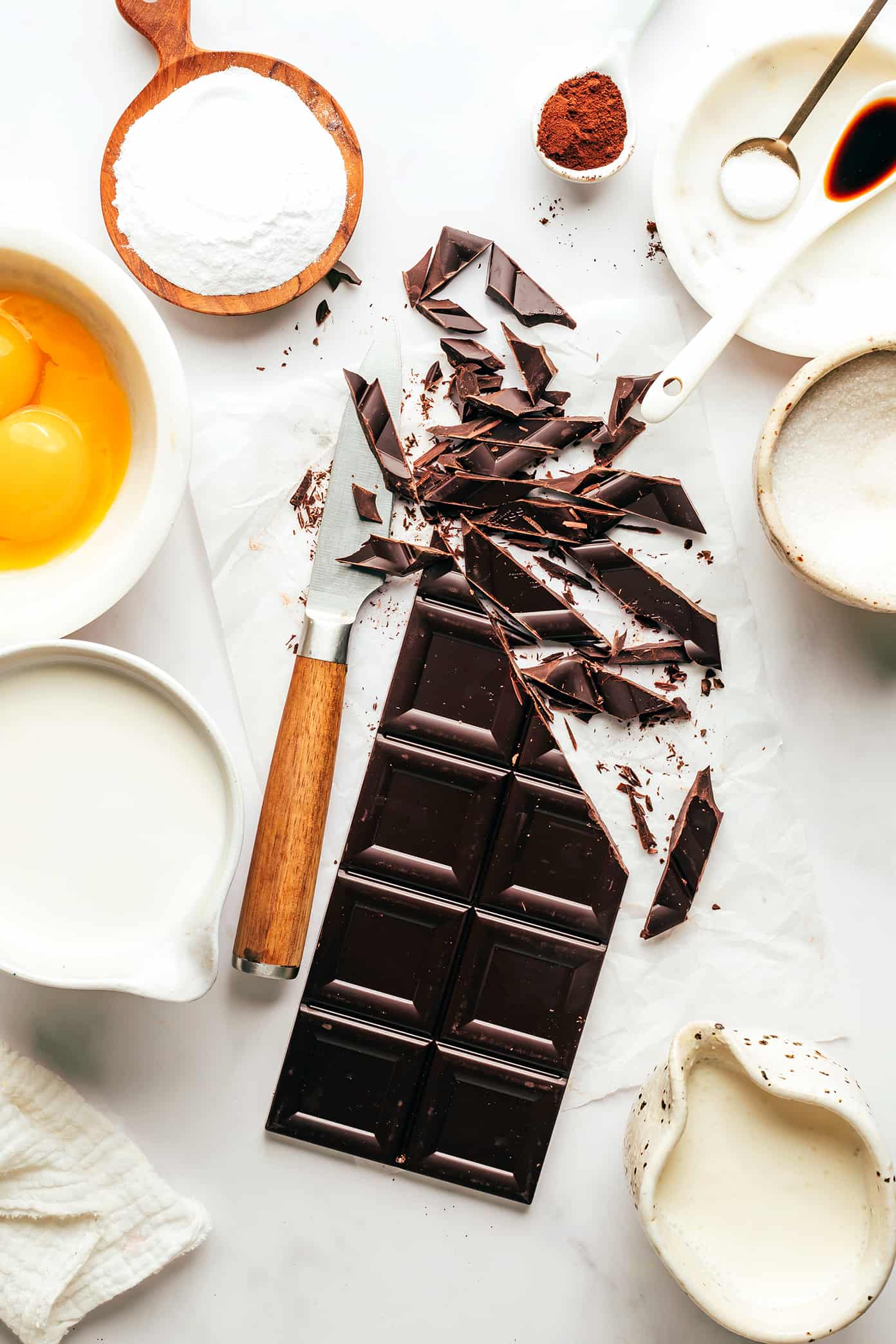 Chocolate Pots de Crème Ingredients
Here are a few notes about the chocolate pots de crème ingredients that you will need to make this recipe:
Half and half: We will use half and half as the base for our custard. (Or if you don't have half and half on hand, you can use 3/4 cup heavy cream plus 3/4 cup whole milk.)
Egg yolks: Egg yolks will help to thicken the custard.
Bittersweet chocolate: I recommend chopping up a chocolate bar that contains at least 70% cacao, since the bitterness will be balanced by the cream and sugar in this dessert. But you're welcome to use any dark, semisweet or bittersweet chocolate that you prefer. (Semisweet chocolate chips will work just fine here too!) We will melt most of the chocolate into the custard, but then be sure to save some extra shavings to sprinkle on top as a garnish, which you can either create using a peeler or just chop finely with a knife.
Sugar: I make this recipe using basic white granulated sugar, but you are welcome to use whatever sweetener you prefer.
Vanilla extract: A teaspoon of vanilla helps to round out these flavors.
Espresso powder: I also love adding a hint of espresso powder (different than ground espresso!) to chocolate desserts, which helps to bring out the richness of the chocolate flavor without making the dessert taste like coffee.
Fine sea salt: We will season the custard with fine sea salt. But you're welcome to also sprinkle some flaky sea salt on top if you'd like.
Whipped cream (optional): I love topping pots de crème with a dollop of whipped cream (made by beating together heavy cream and powdered sugar). I especially love adding a hint of amaretto or brandy or bourbon to the whipped cream for this particular recipe, but you're welcome to leave out the extra booze if you prefer.
Extra garnishes (optional): Feel free to also sprinkle some fresh berries, chopped nuts, and/or extra chocolate shavings on top as a garnish.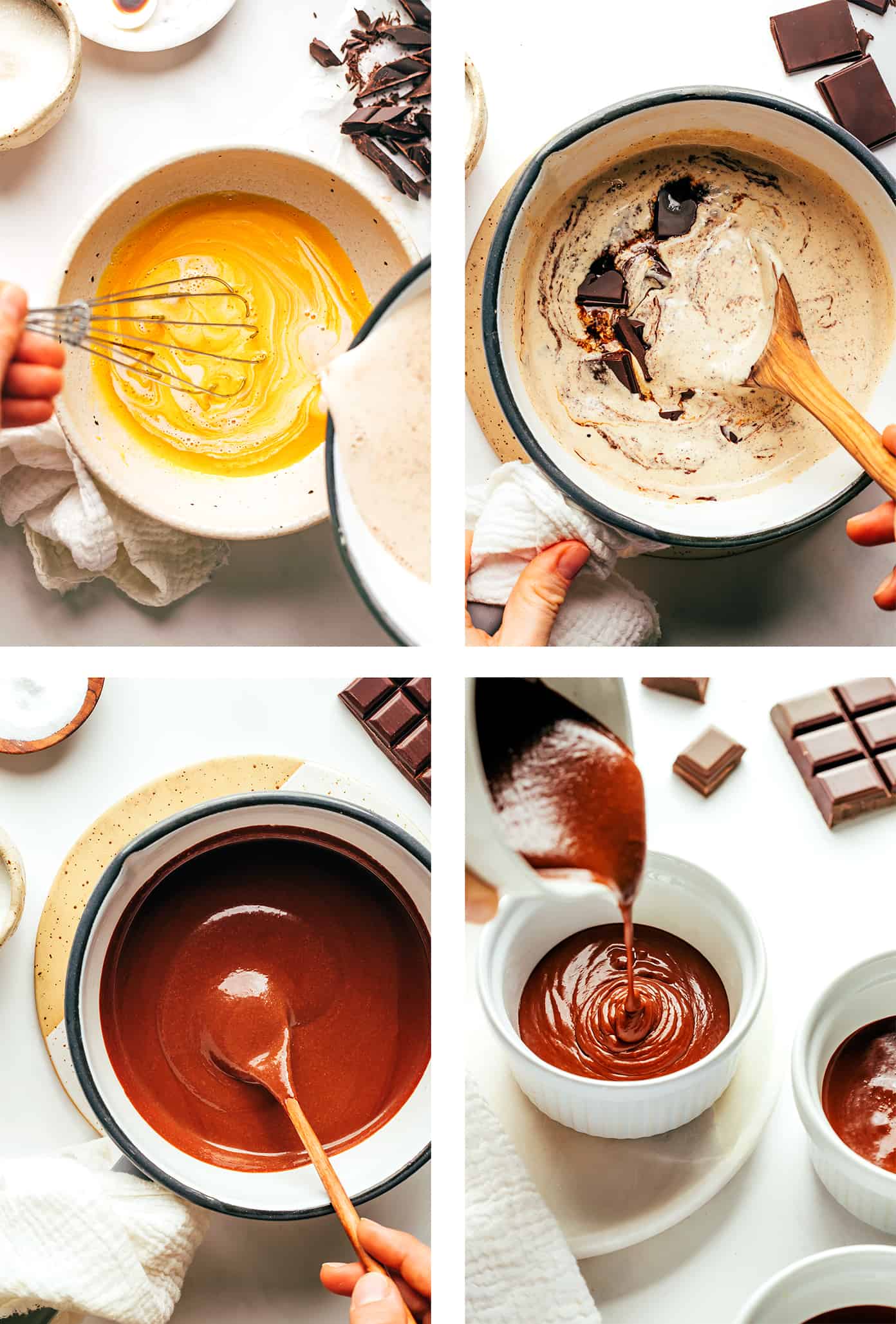 How To Make Pots de Creme
Full detailed instructions for how to make pots de crème are included in the recipe below, but here are the basic steps for this no-bake version:
Temper the eggs. This is the process by which we slowly and carefully combine the cold egg yolks with hot liquid (half and half) so that they will stabilize and help to thicken the custard. To do this, we'll heat the half and half until it is scalding hot (but not boiling). Then while whisking the egg yolks in a bowl with one hand, we will very slowly use the other hand to pour the hot half and half into the eggs. Once the half and half is completely combined, we'll return the mixture to the saucepan and heat it briefly on the stove until it thickens and coats the back of the spoon. (It should measure 175°F.)
Strain. At this point, we'll add all of the remaining ingredients to the egg mixture (chocolate, sugar, vanilla, salt) and stir until combined. Then I recommend pouring the mixture through a fine-mesh strainer into a heat-safe bowl, just in case there are any little bits of scrambled eggs in there that need to be removed.
Chill. Portion the mixture into 4 (6-ounce) ramekins and refrigerate until chilled.
Make the whipped cream (optional). If you'd like to top your pots de creme with whipped cream, whip up a quick batch just before serving. Simply beat together some cold heavy cream and powdered sugar (plus I like to add in a splash of amaretto) until stiff peaks form, then add a dollop to each ramekin.
Serve. Serve chilled, topped with a light sprinkling of chocolate shavings (which you can quickly shave from a chocolate bar using a peeler) and enjoy!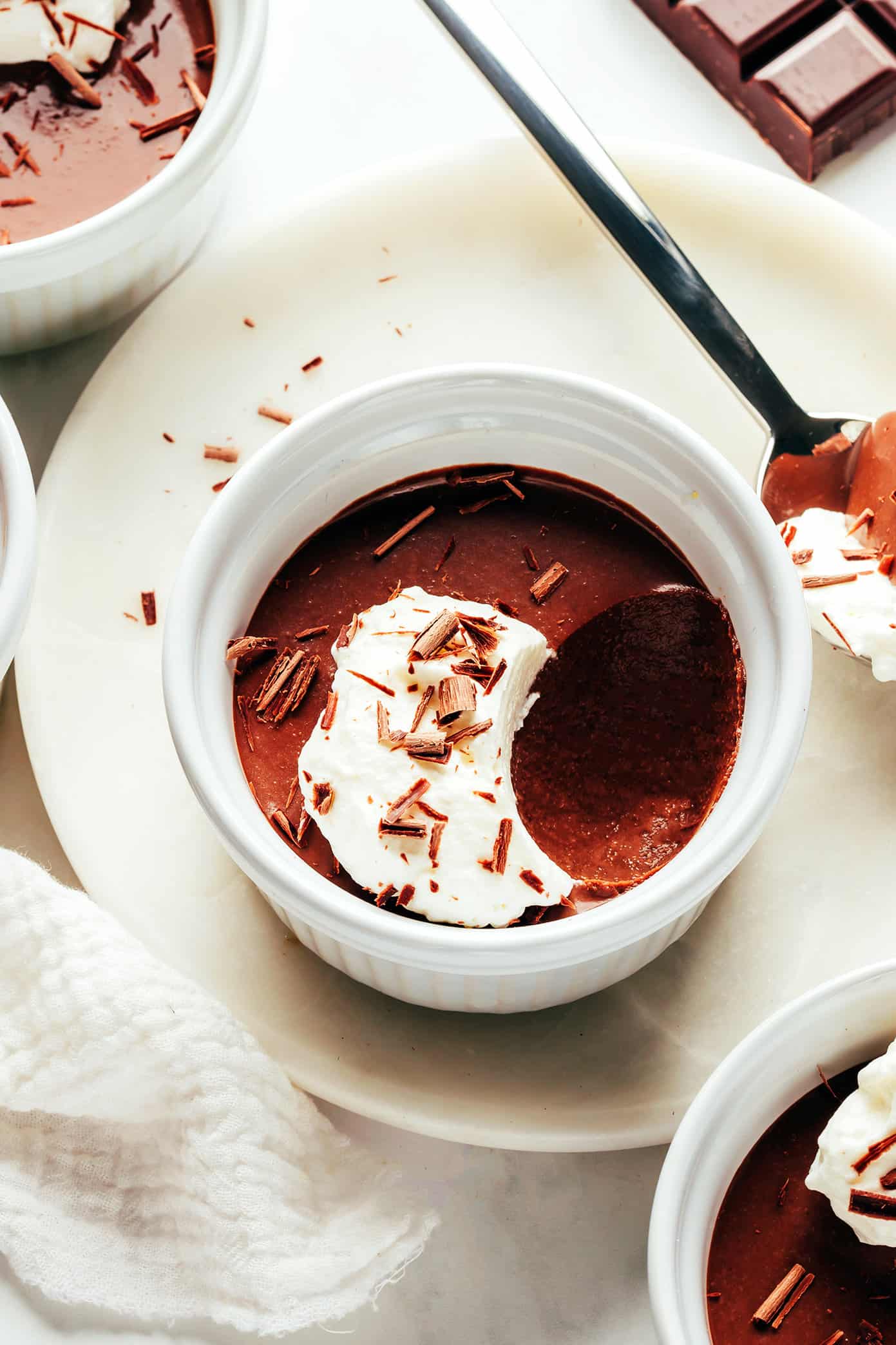 Pots de Crème FAQ
How do you pronounce pots de crème? The singular (pot de crème) and plural (pots de crème) are actually pronounced the same: poh-deuh-crehm. Better to take a quick listen here.
What does pots de crème mean in French? Pots de crème means "pots of cream" in French, referencing the small ramekins traditionally used to make this creamy custard dessert.
Why is it that my pots de crème didn't set? It may just be that they have not completely chilled. Otherwise, if the pots de creme seem runny, it's likely that they did not thicken enough in Step 1.
Do pots de creme contain raw eggs? Nope, the eggs are cooked (past the recommended 160°F) in Step 1.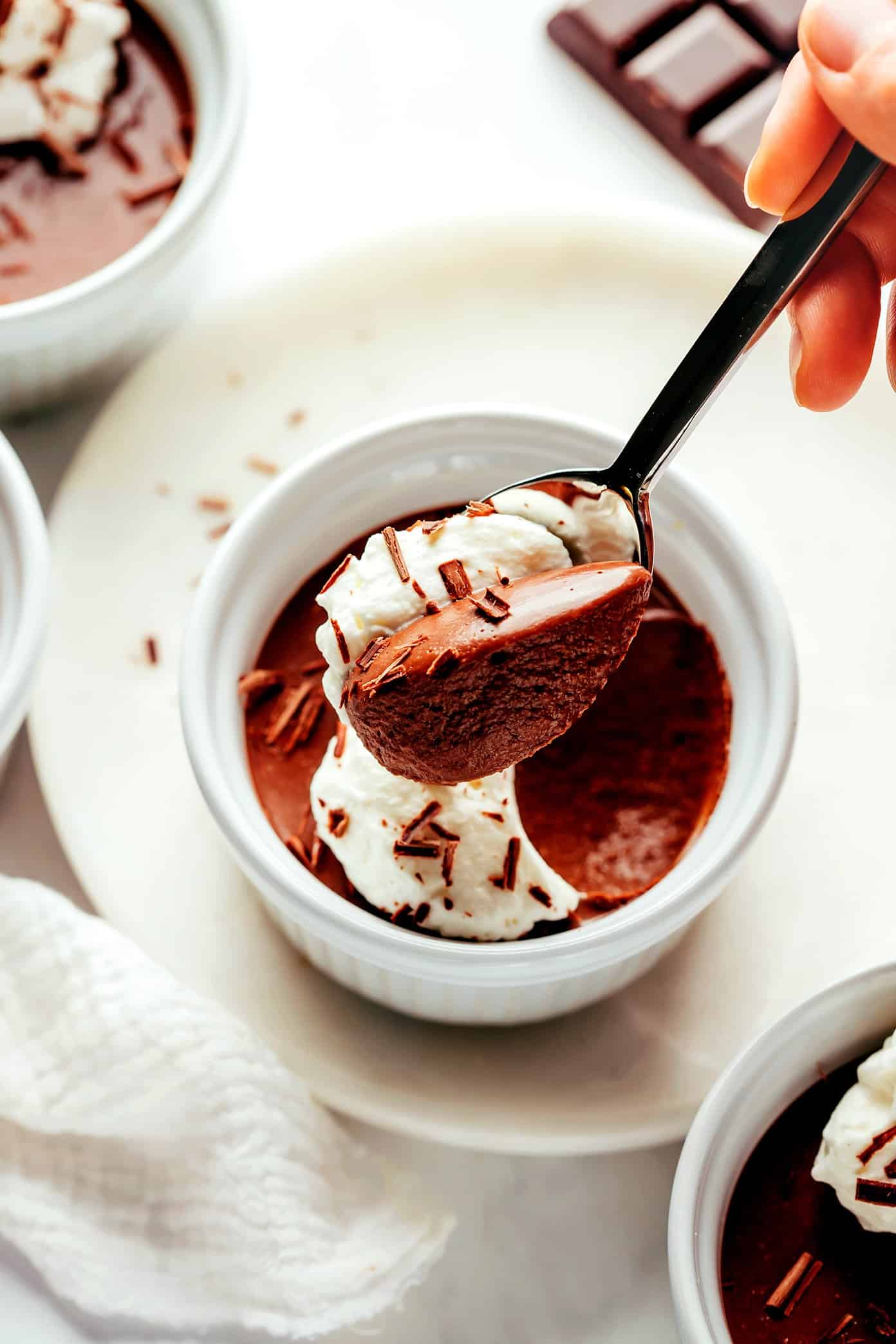 More Chocolate Dessert Recipes
Looking for more amazing chocolate dessert recipes to try? Here are a few of our faves:
Print
---
Chocolate Pots de Creme Ingredients
1 1/2 cups

half and half

1 teaspoon

espresso powder

(optional)

4

large egg yolks

6 ounces

bittersweet chocolate, broken into pieces

(plus extra shavings for garnish)

3 tablespoons

granulated sugar

1 teaspoon

vanilla extract

1/2 teaspoon

fine sea salt
Amaretto Whipped Cream Ingredients
1/2 cup

cold heavy whipping cream

2 tablespoons

powdered sugar

1 tablespoon

amaretto
---
Temper the eggs.

Whisk together the half and half and espresso powder in a small saucepan. Heat over medium-low heat until the mixture is scalding hot (just below simmering). Meanwhile, whisk the eggs in a small bowl. Once the half and half is ready to go, use one hand to very, very slowly pour the milk into the eggs while whisking the eggs with your other hand. Return the milk mixture to the pan. Reduce heat to low and whisk until the mixture noticeably thickens, around 1-2 minutes. (The mixture should coat the back of a spoon or measure around 175°F.) 

Mix in remaining ingredients.

Remove pan from heat. Add in the chocolate, sugar, vanilla and salt and whisk until the chocolate is melted and everything is just combined.

Strain (optional).

Strain the mixture through a fine mesh strainer into a separate mixing bowl to remove any small clumps.

Chill.

Portion the mixture evenly into four 6-ounce ramekins. Refrigerate until set, at least 1 hour.

Make the whipped cream.

Using a hand mixer or stand mixer (with a whisk attachment), beat the heavy cream, powdered sugar and amaretto together on medium-high speed for 3-4 minutes, or until soft peaks form.

Serve.

Serve the chocolate pots de creme topped with the amaretto whipped cream and a sprinkle of chocolate shavings. Enjoy!
---
---
Notes
Time: The prep time listed here may be longer, depending on how long it takes your pots de creme to completely chill in the refrigerator.