Yankee pot roast is the perfect warming dish on a cold winter day. This pot roast is not only delicious; it's the very essence of a New England kitchen. As essential to surviving a cold winter in that region as a pair of warm fluffy slippers and snow tires. However, if you don't live in New England or never need to put snow tires on your car, you can still enjoy this Yankee pot roast recipe.
This traditional dish is a classic combo of the tenderest beef and seasoned vegetables in a rich sauce. If Yankee pot roast isn't the very definition of comfort food, I don't know what is!
This post contains affiliate links. As an Amazon Associate, I earn from qualifying purchases.
What Is a Pot Roast?
Pot roast, as the name suggests, is a roast cooked in a pot, usually seared and then simmered in liquid with herbs and spices. In the last stage of cooking, vegetables are added for both interest and flavor. This way of slow cooking meat in liquid is known as braising and is centuries old.
What Is Yankee Pot Roast?
Yankee pot roast history has provided us with an amalgam of one part ingenuity and two parts thrift. Savvy New England cooks understood that less than prime cuts of meat (inexpensive, gristly, tough, and full of connective tissue and fat) would obligingly submit to a long gentle cooking process.
In low and slow cooking, the connective tissue gets converted to gelatin, and the result is tender, pull-apart meat and a smooth, silky sauce.
And whatever vegetables might be lingering in the root cellar would contribute to a delicious and hearty meal. A good Yankee pot roast emphasizes the New England traditions of simplicity and patience rewarded.
Leaf through any New England cookbook first published in the last hundred or so years, and you'll be hard-pressed to discover one without a Yankee pot roast recipe.
In his combined memoir and cookbook Grandma's Cooking (Gramercy Publishing, 1955), author Allan Keller reminisces about his boyhood and his Connecticut grandmother's unforgettable Yankee pot roast. He described how she would begin by browning the meat in a piece of suet the size of a large coffee cup, compliments of the local butcher. Keller stated:
Like any great masterpiece, a Yankee pudding, pie, or roast is not dashed off in a trice. But when the lid is lifted and the aromas drift through the kitchen, it is like the spring that follows a hard, cold winter.
Why You Should Try This Recipe
Now that you know what a Yankee pot roast is, this best Yankee pot roast recipe makes a perfect meal with tender meat and veggies in gravy for a comforting and hearty feast.
This is an absolutely wonderful dish with rich, savory broth and perfectly cooked beef that is fall-apart tender. Plus, you can't beat the ease of making this recipe or cleaning up afterward.
Yankee Pot Roast Recipe – Ingredients You Will Need
The ingredients for this Yankee pot roast are simple and inexpensive. Here's your nothing-fancy list:
Chuck roast
Beef broth
All-purpose flour
Carrots
Onions
Rosemary
Salt
Pepper
How to Cook This Best Yankee Pot Roast Recipe
Yankee pot roast history has given us this New England classic that's easy enough for any home cook to prepare. Here are the simple steps:
Brown the beef in a large Dutch oven or heavy pot over medium-high heat with oil or a combination of olive oil and butter.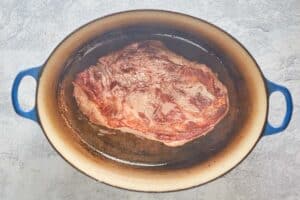 Pour in the beef broth.
Cover and cook over low heat for 2½ hours.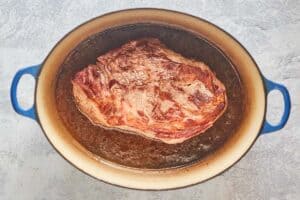 Add the carrots, onions, salt, pepper, and rosemary. 
Cook covered for another hour.
Remove the beef and vegetables.
Make gravy with flour and water.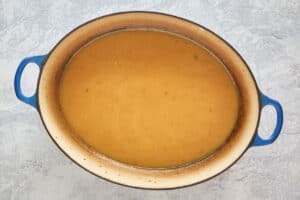 Serve the fork-tender roast with the vegetables and gravy.
Garnish with chopped fresh parsley if desired.
Note: If your veggies aren't done but the meat is, remove the meat from the pan and simmer the veggies on the stove for an extra 10 minutes or so.
Recipe Variations
This Yankee pot roast recipe is very flexible. Here are some ideas for variations:
Vary the vegetables – parsnips, turnips, celery ribs, and rutabaga all work well.
Add a few garlic cloves along with the vegetables.
Add more herbs with the vegetables – a bay leaf or sprigs of fresh thyme are great choices.
If you want a little extra flavor in your pot roast, try adding a cup of coffee during the baking process.
A tablespoon of tomato paste or prepared horseradish in the gravy adds another depth of flavor.
You can also add some diced tomatoes or some red wine.
Yankee Pot Roast Frequently Asked Questions
What is the best meat to use for pot roast?
A boneless chuck roast is typically used, but a blade roast or even short ribs also work well. You can also opt for beef brisket. Just be sure to cut it across the grain; otherwise, it will be stringy. 
Can meat other than beef be used?
Yes, pork shoulder and lamb shanks are perfect for braising. And, for something different, you can also use venison shoulder.
Is it necessary to sear the meat first?
Yes, sear the meat to get some good color before the slow braising process begins. The surface of the meat gets caramelized and will impart a rich flavor to the dish. Plus, the browning process helps to lock in the juices.
When is it best to add the vegetables?
Add the veggies about one hour before the end of the cooking process to ensure they will not be too soft (unless you prefer them that way).
Can you use cornstarch instead of flour to make the gravy?
You can but add cold water and mix it thoroughly before adding it to the pot.
What is the best pot to use for this Yankee pot roast recipe?
You need a heavy, wide, fairly shallow pot with a tight-fitting lid, such as a Dutch oven. Because it is heavy, a Dutch oven can maintain a constant temperature either in the oven or on the stove for a long time. Plus, the tight-fitting lid ensures heat remains in the pot.
Why is my pot roast tough?
Pot roast that is undercooked will be tough and chewy. If you use tougher or bigger cuts of beef (other than a chuck roast), you may need to increase the cooking time to give the meat fibers plenty of time to break down and become tender and juicy.
Why is my pot roast dry?
Cooking the meat for too long can result in a dry pot roast. This often happens when a crock pot or instant pot is used. This is another reason why a Yankee pot roast Dutch oven style works so well.
What to Serve With a Yankee Pot Roast
With enough vegetables, a Yankee pot roast Dutch oven style is almost a meal in itself. However, here are some serving suggestions:
How to Store Leftover Pot Roast
The beauty of this Yankee pot roast recipe is that you can make it a day in advance; the meat will only get better as it sits in the braising liquid.
Store leftover pot roast in an airtight container in the refrigerator for up to 3 to 4 days. Make sure the gravy liquid at least partially covers the beef so that it won't dry out.
Wrapped tightly, you can freeze leftovers for up to 2 months. However, when thawed, the cooked vegetables will tend to have a mushy and watery texture.
Reheat thawed leftovers in the oven, on the stovetop, or in the microwave.
Leftovers can be used for sandwiches, sliders, stew, or beef and veggie soup.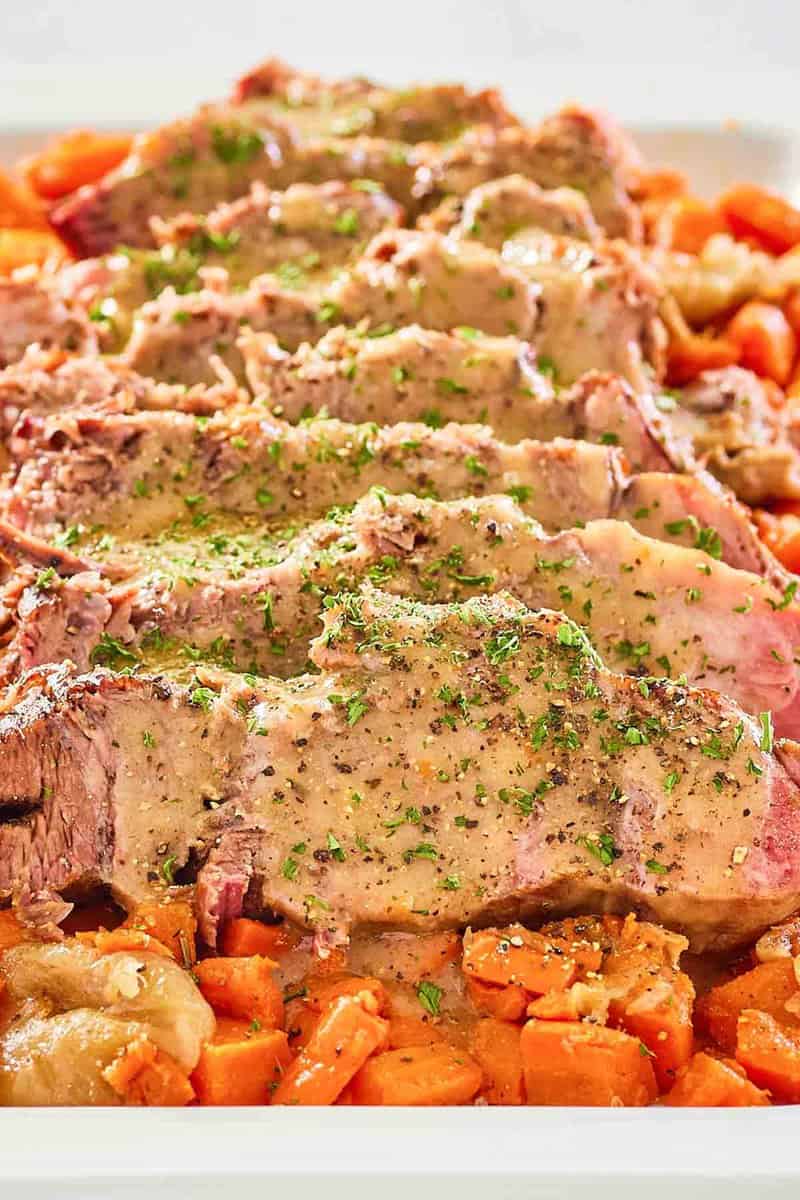 Looking for more great roast recipes? Try These
Favorite Beef Recipes
Check out more of my delicious beef recipes and the best family recipes on CopyKat!
Yankee Pot Roast
Make a perfect pot roast with vegetables and gravy for a hearty and comforting meal.
Print
Pin
Rate
Add to Collection Go to Collections
Servings: 6
Calories: 604kcal
Ingredients
4

pounds

chuck roast

10 1/2

ounce

beef broth

1/4

teaspoon

Pepper

1/2

teaspoon

crushed Rosemary

4

Carrots

chopped lengthwise

8

small

white Onions

1/4

cup

Flour
Instructions
Brown beef on both sides in a large heavy pan. Pour in beef broth. Cover and cook over low heat for 2 hours and 30 minutes. Add salt, pepper, rosemary, carrots, and onions. Cook covered for 1 hour longer or until vegetables are done. Remove beef and vegetables to a serving dish. Blend 1/4 cup of water with the flour; stir flour mixture slowly into pan juices. Cook stirring constantly, until gravy is thickened. Season with additional salt and pepper.
Nutrition
Calories: 604kcal | Carbohydrates: 12g | Protein: 60g | Fat: 34g | Saturated Fat: 15g | Cholesterol: 208mg | Sodium: 433mg | Potassium: 1167mg | Fiber: 1g | Sugar: 4g | Vitamin A: 130IU | Vitamin C: 6.9mg | Calcium: 76mg | Iron: 6.8mg