This website may contain affiliate links and advertising so that we can provide recipes to you. Read my privacy policy.
Every get-together needs a nutritious veggie charcuterie board full of colorful vegetables beautifully displayed all together. Perfect as an appetizer or side dish, this healthy board of fresh veggies is a hit served with a side of hummus and ranch dressing.
I love serving this show-stopping veggie charcuterie board for the holidays. It's great because it's a light snack before a delicious meal. Healthy appetizers are always a crowd-pleaser! Try some more of my favorite healthy appetizers like lettuce wraps, these cute Caprese skewers, or whipped feta dip. I know you'll love them all!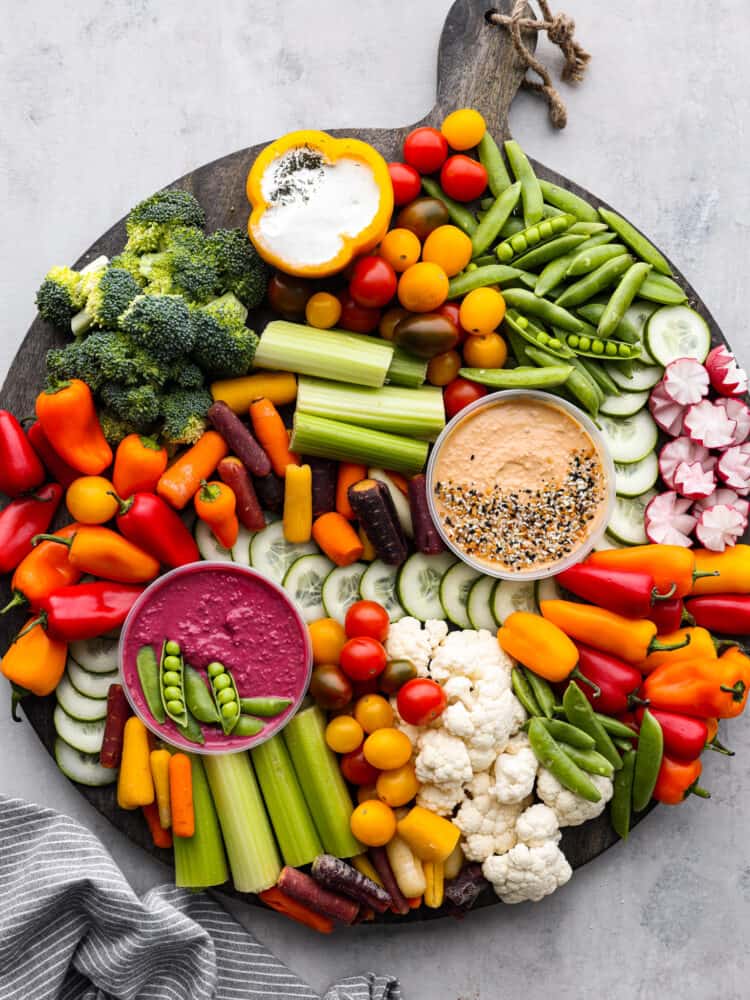 Veggie Charcuterie Board
The beauty of a veggie board is the vibrant colors of the many different vegetables. Fresh veggies dipped in ranch or hummus seem to always be a favorite at my house. This board will satisfy the eyes and the stomach before any meal. Watch your guests gather around this veggie board because it's gorgeous AND delicious!
Charcuterie boards are the BEST way to display food and gather everyone together. I have so many different kinds of boards that I like to make for all kinds of occasions. This vegetable charcuterie board is the best addition to the lineup! I can't wait for you to see how easy it is to put your charcuterie board together. I'll walk you through it step by step! Try making this simple charcuterie board, this Christmas board, or this adorable Halloween board next!
Vegetables Needed For a Veggie Board
All the different colors, shapes, and textures of the vegetables make this charcuterie board stand out. It looks so unique! I prefer bringing this board to a party over a store-bought veggie platter because everyone is always impressed.
Dips Ideas
Hummus: Make my homemade hummus or use store-bought! For a little extra flavor, sprinkle some bagel seasoning on top.
Beet Hummus: Beet hummus is so unique! I love it because it adds vibrant color to the veggie board.
Veggie Dip: Make this dip or my homemade ranch dressing to dip your veggies into.
Veggie Ideas
Mini Sweet Peppers: I love choosing all the colors to add to the board.
Sugar Snap Peas: Slice open a few peas to display because it is SO CUTE!
Radishes: It's fun to cut radishes into shapes.
Cherry Tomatoes: These are great to fill in empty spots on the veggie charcuterie board.
Celery: Crispy and crunchy celery sticks are perfect for dipping.
Broccoli: Broccoli florets have the best texture for making a charcuterie board stand out.
Cucumber: Cut the cucumber into slices for dipping. I like to use English cucumbers because they have fewer seeds in them.
Cauliflower: The pop of white on the board helps balance all the colors.
Rainbow Baby Carrots: Rainbow carrots are great because they have a beautiful organic color that makes the board pop.
Whole Bell Pepper: Stem removed and deseeded for the dip!
How to Make a Veggie Charcuterie Board
There is no wrong way to make a veggie charcuterie board, so be as creative as you would like! Feel free to follow the placement of my vegetables or do your own arranging. I love charcuterie boards because you can't mess them up! Bring this board to your next party then get ready to wow everyone there! You got this!
Wash and Prepare the Veggies: Wash, dry, and then cut the vegetables.
Cut the Pepper For the Dip: Cut the top off the bell pepper and deseed the inside. Then fill your prepared dip inside the cavity of the bell pepper, then place it onto the board.
Place Hummus on the Board: Fill the hummus into small bowls and space them out onto your board.
Arrange the Vegetables: Place the vegetables around the dips and then fill in any holes with cherry tomatoes.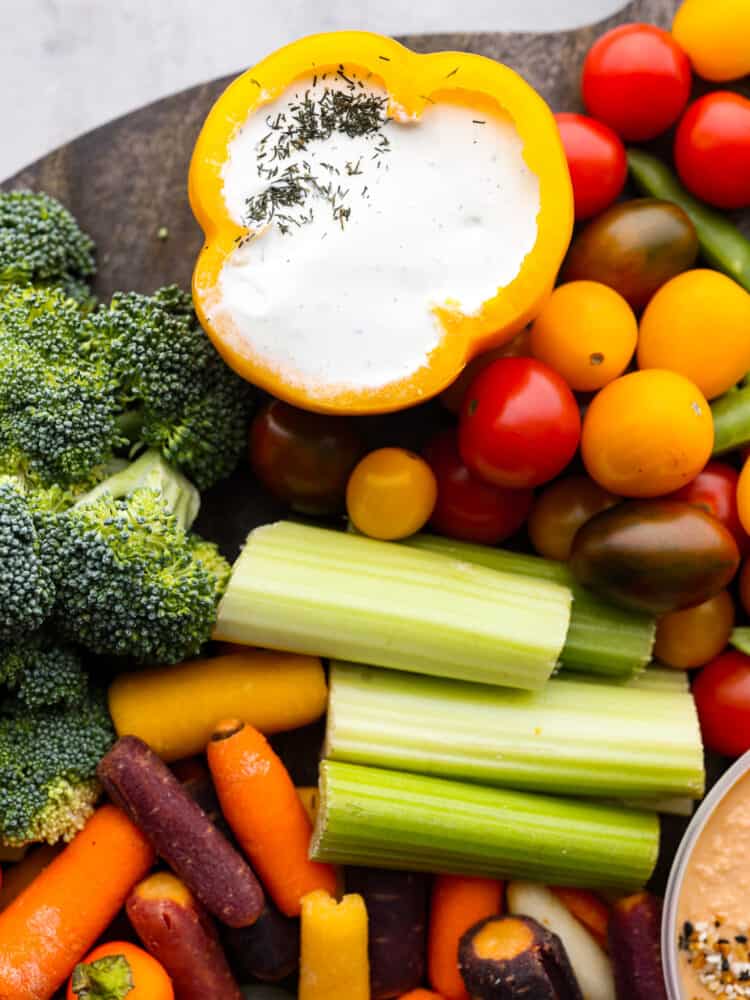 Variations and Add-Ins
Since this is a veggie charcuterie board, it's nice to keep it vegetarian-friendly. You can get creative with your dip flavors. You can also add bread or other items if you like, but keep it healthy and nutritious. I also like to pick additional items that go well with the veggies like olives.
More Dip Ideas: Try adding my black bean hummus or green goddess dressing for dipping.
Add Cheese: Cheese is delicious with veggies! Use bite-sized pieces for easy pickup.
Add Nuts: Nuts like pistachios or walnuts scattered around the veggies would be delicious! Nuts are full of healthy fats and are very nutritious.
Add Bread or Crackers: Slices of bread, a toasted baguette, or crackers would also be yummy!
Olives: Olives are considered a fruit, but the salty and savory flavor would be delicious on this veggie board. Use either green or black olives!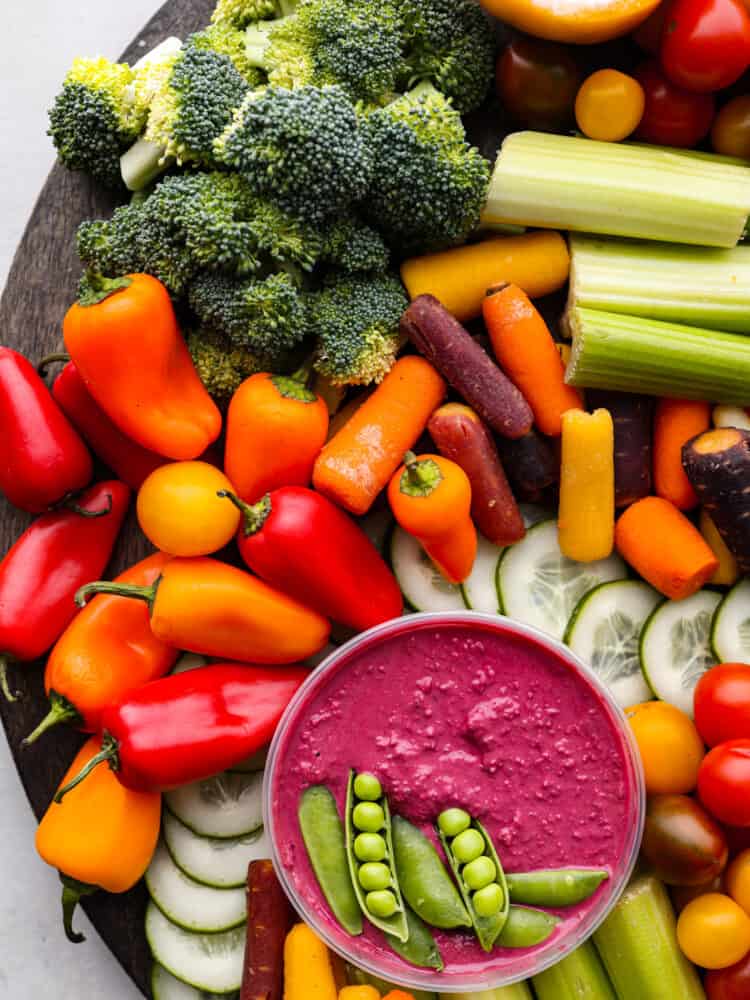 No Wood Board? No Problem!
You don't have to have an expensive wood charcuterie board to achieve this veggie board. The display of veggies will speak for itself, so it doesn't matter what is under it all. Be creative and use whatever you have on hand! Here is a list of ideas for you to create the best veggie charcuterie board.
Baking Sheet: Rectangle shapes work too! Just grab a cookie baking sheet and start arranging your veggies.
Pizza Pan: The round shape does the job! A pizza pan is perfect.
Large Platter: You most likely have a large platter in your cupboard. A large platter for serving your turkey perhaps?
Large Cutting Board: A large cutting board works too! With any luck, it's already wood.
Butcher Paper on the Counter: Slap some brown butcher paper on your kitchen counter then make it look beautiful with your veggies! No one will care at all.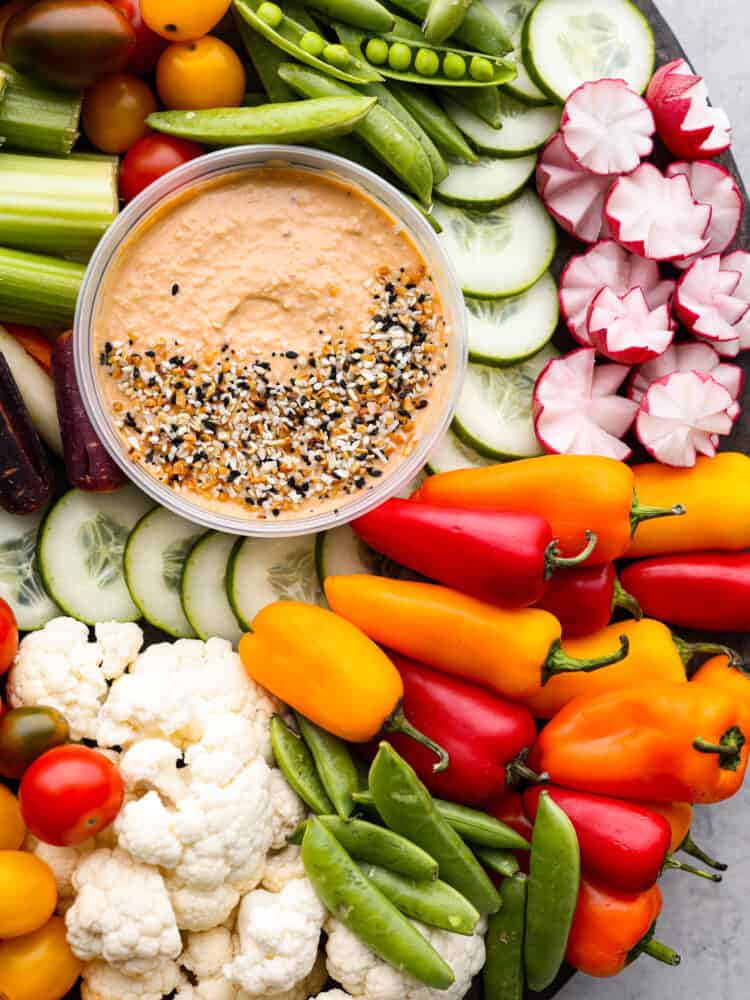 Storing Veggies
This veggie charcuterie board is easy to prep 1-2 days before your event. Most veggies can be sliced, covered, and stored separately in the fridge up to 24 hours in advance.  Be sure to cover them really well to keep the veggies as fresh as possible. I like to spritz the veggies with a water bottle before serving to bring the freshness back!
In the Refrigerator: If you have any leftover veggies and dips, cover them tightly with plastic wrap and store them in the refrigerator for up to 2 days. You can make the dip a couple of days in advance and store it in an airtight container in the fridge.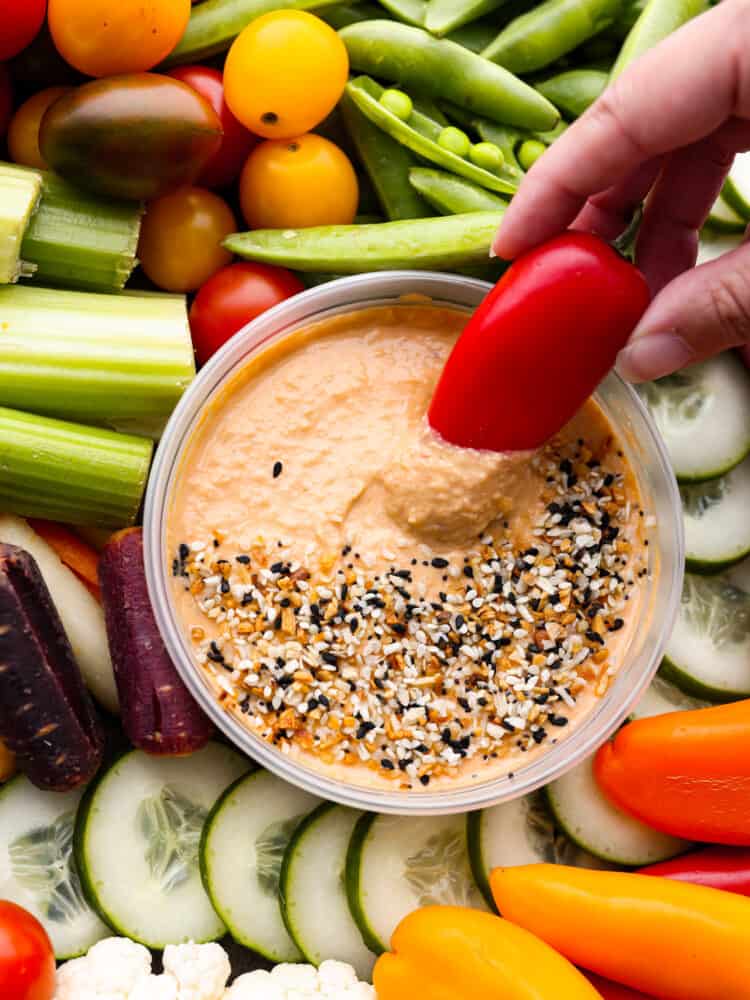 ---
Wash, dry, and cut the vegetables.

Cut the top off the bell pepper and deseed the inside. Fill your prepared dip inside the cavity of the pepper then place onto the board.

Fill the hummus into small bowls and space them out onto your board.

Place the vegetables around the dips and fill in any holes with cherry tomatoes.
---
---
Serves: 10
Serving1cupCalories3kcalCarbohydrates1gProtein0.1gFat0.03gSaturated Fat0.004gSodium0.2mgPotassium25mg (1%)Fiber0.1gVitamin A24IUVitamin C22mg (27%)Calcium1mgIron0.1mg (1%)
All nutritional information is based on third party calculations and is only an estimate. Each recipe and nutritional value will vary depending on the brands you use, measuring methods and portion sizes per household.