Quick Summary
These delicious bite-sized Stuffed Mushrooms are the perfect appetizer for any party! This classic recipe is easy to make and always a crowd pleaser. I bet you can't eat just one!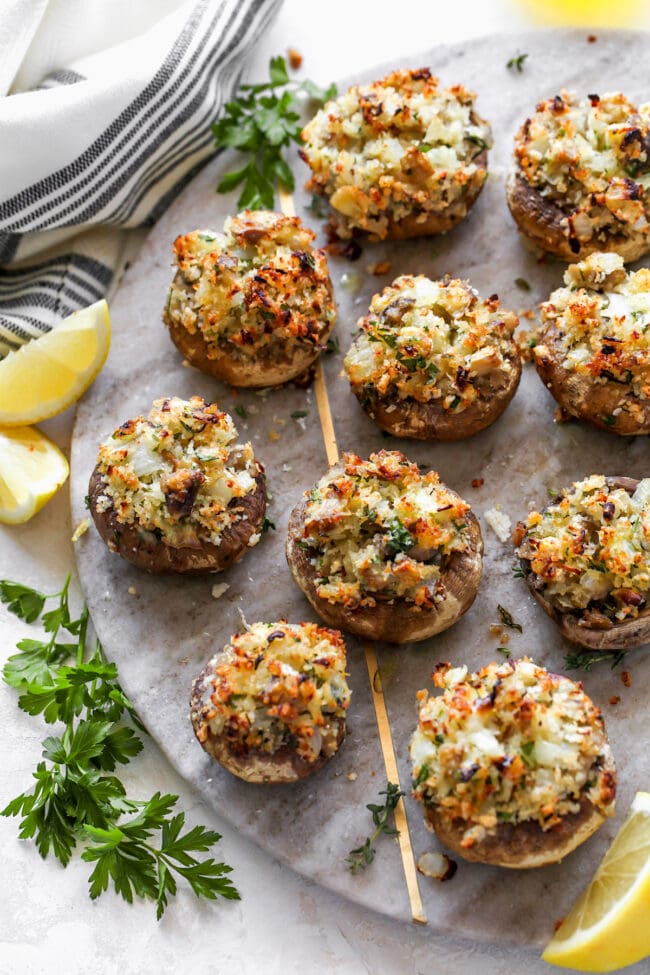 Stuffed Mushrooms might be the best holiday appetizer (along with baked brie)! They're really, really simple to prepare, need minimal oven time, and everyone loves them. It's usually the first empty plate on a table of appetizers!
I love making this easy appetizer year-round, but especially during the holidays. It's a simple dish that will become a favorite tradition in years to come. My friends and family always request them!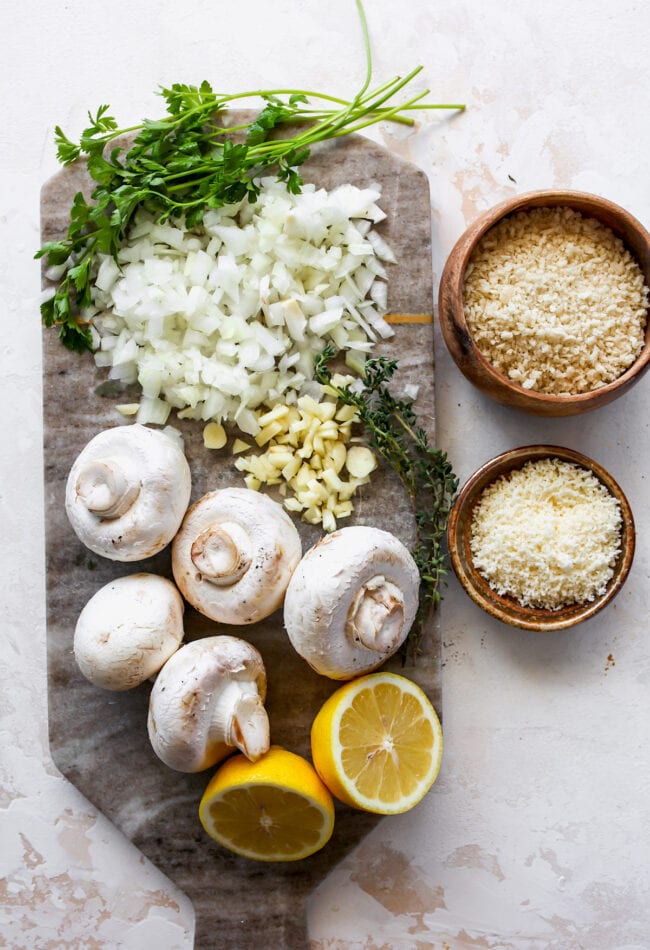 Ingredients
White mushrooms– you will need about 24 mushrooms. I buy a 16 oz package.
Olive oil
Onion
Garlic– a must!
Panko– to make the crunchy topping!
Parmesan cheese– use freshly grated cheese for best results.
Herbs– fresh Italian parsley and thyme.
Lemon zest– lemon really makes the flavors pop!
Crushed red pepper flakes– for a little heat.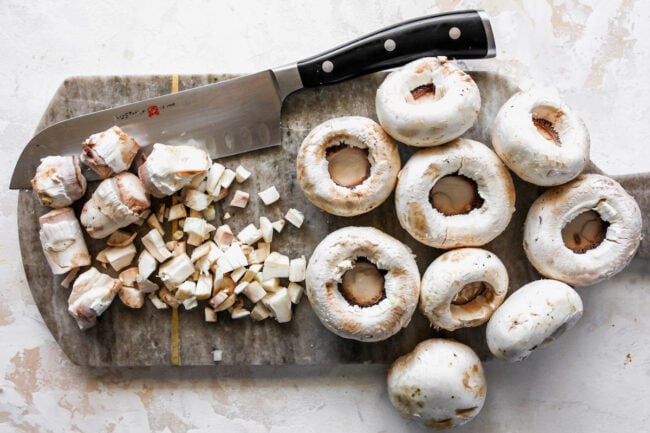 How to Clean Mushrooms
First of all, look for white mushrooms (or baby portobellos) that are medium to large in size so they can hold the filling.
Mushrooms just need a couple quick steps before they're ready for cooking! They're kind of a funny fungi because they act like a sponge. This makes them super versatile and flavorful for cooking, but you don't want to soak them in water!
I recommend using a slightly damp or dry paper towel to wipe the tops off. Then you can pull the stems out–they'll easily pop out of the heads! Now you'll see there's a perfect little pocket for stuffing.
Make sure you save the stems because you will need them to make the filling. I love that this is a no waste recipe!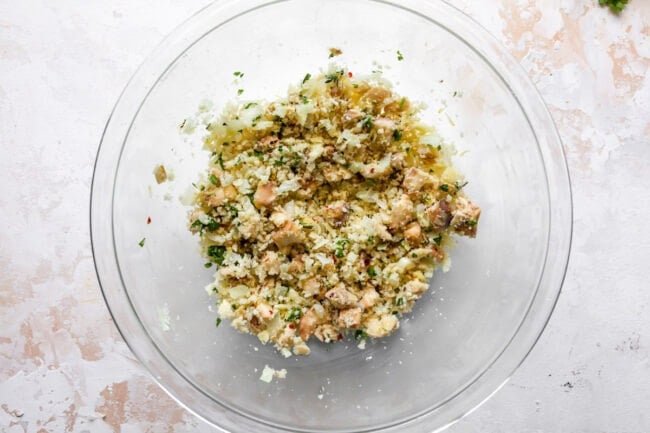 The Filling
The bulk of the filling is made up of the leftover mushrooms stems. Make sure you finely chop them up with a sharp knife. They get sautéed in olive oil with onion and garlic. Your kitchen will smell amazing!
I also add Panko, Parmesan cheese, lemon zest, parsley, and thyme. Don't skip the lemon zest, it really brightens everything up! The filling is simple but the flavors are incredible.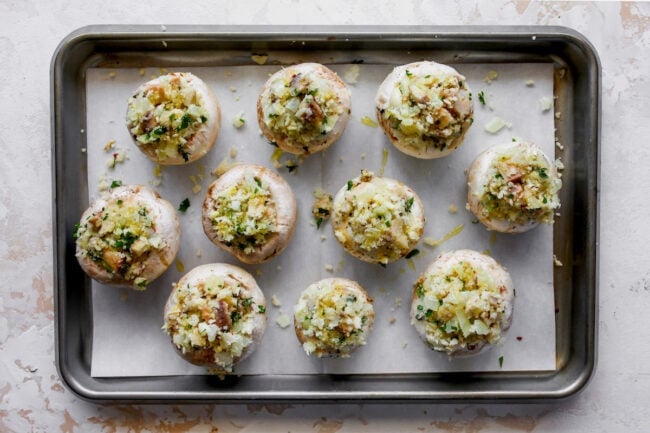 How to Make Stuffed Mushrooms
Place the mushrooms cavity side up on a lined baking sheet and spoon the filling into the insides of each mushroom. Fill each mushroom as high as you can, if some spills out, that is ok, put it back on top and gently press down. Every mushroom will be a different size, so you might need a little more or a little less filling for each mushroom.
When you are done filling the mushrooms, drizzle a little bit of olive oil on top.
Bake for 22 to 25 minutes or until the mushrooms are tender tops are golden brown.
Stuffed mushrooms can be served warm or at room temperature, making them perfect party food!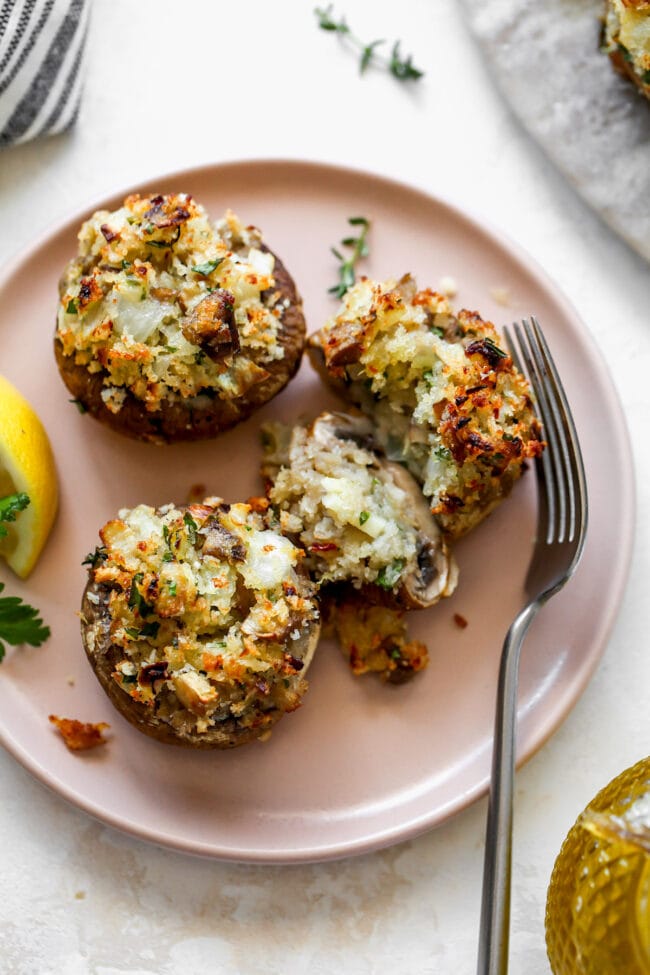 How to Store
Stuffed mushrooms are best the day you make them, but they can be stored in a sealed container for up to 3 days. They will get soggier the longer they sit.
You can reheat the mushrooms in the microwave or in the oven until heated through. You can also reheat them in the air fryer for a few minutes. This will help crisp the topping back up.
More Appetizer Recipes
More Mushroom Recipes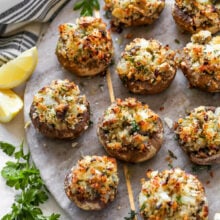 Appetizer
Stuffed Mushrooms
These delicious bite-sized Stuffed Mushrooms are the perfect appetizer for any party! This classic recipe is easy to make and always a crowd pleaser.
16

oz

white mushrooms,

(about 24)

2

tablespoons

olive oil, plus 1 teaspoon,

divided

¼

onion,

chopped

3

cloves

garlic,

minced

½

cup

panko

½

cup

freshly grated Parmesan cheese

1

tablespoon

chopped Italian parsley

½

teaspoon

fresh thyme leaves

1

teaspoon

lemon zest

½

teaspoon

kosher salt

Dash of crushed red pepper flakes
Preheat the oven to 400 degrees F. Line a large baking sheet with parchment paper and set aside.

Carefully remove the stems from the mushrooms. Finely chop the stems and set the caps aside.

In a medium skillet, heat 1 teaspoon of the olive oil over medium heat. Add the onion and chopped mushrooms and cook until tender, about 5 minutes. Add the garlic and cook for one more minute. Remove from heat.

In a medium bowl, combine the panko, Parmesan, parsley, thyme, lemon zest, salt, and red pepper flakes. Stir in the cooked mushroom mixture.

Spoon the filling into the mushroom caps and place the mushrooms on the prepared baking sheet, cavity side up. Drizzle the remaining olive oil over the mushrooms.

Bake for 20 to 25 minutes or until the mushrooms are tender tops are golden. Remove from the oven and serve warm.
Calories: 30kcal, Carbohydrates: 2g, Protein: 2g, Fat: 2g, Saturated Fat: 1g, Cholesterol: 2mg, Sodium: 91mg, Potassium: 68mg, Fiber: 1g, Sugar: 1g, Vitamin A: 32IU, Vitamin C: 1mg, Calcium: 27mg, Iron: 1mg
Have you tried this recipe?
Leave a comment below and share a photo on Instagram. Tag @twopeasandpod and hashtag it with #twopeasandtheirpod
Photos by Dishing out Health