Starbucks Vanilla Sweet Cream Cold Brew is a delicious iced coffee drink made with smooth cold-brewed coffee and sweet vanilla cream. Save money and make this creamy coffee drink at home with my easy copycat recipe.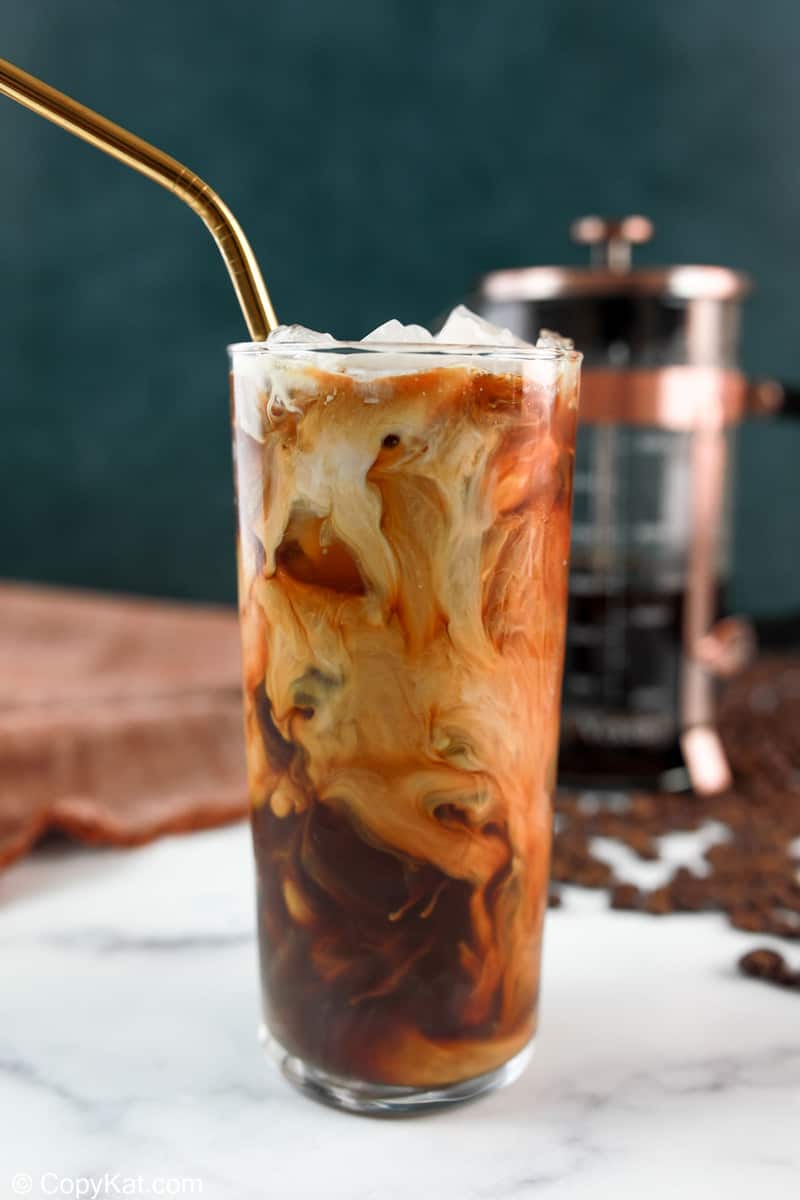 This post contains affiliate links. As an Amazon Associate, I earn from qualifying purchases.
Starbucks Cold Brew with Vanilla Sweet Cream
Starbucks took its delicious nitro cold-brewed coffee and topped it off with sweet cream flavored with vanilla. The combination makes a rich and creamy iced coffee drink you'll want to enjoy over and over again.
But that can get expensive when getting it at the restaurant. So why not save money and make it at home? And you don't need to get big bottles of expensive store-bought coffee syrup either.
All you need to do is to make vanilla simple syrup, mix it with milk and cream, and you have homemade vanilla sweet cream.
Then you'll add that to cold brew coffee, which is also super easy to make. Just steep coffee grounds in cold water overnight. Find out more in my thorough guide on how to make cold brew coffee.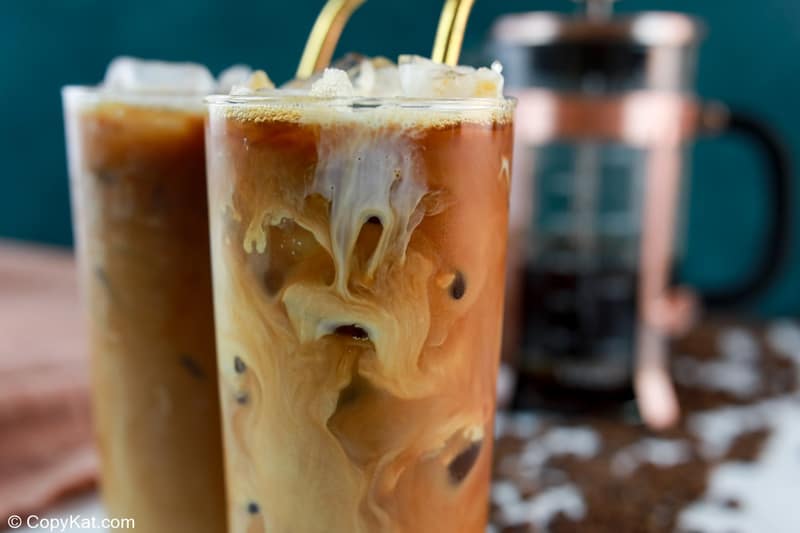 Cold Brew Coffee
Just because the temperature is soaring doesn't mean you have to give up your love for coffee. Cold brew coffee is an enormously popular alternative to traditional iced coffee. With its smooth, mildly sweet flavor and low acidity level, it's the perfect summertime pick-me-up.
But leave it to Starbucks to turn something good into something downright addictive. If you haven't already tried Starbucks Vanilla Sweet Cream Cold Brew, you don't know what you're missing.
How to Make Cold Brew at Home
You can buy premade cold brew in the store, but it's much cheaper to make it yourself. There are all sorts of specialized cold brew makers, but all you really need is a large container, some coffee, and a way to strain it. The secret to making a good quality cold brew that's rich without any hint of bitterness is choosing the proper ground, amount of coffee, and brewing time.
Ideally, you should use coarsely ground coffee. A coarser ground is much easier to filter out, and it gives you a strong brew without over extracting. If the store where you buy your coffee grinds it fresh, ask for a French press ground, or number seven.
You can use the same coffee you use for your automatic drip machine, but you will have to reduce the brewing time to about eight hours, and you shouldn't expect as rich of a flavor.
Brewing time can range from 12 – 24 hours based on how strong you want your coffee. It is good to start with an extraction time of 12 hours and increase it if you find it isn't strong enough for you.
Cold brew systems come with built-in filters, but if you are making your coffee in a jar or other container, you'll have to figure out another way to filter out the grounds. Try straining with a permanent pour-over filter, cheesecloth, fine mesh tea strainer, or even through several layers of paper towel.
Vanilla Sweet Cream Cold Brew Recipe Ingredients
Here's a list of what you need:
Coarsely ground coffee
Water
Sugar 
Vanilla extract
2% milk 
Heavy cream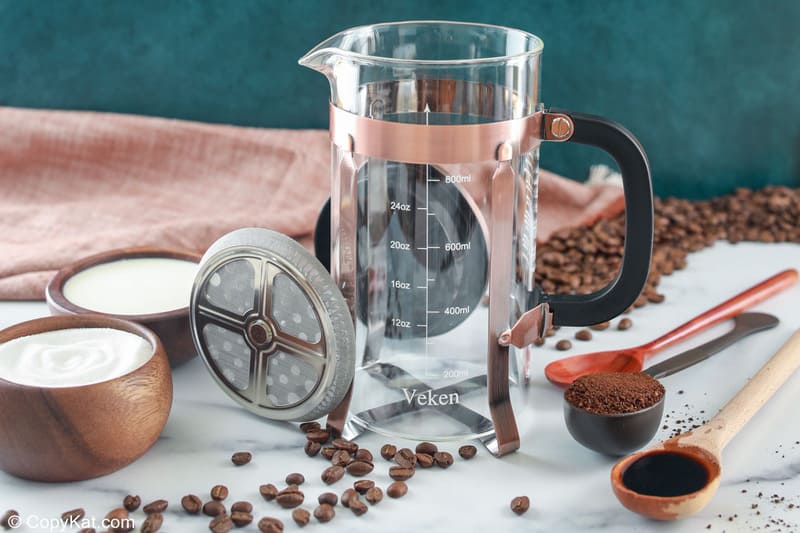 How to Make Starbucks Sweet Cream
The Starbucks sweet cream recipe is just a mixture of vanilla simple syrup, heavy cream, and 2% milk. It's so much better than any creamer you get at the grocery store.
To make vanilla simple syrup:
Add one teaspoon to each cup of simple syrup. If you don't have any simple syrup, you can make it by mixing two cups of white sugar with water in a small saucepan.
Bring to a boil slowly while continuously stirring.
Once the sugar dissolves, remove the saucepan from the heat. When the simple syrup is at room temperature, stir in one tablespoon of vanilla extract.
Please note: you will not use all of the vanilla syrup in the recipe; you will have plenty left over.
Tips for Making, Serving, and Storing This Starbucks Vanilla Sweet Cream Recipe
Substitute half and half for the heavy whipping cream and milk mixture. You probably won't taste that much of a difference.
Add a dollop of whipped cream. For an even more indulgent presentation, crumble a vanilla wafer on top.
Keep any leftovers in the fridge. Extra vanilla simple syrup in the fridge for up to six months, while you should drink your cold brew coffee within a week.
Check out more of our favorite Starbucks recipes on our Youtube channel.
How to Make Starbucks Vanilla Sweet Cream Cold Brew
Pour water into a French press or large jar.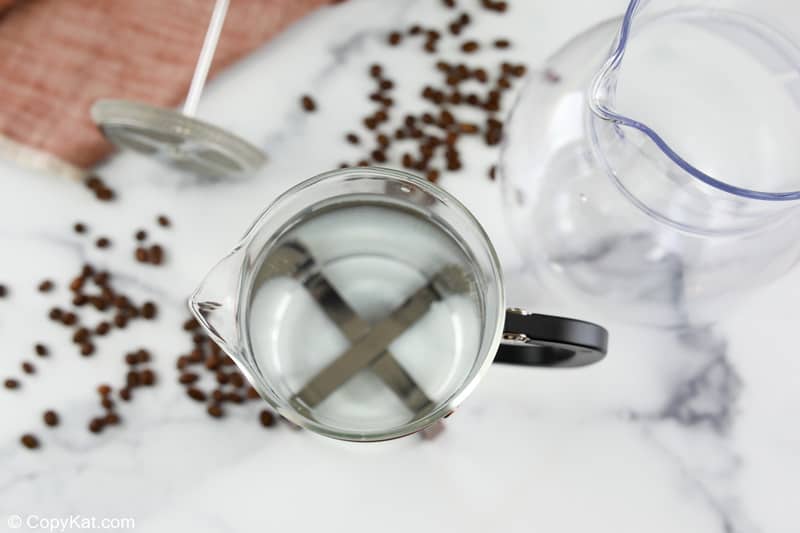 Add coffee grounds.
Steep for 12 hours and then strain out the coffee grounds.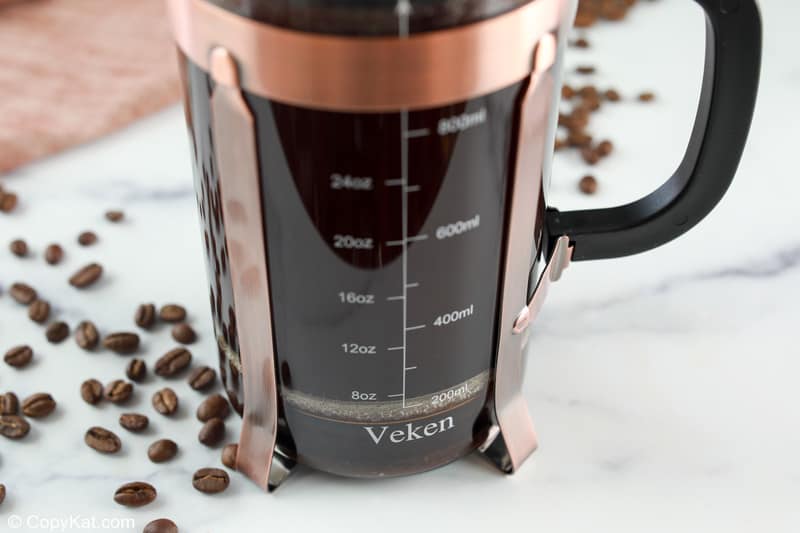 Make a batch of vanilla simple syrup, pour it into a jar, and let it cool to room temperature or cooler.
Whisk or stir together milk, cream, and vanilla syrup to make vanilla sweet cream.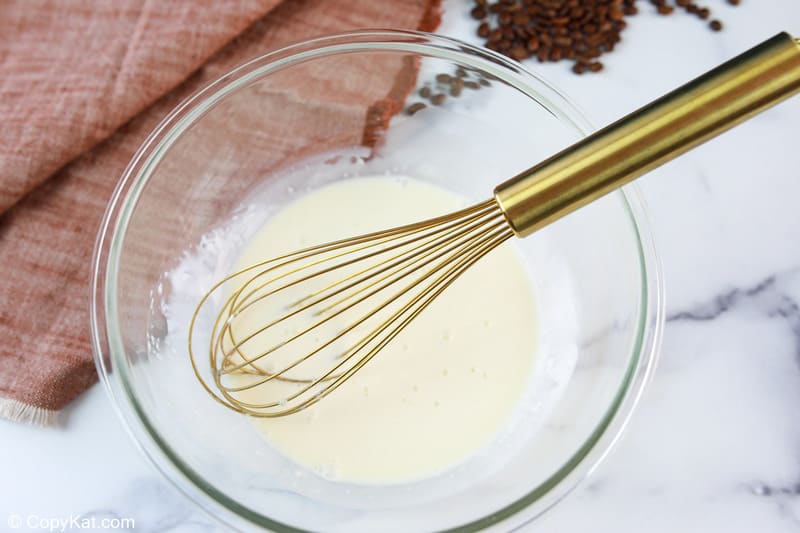 Fill a tall glass with ice and add cold coffee and then vanilla sweet cream.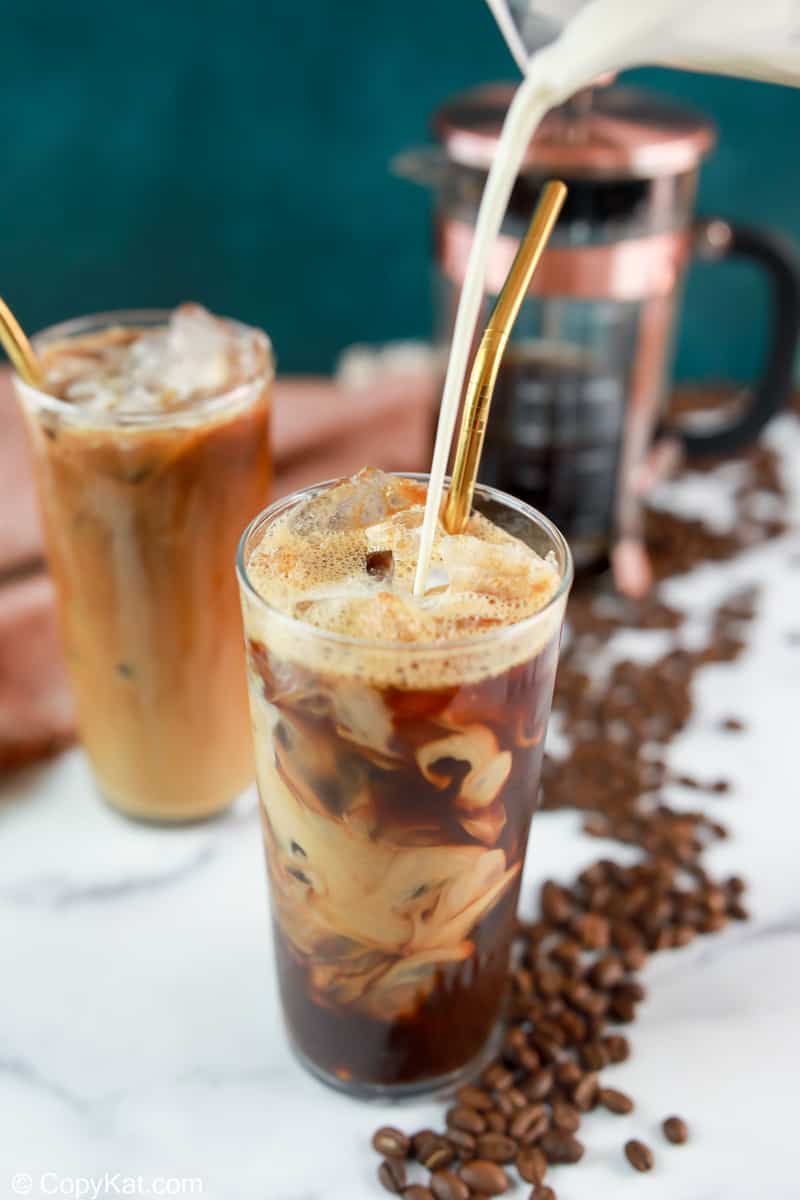 Starbucks Vanilla Sweet Cream Cold Foam
It's easy to make the fluffy, creamy, and sweet vanilla foam topping you can get on some Starbucks drinks. Here's how:
Combine 1/4 cup of milk, 1 tablespoon of powdered sugar, and 1/4 teaspoon of vanilla extract in a glass measuring cup. Use a frother or immersion blender to blend and whip the mixture until it has a foamy consistency and texture. Pour your copycat Starbucks cold foam on top of your drink.
Love Starbucks Drinks? Try these copycat recipes!
Do you enjoy an espresso drink, lattes, and other coffee drinks at Starbucks? Here are some popular copycat recipes:
More Fast Food Copycat Drink Recipes
Check out more of my easy drink recipes and the best Starbucks copycat recipes here on CopyKat!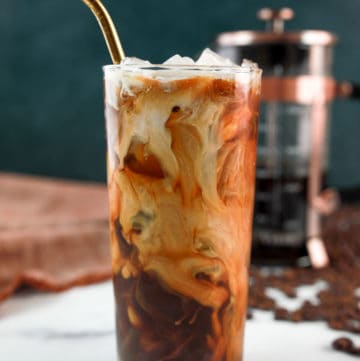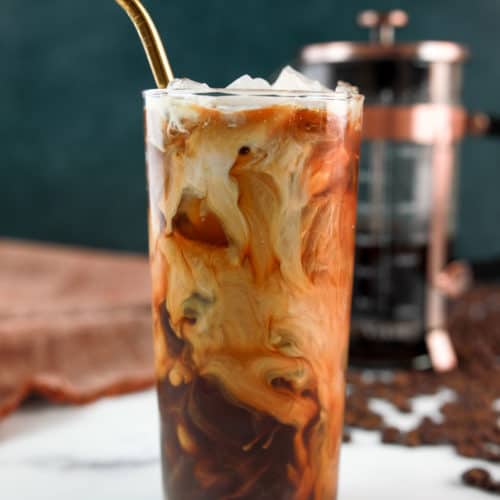 Starbucks Vanilla Sweet Cream Cold Brew
You can make Starbucks Vanilla Sweet Cream Cold Brew Coffee Drink at home with this easy copycat recipe.
Print
Pin
Rate
Add to Collection Go to Collections
Servings: 1
Calories: 214kcal
Ingredients
Cold Brew Coffee
16

ounces

water

1/2

cup

coarsely ground coffee
Vanilla Sweet Cream
2

cups

sugar

1

cup

water

1

tablespoon

vanilla extract

½

cup

2% milk

½

cup

heavy cream
Instructions
Cold Brew Coffee Directions
Use either a French press or a large mason jar, add 16 ounces of water to the vessel.

Add 1/2 cup of coarsely ground coffee.

Place a lid on the container and refrigerate for at least 12 hours.

After 12 hours, separate the coffee from the grounds. If using a French press, press down the plunger and pour off the water.

If you are using a Mason jar, pour the coffee through a coffee filter.

Store cold brew coffee in the refrigerator.
Vanilla Sweet Cream Directions
Prepare vanilla syrup by combining 2 cups of sugar and 1 cup of water in a small saucepan.

Bring the mixture to a boil and cook just until the sugar dissolves.

Remove the saucepan from the stove and let the sugar syrup cool to room temperature.

Stir in vanilla. Store this vanilla syrup in an airtight container in the refrigerator.

Make the vanilla sweet cream by combining the 2% milk, heavy cream, and 2 tablespoons of the prepared vanilla syrup in a small bowl. Stir well.

If you do not use all of it immediately, store it in an airtight container in your refrigerator.
Vanilla Sweet Cream Cold Brew Directions
Notes
Please note, that you will have extra vanilla syrup and extra sweet cream. 
Please store the vanilla syrup in the refrigerator. It will last for about 2 weeks. The vanilla makes about 20 servings of vanilla extract (1 tablespoon per serving.) 
Please store the sweet cream in the refrigerator. It will last for 3 to 4 days.  The sweet cream is about 8 servings (2 tablespoons per serving.)
A serving size represents a single serving and is not reflective of the entire recipe for vanilla syrup and sweet cream. 
Nutrition
Calories: 214kcal | Carbohydrates: 26g | Protein: 2g | Fat: 12g | Saturated Fat: 7g | Polyunsaturated Fat: 1g | Monounsaturated Fat: 3g | Trans Fat: 1g | Cholesterol: 43mg | Sodium: 49mg | Potassium: 66mg | Sugar: 26g | Vitamin A: 467IU | Vitamin C: 1mg | Calcium: 69mg | Iron: 1mg