This post may contain affiliate links. Please read my disclosure policy.
My favorite sour cream coffee cake recipe is perfectly soft and fluffy, layered with cinnamon sugar, and always so delicious.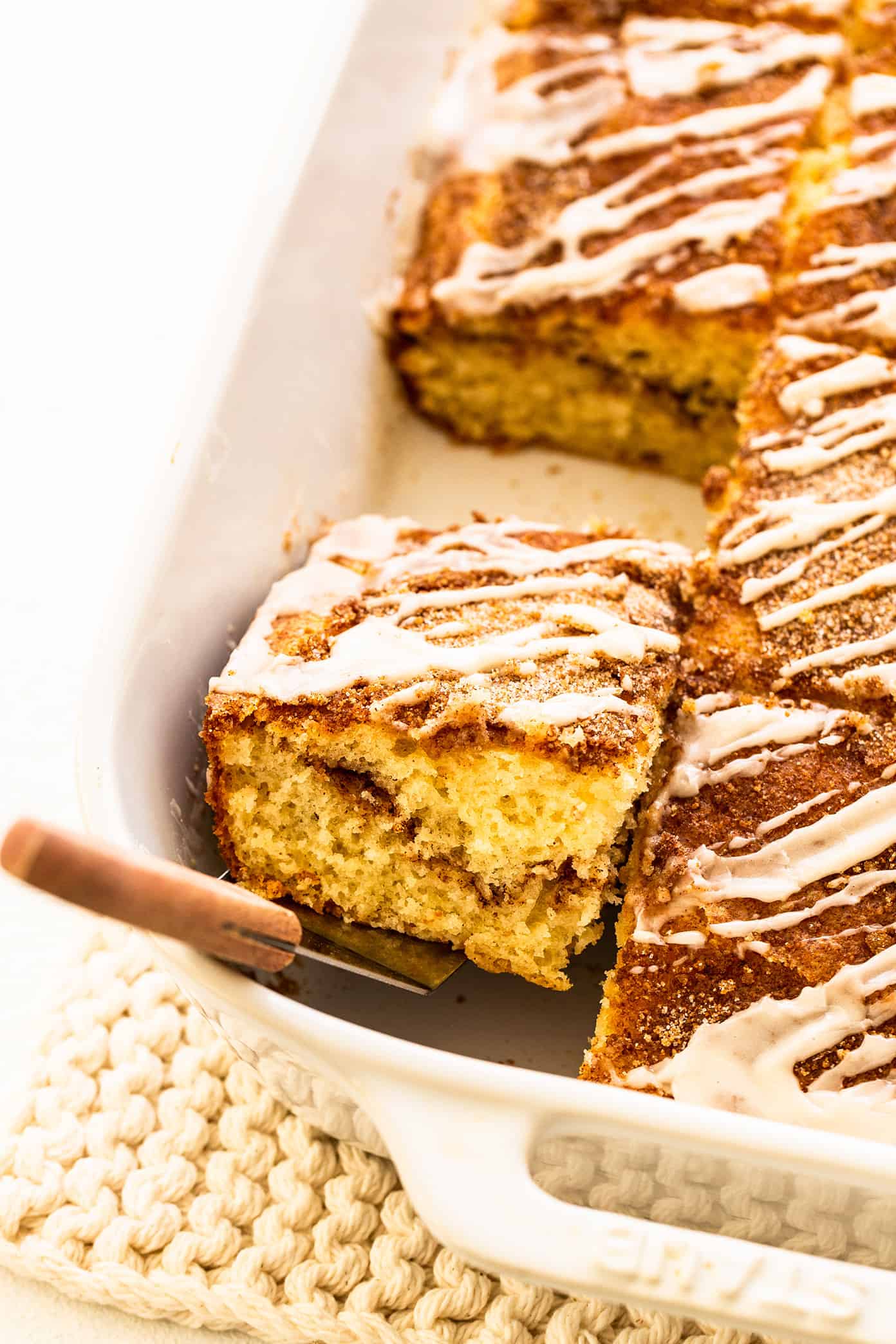 I realized the other day that it has been two decades since my college roommate, Natalie, first taught me how to make her family's famous sour cream coffee cake. No idea how that's even possible, because it feels like just yesterday that we were baking up a storm together in our tiny college kitchen. But all of these years later — and countless batches of coffee cake later — I have to say that this nostalgic recipe remains one of our family's all-time favorites. ♡
It features a simple batter made with basic pantry ingredients and reduced-fat sour cream, whose tangy flavor perfectly balances the sweetness here and helps the cake bake up to be incredibly moist. Then in between the layers of cake, we'll add in a crunchy sprinkling of cinnamon sugar (plus some chopped nuts, if you'd like). And then for one final layer of indulgence, I always love drizzling a quick 2-ingredient glaze on top. This cake is guaranteed to make your home smell absolutely heavenly as it's baking up in the oven. And once it's sliced served up nice and warm with a hot cup of coffee on a lazy weekend morning, well, I don't know if there's a more delicious way to start the day.
Let's bake up some coffee cake together, friends!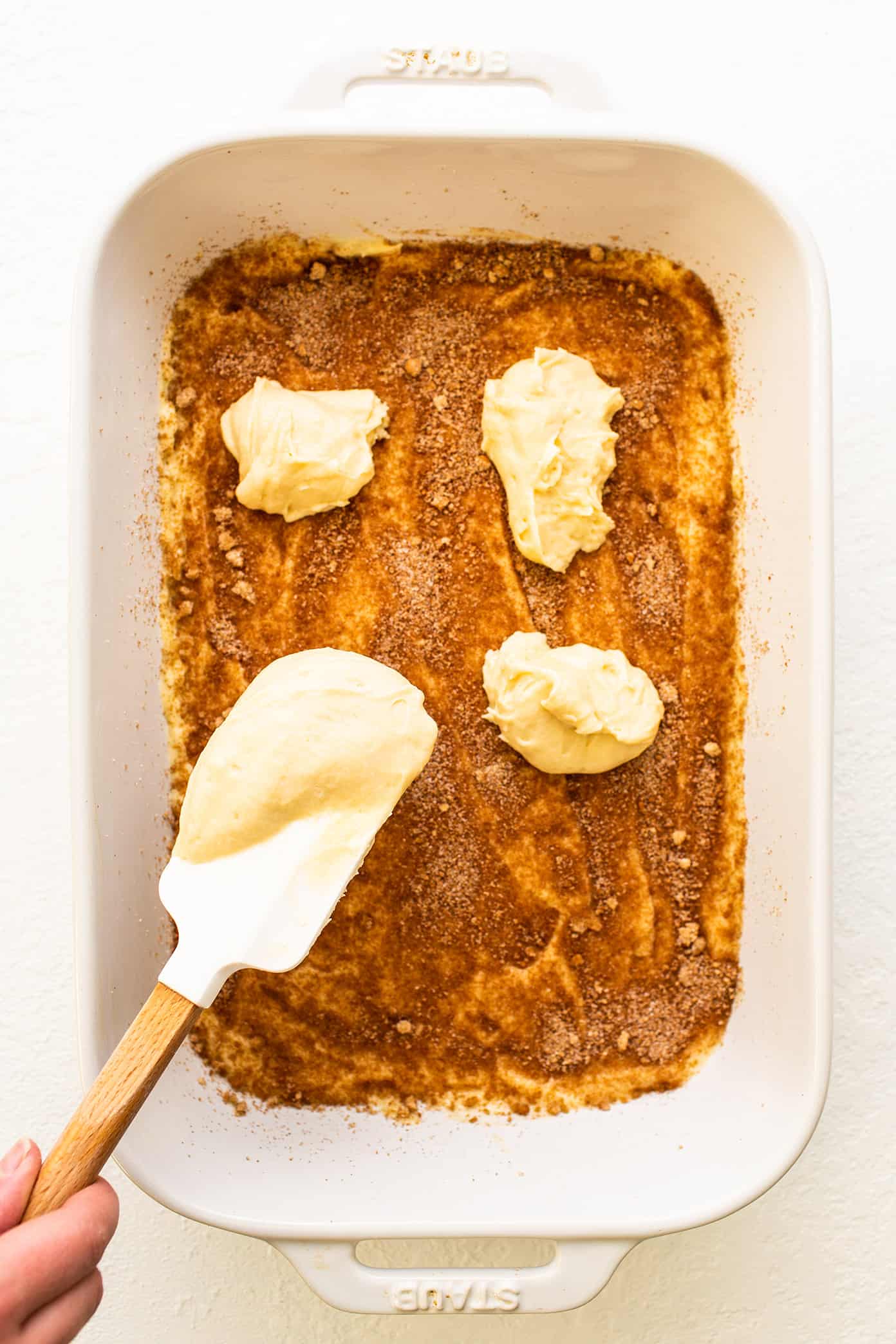 Sour Cream Coffee Cake Ingredients
Here are a few notes about the sour cream coffee cake ingredients that you will need to make this recipe:
Butter: This recipe calls for one stick (1/2 cup) of unsalted butter. But if you only have salted butter on hand, no worries, just reduce the amount of salt to 1/4 teaspoon.
Sugar and flour: We will use basic granulated white sugar and all-purpose flour in the cake batter.
Baking soda and baking powder: We use both baking soda and baking powder as leavening agents.
Eggs: Two eggs serve to help bind the cake batter together.
Salt: I wrote this recipe using fine sea salt, which is what I always use in my kitchen. If you only have iodized table salt on hand, note that you will need to reduce the amount of salt by half.
Sour cream: I've always made this homemade coffee cake recipe using reduced-fat sour cream, but full-fat sour cream would work just fine too.
Vanilla extract: We will add in some vanilla extract (either homemade or store-bought) to warm up the flavor of the cake.
Brown sugar topping: A simple mix of granulated white sugar, brown sugar and ground cinnamon will serve as our filling and topping for the cake. Feel free to mix in some chopped walnuts or pecans if you'd like too.
(Optional) Glaze: Finally, if you feel like drizzling a quick glaze on top of the cake for an extra touch of sweetness, just whisk together some powdered sugar and milk until combined.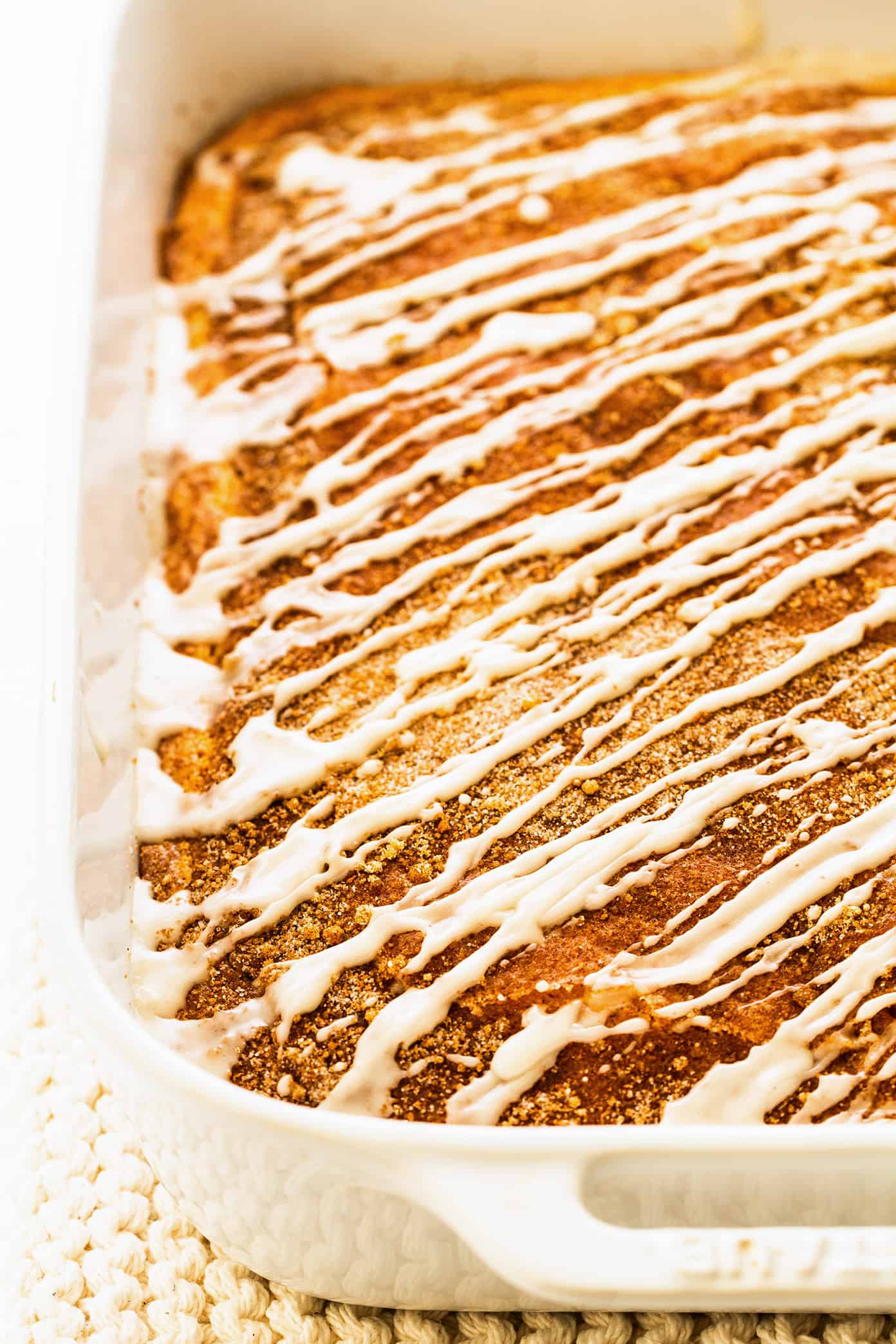 How To Make Coffee Cake
Full instructions for how to make coffee cake are detailed in the recipe below, but here are a few extra tips that may be helpful too:
Divide the cinnamon filling. Rather than eyeballing cinnamon sugar mixture to divide it, I always just measure out a quick 1/4 cup of the filling to ensure that there will be equal amounts for the two layers.
Add the second layer of batter by spoonfuls. This batter is quite thick and can be a bit unwieldy to spread over the cinnamon sugar filling to form the second layer. So I always recommend spooning it in small clumps over the cinnamon sugar and then gently spreading it into an even layer with a spatula or a knife. This works much better than adding the batter in one big blob. Although no worries if your second layer of batter isn't perfectly even…it will still be delicious!
Enjoy warm. This coffee cake recipe will hold up well for a handful of days, but I just have to say that it is especially heavenly served warm out of the oven with a cup of coffee. Highly recommend cutting yourself a warm slice!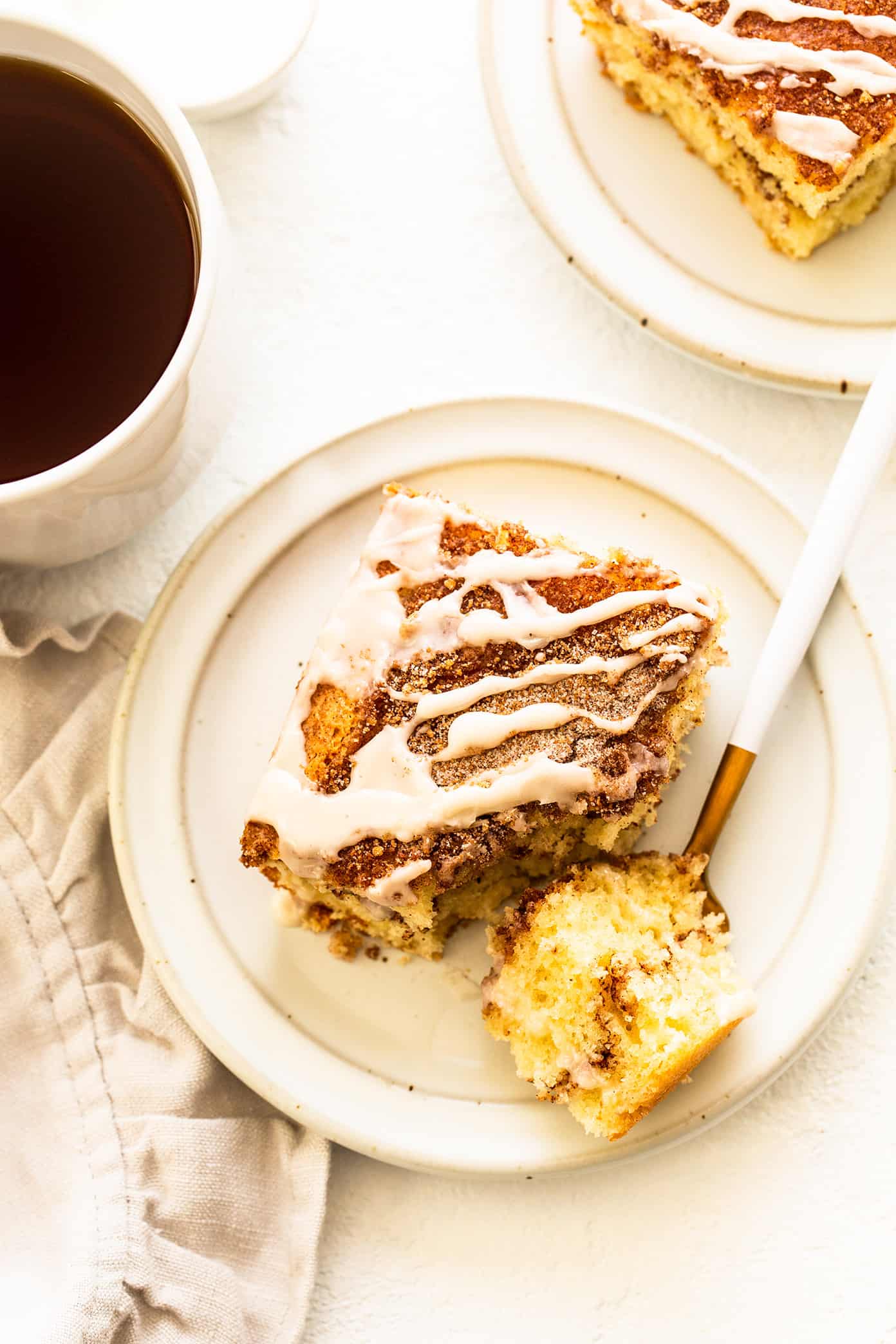 More Sweet Breakfast Treats
Looking for more yummy breakfast baked goods to try? Here are a few of my faves:
Print
---
Description
My all-time favorite sour cream coffee cake recipe is perfectly soft and fluffy, layered with cinnamon sugar, and always so delicious.
---
Coffee Cake Ingredients:
1/2 cup

unsalted butter, room temperature

1 cup

granulated white sugar

2

large eggs

2 cups

all-purpose flour

1 teaspoon

baking soda

1 teaspoon

baking powder

1/2 teaspoon

fine sea salt

1 1/2 cups

(

12 ounces

) reduced-fat sour cream

2 teaspoons

pure vanilla extract
Cinnamon-Sugar Topping Ingredients:
1/4 cup

granulated white sugar

1/4 cup

packed brown sugar

1 1/2 teaspoons

ground cinnamon

1 cup

chopped pecans or walnuts (optional)
Optional Glaze:
1/2 cup

powdered sugar

1

to

2

teaspoons milk
---
Prep the oven and baking dish. Heat oven to 350°F. Mist a 9 x 13-inch baking dish with cooking spray.
Mix the dry ingredients. In a small mixing bowl, whisk together the flour, baking soda, baking powder and salt until combined. Set aside.
Mix the batter. In the bowl of a stand mixer, cream together butter and granulated white sugar on medium-high speed for 2 minutes until light and fluffy. Add vanilla and eggs to the mixture, one at a time, beating well after each addition. Add half of the flour mixture to the butter mixture and mix on medium-low speed until just combined. Add in half of the sour cream and mix until combined.  Repeat with the remaining half of the dry ingredients mixture, followed by the remaining sour cream, mixing until combined.
Prep the cinnamon-sugar topping. In a separate small bowl, whisk together the granulated white sugar, brown sugar, ground cinnamon and nuts (if using) until combined.
Layer the batter. Pour half of the batter into the prepared baking pan and spread it in an even layer. Sprinkle half of the cinnamon-sugar topping evenly on top of the batter. Add the remaining batter by spoonfuls evenly on top of the cinnamon-sugar topping (this makes it more easy to spread), then gently spread the batter out into an even layer. Sprinkle the remaining cinnamon-sugar topping evenly on top of the batter.
Bake. Bake for 30 minutes, or until a toothpick inserted in the middle of the cake comes out clean. Transfer the baking dish to a wire rack and let it cool for at least 10-15 minutes before serving.
Make the glaze. Meanwhile, if you would like to use a glaze, whisk the powdered sugar and 1 teaspoon milk together until combined. Add an extra teaspoon of milk if needed to thin the glaze to a drizzle-able consistency. Or if it seems too thin, add extra powdered sugar.
Serve. Drizzle the glaze over the top of the warm coffee cake. Slice, serve and enjoy!
---
Notes
Recipe source: Recipe from my good friend, Natalie.