Nothing beats a quick and easy bowl of clam chowder. Unlike some soups, a delicious clam chowder can be put together in no time at all.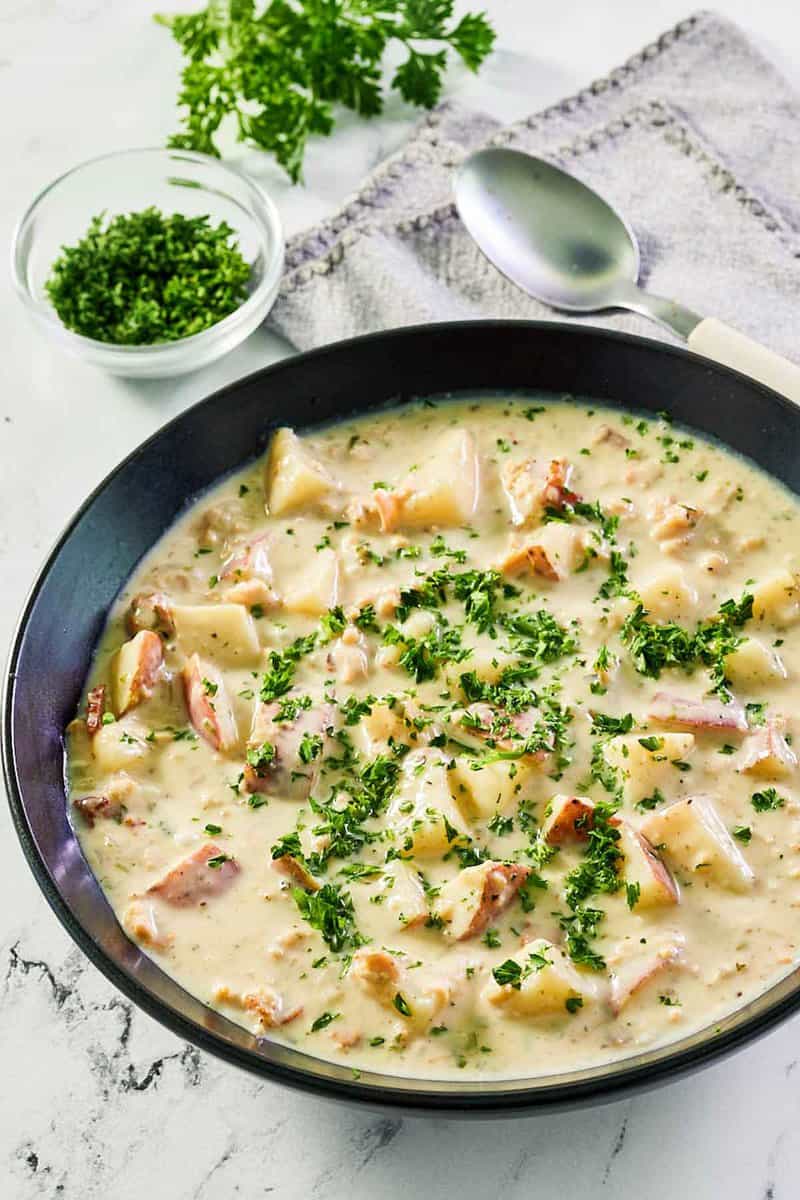 This post contains affiliate links. As an Amazon Associate, I earn from qualifying purchases.
What Makes This Recipe Taste So Good?
Who can say "no" to a creamy New England-style clam chowder, especially when it has everything you love about authentic clam chowders, like red potatoes, real cream, clam broth, and bacon?
Prepare a pot of this chowder for your next get-together, and your guests will think you spent hours in the kitchen capturing the authentic beach shack flavors. Let it be your little secret that this recipe takes less than 30 minutes to prepare from scratch!
Why You Should Try This Creamy Clam Chowder Recipe
Clam chowder is delicious, but canned clam chowder, well, that is dreadful! This recipe for homemade clam chowder is inexpensive and quick to make, plus it is a whole lot better than anything you will find on your supermarket shelves.
The secret is using a clam broth made from real clam juice, not skimping on the heavy cream, and choosing top-quality, thick-cut smoked bacon.
New England clam chowder is supposed to be luxurious, so don't be afraid to skip the low-fat versions for this recipe!
Are all Clam Chowder the Same?
No, there are several types of clam chowder. This recipe is for the New England version of the chowder, one of the most popular. It is a cream-based chowder, but not all clam chowders use cream or even any dairy at all.
Manhattan Clam Chowder is tomato and clam juice-based and contains chopped tomatoes, carrots, green peppers, potatoes, and bacon.
Hatteras Island Clam Chowder is a famous chowder from the Outer Banks of North Carolina and Virginia. The Hatteras Island Clam Chowder has little more than clams, clam juice, potatoes, onions, and bacon in it. 
Ingredients For Clam Chowder WIth Bacon
To make this recipe, you'll need:
Thick-cut bacon
White onions, diced
All-purpose flour
Canned minced clams, separate the clams and reserve any liquid separately
Clam juice
Red potatoes or Yukon gold potatoes
Bay leaf
Dried thyme leaves
Heavy cream
Fresh parsley, minced
Salt
Fresh ground black pepper
For the clam juice and minced clams, the brand Doxsee is a good choice. It tastes good and doesn't contain any MSG as other brands can. 
How To Make Clam Chowder Soup
To prepare this easy clam chowder recipe:
Mince the bacon and add it to a large soup pot or Dutch oven over medium to medium-low heat. Continue to cook until the bacon until it is crispy and all the fat has rendered out. It can take up to ten minutes for the bacon to get crispy, but it is best to be patient to ensure the best-tasting chowder.
Add the diced white onions to the soup pot and saute them in the bacon drippings. Cook the onions until they become translucent and soft, about 5 minutes.
Sprinkle the flour evenly across the top of the onions and bacon. Stir the pot and cook for about a minute.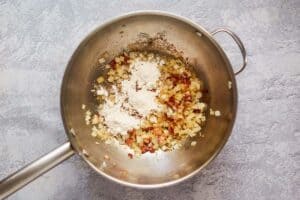 Combine the reserved clam liquid, clam juice, and water in a pitcher. Slowly pour the clam juice mixture into the soup pot while whisking.
Quarter the red potatoes and add them to the soup pot along with the bay leaf and thyme.
Bring the chowder to a boil and reduce it to a simmer.
Simmer on low until the potatoes are fork-tender, about 8 to 10 minutes.
Add the chopped clams, heavy cream, and parsley. Season the chowder with salt and ground pepper.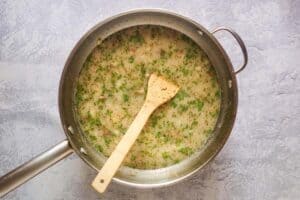 Cook the chowder until the clams are hot. Taste and adjust seasoning if necessary.
Remove from the heat and serve immediately.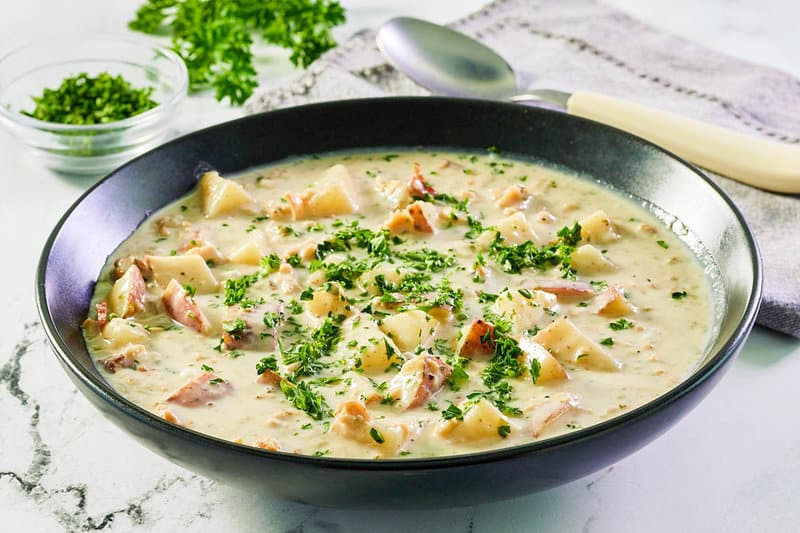 What To Serve With Homemade Clam Chowder 
A cup of New England Clam Chowder makes a wonderful first course for any seafood-based dinner. For a light lunch, you can serve a bowl of chowder with oyster crackers and extra bacon bits. 
How To Store Leftovers 
You can store extra chowder as long as you do it correctly. 
Cool the chowder as quickly as possible in an ice bath. To do this, fill a large mixing bowl halfway with ice and water. Place a smaller mixing bowl into the ice bath and pour the chowder into the bowl. Stir until chilled. 
Transfer the chowder to an airtight container and put it in the fridge or freezer. 
Heavy cream doesn't do very well when frozen. Therefore, if you have extra chowder with heavy creams, it will keep the best in the fridge.
However, if you want to freeze an entire batch of this recipe, you can prepare everything as above and simply leave out the heavy cream before freezing. Add the heavy cream to the recipe when you reheat the clam chowder to serve.
How Long Does It Last? 
Clam chowder will last for about three days in the fridge and up to two months in the freezer. 
What's the Best Way to Reheat It
The best way to reheat clam chowder is over low heat on the stove. Stir the chowder continuously and add a little heavy cream or milk to thin it out if necessary. 
Favorite Soup Recipes
Popular Seafood Recipes
Check out more of my delicious and easy soup recipes and the best seafood recipes on CopyKat!
This recipe came from one of my favorite cookbooks, The Perfect Recipe. I have used this cookbook many times in adapting recipes for CopyKat.
Easy Clam Chowder
Nothing is better than a bowl of homemade soup, this quick and easy clam chowder fits the bill.
Print
Pin
Rate
Add to Collection Go to Collections
Servings: 4
Calories: 320kcal
Ingredients
2

slices

thick-cut bacon

1

cup

diced onion

3

tablespoons

all-purpose flour

4

cans

(6 1/2 oz) minced clams preferably Doxsee (No MSG) Minced Clams; clams and juice separated

2

bottles

(8 oz) clam juice, preferably Doxee brand

3

medium

waxy red boiling potatoes

1

large

bay leaf

1/2

teaspoon

dried thyme leaves

1

cup

heavy cream

1

tablespoon

minced fresh parsley

1/2

teaspoon

salt

1/2

teaspoon

black pepper
Instructions
Fry minced bacon over medium heat in a large soup pot until the fat renders and bacon crisps, about five minutes.

Add onion to bacon and drippings and sauté until softened, about 5 minutes.

Add flour and stir until lightly colored, about one minute.

Gradually whisk in canned and bottle clam juices and 3 cups of water.

Add potatoes, bay leaf, and thyme, and bring to a simmer.

Reduce heat to low and continue to simmer until potatoes are tender, about 10 minutes.

Add clams, cream, and parsley, and season to taste with salt and pepper. Bring to a simmer and cook until warmed through.

Remove the chowder from the heat and serve.
Nutrition
Calories: 320kcal | Carbohydrates: 10g | Protein: 4g | Fat: 29g | Saturated Fat: 16g | Cholesterol: 93mg | Sodium: 441mg | Potassium: 138mg | Fiber: 0g | Sugar: 1g | Vitamin A: 975IU | Vitamin C: 5mg | Calcium: 48mg | Iron: 0.6mg