One of the best parts of going to the Olive Garden is enjoying one of the four main Olive Garden Soup Recipes. Soups are made fresh every day.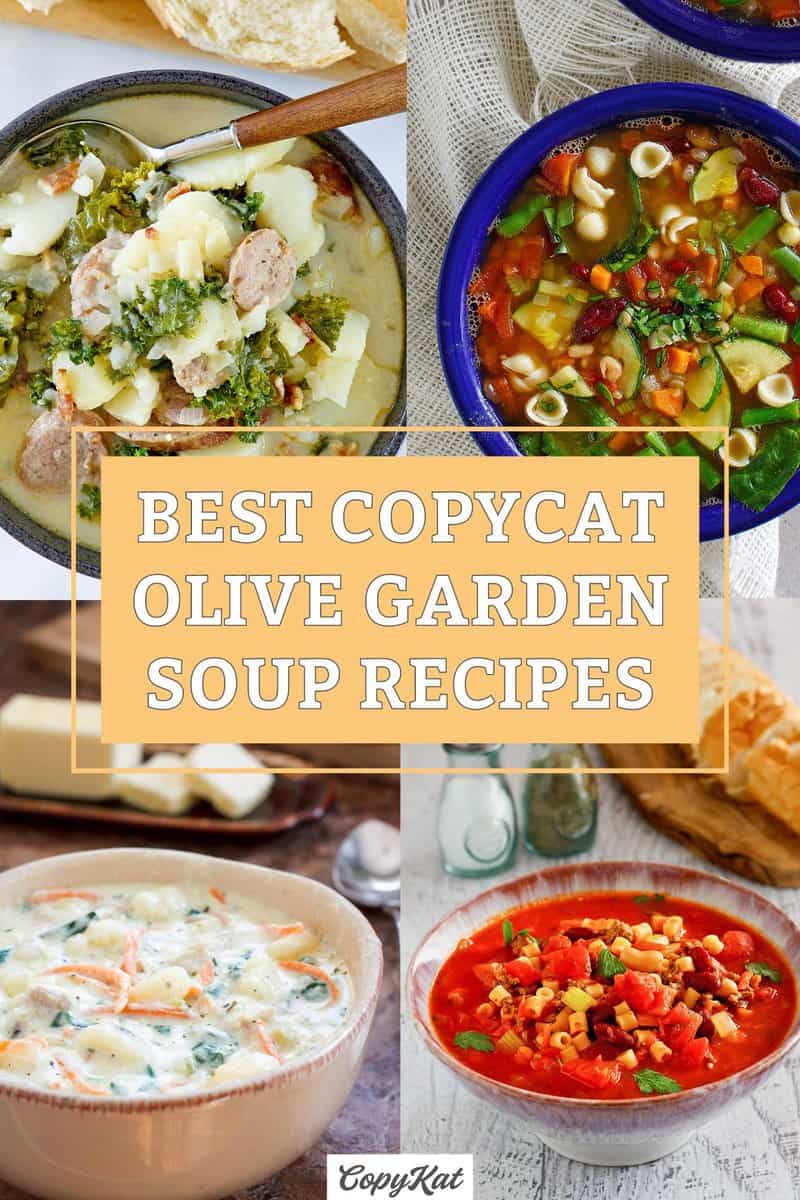 You can recreate the Olive Garden Soup Recipes at home. No matter if you like a vegetarian soup, a meat-filled soup, or a hearty sausage and potato soup you can enjoy these famous soups when you make them from scratch.
There is nothing better than filling up bowls full of delicious homemade soup. When you make an Olive Garden soup at home, you get to enjoy the taste and the flavor that only the Olive Garden has when you make your own pot of soup. The ingredients are always easy to find, and everyone is going to love your homemade soups.
The FOUR Main Olive Garden Soups
From time to time, they will serve up a seasonal soup, but when you go every day, you should see one of these soup recipes!
Copycat Olive Garden Soup Recipes
Olive Garden Chicken Gnocchi Soup
Grab a large pot and make some of this delicious soup, it has pillowy soft potato gnocchi, tender chicken, carrots, and more.
Olive Garden Chicken Gnocchi Soup Recipe

Olive Garden Pasta e Fagioli
It's time to break out your Dutch oven and prepare a hearty bowl of soup with tomatoes, kidney beans, pasta, and fresh vegetables.
Olive Garden Pasta e Fagioli Soup Recipe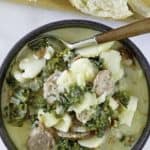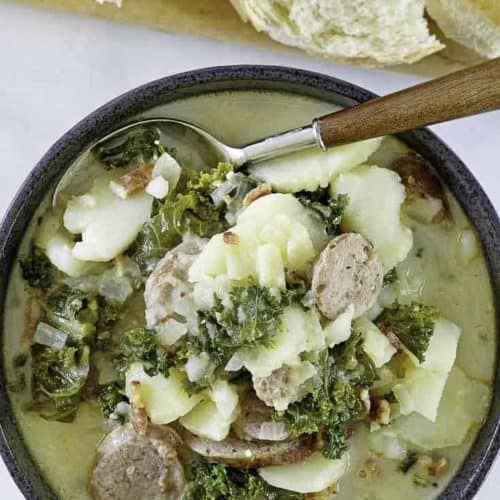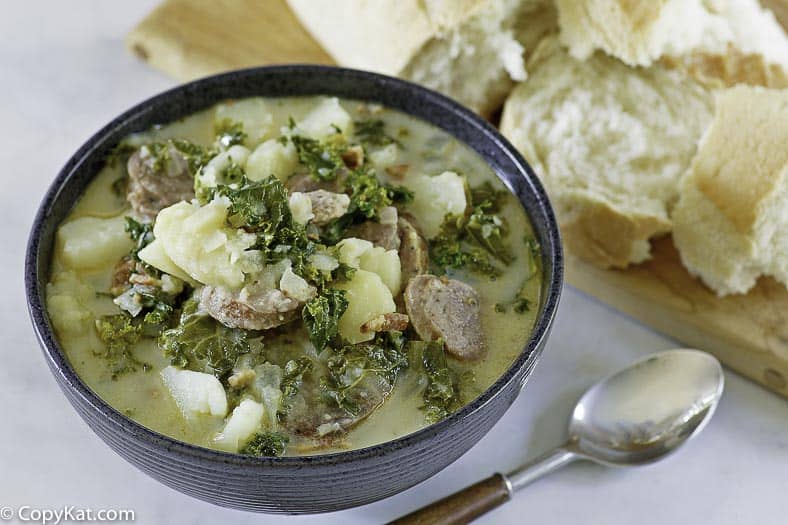 Frequently Asked Questions
What soups are at Olive Garden?
The Olive Garden restaurant has four soups on the regular menu. They have the Zuppa Toscana, pasta e Fagioli, chicken gnocchi, and minestrone.
Is Olive Garden soup made fresh?
The Olive Garden soup is made fresh every day in the restaurant.
What is the most popular soup at Olive Garden?
The most popular at the Olive Garden is the Zuppa Toscana.
Which soup is the best soup at the Olive Garden?
The folks at Chowhound ranked the Olive Garden Soups. I think it depends on what type of soup you personally enjoy the most.
If you like a soup with a beef base, I would have to recommend the Pasta E Fagioli as it is a hearty soup that is packed full of beans, beef, and so much more, all in every single bite.
The really difficult choice comes between the Chicken & Gnocchi soup and the Zuppa Toscana. Both are cream-based soups. The Chicken & Gnocchi is a creamy soup filled with chicken and soft tender gnocchi. While the Zuppa Toscana has Italian sausage, potatoes, and fresh potatoes.
If you want a soup that is light, the Minestrone is the soup that I would choose.
I would love to easily tell you which soup is best, but the choice is oh so difficult to make.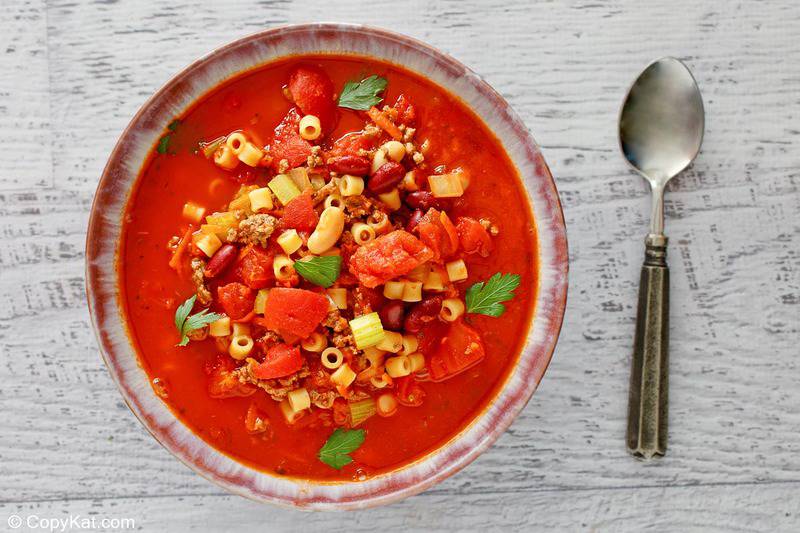 What else should you serve with Olive Garden soup?
You should serve homemade Olive Garden Breadsticks and Olive Garden Salad. Olive Garden sells its salad dressing in many grocery stores, but you could make the Olive Garden Vinaigrette Dressing from scratch if desired.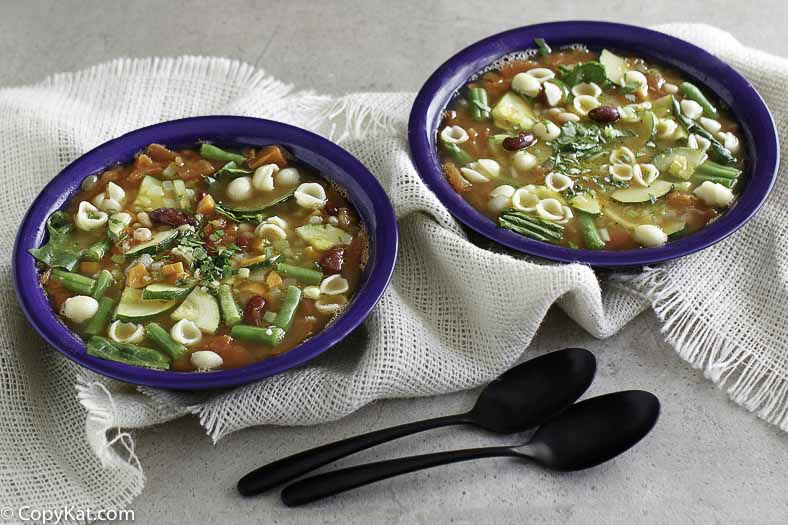 Best Olive Garden Copycat Recipes
Be sure to check out more of my copycat soup recipes and popular copycat restaurant recipes.