Olive Garden Chicken Parmigiana is an incredibly delicious Italian meal. Chicken cutlets are breaded, fried, and then baked with marinara sauce, mozzarella, and parmesan cheese.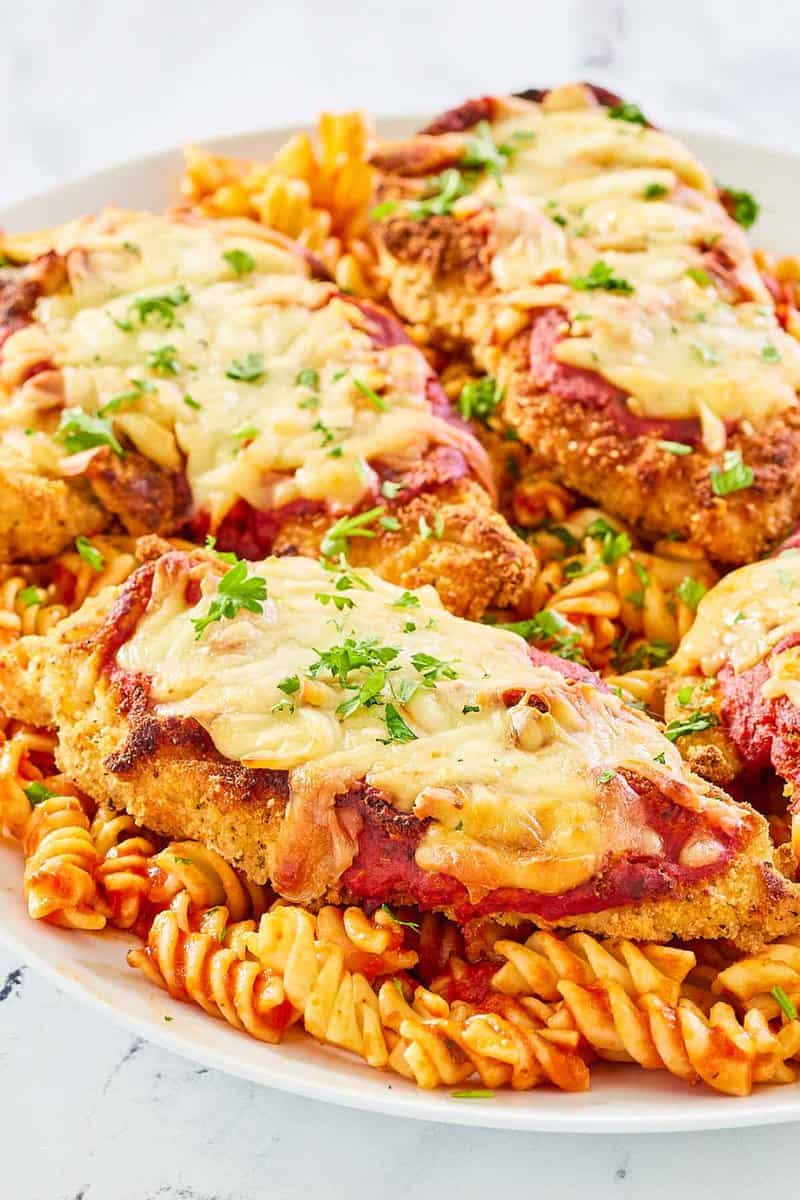 This post contains affiliate links. As an Amazon Associate, I earn from qualifying purchases.
What Makes the Olive Garden Chicken Parmigiana So Good? 
Chicken Parmigiana may not be an authentic Italian dish, but it is a mainstay of Italian-American cuisine. And why not? It is delicious!
The crispy breadcrumb coating helps ensure the chicken breast stays moist and flavorful, while the tomato sauce and mozzarella cheese add a ton of flavor.
This Olive Garden Chicken Parmigiana recipe is everything you want when it comes to homemade Chicken Parm.
Why You Should Try This Recipe 
There is nothing fancy here. This straightforward copycat Olive Garden Chicken Parmigiana recipe is easy to make and is sure to become one of your favorites. It is a great way to feed a crowd, and with so many ways to serve it, you have the flexibility to make it a family-style dinner or a great casual lunch. 
Ingredients For Copycat Olive Garden Chicken Parmigiana
To make this recipe, you'll need:
Marinara sauce 
Chicken breasts, boneless, skinless
Salt 
Ground black pepper 
All-purpose flour 
Eggs 
Water 
Italian breadcrumbs 
Parmesan cheese, finely grated or powdered
Vegetable oil
Mozzarella cheese, shredded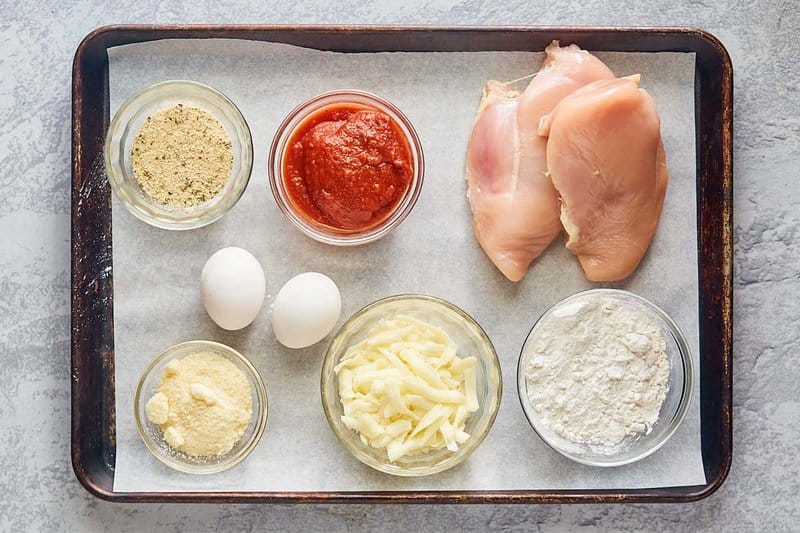 Ingredient Notes
Italian bread crumbs are a type of flavored crumb. You can also use regular bread crumbs or panko and season them with your favorite blend of spices and dried herbs.
The marinara sauce you use in this recipe gives the dish much of its flavor. So, use a good jarred sauce, or better yet, make your own!
How to Make Chicken Parmigiana Like Olive Garden
To bread the chicken:
Prepare a breading station with three shallow-rimmed containers, such as a pie plate. Place the AP flour in the first container, a mixture of eggs and water in the second container, and Italian bread crumbs and parmesan cheese in the third container. Put a wire rack on a baking tray at the end of the breading station.
Cut the chicken in half horizontally.
Place half of each chicken breast between two sheets of plastic wrap and use the flat side of a meat tenderizer to flatten the chicken evenly. Season the chicken with salt and pepper on both sides.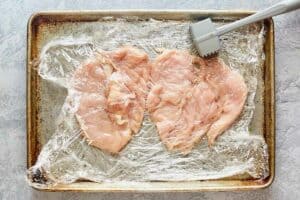 Repeat with the rest of the chicken.
Coat a pounded chicken cutlet in the flour and shake off the excess. Dip the flour-coated chicken into the egg mixture and then coat it in the breadcrumbs and parmesan cheese. Place the bread cutlet on the wire rack.
Repeat with the remaining chicken.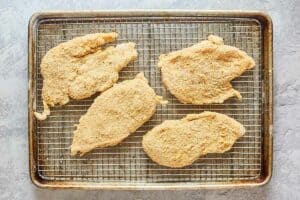 To pan-fry the chicken cutlet:
Let the breaded chicken rest for about five minutes. Resting the chicken allows the breading to adhere and will help prevent it from falling off while frying. 
While the chicken is resting, heat a rondeau or deep skillet over medium-high heat and add a 1/2-inch of vegetable oil to the pan. Use a clip-on deep-fry thermometer to check the temperature and adjust the heat until the oil reaches 350°F. 
Cook the chicken in batches of two to three pieces until golden brown. Use an instant-read thermometer to check that the internal temperature is at least 165°F. Drain cooked chicken on a paper towel lined sheet tray. 
Repeat with the remaining chicken cutlets.
To finish the Olive Garden Chicken Parmesan recipe:
Preheat the oven to 350°F.
While the oven is preheating, warm the marinara sauce over low to medium heat on the stove.
When the sauce is warm, top the chicken with the sauce and sprinkle on the mozzarella cheese.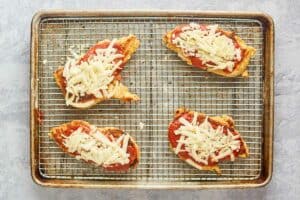 Place chicken in a single layer in a baking dish.
Bake the chicken for 5 to 10 minutes or until the cheese melts.
Garnish with chopped fresh parsley and serve immediately.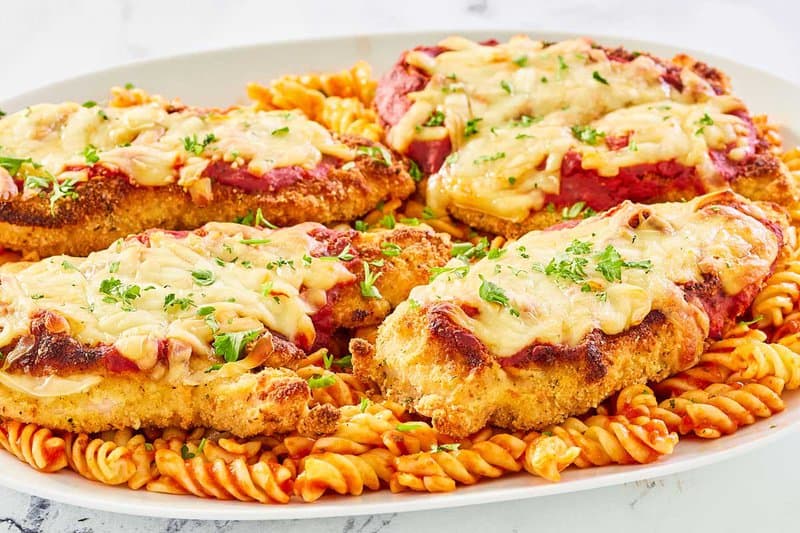 What To Serve With Chicken Parm
Chicken Parmigiana is excellent on its own, but it pairs very well with a side dish of pasta with a simple tomato-based sauce or an Olive Garden-style salad. You can also serve it with breadsticks or garlic bread.
Possible Recipe Variations
Feel free to make changes or get as creative as you want with this basic recipe. Here are a few suggestions:
Make it a Grilled Chicken Parmesan. Save fat and calories by substituting a grilled chicken cutlet for breaded and fried chicken in the original recipe. 
Serve the Chicken Parmigiana on a toasted roll with extra marinara sauce and cheese for a hearty Chicken Parm Sub. 
Make the perfect appetizer with an Olive Garden Chicken Parmigiana Breadstick Sandwich! Split a famous Olive Garden Breadstick in half and use it to make a mini Chicken Parm sandwich.
How to Store Chicken Parmigiana
Chicken Parm is so good that you won't want to let any go to waste. You can store any leftovers in the fridge for up to three days. Chicken Parm will last up to three months in the freezer.
To freeze:
Place the cooked chicken on a baking tray and pop it in the freezer uncovered until the chicken is frozen solid, about two to three hours.
Wrap the frozen chicken with wax paper and then with aluminum foil. 
Store in an airtight container.
To refrigerate:
Let the Chicken Parmigiana cool to room temperature.
Transfer the food to an airtight container. 
What's the Best Way to Reheat 
The best way to reheat thawed Olive Garden Chicken Parmesan is in an air fryer:
Preheat an air fryer to 350°F.
Air fry the chicken for 6 to 8 minutes until the chicken reaches 165°F. 
If you don't have an air fryer, you can reheat the Chicken Parmigiana in the oven:
Preheat the oven to 350°F.
Spray the bottom of a shallow baking dish with olive oil. 
Place the chicken in the baking dish and cover it with aluminum foil. 
Bake for 10 minutes.
Remove the aluminum foil and cook for about five more minutes until the cheese melts and the chicken is at least 165°F.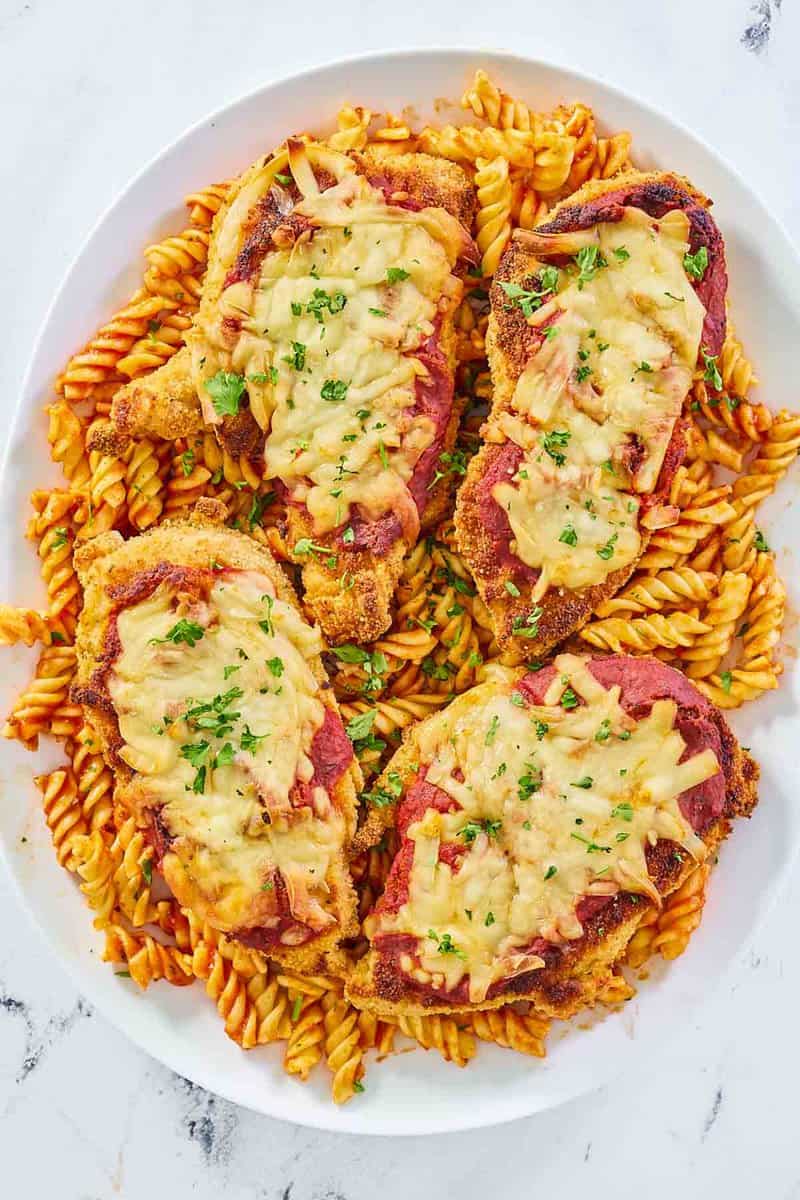 Favorite Olive Garden Recipes
Want a special cocktail to go with your meal? Make one of the Olive Garden drinks.
Popular Italian Recipes
Check out more of my easy Italian recipes and the best copycat Olive Garden recipes on CopyKat!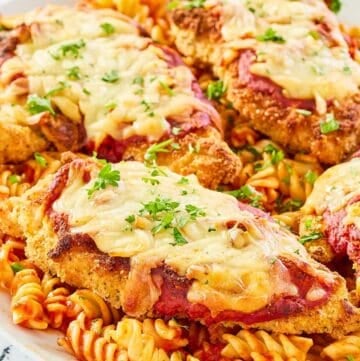 Olive Garden Chicken Parmigiana
You can make chicken parmesan like Olive Garden with this easy copycat recipe.
Print
Pin
Rate
Add to Collection Go to Collections
Servings: 4
Calories: 467kcal
Ingredients
3

cups

marinara sauce

1

pound

boneless skinless chicken breasts

½

teaspoon

salt

¼

teaspoon

ground black pepper

½

cup

all-purpose flour

2

large

eggs

2

tablespoons

water

1½

cups

Italian bread crumbs

¾

cup

grated Parmesan cheese

I recommend canned Parmesan cheese, like Kraft

oil for frying

1

cup

shredded mozzarella cheese

¼

cup

Parmesan cheese for garnish
Instructions
Heat marinara sauce in a pot on low on your stove.

Slice chicken breasts in half horizontally.

Next, you will gently pound the chicken breasts into cutlets.

Place a chicken breast between two sheets of plastic wrap, and use a meat mallet to gently pound the chicken breast until it is about ¼ inch thick. Do this for all chicken breasts.

Season chicken breasts with salt and ground black pepper on both sides.

Preheat the oven to 350 degrees.

Prepare a dredging station. You will need three shallow bowls or pie plates.

Place flour in the first bowl.

In the second bowl, add eggs and water, and beat to combine into a uniform mixture.

In the third bowl, add Italian bread crumbs and parmesan cheese. Stir to combine so you have a uniform mixture.

Then set up a wire rack on top of a baking sheet.

First, dredge a chicken cutlet in the flour, and shake off excess flour.

Place the floured chicken into the egg mixture, coat both sides, and then shake off the excess egg.

Finally, dredge the chicken into the breadcrumb and Parmesan cheese mixture. Coat well on both sides, then place the breaded chicken cutlet onto a wire rack.

Bread all chicken cutlets.

Pour enough oil into a large skillet to cover the bottom of the pan by ½ inch. Heat the oil to 350 degrees.

Cook the chicken for 3 to 4 minutes on each side or until the breading is golden brown. The chicken is cooked through when it has reached an internal temperature of 165 degrees.

Remove the cooked chicken from the oil, and drain off any excess oil from the chicken.

Place the cooked Parmesan chicken into a baking dish. Top with marinara sauce, and then top with mozzarella.

Bake for 5 to 10 minutes or until the cheese melts.

Garnish with chopped parsley and serve.
Nutrition
Calories: 467kcal | Carbohydrates: 34g | Protein: 44g | Fat: 17g | Saturated Fat: 8g | Polyunsaturated Fat: 2g | Monounsaturated Fat: 5g | Trans Fat: 0.02g | Cholesterol: 157mg | Sodium: 2107mg | Potassium: 1095mg | Fiber: 4g | Sugar: 8g | Vitamin A: 1287IU | Vitamin C: 15mg | Calcium: 407mg | Iron: 4mg