Learn how to cook wild rice on the stovetop! With its chewy texture and nutty flavor, this whole grain is delicious in salads, side dishes, and more.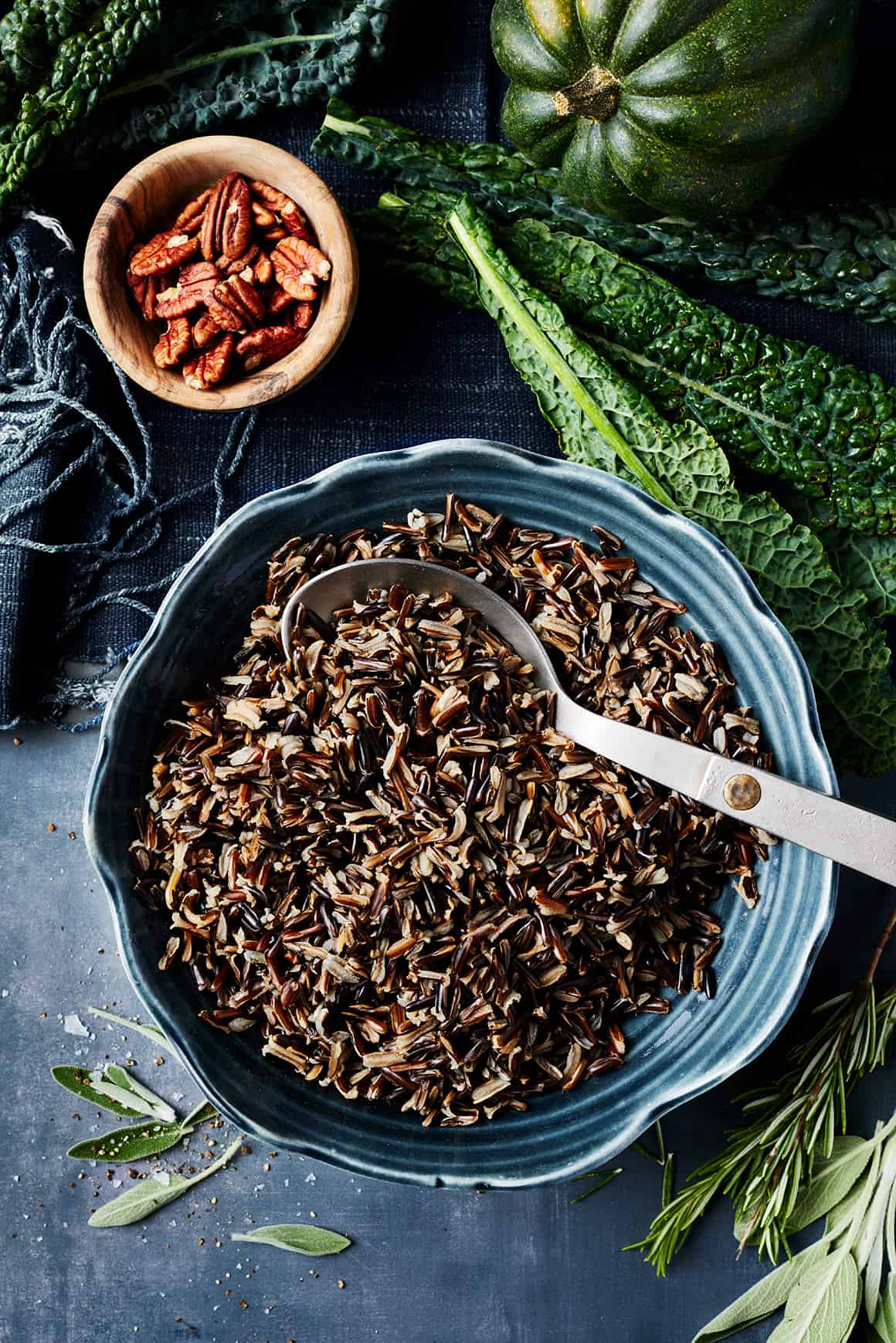 Wild rice is one of my favorite whole grains to cook in the fall. Its chewy texture and nutty flavor make it a perfect partner for seasonal produce like sweet roasted squash and earthy root veggies. Because I've found myself preparing it a lot lately, I thought I'd take today's post to give you some background on it. I'm also sharing a foolproof stovetop cooking method and some of my favorite wild rice recipes.
What is wild rice?
You might think, given its name, that this whole grain is a relative of the white or brown rice you'd find alongside it at the grocery store. In fact, wild rice isn't rice at all, but a type of aquatic grass. It is indigenous to the Great Lakes region of North America, where it grows naturally in freshwater lakes and waterways. Today, it is also cultivated commercially in the United States and Canada.
Wild rice, called manoomin in Ojibwe, has significant cultural importance to the Indigenous peoples of the Great Lakes. It is part of the Anishinaabe creation story, and historically, it provided essential sustenance throughout the upper Midwest's cold winters. Indigenous people continue to hand-harvest naturally occurring wild rice around the Great Lakes today, knocking the grass with wooden sticks so that it releases the grains of rice into their canoes. If you want to learn more about the rice's history and cultural significance, I recommend reading this article or this one. You can purchase hand-harvested rice from Native Harvest in Minnesota here.
How to Cook Wild Rice
Hand-harvested wild rice can be light or dark in color, whereas the cultivated kind is always dark brown or black. This cooking method will work with either type, but note that hand-harvested rice tends to cook more quickly. Depending on the variety, it might be ready in as little as 20 minutes, whereas the cultivated wild rice you'd find at the grocery store will likely need 50 or more.
Start by bringing a medium pot or saucepan of water to a boil. No need to worry about a specific rice-to-water ratio for this recipe. We're going to use what I call "The Pasta Method," which just means that we'll cook the rice in a pot of boiling water. While the water comes to a boil, place the rice in a fine mesh strainer and rinse it well.
Then, add the rinsed rice to the boiling water. Reduce the heat so that the water maintains a gentle boil. Simmer until the rice is tender but still has a slight bite, typically 35 to 55 minutes, though the cooking time could be more or less depending on your rice. Some of the grains will start to split open slightly.
Finally, let the rice steam. Drain off the liquid, return the rice to the pot, and cover it with a clean dishtowel. Place the lid on the pot, and allow the rice to sit for 10 minutes, becoming fully tender and fluffy.
Fluff with a fork, and enjoy!
Favorite Wild Rice Recipes
With its nutty flavor and chewy texture, the cooked rice is a delicious side dish on its own. When I serve it really simply, I dress it with olive oil, pinches of salt, and freshly ground black pepper and toss it with some chopped fresh parsley.
It's a great addition to larger salads, soups, and side dishes as well. Try using it in any of these recipes:
It would also be a lovely gluten-free alternative to the wheat berries in this autumn wheat berry salad recipe.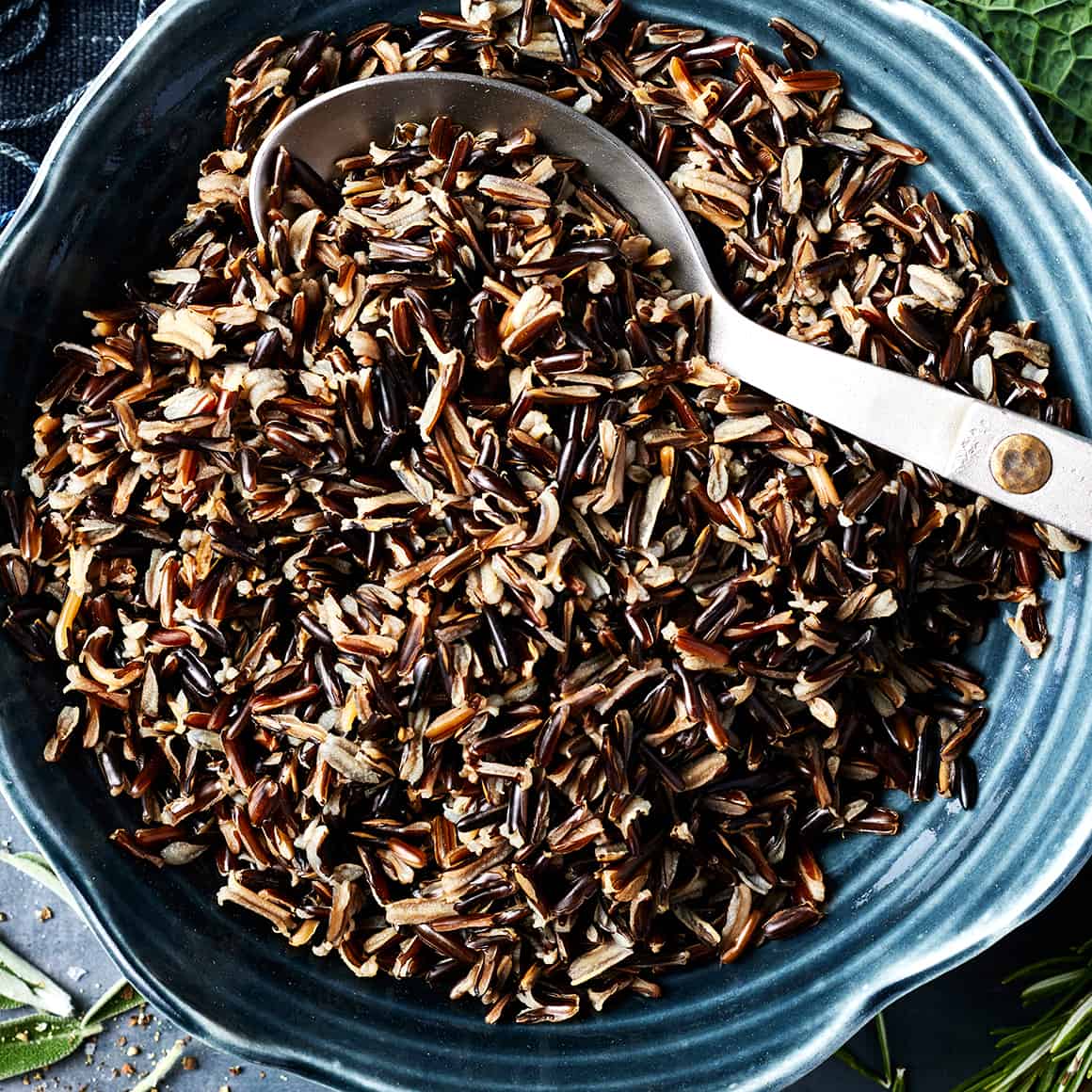 More Whole Grains to Try
If you love this wild rice recipe, try one of these whole grains next:
How to Cook Wild Rice
Serves 4
This method for how to cook wild rice will work for both hand-harvested and commercially cultivated rice, though the cooking time can vary widely. I find that it typically takes 35 to 55 minutes for both types, though hand-harvested rice may need less time (start checking at 20 minutes if you have light-colored rice) and cultivated rice may need more, as much as 70 minutes.
1

cup

wild rice

,

rinsed

Pot of water
Bring a medium pot of water to a boil over high heat. Add the rice, reduce the heat to a gentle boil, and cook until the rice is tender but still has a slight bite, typically 35 to 55 minutes. The grains will start to split open slightly.

Drain and return the rice to the pot. Cover with a clean dish towel and then place the lid on the pot. Let steam for 10 minutes. Fluff with a fork and serve.
Yield: About 3 cups cooked wild rice