This website may contain affiliate links and advertising so that we can provide recipes to you. Read my privacy policy.
I looove holiday recipes! Whether you are cooking an entree, some sides, or an ooey-gooey dessert, you can't go wrong. They are all absolutely delicious!!
I'm a firm believer that good food brings people together. What is better than celebrating the holidays with the people and food that you love?! Here's a big roundup of all of the holiday entrees, sides, and desserts! A few of my tried and true favorites are Classic Honey Glazed Ham, Orange Pomegranate Salad, and Peppermint Candy Cane Brownies.
Holiday Recipes
The holidays bring out the best recipes! I love them so much, but it makes me wonder why we wait all year to cook them. Maybe that's what makes them more special?! It doesn't matter because it IS holiday time, and I have rounded up my very favorite holiday recipes for you! There are enough here for you to put together an entire delicious feast! A feast that you can make a tradition for years to come!
The question is, how do you narrow down which ones you are going to choose? They are all so unique, and my mouth waters thinking of them! I like to make sure that along with my main dish, I have at least 2-3 sides to go along with it. I also like to bake a few dessert options… especially if I am baking pie! People need variety, and there is nothing better than showing up to a holiday event where I can try tons of different food options! These holiday recipes are all doable to even the most beginner of cooks. So browse away, pick your favorites and let's get cooking!
Holiday Cooking Tips
Holiday cooking can get complicated because you make so many holiday recipes in your kitchen at once! Here are a few tips on how to simplify the process. You want to set yourself up for success so that you look forward to these holiday recipes every year!
Prep: Pick out all of your recipes and go over each of them together when making a grocery list. That way you can ensure that you are being the most efficient with your purchases and aren't buying the same thing multiple times! Do your grocery shopping a few days beforehand so you can be prepared to chop and cut ahead of time.
Clean out your fridge: You will need a lot of space for all these dishes. Both before the meal and also after, for leftovers! Clear out your fridge so that when it comes time to cook, you aren't cooking AND cleaning. We've all been there before, and it's no picnic! Use these containers to store any leftovers in!
Thaw: Make sure that if you have any meat that takes a few days to thaw that you are doing that up to a week in advance. Nothing is worse than having a turkey that's still frozen on party day!
Chop: Cut up any fruits and vegetables beforehand. It will save you so much time, and you won't have as big of a mess to clean up!
Make a schedule: Go through the holiday recipes and find cooking times and temperatures. Write everything out and sort it accordingly. That way, all of your food will be steaming hot all at the same time!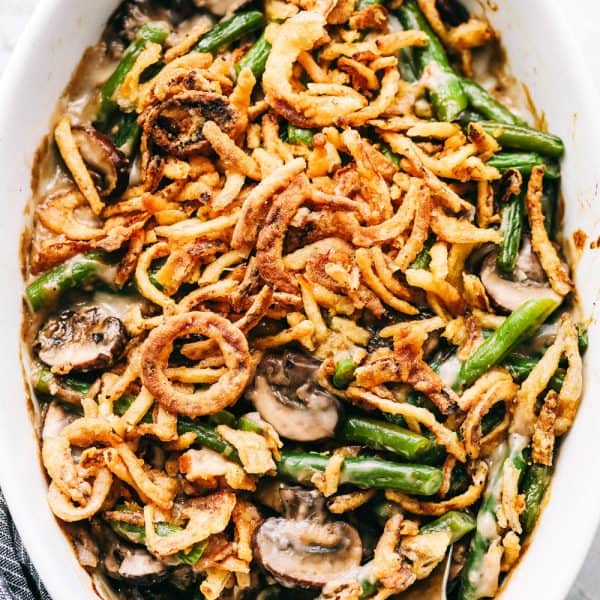 World's Best Green Bean Casserole
Green bean casserole is a classic, tried and true side dish that everyone loves! It's so delicious and creamy that it just might steal the turkey's spot as the star of the show! 
Ingredients: butter, garlic, onion, package button mushrooms, fresh green beans, low-sodium chicken broth, can low-sodium cream of mushroom soup, grated Parmesan cheese, salt, black pepper, crispy onion strings
Classic Honey Glazed Ham
This honey-glazed ham is coated with delicious brown sugar and sweet honey glaze! It is tender and juicy and goes with everything which makes it ideal for your holiday meal!
Ingredients: ham, honey, butter, dark corn syrup, brown sugar, whole cloves
Caramel Apple Pie
Caramel apple pie is the traditional American dessert, but totally elevated. Sour tart apples are smothered in caramel, it's insanely delicious.
Ingredients: homemade pie crust, granny smith apples, fresh lemon juice, granulated sugar, cornstarch, ground cinnamon, ground nutmeg, salt, Egg yolk plus 2 tbsp water for egg wash, heavy cream, granulated sugar, light corn syrup, salt, salted butter, vanilla extract
Grandma's Sausage Herb Stuffing
Grandma's sausage herb stuffing is a classic side dish! Baked bread, tender sausage, and crunchy vegetables all mixed with flavorful herbs and baked until golden brown… It makes my mouth water just thinking about it! 
Ingredients: French bread, sausage, butter, celery, carrot, onion, fresh thyme, parsley, fresh rosemary, dried cranberries, chicken broth
Slow Cooker Turkey Breast
Amazing juicy and perfectly tender turkey breast that slow cooks all day in the crockpot!
Ingredients: turkey breast, salt and pepper , orange juice, whole cranberry sauce, Onion Soup Mix, salt and pepper to taste
Lion House Rolls
Lion House Rolls are the best dinner rolls to pair with all of your holiday meals or any occasion for that matter. These rolls are buttery and super soft, the perfect vehicle to soak up delicious soups, sauces and gravies.
Ingredients: whole milk, unsalted butter, warm water, active dry yeast, granulated sugar, kosher salt, all-purpose flour, Extra flour for rolling, egg, milk, Melted salted butter for brushing
The Easiest Cranberry Sauce
This cranberry sauce is the perfect mixture of sweet and tart! It's made with fresh cranberries and topped with orange zest to really set it apart! 
Ingredients: bag of fresh cranberries, sugar, orange juice, water, zest from one orange
Winter Pomegranate Orange Quinoa Salad with Creamy Lemon Greek Yogurt Dressing
A mouthwatering winter salad with quinoa, spinach, mandarine oranges, and crunchy pistachios. Topped with a creamy lemon greek yogurt dressing and feta cheese this makes one unforgettable salad!
Ingredients: quinoa, spinach, mandarine oranges, pomegranate seeds, pistachios, crumbled feta cheese, juice from one fresh lemon, apple cider vinegar, sugar, minced garlic, plain Greek yogurt, extra virgin olive oil, salt, freshly ground black pepper
Garlic Butter String Beans
Garlic Butter String Beans (green beans) are the perfect easy side dish! Everyone will love these delectable tender-crisp string beans. A delicious healthier addition to your table. 
Ingredients: bags fresh string beans (green beans), butter, garlic, Salt & pepper
Red Velvet Peppermint Brownies with Peppermint Cream Cheese Frosting
Red Velvet Peppermint Brownies with Peppermint Cream Cheese Frosting are the perfect holiday brownie! A rich and chewy vibrant red peppermint brownie piled high with peppermint cream cheese frosting.
Ingredients: 4-oz. bittersweet chocolate baking bar, chopped, butter, sugar, large eggs, all-purpose flour, 1-oz. bottle McCormick Red Food Color, baking powder, McCormick Pure Vanilla Extract, McCormick Pure Peppermint Extract, 8-oz. package cream cheese, softened, butter, powdered sugar, McCormick Pure Vanilla Extract, McCormick Pure Peppermint Extract, Crushed peppermint candy canes for garnish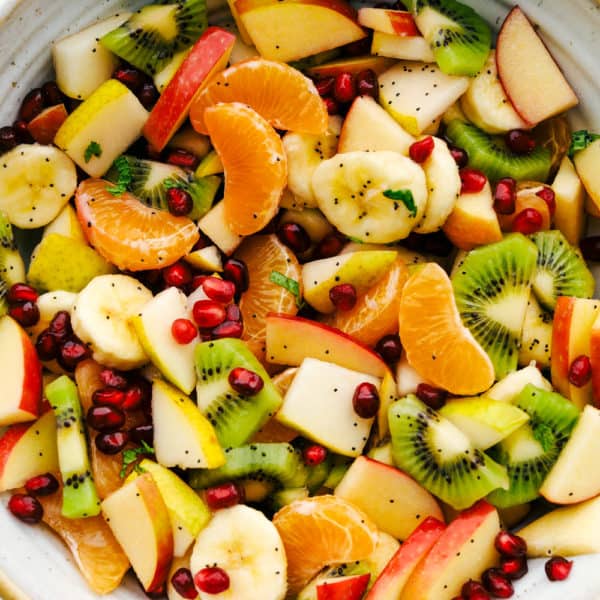 The Best Winter Fruit Salad
The Best Winter Fruit Salad is filled with clementines, kiwi, pears, apples, and pomegranate. It gets tossed in a delicious honey lime poppyseed dressing and you won't be able to get enough!
Ingredients: apple peeled and sliced, pear, bananas, kiwi fruit, clementines, pomegranate seeds, Honey, Lime Juice, poppy seeds, fresh mint
Parmesan Roasted Vegetables
You're going to love this simple, easy, and super flavorful side dish!
Ingredients: vegetables, panko breadcrumbs, Parmesan cheese, paprika, garlic powder, Italian dressing
French Silk Pie
A flakey crust is filled with a decadent, dreamy, creamy, chocolate filling and topped with pillows of cream for this irresistible French Silk Pie. The filling is so smooth and rich, and then encased in a buttery crust. It's a crowd pleaser where ever you serve it!
Ingredients: all-purpose flour, rounded tablespoon granulated sugar, rounded teaspoon kosher salt, unsalted butter, cold water, heavy whipping cream, powdered sugar, unsweetened baking chocolate, bittersweet baking chocolate, large eggs, granulated sugar, unsalted butter, pure vanilla extract, heavy whipping cream, powdered sugar, vanilla extract, Chocolate curls
Oven Baked Herb Turkey
Oven baked herb turkey is perfectly juicy and tender! It's stuffed with slices of citrus, a crisp apple and fresh herbs then baked until it's a toasty golden brown. It's mouthwatering and delicious! 
Ingredients: turkey, onion, garlic, rosemary, apple, lemon, thyme, butter softened, garlic minced, thyme finely chopped, oregano finely chopped, rosemary finely chopped, salt, pepper
Cranberry Cheesecake Fluff
A creamy and delicious cheesecake fluff salad with cranberries and walnuts. It is so easy to make and a must make for the holidays!
Ingredients: package fresh cranberries, sugar, can crushed pineapple, walnuts, mini marshmallows, cream cheese, heavy whipping cream
Pumpkin Pudding Cake
This pumpkin pudding cake is warm, gooey dessert perfection! It's a great finish to any fall or Thanksgiving dinner topped with a scoop of ice cream!
Ingredients: flour, + 1 cup brown sugar, baking powder, cinnamon, salt, of nutmeg, of cloves, pure pumpkin puree, milk, oil, vanilla extract, corn starch, hot or boiling water, butter
Dad's Famous Mashed Potatoes
Dad's Famous Mashed Potatoes are always the star of a dinner table! Perfectly creamy, buttery, and they have such amazing flavor. People are always begging him to make the recipe!
Ingredients: potatoes, milk, butter, salt, pepper to taste, Optional garnish: freshly chopped chives
Roasted Cranberry Orange Pork Loin with Green Beans
Roasted Cranberry Orange Pork Tenderloin with Green Beans is such a flavorful and easy meal. The cranberry orange glaze is perfect on top of the pork and green beans. This will be the star of your holiday dinner table!
Ingredients: Smithfield Slow Roasted Golden Rotisserie Marinated Fresh Pork Tenderloin, olive oil, fresh green beans, Salt and pepper, + 2 tablespoons fresh orange juice, apple cider vinegar, sweet orange marmalade, whole cranberry sauce, Optional: fresh cranberries and/or rosemary
Homemade Cherry Pie
Homemade cherry pie is about as classic as they come and this recipe is no exception! Absolutely delicious, this mouthwatering pie has a tart filling and flaky crust that is so tasty that you won't be able to stop at just one slice!
Ingredients: Homemade, fresh or frozen sour cherries and their juice, granulated sugar, cornstarch, almond extract, lemon juice, unsalted butter, egg yolk, water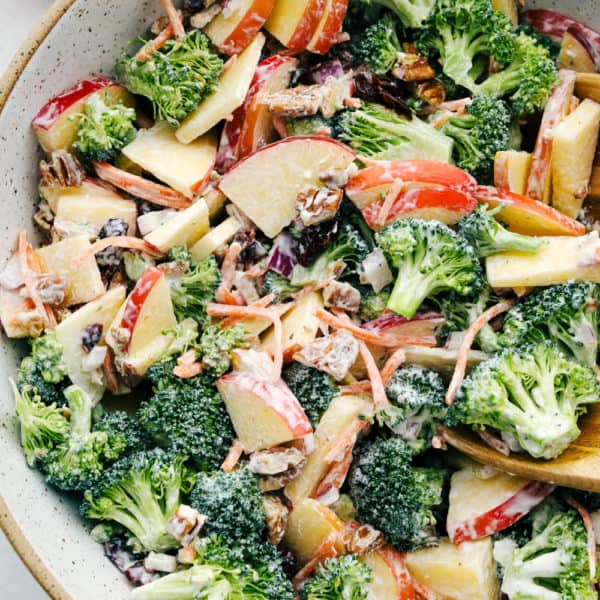 Broccoli Apple Salad
Broccoli, pecans, cranberries, carrots and apples come together to make an amazing salad with delicious flavors and textures.  The creamy dressing on top makes this salad absolutely incredible!
Ingredients: fresh broccoli florets, shredded carrots, diced red onion, large apples, pecans, dried cranberries, lite mayonnaise, low fat greek yogurt, lemon juice, sugar, salt, pepper
Banana Cream Pie Bars
A simplified version of Banana Cream Pie made into bars with a no-bake crust and topped with layers of luscious ingredients.
Ingredients: Nilla Wafers, unsalted butter, 8 oz. pkg. cream cheese, softened, powdered sugar, 8 oz. tub frozen whipped topping, thawed, large bananas, 3.4 oz. pkgs. vanilla instant pudding mix, cold milk, caramel ice cream topping
Scalloped Potatoes and Ham
These Scalloped Potatoes and Ham are the perfect make ahead holiday dinner but they're just as good for leftovers, too! Super creamy, cheesy and comforting.
Ingredients: medium red potatoes, cooked, unsalted butter, minced garlic, Italian seasoning, salt, black pepper, all purpose flour, 2% milk, heavy cream, shredded mozzarella cheese
Easy Turkey Gravy
Turkey gravy is rich, thick, and creamy! This gravy takes less than 15 minutes to make! Once you drizzle it all over your turkey and potatoes, well, you will use this recipe for every holiday season!
Ingredients: Pan Drippings from 12-14 pound turkey, chicken broth, flour, salt and pepper to taste
Butternut Squash Soup
Butternut Squash Soup is rich, creamy, savory, and just like a warm hug in a bowl.  Classic fall flavor welcomes in the cooler weather with a perfect blend of spices and ingredients.
Ingredients: butternut squash, celery stalks, small onion, shredded carrots, Granny Smith apple, vegetable stock, fresh thyme, of cinnamon, salt and pepper, heavy cream
Spiced Rub Brown Sugar Pineapple Glazed Ham
Spiced Rub Brown Sugar Pineapple Glazed Ham is coated with a sweet and tangy spiced glaze that caramelizes on the edge of the ham. This will be the star at your holiday dinner table!
Ingredients: boneless, brown sugar, ground coriander, cinnamon, ground cumin, pepper, ground allspice, pineapple juice, Dijon mustard, brown sugar, Worcestershire sauce
Best Ever Pecan Pie Bars
Best Ever Pecan Pie Bars takes the amazing pecan pie and transforms it into irresistible bars. A buttery shortbread crust that gets topped with a caramel pecan glaze, these are perfect for feeding a crowd!
Ingredients: unsalted butter, packed brown sugar, all-purpose flour, salt, unsalted butter, packed light brown sugar, honey, heavy cream, vanilla, chopped pecans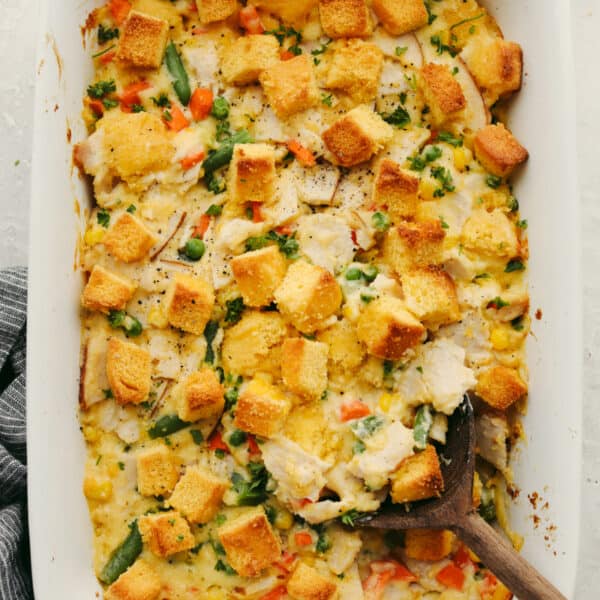 Leftover Turkey Casserole
This leftover turkey casserole is creamy and delicious! Made with your leftover turkey, it's the easiest recipe to make just after Thanksgiving! It's SOO GOOD!
Ingredients: butter, flour, kosher salt, crushed black pepper, turkey stock, heavy cream, sharp cheddar shredded, turkey breast meat, cornbread cubes, frozen peas, chopped carrots, chopped frozen green beans, frozen corn
Almond Poppy Seed Bundt Cake
This flavorful bundt cake made with poppy seeds is bursting with almond flavor. It's moist, delicious and comes together quick with very little effort.
Ingredients: flour, baking powder, poppy seeds, salt, sugar, butter, eggs, almond paste, almond extract, buttermilk, powdered sugar, milk, almond extract, slivered almonds
Christmas Punch (Cranberry Orange Punch)
This easy Christmas punch is delicious and so festive! It's the perfect punch to serve at your next gathering… It's for all ages, young and old!
Ingredients: orange juice, cranberry juice, lemon lime soda, orange slices for garnish, real cranberries for garnish
Christmas Gooey Butter Cookies
Soft and chewy cookies that are coated in powdered sugar to make them extra special.
Ingredients: unsalted butter, 8 oz. pkg. cream cheese, room temperature, egg, almond extract, orange extract, pkg. white cake mix, sprinkles, powdered sugar
Cranberry Salsa (The Best Holiday Appetizer!)
Cranberry salsa is a fresh cranberry mixture of sweet and savory that is laid over the top of cream cheese. This makes for the BEST holiday appetizer!
Ingredients: fresh cranberries, Granny Smith apple, green onions, cilantro, jalapeño, sugar, apple cider vinegar, juice of one lime, cream cheese
Strawberry, Apple, and Pear Spinach Salad with an Apple Cider Poppyseed Dressing
Strawberry, Apple, and Pear Spinach Salad is an easy to make spinach salad with crisp apples, pears and strawberries hidden throughout. Topped with feta cheese, crunchy pecans and tossed in a delicious apple cider dressing!
Ingredients: spinach, strawberries, apple, pear, apple cider, Apple Cider Vinegar, Olive Oil, Honey, poppyseeds, feta cheese, chopped pecans
Apple Tart
Loaded with fresh apples and baked to a perfect golden brown, this beautiful apple tart is the pastry of the summer! A combination of buttery, nutty, and tart, it tastes as good as it looks!
Ingredients: flour, granulated sugar, salt, unsalted butter, egg yolk, cold water, apples, granulated sugar, cinnamon, nutmeg, vanilla extract, lemon juice, Dash of salt, Apricot preserves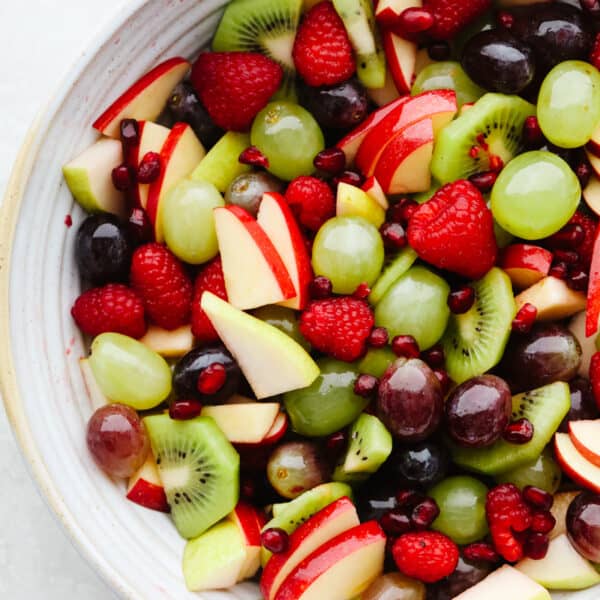 Christmas Fruit Salad
This easy Christmas fruit salad recipe is loaded with red and green fruit making it the perfect light and healthy addition to your holiday table! With a super simple dressing, it comes together quickly and is sure to be a hit!
Ingredients: pear, red apples, green grapes, red grapes, kiwi, raspberries, pomegranate arils, honey, lime juice