Strata is a wonderful breakfast casserole that can be put together the night before. Eggs, bread, ham, and cheese resting overnight (just like yourself!) and ready to be baked the next morning.
This post contains affiliate links. As an Amazon Associate, I earn from qualifying purchases.
What is a Strata?
The word strata is derived from Latin and it means layers. A breakfast strata is a layered casserole with a crusty top and tender, airy interior created by the use of one single ingredient… bread. The bread serves as a base to absorb the eggs and dairy. It's a bit like a savory bread pudding.
Here's why this breakfast strata recipe makes a great morning meal:
Makes a big casserole that easily serves 10 to 12 people.
Only a few minutes of prep time!
Looks extremely appetizing with its crisp golden craggy top.
The pillowy texture of each bite is wonderfully divine! You get crunch, creaminess, and cheesiness.
No pre-cooking anything.
Totally customizable. Use different cheeses and add any leftovers or cooked veggies of your choice.
What Makes This Breakfast Strata Recipe One You Must Try
Are you looking for a breakfast casserole you can put together in no time? Well, look no further. This casserole can be prepared the night before and left in the refrigerator to be heated in the morning when you are ready to serve.
This overnight breakfast strata recipe is perfect for serving on weekend mornings. No one wants to wake up an hour early on a weekend day to get breakfast ready while the rest of the family is still snoozing. This way, you can lie in a little longer, pop the breakfast casserole in the oven, and casually sip your coffee as it bakes.
This easy overnight breakfast casserole is also perfect for special occasions such as Christmas morning, your kid's slumber parties, or when friends from out of town are visiting.
Your family will love the creaminess of this hearty breakfast casserole packed full of eggs and ham. It will soon become a favorite request.
Ingredients You Will Need
Here are your basic ingredients:
Milk or Cream
Large Eggs
Bread
Cheddar cheese
Ham
Dry mustard
Salt
Cherry tomatoes (for garnish)
How to Make This Breakfast Strata Recipe
Nothing could be simpler. Anyone can make this.
Line a buttered casserole dish with bread.
Layer the ham over the bread, cover with cheese, and cover with bread again.
Whisk together the eggs, milk, and mustard in a large bowl.
Pour the mixture into the baking dish.
Cover with aluminum foil or plastic wrap and refrigerate overnight.
Sprinkle cornflakes or crumble potato chips on top.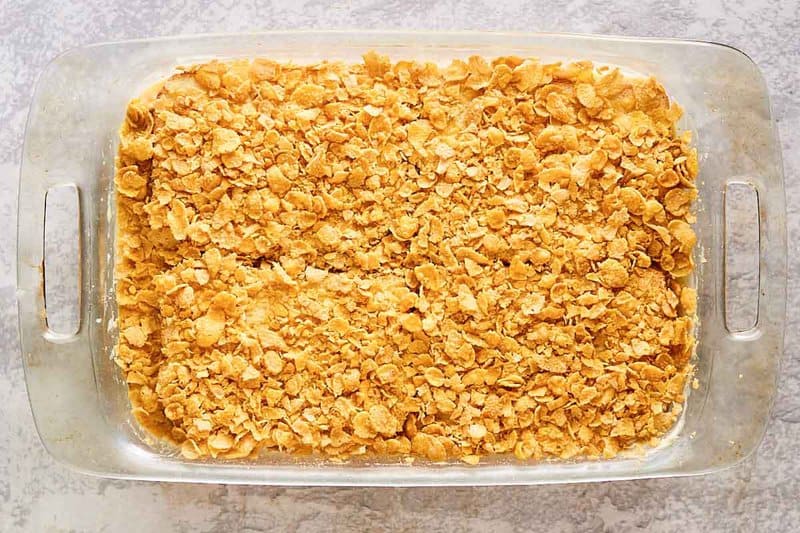 Bake for 1 hour at 350°F.
Strata is done when it doesn't jiggle in the center when you shake it or when a toothpick comes out clean. Try to avoid overcooking the strata, or it will become dry.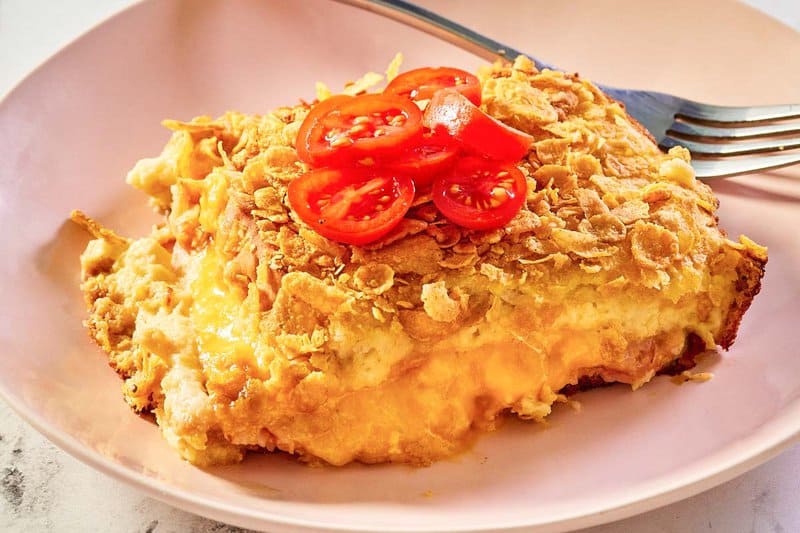 Recipe Variations
The basics of breakfast strata are bread, eggs, milk, and cheese. However, you can make it your own with different fillings. You can put almost anything into strata, and it's great for using up leftovers.
Here are some ideas for add-ins and flavor options:
Vegetables: Add asparagus, bell peppers, spinach, mushrooms, broccoli, kale, or zucchini. Try to stick to a total of 3 to 4 cups of vegetables. Cook the vegetables first with some onion and garlic for added flavor.
Meat: Sausage for breakfast strata with sausage. Diced bacon for breakfast strata with bacon. You can also go with ground chicken, turkey, or beef. Mix your choice of pre-cooked meat with your chosen cooked vegetables before layering it into the dish.
Cheese: Use whatever cheeses are your favorites – sharp cheddar, smoked gouda, pepper jack, fontina, feta, or parmesan. Try combining sharp cheddar and smoked gouda and add scallions and roasted red peppers – yummy!
Herbs: Add some fresh or dried herbs to the egg custard – basil, rosemary, thyme.
Spices: Add nutmeg or paprika for some extra flavor.
Vegetarian: Omit meat for a vegetarian breakfast strata recipe (with egg).
Vegan: Here's a recipe for completely vegan breakfast strata.
Special Diets: Use gluten-free bread if you have a gluten-restricted diet. Also, this strata recipe should work fine with non-dairy milk.
Sweet: For sweet breakfast strata, skip the cheese and add berries or bananas for the filling and a splash of vanilla.
Breakfast Strata Frequently Asked Questions
Does a strata have to sit overnight?
You do need to allow some time for the bread to soak up the eggs. As a general rule, strata needs to rest for at least one hour before baking.
How long can a strata be allowed to rest?
Strata can rest for up to 18 hours, making it the perfect breakfast casserole to make the night before a big family event.
What is the best type of bread to use?
Any kind of bread will work with this strata recipe, and anything goes, including crusts or no crusts.
Can you use stale bread?
The bread needs to be fully saturated with liquid, and this process is faster with fresh bread. However, you can certainly repurpose stale bread.
What to Serve With Breakfast Strata
A breakfast casserole usually is made with eggs, meat, cheese, and bread. So, a side of fruit or vegetables works well. A yogurt parfait or a fruit smoothie can add some balance. Fried apples are also good. 
Here are some other ideas:
Serve it for breakfast with a side of bacon or sausages (if you don't have these two items in your casserole).
Serve it for brunch with a green salad or fresh fruit and yogurt. If you want something more substantial, think about a chicken salad. And don't forget the mimosas!
How to Store Strata Leftovers
Baked Strata: This overnight strata recipe makes a perfect leftover meal, and leftovers will keep in the refrigerator for up to a week. To freeze baked leftover breakfast casserole, wrap it well and place it in the freezer for up to 3 months. Simply thaw and reheat when needed.
Unbaked Strata: You can tightly cover an unbaked casserole and place it in the freezer for up to 3 months. To use, allow it to thaw in the refrigerator overnight. Remove it from the fridge for about 30 minutes before putting it in the oven. Bake at 350°F as directed or until heated through.
Favorite Breakfast and Brunch Recipes
Great Ham and Cheese Recipes
Check out more of my easy breakfast recipes and favorite family recipes on CopyKat!
This recipe is by Lynn Ordorf, Pueblo, Co. 1979.
Overnight Breakfast Strata
Strata is a great breakfast casserole to make.   Eggs, bread, ham, and cheese rest overnight to be baked in the morning.
Print
Pin
Rate
Add to Collection Go to Collections
Servings: 12
Calories: 209kcal
Ingredients
3

cups

milk

6

eggs

1

teaspoon

salt

1/2

teaspoon

dry mustard

12

slices

bread

1/2

cup

shredded cheddar cheese

8

ounces

thinly sliced ham

4

or

5 sliced cherry tomatoes for garnish
Instructions
Butter a 9 X 13-inch pan and line it with bread. Put a layer of ham thinly sliced over the bread and cover with cheddar cheese cover with bread again. Mix together eggs, milk, and dry mustard. Pour over the egg mixture and set overnight in refrigerator. Before baking, sprinkle with cornflakes or potato chips and bake for 1 hour at 350 degrees.
Nutrition
Calories: 209kcal | Carbohydrates: 16g | Protein: 12g | Fat: 9g | Saturated Fat: 4g | Cholesterol: 104mg | Sodium: 650mg | Potassium: 220mg | Fiber: 1g | Sugar: 4g | Vitamin A: 265IU | Calcium: 155mg | Iron: 1.6mg