Domino's Garlic Bread Twists sure are tasty garlic knots sprinkled with parmesan cheese for a cheesy touch. They are easy to make at home with store-bought pizza dough.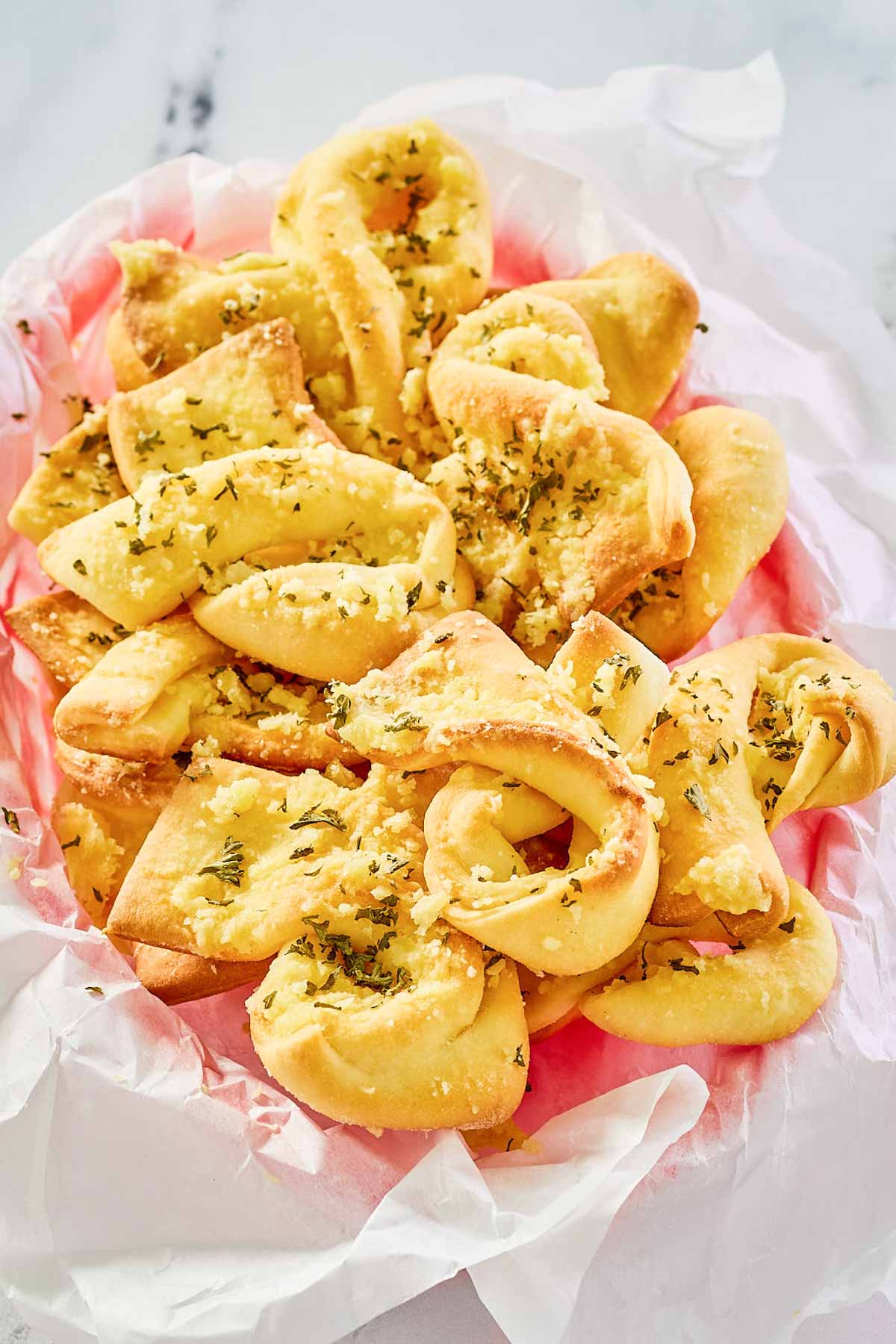 This post contains affiliate links. As an Amazon Associate, I earn from qualifying purchases.
Why Dominos Garlic Bread Twists Are So Good 
Warm, soft, garlicky breadsticks? Yes, please. These Garlic Bread Twists are crispy on the outside and light and fluffy on the inside. The twists are well-flavored with Parmesan cheese seasoning and buttery-tasting garlic, but you can easily change up their flavor by serving a variety of dipping sauces.
Whether you pair Domino's parmesan bread twists with pasta or salad, these garlic twists will make your next meal so much better. 
Why You Should Try This Recipe 
Learn this simple and quick recipe for soft breadsticks, and you'll always be able to whip up a quick snack or save Pasta Night if you forgot to buy garlic bread. 
Ingredients For Garlic Bread Twists Dominos Style
To make Dominos Garlic Bread, you'll need:
Margarine 
Garlic, finely minced 
Parmesan cheese, grated
Dried parsley 
Refrigerated pizza dough 
You can replace the margarine with real butter if you prefer. 
You can buy premade dough in many supermarkets or try making your own with this easy pizza dough recipe.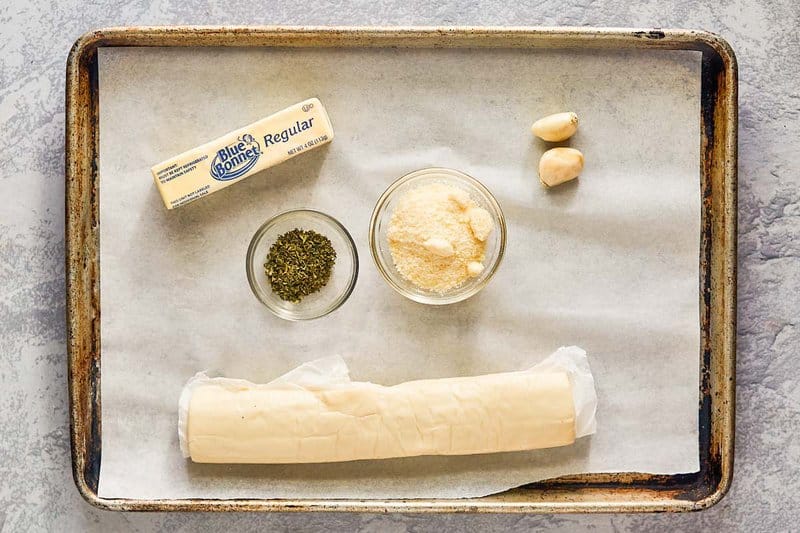 How To Make Garlic Knots With Pizza Dough
To prepare the garlic sauce:
Remove the dough from the fridge and place it on the counter to warm up. 
Melt the margarine in a small saucepan over low heat.
Add the garlic to the melted margarine and heat on low for 10 minutes. Remove the pan from the heat and cover it to keep the sauce warm.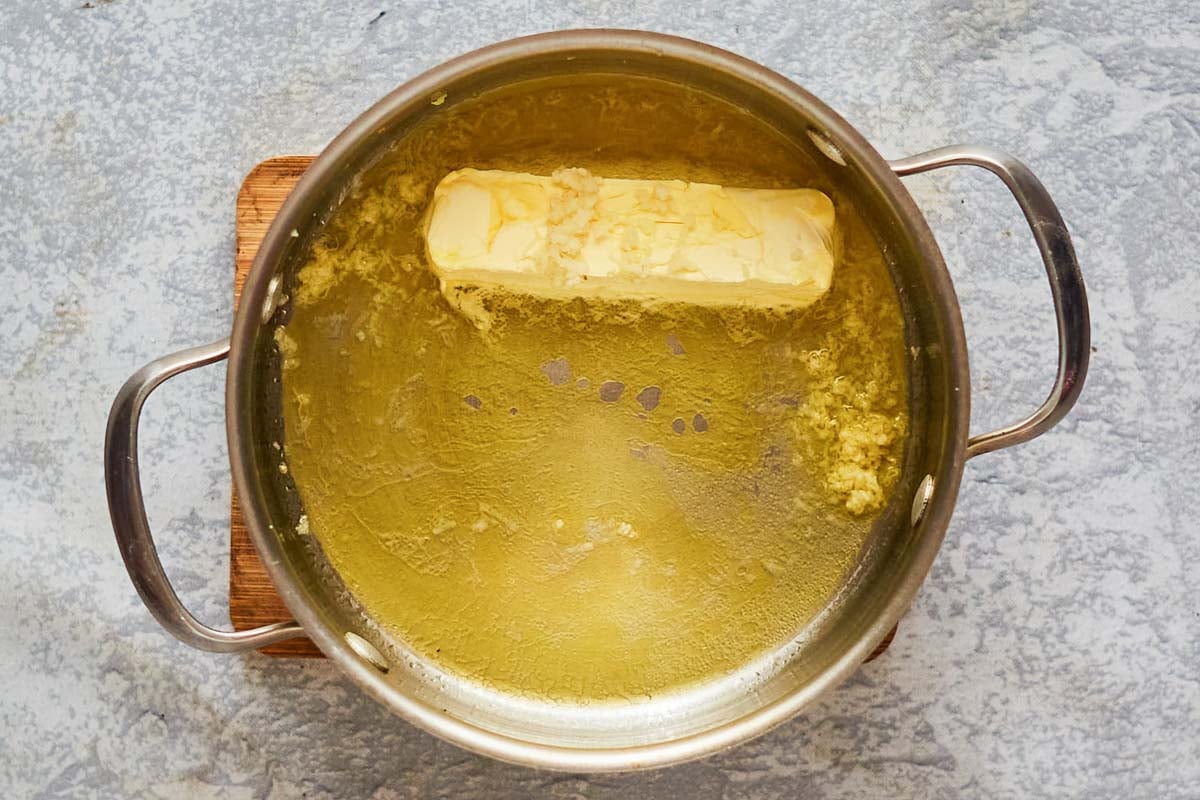 To portion Dominos garlic knots: 
Sprinkle flour on top of a clean work surface.
Lightly flour a rolling pin and roll the pizza dough into a rectangle about a quarter-inch thick, as you would for thin crust pizza.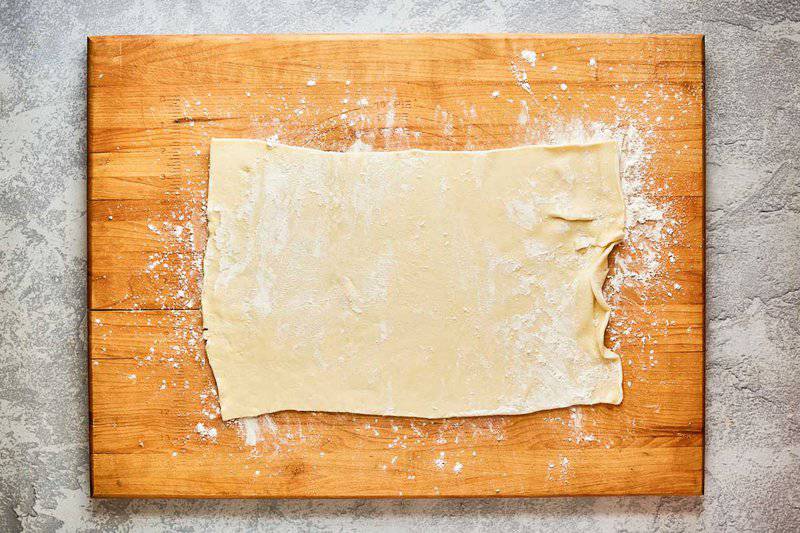 Cut the rectangle into eight equal strips the longways.
Cut each strip in half for a total of 16 pieces.
To twist the dough:
Prepare two parchment paper-lined baking trays.
Lightly flour your hands. 
Roll a strip of dough into a coil with your hands.
Make a U-shape with the dough coil and turn the bottom part of the U over itself to create a twist. 
Lay the twisted breadstick on a parchment paper-lined baking tray.
Repeat until you twist all the bread strips. 
To bake the bread twists:
Preheat the oven to 475°F.
Brush the garlic butter on top of the bread strips.
Bake the twists for 10 to 12 minutes.
While the bread is in the oven, stir the grated parmesan cheese into the warm garlic butter.
Brush the twists with melted butter garlic sauce mixture immediately after the bread comes out of the oven. Sprinkle the twists with dried parsley as a garnish.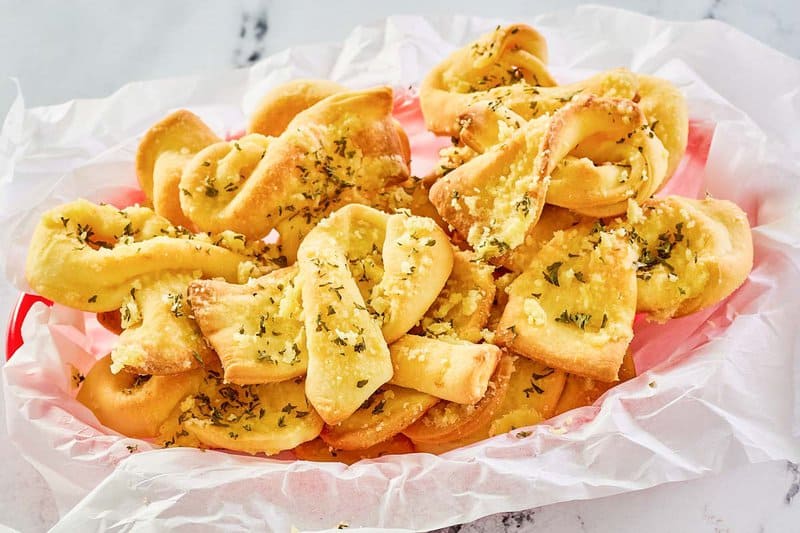 Recipe Variations
You can substitute the fresh garlic with a teaspoon of garlic powder.
Sprinkle red pepper flakes on top for a kick of heat.
For extra parmesan twists, sprinkle more grated parmesan on them after brushing them with garlic butter.
Substitute the dried parsley with fresh herbs. Oregano is a classic one for Italian dishes.
What To Serve With Garlic Twists 
Dominos garlic knots are perfect as a side for your favorite soup, salad, or pasta dish. They make a great appetizer or snack, especially with a side of marinara sauce, hot cheese sauce, or Yum Yum Sauce.
How To Store the Leftovers 
You can keep extra garlic knots in an airtight container on the counter overnight or in the fridge for up to three days. 
For any longer than that, it is best to wrap the breadsticks in plastic and store them in a freezer-safe container for up to three months.
What's the Best Way to Reheat
Reheating Dominos garlic knots in the oven is your best option:
Preheat the oven to 350°F.
Place the thawed breadsticks onto a lightly oiled baking tray and cover tightly with aluminum foil.
Bake the twists for 3 minutes, turn them over, and continue to bake covered for 2 to 3 more minutes or until hot.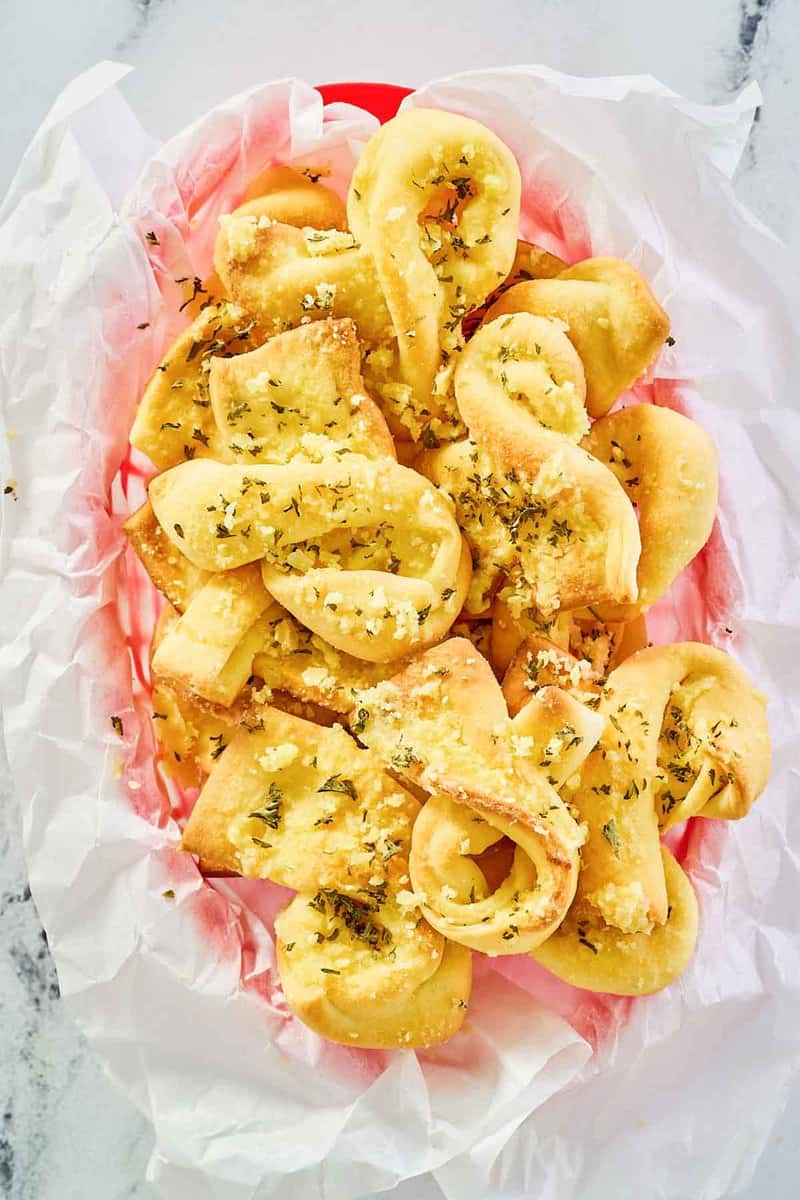 Favorite Bread Recipes
Popular Italian Appetizers
Check out more of my easy bread recipes and the best Italian food recipes on CopyKat!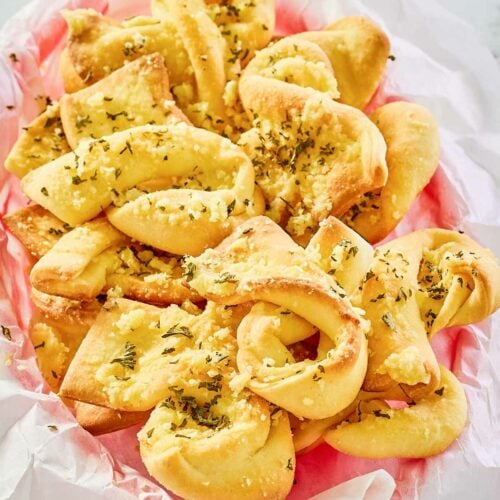 Domino's Garlic Bread Twists
You can make Domino's garlic knots at home with this easy copycat recipe.
Print
Pin
Rate
Add to Collection Go to Collections
Servings: 8
Calories: 250kcal
Ingredients
4

ounces

margarine

2

teaspoons

finely minced garlic

16

ounces

refrigerated pizza dough

3

tablespoons

parmesan cheese

½

teaspoon

dried parsley
Instructions
Place a small pot over low heat. Add the margarine and the garlic. Stir occasionally. Cook for about 10 minutes, stirring occasionally. Turn off the heat.

Preheat the oven to 475°F.

Sprinkle a small amount of flour onto a board.

Place the dough onto the board, and shape it into a rectangle.

After you have shaped the dough, cut it into 8 long strips, then cut those in half to make 16 strips.

Twist each bread strip only once and place it on a parchment-lined baking sheet.

Brush the melted garlic butter lightly over the strips.

Bake for 10 to 12 minutes or until golden brown.

While the twists are baking, add the parmesan cheese to the garlic butter.

When you remove the bread twists from the oven, brush them heavily with the parmesan garlic butter.

Sprinkle with parsley and serve with marinara sauce if desired.
Nutrition
Serving: 2Twists | Calories: 250kcal | Carbohydrates: 27g | Protein: 5g | Fat: 14g | Saturated Fat: 3g | Polyunsaturated Fat: 3g | Monounsaturated Fat: 6g | Cholesterol: 1mg | Sodium: 574mg | Potassium: 11mg | Fiber: 1g | Sugar: 4g | Vitamin A: 522IU | Vitamin C: 0.3mg | Calcium: 28mg | Iron: 2mg