Looking for a delicious comfort food meal? Try Cracker Barrel's Chicken Fried Chicken! The chicken is crispy on the outside and perfectly seasoned served with gravy. Come enjoy a classic dish any day of the week.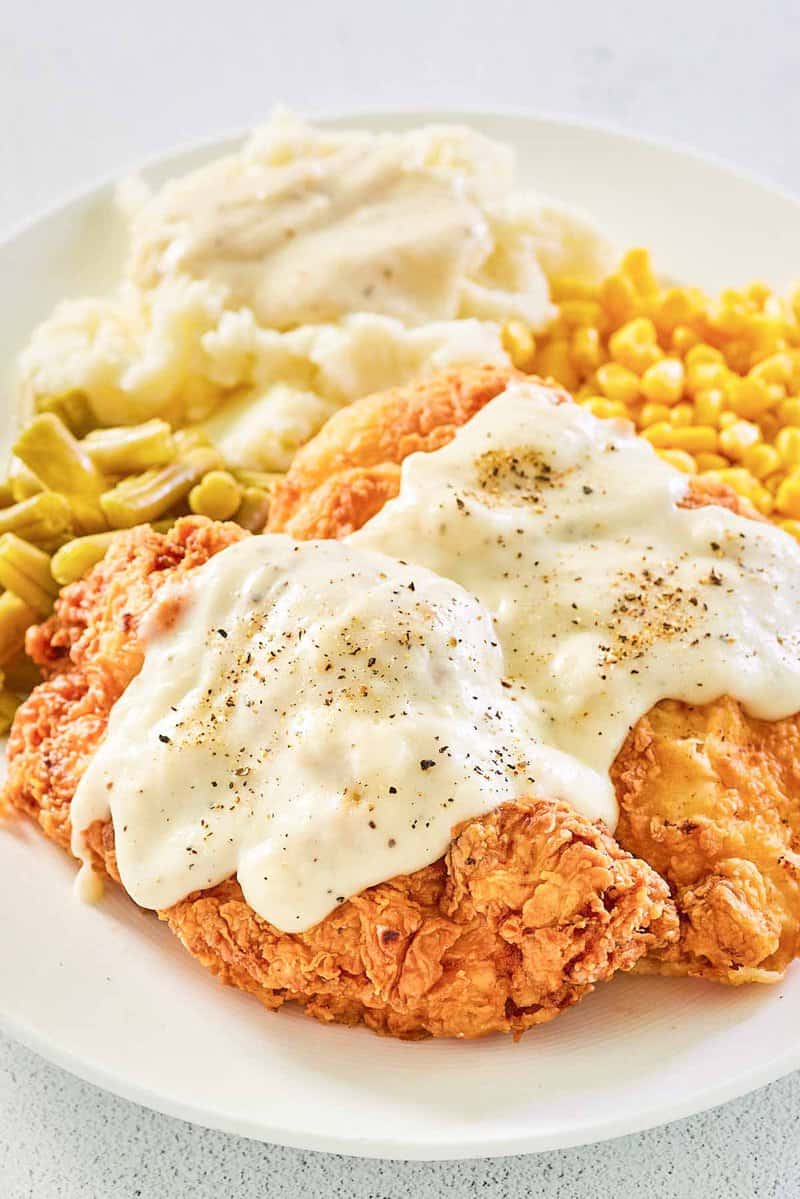 This post contains affiliate links. As an Amazon Associate, I earn from qualifying purchases.
What Makes Cracker Barrel Chicken Fried Chicken So Good? 
There probably isn't a better chicken dish on the planet than chicken fried chicken. The light, crispy crust and moist, perfectly cooked boneless white meat drenched in creamy gravy is the pinnacle of down-home cooking.
While Cracker Barrel's chicken fried chicken isn't as good as the version prepared by Southern grandmas, it is pretty gosh darn close.
Why This Is the Chicken Fried Chicken Recipe You Must Try 
Don't be put off by the calorie count in this traditional Southern classic; this is a meal you must try at least once. And although bacon grease and heavy cream may not be the most diet-friendly ingredients, they are definitely delicious-friendly!
So, if you're planning to try this recipe for chicken fried chicken, go ahead and make it as tasty as possible. 
Ingredients For This Cracker Barrel Chicken Fried Chicken Recipe
To prepare the chicken, you'll need:
Chicken breasts, boneless and skinless
All-purpose flour
Salt
Ground black pepper
Buttermilk
Water
Vegetable oil
To prepare the chicken fried chicken gravy, you'll need:
Bacon grease
All-purpose flour
Whole milk or heavy cream
Salt
Ground black pepper
Bacon grease adds a lot to this recipe, but if you absolutely won't use it or don't have any on hand, you can use cold butter.
For spicier chicken or additional flavor, you can add a little cayenne pepper or garlic powder to the flour for breading the chicken.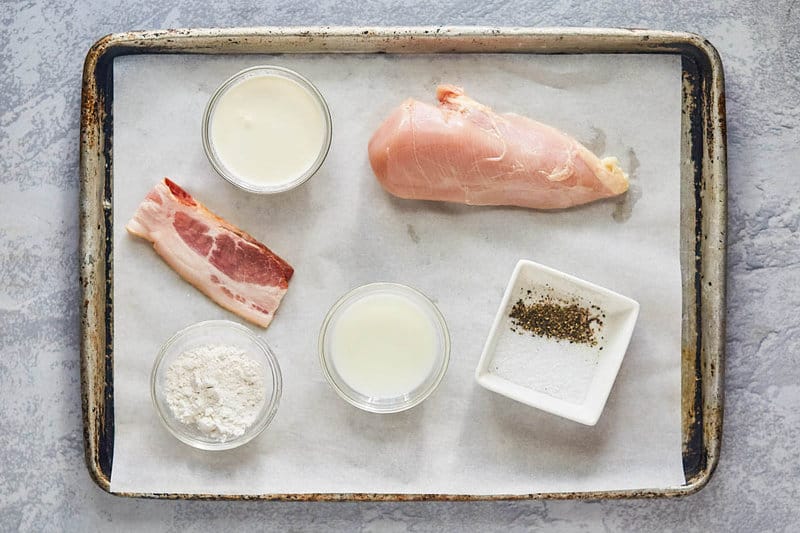 How To Cook Chicken Fried Chicken Cracker Barrel Style
To flatten out the chicken:
Lay a piece of plastic wrap on the counter. Place one boneless chicken breast on it and cover it with another piece of plastic wrap.
Use the flat side of a meat tenderizer to gently pound out the chicken to an even thickness of about half an inch. 
Put the chicken aside, and repeat with the remaining chicken breasts.
To bread the chicken:
Sift the flour, salt, and pepper into a wide shallow bowl.
Whisk together the buttermilk and water in another wide bowl.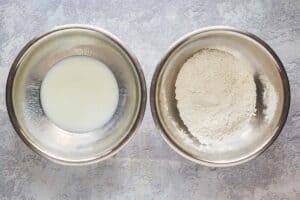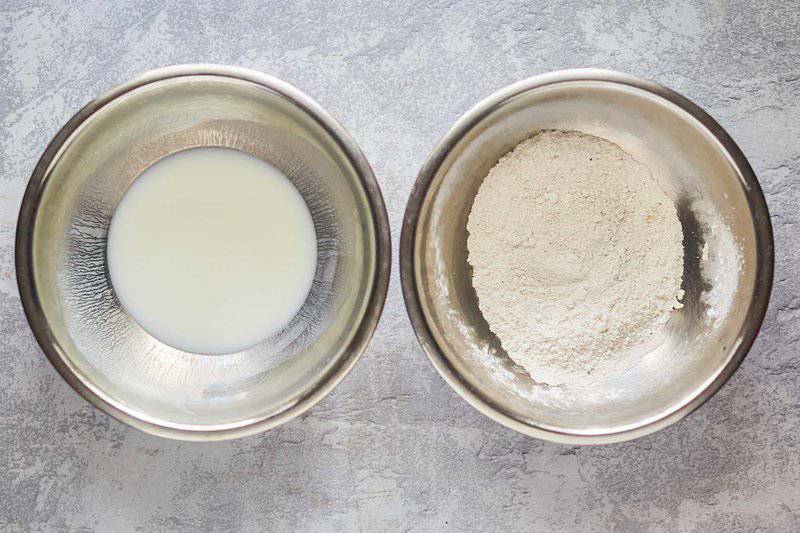 Coat the chicken breast with seasoned flour mixture and shake off any excess.
Dip the chicken into the buttermilk mixture.
Return the chicken to the bowl of seasoned flour for one more coating and place chicken breast on a wire rack or baking sheet lined with parchment paper to set.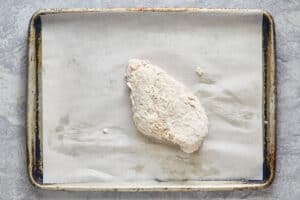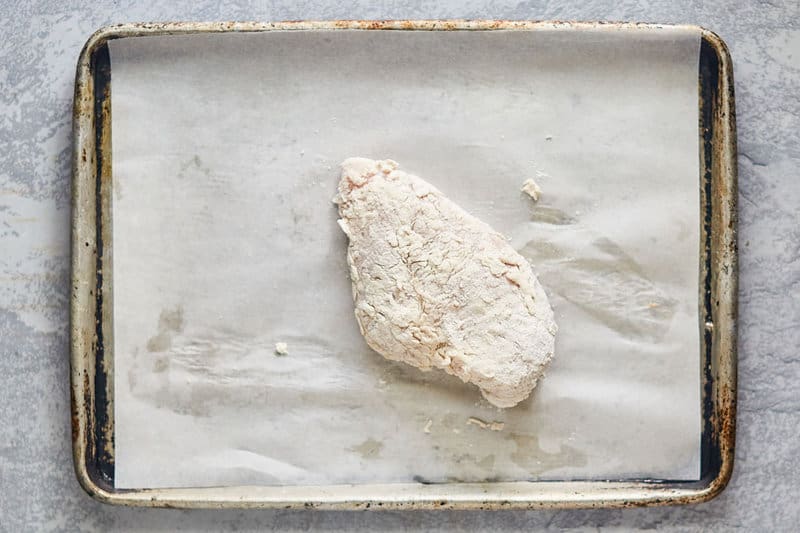 Repeat with the other pieces of chicken. 
To make the gravy for chicken fried chicken:
While the chicken is resting, heat a cast-iron pan over medium heat. If you don't have a cast-iron pan use any non-stick pan with a heavy bottom. 
Sprinkle the flour on top of the grease and whisk to combine. 
Continue to whisk for about a minute until you notice a baked pie crust smell.
Pour in the whole milk or heavy cream while whisking. 
When the gravy thickens, turn off the heat and season with salt and pepper to taste.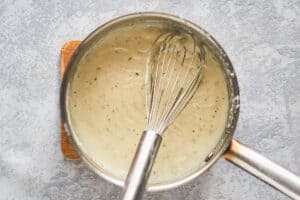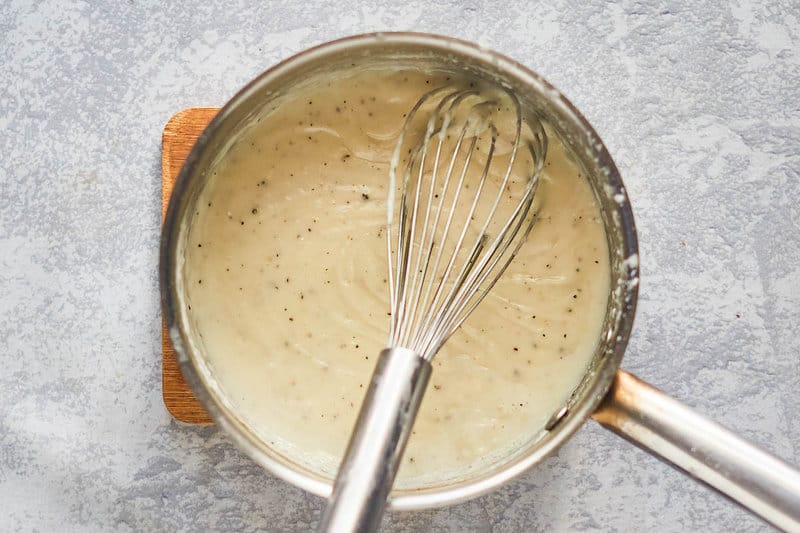 To fry the chicken:
Pour at least four inches of vegetable or canola oil into a dutch oven or other heavy-bottomed pot over medium-high heat. You can use an electric fryer if you have one. 
Heat the oil to 350°F. Double-check the temperature with a clip-on thermometer to ensure the oil is at the correct temperature. 
Deep fry one or two pieces of the breaded chicken for about minutes. The internal temperature needs to be at least 165°F. 
Drain the chicken on paper towels.
Repeat until you fry all the chicken.
Serve the chicken fried chicken with gravy, either on top or on the side.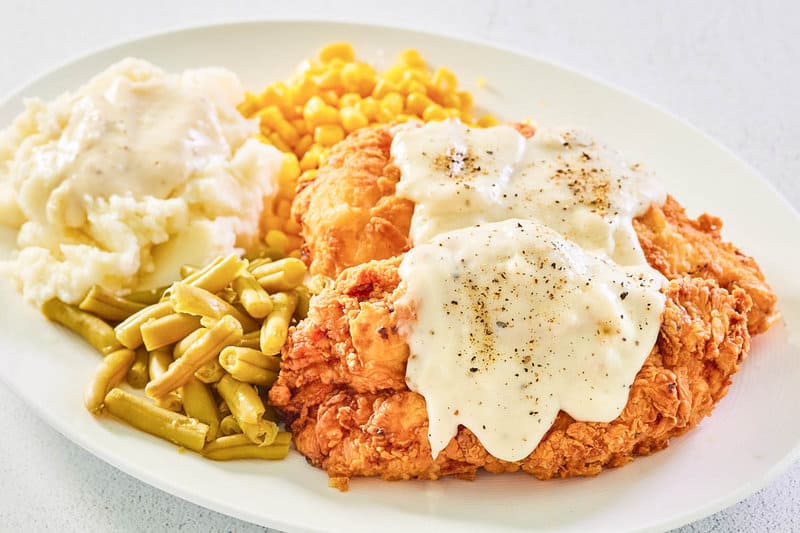 What Goes With This Cracker Barrel Chicken Fried Chicken Recipe 
Mashed potatoes, green beans, carrots, corn, and mac and cheese are classic sides for chicken fried chicken, but diners may appreciate a refreshing wedge salad or Greek salad.
How To Store Leftover Homemade Chicken Fried Chicken 
Cooked chicken can last in the refrigerator for up to two days in an airtight container. Keep the gravy in a separate container with a lid.
You can freeze cooked chicken fried chicken for up to two months, but you should make fresh gravy when you reheat it.
To store in the freezer:
Place the room-temperature chicken onto a baking tray and freeze it for an hour. Transfer the frozen chicken to a freezer bag or a container with a lid. 
Put the chicken in the coldest part freezer. 
What's the Best Way to Reheat Chicken Fried Chicken?
The best way to reheat thawed homemade chicken fried chicken is in the air fryer:
Let the chicken come up to room temperature. 
Preheat the air fryer to 375°F.
Spray the chicken with a bit of vegetable oil. 
Heat the chicken on the first side for 3 to 4 minutes, then flip and heat for another 3 to 4 minutes. 
You can use an oven if you don't have an air fryer:
Allow the chicken to come up to room temperature.
Preheat the oven to 400°F.
Put the chicken on an aluminum foil-lined baking tray.
Heat for 8 minutes per side.
You can reheat the gravy on the stove:
Pour the gravy into a small saucepan. 
Since the gravy congeals when it sits for a long time, add a little milk or heavy cream to help thin it out
Heat the gravy on medium-low while whisking.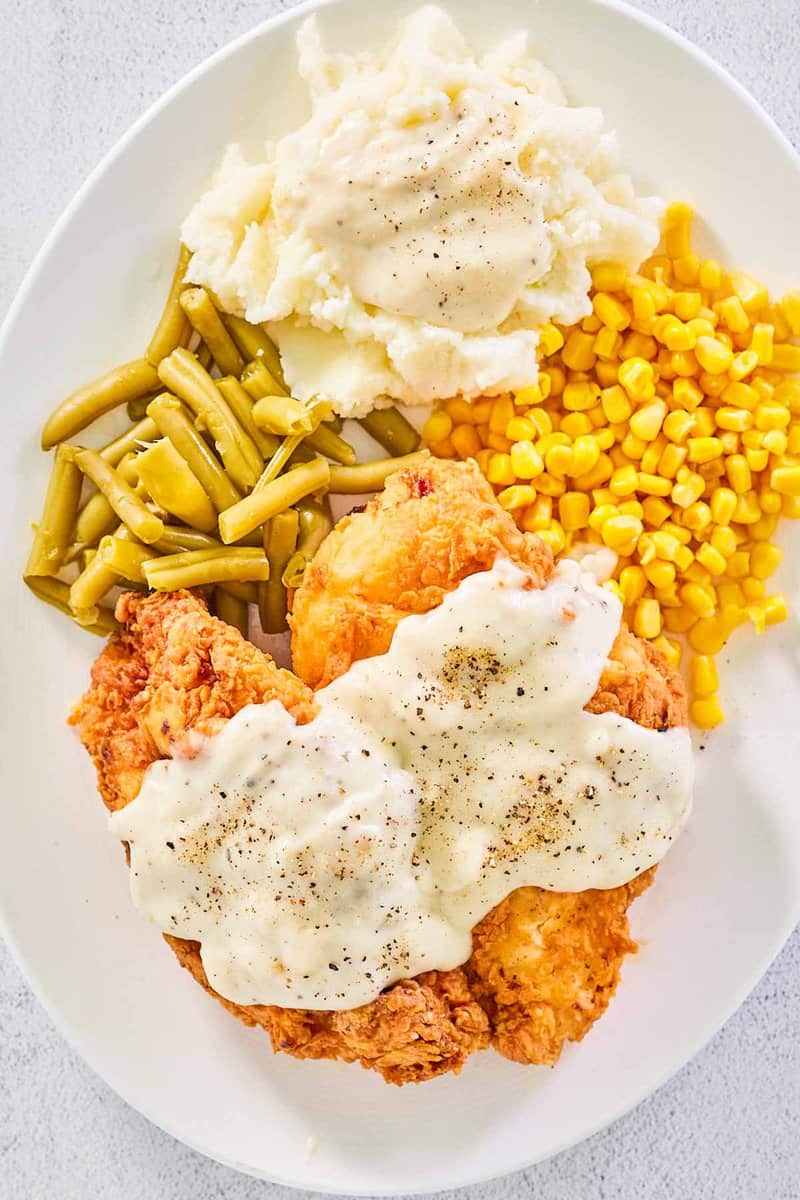 More Cracker Barrel Copycat Recipes
Favorite Chicken Dinner Recipes
Check out even more of my tasty chicken recipes and the best copycat Cracker Barrel recipes on CopyKat!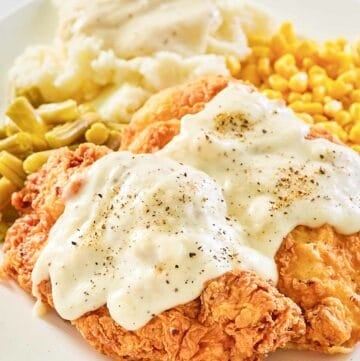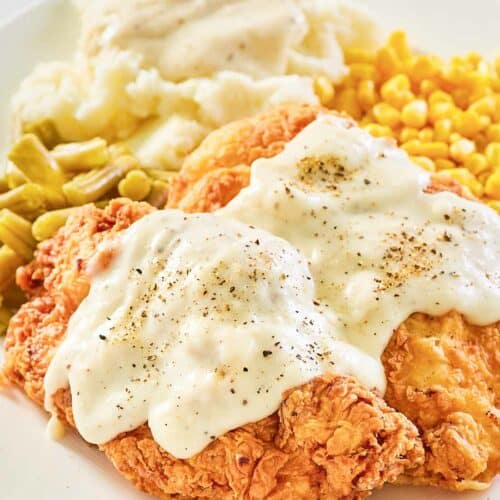 Cracker Barrel Chicken Fried Chicken
Cracker Barrell Chicken Fried Chicken with Sawmill Gravy is a delicious and comforting southern meal.
Print
Pin
Rate
Add to Collection Go to Collections
Servings: 4
Calories: 310kcal
Ingredients
Sawmill gravy
2

tablespoons

bacon grease

2

tablespoons

all-purpose flour

1

cup

whole milk or heavy cream

1/2

teaspoon

salt

1/2 to 1

teaspoon

freshly ground black pepper
Chicken Fried Chicken
oil for frying

2

cups

all-purpose flour

2

teaspoons

salt

2

teaspoons

ground black pepper

1

cup

buttermilk

1/2

cup

water

4

boneless skinless chicken breasts
Instructions
Sawmill gravy
Melt the bacon grease in a cast-iron skillet over medium heat.

When it melts, add the flour and cook for approximately 1 minute, until it becomes fragrant like pie dough.

Add the milk or heavy cream, and whisk until the gravy thickens.

Season with salt and black pepper, and serve with biscuits or chicken-fried steak.
Chicken Fried Chicken
Pour 3 to 4 inches of oil into a deep fryer or large pot and heat the oil to 350°F.

Prepare seasoned flour by combining the flour, salt, and pepper in a bowl.

In another bowl, combine the buttermilk and water.

If your chicken breasts are not fairly uniform in size, place them between two pieces of wax paper and gently pound them out with a meat pounder until they are more uniform in size. This will help with even cooking times.

Pat chicken breasts dry with a paper towel.

Season the chicken with salt and pepper and then dredge them in the seasoned flour.

Dip floured chicken in buttermilk.

Dredge the chicken again in the seasoned flour.

Deep-fry the chicken pieces in the hot oil until done, about 7 to 8 minutes. Turn the chicken breasts over while frying to make sure both sides of the chicken are golden brown.

When the chicken is done, remove it from the oil and drain on a wire rack.

To serve, place two chicken breasts on a plate and pour some sawmill gravy over the top of the chicken.
Nutrition
Calories: 310kcal | Carbohydrates: 19g | Protein: 29g | Fat: 13g | Saturated Fat: 5g | Polyunsaturated Fat: 1g | Monounsaturated Fat: 5g | Trans Fat: 0.01g | Cholesterol: 88mg | Sodium: 1054mg | Potassium: 561mg | Fiber: 1g | Sugar: 4g | Vitamin A: 162IU | Vitamin C: 1mg | Calcium: 105mg | Iron: 1mg