Looking to save on your food budget and still put something hearty, delicious, and filling on the table? This recipe for Mexican rice casserole will do just that. You just can't beat this hearty Tex-Mex casserole filled with ground meat, bacon, rice, and cheese.
A tasty rice dish with a Mexican flair, this Mexican casserole with rice is easy to make and satisfyingly filling. It's the perfect weeknight meal to put together when you are tired after a long day at work.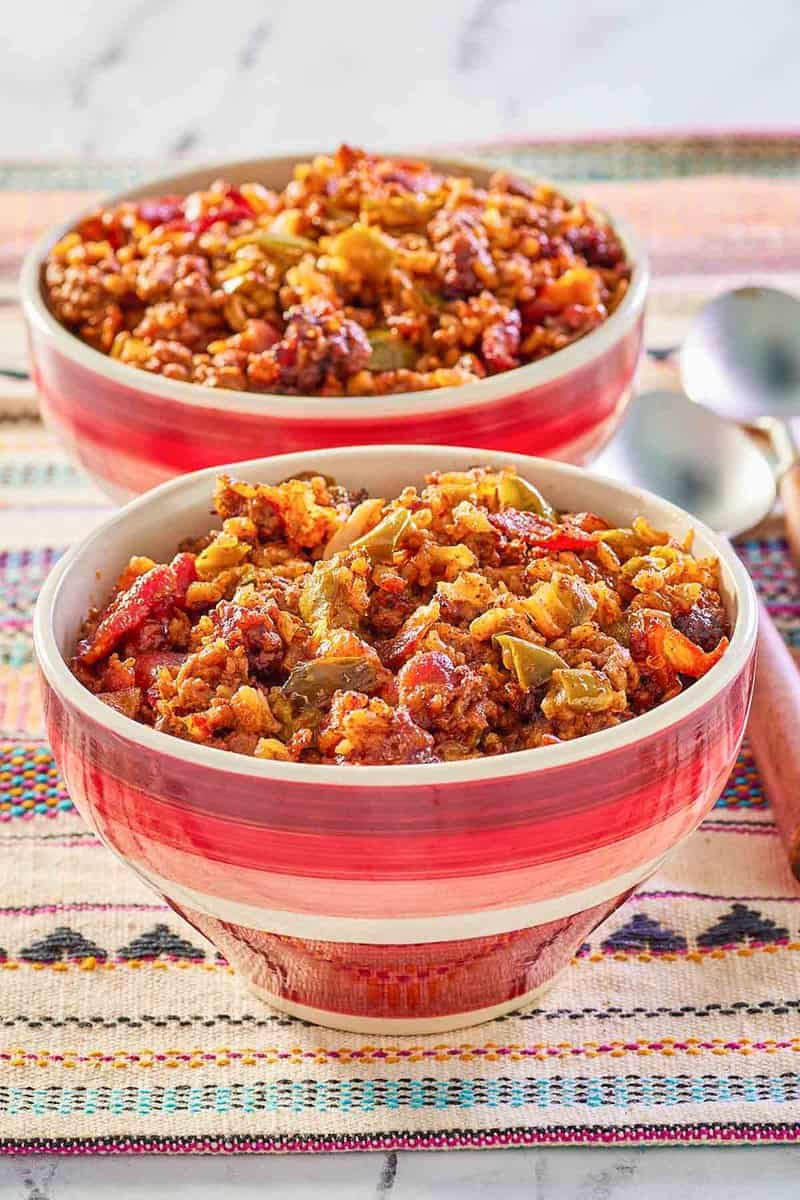 This post contains affiliate links. As an Amazon Associate, I earn from qualifying purchases.
Why You Should Try This Recipe for Mexican Rice Casserole
This Tex-Mex recipe is an easy-to-make option for a weeknight dinner with very little cleanup Once you've layered your casserole and topped it with some shredded cheese and bacon, you simply pop it in the oven until it's bubbly, golden brown, and smelling mouthwateringly delicious. Then dinner is served!
If you like a Tex-Mex flavor, then this Mexican beef and rice casserole is exactly what you need. What's more, your whole family will love it.
Ingredients You Will Need
Easy-to-find ingredients help bring this Mexican beef and rice casserole together. Nothing hard to find or complicated goes into this dish. Here's your ingredient list:
Ground chuck
Bacon
Minute Rice
Cheddar cheese
Onion 
Green or red bell pepper
Tomato sauce
Garlic
Chili powder
Water
It's best to use freshly shredded cheese because bagged pre-shredded cheese has anti-caking agents and preservatives and will not melt as well.
How to Make Mexican Rice Casserole
To make things even more convenient, feel free to do the prep work earlier in the day or the day before. Then all you have to do is take the casserole out of the fridge and pop it in the oven. Here are the simple steps to make this Mexican cheesy ground beef and rice casserole.
Fry the bacon and set it aside.
Cook the onion and green pepper in the pan drippings in a large skillet.
Add the rice and cook until golden.
Add the beef and garlic and cook until the meat is almost done.
Stir in tomato sauce, water, and seasonings.
Bring to a boil, then simmer for 20 minutes.
Spread half of the meat-rice mixture in a baking pan or casserole dish.
Sprinkle half of the cheese over the mixture.
Repeat with the remaining half of the meat-rice mixture and cheese.
Sprinkle chopped bacon on top.
Bake at 400°F for 15 to 20 minutes.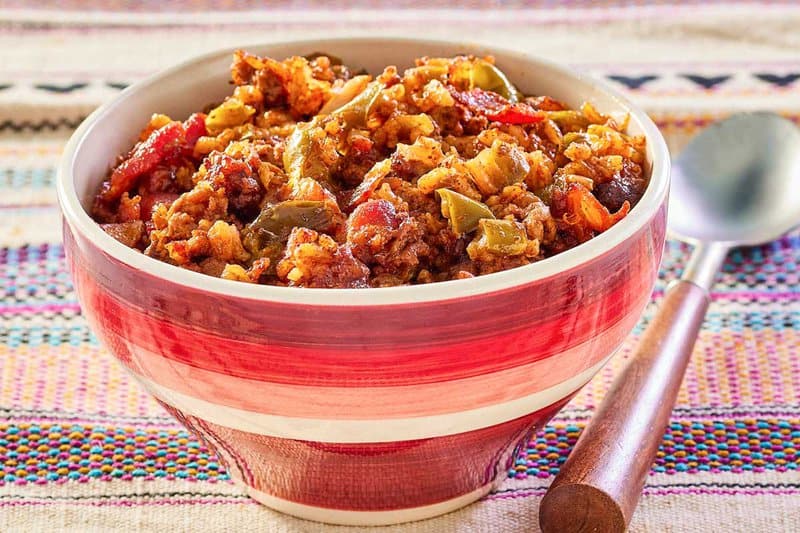 Recipe Variations
You can easily swap things out in this Mexican casserole with rice to make it your own and to your specific flavors. Here are a few suggestions:
Turn this into a cheesy Mexican chicken casserole by substituting chicken for ground beef. Ground turkey will also give you a tasty turkey casserole.
Add some sausage to give it a bit of a different flavor.
For richer flavor substitute water with beef broth, chicken broth, or vegetable broth.
Swap out the Cheddar for another cheese, such as Colby, Jack, or a Mexican blend. Whichever cheese you choose, you will get a Mexican cheesy ground beef and rice casserole.
Add some extra veggies – broccoli, cauliflower, carrots, corn, eggplant, and zucchini. A good way to get your unsuspecting kids to eat more veggies!
This recipe is gluten-free and can easily be made into a Mexican vegan rice casserole. With beans and corn, it's perfect for a meatless main course. Or make it with tofu or a meat substitute.
Think of this Mexican ground beef casserole with rice as a giant taco or burrito and top it with your favorite taco toppings – sour cream, salsa, black olives, shredded lettuce, diced onions, cilantro, avocado, guacamole, chopped jalapenos.
What to Serve With Mexican Rice Casserole
This Mexican beef and rice casserole could easily be used as a dip recipe if you are cooking for a party or a potluck. Or use it as a filling for tacos, burritos, or stuffed peppers.
For a light starter, serve some sliced avocado with lime wedges. 
This Mexican casserole with rice makes a hearty meal all on its own or with some sides. Some suggestions are:
How to Store Leftover Mexican Ground Beef Casserole With Rice
Store leftovers in an airtight container in the refrigerator for up to 4 days.
You can also freeze leftovers. Place the leftovers in a freezer container or bag. It will be good for up to 3 months.
To reheat, thaw it in the refrigerator overnight and reheat it on the stovetop or in the microwave.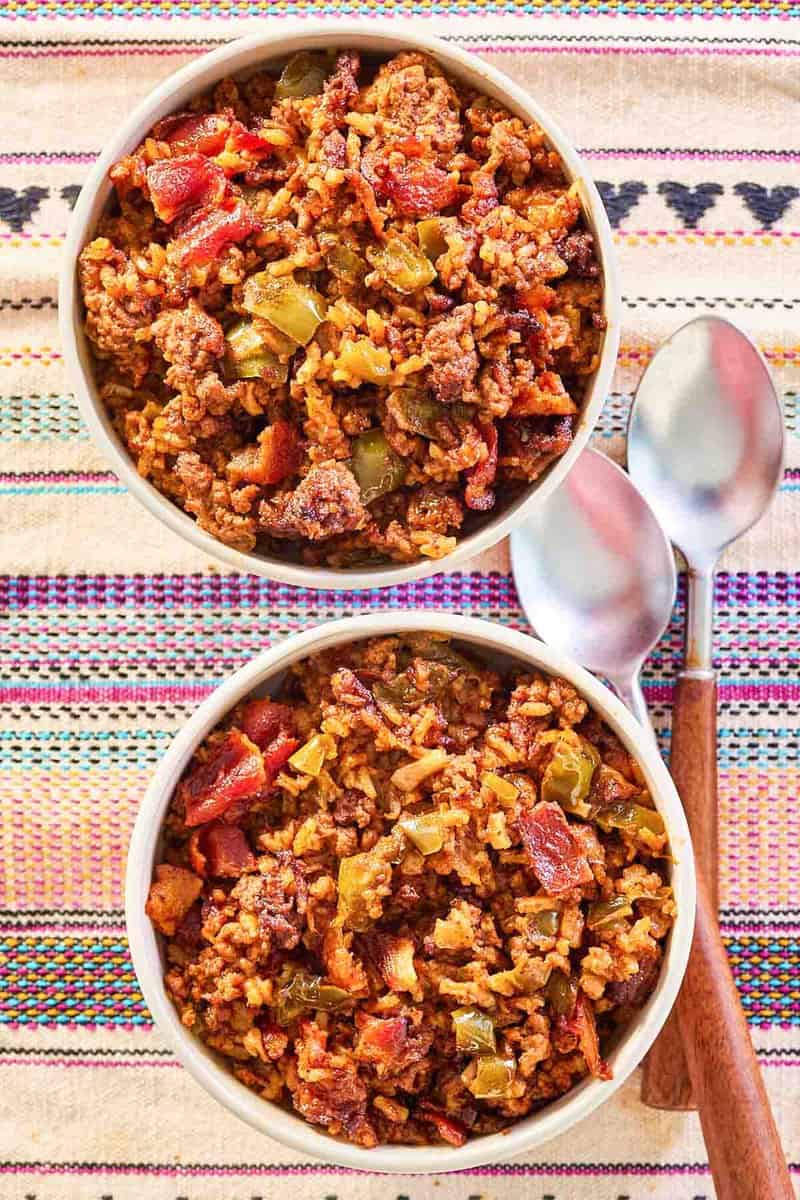 Favorite Mexican Recipes
Popular Casserole Recipes
Check out more of my easy casserole recipes and the best Mexican food recipes on CopyKat!
This recipe is by Virginia McDowell, Jefferson City, MO. 1968.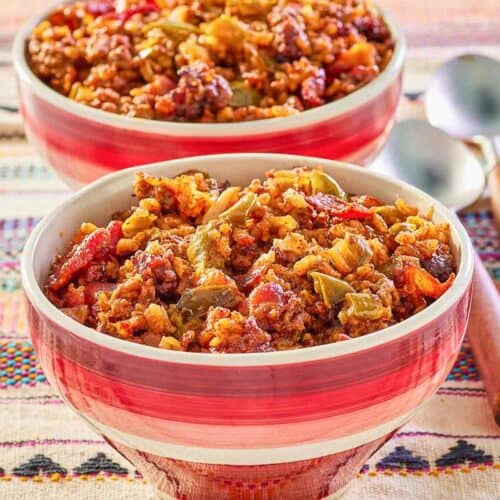 Mexican Rice Casserole
You can turn Mexican rice into a full meal with the addition of ground beef. 
Print
Pin
Rate
Add to Collection Go to Collections
Servings: 10
Calories: 309kcal
Ingredients
4

slices

bacon

1/2

cup

chopped onion

1/2

cup

chopped green pepper

1

cup

Minute Rice

1

pound

ground chuck

1

small

clove of garlic

1 3/4

cups

water

8

ounces

tomato sauce

1

teaspoon

chili powder

2 1/2

cups

shredded Cheddar cheese
Instructions
Fry bacon until crisp and drain. Add onion, green pepper to drippings in pan and cook until tender. Add rice; cook until golden. Stir in beef and garlic cooking until beef is almost done. Stir in water, tomato sauce and seasonings. 

Heat to boiling reduce heat and simmer for 20 minutes. Spoon half meat unto 2-quart casserole. Sprinkle with half of the cheese and add remaining meat. Top with the rest of the cheese and bacon. Bake at 400 degrees for about 15- 20 minutes.
Nutrition
Calories: 309kcal | Carbohydrates: 10g | Protein: 17g | Fat: 22g | Saturated Fat: 10g | Cholesterol: 67mg | Sodium: 389mg | Potassium: 271mg | Fiber: 0g | Sugar: 1g | Vitamin A: 470IU | Vitamin C: 8.3mg | Calcium: 220mg | Iron: 1.9mg