Bruschetta is a scrumptious appetizer that's as easy to make as it is economical. This OG Italian Budget Byte is a simple combination of toasted bread topped with garlicky chopped tomatoes and drizzled with olive oil and balsamic vinegar. Serve it at your next gathering and watch it disappear in minutes! Bonus: if you serve it on baguette slices, it's vegan-friendly!
How Do You Pronounce Bruschetta?
When pronouncing bruschetta, the CH is a hard K sound: brews-KEH-ta. So if you pronounce it brew-CHEH-ta (as I occasionally do, even though I know better), you're doing it wrong. But who cares? If a card-carrying member of the Actually Army dares to confront you about mispronouncing it while you're serving them a truly delightful appetizer, don't invite them to any more parties. They're DROLL.
What is Bruschetta Topping Made Of?
The choices are endless, truly. But traditionally, bruschetta is a slice of crusty or day-old bread that's brushed with olive oil, toasted, rubbed with raw garlic, topped with chopped tomato and torn basil, and finally, drizzled with balsamic vinegar. Simple? Yes. Bigger than the sum of its parts? 100%!
Can I Prep Bruschetta Ahead Of Time?
You can definitely prep the tomatoes in advance. Chop, salt, and then dress them. Store in an air-tight container in the fridge for up to three days. Slice and toast the baguette slices until barely golden. Store them in an airtight container lined with a paper towel for up to a day. Toast them for a few minutes to warm them before assembling them.
What Kind Of Tomatoes Are Best For Bruschetta?
Since tomatoes are, after all, the star of the show, the best kind for bruschetta are the tastiest. They should be ripe and heavy for their size. When you press a finger against their skin it should leave a dent. Hold them about six inches away from your nose and breathe in deeply. Only buy them if they are floral and perfumed. Try plum (Roma), cherry, grape, heirloom, vine-ripened, or a combination of any of the above.
Can I Use Canned TOmatoes For Bruschetta?
This might be a controversial statement for the Food Police, but canned tomatoes are a much better choice than out-of-season or unripe tomatoes. You will need to doctor them some, of course. Press whole canned tomatoes in a colander to release their juices and seeds. Line a sheet pan with parchment paper and spread the pressed tomatoes in a thin layer on the pan. Bake them at 350° until most of the liquid evaporates, and their texture transforms to a thick jam-like consistency. Taste them and add a splash of vinegar and a pinch of sugar if necessary, to recreate a perfect tomato's natural sweetness and acidity.
What Can I Substitute Balsamic Vinegar With?
I get it. Balsamic vinegar can be pricy. You can always substitute it with red wine vinegar or apple cider vinegar. Just make sure to add a pinch of sugar to the mix, to make up for the natural sweetness of the balsamic.
What Kind Of Bread Is Best For Bruschetta?
When you're making bruschetta, day-old bread is best. Traditionally, a crusty ciabatta is used. But use what you have, or better yet, whatever you find on sale in your grocer's day-old bread section. I love a baguette, but any thick, hearty bread that can withstand a heavy topping will do just fine.
Why Is My Bruschetta Soggy?
You will always get soggy results if your topping is too liquidy or if it's been sitting on the toasted bread too long. You can definitely toast the bread ahead of time and prepare the filling ahead of time, but for a texturally perfect bruschetta, top when you're ready to serve.
The easiest move is to chop the tomatoes and add them to a colander.
Place the colander in a bowl to catch juices, and gently agitate and press down.
Add salt, which will force the tomatoes to release their liquid.
Mix everything a few times and then wait twenty or so minutes.
Finally, use your hands to press the tomatoes against the sides of the colander to remove even more liquid.
Don't throw out those juices, PS. Drink them up. They're SO tasty. (You don't have to drink them straight out of the bowl, as I do. Kitchen folk aren't the classiest, but we're salt of the earth. Promise!)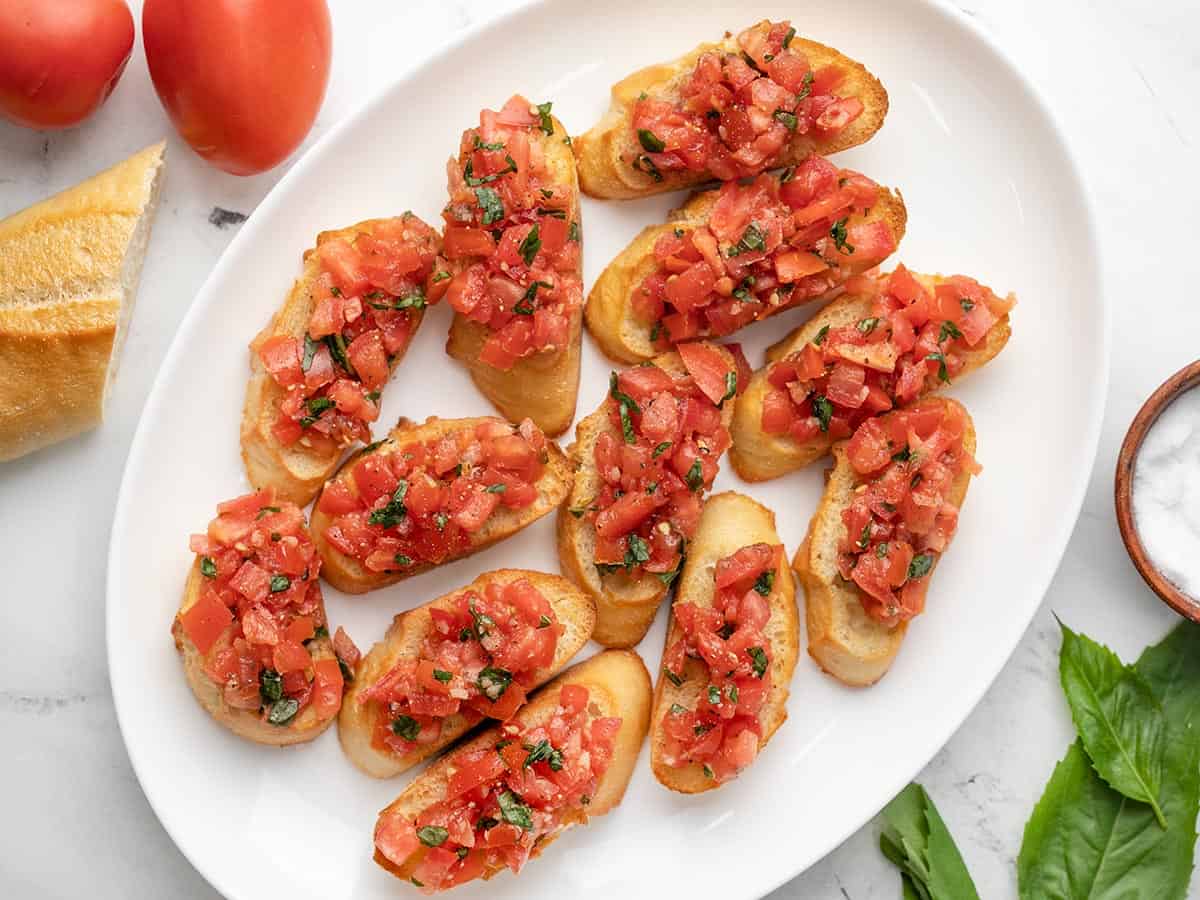 Bruschetta
Bruschetta is an easy and scrumptious Italian appetizer of toasted bread slices topped with garlicky tomatoes and fragrant basil. It's as easy to make as it is economical. Serve it at your next gathering and watch it disappear in minutes!
6

plum tomatoes

($3.24)

1

tsp

salt

($0.02)

1

baguette

($2.99)

4

Tbsp

olive oil, divided

($0.52)

3

cloves

garlic

($0.26)

1/4

cup

fresh basil leaves

($1.25)

1/2

tsp

coarse ground black pepper*

($0.06)

2

tsp

balsamic vinegar

($0.06)
Line a sheet pan with parchment paper. Place a rack in the middle of your oven and preheat it to 450°F. Dice the tomatoes into pencil eraser-sized pieces.

Deseed the tomatoes. Place them in a colander and agitate them, gently pressing down, so the seeds slip through the holes.

Salt the tomatoes. Sprinkle liberally and mix to incorporate the salt throughout. Wait 20 minutes for the salt to force the juices out of the tomatoes.

While the salt is working its magic on the tomatoes, cut your baguette on the diagonal into inch-thick pieces.

Brush the olive oil onto both sides of the slices. Place them on the lined sheet pan and toast them for about five minutes or until lightly golden.

Agitate the tomatoes once more to release juices. Mince the garlic and chop the basil. Add the garlic, basil, and pepper to the tomatoes.

Add 1 teaspoon of balsamic vinegar and 1 tablespoon of olive oil to the tomatoes. Mix to incorporate. Taste the mixture and add more salt, pepper, and balsamic if necessary.

Top each toasted baguette slice with a heaping tablespoon of the tomato mixture.

Transfer the bruschetta to a serving platter. Serve immediately.
See how we calculate recipe costs here.
*if you are using finely ground black pepper, only use 1/4 teaspoon.
Serving: 2slicesCalories: 124kcalCarbohydrates: 14gProtein: 3gFat: 6gSodium: 389mgFiber: 1g
How to Make Bruschetta – Step by Step Photos
Mince 3 cloves of garlic (about 1 tablespoon) and chop 1/4 cup of fresh basil leaves. Add the garlic, basil, and a 1/2 teaspoon of coarse ground black pepper to the tomatoes.
Add 1 teaspoon of balsamic vinegar to the tomatoes and the remaining tablespoon of olive oil. Mix to incorporate. Taste the tomatoes and add an additional teaspoon of balsamic if necessary. Add more salt and pepper if necessary. (You are adding these to taste, so add the amount you prefer.)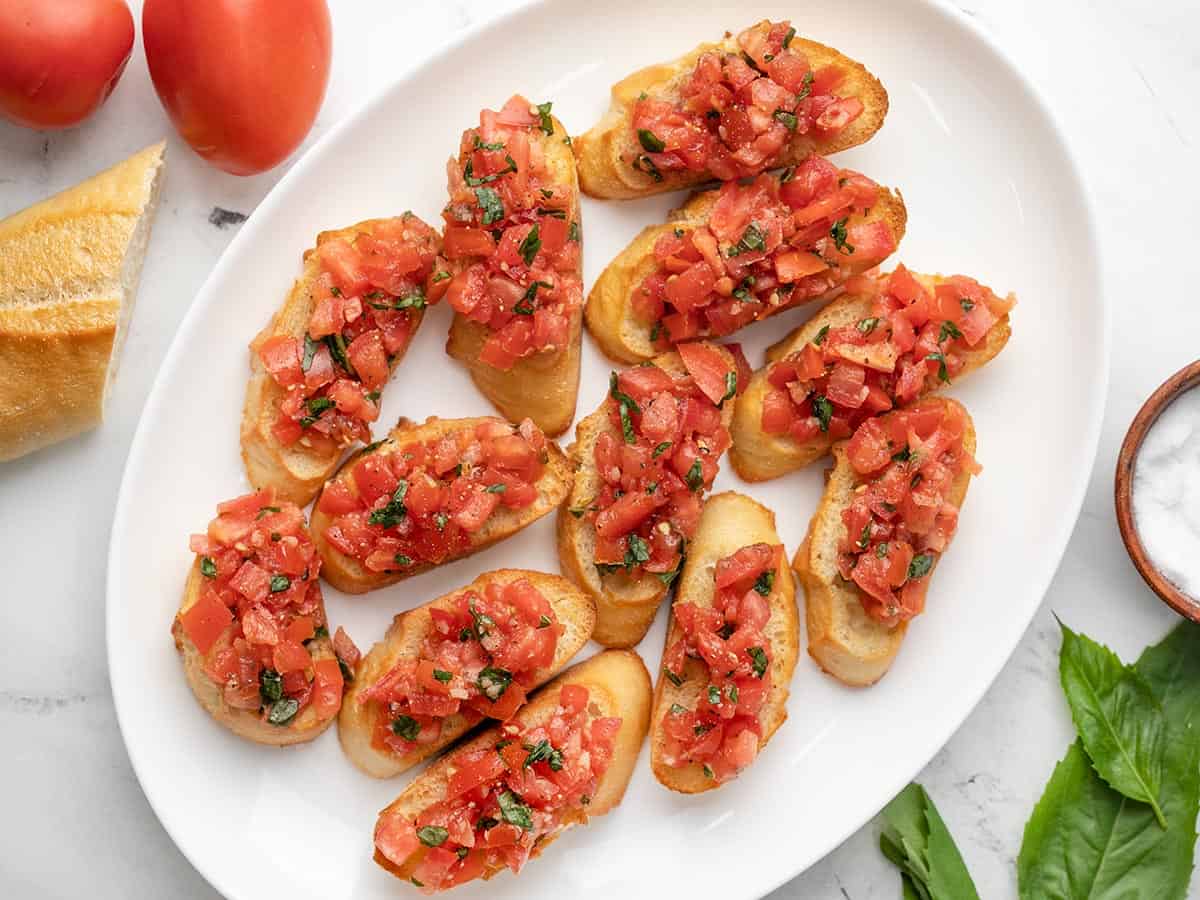 What Can You Serve With Bruschetta?
Try adding these fabulous dishes to the mix when serving bruschetta.