This post may contain affiliate links. Please read my disclosure policy.
Classic sopa de ajo (garlic soup) is one of my all-time favorite Spanish comfort foods. It's easy to make with 6 ingredients in less than 30 minutes, and always tastes so cozy and delicious.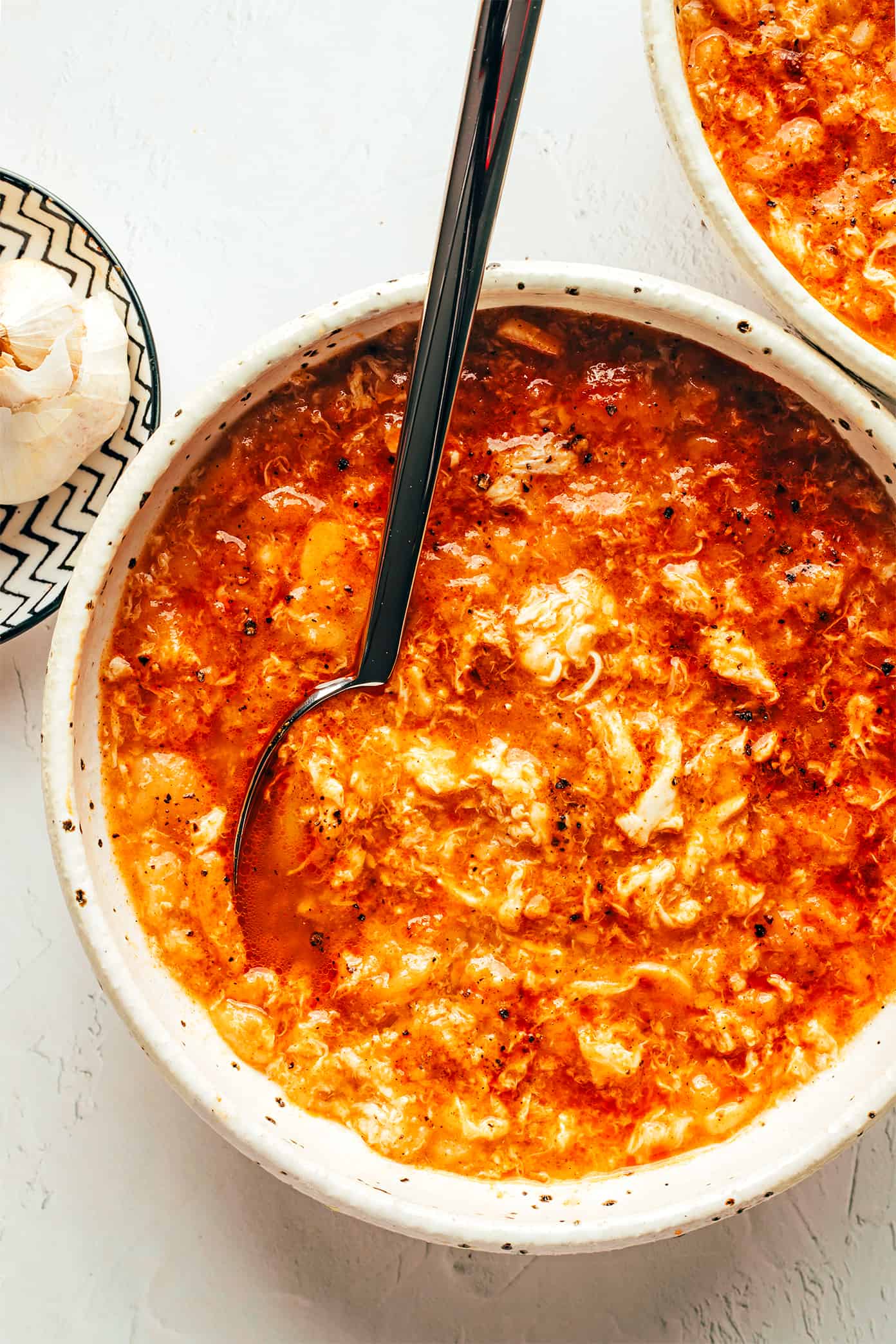 Next week will mark the 5th anniversary of our move to Barcelona, which feels completely surreal but also so, so wonderful. Easily five of the best years of my life! So to celebrate, I thought it was only appropriate to finally share one of my very, very favorite recipes I've come to love during our time living here…
…sopa de ajo (garlic soup). ♡
Also called sopa castellana (Spanish soup), this traditional recipe is one that I believe every soup lover around the world should have in their repertoire. It's made with a super-simple ingredient list of bread, eggs, olive oil, and broth, and seasoned with smoked paprika and lots of garlic. (Sidenote: I always love that garlic cloves are called dientes de ajo or "garlic teeth" in Spanish, which seems appropriate coming from a head of garlic!) This soup is a favorite way to make use of leftover bread in the wintertime, which is sautéed and then simmered in the garlicky-paprika broth to help give it some body. Then, as a final touch, eggs can either served poached in the individual serving bowls of soup or stirred directly into the hot pot of broth to form egg ribbons, similarly to how egg drop soup is made. Everything comes together easily in less than a half hour. And the result is a hot bowl of soup that is unfailingly cozy, hearty, and full of deliciously smoky, savory and slightly sweet flavors.
I seriously love this soup so much and wish I could ladle each of you up a bowl here in our Barcelona kitchen tonight. But hopefully you'll take my word for it and simmer up a quick pot for yourself soon. Que aproveche!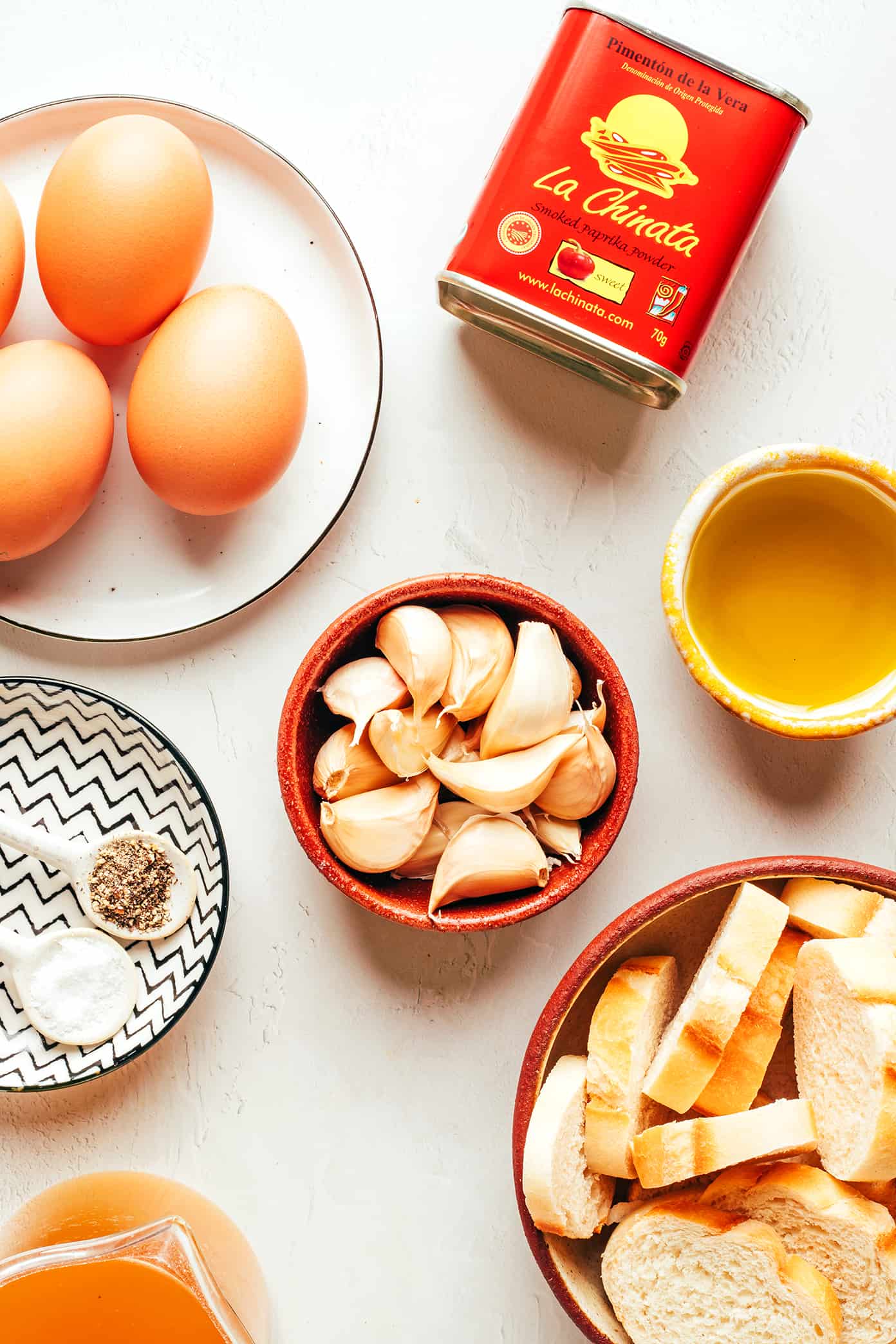 Sopa de Ajo Ingredients
Before we get to the full sopa de ajo recipe below, here are a few notes about the ingredients you will need:
Garlic: Garlic cloves are traditionally sliced very thinly for this soup, then sautéed and simmered in the broth until softened. I prefer to add at least 10 large cloves for a generous amount of garlicky flavor, but you are welcome to add less if you prefer.
Bread: This soup is a popular way to use leftover stale bread, as the dry bread perfectly soaks up that delicious broth. Most people here just slice up a baguette, but you're welcome to use any plain leftover bread that you have on hand.
Eggs: Sopa castellana is traditionally made with one egg per serving, either:

Ribboned: The eggs are whisked and then poured with one hand directly into the hot pot of soup while stirring the soup with the other hand, which creates lovely thin egg ribbons (similar to egg drop soup). This is my preferred way to enjoy sopa castellana.
Poached (whole eggs): Another popular method is to crack an egg into each individual serving bowl, then ladle the hot soup into the bowl to poach the egg.
Poached (yolks only): A hybrid method is to crack just an egg

yolk

into each individual serving bowl. Then whisk the egg whites directly into the hot pot of soup to form ribbons, and ladle the hot soup into the serving bowls to poach the egg yolks.

Olive oil: Fun fact, did you know that Spain produces more olive oil than any other country in the world (twice the amount as Italy)? I'm partial to a bright arbequina extra virgin olive oil for this recipe, but any good-quality EVOO will do.
Smoked paprika: There are many kinds of smoked paprika here in Spain (sweet, bittersweet or hot), all of which are beloved essentials to Spanish cuisine. I'm partial to pimentón de la Vera, paprika that hails from the Extramadura region of Spain and is wonderfully smoky. But any good-quality smoked paprika that you love best will work well in this soup. Just be sure to double-check that your paprika is fresh, otherwise the intensity of its flavor and color may be diminished.
Chicken or vegetable stock: Sopa de ajo is traditionally made here with chicken stock, but feel free to sub in vegetable stock in order to make this soup vegetarian.
Salt and pepper: Finally, you will need some fine sea salt and freshly-ground black pepper to season the soup.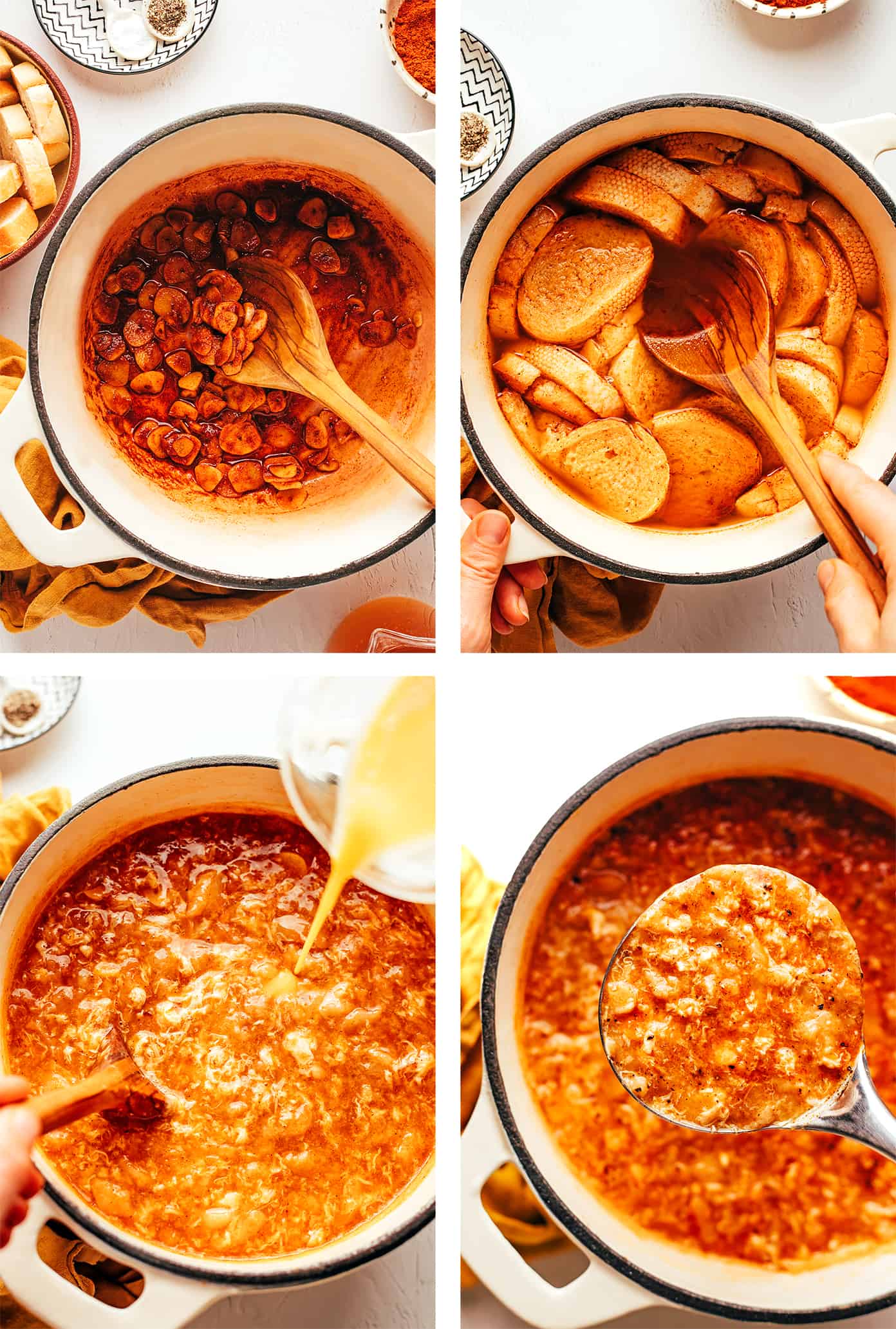 Recipe Variations
Here are a few traditional variations to sopa de ajo that you are welcome to try:
Add ham: It's also often traditional to stir some jamón serrano (Spanish ham) into this soup, if you would like to add some protein. You can either sauté the diced ham with the garlic, if you would like it to be a bit crispy. Or for softer ham, you can just sprinkle it on as a topping or stir it in just before serving.
Add extra herbs: Every now and then, sopa de ajo is seasoned with an extra bay leaf or a sprinkling of fresh parsley on top. But the vast majority of the time, this soup is kept very simple and there are no additional seasonings beyond the smoked paprika.
Make it more/less brothy: Sometimes this soup is served extra-thick, with very little broth. If this sounds good to you, just reduce the amount of broth by 1 or 2 cups and adjust the seasonings if necessary.
Make it gluten-free: Use a plain gluten-free bread to make this soup gluten-free.
Make it vegetarian: Use vegetable stock to make this soup vegetarian.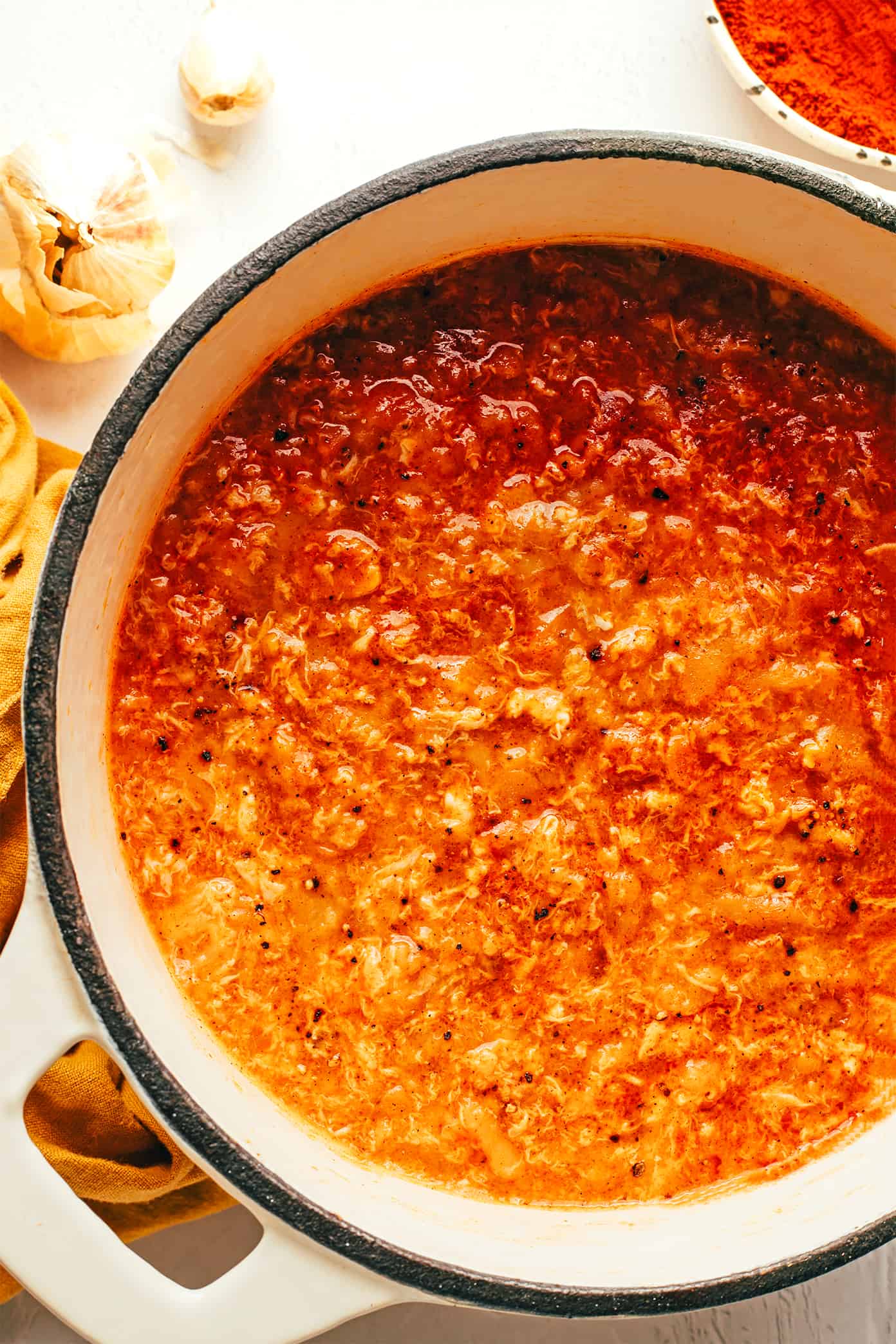 More Favorite Spanish Recipes
Here are a few more Spanish and Catalan recipes that we've learned to make while living in Barcelona: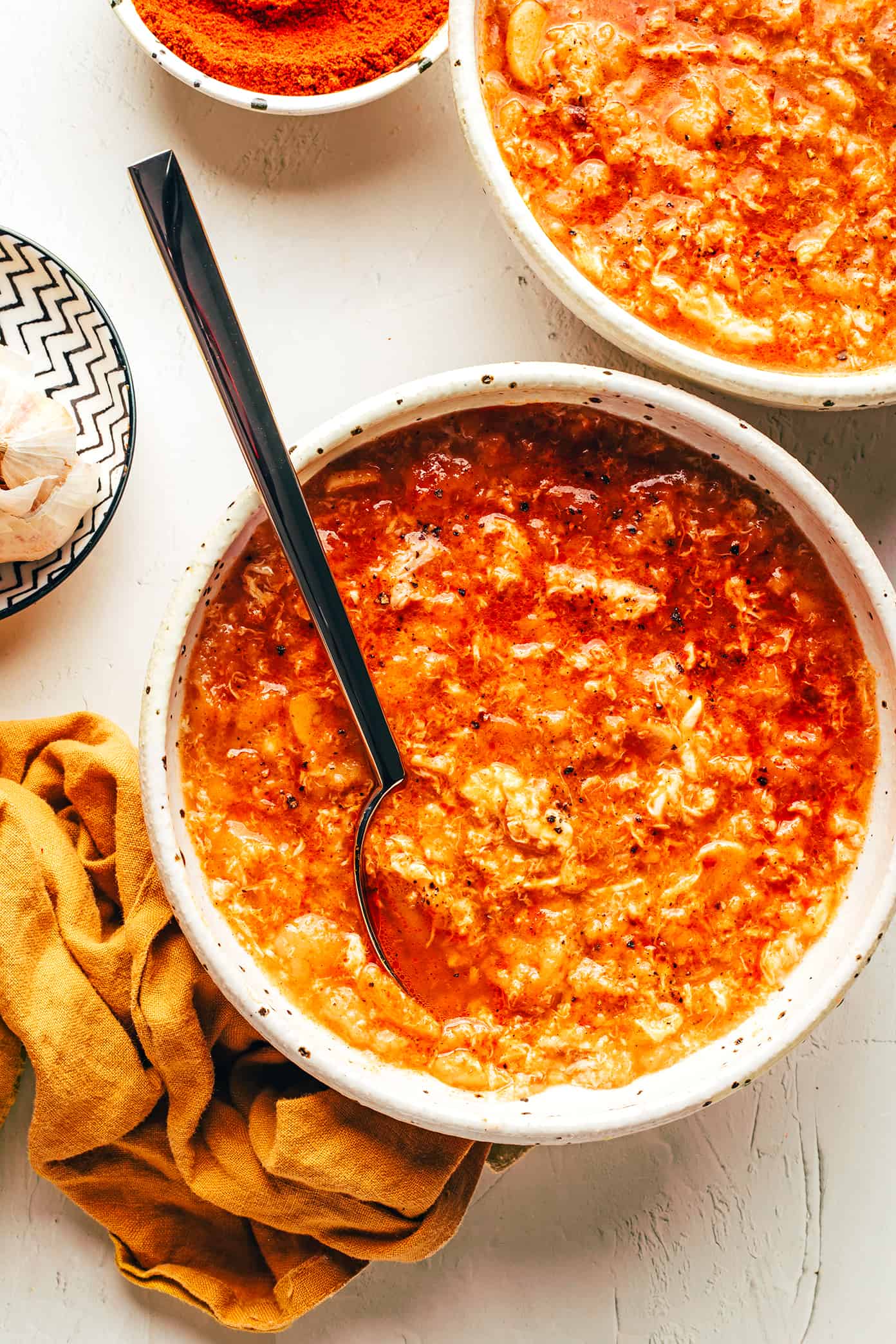 Print
---
Description
Classic sopa de ajo (garlic soup) is one of my all-time favorite Spanish comfort foods. It's easy to make with 6 ingredients in less than 30 minutes, and always tastes so cozy and delicious.
---
1/4 cup

olive oil

8

to

10

large cloves garlic, very thinly sliced

4 ounces

stale bread, thinly sliced or torn into pieces

1 tablespoon

smoked paprika*

6

to

7

cups chicken stock (or vegetable broth)

4

large eggs, whisked*

fine sea salt and freshly-ground black pepper
---
Sauté the garlic and bread.

Heat the olive oil in a large stockpot over medium heat. Add the sliced garlic and sauté for 2-3 minutes, stirring occasionally, until it is fragrant and lightly golden. (It's important not to overcook the garlic at this point.) Add the smoked paprika and stir to combine. Add the bread and toss until it is more or less evenly coated with the garlic oil. Continue cooking for 3 more minutes, stirring frequently so that the garlic does not burn.

Simmer.

Add 6 cups chicken stock and stir to combine, breaking up the bread with a wooden spoon into your desired size of pieces as it cooks. Continue cooking until the soup reaches a rapid simmer.

Add the eggs.

With one hand, use a wooden spoon to stir the soup in a circular motion to create a slow whirlpool. With the other hand, slowly pour the whisked eggs into the soup as you continue stirring, in order to create egg ribbons.

Season.

If you would like a brothier soup, feel free to add in 1 extra cup of stock. Taste and season the soup with salt, black pepper, and/or additional smoked paprika as desired.

Serve.

Serve immediately and enjoy!
---
Notes
Bread: I recommend some sort of plain bread, such as a basic baguette, for this soup.
Smoked paprika: Be sure that your smoked paprika is nice and fresh, otherwise its vibrant flavor and color in this soup will be diminished.
Eggs: Please see notes in the post above if you prefer poached eggs instead of egg ribbons in this soup.