This easy chicken noodle casserole is the perfect comfort food dinner for when you want a delicious and quick meal that everyone will love. You can prepare this in under an hour, so gather the family around the table and enjoy!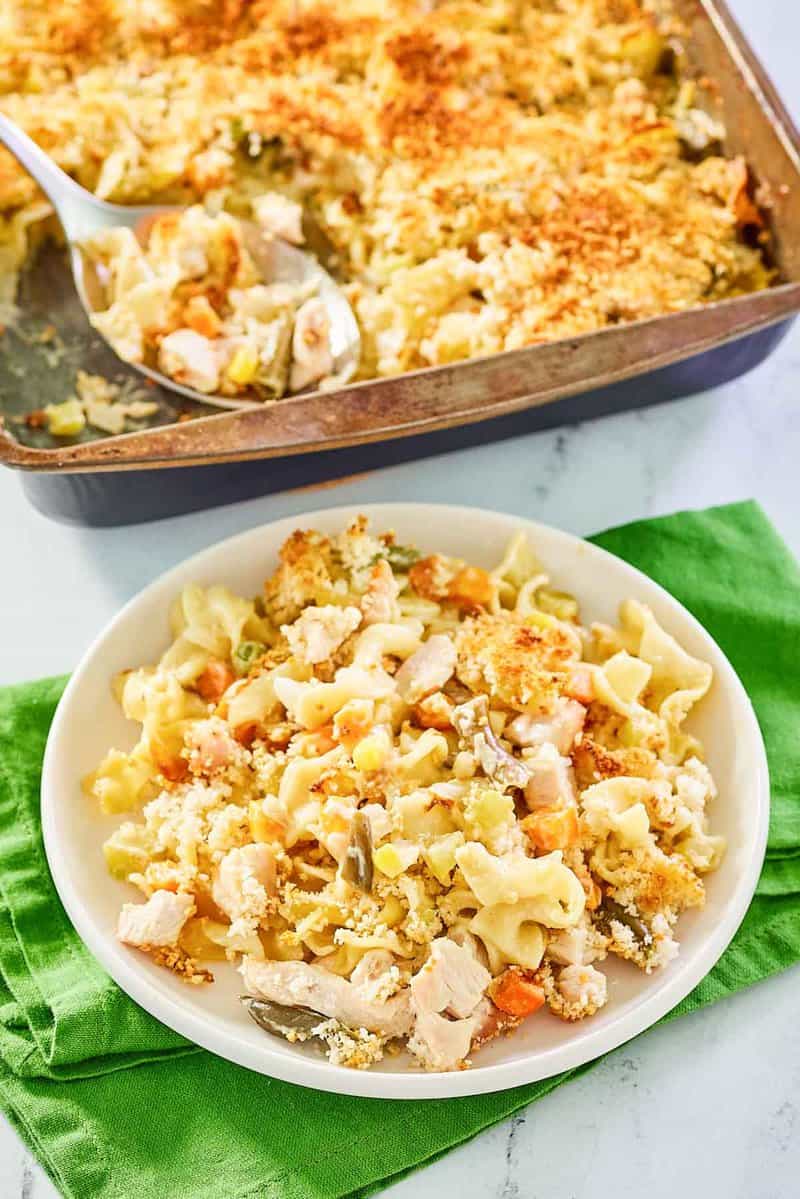 This post contains affiliate links. As an Amazon Associate, I earn from qualifying purchases.
Chicken and Noodle Casserole
This simply baked chicken noodle casserole is the perfect dish for the weeknight or even a potluck dinner. Easy to make, and you can put this dish together ahead of time if you like and reheat it when you are ready to serve.
This is a great way to stretch your cooking budget too. Chicken, noodles, a couple of cans of soup, and some frozen vegetables can go a long way.
What Makes This Recipe So Good 
Casseroles, or hotdishes if you are from the Midwest, are classic comfort food for a very good reason. Not only are they filling and taste great, but they're inexpensive, easy to make, and can feed a small army.
It is time to bring back these wonderful weekday meals, and one of the best recipes to get you started is this easy chicken noodle casserole.
Why This Is the Best Ever Chicken Noodle Casserole
This recipe is an absolute blast from the past and a genuine part of Americana. It may be a little more complicated than the official Campbell's Chicken Noodle Casserole that graced millions of dinner tables over the years, but the additional ingredients make all the difference when it comes to taste.
Even if casseroles were never part of your childhood, go ahead and bake this Chicken Noodle Casserole. It is certain to become a new family favorite.
Ingredients For Chicken and Noodle Casserole
To make chicken egg noodle casserole, you'll need:
Chicken breast, skinless
White onion, chopped
Celery, chopped
Unsalted butter
Salt
Can of condensed cream of chicken soup
Can of condensed cream of mushroom soup
Sour cream
Mixed frozen vegetables (green beans, carrots, peas, corn)
Egg noodles
Cracker crumbs
Ingredient Notes, Additions, and Substitutions
You can use any butter cracker you'd like, such as Ritz crackers, to make the cracker crumbs. Alternatively, go with Panko or unseasoned bread crumbs. 
You can use the store brands of soup. There isn't a great difference when making casseroles.
You could also use some leftover chicken or rotisserie chicken instead of poaching chicken breasts. Leftover ham and turkey work nicely too.
You can bulk up this casserole with additional frozen vegetables, or you could even add some more celery. You may be able to use any leftover steamed or roasted vegetables.
For a cheesy chicken noodle casserole, add some cheese to this recipe. Monterey Jack or Sharp Cheddar cheese are great options.
How To Make Chicken and Egg Noodle Casserole
To poach the chicken breasts:
Place the chicken breasts in a medium pot. The pot needs to be wide enough to prevent the chicken breasts from overlapping and deep enough to allow you to cover the chicken by an inch. Season the chicken with some salt. If you want, you can add a little pepper or fresh herbs. 
Cover the chicken by about an inch with cold water. Optionally, get a little fancy by adding half a cup of white wine. 
Bring the water to a boil, and reduce it to a simmer. Skim off any scum that appears on the surface of the water. 
Cover and cook the chicken until the internal temperature reaches 165°F. Timing can vary depending on the thickness of the chicken, but you can start checking after about 10 minutes. 
Remove the chicken from the liquid, reserving the liquid for later, and cool the chicken breasts on a wire rack over a rimmed baking sheet. 
Chop the chicken into medium dice. 
To prepare this easy Chicken Noodle Casserole recipe:
Boil the egg noodles according to the directions on the package. You can use the reserved poaching liquid to enhance the flavor.
While the noodles are cooking, place a large skillet over medium heat and saute the onions and celery in butter until translucent. Season the vegetables with a pinch of salt.
Preheat the oven to 350°F.
Blend the cream of mushroom and cream of chicken soups with the sour cream in a large bowl until smooth. 
Add the sauteed and frozen veggies to the sauce.
Drain the cooked egg noodles and add them to a large casserole or baking dish. Stir in the sauce and the diced cooked chicken. Stir the chicken mixture until it is well blended.
Sprinkle the cracker crumbs on top of the casserole and bake uncovered until hot, about 20 minutes. 
A Favorite Recipe Variation
In the casserole heyday, Campbell's chicken noodle casserole may have been king, but chicken broccoli noodle casserole ran a close second. It is a classic family dinner based on the same recipe as above and is a great way to introduce your kids to broccoli.
To make chicken broccoli noodle casserole, replace the frozen mixed vegetables in the recipe with an equal amount of frozen broccoli and keep everything else the same.
What To Serve With It 
Casseroles are so popular because they are a one-dish meal, but you can always add a salad or a bowl of soup to help round out dinner. 
How To Store Leftovers
Allow any extra casserole to cool before putting it in an airtight container or covering it with plastic wrap. The chicken and egg noodle casserole will keep in the fridge for a few days or in the freezer for up to three months. 
What Is the Best Way to Reheat Chicken Noodle Casserole
An excellent way to warm up leftover casserole is in the oven:
Thaw leftovers in the fridge overnight. 
Remove the casserole from the fridge and transfer it to a baking dish with a lid. You can use aluminum foil if your baking dish doesn't have a cover. Leave the casserole on the counter while the oven heats up.
Preheat the oven to 350°F.
Sprinkle a few tablespoons of water or chicken stock over the casserole.
Cover the baking dish and bake for 20 minutes or until it is hot in the middle. 
Love Chicken Casseroles? Try These Recipes
Favorite Comfort Food Recipes
Check out more of my easy casserole recipes and the best comfort food recipes on CopyKat!
Chicken Noodle Casserole
The best ever homemade Chicken Noodle Casserole is creamy, easy to make, and perfect for a family dinner.
Print
Pin
Rate
Add to Collection Go to Collections
Servings: 8
Calories: 463kcal
Ingredients
1 1/2

pounds

chicken breast

1

medium

chopped white onion

2

ribs

chopped celery

1

tablespoon

butter

1/2

teaspoon

salt

1

can

condensed cream of chicken soup

1

can

condensed cream of mushroom soup

1

cup

sour cream

12

ounces

mixed frozen vegetables

6

ounces

egg noodles

, cooked according to package directions

2

cups

cracker crumbs

(you can use Panko crumbs)

1/4

cup

butter

melted
Instructions
Preheat oven to 350 degrees.

 If you need to cook the chicken place chicken into a large stock pot with enough water to fully cover the chicken breasts. Cook chicken on a medium-high heat until the chicken is cooked through. Depending upon the thickness of your chicken this can cake 20 to 30 minutes. When chicken is done remove from water and cut the chicken into bite-sized cubes. If desired you can cook the noodles in the water that the chicken came out of for additional flavor. 

While the chicken is cooking, saute onions and celery together in a tablespoon of butter. Sprinkle with about 1/2 teaspoon of salt. Cook onions and celery until both are tender and the onions become translucent. Cook noodles according to package directions. If you cooked the chicken you may want to cook the noodles in the water the chicken came out of for additional flavor. 

Drain noodles after they have cooked. Prepare the creamy sauce by combining the two cans of soup mix and the sour cream together. Blend until you have a uniform mixture. Add onions and celery to the sauce. Add frozen vegetables to the creamy mixture and stir them in well. Fill a 2-quart casserole dish with cooked noodles, and add creamy sauce and combine noodles and sauce in the casserole dish. In a small dish combine cracker crumbs and melted butter and blend until cracker crumbs are coated with butter. Spoon cracker crumbs on top of casserole. Bake casserole for about 20 minutes before serving.
Video
Nutrition
Calories: 463kcal | Carbohydrates: 37g | Protein: 27g | Fat: 22g | Saturated Fat: 10g | Cholesterol: 111mg | Sodium: 1033mg | Potassium: 627mg | Fiber: 3g | Sugar: 3g | Vitamin A: 2710IU | Vitamin C: 7mg | Calcium: 93mg | Iron: 2.5mg