A selection of easy no bake cookie recipes including classic no bake chocolate cookies, haystack cookies, turtle cookies and more!
Try these quick and easy desserts when you don't have any oven space, or you don't want to heat your oven!
Every holiday my kitchen is a madhouse. When my oven is filled with savory dishes for everyone to enjoy, I can run out of oven space for desserts. That's when I turn to my favorite no bake cookie recipes. They let me make amazing desserts right on the stove.
No bake cookie recipes are in huge demand right now. They can be made ahead of time on the stove which frees up your oven for other recipes. You can even put one of your older children in charge of the no bake cookies, which will allow them to be more involved, and you can work on other items from the "to-do" list.
I absolutely love how simple these cookies are. Most of the time they are an easy cleanup (doesn't everyone like an easy clean up during the holidays?) and can be stored in a covered container until they are needed.
I have gathered a great list here of what I consider to be the best no bake recipes. The photos really do not do these recipes justice.  Just wait until you make them and take that first bite. You may not share the rest with anyone, but rather hide them for a mom-moment later in the week. Your secret is safe with me. I do it too!
Here are the fantastic no bake desserts you're looking for. Give them a try and let me know which is your favorite in the comments below.
18 No Bake Cookie Recipes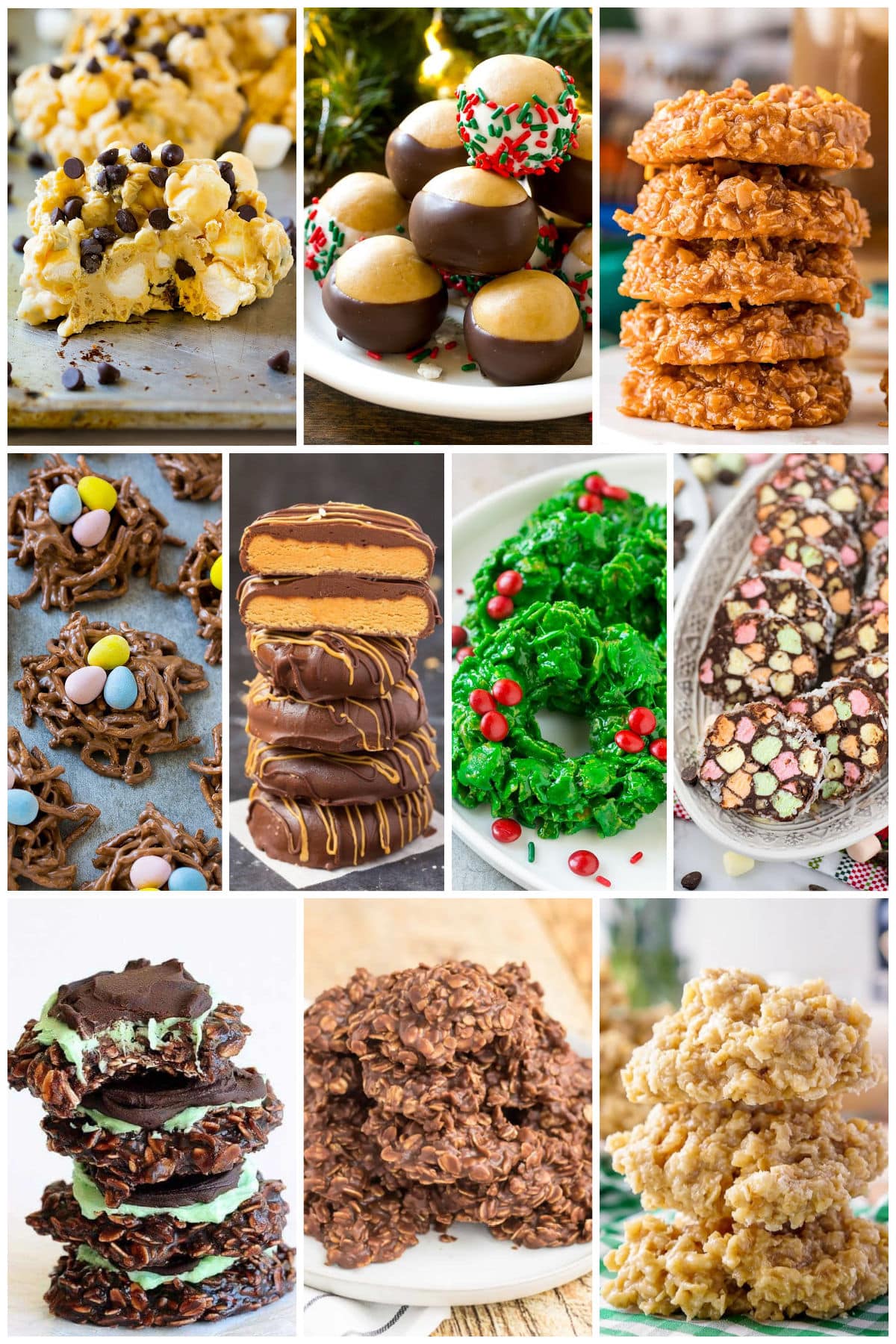 Avalanche Cookies
These no bake avalanche cookies are loaded with peanut butter, chocolate and marshmallows. Best of all, they take just minutes to make, this is a must try recipe!
Get the Recipe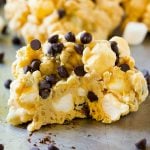 Buckeye Balls
This recipe for buckeye balls is the classic peanut butter balls dipped in dark or white chocolate.
Get the Recipe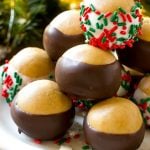 Butterbeer No Bake Cookies
These butterbeer no bake cookies are a simple and easy cookie recipe that's made with oatmeal, cream soda, pudding, sugar, and more! Harry Potter fans will love the mix of butterscotch, vanilla, and toffee flavors!
Birds Nest Cookies
These no bake birds nest cookies are made with chocolate, butterscotch and chow mein noodles, then finished off with candy eggs. The perfect easy Easter dessert!

Get the Recipe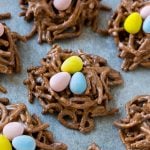 Chocolate Peanut Butter No Bake Cookies
These chocolate peanut butter no bake cookies are thick, chewy and need just 4 ingredients!
Christmas Wreath Cookies
This recipe for no-bake Christmas wreath cookies has just six ingredients and can be made in 10 minutes. These cornflake wreaths are a festive addition to your holiday dessert table! 
Get the Recipe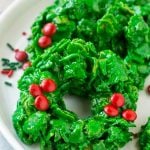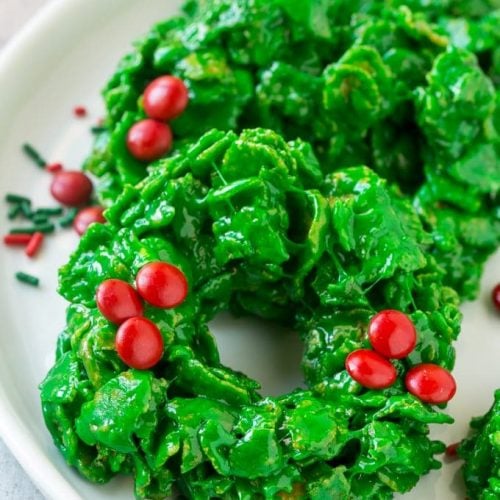 Church Window Cookies
Church window cookies are a classic no bake Christmas cookie made with mini marshmallows, chocolate, walnuts and shredded coconut! The colored marshmallows look like stained glass windows!
Fudgy Mint Chocolate No Bake Cookies
Classic chocolate no-bake cookies topped with mint frosting and chocolate ganache — Perfect for Christmas or a sweet treat anytime!
Classic Chocolate Peanut Butter No Bake Cookies
Make perfectly soft and chewy no-bake oatmeal cookies every time with this classic chocolate peanut butter no bake cookie recipe.
Irish Cream No Bake Cookies
These Irish cream no bake cookies are a boozy twist on the classic cookie recipe!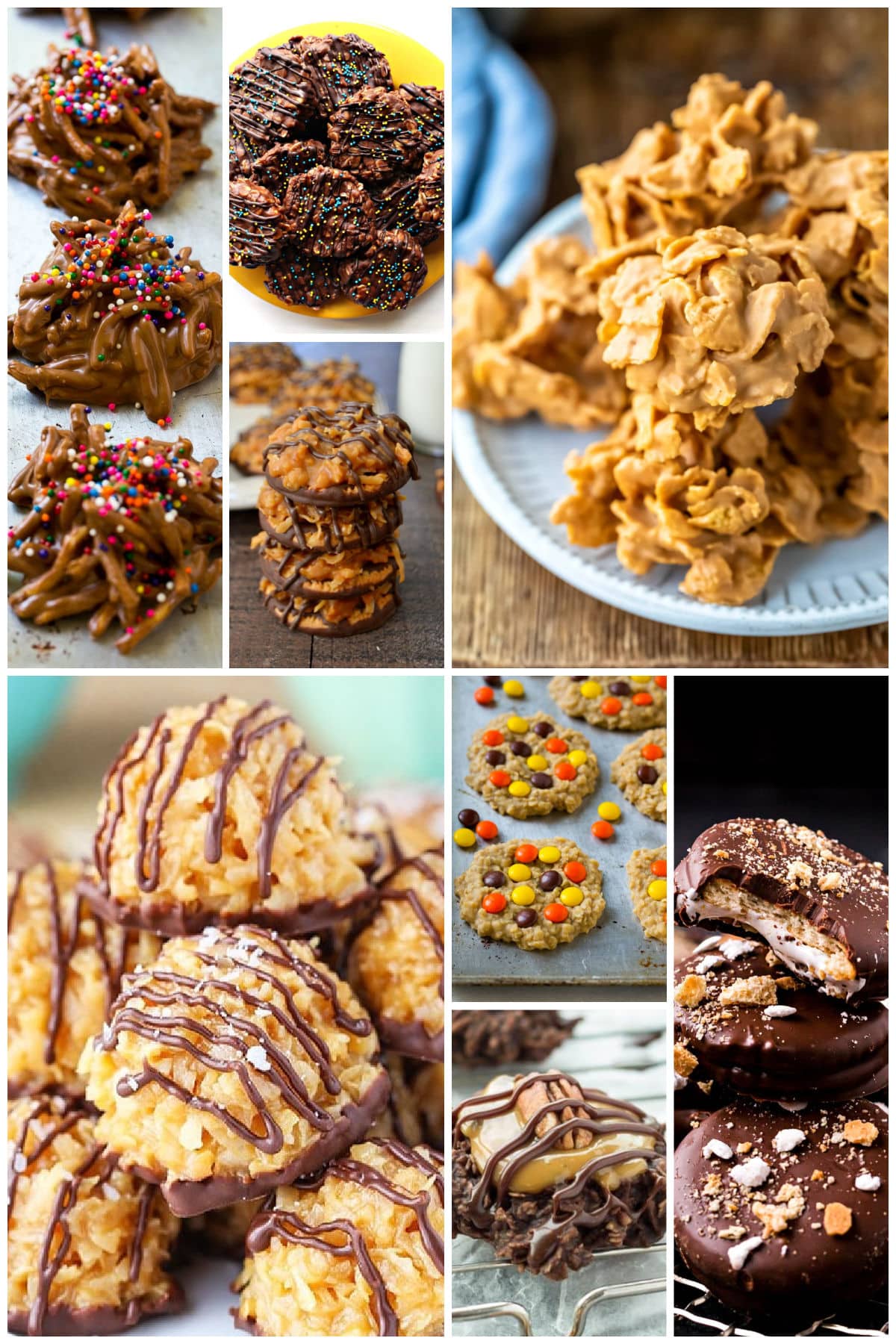 Haystack Cookies
These no bake haystack cookies combine chow mein noodles, milk chocolate and butterscotch chips to make decadent treats that are always a huge hit. Chow mein cookies are perfect to whip up at a moment's notice and you can vary the flavors and sprinkle decorations depending on the season.
Get the Recipe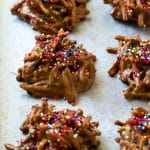 No Bake Chocolate Peanut Butter Banana Cookies
No bake chocolate peanut butter banana cookies are a deliciously chewy, no-bake cookie that stays fresh and chewy for a long time!
No Bake Samoa Cookies (Girl Scout Copycat)
These copycat Girl Scout no-bake Samoa cookies are awesome! Get that good Samoa cookie flavor any time of the year!
Butterscotch Cornflake Cookies
Butterscotch cornflake cookies are super easy, 4 ingredient, no-bake cookies! This simple recipe takes just 20 minutes to make.
Salted Caramel Coconut Macaroons
These salted caramel coconut macaroons are no bake and so easy to make! The perfect mix of coconut, caramel and chocolate!
No Bake Peanut Butter Cookies
These no bake peanut butter cookies take just 10 minutes to make, a super easy recipe with delicious results!
Get the Recipe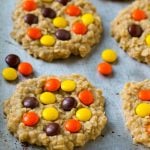 No Bake Turtle Cookies
These no bake turtle cookies start with chocolate oatmeal no bake cookies topped with thick caramel, pecans and a drizzle of chocolate!
No Bake Ritz Smores Cookies
Nothing beats these four ingredient Ritz Smores Cookies for a quick and tasty no bake treat! Perfect for summer and Christmas cookie trays!
These recipes are perfect for entertaining or a quick treat at home. Give your oven a break and give these no bake recipes a try!