This post may contain affiliate links. Please read my disclosure policy.
These Korean-inspired spicy sesame gochujang noodles can be ready to go in 30 minutes and are easy to customize with your choice of veggies and protein.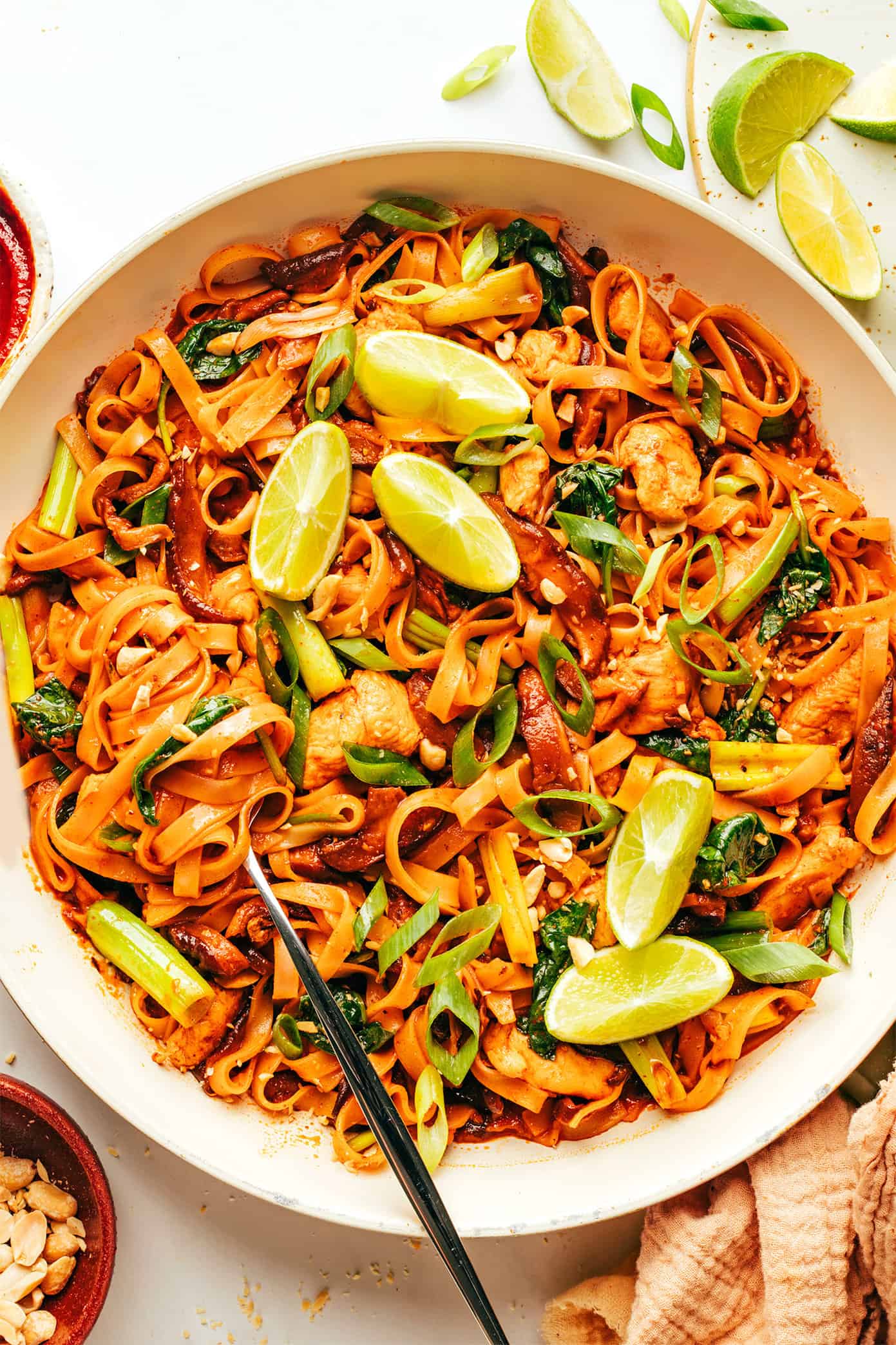 Say hello to the sweet, savory, spicy, and absolutely scrumptious noodles we've been loving lately! ♡
I mean, let's be real, Barclay and I could happily eat noodles just about every day of the week. But we've recently become completely hooked on this Korean-inspired stir-fry sauce that comes together in a snap with just 5 ingredients — gochujang paste, toasted sesame oil, soy sauce, maple syrup and lime juice. It's perfectly balanced with bold, big flavors. And it plays well with a wide range of noodles and veggies and proteins, making this one of those back-pocket recipes that's easy to improvise with whatever you have on hand.
Best of all, it comes together quickly and easily in just around 30 minutes or so. And if you happen to have any extras, the leftovers also taste fabulous for lunch the next day. So many reasons to love this recipe…so let's get to it!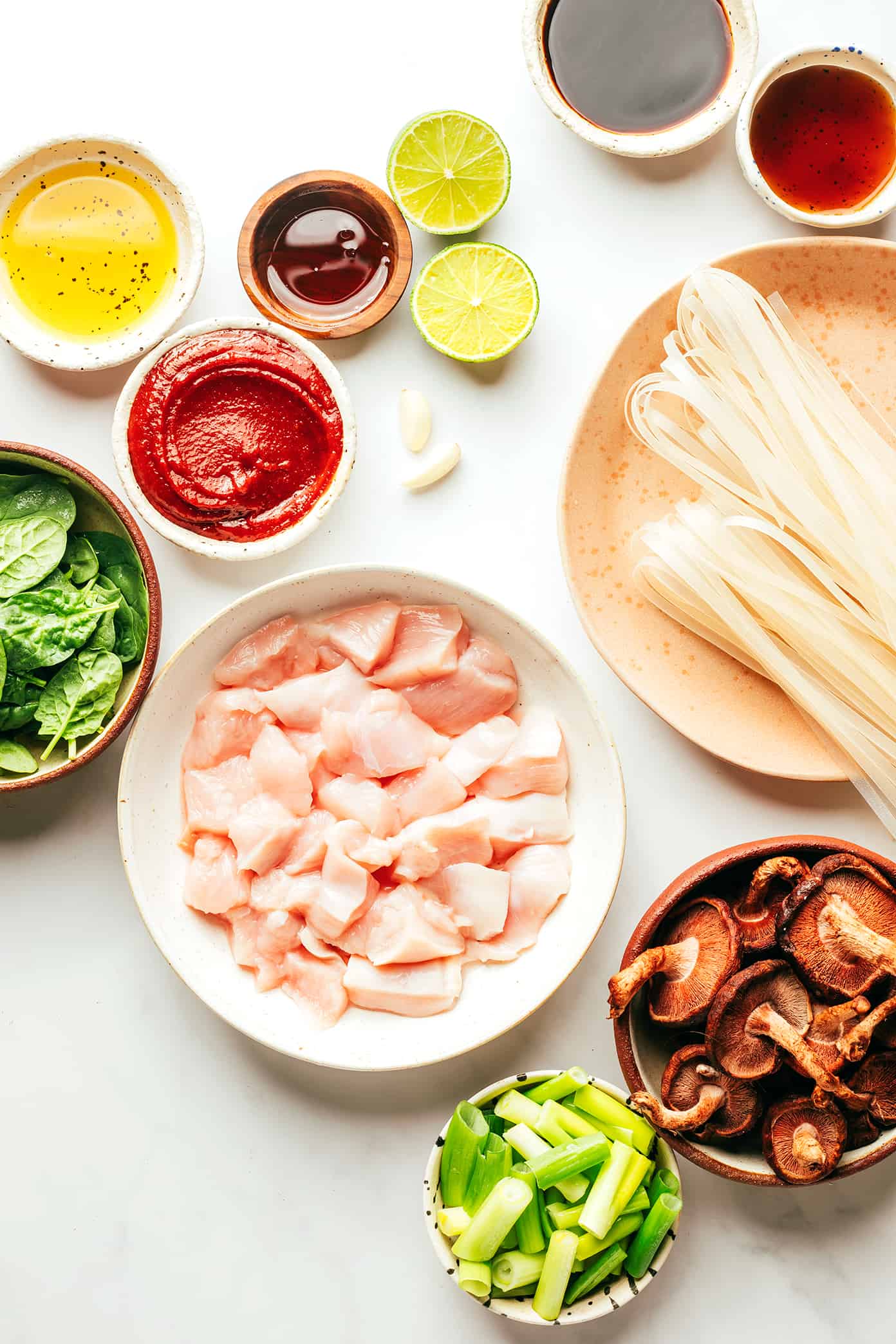 Spicy Sesame Gochujang Noodles Ingredients
As I mentioned above, the ingredients in this recipe are incredibly flexible, so please feel free to customize it and make it your own! You will need:
Noodles: We usually make this recipe with rice noodles (thin or wide) in our house, but feel free to sub in any type of noodles you love best. Soba noodles, ramen noodles, egg noodles, or semolina pasta (such as spaghetti or linguine) or would all work well here!
Protein: I used chicken in this batch, but beef, pork, meatballs, shrimp, or tofu would all be great options for a protein. Or you're welcome to leave the added protein out altogether.
Scallions: We will sauté the white parts and stir in the green parts just before serving. You're also welcome to thinly slice and reserve a few of the green parts to use as a topping.
Veggies: I kept things simple and just used shiitake mushrooms and spinach in this batch, but feel free to add whatever stir-fry-friendly veggies and greens you love best.
Garlic: You will also need a few cloves for the sauté.
Sesame gochujang sauce: This 5-ingredient sauce is made with gochujang paste, low-sodium soy sauce, maple syrup, sesame oil, lime juice.
Toppings: I recommend going big on the toppings here! Definitely recommend some fresh herbs (

chopped fresh cilantro and/or Thai basil), chopped peanuts and toasted sesame seeds, plus some lime wedges for serving.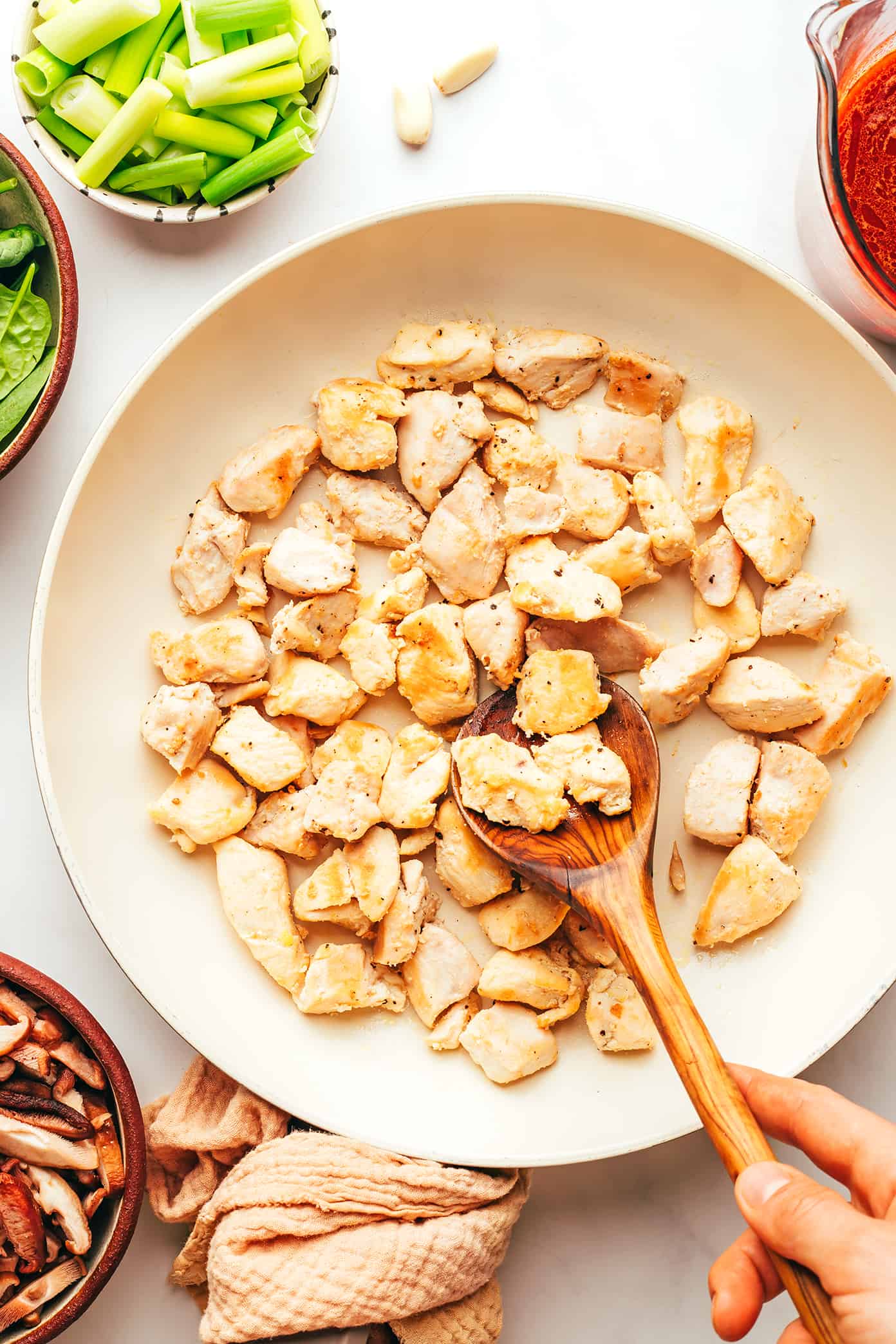 Recipe Variations
In addition to the optional variations for noodles, veggies and proteins mentioned above, feel free to also:
Make it more/less spicy: Gochujang paste definitely packs some heat, so feel free to use less if you prefer a milder sauce. If you would like to add more heat, you're welcome to add some gochujaru or crushed red pepper flakes or your favorite hot sauce to the noodles.
Make it gluten-free: Use rice noodles or your preferred type of GF noodles, and be sure to also use GF tamari in place of soy sauce and GF gochujang (such as this brand).
Add peanut butter or tahini: If you happen to love peanut-y sauces, we also occasionally mix a big spoonful (about 1/4 cup) of peanut butter or tahini into this sauce…which is delicious!
Use fried rice: Alternately, you can make this dish with rice instead of noodles. You'll need about 1 cup of uncooked rice, which will yield about 3 cups of cooked rice once cooked. It's best to cook and completely chill the rice beforehand (making this an ideal recipe for leftover rice!). Then just sauté the rice in a bit of extra oil or butter for a few minutes after step 4, stirring occasionally, then continue onto step 5.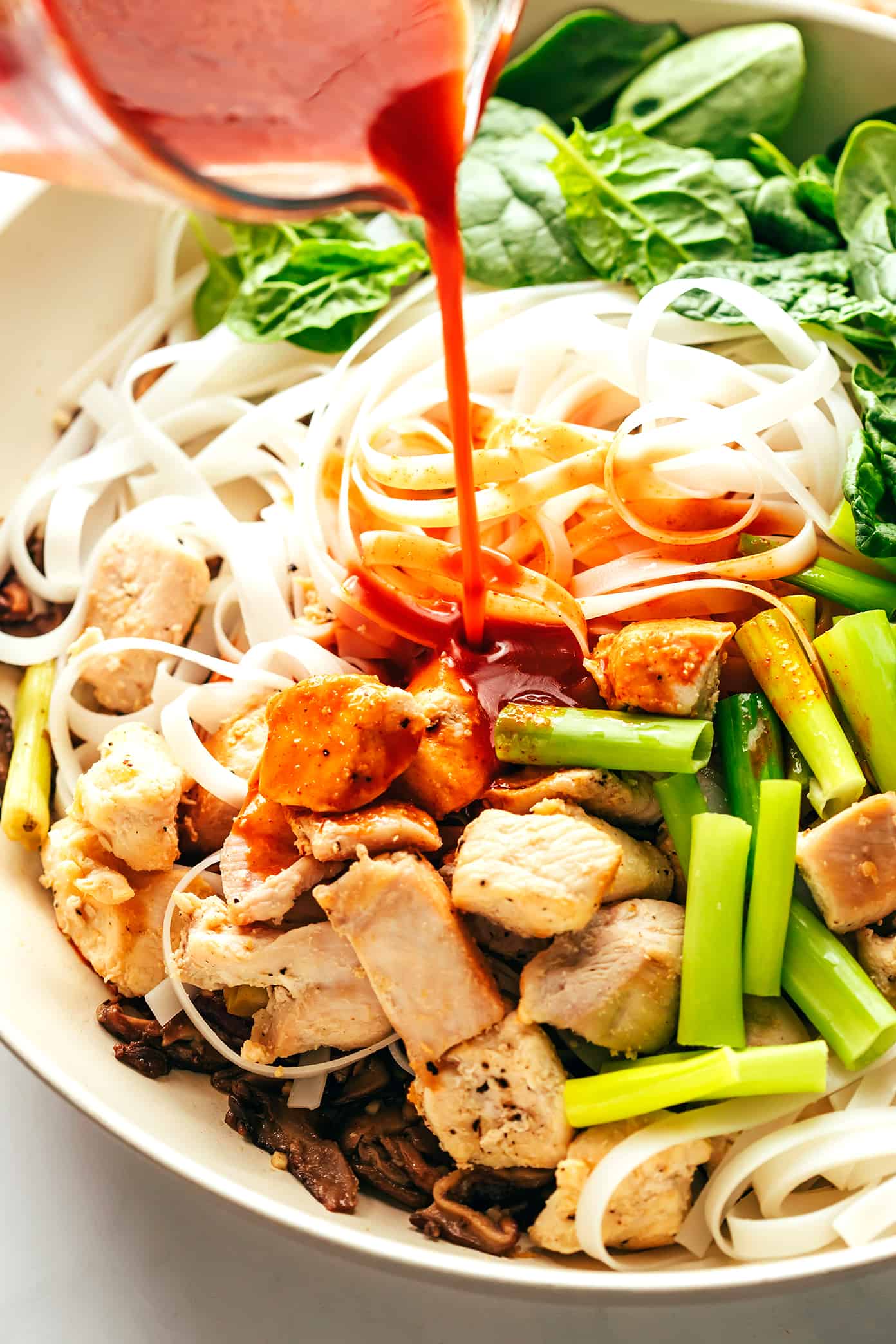 More Quick & Easy Noodle Recipes
Looking for more weeknight-friendly noodle recipes to try? Here are a few of our faves…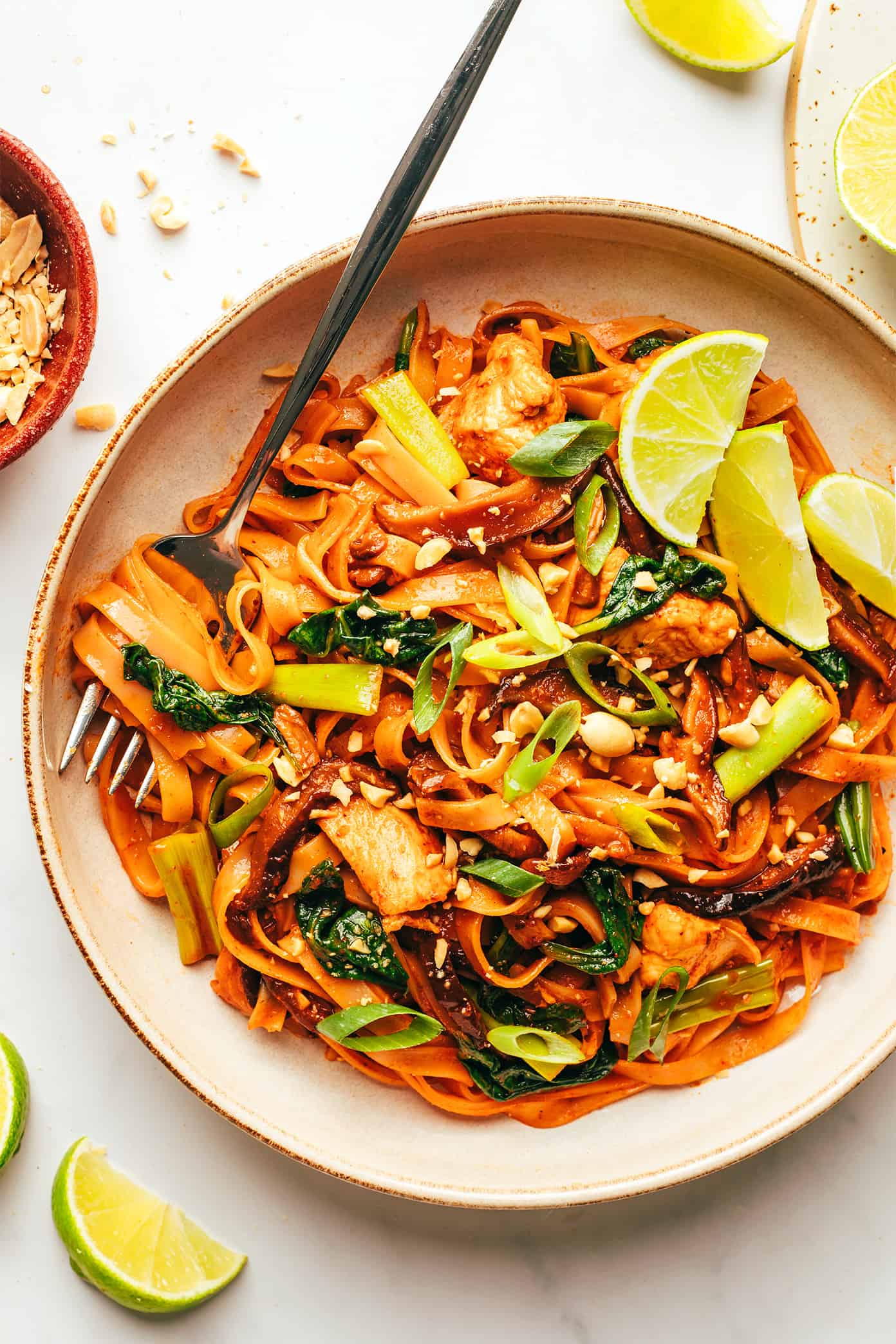 Print
---
Description
These Korean-inspired spicy sesame gochujang noodles can be ready to go in 30 minutes and are easy to customize with your choice of noodles, veggies and protein.
---
Noodle Stir-Fry Ingredients:
8 ounces

thin rice noodles

2 tablespoons

olive oil, divided

1

pound boneless skinless chicken breasts, thinly sliced into bite-sized pieces

fine sea salt and freshly-ground black pepper

8 ounces

shiitake mushrooms, thinly sliced

4

scallions, sliced into

1.5

-inch pieces

2

cloves garlic, minced

2

handfuls baby spinach

optional toppings: chopped fresh cilantro or Thai basil, chopped peanuts, toasted sesame seeds, lime wedges
Sesame Gochujang Sauce Ingredients:
1/2 cup

water

1/4 cup

gochujang paste

2 tablespoons

low-sodium soy sauce

1 1/2 tablespoons

maple syrup or honey

2 teaspoons

toasted sesame oil
juice of

one

lime (about

2 tablespoons

)
---
Prep the rice noodles.

Soak the rice noodles according to package instructions until they are *just* under al dente (you still want them to have a bit of bite), then drain and set aside.

Mix the gochujang sauce.

Meanwhile, as the noodles are soaking, whisk all of the sauce ingredients together in a measuring cup until evenly combined.

Cook the chicken.

Season the chicken with salt and pepper. Heat 1 tablespoon oil in a large sauté pan or wok over medium-high heat. Add the sliced chicken and sauté for 4 to 5 minutes, stirring occasionally, until browned and cooked through. Transfer the chicken to a clean plate and set aside.

Cook the veggies.

Add the remaining 1 tablespoon oil to the hot pan along with the mushrooms and white parts of the scallions. Sauté for 5 to 7 minutes, stirring occasionally, until the mushrooms are browned. Add in the garlic sauté for 2 more minutes, stirring frequently.

Combine.

Add the cooked noodles, chicken, sauce, spinach and the green parts of the scallions to the sauté pan. Gently toss the mixture until it is evenly combined and the spinach has wilted and the noodles are heated through. If the mixture seems dry at any point, add in some extra water (up to 1 cup) to help thin out the sauce. Taste and season with extra soy sauce, if needed.

Serve.

Serve warm, garnished with an extra lime wedge and any other toppings that sound good. Enjoy!
---
---