So sticky, so juicy, so tender! And the leftovers make for amazing pineapple chicken fried rice. SO STINKING GOOD!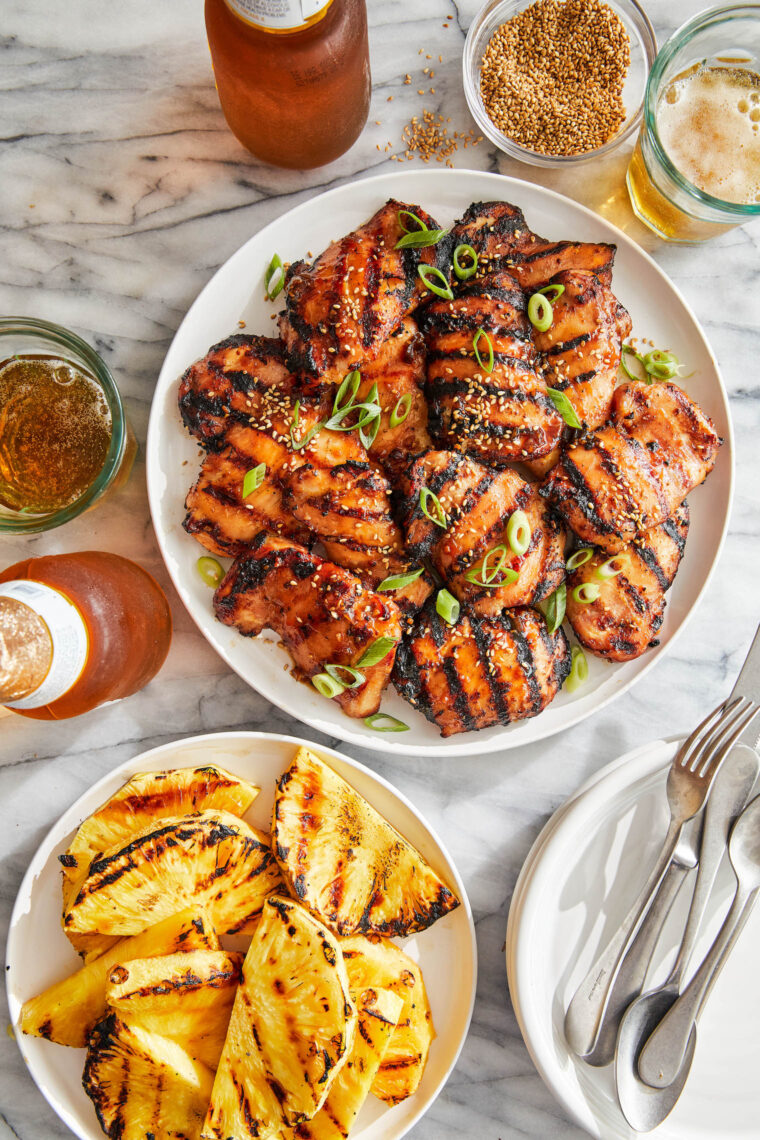 With the summer heat rolling in, I will very much be firing up the grill for these epic pineapple chicken thighs all season long. So juicy and tender, these bad boys are complemented by charred pineapple rounds (that you can throw on the grill the last few minutes of cooking the chicken), giving you that perfect combination of sweet and savory.
Don't have a grill? Not to worry. These work beautifully on a cast iron grill pan too.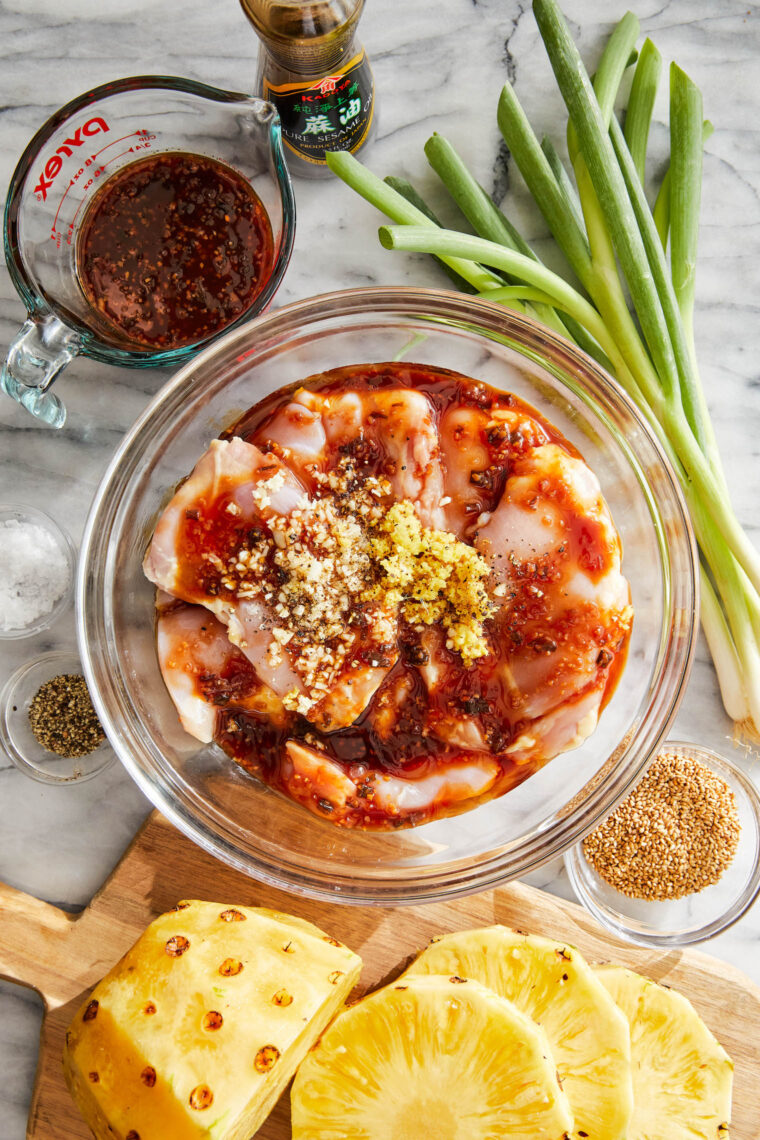 TERIYAKI SAUCE
You can use any store-bought brand you prefer but my personal favorite is Soy Vay Marinade & Sauce, Veri Veri Teriyaki.
MARINADE
I highly recommend staying within the 2-4 hour range. Any longer and it may get too salty (with a weird texture).
LEFTOVERS
Not sure if you'll have any but if you do, the leftovers make for even better pineapple chicken fried rice.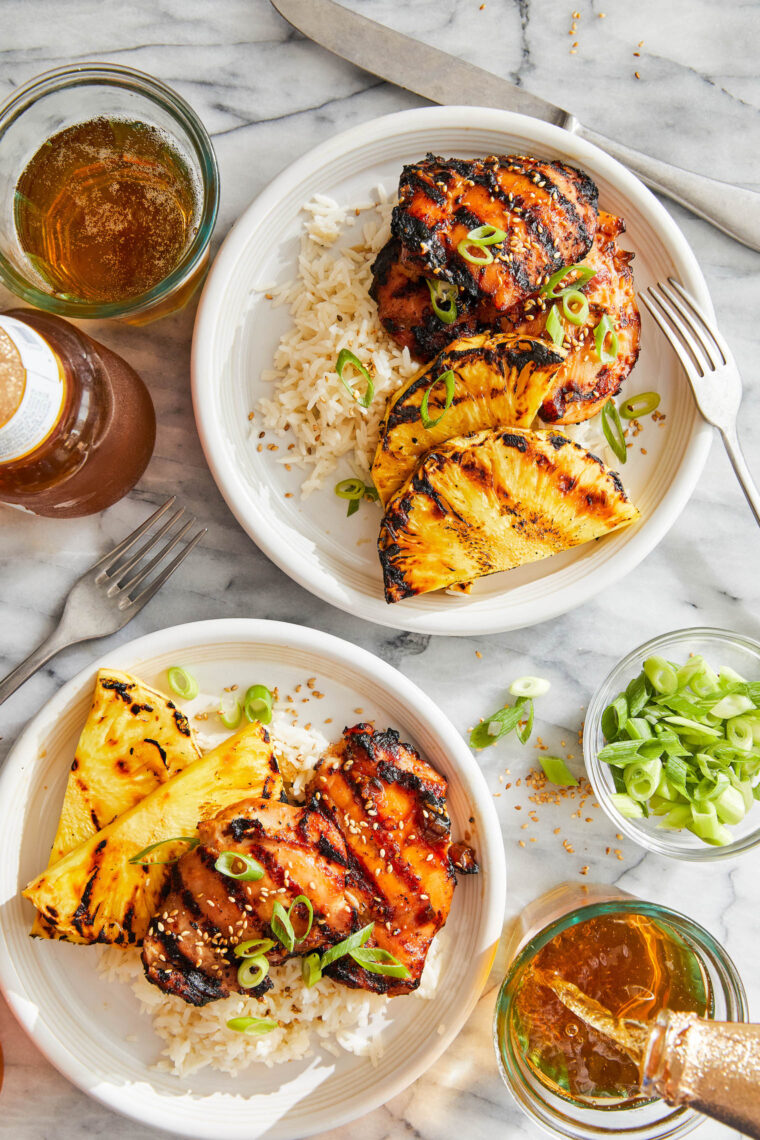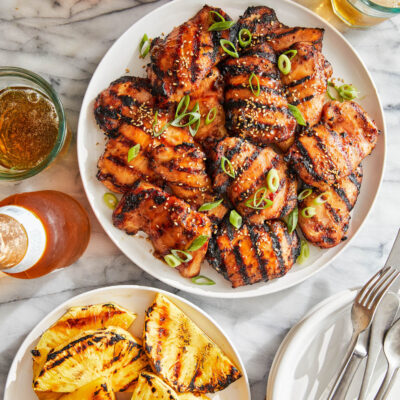 Pineapple Chicken Thighs
So sticky, so juicy, so tender! And the leftovers make for amazing pineapple chicken fried rice. SO STINKING GOOD!
Pineapple Chicken Thighs
2 hours 15 minutes20 minutes
Chungah Rhee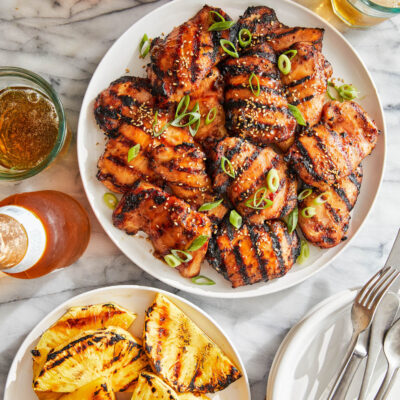 Ingredients:
2/3 cup teriyaki sauce
3 cloves garlic, minced
1 tablespoon freshly grated ginger
1 tablespoon toasted sesame oil
Kosher salt and freshly ground black pepper, to taste
2 pounds boneless, skinless chicken thighs
1 large pineapple, peeled and cut into 3/4-inch-thick rounds
3 tablespoons canola oil
2 green onions, thinly sliced
2 teaspoons toasted sesame seeds
Directions:
TERIYAKI MIXTURE: In a medium bowl, combine teriyaki sauce, garlic, ginger, sesame oil and 1 1/2 teaspoons pepper.
In a gallon size Ziploc bag or large bowl, combine chicken and TERIYAKI MIXTURE; marinate for at least 2 hours to 4 hours, turning the bag occasionally. Drain the chicken from the marinade.
Preheat grill to medium high heat.
Brush chicken and pineapple rounds with canola oil; season with salt and pepper, to taste. Add chicken to grill, and cook, turning occasionally, until chicken is completely cooked through, reaching an internal temperature of 165 degrees F, about 10 minutes.
Add pineapple to grill, and cook until lightly charred, about 2-3 minutes per side.
Serve immediately, garnished with green onions and sesame seeds, if desired.
Did you Make This Recipe?
Tag @damn_delicious on Instagram and hashtag it #damndelicious.