Quick Summary
Canned soup doesn't hold a candle to this easy Homemade Vegetable Soup! This hearty recipe is comforting, good for you, and full of wholesome flavor. Enjoy a bowl for lunch or dinner. And be prepared for leftovers!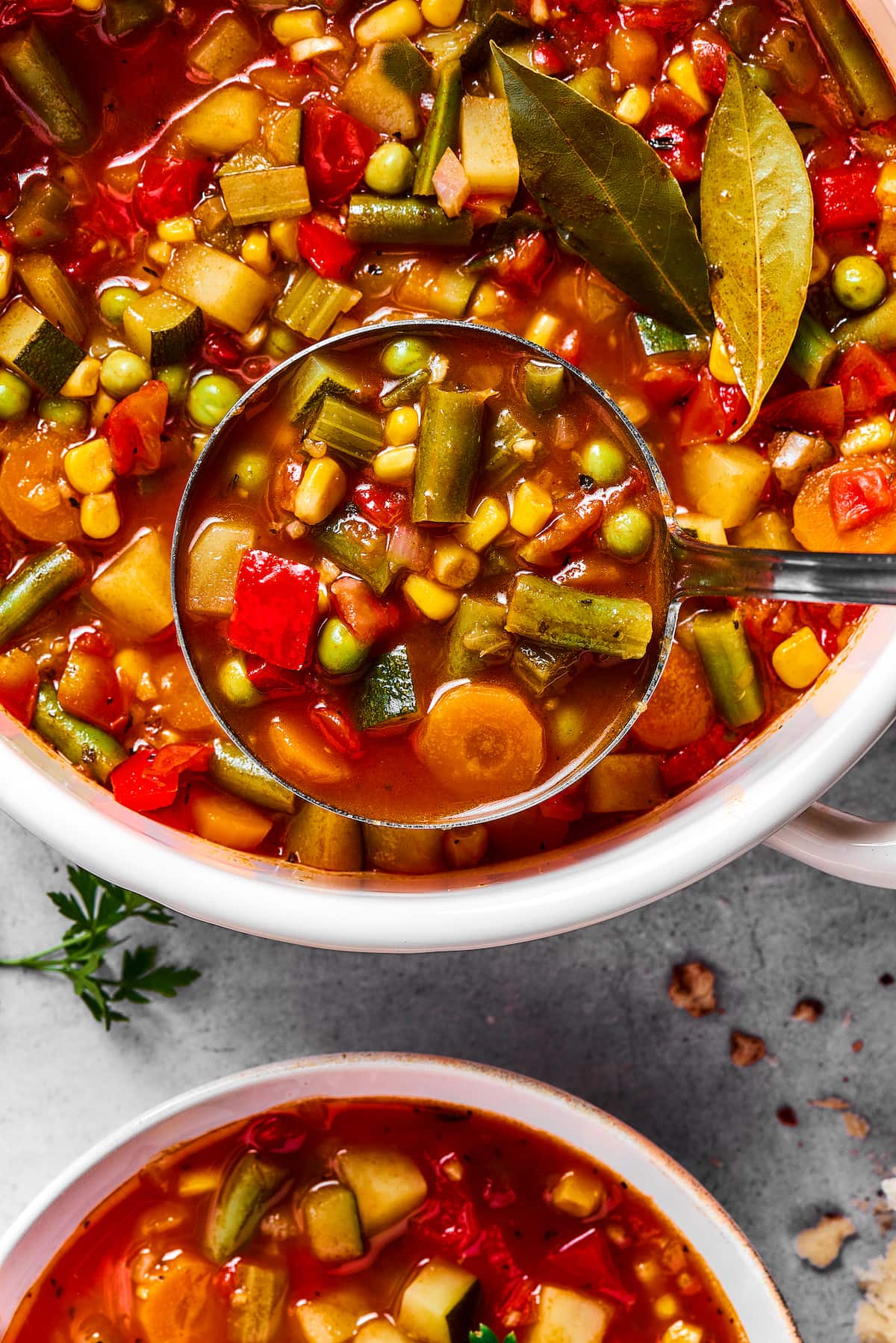 This classic vegetable soup is full of nourishing ingredients and tons of cozy flavor. And it's so simple to make! I made a huge batch for dinner one night and we enjoyed the leftovers for lunch all week. I think we'll be warming up with this recipe all winter at this rate.
I'll be honest, when I told the boys we're having vegetable soup for dinner, there were some complaints (healthy veggies! Ick!). After their first bite, however, the kiddos ended up eating like champs. Look who likes veggies, now!
A sprinkle of parmesan cheese and a side of crusty bread helped things along. The kids love dunking anything and everything, and bread is the perfect pairing with this easy homemade soup! Everyone got their daily dose of vegetables, and that made this mama happy.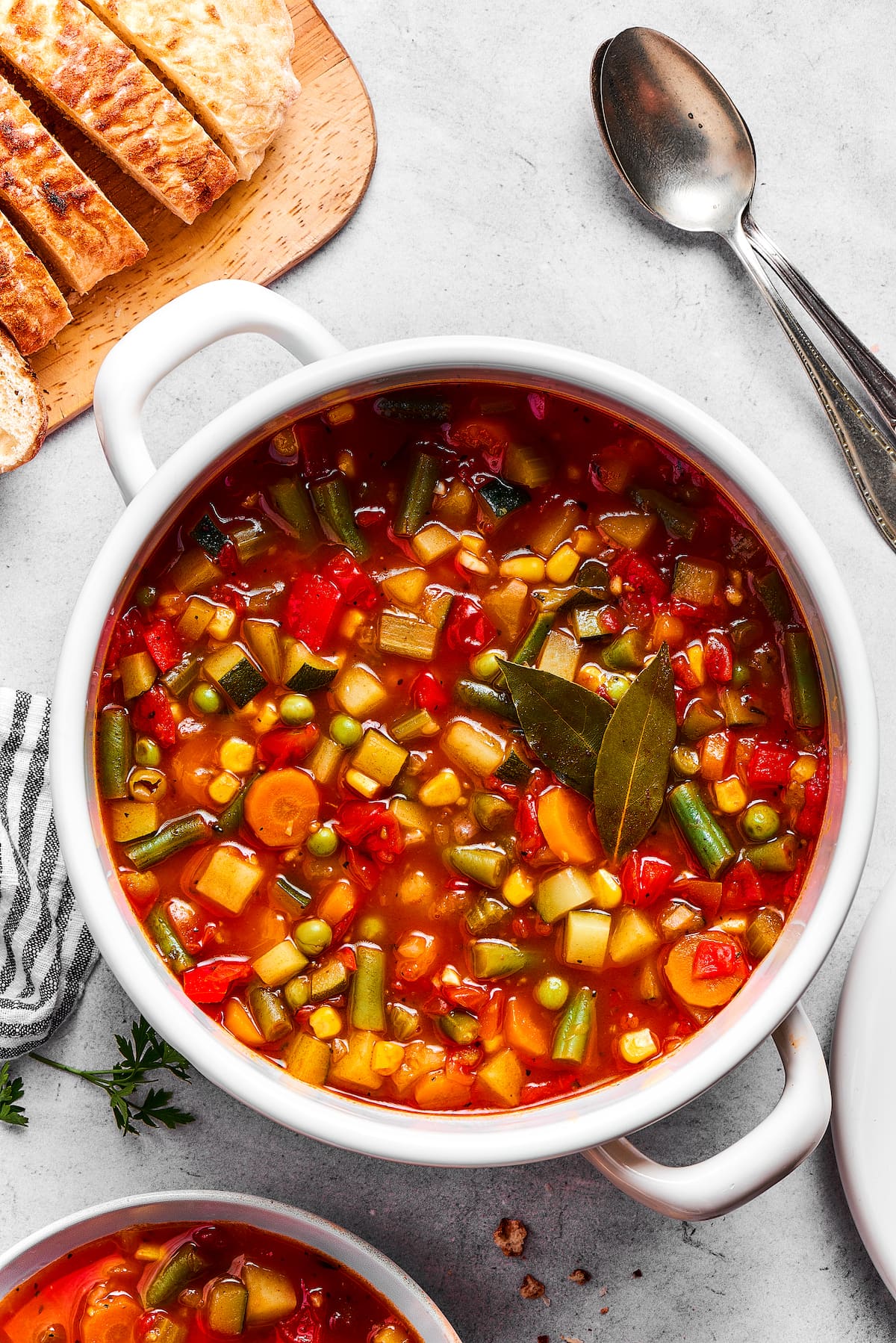 Why You'll Love this Vegetable Soup Recipe
Bring on the veggies! If you're trying to fit more vegetables into your regular meal rotation, this is the homemade soup to do it. Here's why:
You can use whatever vegetables you have on hand. This recipe is so versatile! I like to include kid-friendly vegetables like potatoes, carrots, and frozen corn. But anything goes, and it's a great way to use up leftover veggies in the fridge.
This soup is light but very filling. This recipe is bursting with hearty and healthy ingredients in a flavor-packed broth that fills you up without weighing you down. Guilt-free comfort food!
It's an all-rounder of a meal. This soup is vegetarian, vegan, and gluten-free, so you can make it for just about any occasion.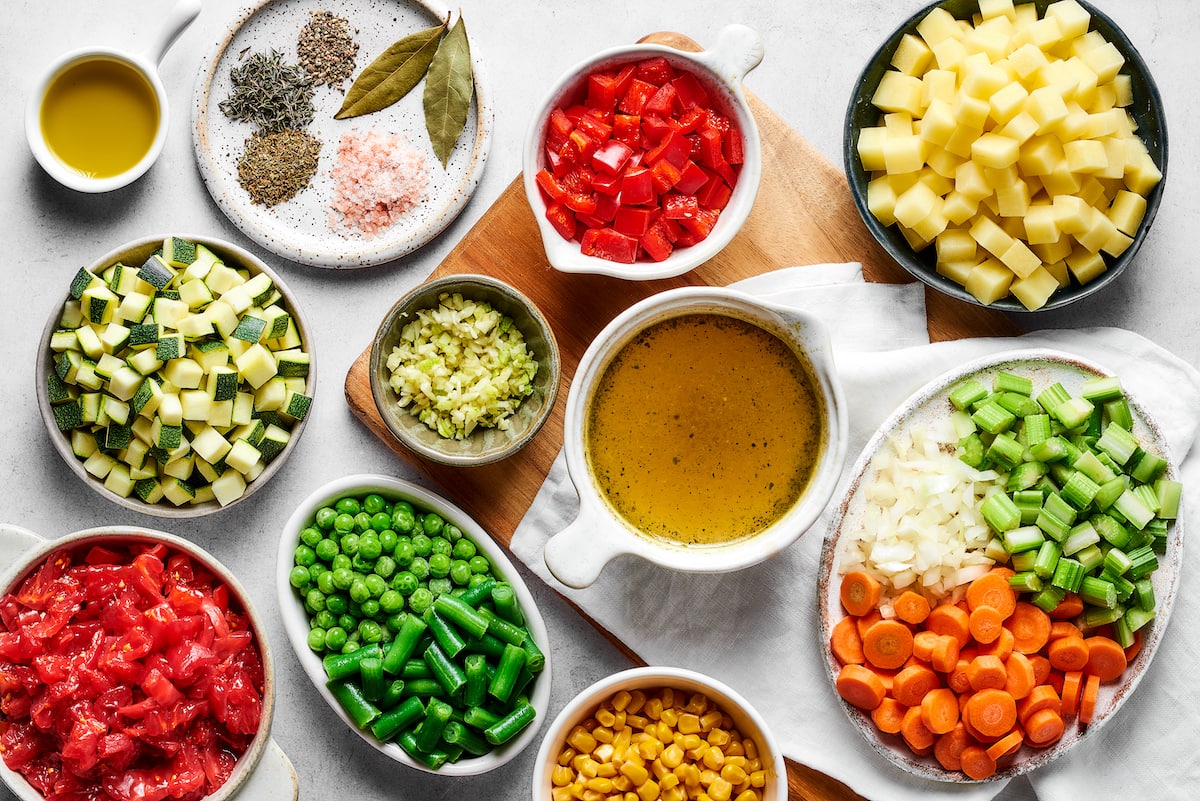 What You'll Need
This soup is made with a savory blend of vegetable broth and diced tomatoes as the base. Combined with the rest of the ingredients below, the flavors are so fresh and delicious! Be sure to check out the recipe card for the full amounts. Here's what you'll need:
Olive Oil – Get a nice quality extra virgin olive oil to sauté the onions, carrots, and celery. 
Aromatics – Chopped yellow onion, carrots, and celery. Fun fact: this combination is known as a "mirepoix" in French cooking, and forms the base for the soup. Mine is a chunky version sautéed with garlic for extra punch.
Red Bell Pepper – Seeds removed and chopped.
Zucchini – This soup is light enough to make in the summer when fresh zucchini is in season. Pro tip: chop them up nice and small if you're hiding them from picky eaters!
Potatoes – I use Yukon gold potatoes. You can also use another kind of boiling potato, like red potatoes, or waxy potatoes like fingerlings.
Vegetable Broth – I recommend using low-sodium vegetable broth or stock and then seasoning to taste. Most broths are gluten-free, but it's always important to check. If you're not making this soup vegetarian or vegan, you could also sub in chicken stock.
Tomatoes – I use normal diced tomatoes, but fire-roasted tomatoes would be delicious for extra flavor.
Seasoning – I season my soup with a combination of dried bay leaves, thyme, and basil, plus salt and pepper. Make sure you remove the bay leaves before serving!
Frozen Veggies – Bulk up this vegetable soup with frozen green beans, frozen corn, and frozen peas. 
How to Make Vegetable Soup
Let's get this soup on the go in just a few easy steps: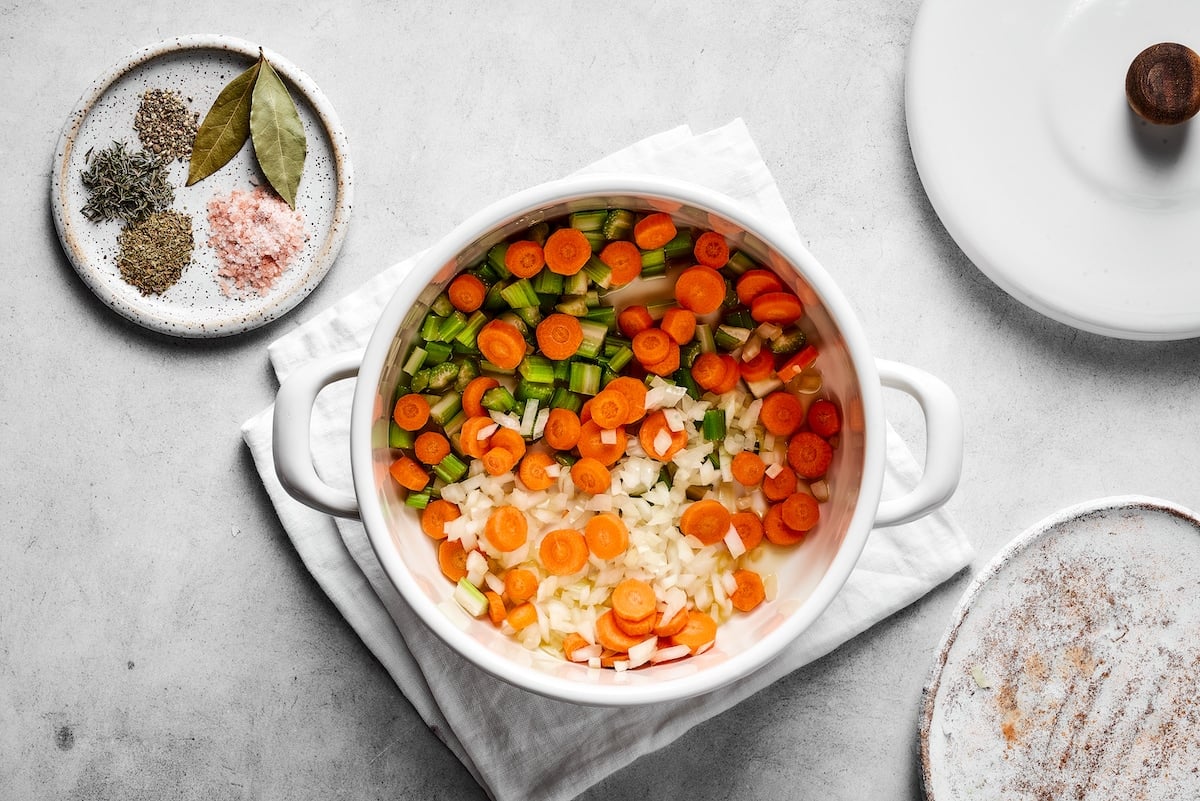 First, saute the veggies. Add the chopped onion, carrot, and celery to a large pot and sauté until tender. Add in garlic, red pepper, zucchini, and potatoes, and cook for a couple of minutes more.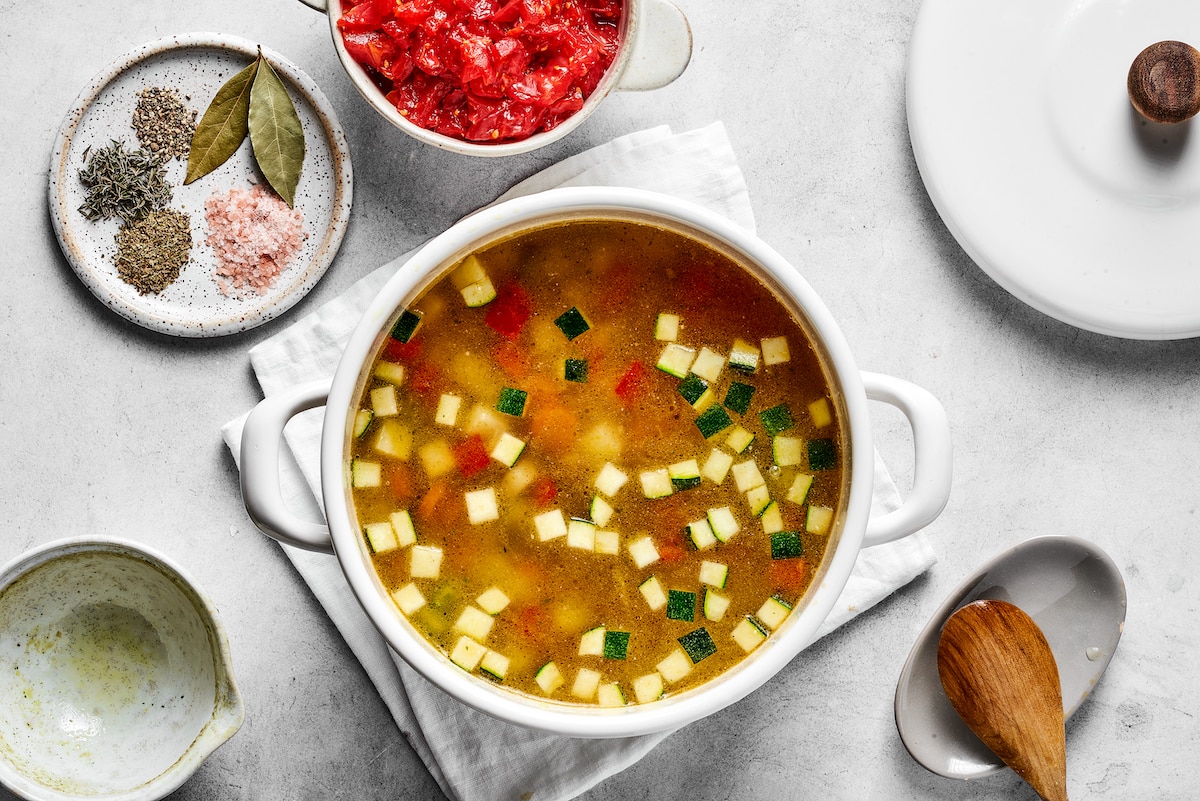 Next, add the broth and seasonings. Pour in the vegetable broth, then toss in your herbs and a pinch of salt and pepper. Reduce the heat on your stove, cover the pot, and simmer for about 20 minutes or so.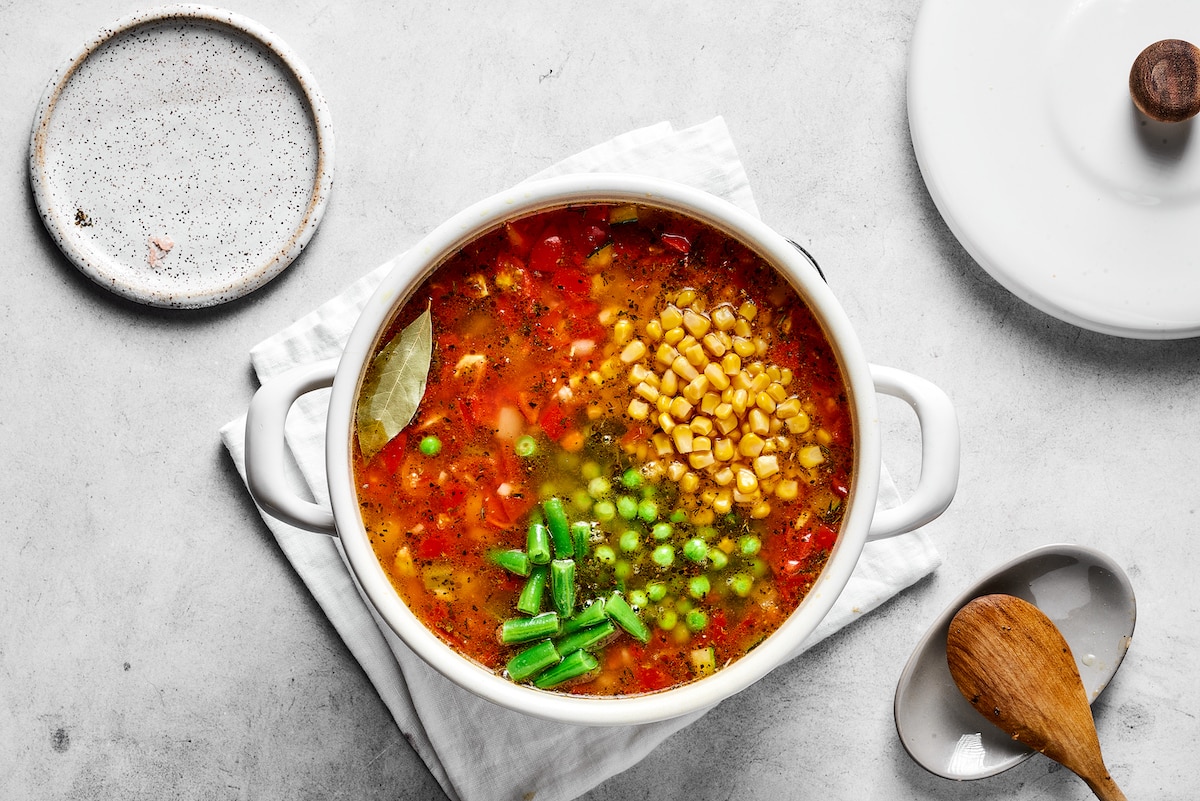 Stir in the frozen vegetables. When you notice that the potatoes are soft, add your frozen vegetables and let them cook through. Take out the bay leaves and season the soup to taste. Then serve!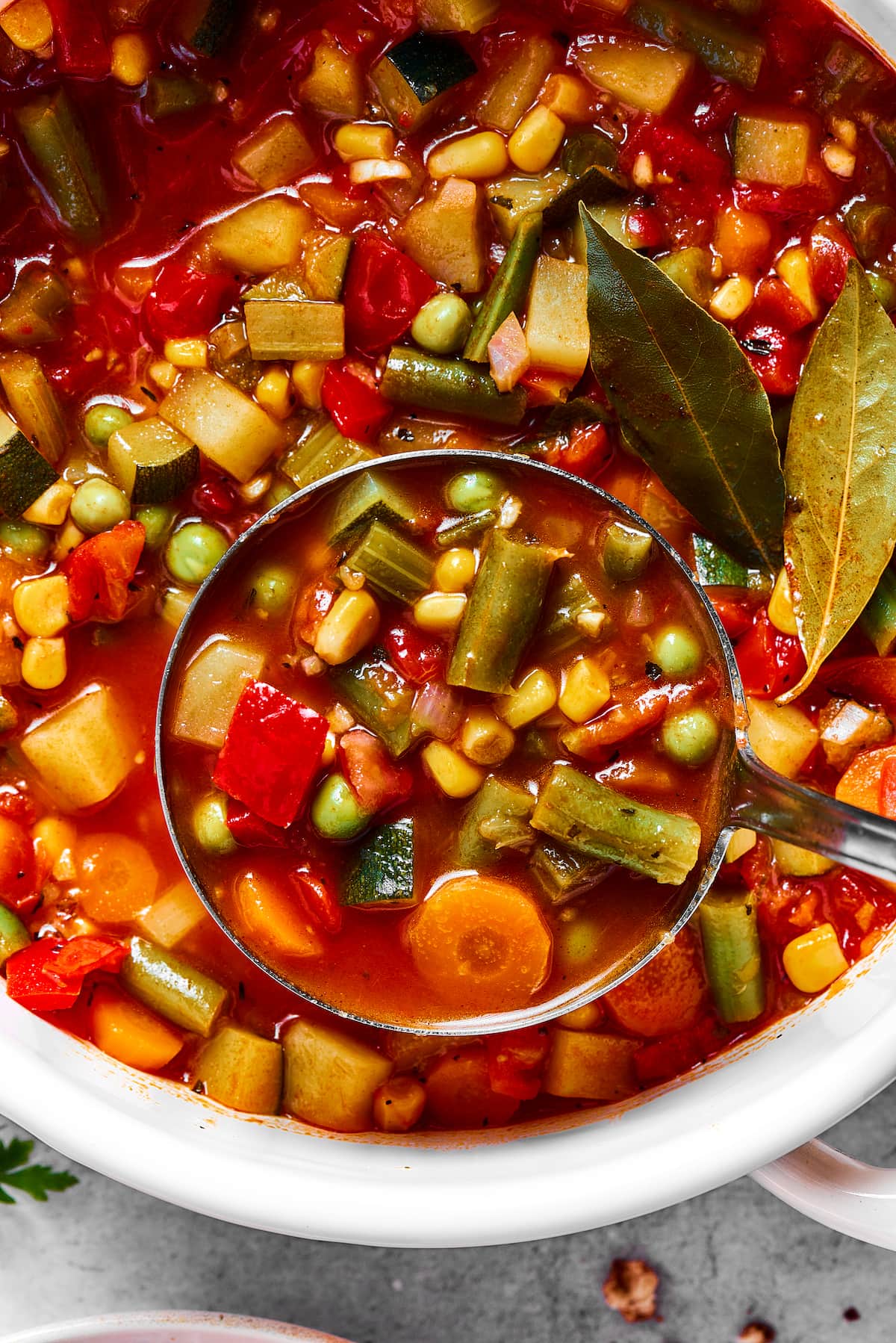 Tips and Variation Ideas
You really can't go wrong with a hearty and easy vegetable soup that's fit for any season. Here are some more suggestions to really make this soup shine: 
Add different veggies. Use up those leftover veggies, cooked or uncooked, all year round! Add mushrooms, asparagus, spinach, kale, parsnips, broccoli, or cauliflower.
Change up or omit the frozen veggies. I use frozen green beans, corn, and peas because we always have them in our freezer. If you make this soup in the summertime with fresh vegetables at your disposal, certainly go the fresh route! All vegetables are welcome in this healthy soup.
Up the acidity. Further enhance the flavor with a splash of red wine vinegar, balsamic vinegar, or a squeeze of fresh lemon juice.
Make it spicy. If you like a little heat, stir in a dash of cayenne pepper or your favorite hot sauce. I recommend doing this at the very end – boiling and simmering intensify the chili flavors, and your soup may turn out spicier than anticipated!
Chicken vegetable soup. Before you start, sauté some cubed chicken to stir into the soup. Or, chop up and add in leftover chicken. You can also do the same with cubes of beef to make this into vegetable beef soup.
Add lentils. Dump in a cup of lentils to simmer with the broth for easy lentil vegetable soup. Or try adding chickpeas, as in my Turmeric Chickpea Vegetable Soup. 
Add grains. Simmer in barley for a hearty vegetable barley soup, or add quinoa for a variation of Fall Vegetable Quinoa Soup.  
Rice or noodles. Add in cooked rice (or cook the rice in the soup, but be sparing – you don't want the rice to absorb all the liquid!). You can also stir in some elbow macaroni or shell pasta towards the end of the cooking time for a chunkier soup, like Classic Minestrone Soup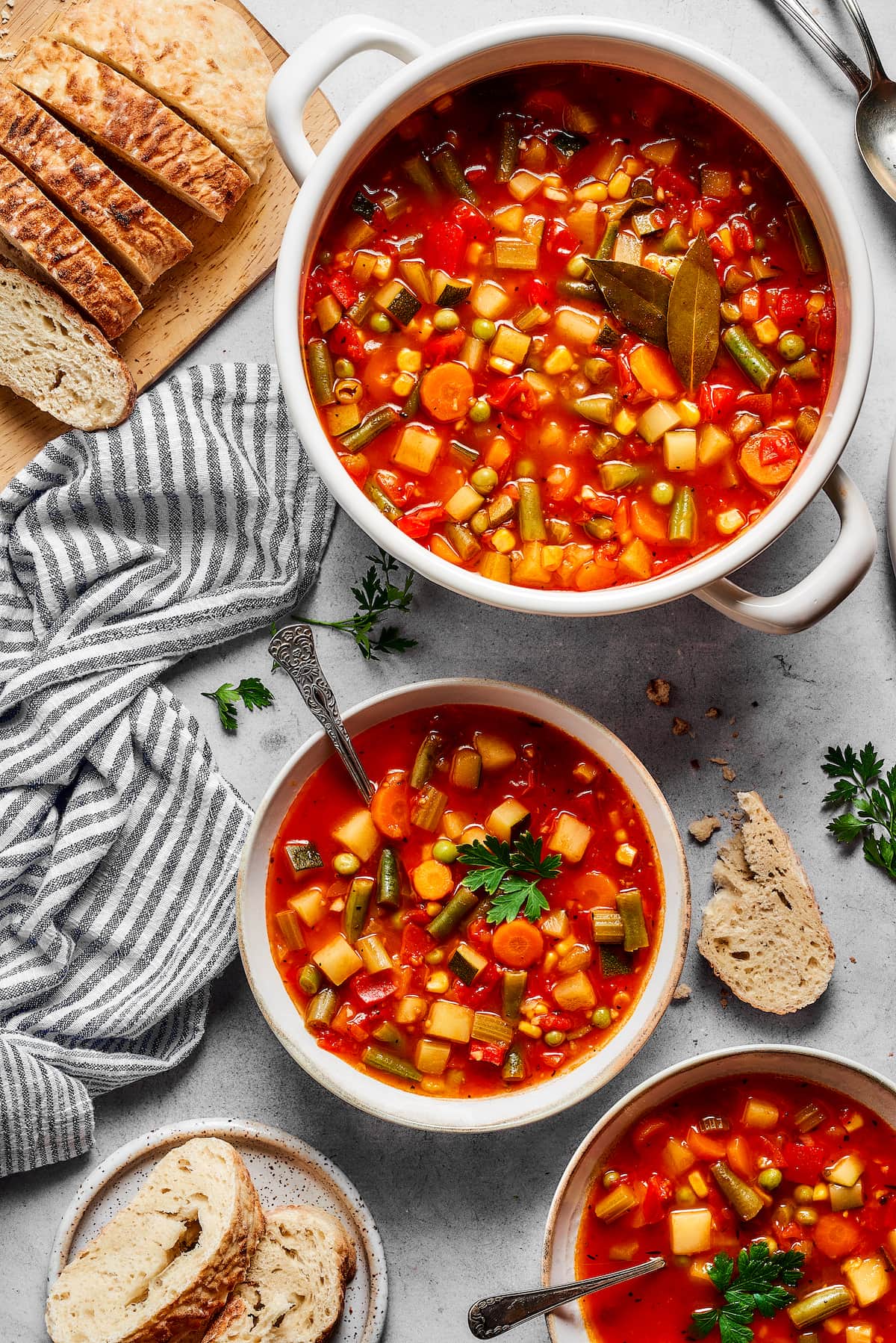 What Goes With Vegetable Soup?
A cozy bowl of homemade vegetable soup is a meal on its own! Or, enjoy it with any of the following meal ideas:
Serve this soup with a loaf of crusty bread, Buttermilk Drop Biscuits, Garlic Bread, Cornbread, or your favorite crackers.
Add even more veggies to your meal. Serve an Easy Green Salad or Kale and Wild Rice Salad on the side, bistro-style.
Top your bowl of soup with freshly grated Parmesan cheese and a sprinkle of fresh herbs.
Have you ever stirred a spoonful of creme fraiche or sour cream into a bowl of vegetable soup? If not, creamy vegetable soup is definitely a must-try!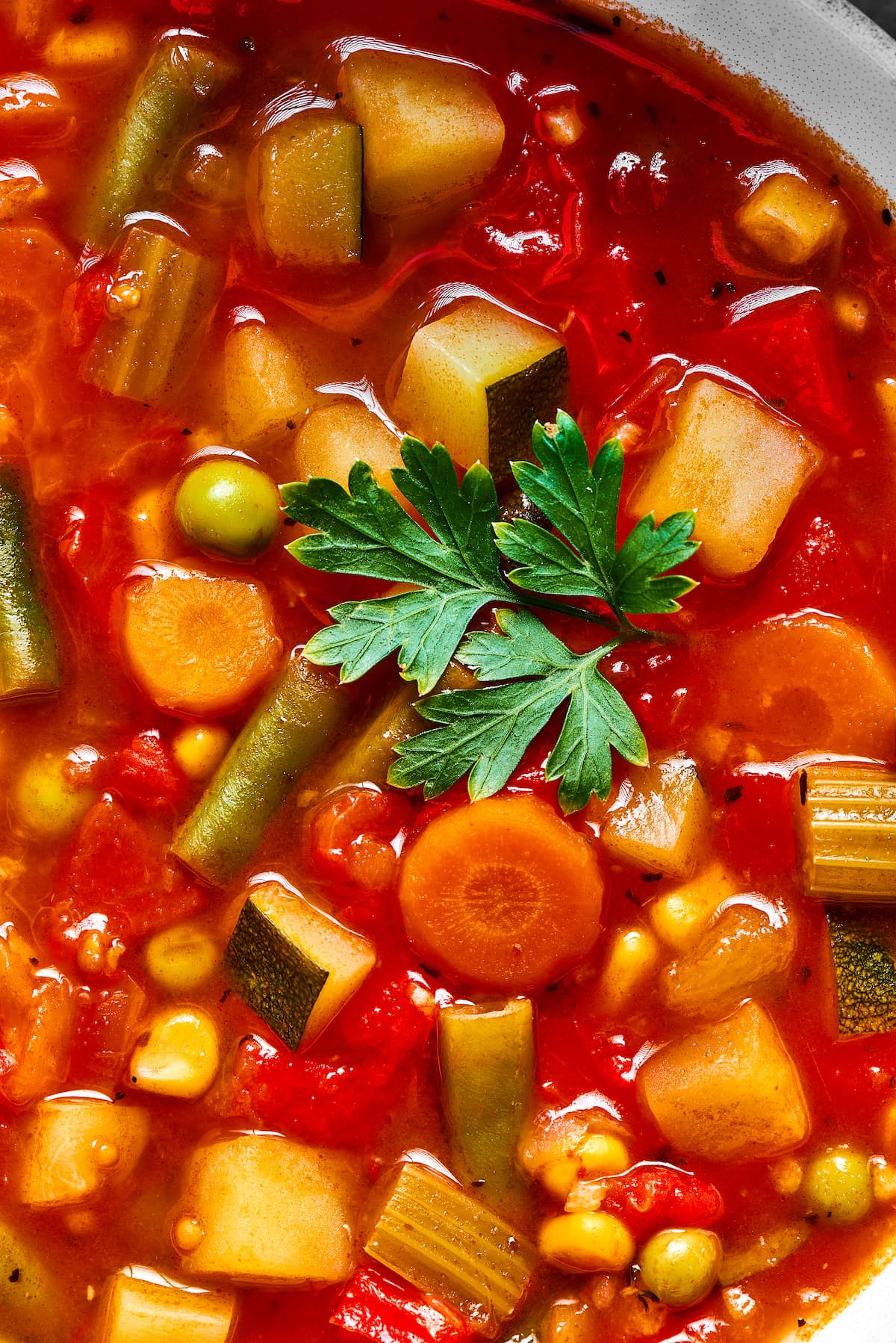 How to Store and Reheat Leftovers
This recipe makes a supersized pot of soup, so brace yourself for leftovers! Vegetable soup will keep in an airtight container in the refrigerator for up to 5 days. Luckily, it reheats effortlessly in the microwave or on the stove for quick, healthy lunches or busy weeknight dinners.
You can even store soup in portions for easy grab-and-go meals. Simply reheat it in the lunchroom microwave!
This soup freezes well! Stash it in containers to keep in the freezer for a rainy day. After letting the soup cool completely, transfer it to a freezer-safe container to keep frozen for up to 3 months.
More Cozy Soup Recipes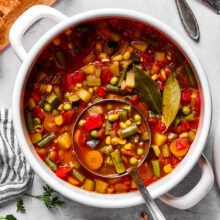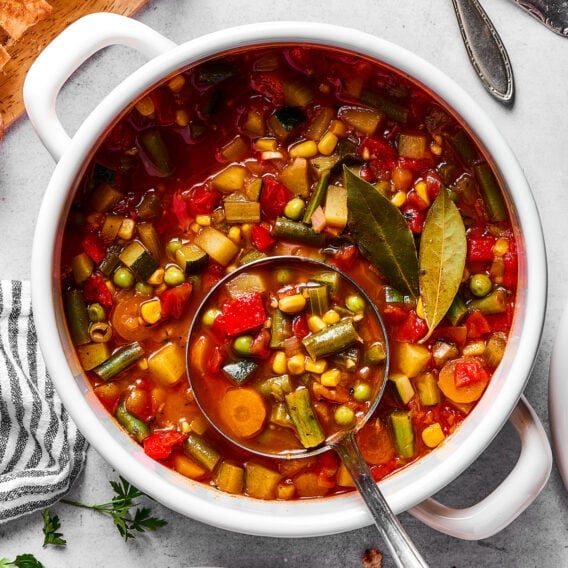 Soup
Homemade Vegetable Soup
This hearty and easy homemade vegetable soup is comforting and good for you. Enjoy a bowl for lunch or dinner, and be prepared for leftovers!
2

tablespoons

olive oil

1

medium yellow onion,

chopped

3

carrots,

chopped

2

celery ribs,

chopped

5

cloves

garlic,

minced

1

red bell pepper,

seeds removed and chopped

1

medium zucchini,

chopped

6

Yukon gold potatoes,

chopped (about 2 cups)

3

(14.5 oz)

cans vegetable broth

28

oz

diced tomatoes

(can use fire roasted tomatoes)

2

bay leaves

1/2

teaspoon

dried thyme

1/2

teaspoon

dried basil

1

teaspoon

kosher salt

1/4

teaspoon

black pepper

1 1/2

cups

frozen green beans

1

cup

frozen corn

1

cup

frozen peas
In a large pot, heat the olive oil over medium high heat. Add the onion, carrot, and celery and cook for 5 minutes or until vegetables are tender. Add in the garlic, red pepper, zucchini, and potatoes. Cook for 3 minutes.

Add the vegetable broth, tomatoes, bay leaves, thyme, basil, salt, and pepper. Reduce heat to medium-low, cover, and let the soup simmer for 25-30 minutes, or until the potatoes are soft.

Stir in the green beans, corn, and peas and cook for 5-7 minutes, or until vegetables are cooked through.

Remove the bay leaves and season with additional salt and pepper, if necessary. Serve warm.
Feel free to add in a tablespoon of red wine vinegar, balsamic vinegar, or fresh lemon juice for added flavor. You can also garnish the soup with fresh parmesan cheese and fresh herbs. 
Calories: 172kcal, Carbohydrates: 33g, Protein: 5g, Fat: 3g, Saturated Fat: 1g, Sodium: 266mg, Potassium: 854mg, Fiber: 6g, Sugar: 6g, Vitamin A: 3787IU, Vitamin C: 58mg, Calcium: 62mg, Iron: 2mg
Have you tried this recipe?
Leave a comment below and share a photo on Instagram. Tag @twopeasandpod and hashtag it with #twopeasandtheirpod