Sausage, potato, and Cheddar cheese stew is a recipe you don't want to miss. Smoked sausage, creamy potatoes, and sharp cheddar cheese combine beautifully for a delicious stew you need to try.
This post contains affiliate links. As an Amazon Associate, I earn from qualifying purchases.
What Makes This Homemade Sausage Stew With Potatoes So Good? 
A hardy stew is a perfect meal when the weather turns chilly. And when that stew is chock-full of smoky sausages, fluffy potatoes, and gooey cheddar cheese in a creamy chicken broth, it can be difficult to resist a second helping.
Thankfully this hearty sausage stew recipe is so easy and inexpensive to make that you will want to put it on permanent rotation during the colder months. 
Why This Is the One Recipe for Sausage Stew You Should Try 
Just dump all the ingredients for this set-it-and-forget-it meal into a slow cooker before you go out, and you will have the ultimate feel-good meal waiting for you when you return.
Serve the stew in a bowl or make it extra special with a bread bowl. Either way, you and your family are going to love it. 
Ingredients For Smoked Sausage Stew
For the stew, you'll need:
Smoked sausage
Chicken broth, low-sodium is fine
Yukon Gold potatoes
White onion
Heavy cream
Thyme
Black pepper
Salt
Cheddar cheese, shredded
To serve the stew, you'll need:
Cheddar cheese, shredded
Olive oil
Round bread loaves
How To Cook Sausage Stew With Potatoes
To prepare the ingredients:
Peel the potatoes.
Chop the smoked sausages, peeled potatoes, and white onion into roughly the same size cubes.
To make potato and sausage stew in the oven:
Preheat the oven to 350°F.
Heat a Dutch oven or another heavy-bottomed, oven-safe pot with a lid over medium-high heat. 
Add the chopped sausage and onion to the pot and cook until they color.
Stir in the remaining stew ingredients. 
Turn the heat to high and bring the stew to a boil. Turn off the heat.
Cover the pot and put it in the oven to braise for three hours. 
To make the sausage stew recipe in a slow cooker:
Heat a large skillet over medium-high heat.
Add the chopped sausage and onion to the pan and cook until they color.
Transfer the sausage and onions to the slow cooker and add the remaining stew ingredients. 
Stir well.
Cover and cook on LOW for 8 hours or on HIGH for 6 hours.
To make the bread bowls:
Preheat the oven to 425°F. 
Cut the top off each of the round bread loaves. 
Use your fingers to pick out the bread leaving the sides and bottom at least a half-inch thick. You can eat the bread you remove or save it for making bread crumbs or croutons. 
Brush the inside of the bread bowl with olive oil.
Place the bread bowls on a baking tray and put them in the oven until the interior becomes crusty; about five minutes. 
How to serve:
Ladle a portion of the stew into a bowl or bread bowl, if using. 
Sprinkle shredded cheese on top. Garnish with sprigs of thyme, rosemary, or parsley if desired.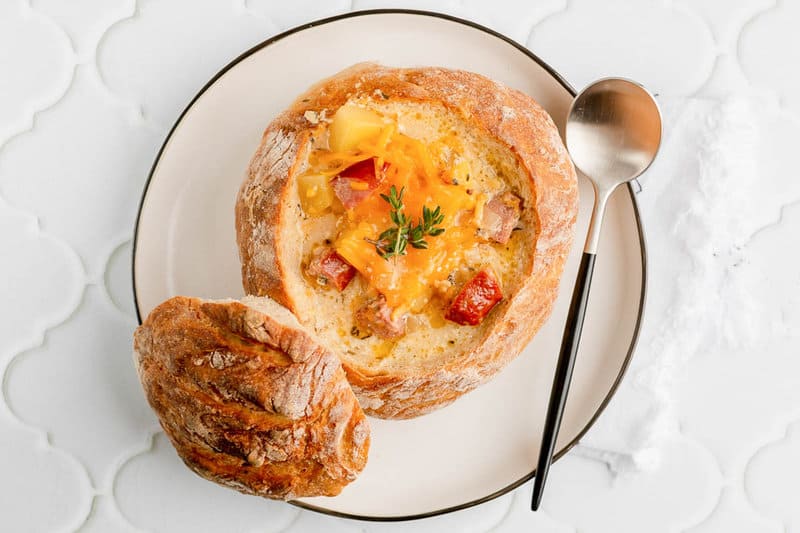 Recipe Variations
Switch things up by swapping out the type of sausages. A few good alternatives are sweet or hot Italian sausages, kielbasa, or even chorizo if you like things a bit spicy. 
Yukon Gold potatoes are perfect in this dish, but you can also use red or new potatoes since they hold up well in a stew.
Feel free to substitute diced carrots or parsnips for all or some of the potatoes. Add celery or beans for more vegetables. You can also add a bunch of coarsely chopped kale to the stew for the last hour of cooking time. 
What To Eat With Sausage Stew 
A few slices of crusty bread is a great side dish, especially if you are not serving the stew in a bread bowl. A simple salad is also a great option. 
How To Store It
Like most stews, potato and sausage stew stores well. In fact, it may even taste better after a night in the fridge. You can keep the stew in an airtight container in the refrigerator for three to five days, but the potatoes will soak up a lot of the broth and start to break down. 
Keep the stew for up to three months in the freezer. Store the stew in portion-sized freezer bags to make reheating simpler. 
What Is the Best Way to Reheat Sausage Stew
The best way to reheat thawed stew is on the stovetop:
Put the stew in a saucepan and stir in some chicken stock or water to thin it out. 
Cover the saucepan with a lid and bring the stew to a simmer over medium-low heat. Remember to stir the stew occasionally to prevent scorching.
Once the stew is simmering, heat for another minute or two with the lid on. 
If you are in a rush, try heating the stew in the microwave:
Put a portion of the stew in a microwavable bowl. 
Cover with a damp paper towel to prevent splatters.
Microwave for one minute, and stir the stew. 
Continue to microwave using 30-second bursts until the stew is hot. Stir the stew after each 30-second burst.
Favorite Hearty Soup and Stew Recipes
Popular Recipes with Sausage
Check out more of my easy soup recipes and the best recipes for winter on CopyKat!
Sausage Stew
Sausage Stew with potatoes and cheddar cheese is a hearty soup that is hard to resist. 
Print
Pin
Rate
Add to Collection Go to Collections
Servings: 4
Calories: 748kcal
Ingredients
1

pound

smoked sausage

cubed

32

ounces

low-sodium chicken broth

2

pounds

Yukon Gold potatoes

peeled and cubed

1

cup

chopped white onion

1/2

cup

heavy cream

1/2

teaspoon

thyme

1/2

teaspoon

pepper

1

teaspoon

salt

1

cup

shredded cheddar cheese

plus more for garnish

4

round bread loaves
Instructions
Crockpot Slow Cooker Method
To Serve
Make bread bowls by cutting the top off the bread loaves and scooping out the inside leaving an inch around the sides and bottom.

Ladle the stew into the bread bowls.

If desired, sprinkle cheese on top.

Serve immediately.
Nutrition
Calories: 748kcal | Carbohydrates: 36g | Protein: 35g | Fat: 52g | Saturated Fat: 23g | Cholesterol: 152mg | Sodium: 1586mg | Potassium: 1521mg | Fiber: 6g | Sugar: 2g | Vitamin A: 805IU | Vitamin C: 30mg | Calcium: 320mg | Iron: 9.4mg