Loaded Twice Baked Potatoes are what I like to make when I want to serve a dinner that is a little fancy. Are these hard to make? No. Do they look pretty and make everything think you are the perfect host? Yes!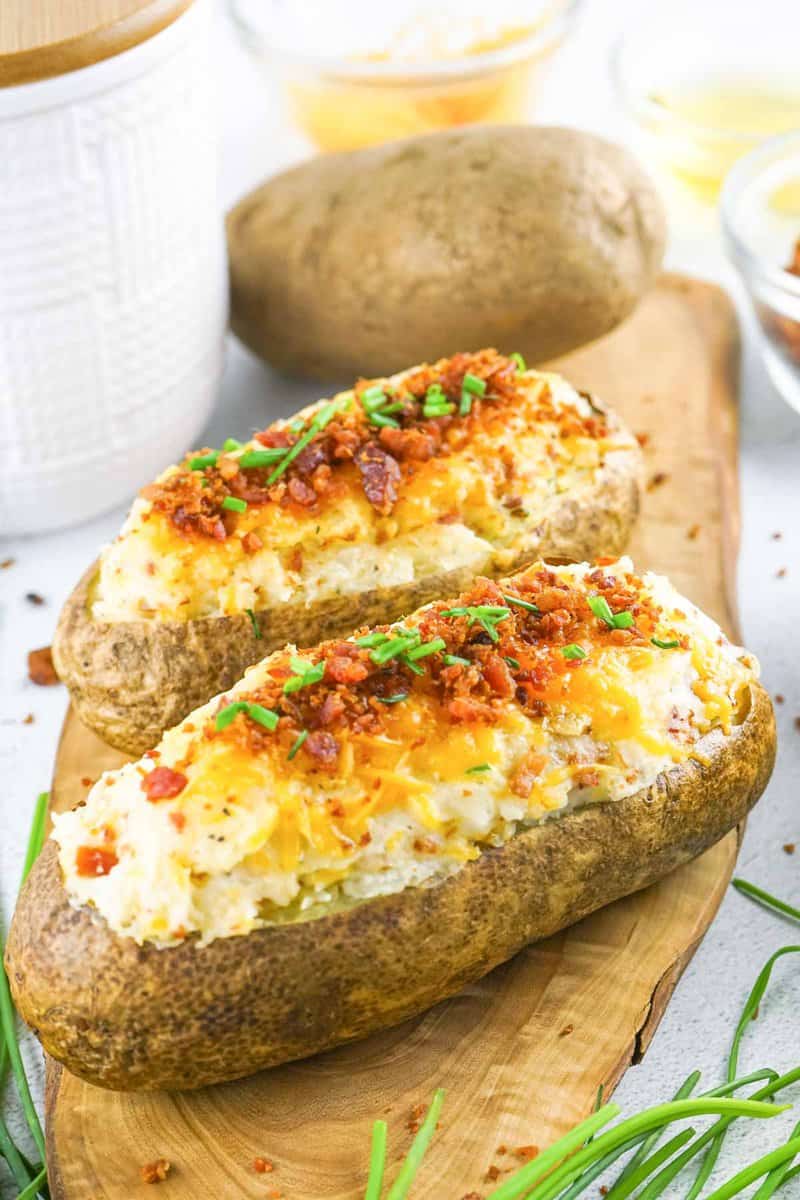 This post contains affiliate links. As an Amazon Associate, I earn from qualifying purchases.
What Makes Loaded Twice Baked Potatoes So Good?
Whoever thinks baked potatoes are boring has never tried this easy-to-make loaded potatoes recipe. A creamy smashed potato stuffed inside a crunchy potato skin and topped with bacon, scallions, and a sprinkling of cheese is satisfying enough for a light meal or snack and makes a hearty side dish.
Once you taste one, you'll never settle for ordinary baked potatoes again.
Let This Be Your Make Ahead Twice Baked Potato Recipe
Baked potatoes are good with a wide range of main courses, but they take a long time to cook. That means that most people aren't making them for weeknight dinner.
These loaded potatoes are not only more tempting than everyday baked potatoes, but they are super easy to prepare in advance and keep in the fridge or freezer for a quick and delicious side dish. Stop cooking oven fries or instant mashed potatoes when you can serve this easy twice baked potatoes recipe in just about the same amount of time.
Ingredients for Twice Baked Potatoes
To make this recipe, you'll need:
Potatoes
Vegetable oil
Butter, melted
Sour cream
Salt
Black pepper
Cheddar cheese, shredded
Scallions, fresh chives, or green onions
Bacon bits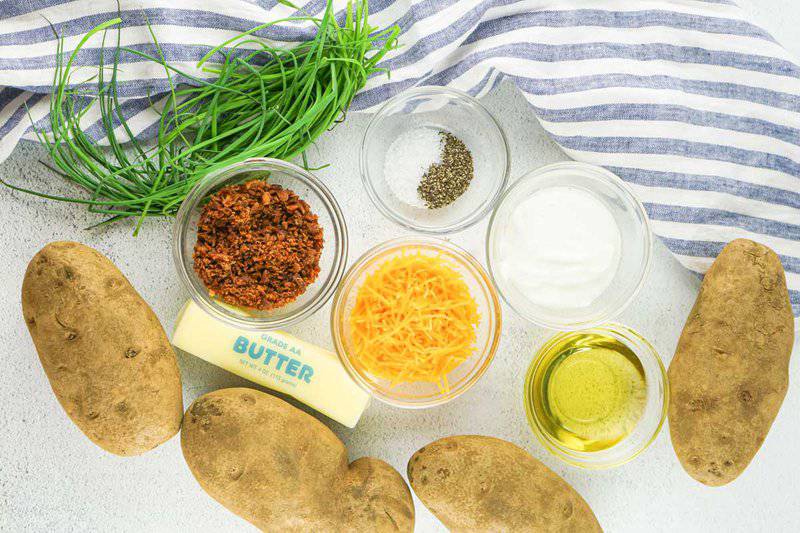 Ingredient Notes
The best potatoes to use are classic baking potatoes like Russets for this recipe. For smaller servings, Yukon Golds are a great choice.
You can make your own bacon bits or use the ones from the store.
How To Make Twice Baked Potatoes in the Oven
To prepare this recipe:
Preheat the oven to 350°F.
Rinse the potatoes under cold water and use a clean kitchen towel or a potato brush to remove any dirt from the surface.
Coat the outside of the potato well with some vegetable oil. For extra-crispy skin, try sprinkling salt on the potato skin to help draw out the moisture.
Place the potatoes on a baking tray and cook for about 50 minutes, or when the potato is fork tender.
Remove the potatoes from the oven, and slice off the top third of the potato lengthwise as soon as you can handle them without burning yourself.
Use a spoon or potato scooper to remove the inside of the potato, leaving at least a 3/8 inch-thick edge.
Place the inside of the potato into a large mixing bowl. Scrape the flesh from the top third of the potato into the bow. Discard the skin.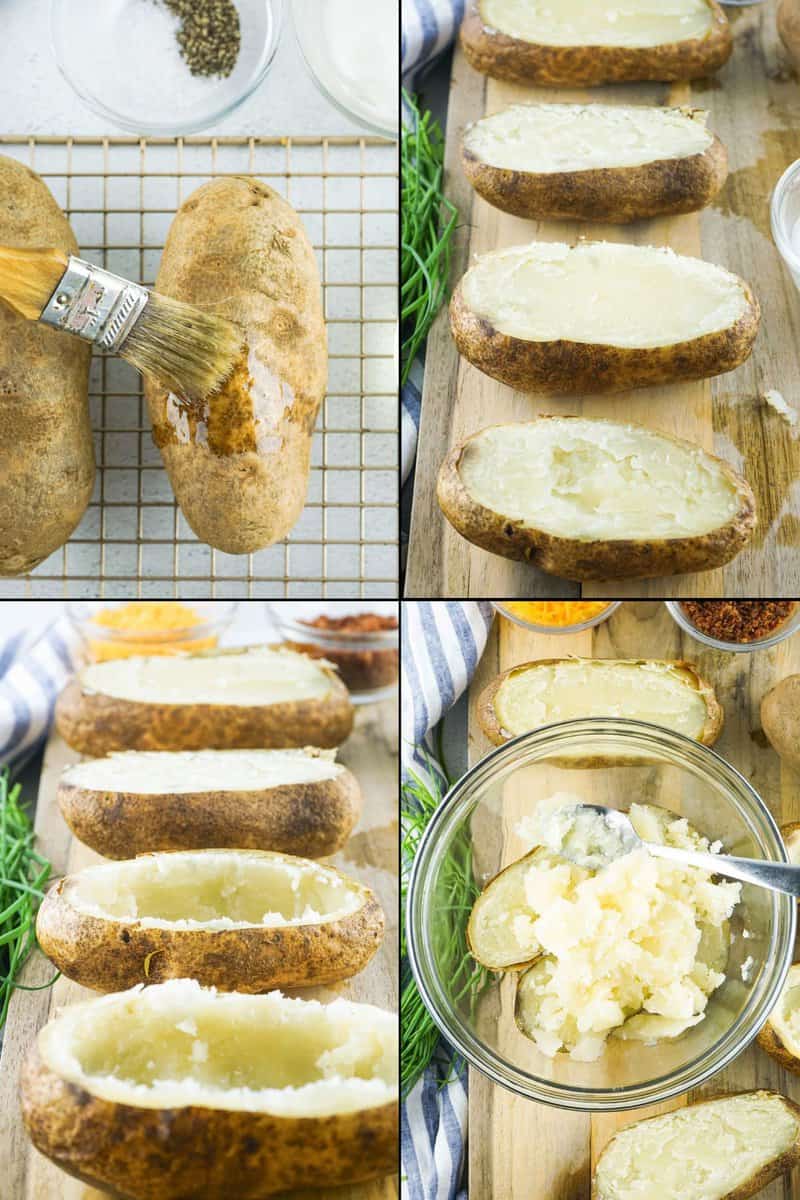 Add the melted butter, sour cream, salt, and pepper to the mixing bowl. Mash with a potato masher.
Stir in half of the cheese, scallions, and bacon crumbles.
Use a spoon to fill the potato skins with the mashed potatoes.
At this point, you can stop the recipe and keep it for later. See the notes below.
Move a rack to the top position and preheat the oven to broil.
Sprinkle cheese on top of the filled potatoes.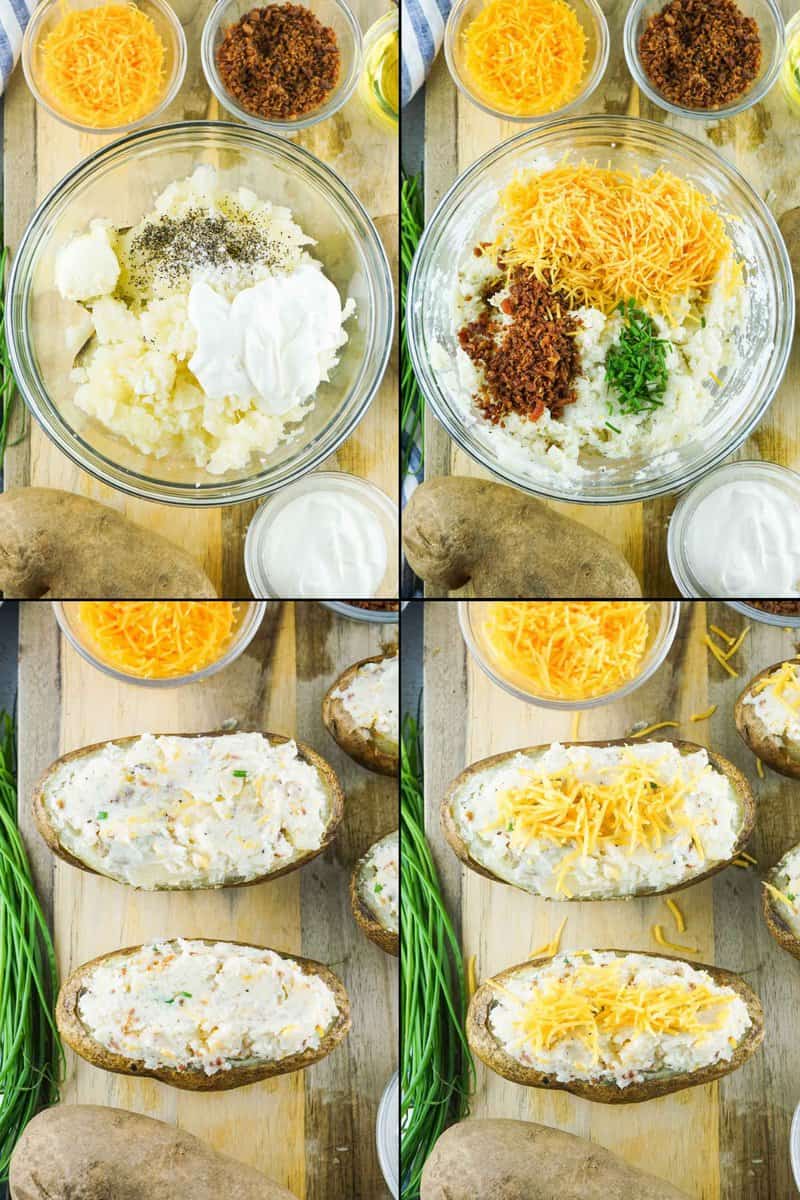 Place the potatoes on a baking tray and put them in the oven until the cheese starts to crisp up.
Remove from the oven and garnish with sliced scallions and bacon bits.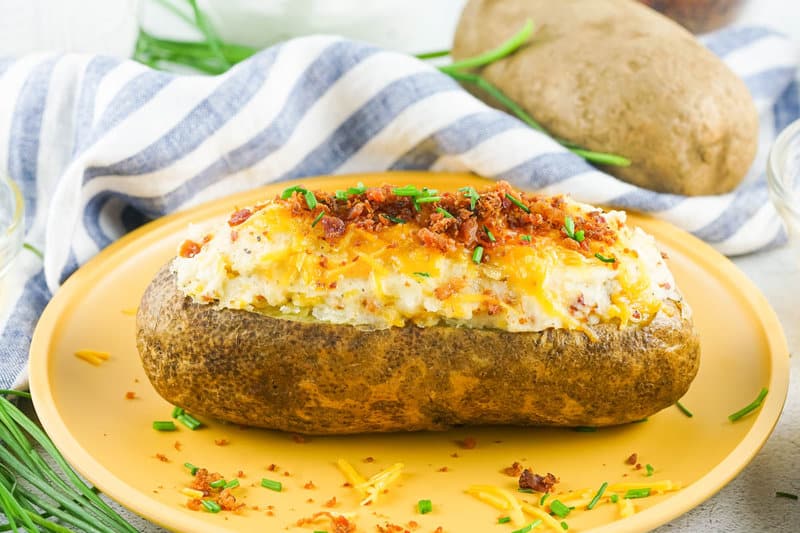 Making Twice Baked Potatoes To Enjoy Later
To make the potatoes ahead of time, let them cool before wrapping the baked potatoes in plastic and keeping them in the fridge for up to two days, or place them on a baking tray and freeze.
When they are frozen solid, transfer them to a freezer-safe container and save them in the freezer for up to a month.
When you are ready to finish cooking the thawed potatoes, add the shredded cheese and broil them according to the recipe.
Possible Recipe Variations
There are lots of ways to make this recipe your own. Get creative, or try one or more of these changes:
Use another cheese. Whatever cheese you want will probably work well. Swiss and Pepper Jack are great options.
Use diced ham or other cooked meat in place of the bacon. Vegetarians can use plant-based bacon or leave it out entirely.
Make loaded potato appetizers by slicing new Yukon Gold potatoes in half and following the recipe above.
What To Serve With Twice-Baked Potatoes
These potatoes go great with grilled and roasted meat, as a side for chili, or even on their own.
How To Store Loaded Potatoes
You can store cooked potatoes in the fridge for up to two days, wrapped in plastic.
For longer, freeze the potatoes on a baking tray. When solid, transfer to a freezer-safe container and keep them in the freezer for up to a month.
How To Best Reheat Twice Baked Potatoes
Loaded potatoes reheat wonderfully. If you want, add some extra cheese to the top of the potatoes before warming.
Potatoes will get extra crispy in an air fryer:
Preheat the air fryer to 375°F.
Heat for 6 to 7 minutes or until hot.
If you don't have an air fryer, reheating in the oven is another good method:
Preheat the oven to 425°F.
Place the potatoes on a baking tray and bake uncovered for 15 to 20 minutes, or until hot.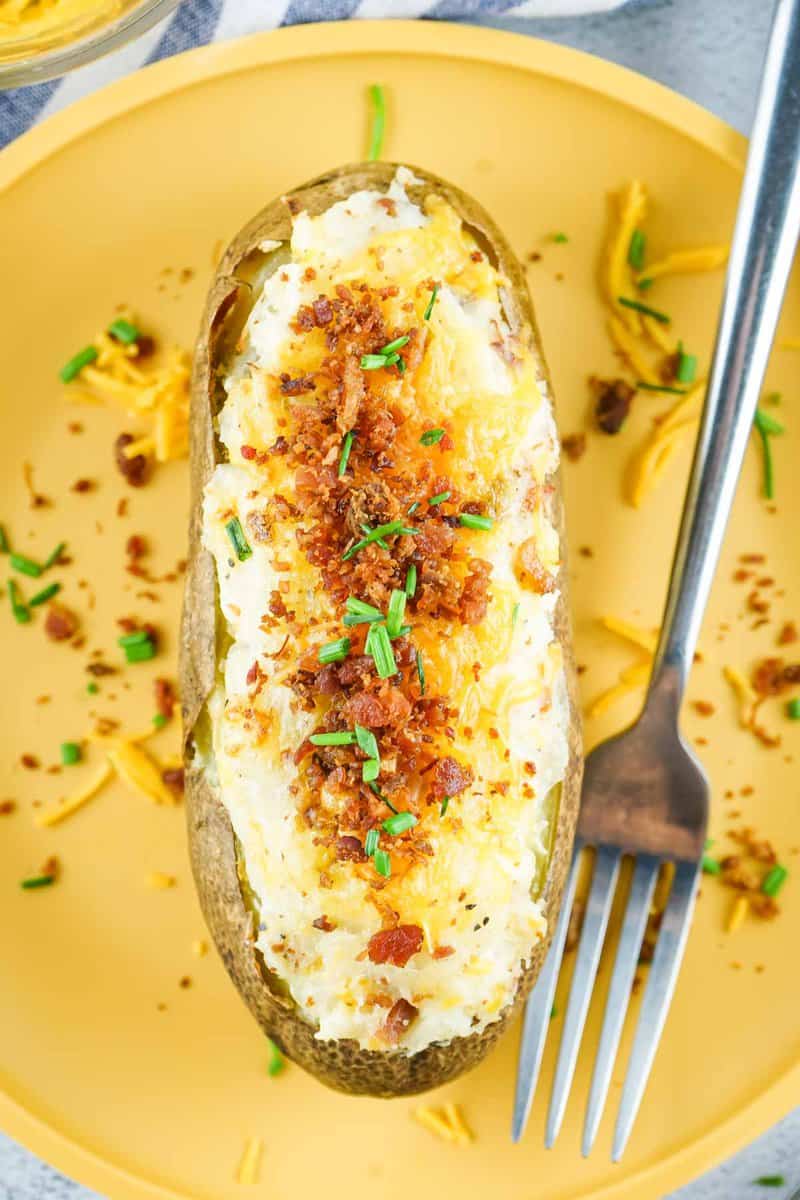 Love Potatoes? Try These Recipes!
Popular Vegetable Side Dish Recipes
Check out more of my easy side dish recipes and the best comfort food recipes on CopyKat!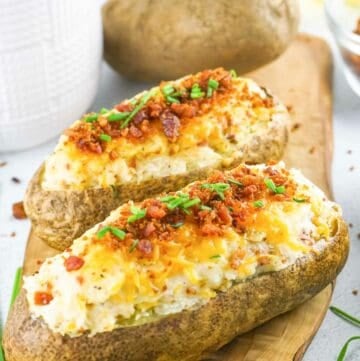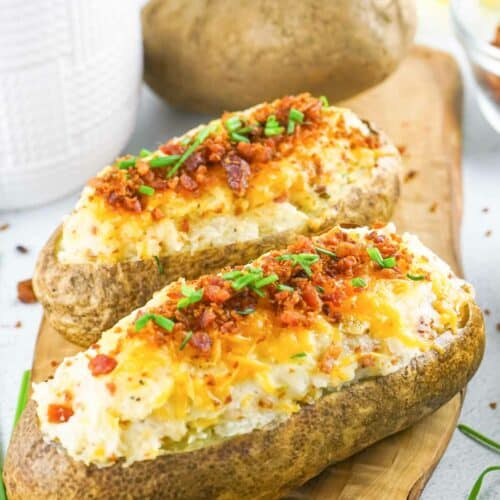 Loaded Twice Baked Potatoes
Learn how to make delicious twice baked potatoes loaded with butter, sour cream, cheese, and bacon.
Print
Pin
Rate
Add to Collection Go to Collections
Servings: 4
Calories: 279kcal
Ingredients
4

russet potatoes

6 to 8 ounces

vegetable oil

2

tablespoons

melted butter

1/3

cup

sour cream

1/2

teaspoon

salt

1/4

teaspoon

fresh cracked black pepper

1/2

cup

shredded cheddar cheese

divided use

1/4

cup

sliced scallions or chives

1/3

cup

chopped cooked bacon
Instructions
Preheat oven to 350°F.

Wash potatoes and dry them.

Rub a little vegetable oil on the potatoes and place them on a baking sheet.

Bake the potatoes for 45 to 60 minutes or until the potatoes are done. Cooking time varies on the size of potato. Potatoes are done with a fork goes in easily.

Cut the top third off the potato.

Use a spoon to scoop out the flesh of the potatoes. Be sure to leave about 1/4 to 3/8 of an inch around the edge of the potato.

Place the potato tops and the scooped out potato flesh into a large bowl.

Add warmed butter, sour cream, salt, and pepper to the bowl. Blend until the potato mixture is smooth.

Add half of the cheese, half of the scallions, and half of the cooked bacon. Stir them into the potato mixture.

Fill the hollowed out potatoes generously with the potato filling.

Top the filled potatoes with cheese.

Turn the oven onto broil. Broil the potatoes until the cheese turns golden brown.

Top the twice baked potatoes with the remaining bacon and scallions.
Video
Nutrition
Calories: 279kcal | Carbohydrates: 27g | Protein: 9g | Fat: 15g | Saturated Fat: 9g | Cholesterol: 41mg | Sodium: 481mg | Potassium: 937mg | Fiber: 5g | Sugar: 0g | Vitamin A: 500IU | Vitamin C: 25.5mg | Calcium: 191mg | Iron: 7.1mg