Turkey Burgers with caramelized onions are juicy, flavorful, and healthy too. Ground turkey patties are perfectly flavored with herbs and seasoning and grilled or pan-fried.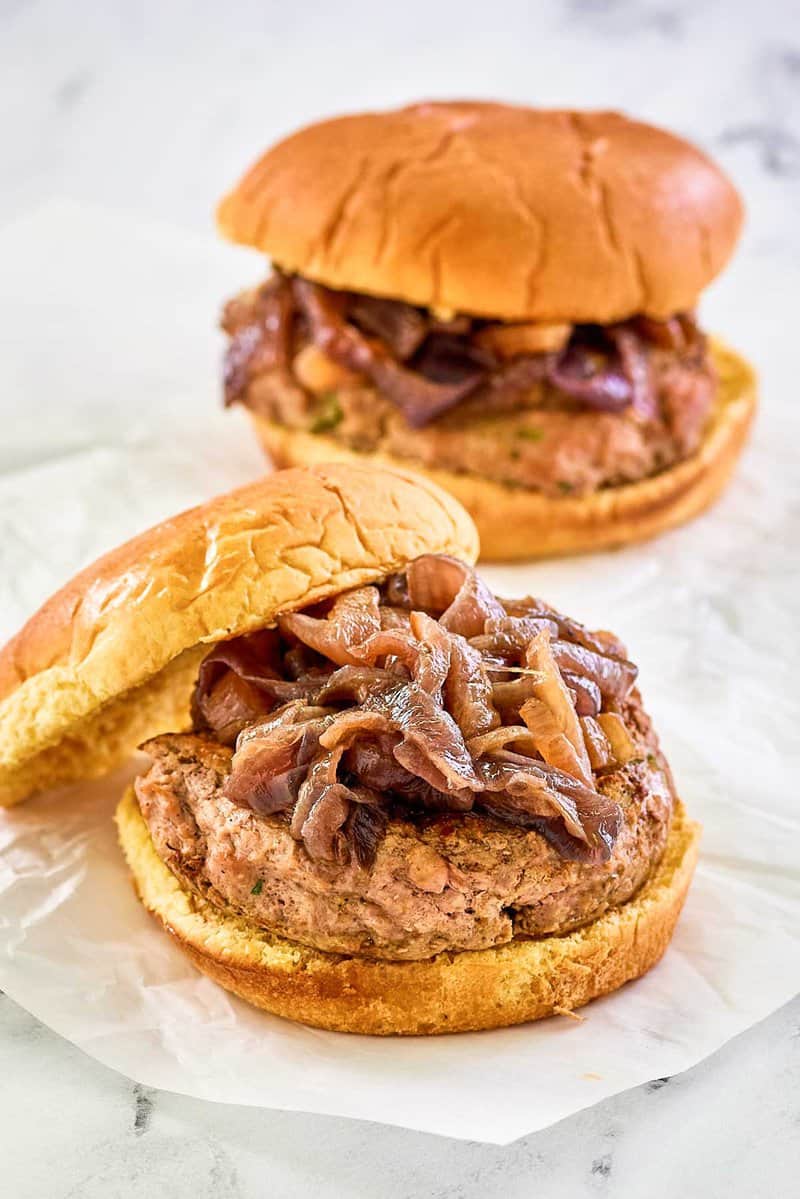 This post contains affiliate links. As an Amazon Associate, I earn from qualifying purchases.
What Makes This Recipe So Good?
Turkey burgers may be better for you than beef burgers, but they tend to be bland and dry. This recipe for Butterball turkey burgers finds the perfect solution by combining caramelized red onions with the meat.
In addition to contributing much-needed fat to the turkey patties, the caramelized onions lend a bit of sweetness with just a little bite to heighten the burger's flavor profile. It's the best turkey burger recipe and you'll want to make it again and again.
Ingredients You Will Need for Ground Turkey Burgers
To make these grilled turkey burgers recipe, you'll need:
Lean ground turkey breast
Egg
Parsley, chopped
Curry powder
Garlic powder
Worcestershire Sauce
Salt
Black pepper
Hamburger buns – regular, wheat, or gluten free
Ingredient Notes
Have the butcher grind the turkey coarsely, if possible. It makes a difference in the texture of the burgers. If you don't have a butcher who can do that for you, buy the coarsest ground turkey you can find.
Don't use cheap rolls. The caramelized onions will turn soft buns into mush, and you'll wind up with messy hands and disappointed diners. Kaiser rolls are perfect for this turkey burger recipe.
If you don't want to make the caramelized onions, you can top your burger with any of the usual toppings – lettuce, tomato, pickle, mayonnaise, ketchup, and mustard.
How to Cook Turkey Burgers
To make this turkey burger recipe:
Add olive oil to a pan or cast iron skillet over low to medium heat and sauté the onions for about 15 minutes. Don't rush it. You are looking for tender, brown onions that are lusciously sweet.
Combine the turkey meat with the rest of the ingredients in a bowl.
Form the mixture into four equal patties. Place the patties on a baking sheet lined with parchment paper.
Let them sit for about five minutes to set up.
Cook the burgers for about five minutes per side. You need to cook the burgers until they are well done. You can use an instant-read or meat thermometer to check for doneness (internal temp is 165°F).
While the burgers are cooking, toast the buns on the grill.
To serve, place the burger on the toasted bun and top with the caramelized onions.
Seasonings To Use for Turkey Burgers
The seasonings in the recipe are great for burgers that will appeal to everyone. But one of the benefits of making homemade turkey burgers is that you can change the ingredients to suit your tastes. Why not get creative with seasonings or try one of these combinations?
Far East Turkey Burger. Gently mix an egg, two tablespoons of chopped cilantro, a tablespoon of Sriracha sauce, a tablespoon of hoisin sauce, and half a teaspoon of soy sauce with the turkey.
Greek Turkey Burger. Combine the ground turkey with a half cup of chopped spinach with a quarter cup of panko bread crumbs, a quarter cup of feta cheese, two tablespoons of chopped black olives, 1 tablespoon of olive oil, salt, pepper, and a squeeze of lemon.
Bacon Cheese Turkey Burger. Mix a quarter cup of cooked, chopped bacon, a quarter cup of shredded cheese, a quarter cup of panko bread crumbs, an egg, a tablespoon of chopped pickled jalapeños, a half teaspoon of garlic powder, salt, and pepper with the turkey meat.
What To Serve With Turkey Burgers on the Grill
French fries are the go-to side, but if you want to take things up a level, opt for sweet potato french fries instead. Sweet potatoes have a higher sugar content than ordinary potatoes and develop a lovely charred (not burnt) exterior when fried. The slightly bitter charring pairs incredibly well with the sweetness of these fries.
Healthier options include a salad or your favorite grilled vegetables.
Possible Cooking Variations
The best turkey burgers are cooked over a charcoal grill. The charcoal imparts the classic taste of a backyard burger that is impossible to recreate any other way. But don't worry if you don't have a charcoal grill. You can use a gas grill instead.
Too cold to go outside? Prepare this recipe inside using a grill pan or a cast-iron pan on the stove.
How To Store Leftovers
You can keep uncooked patties in the fridge for no longer than two days or freeze them for up to three months.
Make the patties and place them between waxed butcher paper.
If you are keeping them in the fridge, stack them in an airtight container.
To freeze, place the patties on a baking tray in a single layer and freeze. Put frozen patties in a freezer bag.
Thaw the frozen patties in the refrigerator overnight. Cook the patties using your favorite method.
Put a cooked ground turkey burger in an airtight container and store it in the fridge for up to three days.
How to Reheat Turkey Burgers So They Are Not Dry
The best method of reheating a cooked turkey burger is in the oven.
Preheat the oven to 350°F.
Place the thawed burgers directly on the grate with a baking tray underneath.
Heat for three minutes, flip the burger and heat it for another two minutes.
You can also reheat a turkey burger in the microwave at 70% power for 2 to 3 minutes.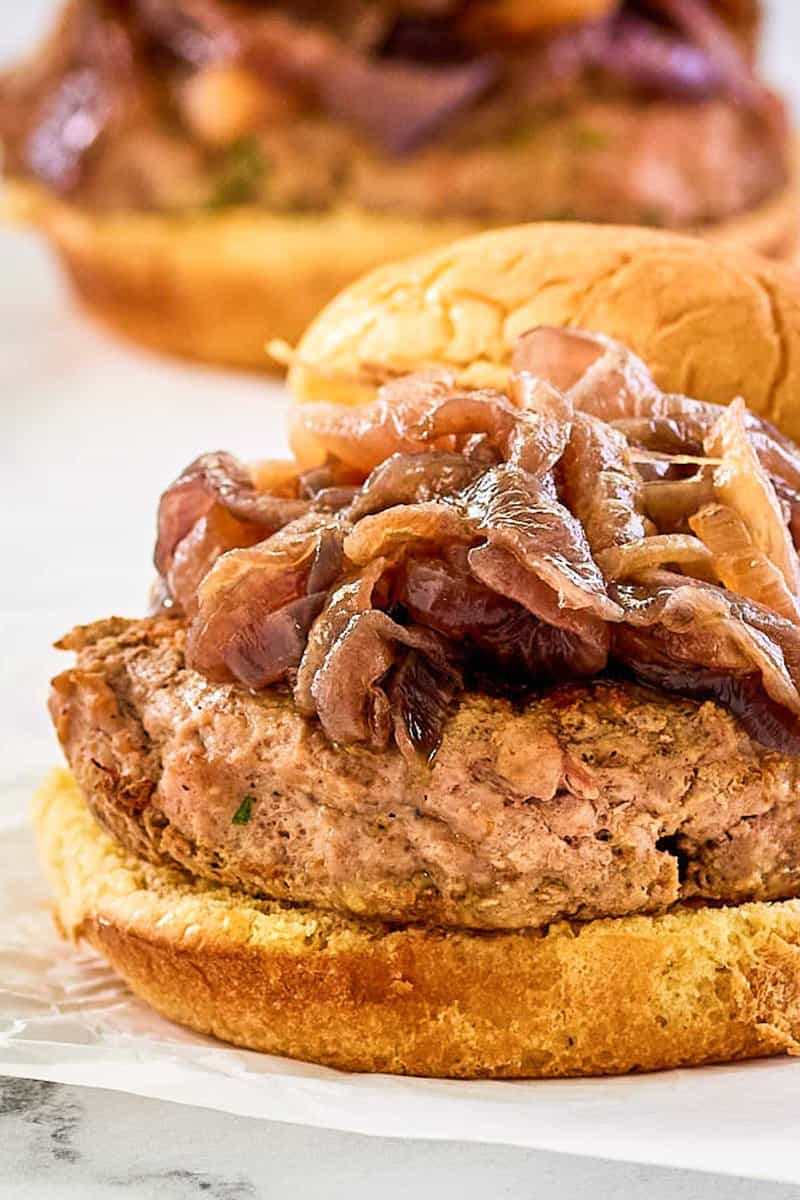 Love burgers? Try These Recipes!
Favorite Turkey Recipes
Check out more of my easy burger recipes and the best turkey recipes here on CopyKat!
This recipe was submitted by long-standing Copykat.com member, Jacki Schklar. Jacki is a Video and Interactive Content Producer in Atlanta, Georgia. She is also a publisher of Funny Not Slutty, which features comedy for women created by female writers, producers, and comedians.
Turkey Burgers with Caramelized Red Onions
Turkey burgers are a great lower fat alternative to ground beef.  The caramelized onions on this burger makes them taste amazing.
Print
Pin
Rate
Add to Collection Go to Collections
Servings: 4
Calories: 294kcal
Ingredients
Caramelized Onions
1

tablespoon

olive oil

1

red onion

sliced in rings and then half.
Burgers
1

pound

ground turkey breast

1

egg

2

tablespoon

chopped parsley

1/2

teaspoon

curry powder

1

teaspoon

garlic powder

1/2

teaspoon

Worcestershire Sauce

1/2

teaspoon

salt

1/4

teaspoon

black pepper

4

hamburger buns
Instructions
To caramelize onion, sauté in a pan with the olive oil over medium/low heat for about 15 minutes, until glossy, soft, and browned. Stir about once a minute. You will need to watch constantly to keep from actually burning.

Mix turkey with the remaining ingredients. Form into patties.

Grill or cook the patties in a skillet with a little oil, until center is cooked through. Well done is best.

Place the burgers on the bottom buns, top with carmelized onions, and cover with the top buns.
Nutrition
Calories: 294kcal | Carbohydrates: 25g | Protein: 23g | Fat: 10g | Saturated Fat: 2g | Cholesterol: 98mg | Sodium: 615mg | Potassium: 310mg | Fiber: 1g | Sugar: 4g | Vitamin A: 275IU | Vitamin C: 5.3mg | Calcium: 98mg | Iron: 2.5mg