Quick Summary
Healthy and fun lunch ideas that are perfect for school or home. Even the pickiest of young eaters will love these nutritious and delicious lunches!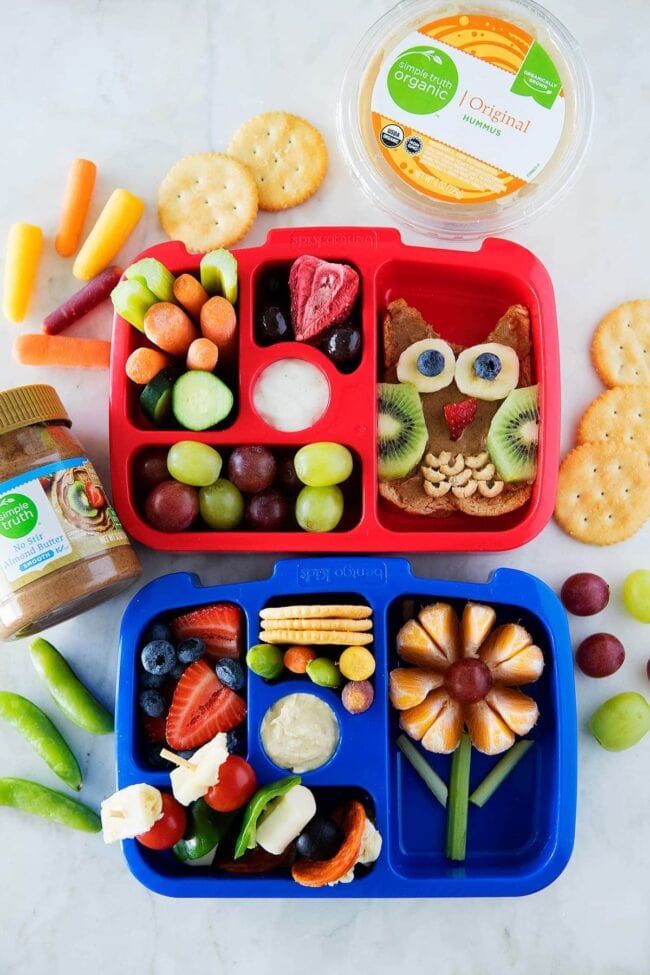 Whether children are in school or learning at home, the lunchtime dilemma is the same. What should we make our kids for lunch and what will they actually eat? It's discouraging to open up their lunch box and find half of the lunch untouched.
Today, I am sharing Fun Lunch Ideas for Kids that are perfect for school lunches or at home lunches. Don't get me wrong, I love a classic PB&J, but we are thinking outside of the "lunchbox" today and bringing you LOTS of fresh, healthy, and affordable ideas!
I have tested these ideas on my boys and they give them two thumbs up! Feel free to mix and match to create the perfect meal for your child. Mixing it up is all part of the fun!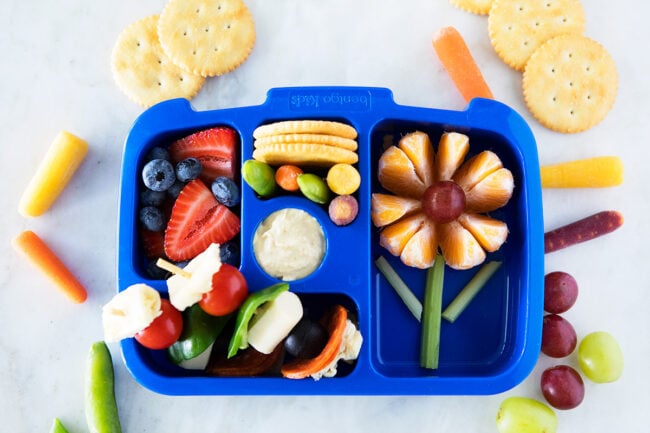 Lunchbox Tips
Before we get into the actual lunchbox ideas, I want to share some tips that will help you become a pro at packing lunches.
Check the rules– If your child is taking a lunch to school, make sure you follow the rules on what they can bring. Is there a no nut policy? Can they bring drinks?
Lunchbox– Buy a lunchbox, lunch bag, or container. I recommend getting an ice pack or insulted lunchbox to keep things cold. You can also purchase a thermos for packing hot or cold items.
Meal plan– Look at the calendar and make a plan for the week. Ask the kids for ideas, when they are involved in meal planning, they are more likely to eat their meals. Make a list of what groceries you need.
Go grocery shopping– Make sure your fridge and pantry and stocked with lunch options. If something is on sale that you use regularly, stock up.
Prep– When you get home from the store, do some prep work. Wash and cut up veggies, make hard-boiled eggs, make energy balls, homemade granola bars, etc.
Pack the night before– Mornings are often hectic so pack lunches before bed or at least the items that will stay fresh. If your kids are old enough, have them help! Some sandwiches you can even freeze for up to 1 month.
Mix it up– Try new foods every week. Use whatever fruits and veggies are in season-this will help keep the cost down too. Plus, fresh is always best!
Make it special– Surprise your child with a special note, sticker, or treat. On holidays, make a themed lunch that goes with the holiday.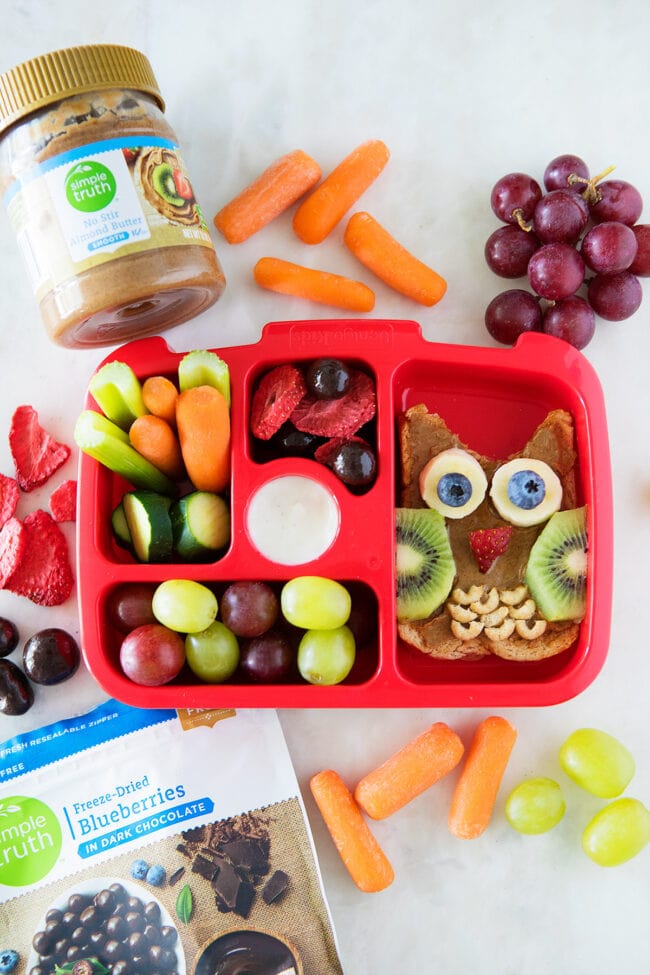 Lunch Ideas
Most of the ideas below are customizable, and it's easy to mix and match ingredients based on what your children like and what they don't like.
I try to always include a variety of colorful fruits and veggies. Pro tip-provide a dip (ranch, hummus, or yogurt for fruit). Kids love dipping!
Don't get overwhelmed! I included lots of ideas so you can mix and match and change up your kids lunch so they don't get bored…and so you don't get bored packing them:)
Not every meal needs to be fancy, elaborate, or "cute," but kids love creativity so surprise them one in awhile. Make a cutie flower, owl toast, or pizza on a stick (as seen in the photos) and your kids will open their lunch box with a big smile!
Pack appropriate portion sizes based on your child's appetite so food isn't going to waste and so your child isn't still hungry. It might take a few tries to get it right, but you will get it!
Protein
Hard-boiled eggs (eat plain or make an egg salad sandwich)
Lunch meat (turkey, ham, or roast beef! Roll them up with cheese or make a sandwich!)
Leftover rotisserie chicken or cooked chicken
Hummus (great with veggies or pita bread)
String cheese, cheese cubes, or cheese slices
Cottage cheese (enjoy with fruit or crackers)
Greek yogurt (great as a fruit dip)
Salami or pepperoni (make pizza on a stick or eat with cheese and crackers)
Tuna salad, egg salad, or chickpea salad
Beans (my boys love roasted chickpeas and black bean dip! You can also make a quesadilla!)
Nut butter (peanut butter, almond butter, or use sun butter for nut allergies! Make a sandwich, spread on crackers or fruit, or spread on a tortilla with fruit and roll up!)
Nuts or trail mix
Beef jerky
Grains
Vegetables
Baby carrots or carrot sticks
Celery sticks (make ants on a log with nut butter and raisins or add cream cheese and everything bagel seasoning)
Sweet bell peppers (cut in strips or buy the mini peppers)
Cauliflower
Broccoli
Black olives
Snap peas
Cucumbers
Edamame
Fruit
Berries (strawberries, blackberries, raspberries, or blueberries)
Grapes (fresh or frozen)
Apples (if you slice them drizzle with a little lemon juice to prevent browning)
Oranges (slice so they are easy to eat)
Pineapple
Pears
Melon (watermelon, cantaloupe, or honeydew)
Applesauce pouches or homemade applesauce (pear sauce is good too!)
Dried fruit (cranberries, raisins, blueberries, apricots, or banana chips)
Freeze-dried fruit
Hot and Cold
If you have a thermos or if it's an option to heat up the lunch, feel free to pack the following items. The thermos will keep them hot or cold. Don't forget to pack a fork or spoon, if they will need one!
Treats
I hope these ideas help you pack nutritious and delicious lunches that your kids will love. If you have any fun ideas, please share in the comments!
More Lunch Ideas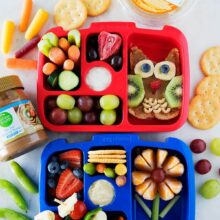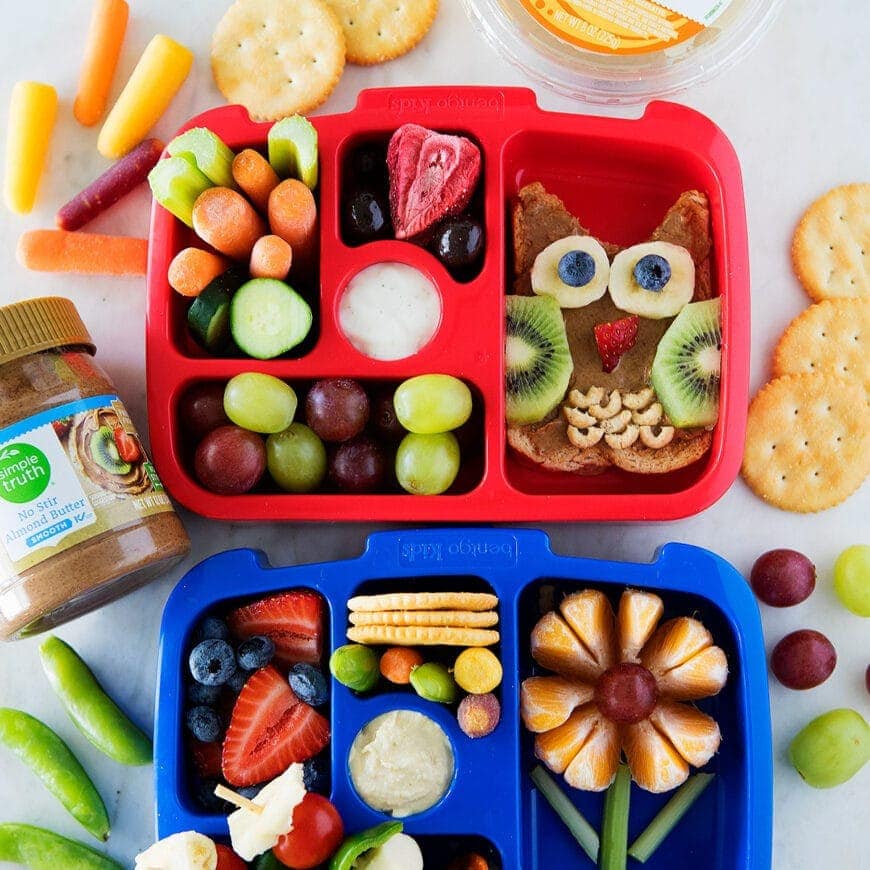 Kid Friendly
Owl Toast & Pizza on a Stick
How to make owl toast and pizza on a stick! Two fun lunch box ideas for kids!
For the Owl Toast:
1

slice

of bread,

(toasted or fresh)

Simple Truth almond butter

(can use peanut butter)

1

kiwi slice,

cut in half

2

banana slices

2

blueberries

strawberry,

cut into a nose

Cheerios,

broken in half
For the Pizza on a Stick:
Bamboo skewers,

sharp ends cut off

Flatbread,

cut into square pieces

Pepperoni slices

Kroger Mozzarella Sticks,

cut into pieces

Kroger black olives

Grape tomatoes

Bell pepper,

cut into pieces
For the owl, spread the almond butter on the bread. Place the kiwi halves on the almond butter for the wings. Add the banana slices for the eyes and put blueberries on top. Place the strawberry below the eyes for the nose. Add the Cheerios for the feathers. Serve.

For the pizza on a stick, skewer the flatbread, pepperoni, cheese, olives, tomatoes, and bell peppers on the bamboo skewer.
Have you tried this recipe?
Leave a comment below and share a photo on Instagram. Tag @twopeasandpod and hashtag it with #twopeasandtheirpod