This post may contain affiliate links. Please read my disclosure policy.
A classic Campari Spritz is quick and easy to make with 3 ingredients and refreshingly bubbly and bittersweet.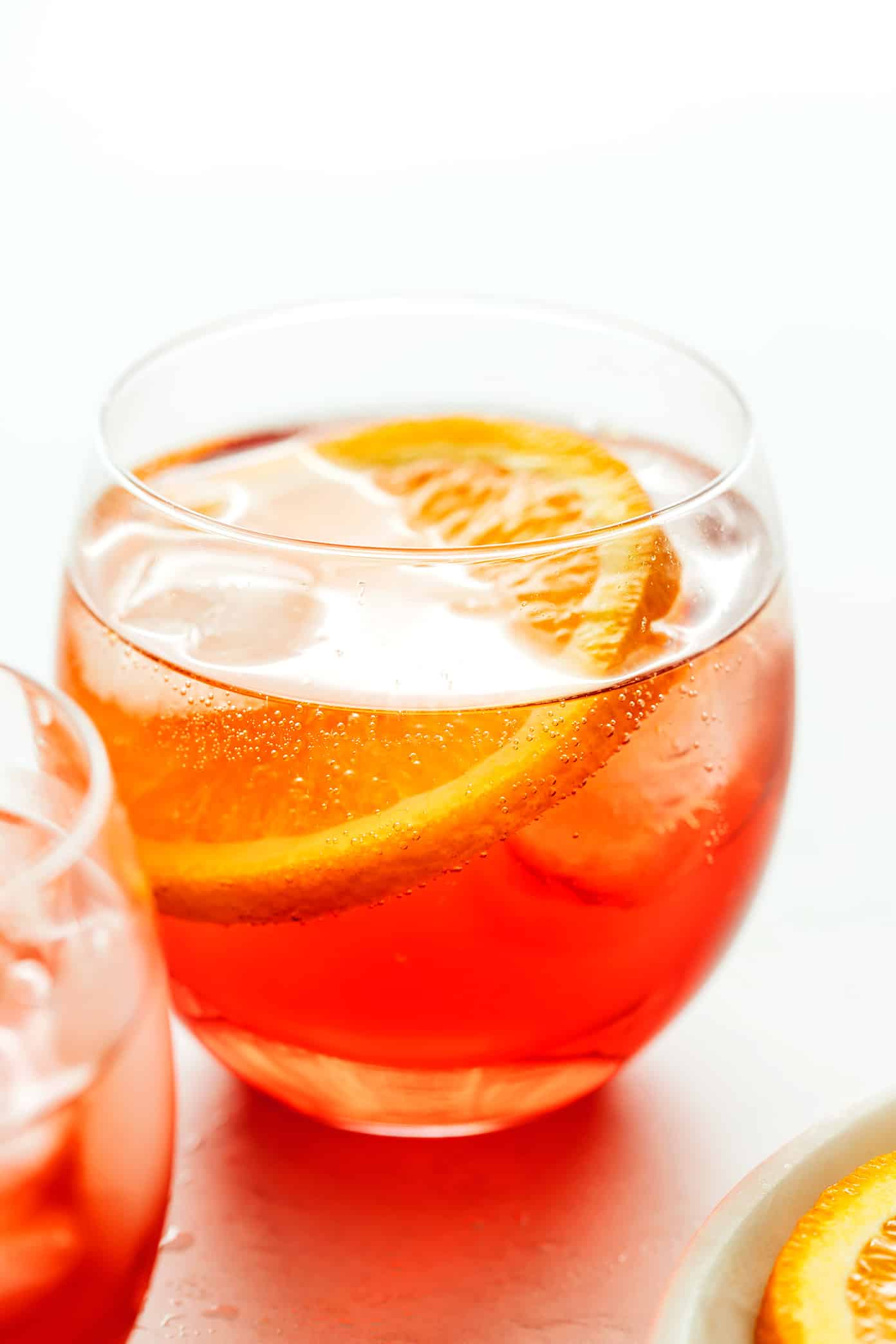 When it comes to spritzes, Aperol always seems to get all of the glory.
But I'm Team Campari all the way. ♡
I much prefer its stronger, less-sweet, and deliciously complex bitter flavor in this famous bubbly cocktail. And when paired with a good dry prosecco (or — sorry, Italy — we usually make ours with cava here in Spain), a splash of club soda, and a slice of fresh orange, this gorgeous ruby-red cocktail can be ready go in just a few minutes. It's always so refreshing and delicious!
Barclay and I actually keep a few mini-bottles of cava stocked in our bar cart at all times, ever since we discovered that they are perfectly sized for two spritzes. But whether you're making an individual drink, or a whole round for a gathering, this classic cocktail is always so quick and easy to make and such a winner in my book.
Let's make some spritzes!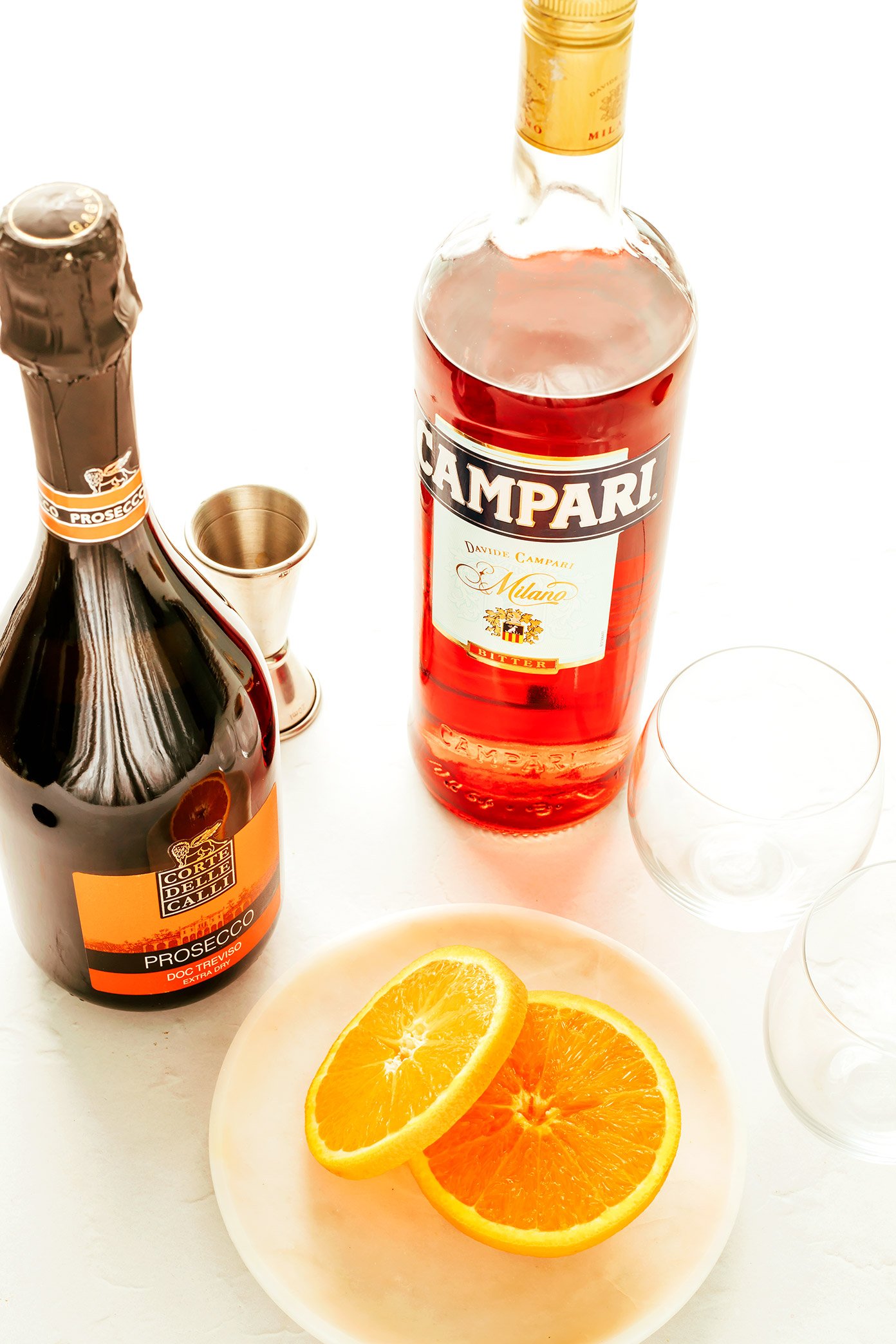 Campari Spritz Ingredients
Before we get to the full Campari spritz recipe below, here are a few notes about the ingredients you will need:
Campari: This bitter Italian liqueur with its ruby-red color and famous blend of aromatics, herbs and fruit absolutely makes this cocktail.
Dry prosecco: This Italian sparkling wine can run the gamut in terms of price, sweetness and carbonation. I recommend looking for a medium-priced (from $10-20) bottle of dry prosecco that is ideally quite bubbly. Or for non-traditional sparkling wine alternative, a good Spanish cava or French champagne would also work well too.
Soda water: We typically use Fever Tree or Schweppe's club soda in our spritzes, but any other brand of club soda or plain sparkling water (such as Topo Chico) that you love best will do.
Orange slice: Spritzes are traditionally served with a fresh orange slice, which looks so lovely contrasted with the red cocktail. Sometimes I like to use the leftover orange to add an extra squeeze of juice into the cocktail too.
Ice: I recommend average- to large-sized ice cubes for this cocktail so that it will not melt too quickly.
Campari vs. Aperol
Curious how Campari compares to Aperol? Here are a few quick facts about these famous Italian amaros (bitter liqueurs).
Campari was created first back in 1860 and originally used crushed insects to dye the aperitif its signature vibrant red color. (They recently switched to an artificial coloring.) It is known worldwide for its "pleasantly bitter with a velvety aftertaste, with intense notes of orange, herbs and wood" and has higher alcohol content than Aperol, ranging from 20.5% to 28% APV depending on the country in which it is sold.
Aperol was created later in 1919, but did not become popular until nearly a half century later. It has a vibrant red-orange color (also artificial) and is known for tasting much less bitter, "velvety and rounded, with long-lasting orange and wood" notes. Aperol has less than half the alcohol of Campari, clocking in at 11% APV.
While most people tend to think that Aperol is more sweet, Campari and Aperol actually have the same sugar content. Campari is more concentrated and less fruity, so a Campari spritz will taste more bitter, stronger, and less-sweet than an Aperol spritz. In my opinion, it's absolutely delicious.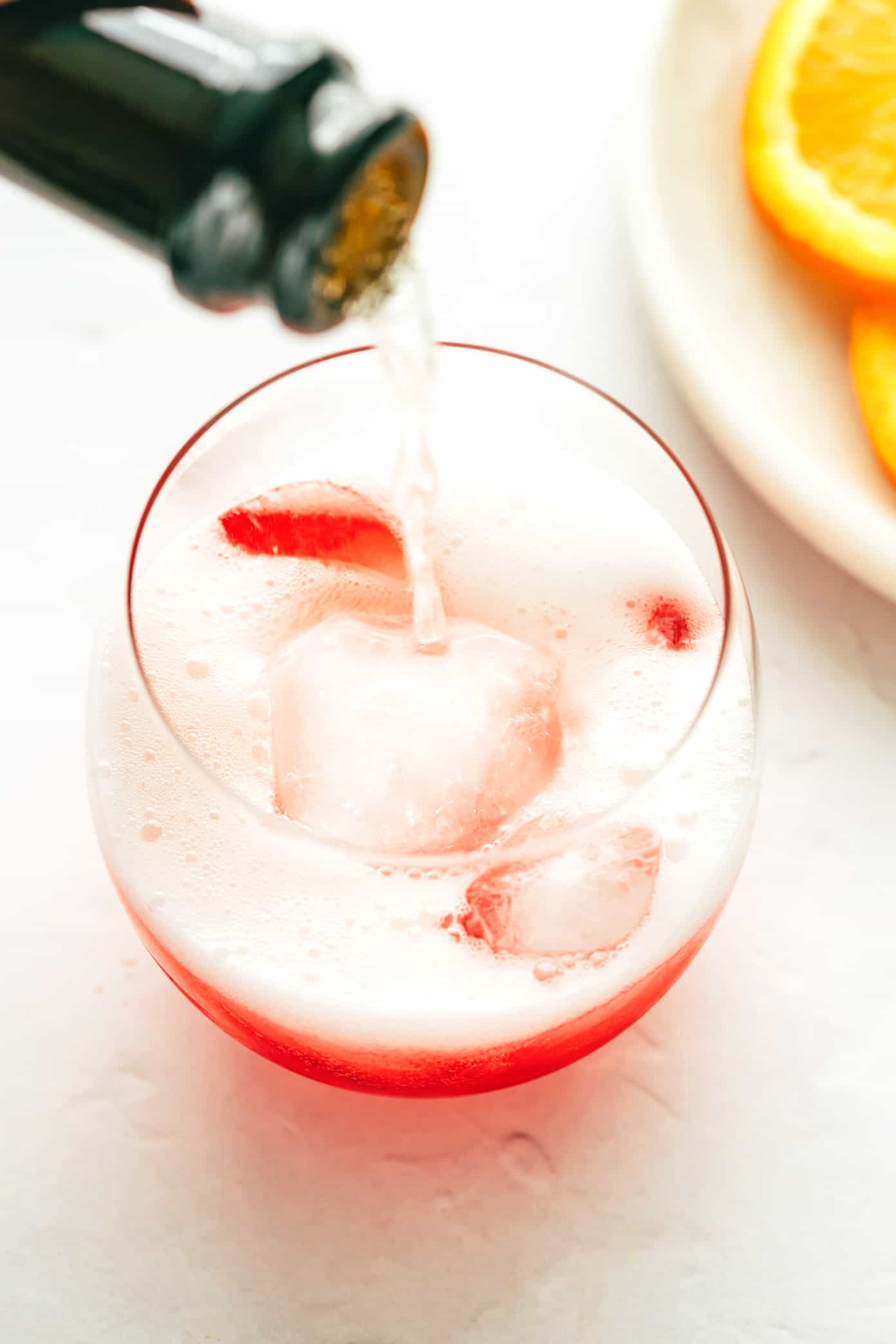 How To Make A Campari Spritz
The great thing about spritzes is that they are incredibly quick and easy to whip up! Simply…
Fill your glasses with ice.
Stir in the Campari.
Top with the prosecco and club soda.
Add an orange slice for garnish.
Serve immediately while still bubbly and cold!
Campari Spritz Glasses
Campari spritzes are traditionally served in large stemmed wine glasses with a straw, but feel free to use stemless wine glasses or any other cocktail glass that you prefer. And if you choose to use a straw, please go the reusable route (such as these)!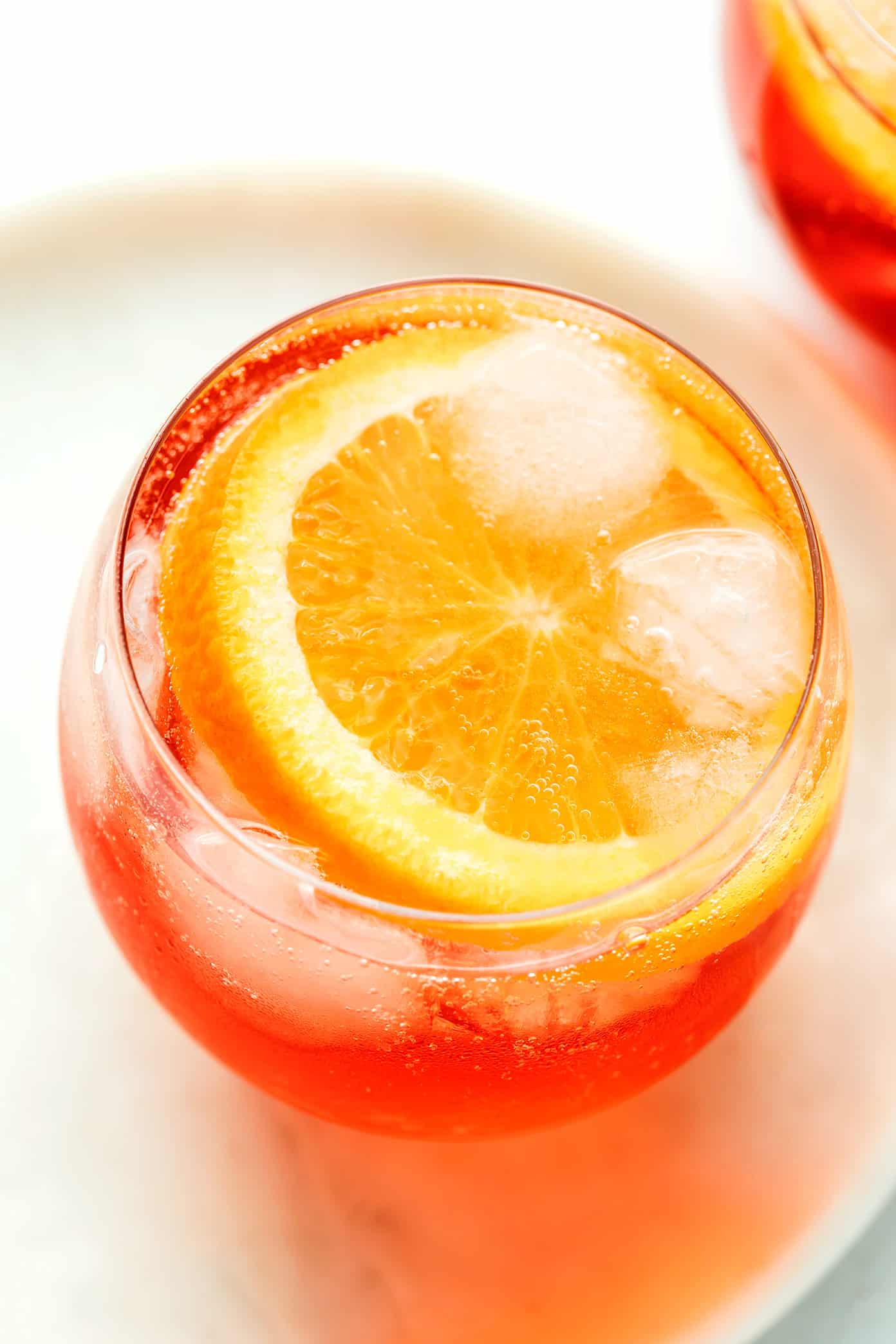 More Favorite Campari Cocktails
Here are a few of my other favorite cocktails to use up that bottle of Campari:
Print
---
Description
A classic Campari Spritz is quick and easy to make with 3 ingredients and refreshingly bubbly and bittersweet.
---
---
Mix the drink.

Add the Campari to an ice-filled glass and briefly stir to combine. Top with the prosecco and soda water, then garnish with an orange slice.

Serve.

Serve immediately and enjoy!
---